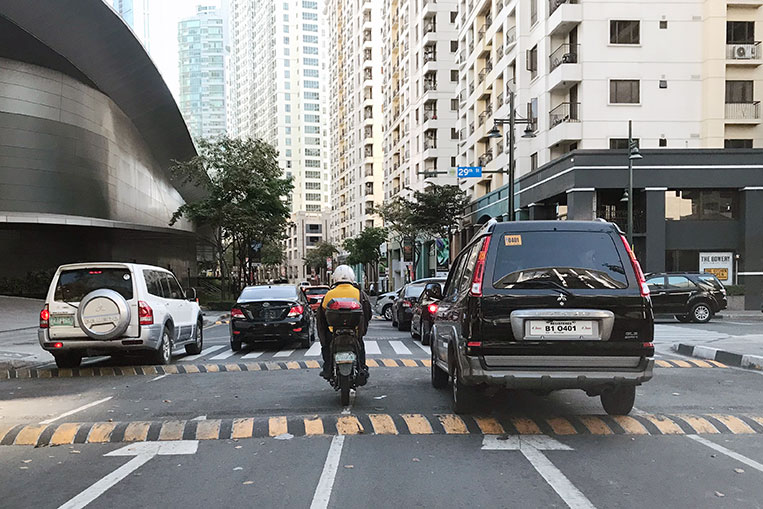 If you live, work or just drive in Bonifacio Global City, you must be fairly familiar with its tall speed bumps that often scrape the underside of your small car. In your head, you're trying to recall if you've ever encountered humps this high (and wide) elsewhere. But nah…only in BGC.
As a result, car owners have taken to social media to express their frustration with the road impediments. Photos and videos of vehicles having a hard time passing over the humps are being posted to Facebook and Twitter. Motorists who drive in and through the business and residential district demand an explanation.
So…why does BGC have speed bumps that make supercar owners gnash their teeth?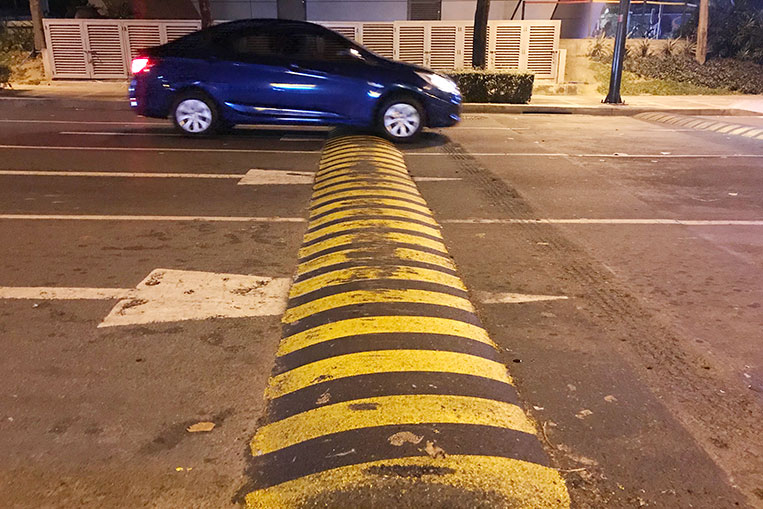 Several officials of the Fort Bonifacio Development Corporation and the Bonifacio Estate Services Corporation met with the motoring press on February 21 to tell their side of the story.
The long and short of it is this: BGC will always prioritize pedestrians over motor vehicles. The tall humps exist to slow down stubbornly speeding drivers in areas where foot traffic is particularly heavy, including Bonifacio High Street and Forbes Town Center.
In May 2015, a pregnant pedestrian was hit by an SUV that went out of control after getting tagged by another SUV. Such scenes of speeding vehicles are a common sight inside BGC, where drivers think nothing of blocking crosswalks and brushing against the legs of foot travelers. Even deputized traffic marshals sometimes encounter motorists who refuse to stop even when being flagged down. Things have gotten so bad that BGC management now gives the Order of the Lion award to any marshal who gets injured in the line of duty, BESC general manager Jaime Francisco Galvez told VISOR.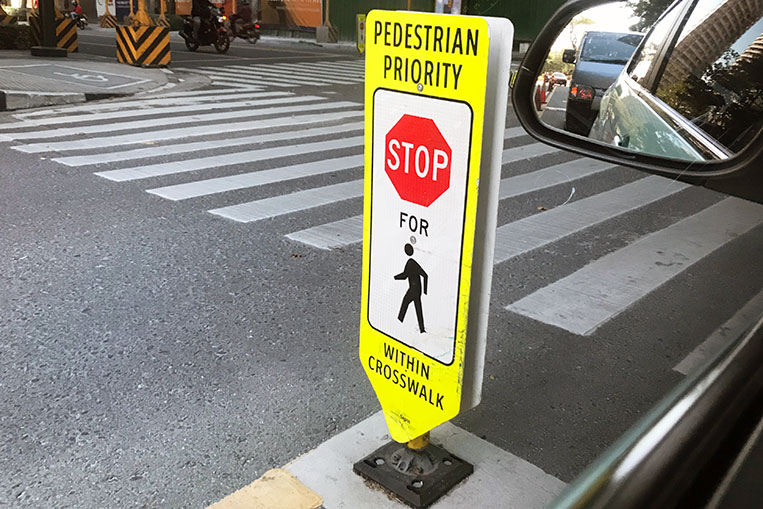 Why are traffic management and pedestrian protection so difficult inside BGC? Consider these numbers:
* There's an average of 700,000 people in BGC on a weekday—140,000 in and around Bonifacio High Street alone.
* Meanwhile, there's an average of 80,000 cars in BGC on a weekday, and 80% of them are just passing through (or merely crossing from C5 to EDSA, and vice versa).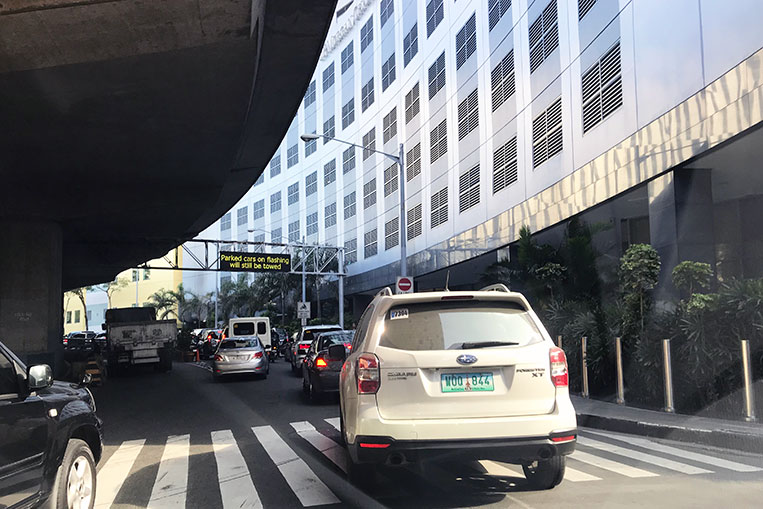 Which means that if just the BGC residents and workers drove vehicles inside the district, there would only be a daily volume of 16,000 cars within the property. That's a hell of a lot easier to manage than 80,000 motor vehicles.
According to Galvez, they're looking to collaborate with Waze on how to find a way to redirect transient traffic away from pedestrian-heavy areas in BGC.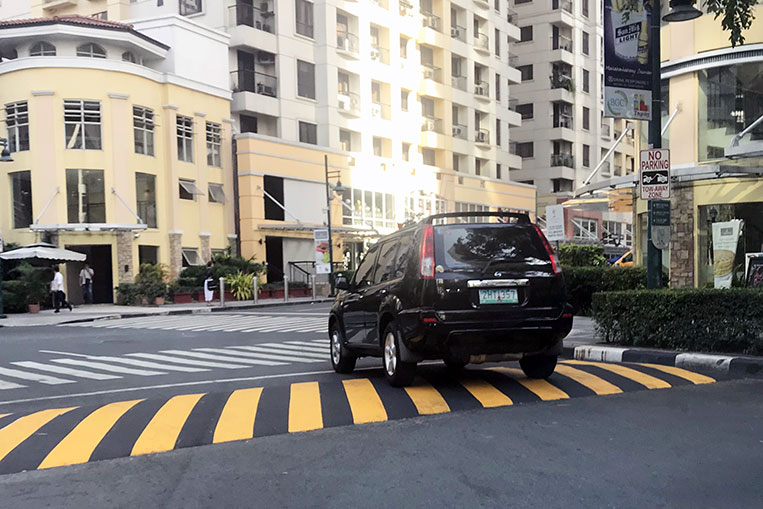 Meanwhile, a quick solution is the installation of four-inch speed bumps (if they seem lower, that's because they're being constantly shaven off by passing cars over time). Motorists have no choice but to crawl to a halt or risk damaging their suspension.
"When we put the speed bumps around Burgos Circle, a handicapped resident in the area sent us a thank-you message," Galvez shared. "The person even came to my office and requested for more speed bumps to be installed."
Galvez and his team, of course, also have the concerns of car owners in mind. It's a delicate balance between promoting pedestrian safety and providing motoring convenience.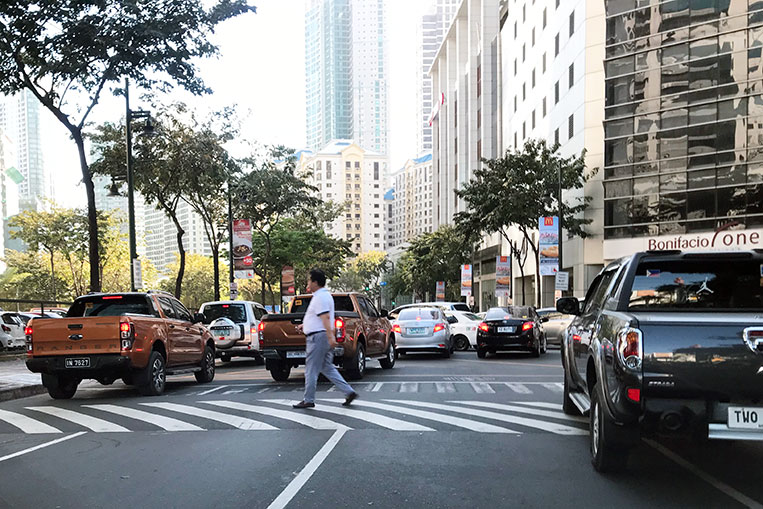 Some car owners complain that they're being punished for the sins of a few. But it is what it is. We still have to take our shoes off at the airport for something a handful of assholes did in New York on September 11, 2001. We all have to suffer some inconvenience in order for the authorities to safeguard everyone's welfare.
Want to do something about it? Drive doubly carefully when you're in BGC and respect pedestrians. Do this regularly and your example will eventually rub off on others. This is a community problem, and it's going to take the whole community to solve it.