Even the relatively more upscale Bonifacio Global City isn't impervious to the horrendous traffic congestion that is torturing the rest of Metro Manila. So even BGC, in other words, needs to implement gridlock-easing policies to ensure the smooth flow of motor vehicles inside the business and lifestyle district.
One such policy is the soon-to-be-enforced one-way scheme involving four main roads:
7th Avenue;
9th Avenue;
28th Street; and
30th Street.
The one-way scheme is counter-clockwise, as is usually the case. The first route includes 7th Avenue and 9th Avenue, from 34th Street to Federacion Drive; the second route includes 28th Street and 30th Street, from Rizal Drive to 11th Avenue. It should be noted that there are already a few streets in BGC that have long followed a one-way direction.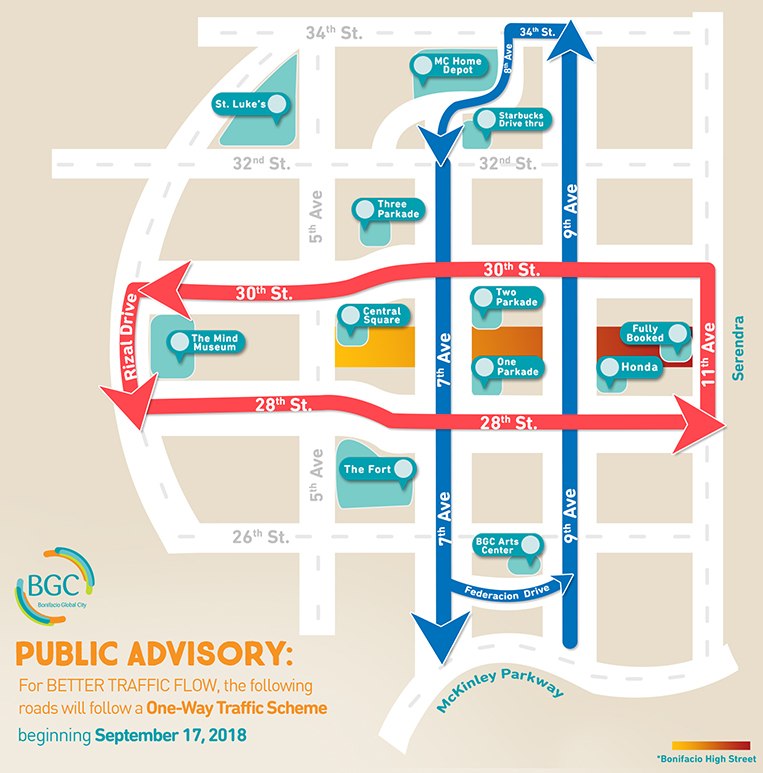 "A one-way traffic flow is the most efficient traffic circulation scheme for BGC's street grid network because it maximizes the width of the street that is available for traffic, reduces the conflicts between vehicles and pedestrians at intersections, and minimizes the time that vehicles and pedestrians are stopped at traffic signals," explains Bonifacio Estate Services Corporation general manager Jaime Francisco Galvez in a statement sent to VISOR. "Overall, BGC should become less congested and faster to travel in with a one-way traffic scheme."
This one-way scheme will officially take effect on September 17. That's a Monday, in case you're curious. Now, be a friend and share this information with colleagues and relatives who drive through the area.