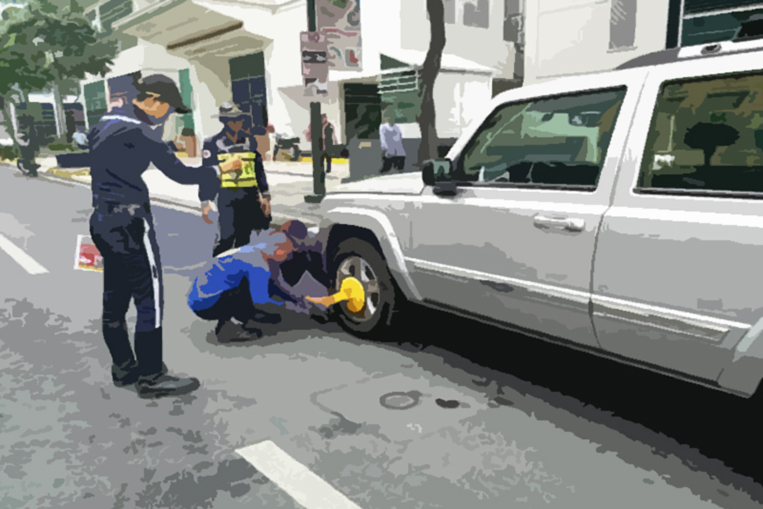 Anyone who has ever brought a car to Bonifacio Global City in Taguig knows how expensive parking space in the commercial and business district is. Which, if you ask us, is okay so that the unnecessary use of motor vehicles is discouraged inside the now-congested territory. Unfortunately, this also has a side effect: Instead of parking their vehicles properly, some car owners (or their drivers) simply park on the side of the road while waiting to pick up somebody. If you drive around BGC these days, you'll notice an increasing number of these cars with their hazard lights on, their drivers oblivious to the inconvenience they're causing other motorists.
Beginning April 15th, this habit will be penalized by BGC traffic management officials in accordance with Barangay Fort Bonifacio Ordinance No. 14-033. We've obtained a copy of said ordinance, and we'd like to share with you its implementing rules and regulations so you know your rights as a car owner.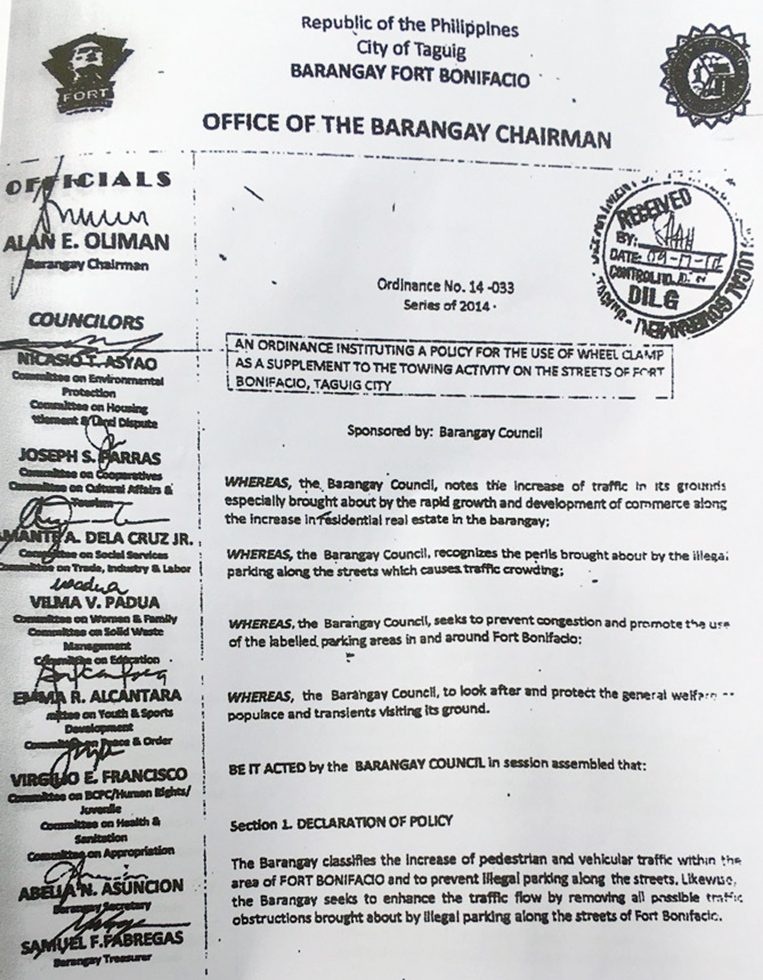 1. If your car is parked illegally on the road, it will be clamped until an authorized tow truck arrives. Upon the arrival of the towing crew, the clamp will be removed and your vehicle will be taken away.
2. If you show up before the wheel clamp is attached to your car, the clamping will be called off and you will be asked to present your driver's license. You will then be issued the so-called Unified Ordinance Violation Receipt.
3. If you show up after the wheel clamped has been installed but before any tow truck arrives, the towing will be called off but you will be made to pay a penalty of P1,000. You will also be asked to present your driver's license, and you will be issued a UOVR.
4. If you attempt to remove a wheel clamp from your car by yourself and you damage it, you will be made to pay a penalty of P1,000, "plus the cost of repair or replacement of the damaged wheel clamp."
The ordinance document states that "the fines collected shall be devoted to the barangay's traffic maintenance programs, including but not limited to signs, markers and traffic personnel."
According to a press statement sent by the Bonifacio Estate Services Corporation, there are more than 5,000 public parking slots available in and around BGC.
"More than anything, this is about road safety and traffic alleviation," BESC general manager Jaime Francisco Galvez is quoted as saying. "We ask for everyone's cooperation as we work closely with the local government of Taguig, and adopt policies to improve the quality of life in BGC for motorists and pedestrians alike."
So there. Show the above rules and regulations to the traffic marshals when your car gets clamped and you have reason to believe they're not doing their job in accordance with the ordinance. Better yet, never park on the side of the road again.