In case you're not aware of the goings-on in the local automotive industry, then this is a good time to inform yourself about the so-called Safeguard Measures Act. In essence, this is a new policy meant to protect our manufacturing business in the Philippines against imported products. The fundamental premise is that locally made cars should be prioritized over imported vehicles, because the former create jobs for our countrymen.
To do this, government is imposing a safeguard duty of P70,000 on each imported passenger car or P110,000 on each imported light commercial vehicle. Technically, this became effective 15 days after January 5, 2021—or January 20, 2021. That means every vehicle that comes into our territory from this date is covered by the safeguard duty.
Of course, those units in the existing inventories of dealerships prior to the date should not be affected by the policy. At least that's how we understand the situation to be. Which is why you will hear many salespeople "advising" their clients to buy a car now while they still have stocks that will not be levied the safeguard duty. That's good for sales quotas.
And here lies the confusion among buyers. Just when exactly will they fork out the extra fee? Which, by the way, should be in the form of cash bond or deposit. This is because the act is currently still provisionary—it's not yet final. It will remain so "for 200 days from the issuance of an order by the Customs Commissioner and while the case is under the formal investigation of the Tariff Commission." Think about this and you will realize that it's enough to perplex anyone involved in the car business.
Now comes this question: How to implement something that's not final yet?
So, while dealers start getting the fee from their customers, they are expected to return the full amount in case the policy gets thrown out the window—which, in a country as chaotic as ours, isn't a far-fetched possibility. Also, dealerships shouldn't increase their car prices pending the Tariff Commission's decision. "A price increase cannot be refunded," an executive tells us.
Now comes this question: How to implement something that's not final yet? Believe it or not, at least three industry executives from different brands have shared with me their strategy of using a "mystery shopper" just to see how their rivals are handling the issue. In other words, the car companies appear to be just as lost as their clients when it comes to the subject.
One dealer executive says most brands are looking to follow the lead of Toyota Motor Philippines. But the company has not officially announced the safeguard duty to its dealers, with one of the firm's marketing officials telling us that they might announce something this coming Monday.
Meanwhile, a dealership of the Japanese automaker seems to have jumped the gun on everyone else with this Facebook post: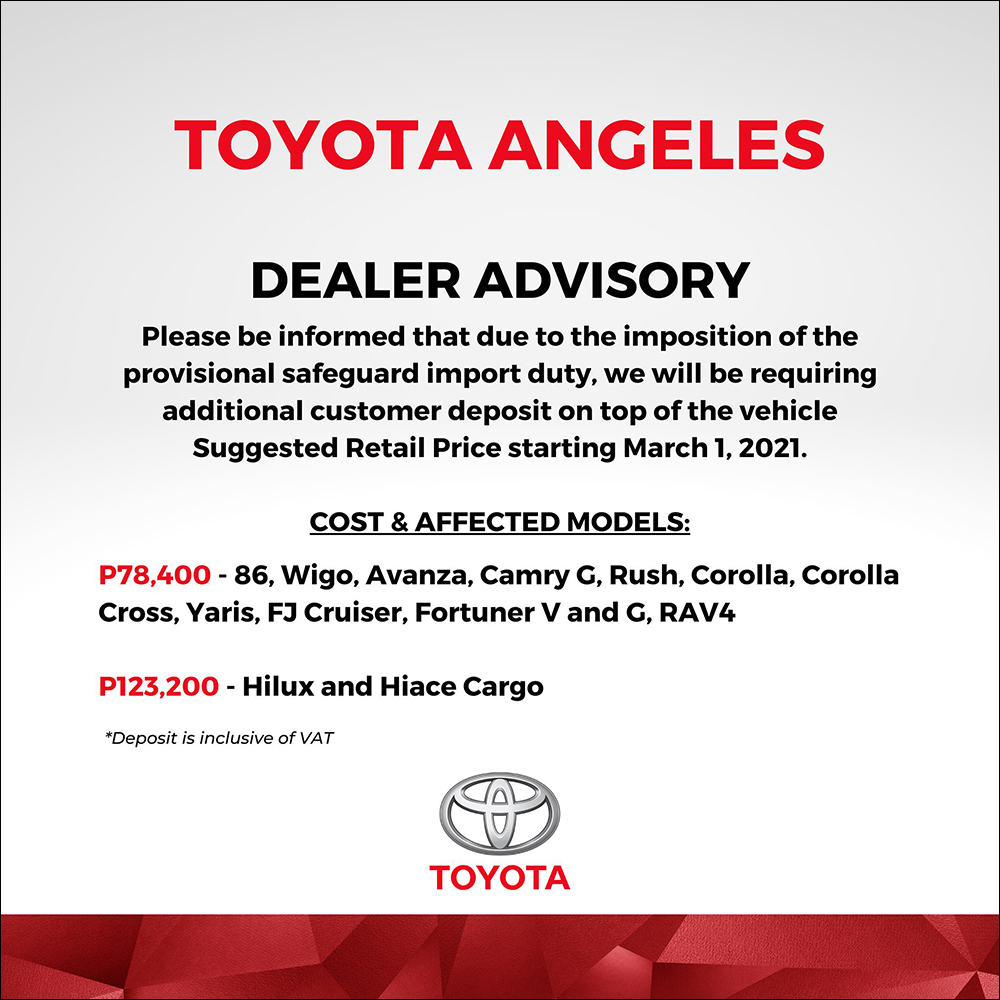 We're not sure if the safeguard fee is indeed taxable with VAT (12% of the amount), but Toyota Angeles has already computed the deposit for the vehicle models that it's selling. We called a salesperson from another Toyota dealership, and we were told that no such deposit was being implemented at their branch (at least not yet).
But see, that's what happens when laws and regulations are confusing or tentative. There are more questions than answers. Good luck and have fun purchasing a new car right now.