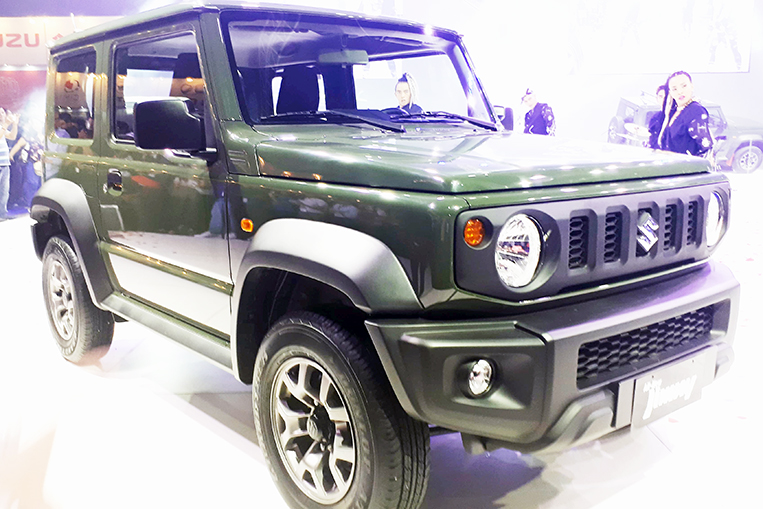 You, we and virtually every other car shopper in the country right now want Suzuki Philippines to officially launch and make available the all-new Jimny. We're all dying of anticipation, and some of us can't take the waiting any longer. As we reported last week, the fourth-generation Jimny is the Japanese automaker's main display at the ongoing 2018 Philippine International Motor Show. In fact, the extremely popular small SUV is pretty much everything that the local distributor is showing off at the event, with a handful of units in different eye-catching colors strategically positioned to attract show visitors.
Unfortunately, Suzuki Philippines Automobile Division general manager Shuzo Hoshikura had to apologize profusely to the assembled crowd at yesterday's unveiling of the hot new Jimny because they couldn't release it sooner. He basically confirmed what we had already told you—that the brand's latest offering wouldn't be sold until the second quarter of 2019. And because the formal launch is still months away, the executive also couldn't quote introductory prices. He did say that the new Jimny could be priced at "around P1.1 million."
Obviously, if we are all itching to get our hands on the new Jimny now, imagine the burning desire on the part of Suzuki Philippines to release the car already. Sales are everything, people. And so to make sure that impatient car buyers won't settle for another vehicle instead, the company is making its dealers invite customers to put down a reservation fee (typically P10,000) for the cute SUV. And if you'll bite, you need to sign this agreement: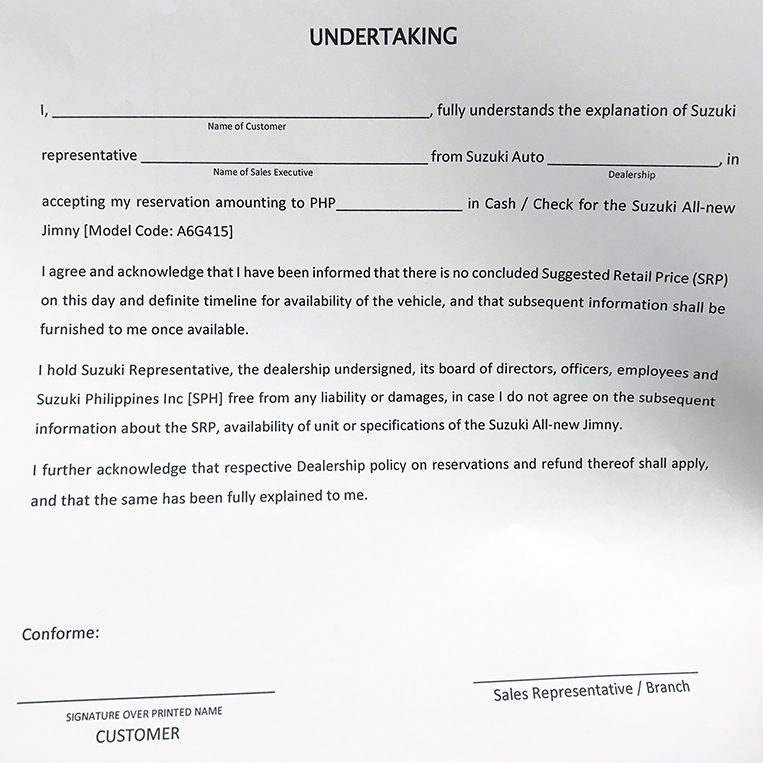 What the agreement states—more or less—is that you can't blame Suzuki later on if the final SRP turns out to be much higher than what you're expecting at the moment. Then again, we're not sure why this part needed to be addressed when we were told that the reservation fee was refundable anyway. If a customer doesn't like the introductory price, he or she can just ask for the money back. It's that simple. Although, of course, we also know how difficult demanding a refund can be in such a scenario.
Why reserve a unit now? Why not just wait for the launch? Well, as the new Jimny is a sought-after model not just here but elsewhere in the world, the waiting list will be very looooong (trust us). If you fork out a reservation fee now, as a Suzuki Philippines official pointed out to us, you're essentially included in the queue.
As to when your unit might actually arrive, that's an entirely different topic best discussed another time.