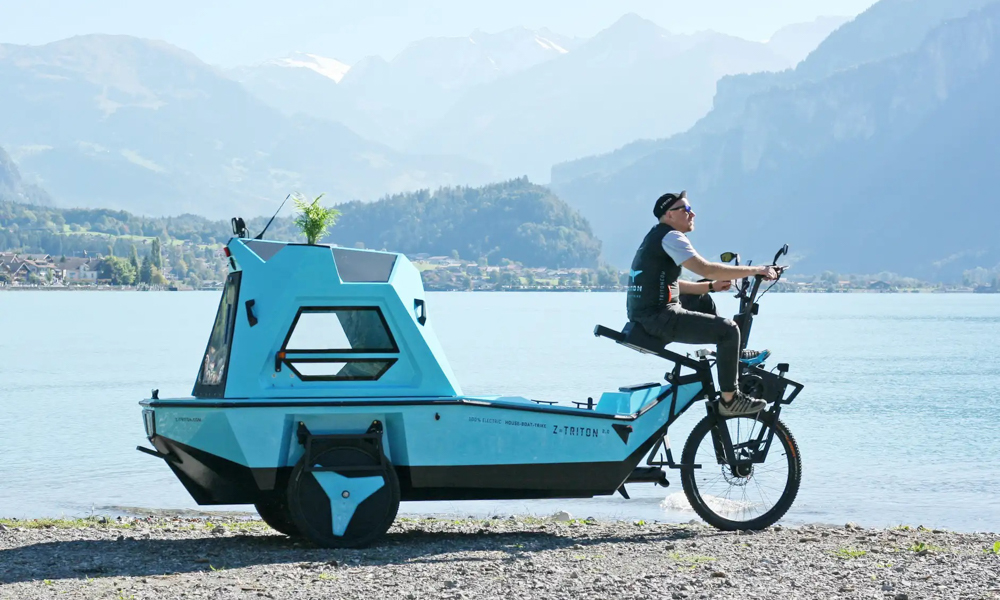 When you write about cars and mobility all the time, coming across something truly new that makes you look up and go "what the heck" is pretty rare. Today is such a day, and we're probably not alone with our first impression of the machine you will read about here. Called the Z-Triton, it promises to be a revolutionary and sustainable outdoor vehicle that combines a boat, a bike, and a camper all into one. It basically looks like something a 10-year-old kid would draw as the perfect vehicle for running away from home and exploring the world, except this machine is for real.
Created by Latvian designer and entrepreneur Aigars Lauzis, the amphibious camper trike came about as the result of a rather epic bicycle trip of his. A few years ago, he cycled from London to Tokyo, a trip that took him around four years to complete, with extended work stops along the way to help pay for his travels. While pedaling across the globe, he came across a few problems that will be all too familiar to outdoor and cycling enthusiasts. For one, he got tired of always having to set up his tent every night and then taking it down again in the morning. Second, he got frustrated that he was okay to travel on land but he could not cross even just small bodies of water, which often meant lengthy detours.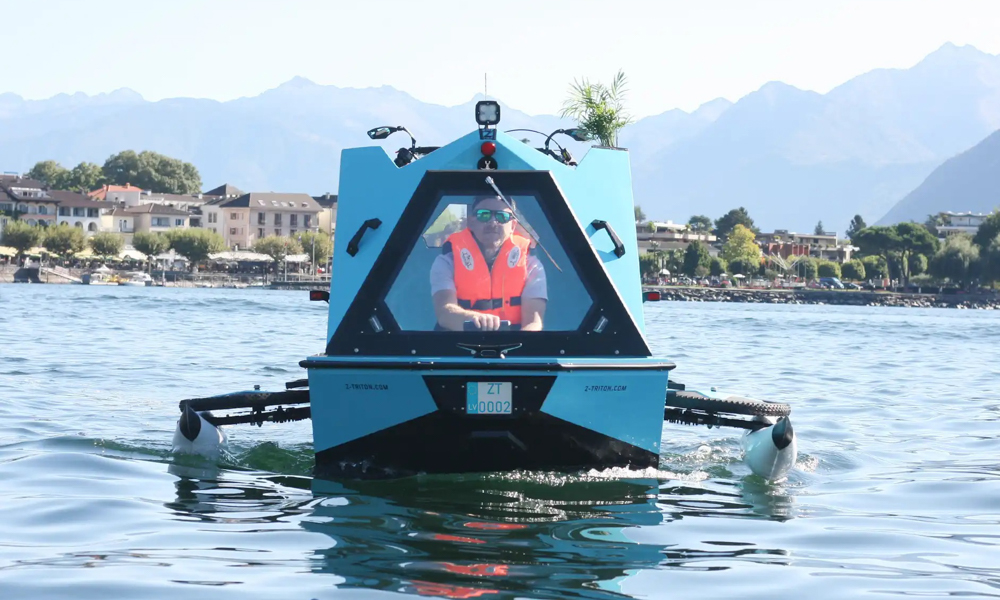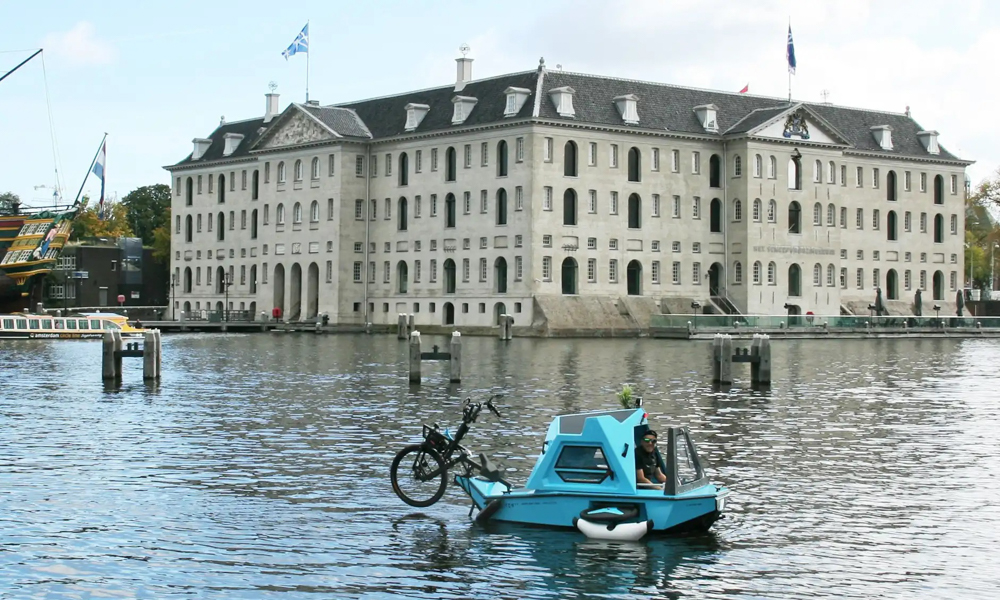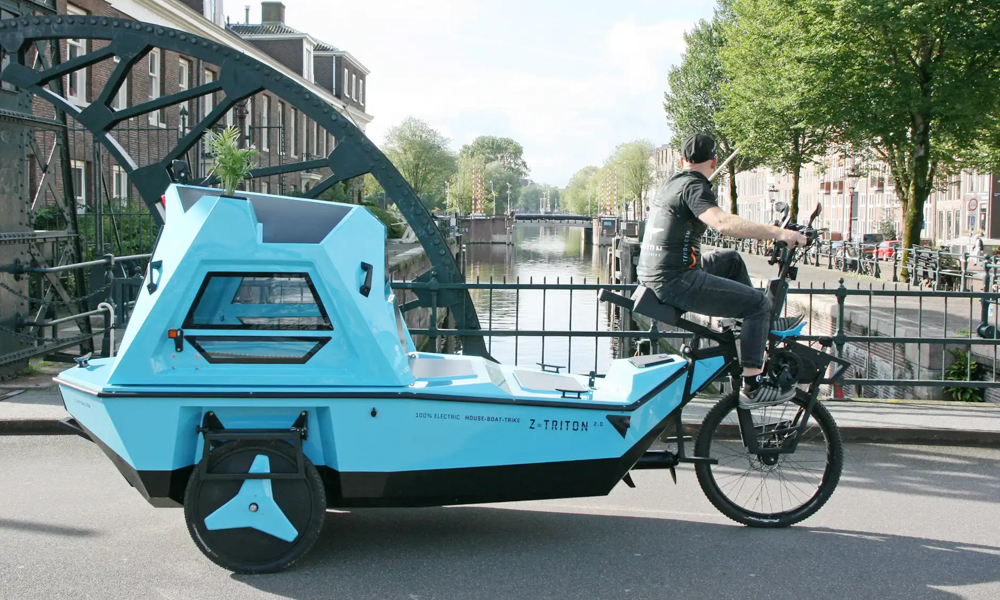 So, while still on the trip, he sat down and started to design a machine that would make his life on the road easier. Once back home, he founded a company, employed a few designers and engineers, and turned his vision into a reality. The latest iteration, the Z-Triton 2.0, is the machine you see here, and it was developed from his original prototype and ideas. The 2.0 is apparently close to series production, and you can already preorder one for €14,500 (P840,000), excluding taxes and worldwide delivery. What you get for that amount of money is essentially three vehicles rolled into one.
First, it is a bicycle, albeit a rather big one. It features seven gears and a 1,000W electric motor for some assistance when the going gets tough. One charge should be enough to help you pedal faster for at least 50km, and it also comes with USB charging ports, GPS, hydraulic brakes, and even turn indicators. Once you run out of road, you can make use of its second function as an electric boat. A tilting 1,150W boat motor and some inflatable flotation aids allow you to tootle along rivers and lakes for up to 20km on one charge, and that's on top of the 50km you already did while cycling. Some solar panels on the roof of the contraption can also pump a little bit of extra juice into the lithium-ion batteries.
Finally, once you're all done cycling and sailing, you can convert the vehicle into a cozy home for the night, with space for two and features like a folding table, storage space for a couple of backpacks, and a Bluetooth radio. Changing between the different modes apparently only takes around five minutes, and so far the unusual creation has been tested in the Swiss Alps, on Lake Geneva, and in Berlin. Now its creator thinks it is ready to be unleashed onto the paying public, and you can preorder your own from the Z-Triton website.