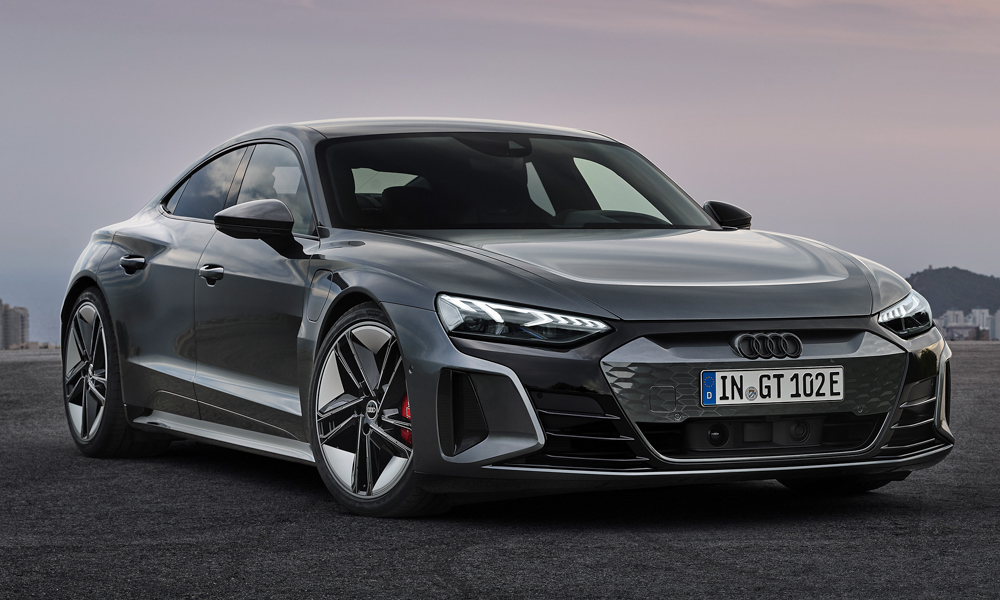 The electric vehicle market keeps heating up, and the latest contender for sexiest EV of recent times has just entered the ring. Meet the production version of the Audi e-Tron GT and its angrier brother, the RS e-Tron GT. Both are aiming to give Porsche and Tesla a run for their money. And on looks alone, we think they're in with a fair shot. Of course, design is only half the story with these high-tech speed-seekers, and the juiced-up pair from Ingolstadt promises to deliver on everything from power to range and charging times.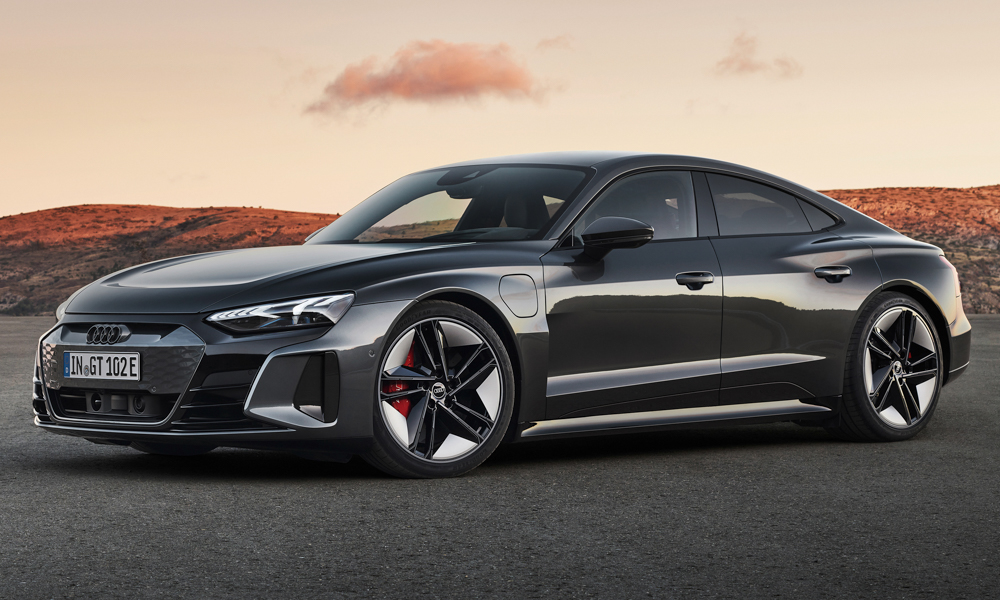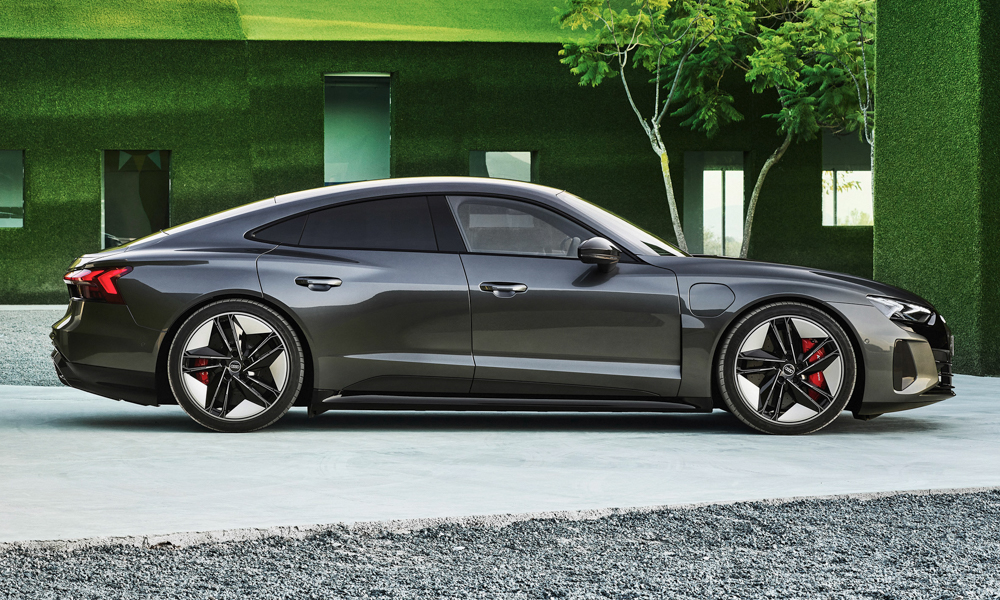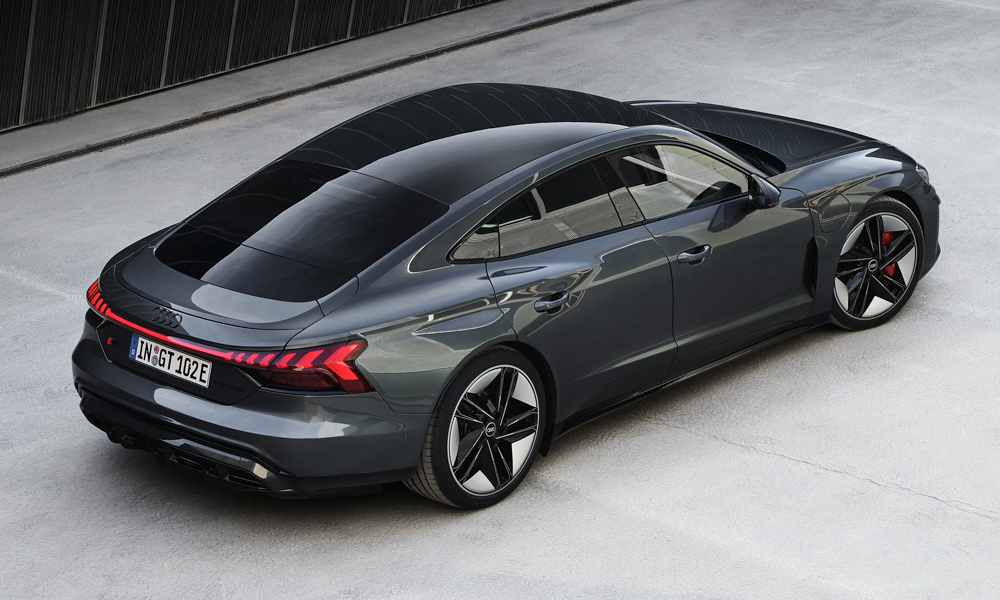 With pre-sales in the US and selected markets getting underway now and the first customer cars hitting the road toward the end of the year, buyers of the base version can look forward to a performance EV with two motors that produce 469hp and 630Nm using a 93kWh lithium-ion battery connected to an 800V architecture. A boost function attached to the launch control can up the power output to 522hp for 2.5 seconds, which helps to propel the car from a standstill to the century mark in a mere 4.1 seconds.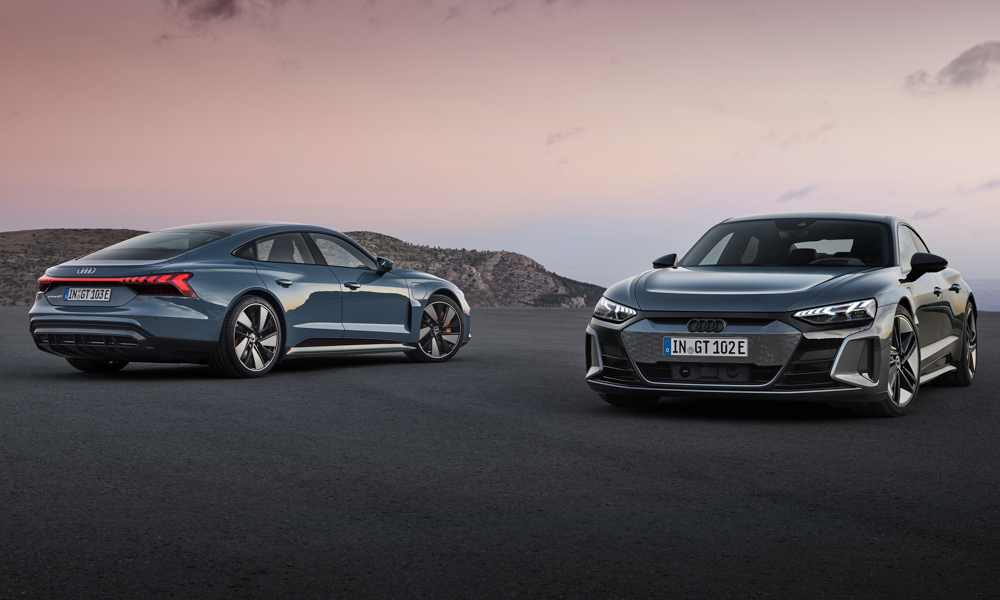 Anyone opting for the beefed-up RS gets a more powerful rear motor that increases total power output to 590hp and 830Nm, with the boost function temporarily upping the number of electric horses to 637hp for a 3.1-second 0-to-100km/h sprint. The regular e-Tron GT clocks out at 245km/h, while the RS gives it five more and surrenders to wind resistance at 250km/h. Maybe more impressive than the pure performance figures are the charging times, which are getting ever closer to the refueling times of petrol or diesel cars. With the right fast charger, drivers can add 100km of range in just five minutes and even refill the 396 cells from 5% to 80% charge in just 22 minutes. Audi claims a maximum range of up to 487km per charge, making range anxiety a thing of the past and battery-powered long-range road trips an easy thing to do.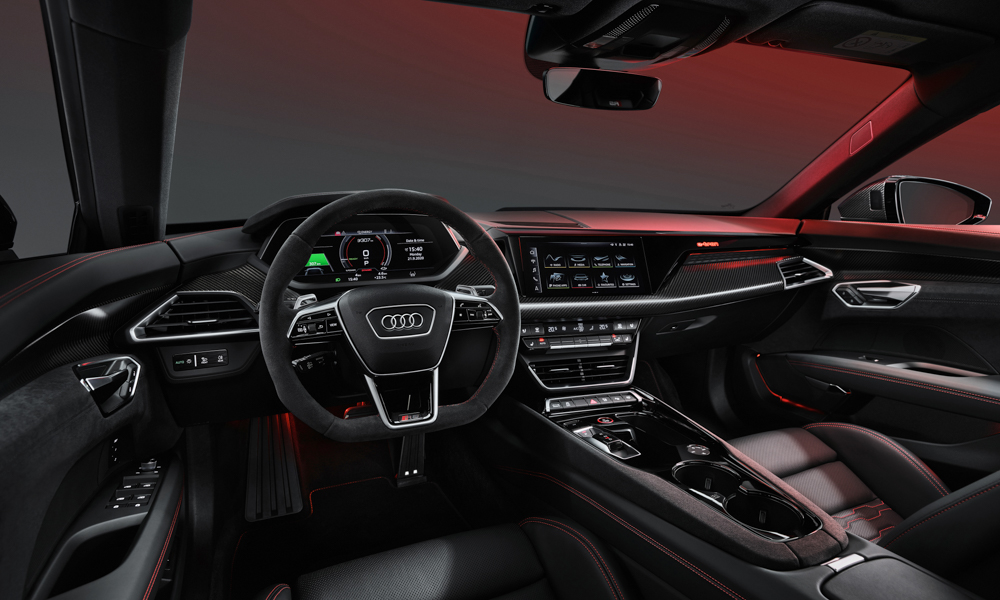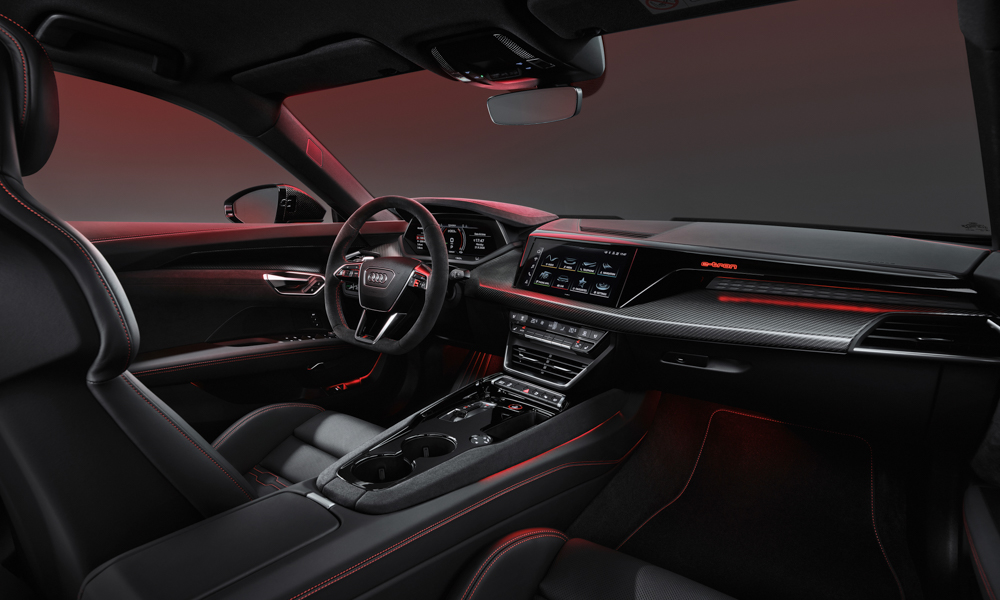 If the general proportions of this sleek head-turner look somewhat familiar, then that might be because Audi and Porsche developed the car together, and it shares its chassis and battery platform with the Taycan. After all, both brands sit within the Volkswagen Group, and so things stay firmly in the family. Pricing in Europe starts at €99,800 (P5.81 million) for the base variant and a whopping €138,200 (P8.05 million) for the RS version, making this four-door coupe a luxury choice for motorists wishing to enjoy electrified Vorsprung durch Technik. Standard features include a 12.3-inch virtual cockpit, a 10.1-inch central touchscreen, matrix LED headlights, and a leather-free interior.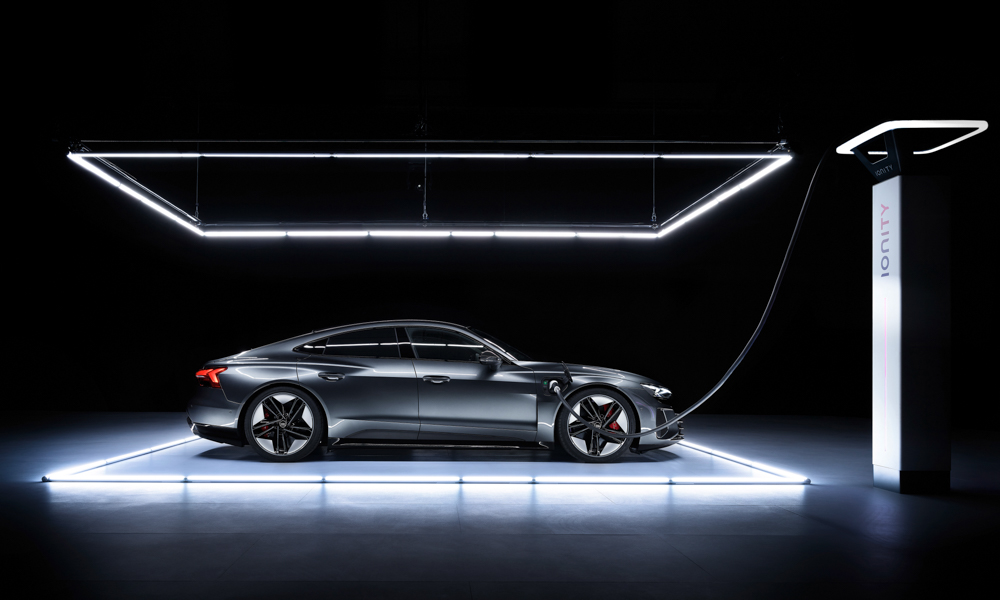 Optional extras, some of which come standard if you buy the RS, include Audi laser-light technology, a heads-up display, adaptive air suspension, and brake discs with a tungsten-carbide coating. Anyone needing more stopping power can also order carbon-fiber ceramic anchors that will take pride of place behind 19- to 21-inch alloy wheels with aero designs. With sound being a bone of contention on EVs, Audi is offering some artificial tunes as standard, and some sporty tones for the inside and outside of the car as an optional extra.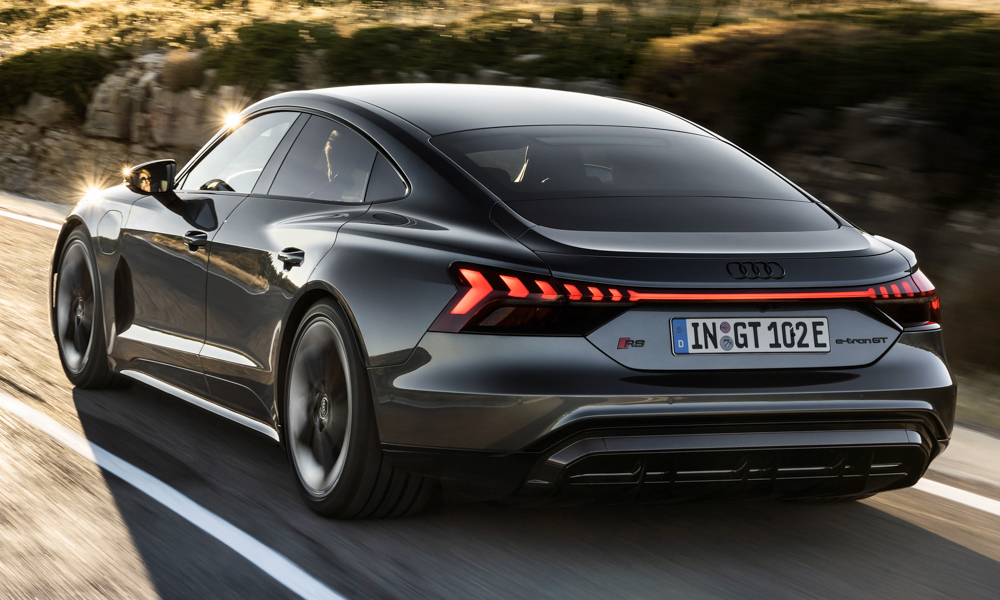 The e-Tron GT is being built at Audi's Böllinger Höfe plant where it shares an assembly line with the R8, showing how much the carmaker wants this to be a premium planet-saver. Production is being done in a carbon-neutral fashion, with the factory running on eco electricity and biogas, underlining the company's efforts to try and be more environmentally friendly. Standing 4.99m long and 1.96m wide, the e-Tron GT is a bold statement to the future direction of Audi. And if the success of its cousin, the Taycan, is anything to go by, then owners of Tesla shares should slowly start to get nervous. The Germans may have been late to the electric party, but they sure are taking over the dance floor quicker than John Travolta in Saturday Night Fever.