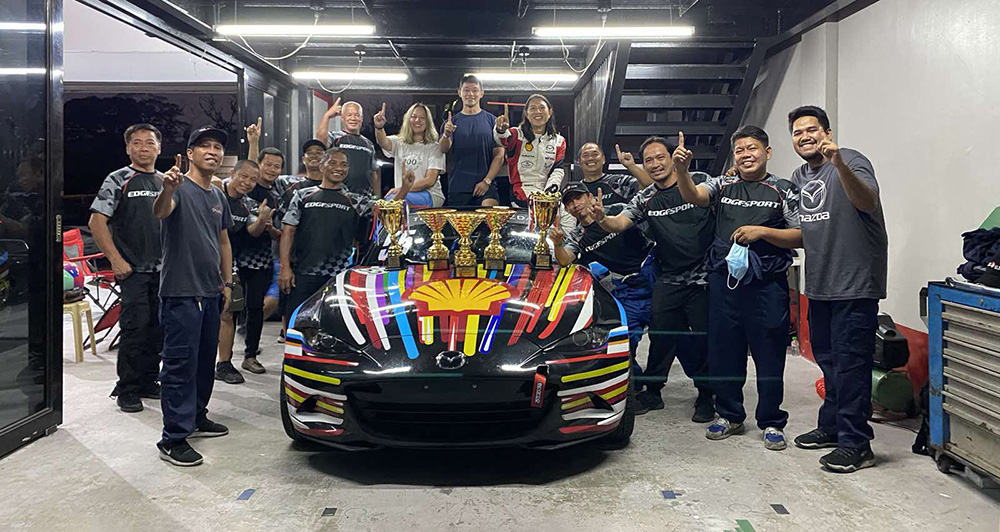 Remember the colorful Mazda MX-5 "Imagine" art car from a few months back? Well, it finally came back as the overall champion from the 2022 Petron Makabayan Endurance Race Challenge that took place on November 27.
Team MSCC Mazda Miata (backed by Mazda Philippines) was composed of Angie King, Tyson Sy, and Gaby Dela Merced as the pilots, with Edgar Dy-Liacco and Lloyd Macatigos making up the support team.
They managed 188 laps over eight hours of nonstop racing, setting the fastest lap of 2:16:648 and finishing ahead of the 17 other finishers (out of 33 entries). They also topped the Class 1 and Open A categories for both the four- and eight-hour races, despite starting in 11th place after qualifying.
If you're curious about the "Imagine" art car, you can read more about it in detail in our previous article. In a nutshell, it is identical to the cars found in the one-make MSCC Miata Spec Series, with endurance racing-related changes to the suspension and the drivetrain. And yes, the 2.0-liter Skyactiv-G and the six-speed manual transmission are kept entirely stock.
This is another feather in the MX-5's cap when it comes to local race victories, having also won the 8 Oras ng Pilipinas and the 12-Hour Kalayaan Cup in 2019, and the 12-Hour Kalayaan Cup in 2021. Add the one-make race series, and it's easy to see why the MX-5 (or Miata) is the sports car of choice for many around the world.