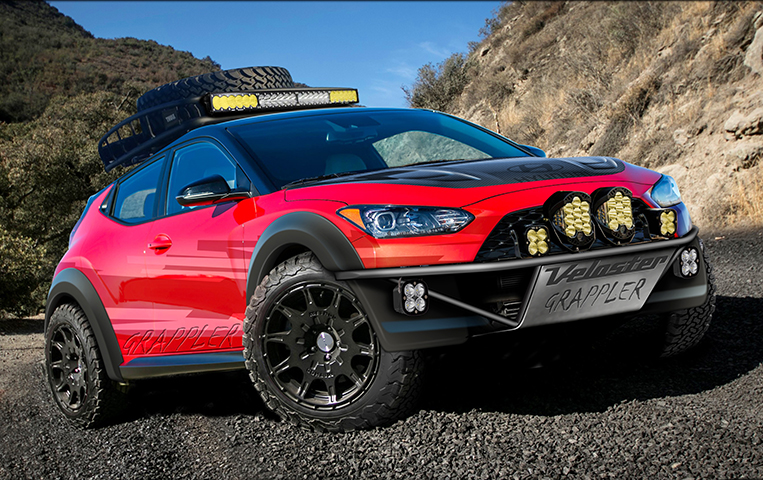 Picture this. There is an imminent threat of zombie invasion, and you need to prepare for a quick escape. However, you don't have a brawny, tank-like SUV like the Toyota Land Cruiser in your driveway. Instead, you have a cute Hyundai Veloster that spends most of its days cocooned inside the garage.
Obviously, that thing isn't going to cut it when you need to make a hasty escape and run over some zombies in the process. The Korean automaker is well aware of that, which is why the brand has made the Veloster Grappler concept car. Hyundai says this thing is "ready for any all-terrain adventure" (including the apocalypse, we suppose). Making sure that the Veloster Grappler can indeed handle any type of terrain is the meaty off-road wheel-and-tire combo. For clambering up steep inclines, custom brush guards and a front skid plate protect fragile parts so this Veloster can simply drive over any brain-hungry mummy coming at it.
Of course, an all-terrain adventure not only means barreling over the rough stuff. It's also about surviving in remote areas decimated by the undead. To that end, Hyundai has thoughtfully equipped the Veloster Grappler with some niceties that will allow you to keep going until you find a glimmer of civilization. The Thule roof luggage rack serves as a mount for the removable Goal Zero solar panel that feeds energy to an in-cabin power supply. This should be enough to power portable cooking tools and phone chargers so you can Instagram yourself eating canned beans inside the Napier dome tent that comes with the car.
The powertrain for this vehicle isn't known, but whatever they put under the Seibon carbon-fiber hood will be exhaling through a Borla exhaust system. Hyundai is unveiling this aggressive hatchback at the 2019 SEMA Show next month. With all the weird stuff happening around the world, you never know when you might need it.