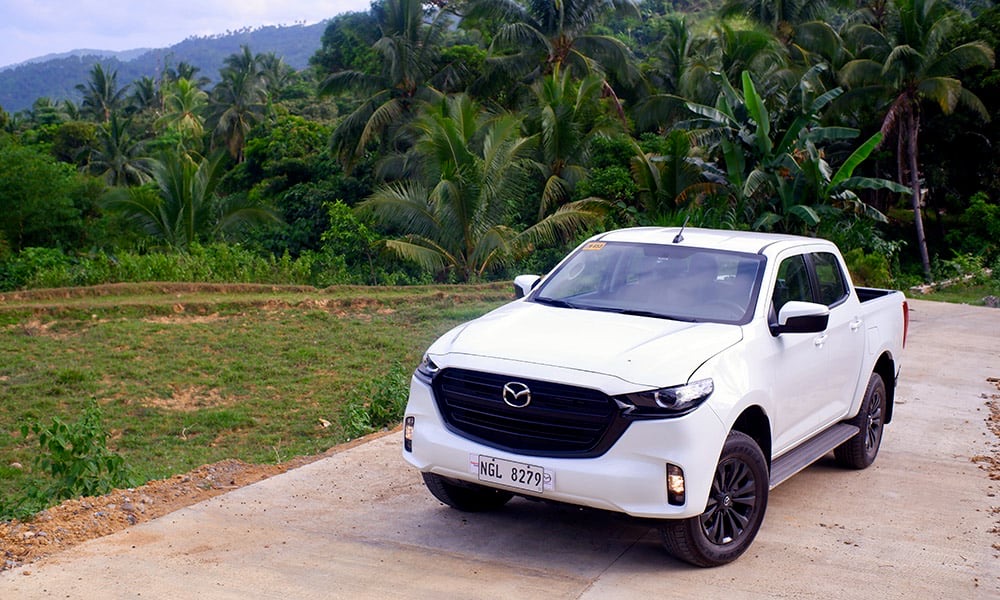 It has been a while since Mazda actually made its own truck. My very first test ride was actually a Mazda B2200 way back in 1998 for Automotion magazine, turned over to me by no less than our editor-in-chief (who, back then, was Automotion's managing editor). A 12-valve engine, as comfortable as a park bench, and just as basic.
Since those early days, Mazda's pickup truck has evolved from sharing a counterpart with Ford in various levels of engineering to now being a rebodied Isuzu D-Max. With Mazda clearly focusing on making premium, Japanese-engineered cars and SUVs—but not wanting to miss a piece of the lucrative truck market—a deal was made with Isuzu to get a competent pickup truck in the showrooms.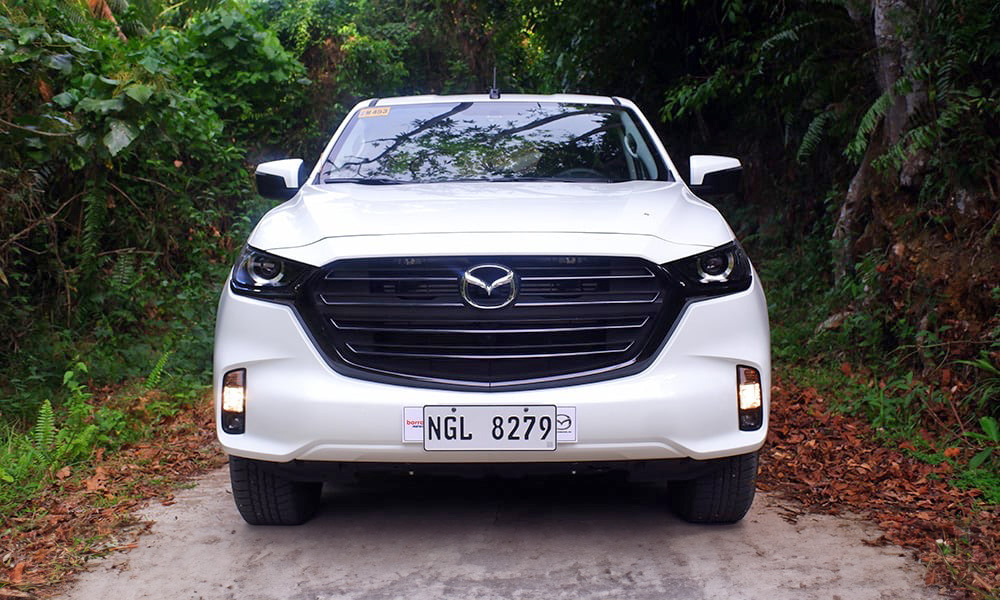 So, it gets the same 3.0-liter turbodiesel as the D-Max, same transmission, same suspension…pretty much the same everything except for the body panels and the interior. Mazda's Kodo design philosophy doesn't look particularly striking with the test unit's utilitarian white paint job, even with this "Black Edition" unit. Only 50 units of this limited run are available, by the way.
The slatted grille with its blackout paint looks like a gaping maw, and the front fascia with the slanted headlamps and the vertical fog lamps are conservative rather than trendy. Blacked-out, 17-inch wheels do contrast nicely with the slab-sided door and bed panels, but on the whole, it looks anonymous and would be completely invisible as a fleet utility truck.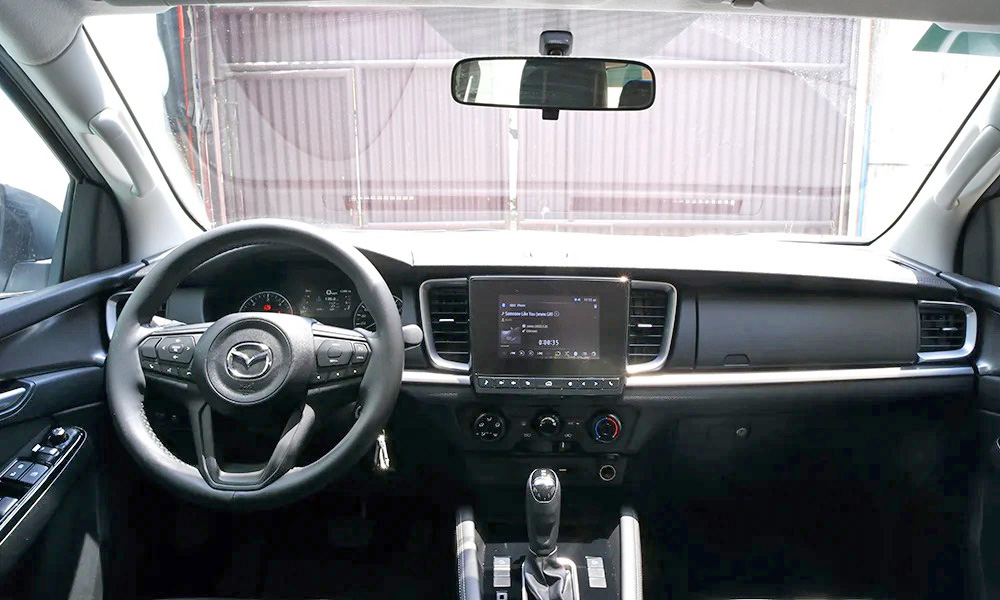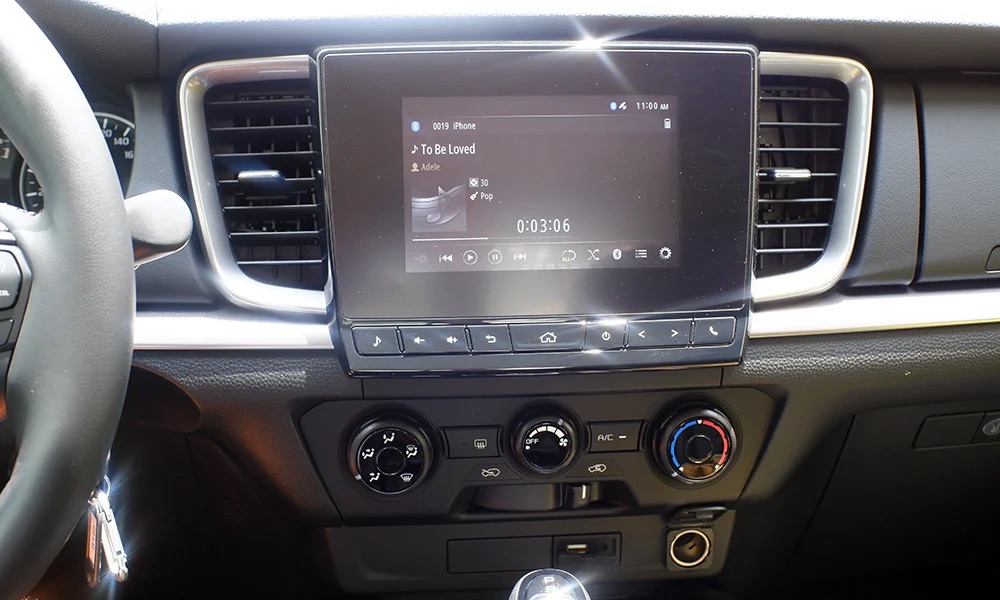 Things are much better inside with a cockpit that bears a familial resemblance to the CX line of SUVs. The leather-wrapped, four-spoke steering wheel is very Mazda, and the wide dashboard with a recessed instrument binnacle and a conventional center stack with traditional rotary dials looks handsome but not cutting-edge.
Silver door pulls and air-conditioning bezels add a bit of class to the otherwise monochrome interior, while the seven-inch LCD screen looks like an afterthought. The analog speedometer and tachometer look tastefully retro, but the screen in the middle is too small to be easily readable at a glance.
On the whole, it looks okay but largely forgettable. I had to check the photos I took with my camera to remember what the truck looked like, in and out.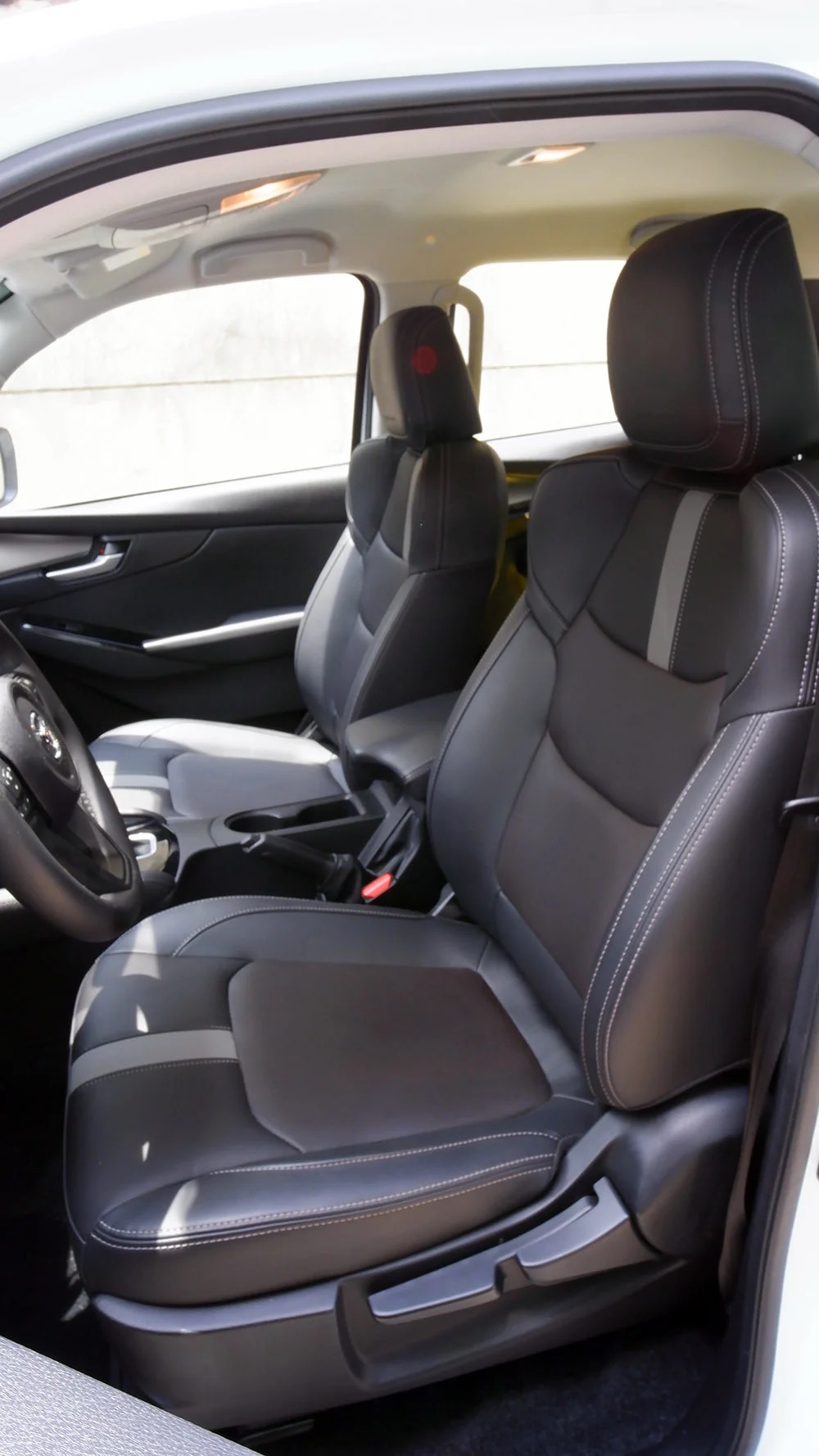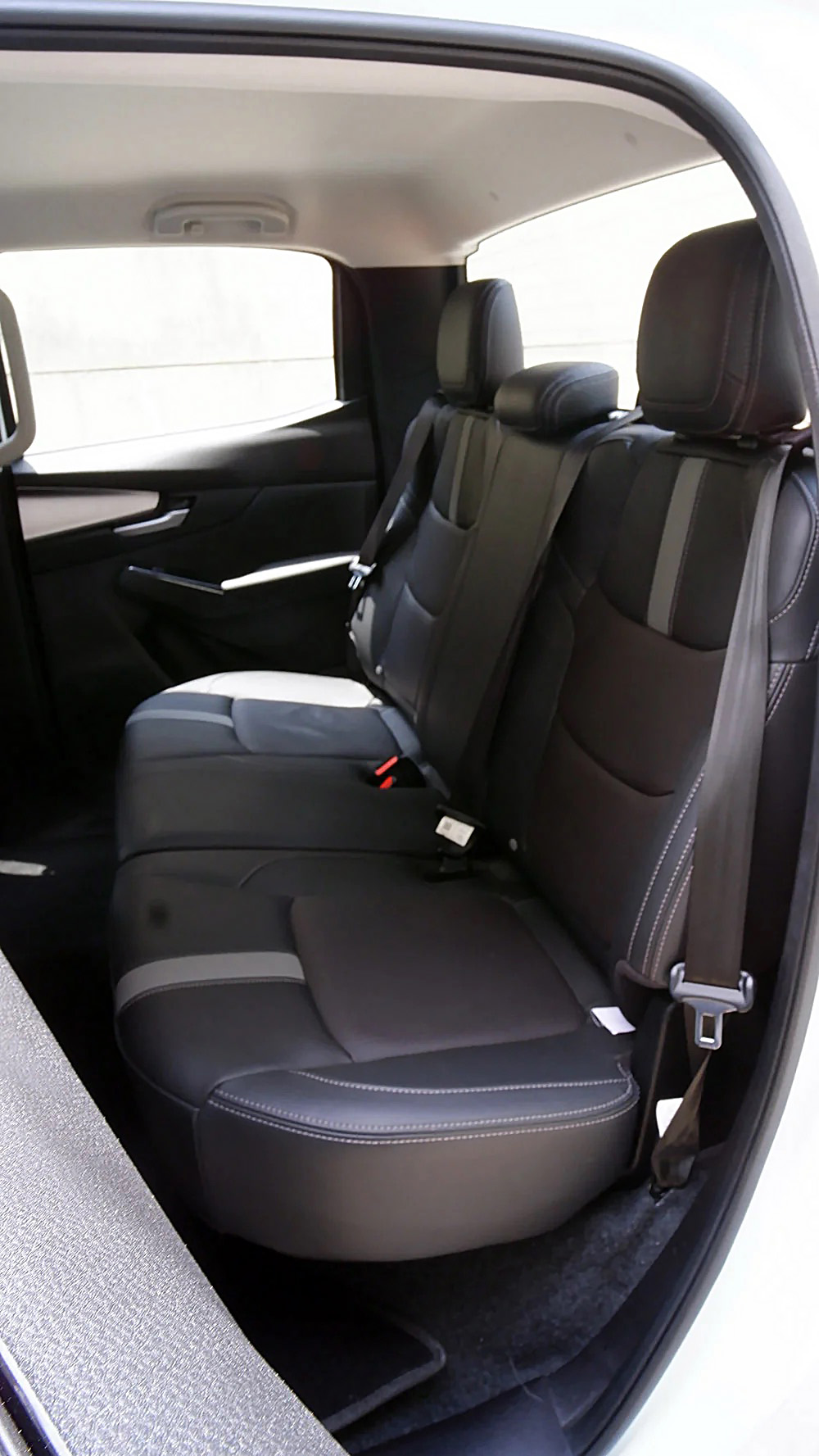 This being the 4×2 model, power-adjustable front seats aren't available, although finding a comfortable driving position is easy. Black leather upholstery spruces up the seats for the Black Edition, too. The driver seat has ample lumbar and side support, and the pedals and the tilt- and telescopic-adjustable steering wheel align naturally with the body.
While Ford has opted for relatively high boost to get more power out of its 2.0-liter unit, the Isuzu-sourced engine relies more on large displacement for bags of low-end torque.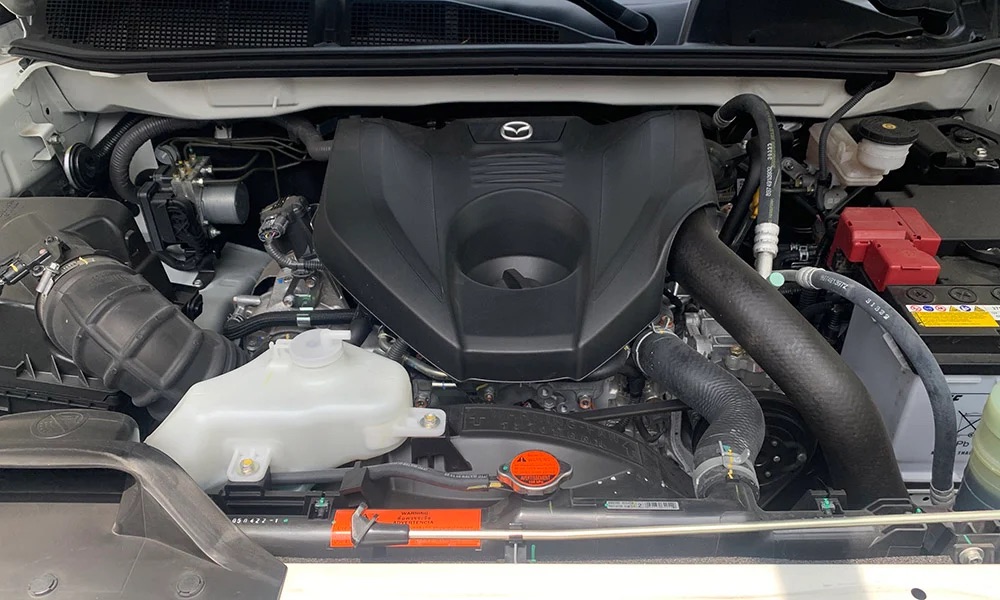 The BT-50 has no trouble lugging up a hill in high gear or with a heavy load, and the six-speed automatic is smooth and responsive. For twisty roads, putting the shifter in the manual gate is a satisfying experience as you can keep the engine in a lower gear, "on the boil" at around 3,000-4,000rpm.
The computer is conservative, however, and won't allow you to downshift at a high engine speed lest you overpower the rear wheels. As a consequence of the large displacement, fuel economy isn't stellar: just 11-13km/L on the highway with two passengers and a few overnight bags.
With a gross vehicle weight of 2,500kg—only 100kg less than the 4×4 variant—the BT-50 can certainly haul and make itself useful, though there's no magic with the suspension to create a comfortable ride. Front double wishbones and rear leaf springs are standard work-truck spec, and they deliver a stiff-legged ride when you're only carrying a light load.
The D-Max platform has made remarkable leaps in NVH refinement though, and the Mazda benefits with a quiet and solid ride even when you're hammering on a rough road. If you're used to a harsh ride, the Mazda won't surprise you. It feels better when you quicken the pace.
Turn-in is smooth and quite fast for a truck, with little slop on-center. The stiff suspension gives it an athletic feel in the corners. There's still a bit of roll and brake dive when you hustle, but quick engine response and a tail that likes to rotate with throttle oversteer make for an entertaining ride.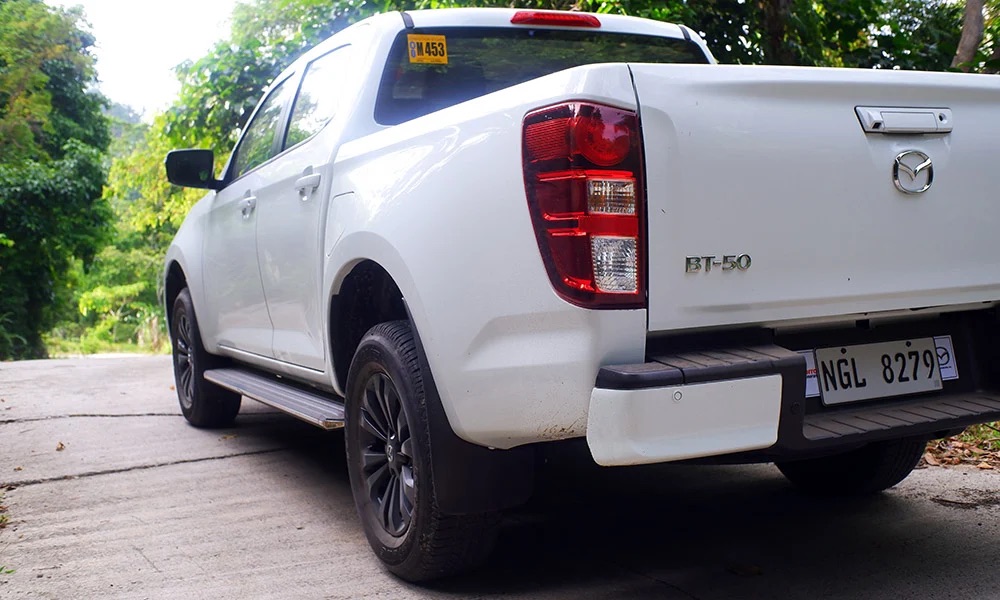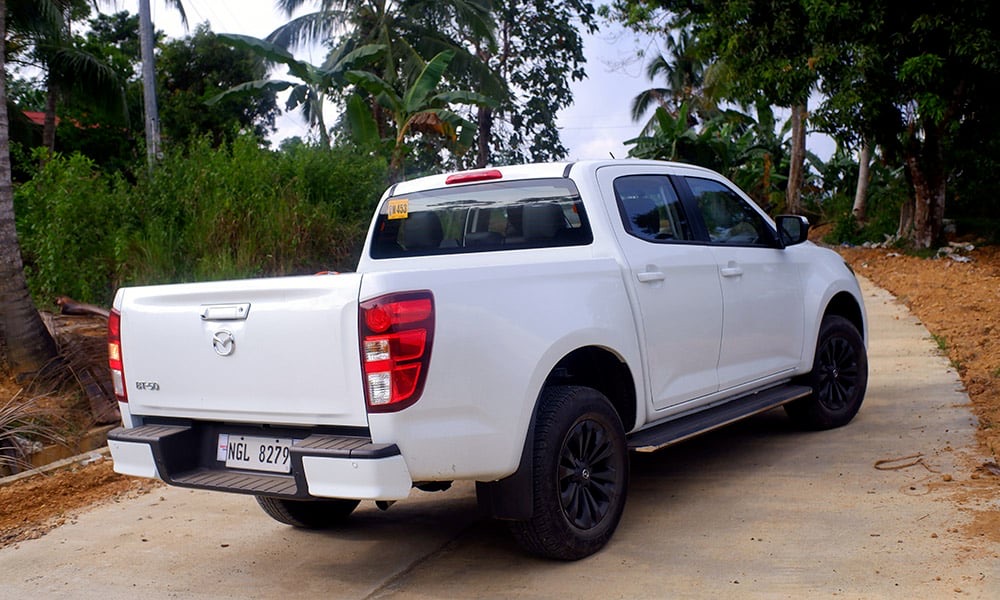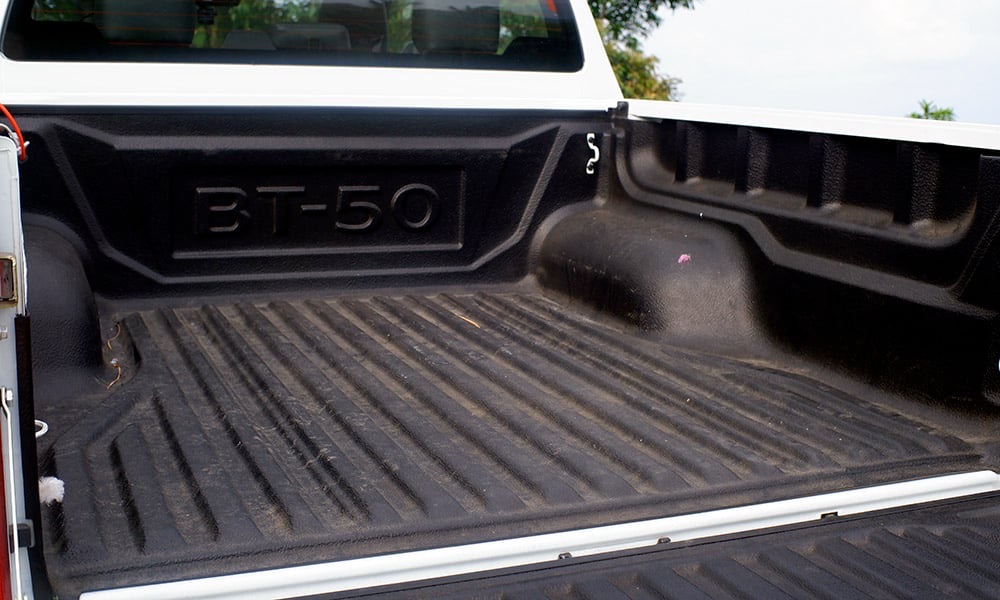 That being said, it's a little hard to overlook the fact that there isn't anything that feels wholly original or innovative with the truck. Apart from the body panels and the cockpit, it's really an Isuzu underneath for better and for worse. The bed has an assisted tailgate with some dampers to smoothly slow down its descent, but no box steps like the Ford Ranger. That LCD screen does the job, but can't hold a candle to the 10-inch portrait touchscreen of the Ford, either. Of course, the Mazda compares better against aging competitors like the Toyota Hilux and Nissan Navara.
A sticker price of P1,430,000 puts it right in the middle of these industry stalwarts, and while there's no glaring shortcoming about the truck, neither is there anything that stands out. You basically buy this truck because you like how Isuzu makes its trucks but prefer how Mazda dresses it up.
This isn't a strategy that's going to put Mazda at the top of the truck sales charts, but so long as it gets people into the showrooms who would otherwise buy a truck elsewhere, I guess it's good enough.
MAZDA BT-50 4X2 BLACK EDITION
| | |
| --- | --- |
| Engine | 3.0-liter four-cylinder turbodiesel |
| Transmission | 6-speed automatic |
| Power | 187hp @ 3,600rpm |
| Torque | 450Nm @ 1,600-2,600rpm |
| Dimensions | 5,280mm x 1,870mm x 1,785mm |
| Drive layout | RWD |
| Seating | 5 |
| Price | P1,430,000 |
| Upside | Torquey drivetrain, sporty-stiff handling, invisible styling. |
| Downside | Lacks a unique identity. Harsh ride is not for the easily carsick. |