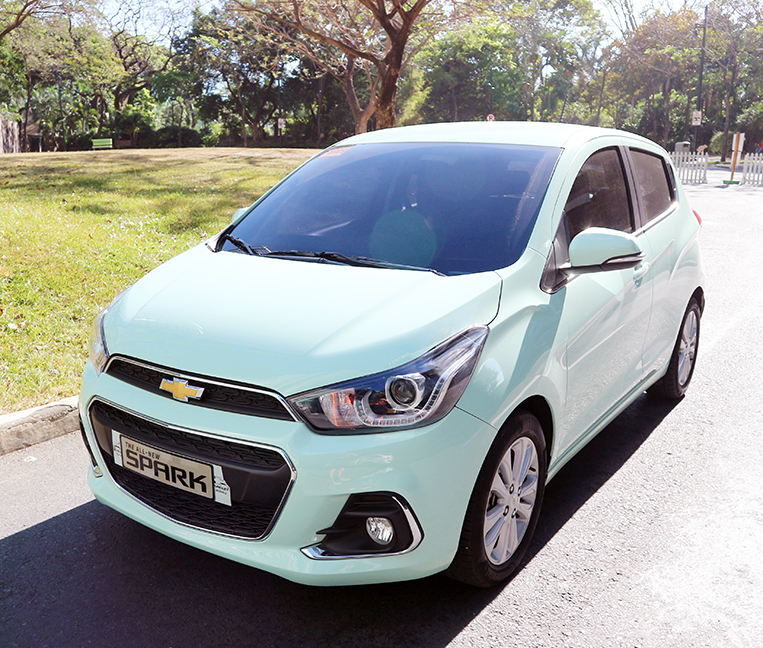 I'm a hatchback fan, so I will always tend to view this vehicle type in a positive light. That said, I prefer either a boxy or a sharply contoured hatchback to one that has more curves than a beauty pageant. So among the current crop on the market, I like the looks of the Kia Picanto and the Chevrolet Spark. Which made me say yes when Chevrolet Philippines offered the latter to me for a few days.
The unit lent to me was colored mint. It was like staring at frozen toothpaste, and I mean that as a compliment. Very refreshing. Very soothing. Very hey-look-at-me trendy. They officially call this paint job Mint My Mind, and I'm not even kidding. If you don't want to get singled out in traffic by the MMDA peeps every time you're violating the number-coding rule, pick another color. You can go for Black Meet Kettle or Son of a Gun Gray Metallic or Switchblade Silver or Summit White or Brimstone. Just don't get Pull Me Over Red because that defeats your purpose in the first place.
One really head-turning exterior element was the LED park lighting for the projector headlamps. So lit in every sense of the word.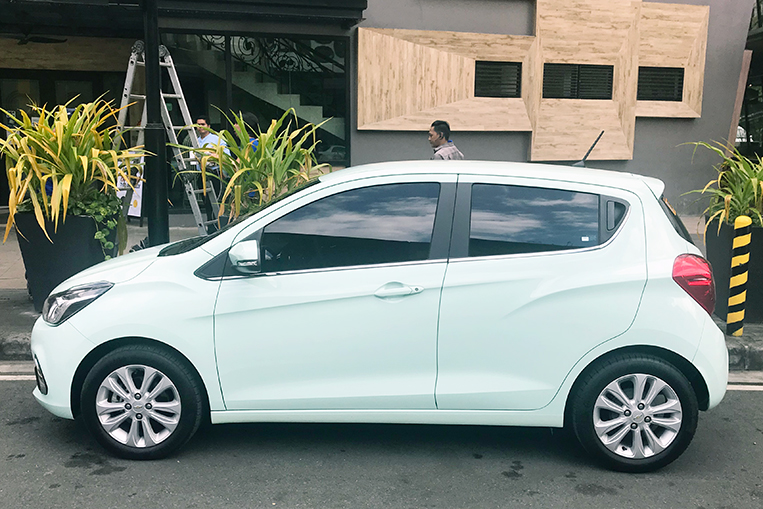 The Spark is a mini hatchback, which is a notch lower than my personal car, the subcompact Honda Jazz. Now, the Jazz is my idea of a perfectly sized ride (at least for my corporeal proportions), so there was initial worry on my part that the Spark would be too small for my liking. My apprehension melted away when I tried the driver's seat on for size—it felt as though the American automaker had me in mind when the car was being designed. Sure, I'm only 5'7" (okay, maybe closer to 5'6"), but then I imagine that most of the Spark's target buyers—women, college students, first-time car owners—are either petite or fit compared to me.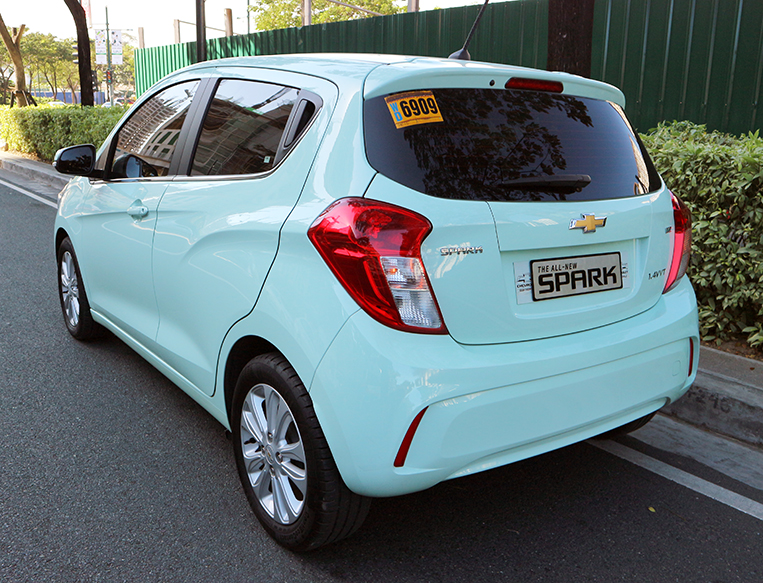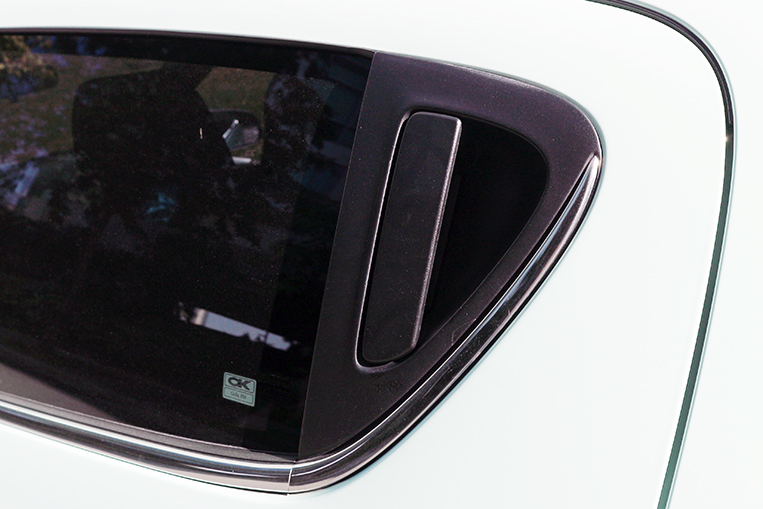 At 3,635mm long from bumper to bumper, the Spark is shorter than the Mitsubishi Mirage but a tad longer than the Picanto. I was extremely amused by the ease with which this car could be maneuvered in and around tight spaces. I brought it one time to Capitol Commons in Pasig City and was able to squeeze it parallel-wise into a meager spot in between two vehicles. And that was without parking sensors or a rearview camera. I know my parking skills are awesome—just not this awesome. Maybe the electric power steering helped. But I'm sure the vehicle's tiny dimensions and the way its wheels are pushed as far out to the corners as is mechanically permissible had a lot to do with my Russ Swift-worthy feat.
Chevrolet rightfully markets the Spark as a four-seater, as clearly shown by the number of headrests for the piano-black-clothed seats. This is the ideal limit of adult occupants for a car in this size category, and the Spark pleasantly has more than enough room for a healthy quartet. The shorter and narrower Hyundai Eon, on the other hand, is being passed off as a five-passenger hatchback. That would be accurate if the fifth person were a two-year-old toddler on your lap. Or an anorexic Instagram influencer—also on your lap.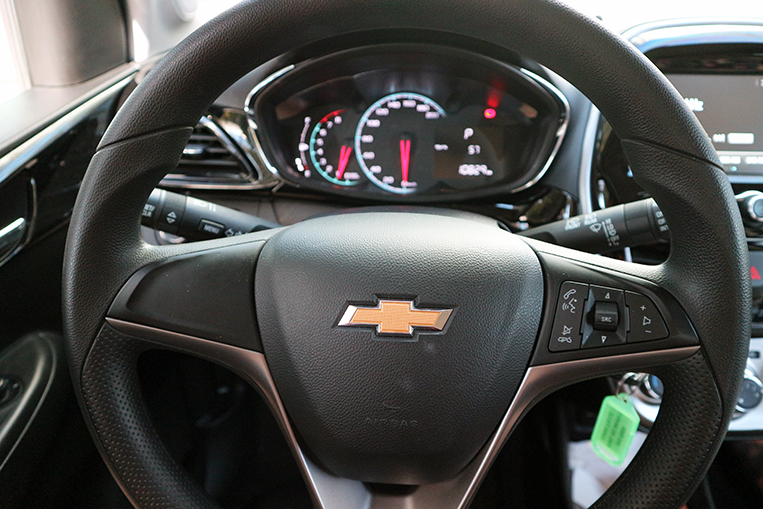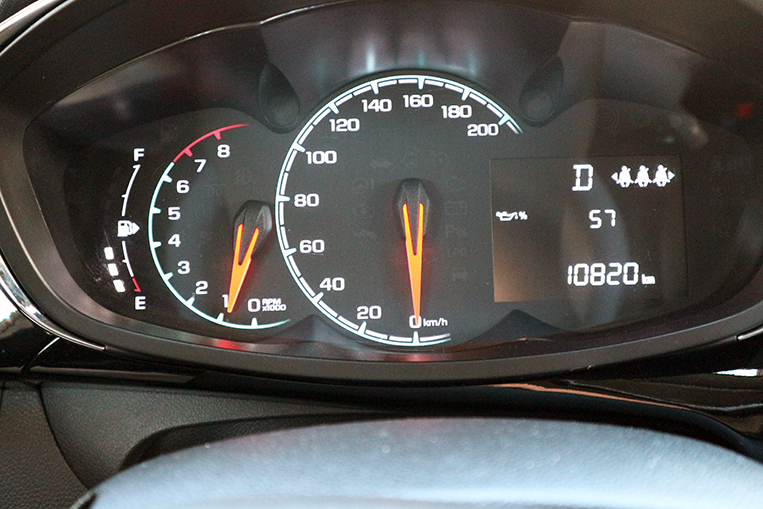 The next thing I noticed after the decent interior space was how the car didn't appear and feel cheap at all. It is quite common in this segment to scrimp on materials and features to keep the costs down. This Spark didn't seem plagued by such economic constraints. The dashboard felt solid, the plastics were nice to the touch, the surface accents struck me as premium. I automatically assumed it was because I had been given the top-of-the-line LTZ variant, which counts chrome door handles and a four-way adjustable driver's seat among its add-ons. But then it turns out that most of the amenities I saw in the cabin are also present in the lower LT variants, like the seven-inch MyLink touchscreen infotainment system (which can mirror your smartphone's functions), USB connectivity, radio controls for the steering wheel, and a total of six speakers. Even the heated, power-folding side mirrors (with turn signals) are standard across the range.
Overall, the Spark cockpit is sporty and refined enough to actually qualify for vehicles in a higher class. Heck, it would probably look overdressed inside my Jazz. Talk about a product punching above its weight.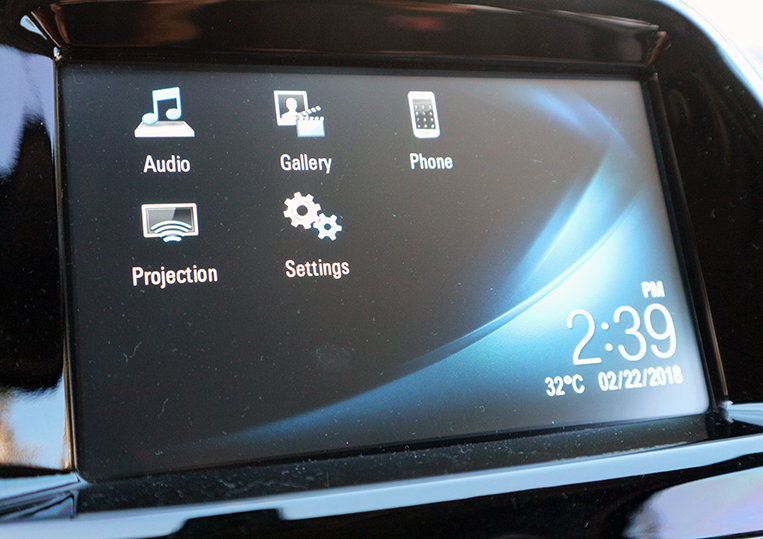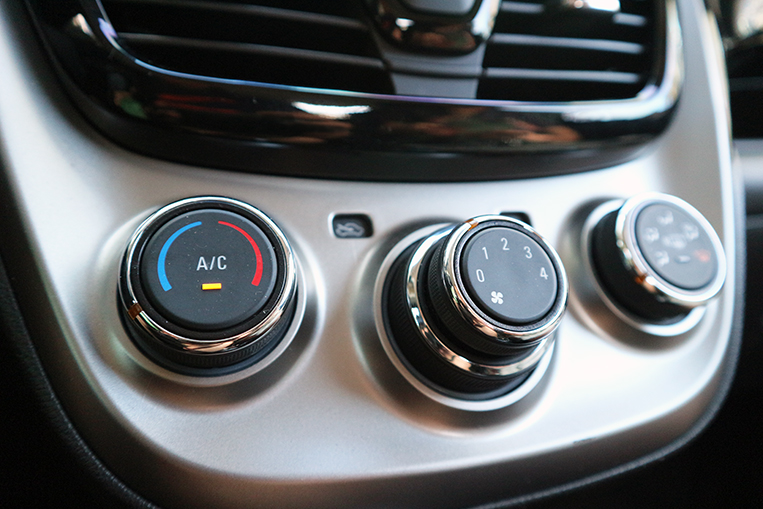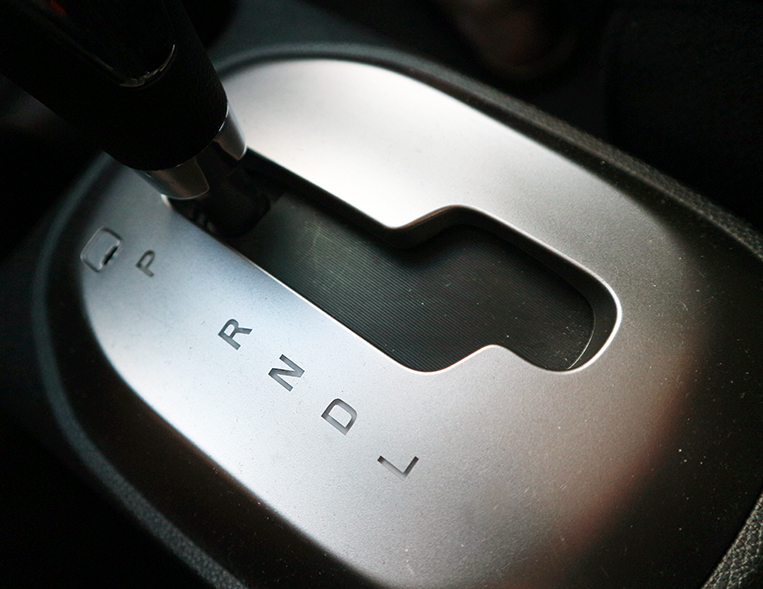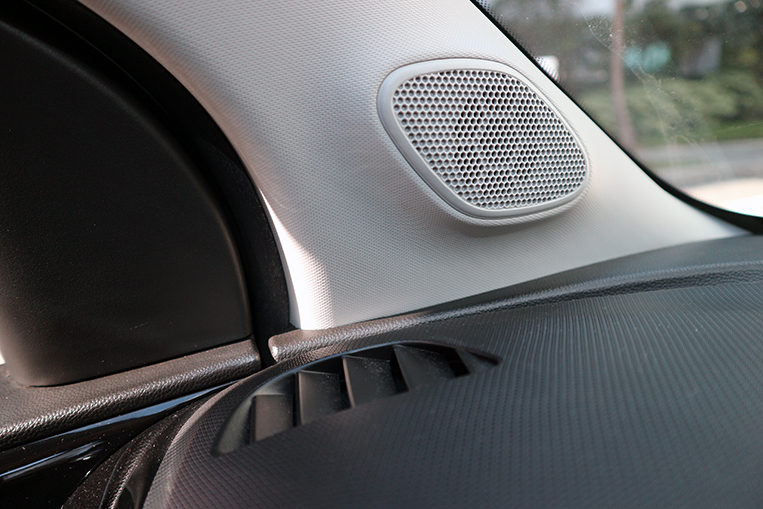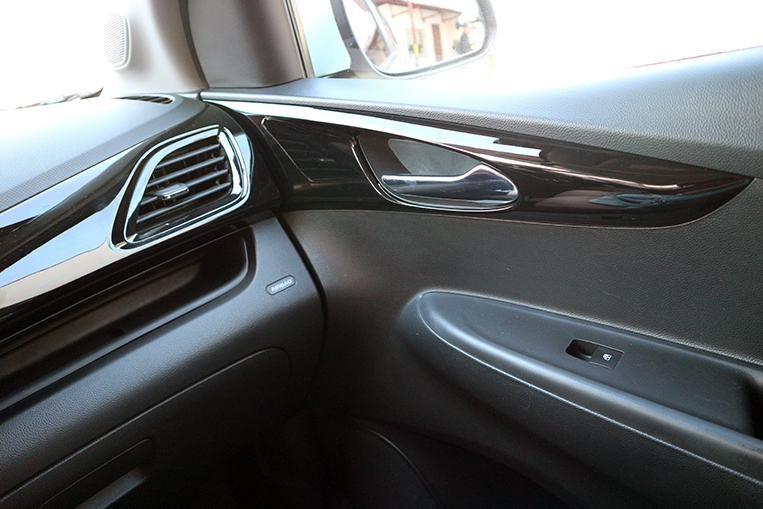 Now, for the most important part: the car's propulsion. The Spark LTZ is equipped with a 1.4-liter four-cylinder dual VVT Ecotec gasoline engine that's mated to a continuously variable transmission. Honestly, this is a love-it-or-hate-it powerplant. On the one hand, this power unit has some serious zing to it. Because of it, the Spark is lively, snappy, quick. I dare you to find a more spirited motor in this segment. It would shame the Mirage's paltry three-cylinder heart if they ever ran into each other on the expressway. What a lovely engine-and-gearbox combo General Motors has shoehorned into a 1,049kg mini-hatchback body, resulting in a kart-like demeanor helped by class-leading figures of 98hp and 128Nm.
But.
This 1,399cc engine is noticeably thirstier than what buyers in this segment might expect. I admittedly didn't gauge the fuel consumption myself, but the guzzling rate was brisk enough to make me pay special attention to it (the fuel gauge usually helps in this regard). When the results of the Department of Energy's 2017 fuel economy run were released in November, I was surprised to see the Spark's rating at only 12.15km/L even as its main rivals had more than double that number (29.23km/L for the Picanto and 25.19km/L for the Toyota Wigo). Now I know why.
So if you're a budget-conscious, first-time car owner for whom fuel efficiency is nonnegotiable, look elsewhere. The Spark—neither this LTZ variant nor the LT ones—isn't for you. But if you want a fun city car that won't make you cringe in regret every time you get behind its wheel, I highly recommend this little runabout.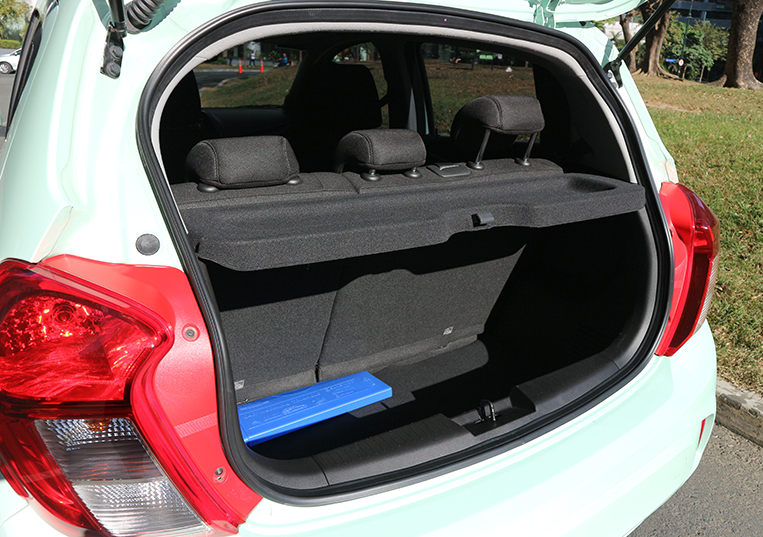 At P859,888, the Spark LTZ is cursed with a price tag that forces interested buyers to consider other options. But you have to understand that this diminutive car is pretty enticing in itself—front airbags, traction control, antitheft alarm, engine immobilizer, fog lamps, 15-inch alloy wheels, and a 195L cargo compartment. It also comes with a five-year warranty and an unwritten guarantee to make you smile again.
CHEVROLET SPARK 1.4L LTZ
| | |
| --- | --- |
| Engine | 1.4-liter in-line-4 dual VVT gasoline |
| Transmission | CVT |
| Power | 98hp @ 6,200rpm |
| Torque | 128Nm @ 4,400rpm |
| Dimensions | 3,635mm x 1,595mm x 1,483mm |
| Drive layout | FWD |
| Seating | 4 |
| Price | P859,888 |
| Upside | A small car that doesn't have small-car cheapness. |
| Downside | A small car that doesn't have small-car pricing. |