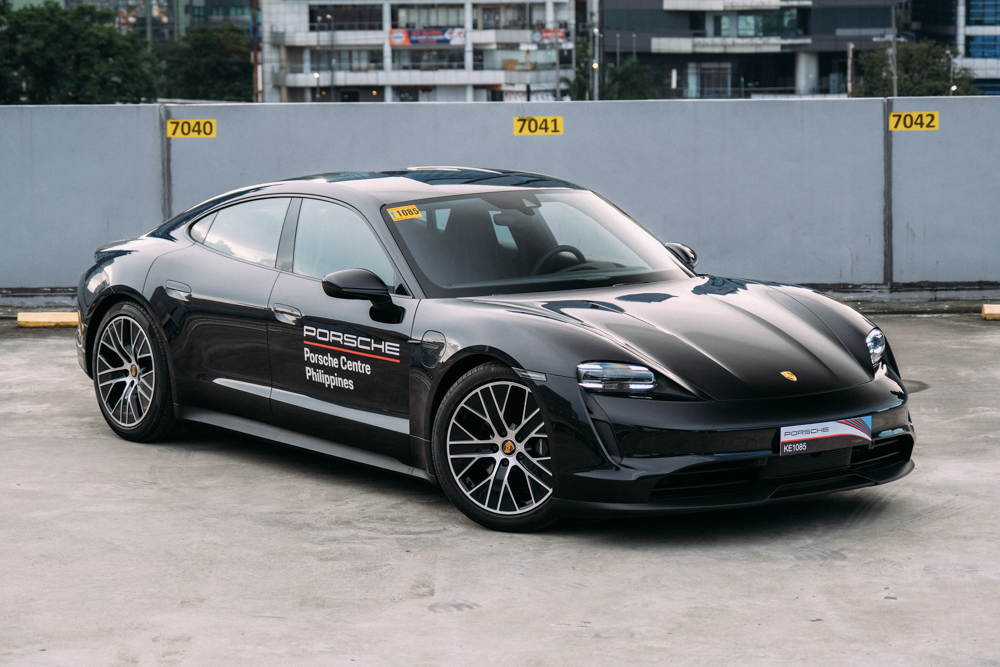 Sports cars are impractical, emotionally driven purchases. They're meant to squeeze every last bit of dopamine out of you as you carve through mountain passes or buzz around a racetrack. Electric vehicles, on the other hand, are generally seen as boring.
Most of them are practical city commuters (because of their zero-emissions nature). But thankfully, some have a sense of humor. These are the "fun" EVs like the Porsche Taycan, which has supercar-beating speed and handling. Of course, it's made by the same company that arguably bears the gold standard of performance vehicles.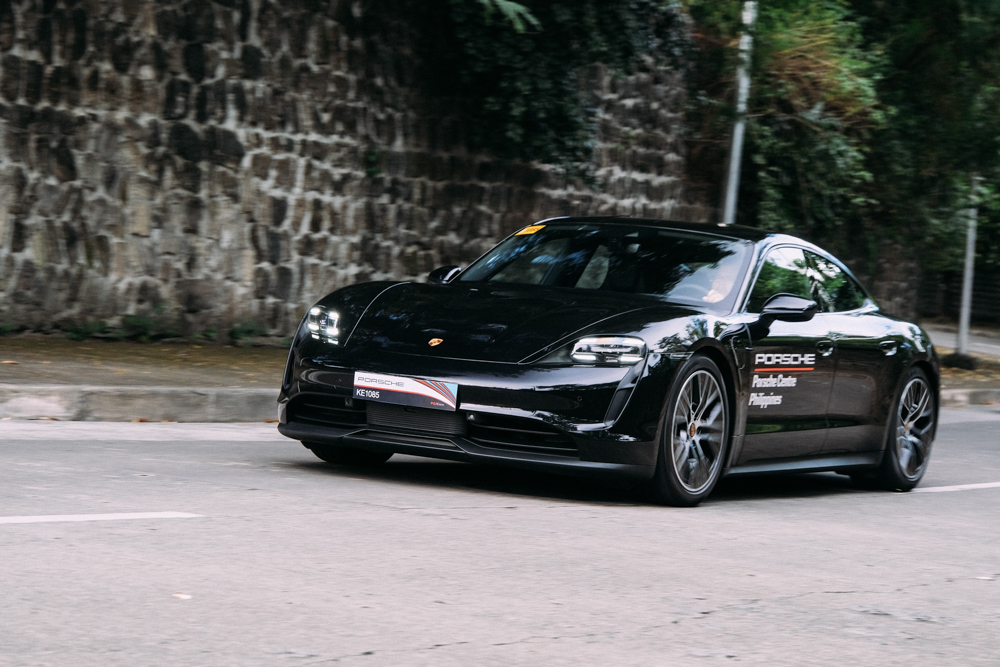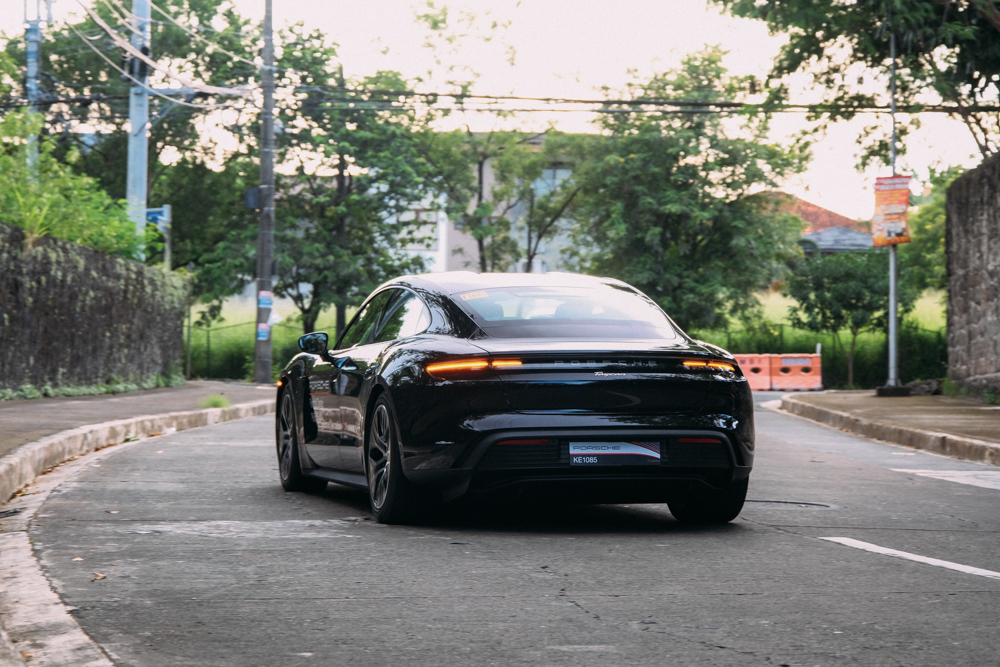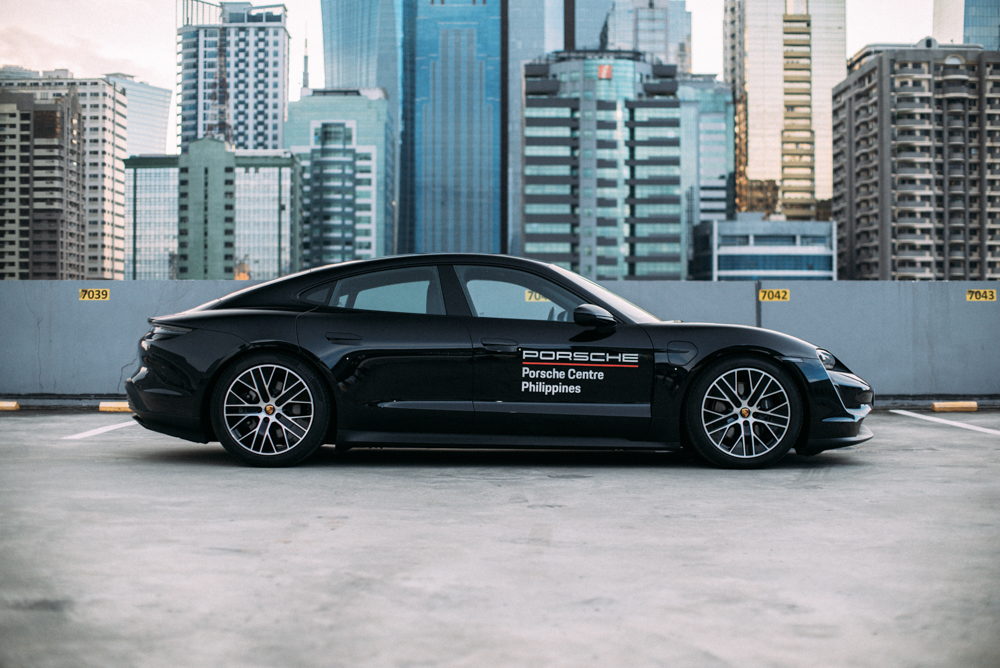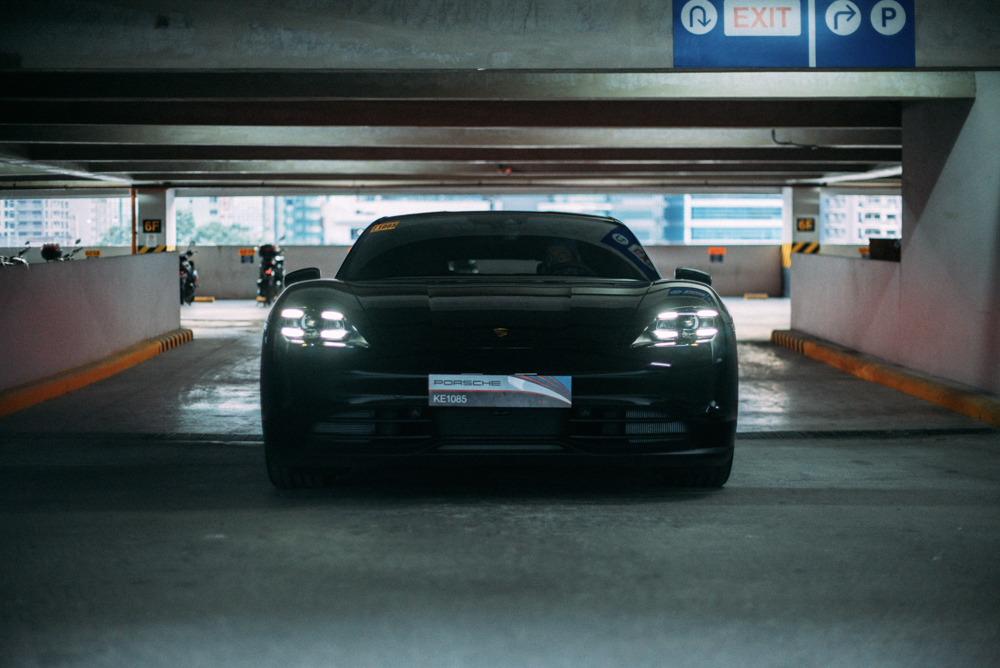 This new breed of electric sports cars comes at a cost, though. While EVs are starting to mature technology-wise, local infrastructure is nonexistent, which adds an extra layer of complexity to owning one. Think of it as the "early-adopter tax" in tech speak.
But the Taycan's clientele is wealthy enough to own other vehicles. We've talked about how the Turbo S version drives so this time, we're looking at the less expensive "base variant" from a different perspective.
While the all-wheel drive Taycan Turbo S has an astronomical price of P18.5 million, its entry-level, rear-wheel-drive brother comes in at a more down-to-earth P9 million. Not close to the German SRP of €84,000 (P4.92 million), but the car wasn't bare-bones either.
I wasn't able to find out all the exact options, but a few obvious ones were:
20-inch Taycan Turbo Aero wheels
Black leather interior
Adaptive air suspension
ParkAssist including a reversing camera (which did not like the placement of the front license plate)
Four-zone climate control (4-Zone)
Ambient lighting
A/C ionizer
14-way adjustable front seats with memory
Porsche crest on headrests
Passenger display
Bose surround-sound system
22kW AC charger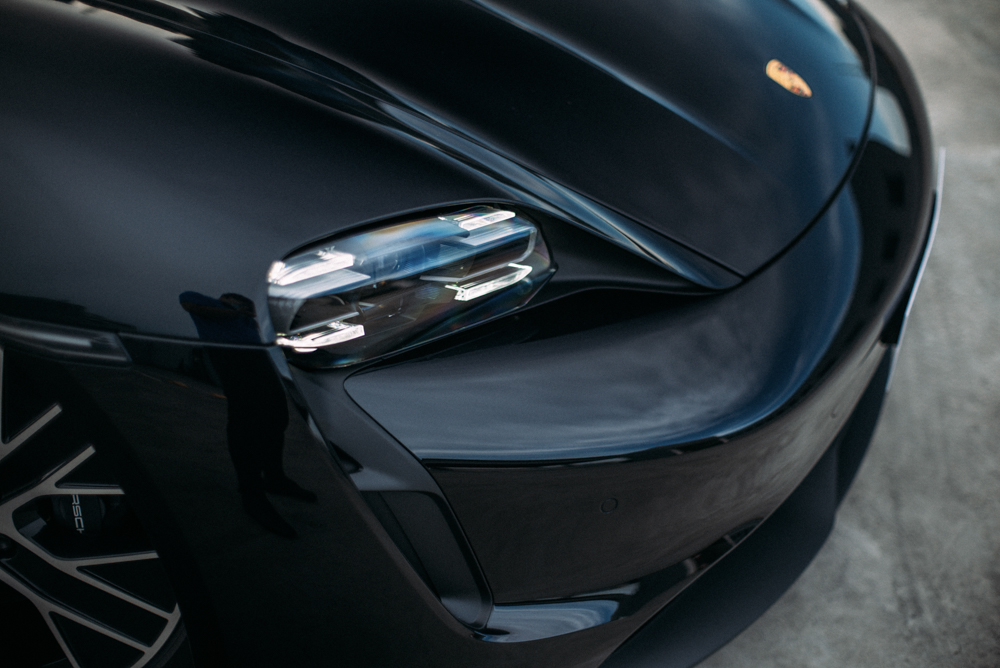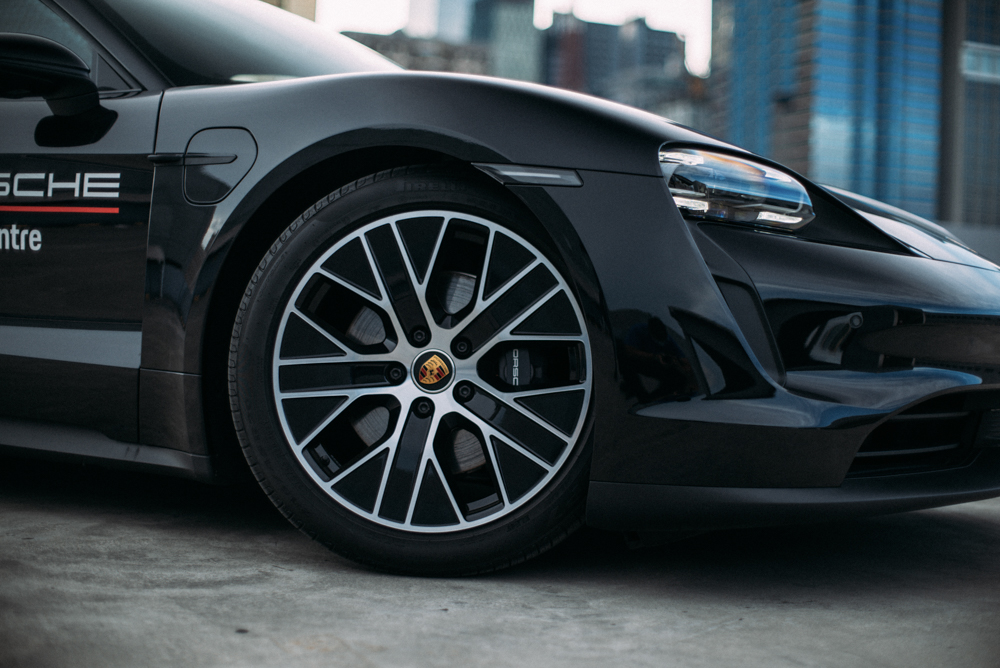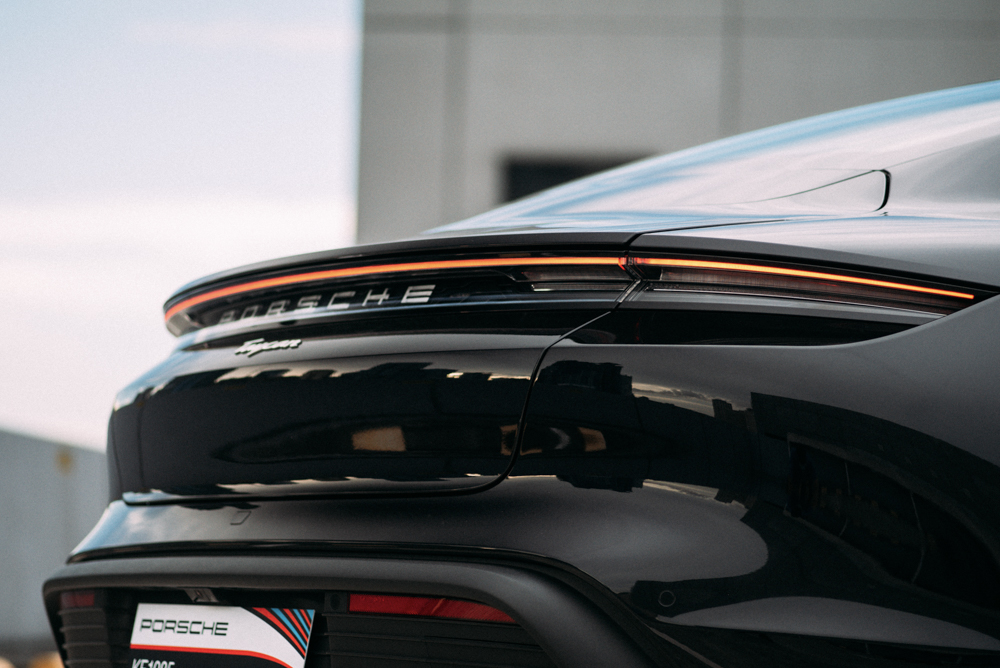 Unlike other electric vehicles which force you to change your driving style, the Taycan wants to make you forget that you're driving an EV. It coasts like a regular ICE-powered car and has a two-speed transmission. The brake feel is progressive (you can enable regenerative braking), and the steering has the ideal amount of feedback and precision even at low speeds in the city.
The air suspension makes for a very comfortable and serene ride. Aside from soaking up the ruts and bumps, it even has a "Lift" mode so you don't have to worry about scraping your bumpers. But even with the suspension raised at its highest setting, climbing into the cabin can be a chore.
Once you've strapped yourself into the form-hugging comfort seats, you're rewarded with one of the best driving experiences a car has to offer. No wonder Porsche is seen as a benchmark by many. The driving position is excellent with great visibility (save for the smallish rear window). Controls are well-positioned and easy to reach, but most of them are touch sensitive (which I really don't like). You're better off telling your passenger to mess with the controls.
There's also a surprising amount of legroom at the back where my six-foot colleague was able to fit comfortably. And it also has an 81L front trunk to complement the 366L boot space with a dedicated compartment for the charging cable.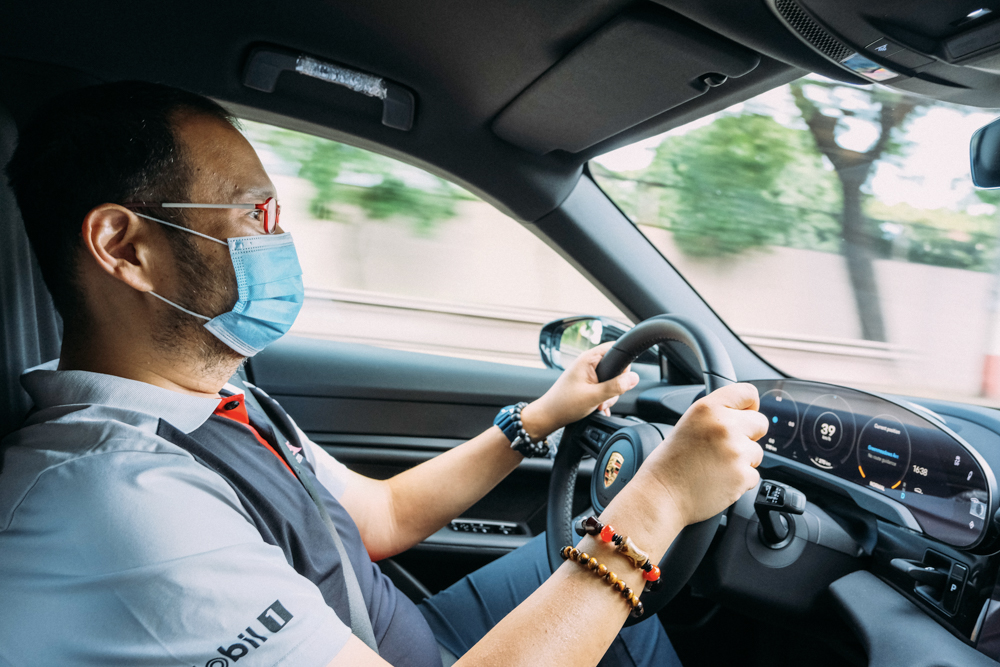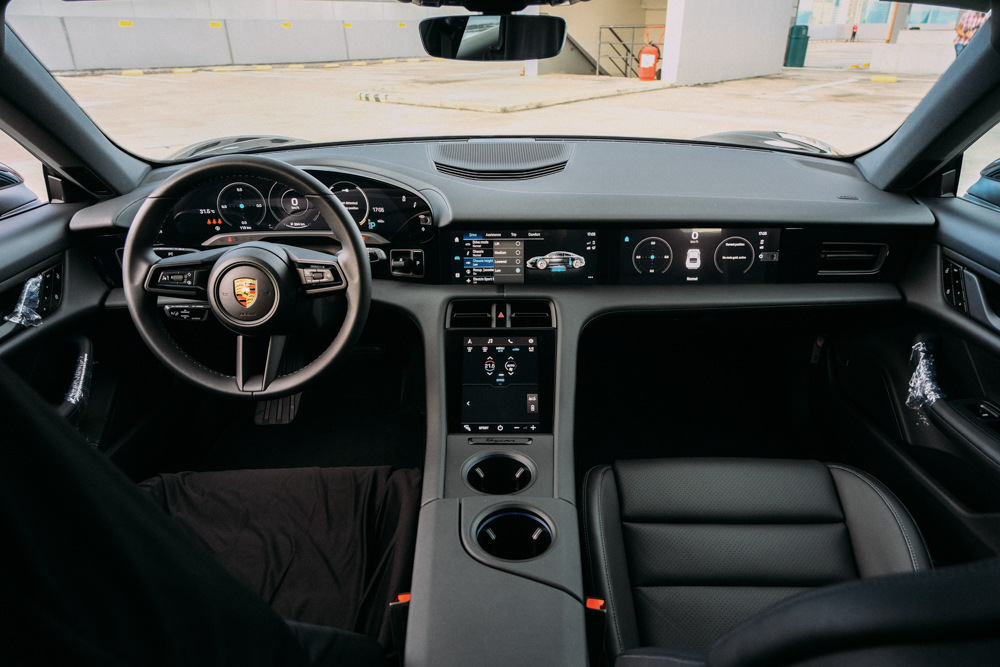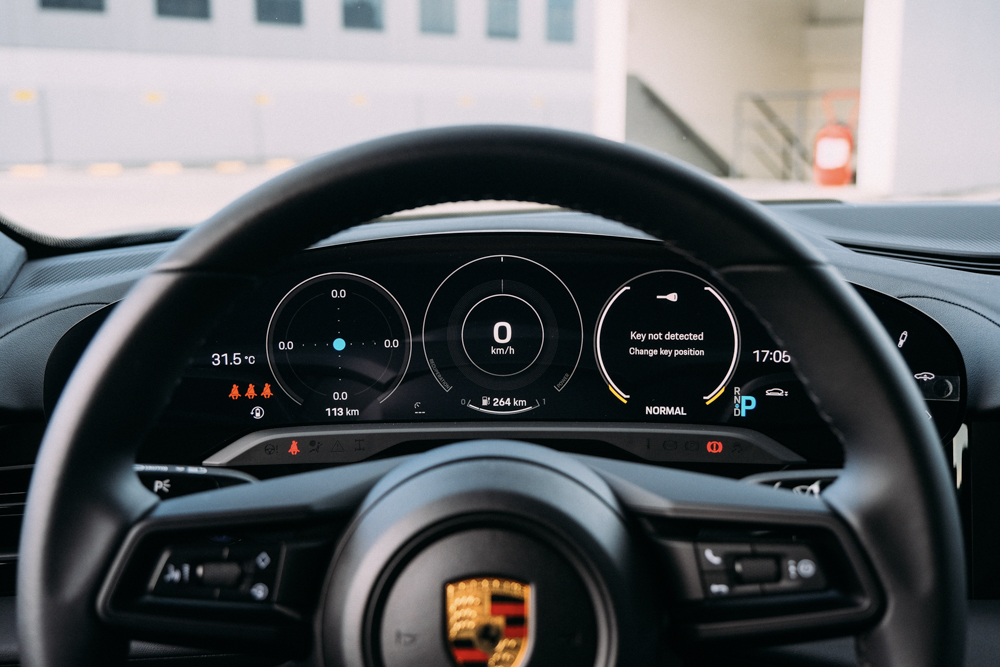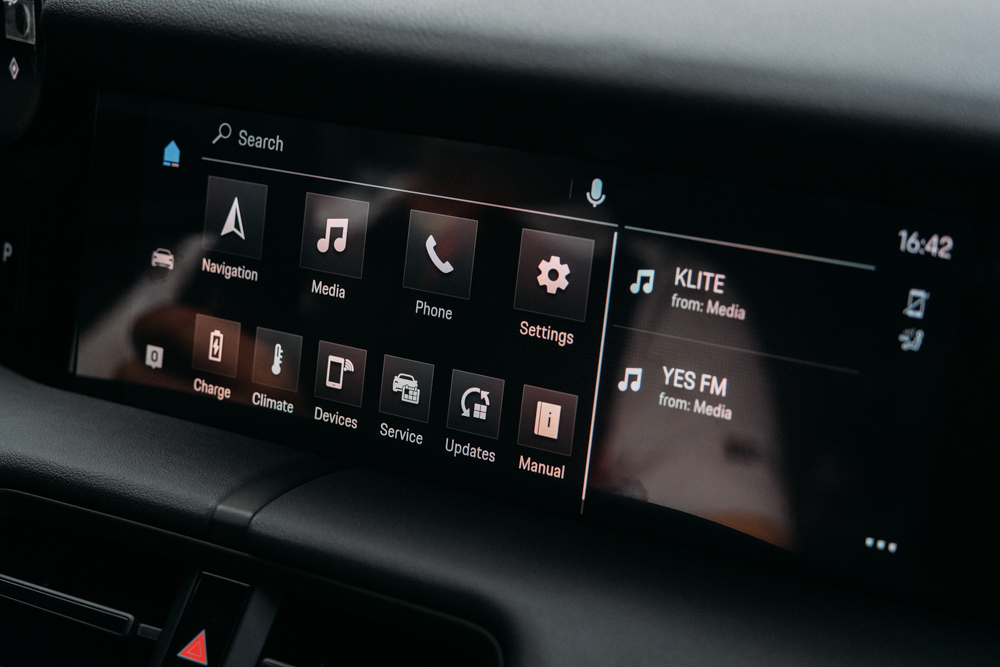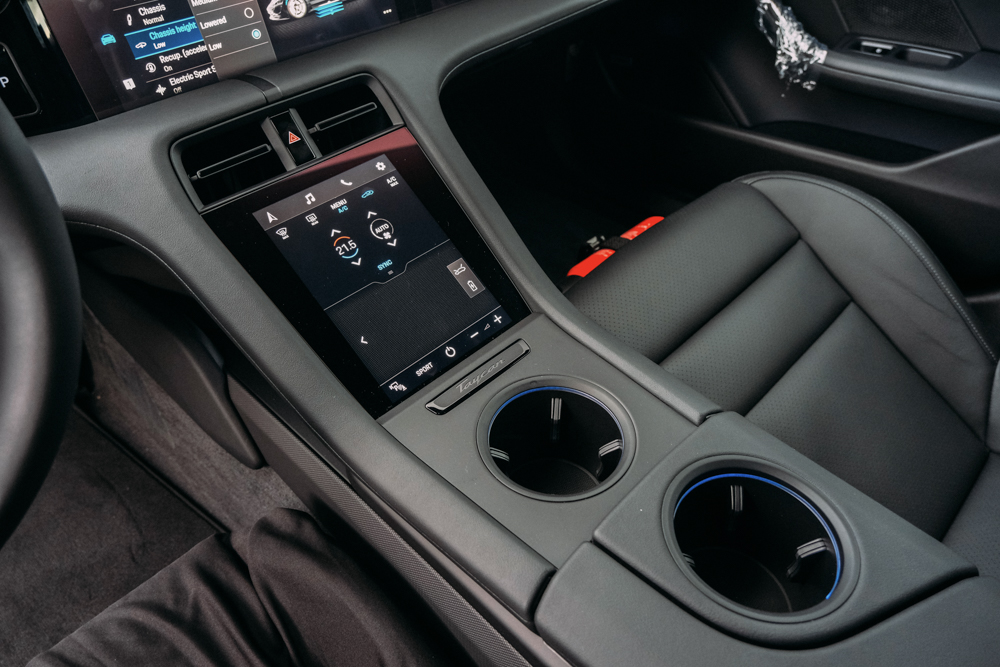 The base Taycan has a 79.2kWh battery pack, and the single motor is good for 407hp and 344Nm. Sure, it doesn't have the neck-snapping power of a Turbo S, but it has enough instant grunt to push you back into your seat and make you grin.
In this spec, the Taycan is rated for 431km. The range estimate adjusts depending on your driving style, much like a gasoline car would. Even the built-in navigation system highlights how far you can go on the map, so you don't find yourself running out of juice during a long road trip.
Unfortunately, I did not have the luxury of taking the car out of Metro Manila. So, I spent my time with the Taycan crawling around in bumper-to-bumper traffic. After parking the car, it showed that I had 255km of range left with an average power-consumption figure of 29.6kWh per 100km starting from 80% charge. Multiplying this figure with the cost of electricity (a safe estimate of P15/kWh) totals up to P4.44 per kilometer.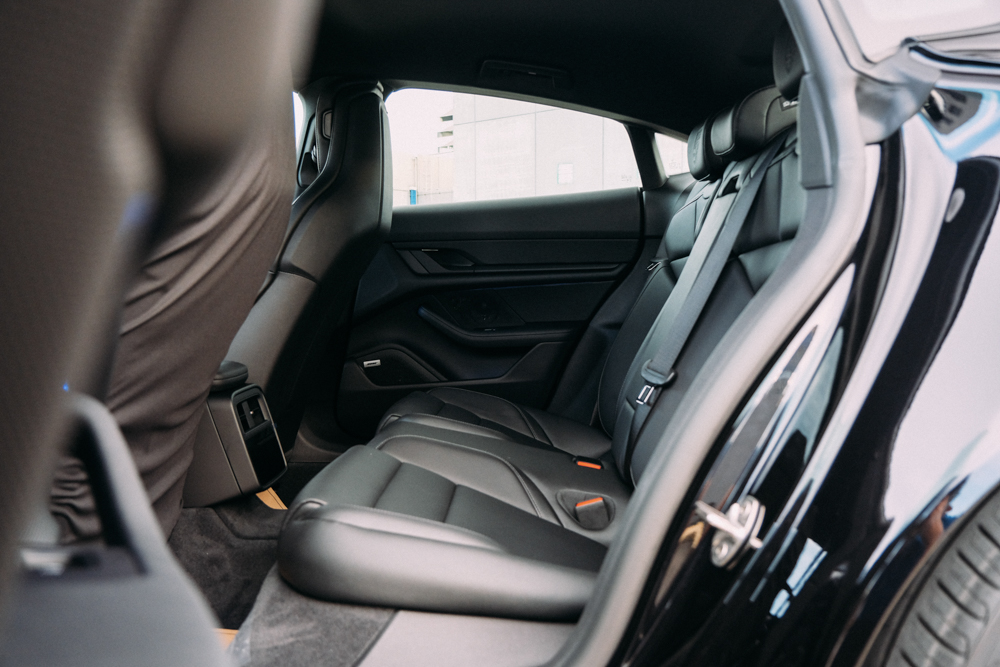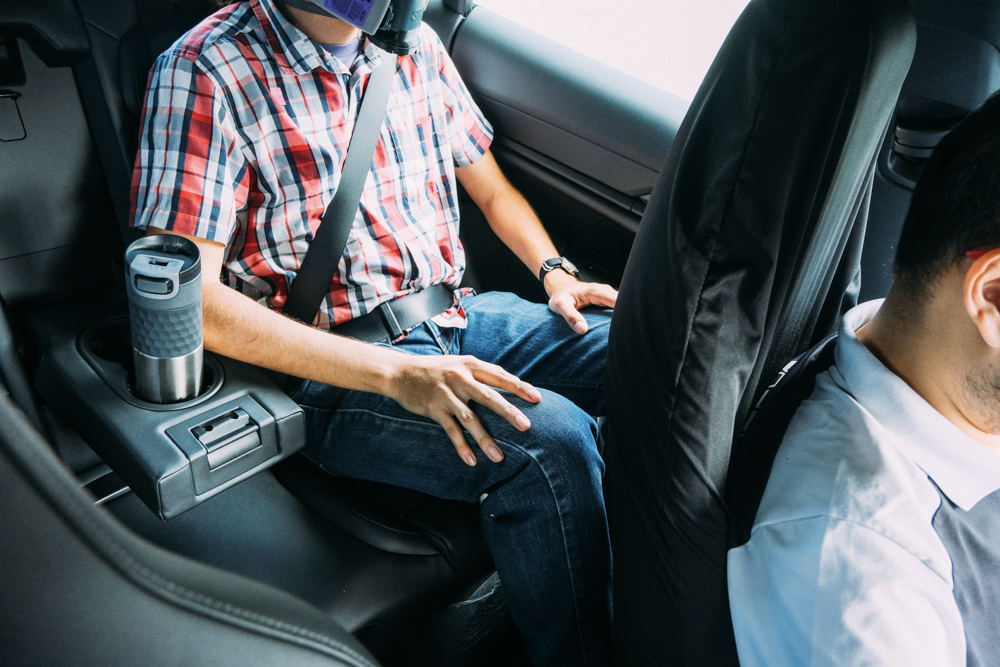 According to Porsche, fully charging this Taycan will run you P1,500-P2,000. Even with a safe estimate for differences in electricity rates, that's around half the price of a full tank of high-octane fuel.
When it's time to charge the car, you'll find everything you need in a bag found in the boot. The car has two Type 2 sockets. Both support AC charging, while the passenger-side port supports DC fast charging.
If you buy your Taycan from local Porsche distributor PGA Cars, you can use the 175kW DC fast charger located at its Greenhills dealership.  This charging station can reportedly top up the battery in around 30 minutes, but we weren't able to verify those claims since the Taycan had 95% charge when we received it.
Other locations with compatible charging docks include the Unioil stations at EDSA Guadalupe and Congressional Avenue Extension, or Horizon Homes in BGC (provided you live there).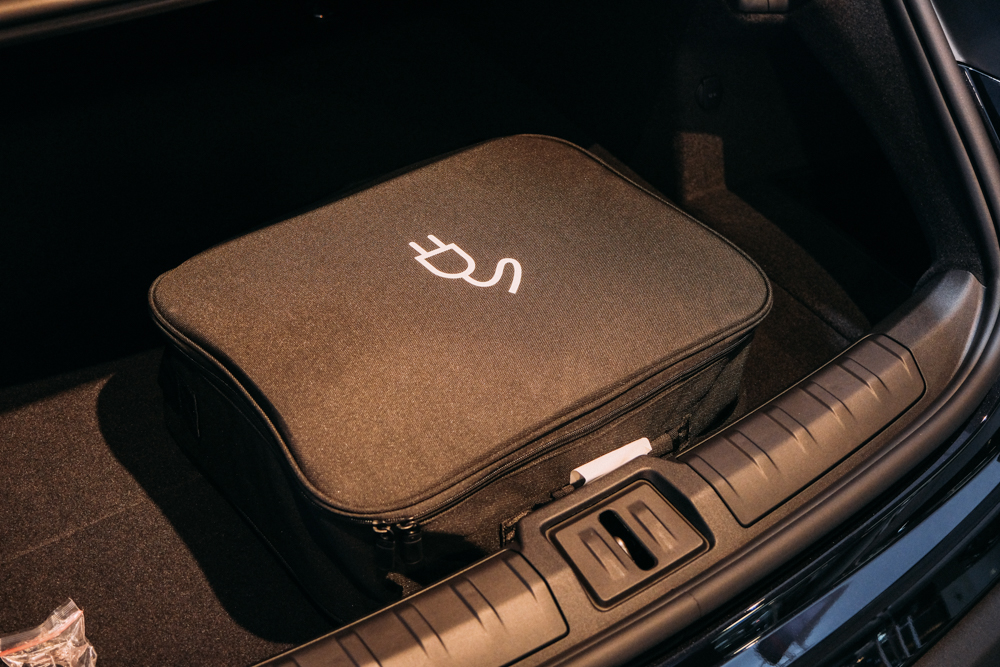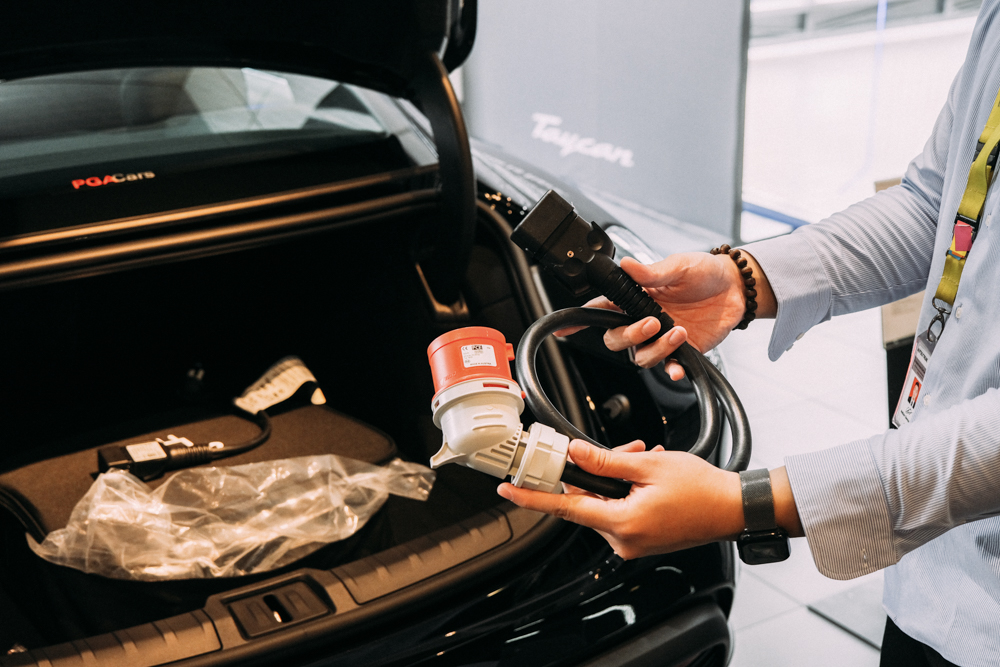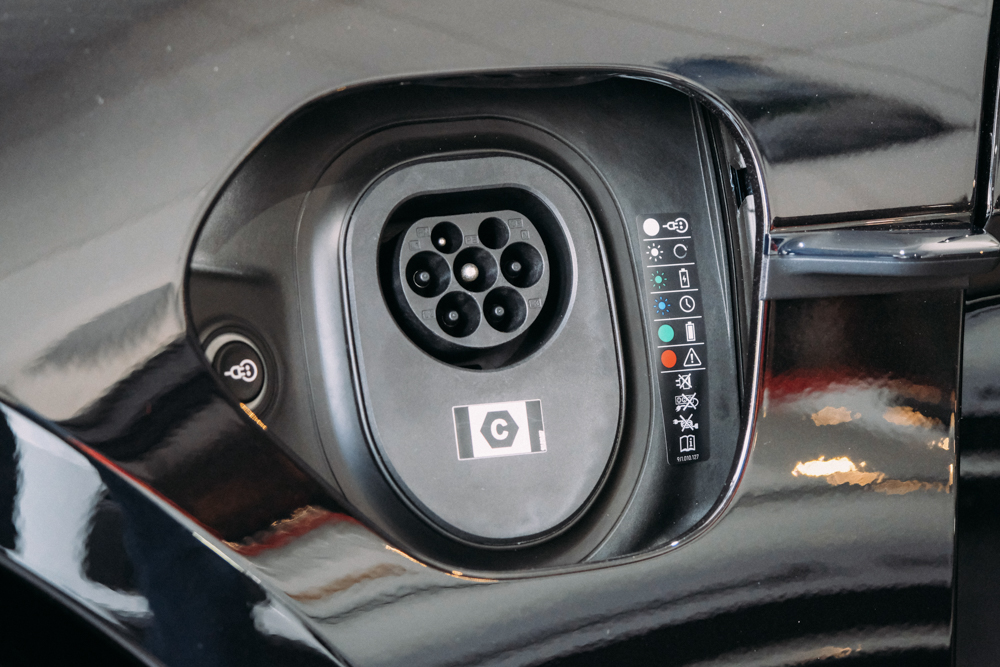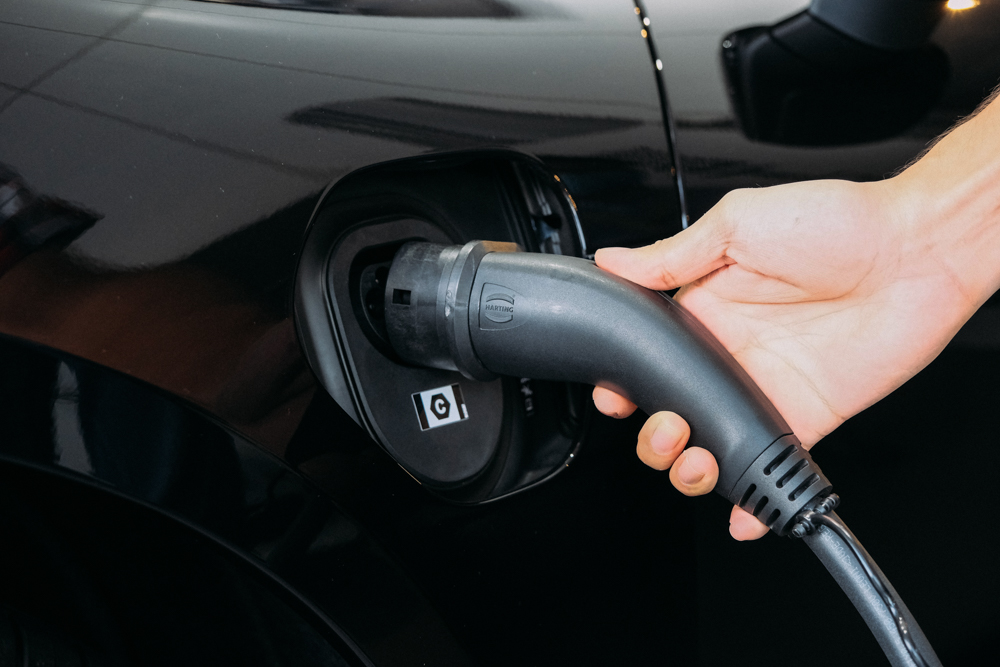 The Taycan comes with an 8A/1.8kW charger. This can be mounted at home or be taken anywhere, which is a nice touch compared to having to buy a separate wall box (like with Tesla). Another charger will run you P175,000, while a nice glass-and-metal Porsche stand goes for P60,000.
If you decide to leave your charger at home, you have the option of utilizing Level 2 charging via a three-phase industrial outlet (which needs qualified installers), which will allow you to charge the Taycan overnight (8-9 hours). If not, it will take up to two days to get a full charge from a regular 220V socket.
The car also adjusts the power it draws from the charger depending on the state of the battery to extend the longevity of the battery pack. Think of it like how modern smartphones charge: initially fast, then slowing down as it nears full charge to avoid damaging the battery.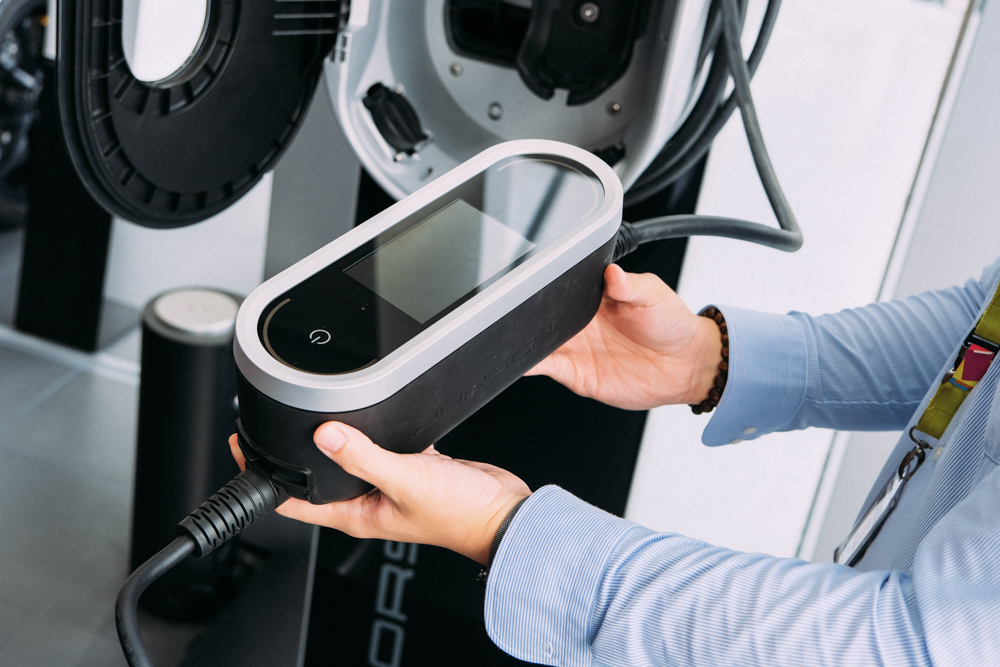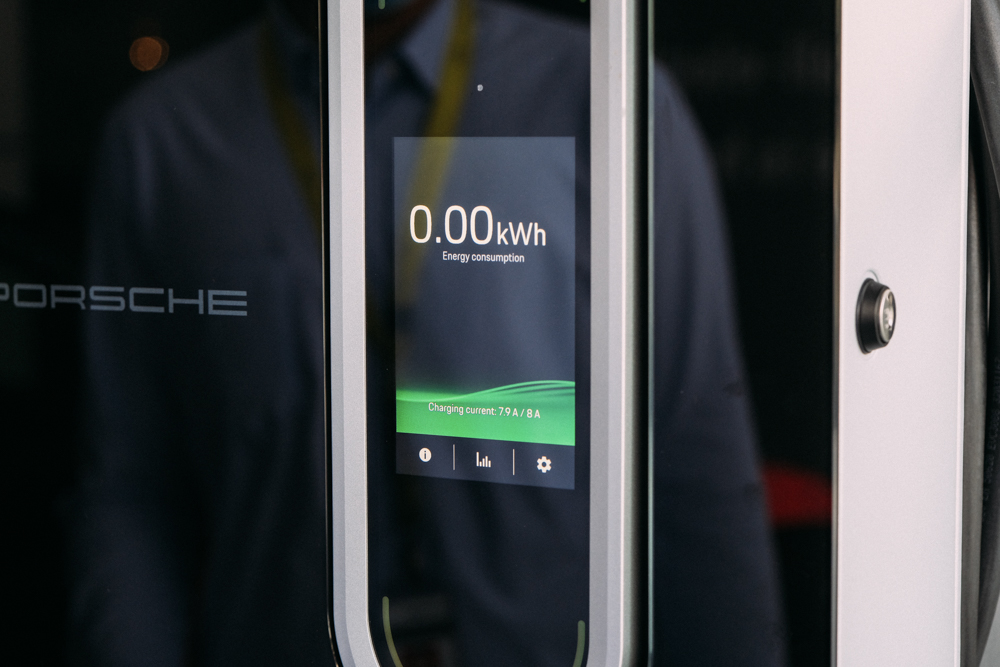 Just like with other EVs, the Taycan is generally easy to maintain. Regular tire changes, wheel alignment and balancing, and brake-pad and brake-fluid replacements are all that one needs to do.
Fortunately, PGA Cars can handle the parts and service for anything more complicated. There's an eight-year (or 160,000km) warranty, which is reassuring given the lifespan of a regular lithium-ion battery. If it needs to be replaced, the battery's health must be under 80% (the technicians have specialized tools to check), and it will cost around half the value of the car.
The Taycan has a separate 12V lithium-ion battery (found inside the front trunk) to power its accessories. If you plan on leaving the car unused for a while, you'll need to hook this battery up to a tender, and it is recommended to keep the main battery at around 20-50% charge.
If you somehow find yourself in the unfortunate situation of having to drive your Taycan through a flood, you can be assured that the battery is sealed from water ingress.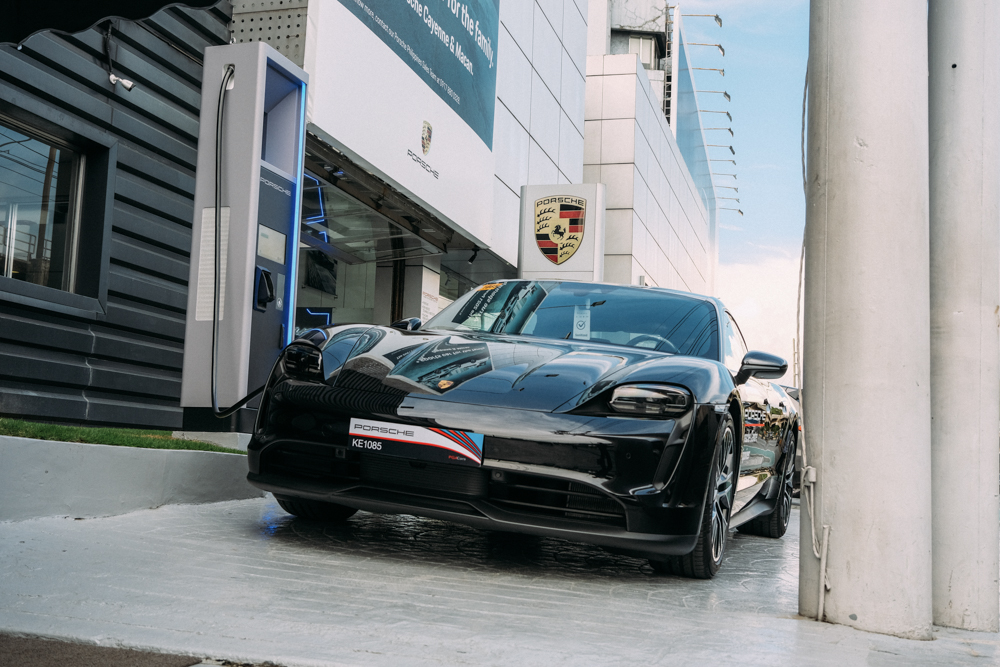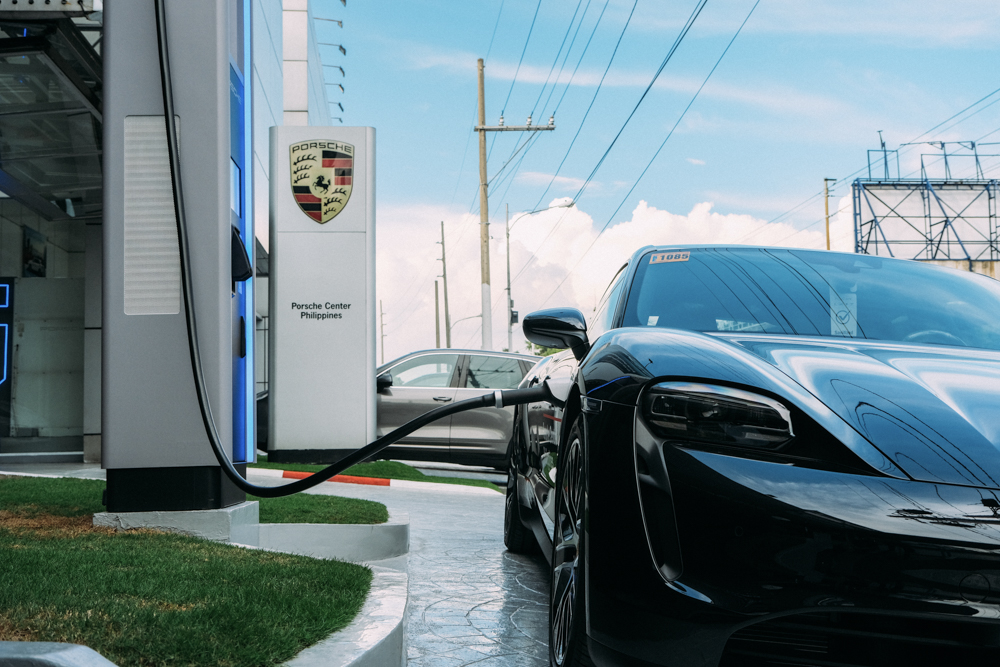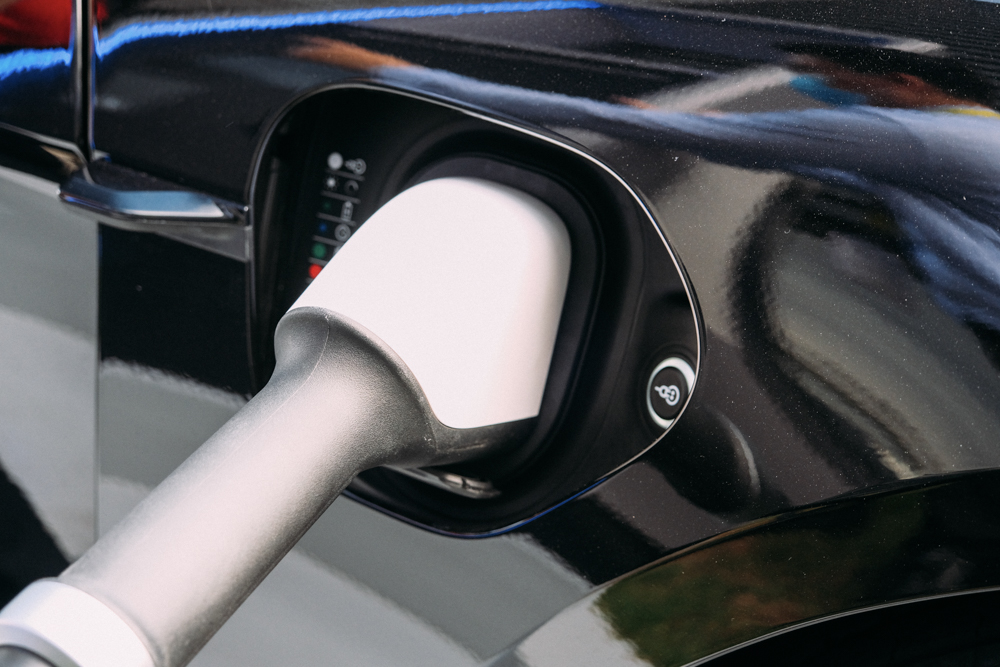 You can register your Taycan with the Land Transportation Office. It will be issued with orange plates (if they'll ever arrive).
Expect most Taycans to be relegated to weekend duties. It's not a practical EV for the common folk, but it's interesting to see the initiative taken by a manufacturer to not only support its vehicles, but also to establish a rudimentary charging network that other consumers will use in the future.