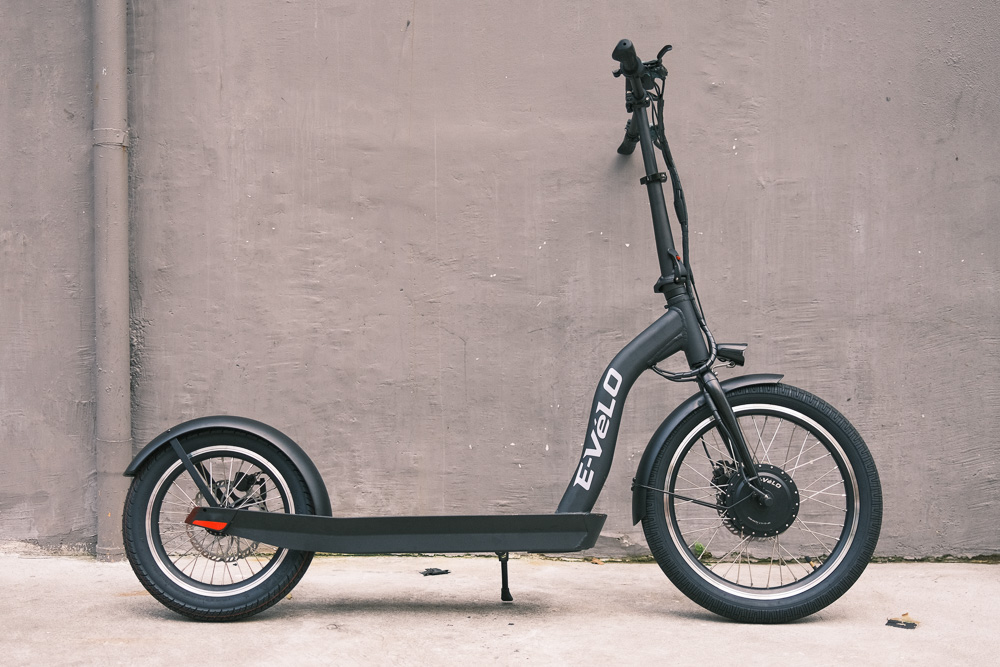 Electric kick scooters (EKS) are an efficient way of getting around the city. But their small wheels are limiting given the road conditions in Metro Manila. That's why I was intrigued upon seeing E-Vélo's Scooter Doo.
At first glance, it's hard to miss the unusually big wheels. The front measures 20 inches by 2.3 inches, and it houses a 500W motor. Meanwhile, the rear is 16 inches by 2.5 inches. These are similar diameters to folding-bike wheels, but the tires are much thicker.
The commonalities with folding bicycles don't end there as the Scooter Doo has a rigid fork and an adjustable stem that can also fold. Attached at the top are the handlebars with the throttle and the controller positioned on opposite ends. The floorboard is spacious and partially covered with abrasive grip tape, similar to a skateboard deck.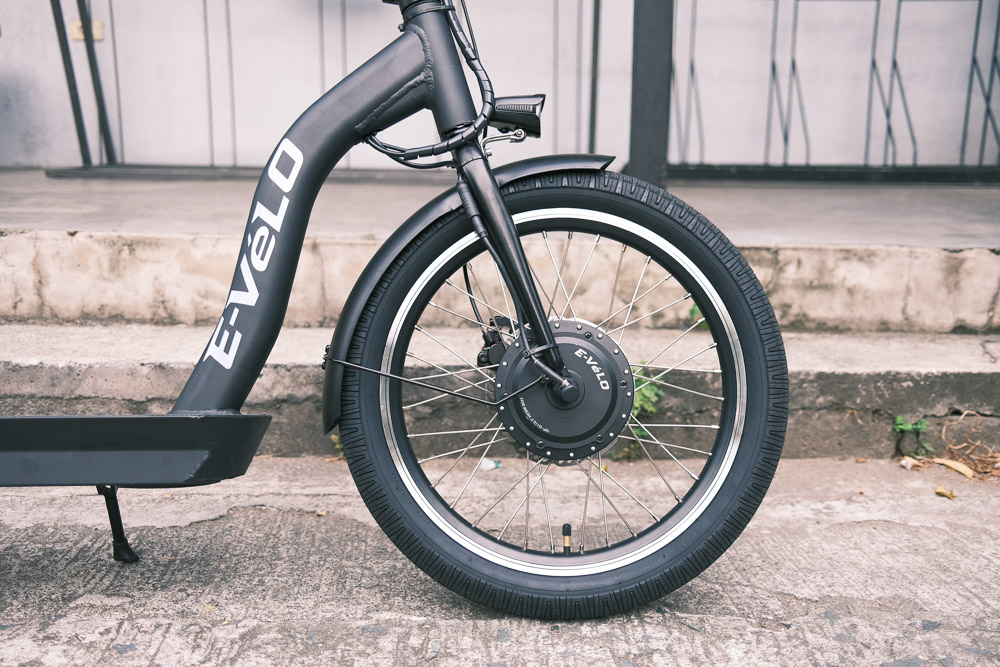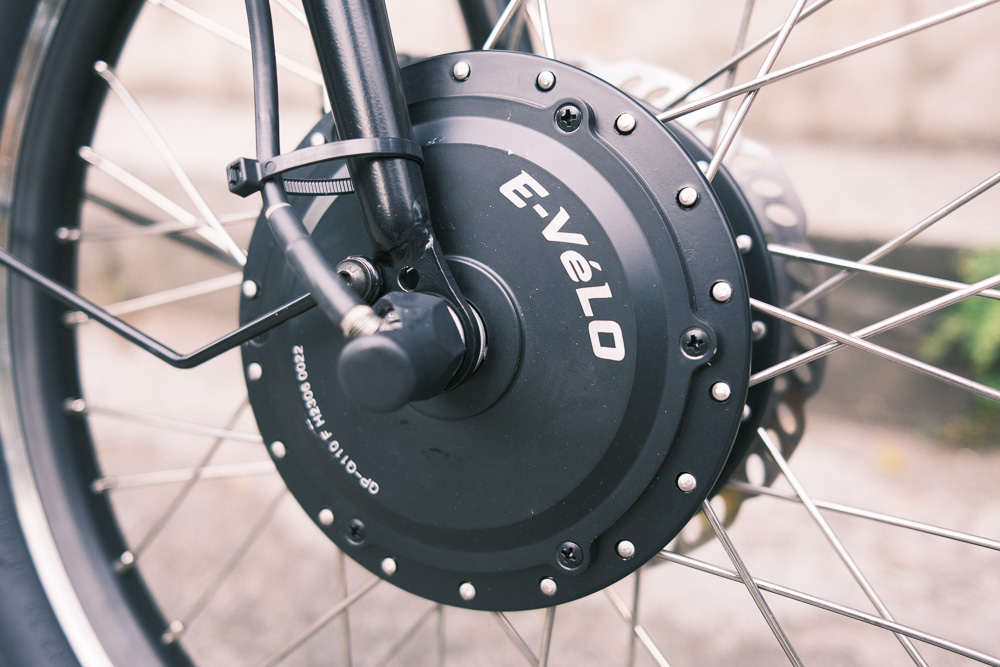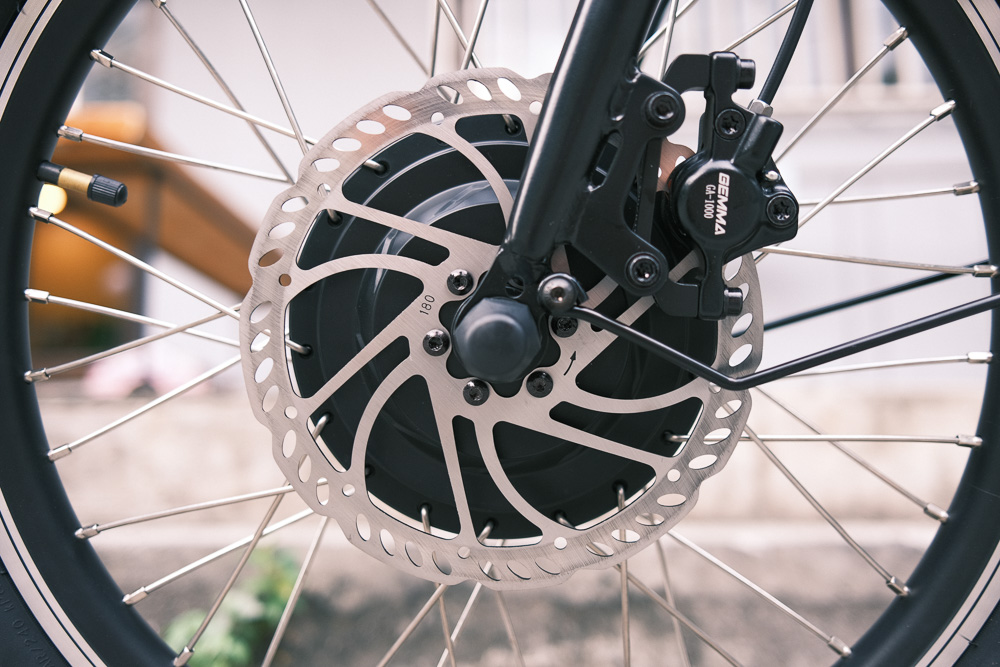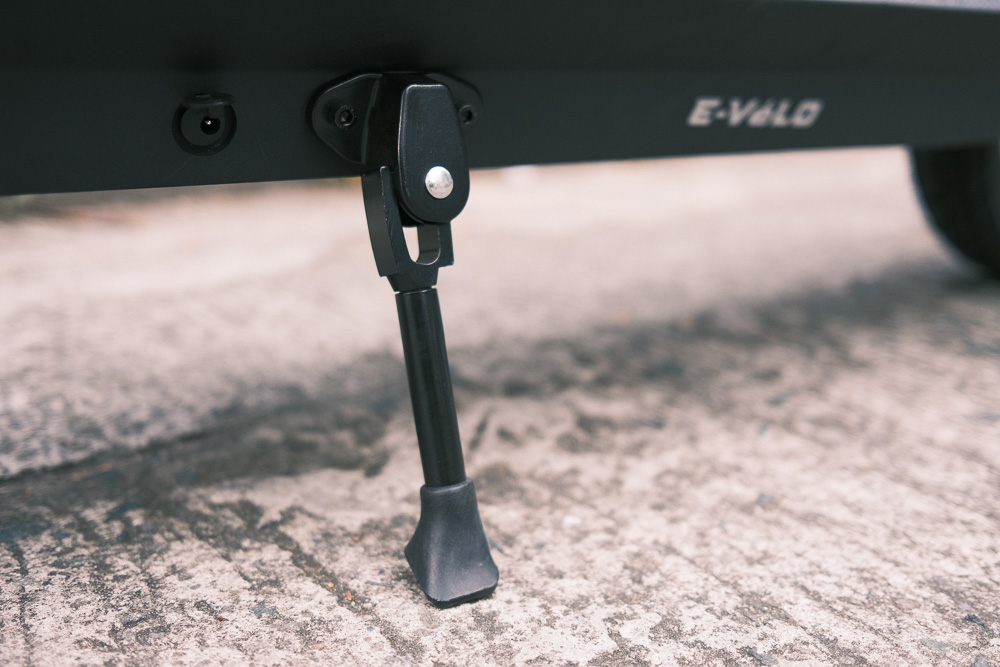 There are five speed levels to choose from ranging from 15km/h to 35km/h in increments of 5km/h. A thumb throttle is used to control the motor, but it acts more like an on/off switch. Holding the up button turns on the front and rear lights, while holding the down button engages walk mode for going up ramps.
Taking off is the most challenging part when riding an EKS because the rider has to balance with little to no speed, only to get thrown back when the throttle kicks in. That's why a rolling start is preferable.
The front-wheel-drive layout doesn't help as the rider will feel like a rug is being pulled from under his/her feet, quite literally. Grip is scarce, so there's a good chance of wheel spin especially on inclines and low-traction surfaces.
The ride becomes manageable once there is momentum, but I did notice something. While the Scooter Doo handled potholes and bumps much better than the Dualtron Mini with smaller 8.5-inch wheels, it felt harsher due to the lack of suspension to cushion the minor road chatter. To minimize this, I'd slightly lift my heels off the board and balance on the ball of my feet.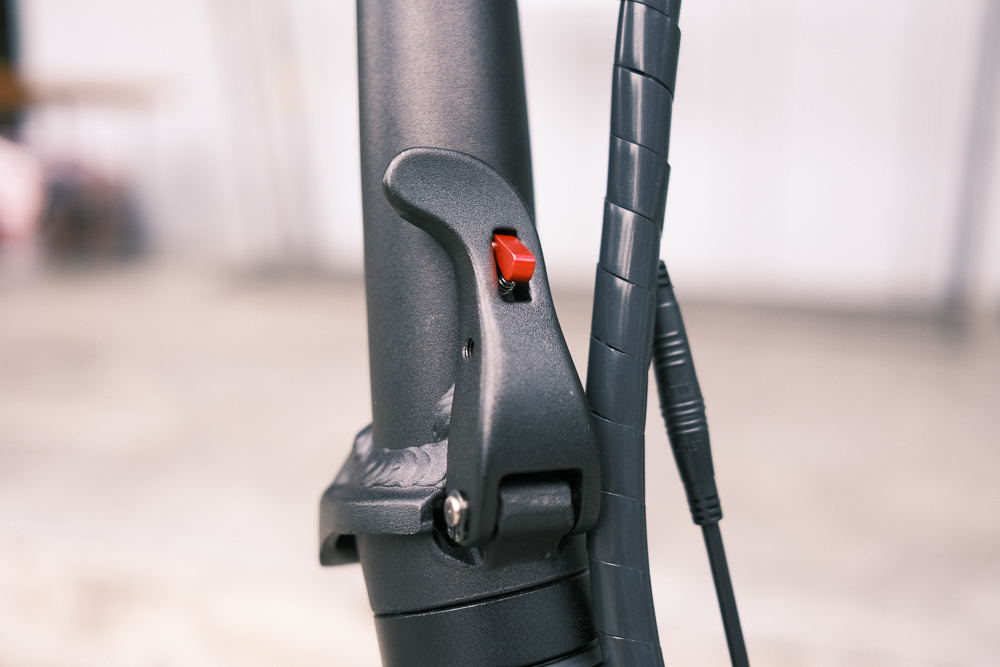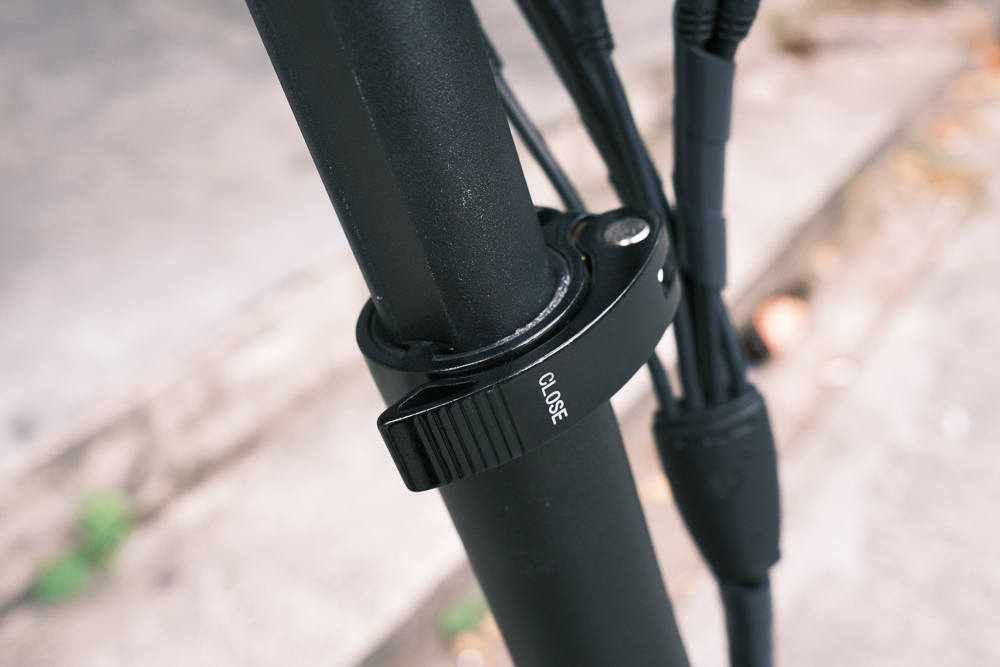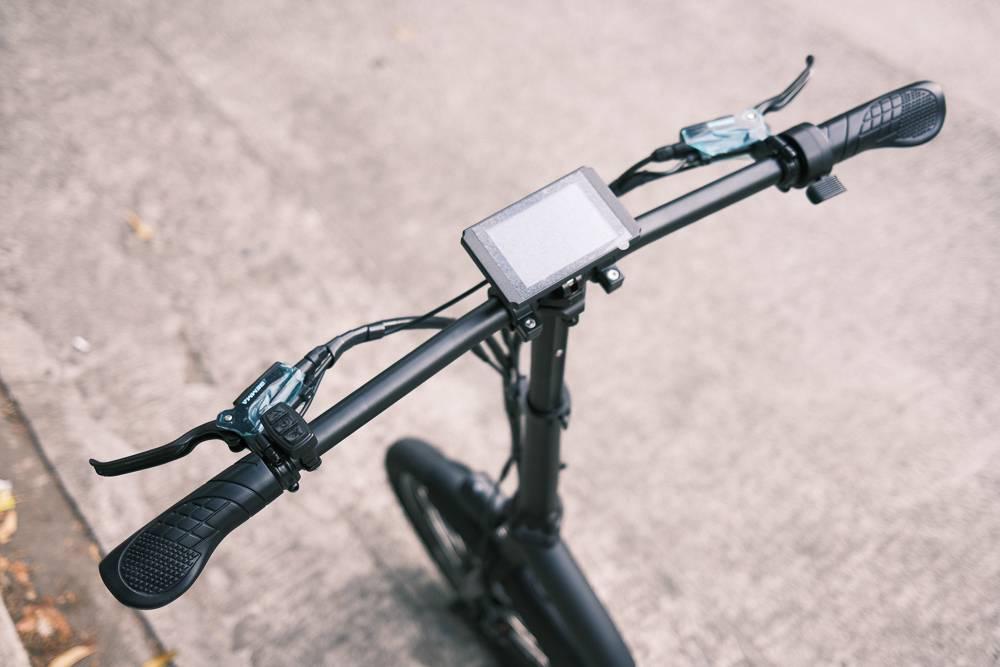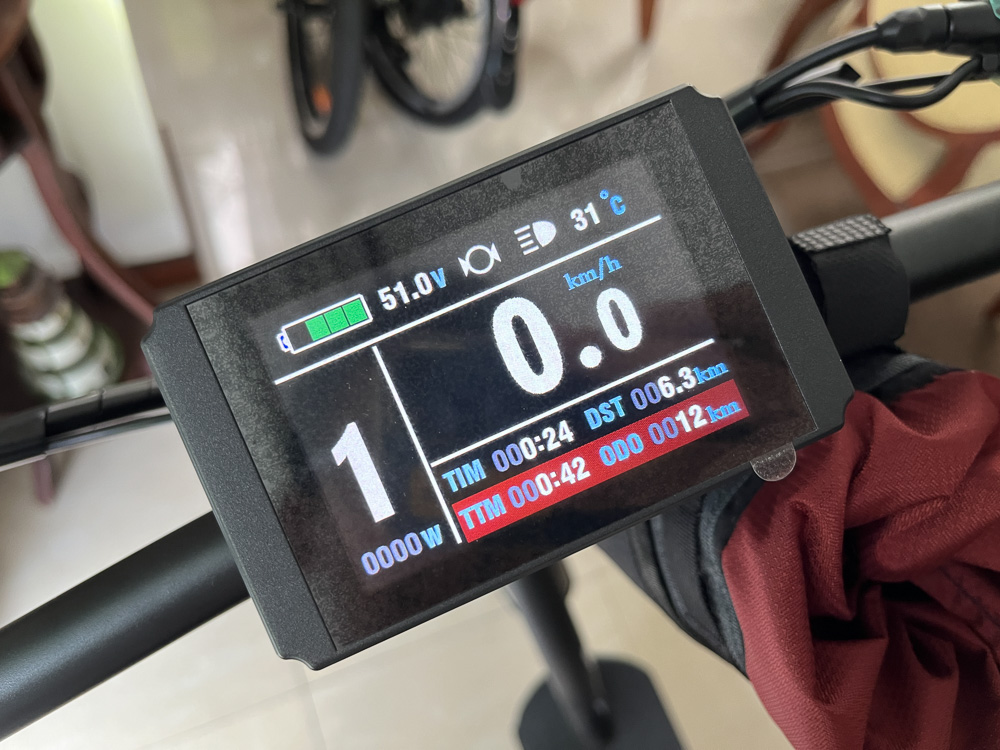 When talking about light electric vehicles such e-bikes and e-scooters, power and top speed don't tell the whole story. The Scooter Doo has a motor capable of handling Kapitolyo's steepest climbs, yet its acceleration doesn't kick like a mule throughout the whole range.
It starts out strong before turning into a crawl the faster you go. This means that while the vehicle can reach 35km/h, you will need a good amount of time and space to get there.
The hydraulic disc brakes provide good stopping power and control. But some finesse is needed so you don't lock up the wheels, or worse, go flying over the handlebars. Unlike some EKS, the Scooter Doo does not feature electronic or regenerative braking.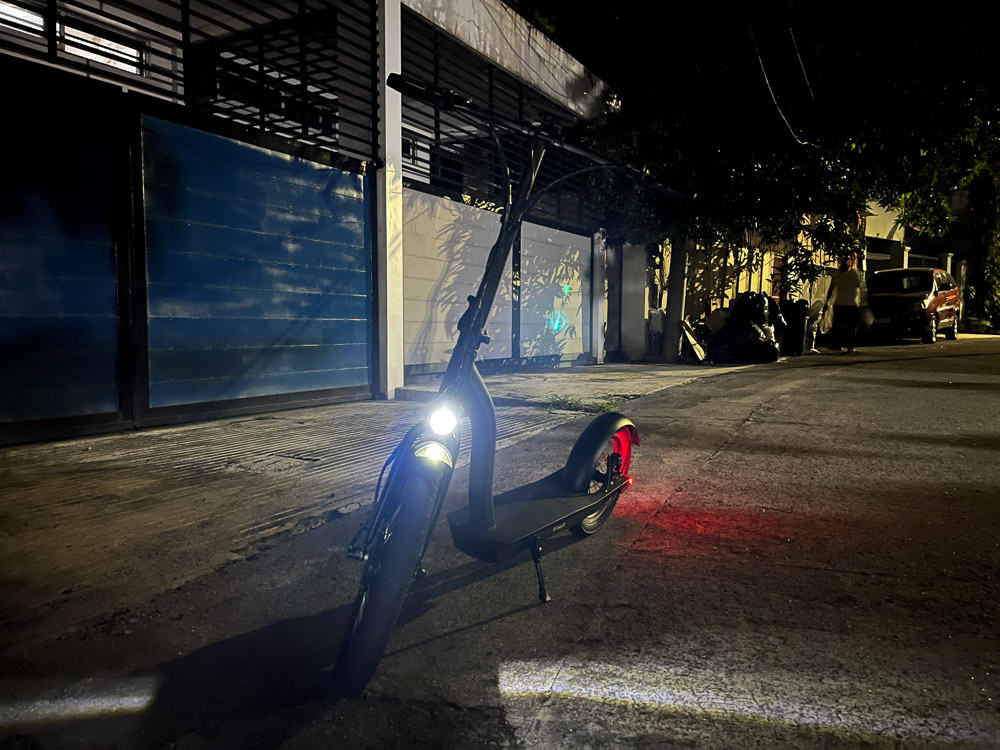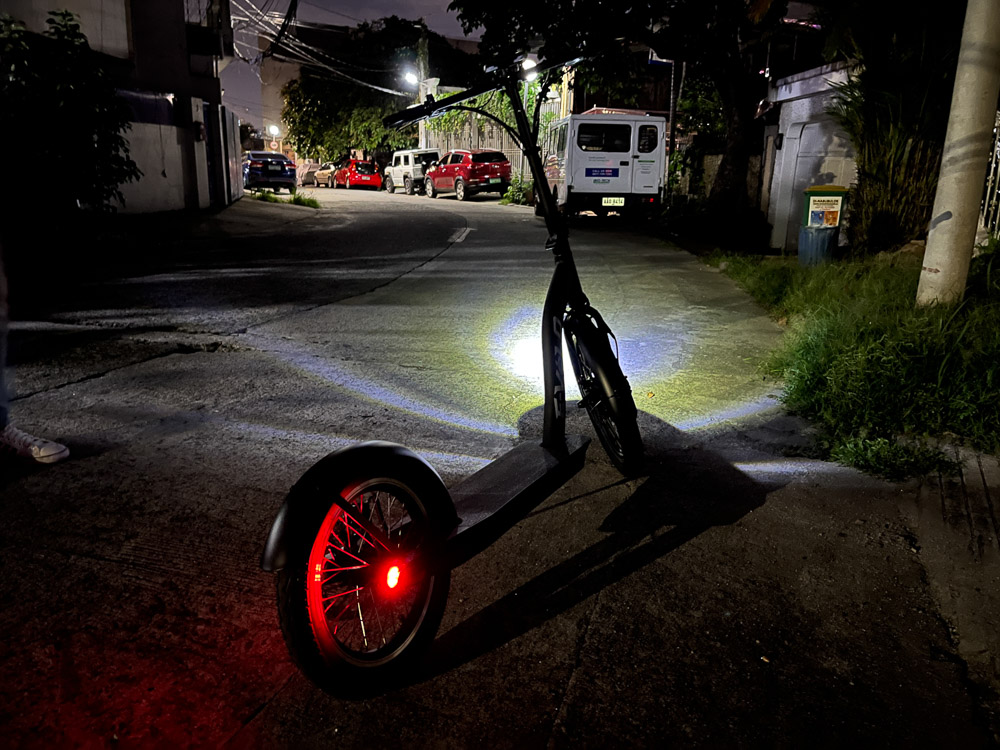 "But is it safe?" is probably what you're thinking, and the concern is understandable. While there's no denying that there can be freak accidents beyond your control, your safety on the road primarily depends on you and your riding habits.
You must not go full-throttle when there are people crossing the street, intersections to stop at, or obstacles to avoid. And even if the road is continuous and clear, be alert and defensive so that you're prepared to react in case of emergencies.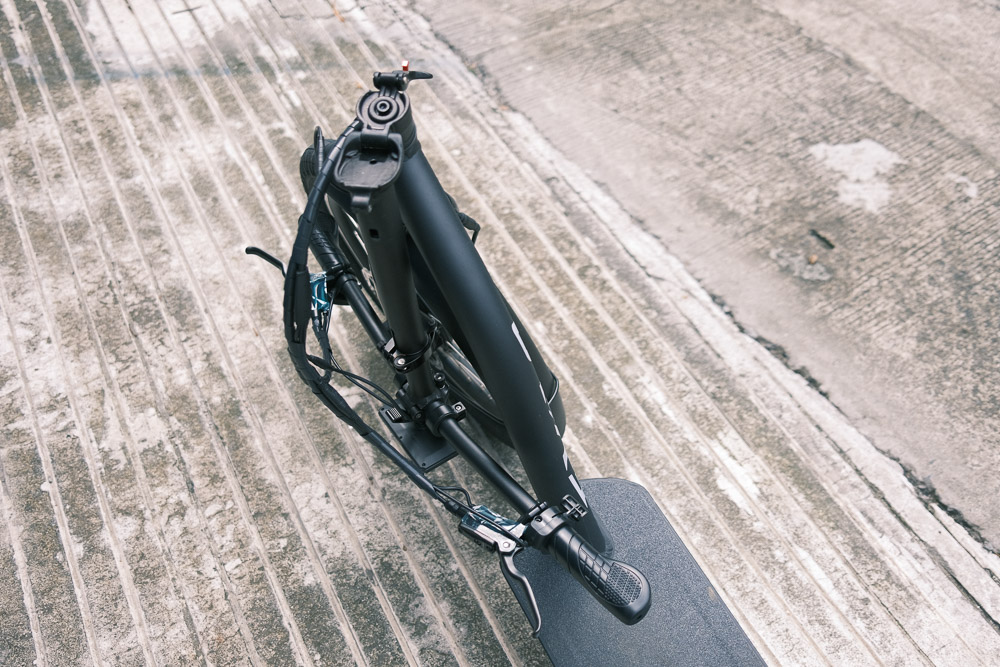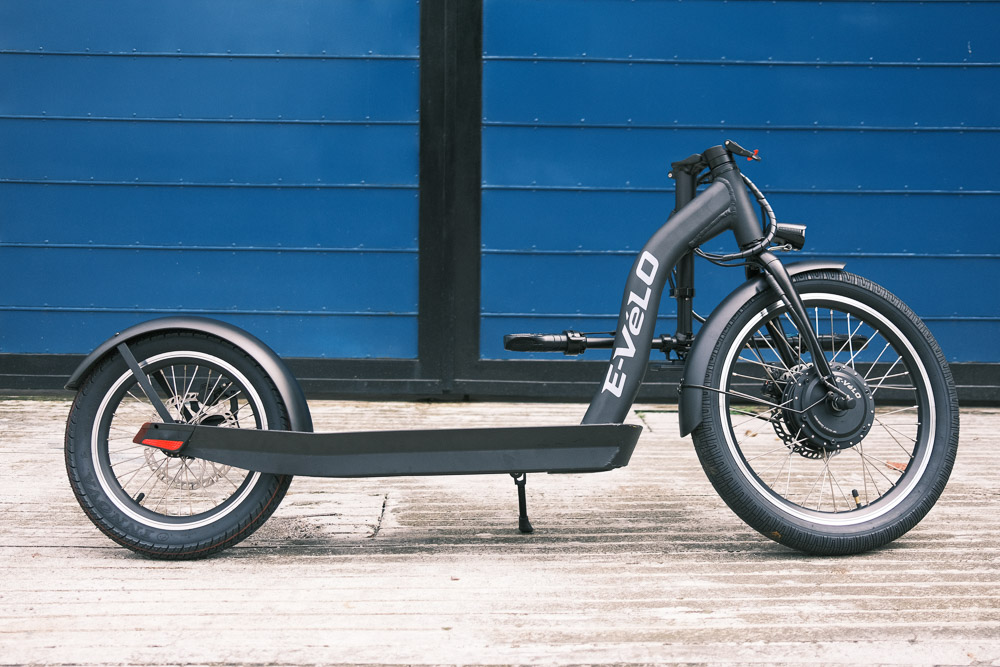 Power is provided by a 48V and 759Wh LG battery with a maximum range of up to 60km, but your mileage will vary with rider weight, road conditions, and running speed. A full charge will take three to four hours.
The battery life was enough for my round-trip commute between Kapitolyo (Pasig City) and Libis (Quezon City), which is 6km one-way.
However, I realized that should it run out of juice, then I wouldn't be able to pedal my way back—unlike with an electric bicycle. Also, you wouldn't want to be caught dead in the heat of the moment like when crossing an intersection or overtaking slower-moving vehicles. So, be mindful of the battery life and consumption.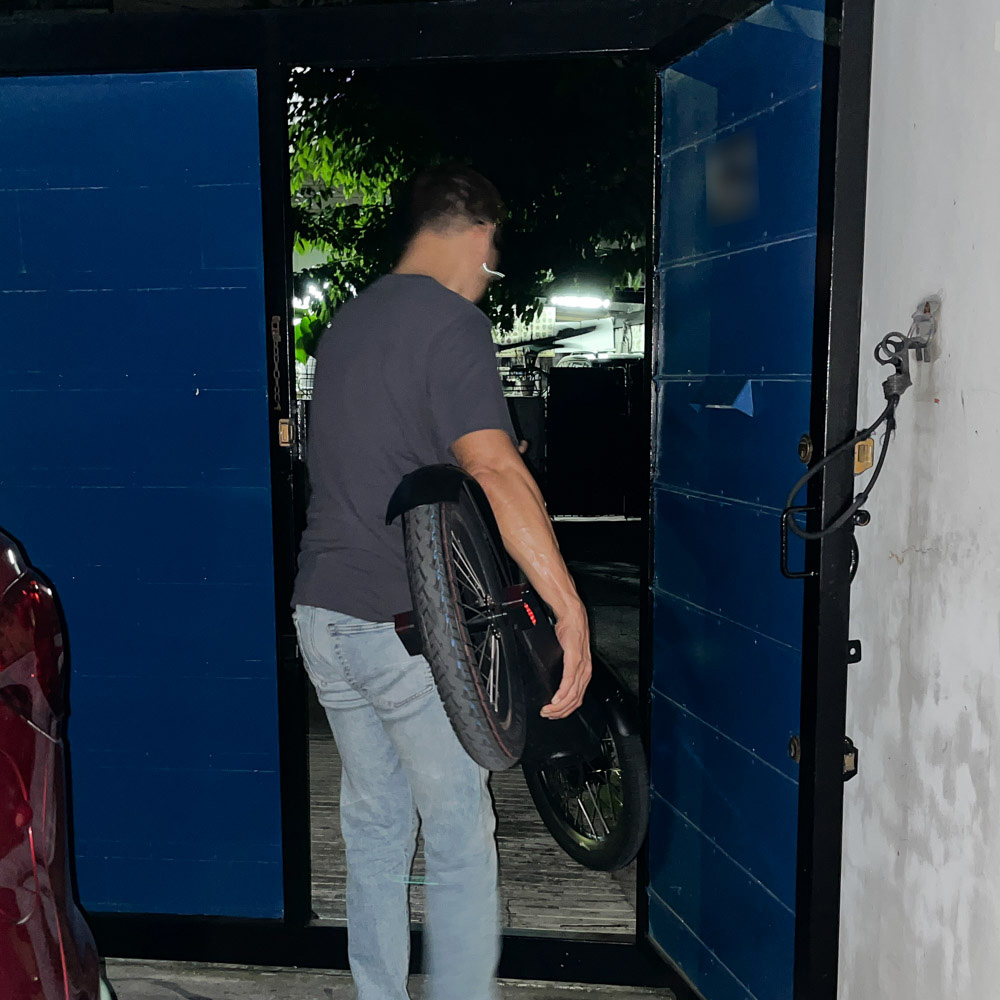 When reaching your destination, the next thing to worry about is parking. The Scooter Doo essentially occupies the same amount of floor space as a full-size bicycle, and folding the stem doesn't make it any more compact. That's why it's best to keep this EKS outdoors, preferably locked to a bike rack.
According to the distributor, it weighs around 15kg, making it lighter than the average e-bike. But carrying all of that mass is a different story since you'll have to squat and deadlift it as if you were at the gym.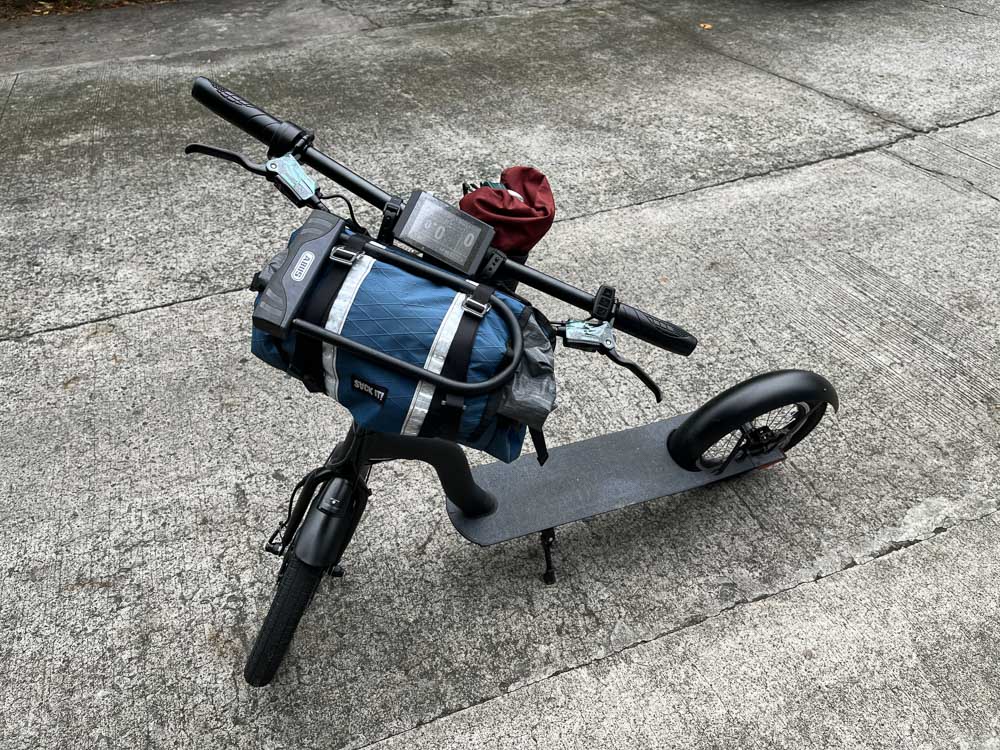 If you were to ask me how the Scooter Doo could be improved, I'd suggest a couple of things. Moving the motor to the rear wheel will help address the lack of grip during takeoff, and adding suspension will help cushion minor vibrations.
Integrated turn signals would be very helpful, so there's no need for the rider to use his/her arm (or leg) to signal. If possible, adding a handle in the middle of the floorboard will help make carrying easier. Finally, security features such as a key or an integrated wheel lock could act as theft deterrence in case there's no proper parking.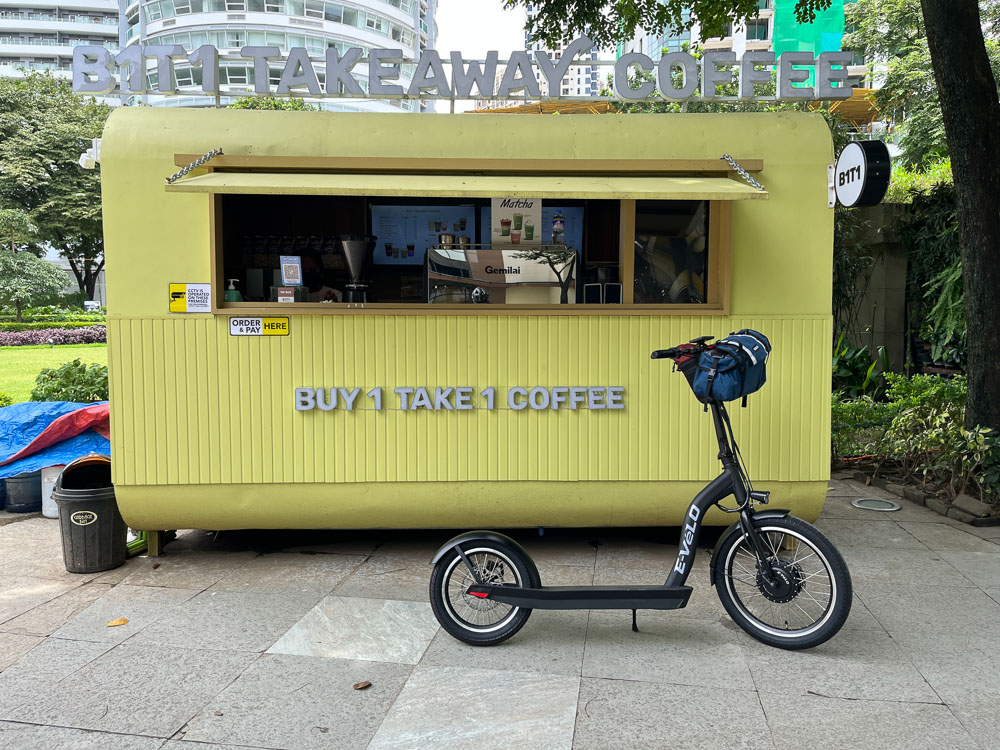 What happens when you put bicycle wheels on an electric kick scooter? You get the Scooter Doo. At P48,750, it isn't the cheapest model around, and neither is it the most expensive.
On its own, this EKS is a decent ride for going around the city—provided you ride safely within its limits, like with any other vehicle. However, getting it out of your house and parking it at your destination may be challenging.
While I would gladly use this over an e-scooter or a motorcycle for commuting, an EKS isn't exactly going to be my first choice—especially one that costs as much as a decent electric bike.
But hey, if you prefer to be standing rather than sitting on a saddle—and can live with a less stable ride—then the Scooter Doo might be your cup of tea. Also, if ever you plan on going to Baguio and don't want to bother with traffic in the city, you could rent one to visit different tourist spots.