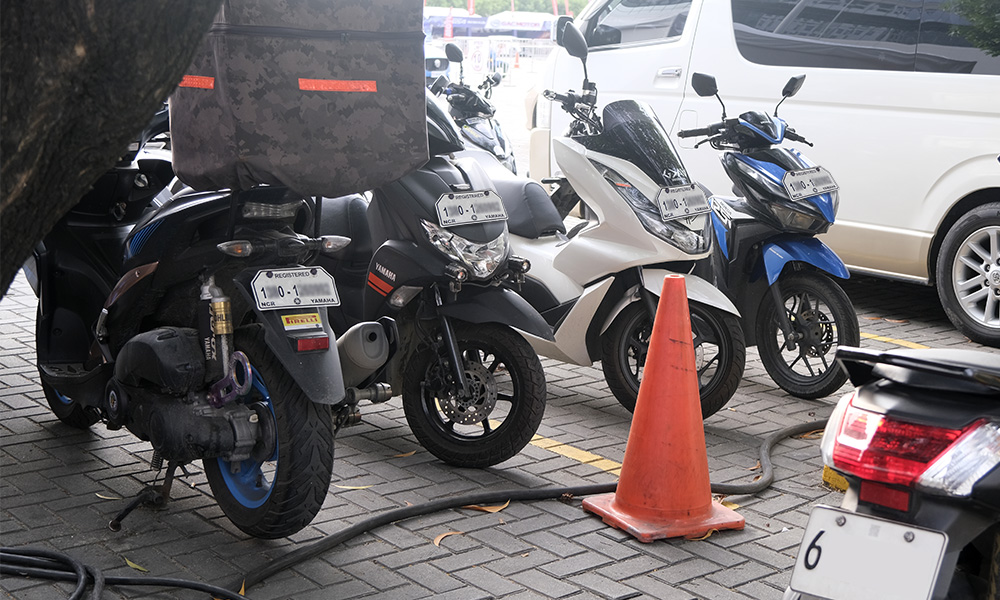 If you want a surefire way to get under a rider's skin, just mention these magic words: doble plaka. Judging from reactions to our recent post on our Facebook page, it's clear that the majority of riders are strongly against specific provisions of Republic Act No. 11235 (aka "Motorcycle Crime Prevention Act"), while a minority are in favor of it.
For reference, RA 11235 was signed into law in March 2019 with the intent and "the policy of the State to secure and safeguard its citizenry from crimes committed with the use of motorcycles through bigger, readable and color-coded number plates and identification marks," with its principal author being Senator Dick Gordon.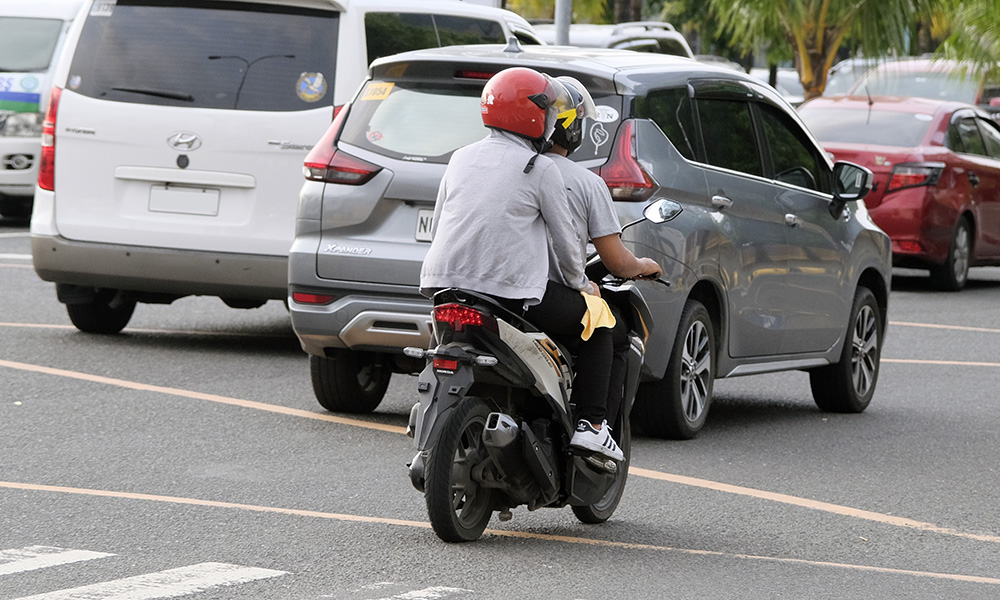 Recall that, at the time and until today, many roadside crimes such as robberies and assassinations are committed by motorcycle-riding criminals. On our congested roads, a small motorcycle is the perfect getaway vehicle as it can easily squeeze through gaps in traffic and be easily lost among the thousands of other bikes on the road.
With one specific Implementing Rule and Regulation (IRR) mandating both front and rear license plates, it is hoped that this would deter crimes by allowing easier and faster identification by authorities.
Section 7. Driving Without a Number Plate or Readable Number Plate. Driving without a number plate or readable number plate, as provided in the Revised Penal Code, or a fine of not less than fifty thousand pesos (P50,000) but not more than one hundred thousand (P100,000) or both.
A motorcycle driven without a number plate or a readable number plate shall be stopped, and such motorcycle shall be seized by law enforcers and immediately surrendered to the Philippine National Police (PNP). Any apprehension must be reported immediately to the LTO, PNP, and the Department of Information and Communication Technology (DICT) through the Joint LTO and PNP Operations and Control Center. The owner of such motorcycle may redeem his or her ownership, payment of the costs of seizure, and compliance with a number plate or readable number plate.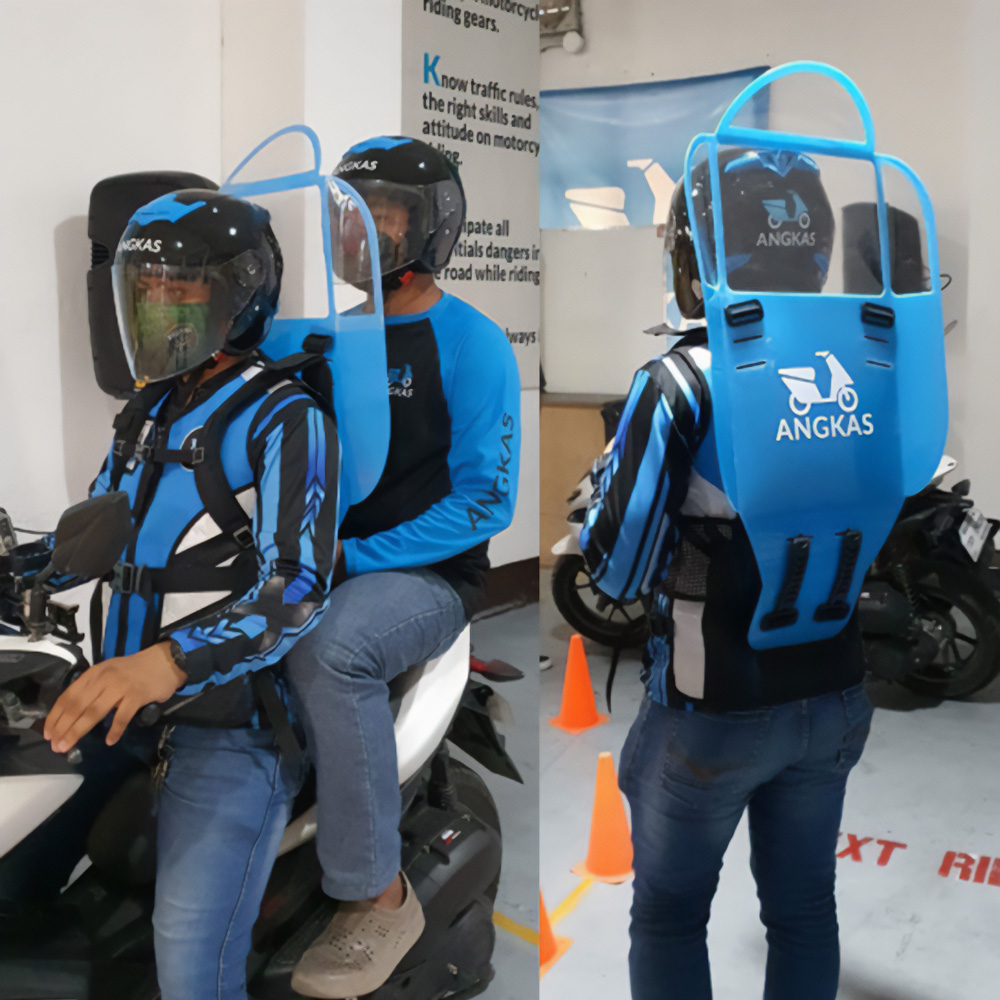 Forget the argument that a front plate would be "dangerous" as it would be subject to the full force of the windblast and could tear off and smash into a rider's face. This is a government that mandated face shields and rider shields not so long ago, so you can be sure they are not exactly deciding based on science. And as to the actual dimensions of the plate, that's just academic. It could be a half-size illustration board or the size of your driver's license.
You can also forget about the fact that, in other countries with dual plate laws, manufacturers already have brackets to meet the requirement.
Any decent fabrication shop here (and there are many) can quickly weld a front plate bracket for your bike as quickly as they can an engine guard. And of course, if a manufacturer has these retrofitted to your bike, they'll be sure to pass on the cost to you, because they know how much you love to spend on your bike anyway. Ha!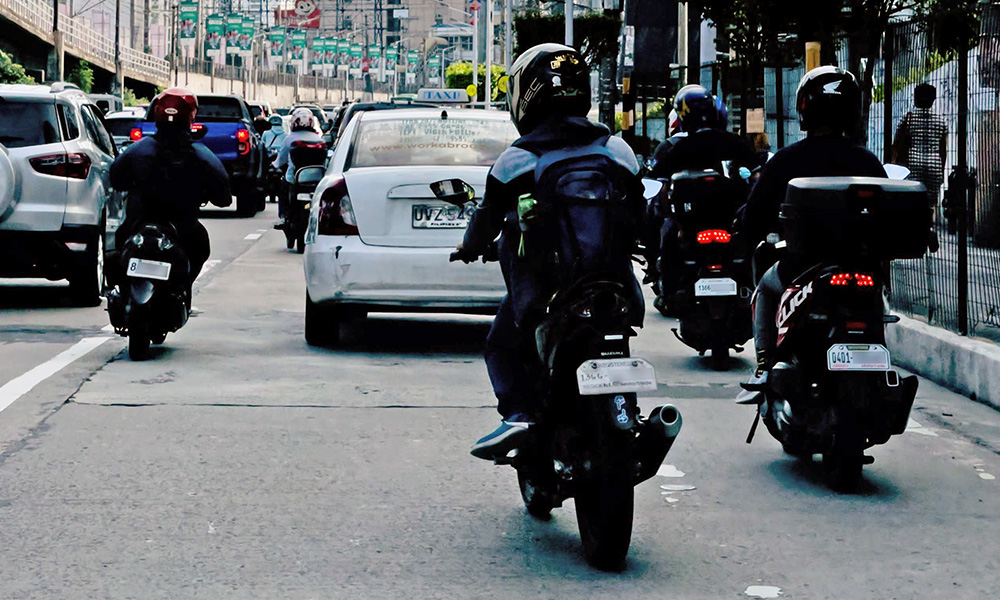 The real issue here is this: The agency tasked with providing standard, rear license plates for all motor vehicles (the Land Transportation Office, obviously) can't even provide these in a timely manner for all legally purchased vehicles, whether two-wheeled or four-wheeled. And now you're going to penalize and milk them anywhere from P50,000 to P100,000 for something that isn't even their fault? Well, now.
On any given day, you can go hang out by a busy street and count how many motorcycles (old or new) don't have license plates. Whether they lost it or the LTO still hasn't issued it to them is anyone's guess.
Hell, I bought my Royal Enfield in late 2019, and when I sold it last year, it still didn't have its plate! If they got serious about cracking down on these missing plates, they would have a bonanza (and probably enough money to pay off a year's worth of our national debt).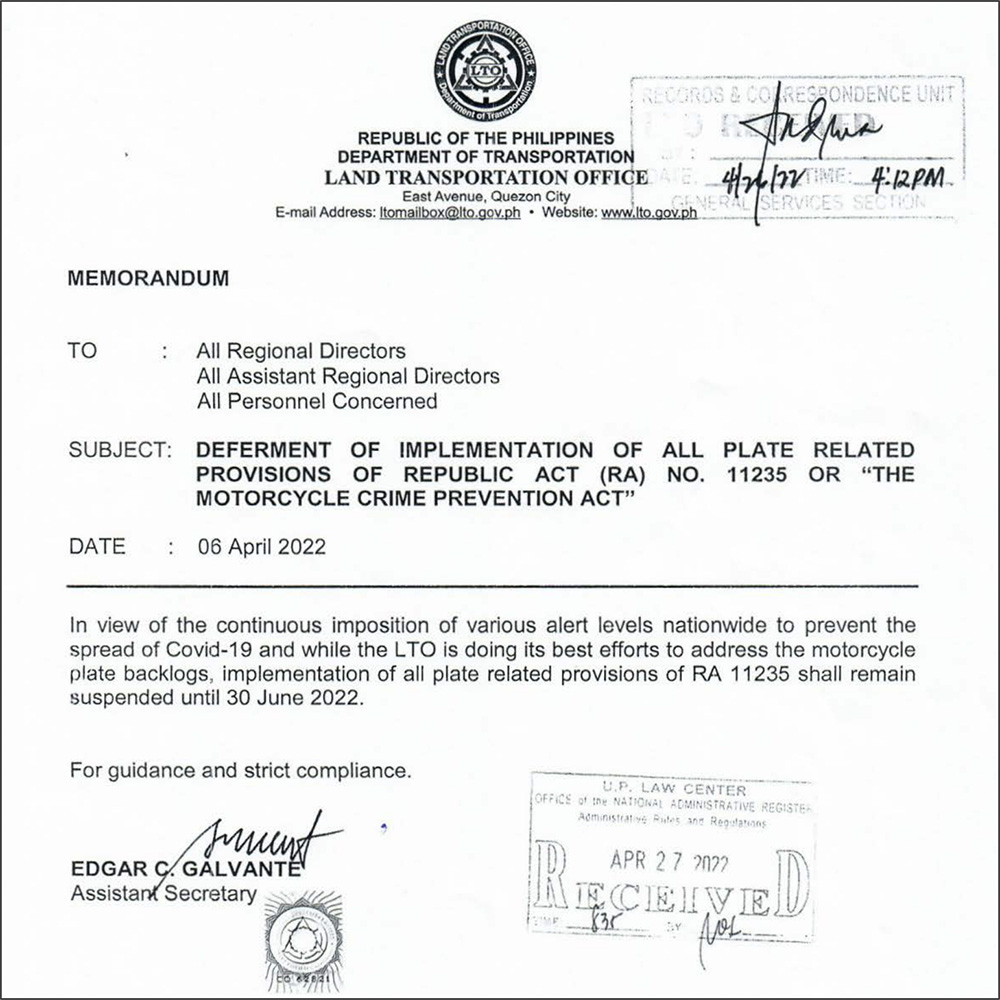 Fortunately, the government isn't as heartless and callous as it might seem. Because, as of today, the LTO has yet to actually implement (that is, enforce) the doble plaka law.
Mainly because it would be asinine to penalize riders for not having plates that they themselves should issue in the first place. According to the LTO website, implementation of the law is suspended until June 30, 2022, but I'm not seeing any progress on these front plates anyway, so the odds are good that it will be suspended indefinitely.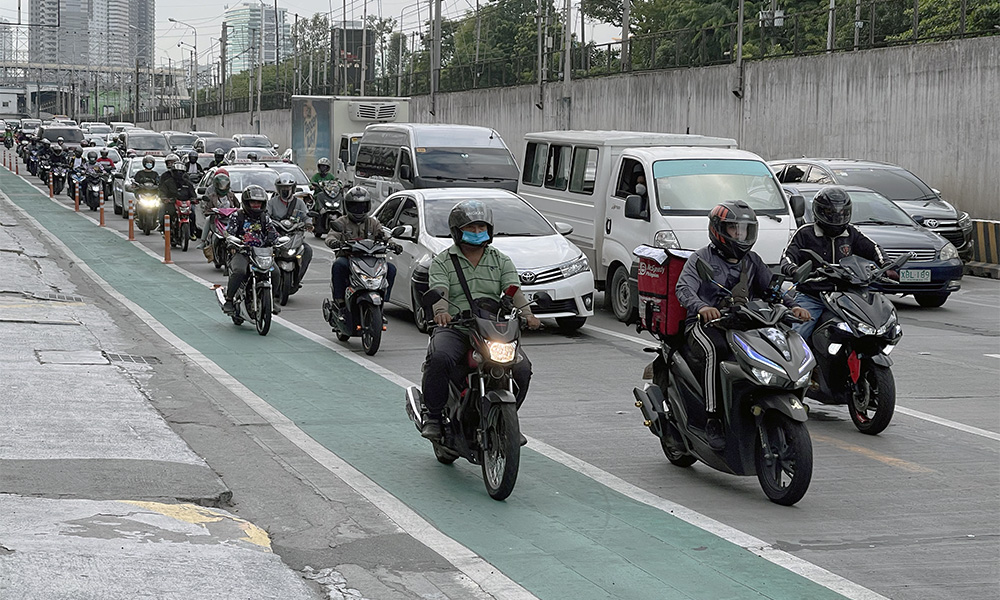 I suspect the bottom line why riders are so incensed about this law is because, more than the actual penalties, it's the gall of people in power to tell them what they should do with their bikes when they can't even get a fair shake at times. You see, if all you ever ride is four wheels, you will never know the inconvenience and the discrimination that the average rider feels every time they have to go through yet another checkpoint while car guys just breeze on by in air-conditioned comfort. Riders are unfairly generalized as "kamote" even if they're actually riding responsibly, and most of them are working-class folks just trying to make an honest living. So, when lawmakers tell them that they have to uglify their bikes under pain of monetary punishment and impoundment, of course they'll be pissed.
So pissed, in fact, that Senator Gordon could only muster 8,291,086 votes (according to Rappler's COMELEC report)—lower even than everybody's favorite dancing candidate Harry Roque (11,045,762). For good measure, the 1-RIDER party list garnered more than a million votes for the second-highest tally among all the party lists vying for seats in Congress. They will be represented by Ramon Rodrigo Gutierrez and Col. (Ret.) Bonifacio Bosita, long a prominent advocate of motorcycle riders. With literally millions of motorcycles sold every year in this country, it's only right that this sector of society gets some representation.
Still, there's something else that may be of a bigger concern to riders and prospective buyers, whether we end up riding with one plate or two in the near future. As if rising fuel costs weren't already painful enough, the Department of Finance recently aired a proposal to impose an excise tax on motorcycles by 2023.
Wala pa talaga tayo sa exciting na part.