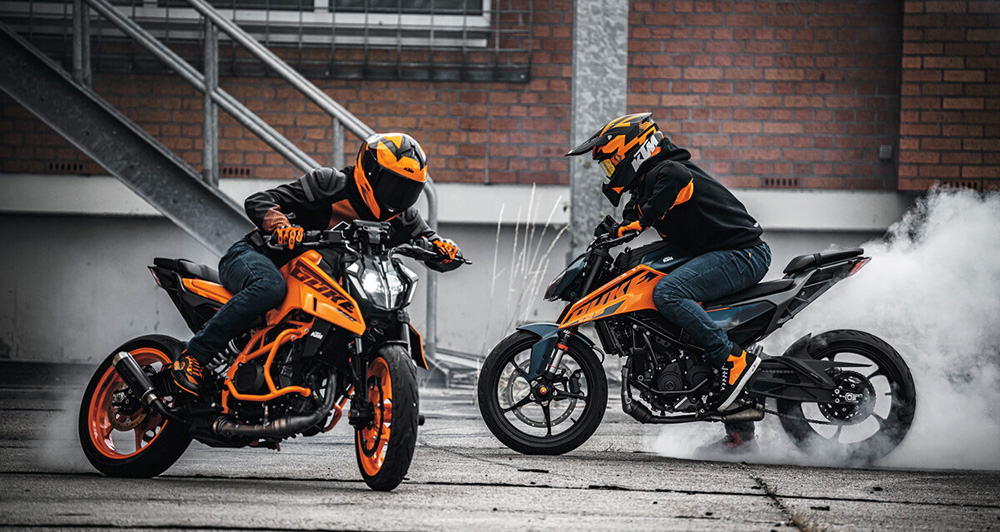 KTM isn't holding back with its messaging on its single-cylinder, small-capacity bike: a "no bullshit" stance and more punching power than ever. A popular bike in the entry-level class, the 390 Duke and its smaller-capacity sibling 200 Duke have gained a reputation for sharp handling and overachieving engines. For model year 2024, KTM has redesigned the platform not only with a new engine, but a new frame as well in a bid to reassert its dominance in the class.
An all-new chassis uses a two-piece frame design with a steel trellis main frame and a pressure die-cast aluminum subframe. New triple clamps have a new offset to improve handling and provide greater control and stability. The frame has increased torsional rigidity compared to the old model, allowing for better agility and feedback.
The curved, lightweight swingarm contours around the relocated rear shock absorber. The latter is now mounted off-center to make room for a repositioned airbox while also reducing seat height. The subframe features an open-structure design to reduce weight while also allowing a shorter standover height.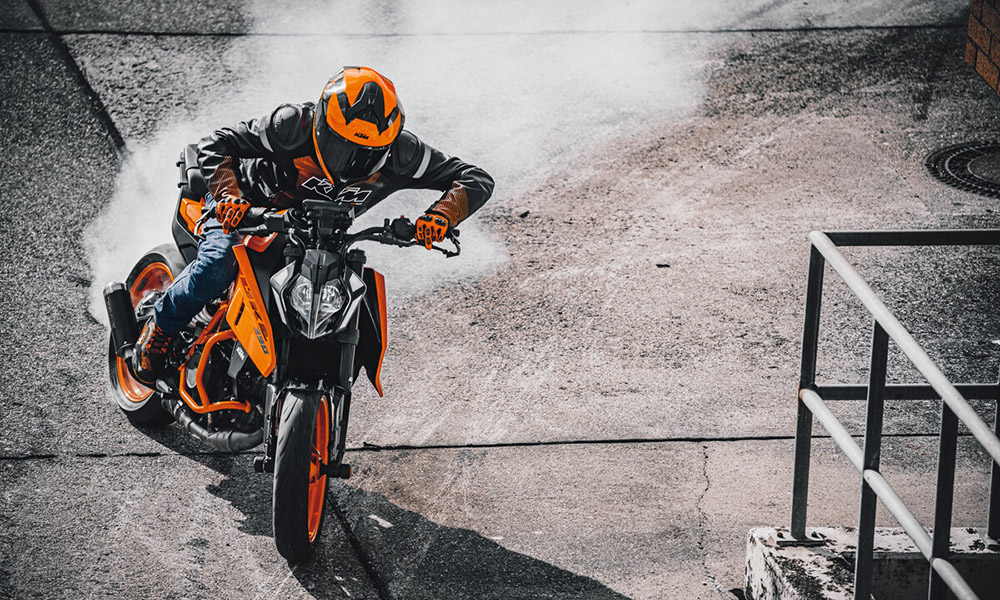 On the 390 Duke, suspension duties are handled by a 43mm WP Apex open cartridge fork with five clicks of adjustable compression and rebound. A new 250 Duke (perhaps taking over our market's 200cc?) uses a nonadjustable 43mm WP Apex big piston fork.
There's also a 125 Duke with a nonadjustable setup, but the Philippines has never had that model and is unlikely to make it here. All models use an off-center WP Apex shock absorber with 150mm of travel, and the 390 Duke uses a separate piston shock absorber with five-click, hand-adjustable rebound and tool-adjustable preload. The 250 gets a WP Apex Emulsion shock with preload adjustability.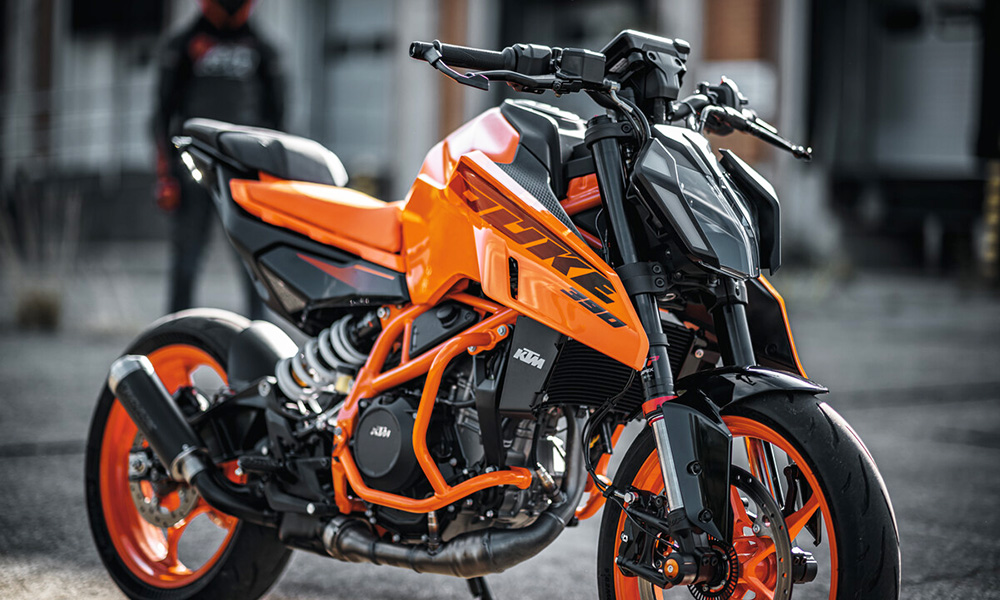 Visually, the new bike has a familiar silhouette, but a closer look reveals subtle differences that give it more aggression. The 390 Duke has longer tank spoilers and radiator covers, with the former featuring visible air intakes. A new seat design, complete with an Electronic Orange Metallic accent strip under the seat, gives the bike an even sportier stance. The 125 and 250 Duke wear a slimmer and more compact profile, using smaller tank spoilers and painted headlight surrounds. A new metal tank is also used. All models benefit from LED lighting.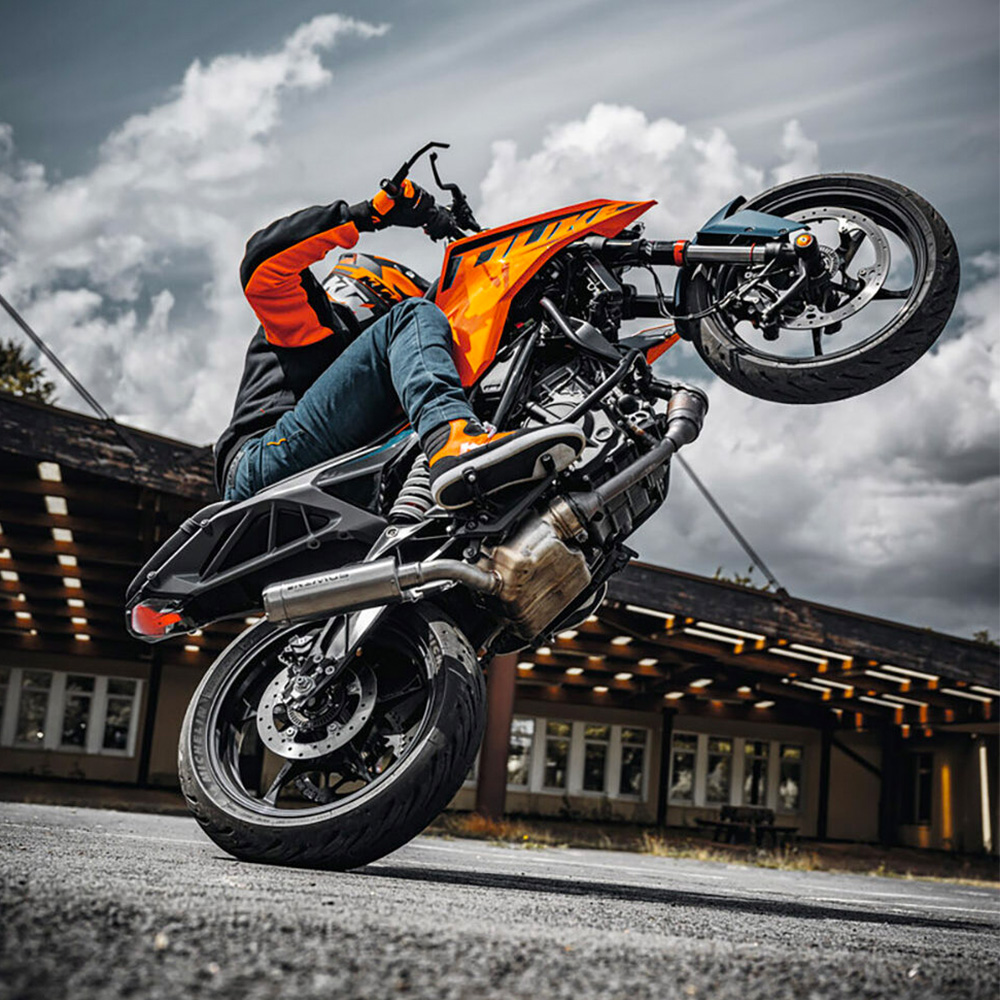 The seat height for the 390 Duke is 820mm, and it can be further lowered to 800mm by removing a spacer under the seat. The 250 Duke's seat height is a nonadjustable 800mm. Curb weight (unfueled) is just 165kg for both the 390 and the 250.
An all-new engine powers all models of the 2024 Duke. Dubbed the LC4c, the compact, single-cylinder engine displaces 125cc, 250cc, and 399cc. It's Euro 5-compatible and uses newly optimized cylinder heads and gearboxes.
The 390 Duke's previous 373cc displacement has grown to 399cc by virtue of a longer stroke of 64mm, while the 250 and 250 Dukes share the same engine platform with a new SOHC design that's lighter and simpler with fewer components. All feature ride-by-wire, a PASC clutch, and an improved power-to-weight ratio.
The 390 Duke engine is rated at 44hp and 39Nm, while the 250 is rated at 31hp and 25Nm. And while we probably won't get the 125 Duke, in case you want to know, it's rated at 15hp and 11.5Nm.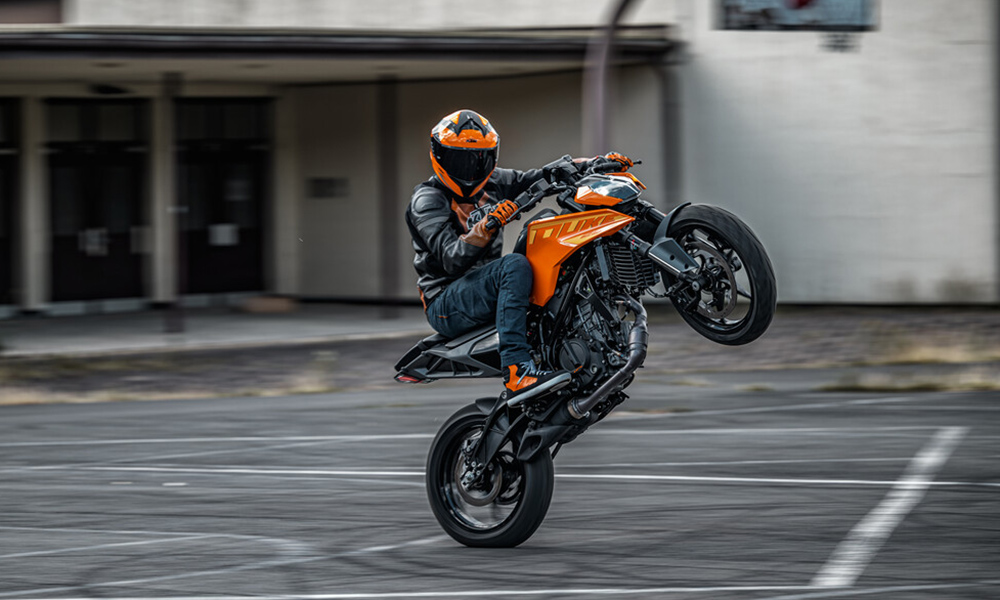 All models get a new-design, lightweight alloy wheels featuring fewer spokes and an open-hub design. The 390 Duke gets Michelin Power 6 tires, the 125 Duke gets Michelin Road 5s, and the 250 Duke gets Vredestein Centauros.
A single brake system is fitted to all models, using a 320mm brake disc and a four-piston caliper up front, and a 240mm rear brake with a new, twin-piston caliper. Anodized components help improve corrosion resistance. The 390 and the 125 also benefit from adjustable brake levers.
Tech-wise, all models get the latest version of selectable Supermoto ABS, allowing the rider to disable rear-wheel ABS. The latest version keeps Supermoto ABS mode on even after the ignition is switched off. The 390 Duke also gets cornering traction control as standard for enhanced controllability, as well as launch control. The latter maintains revs at 7,000rpm at wide open throttle for quick acceleration off the line.
The 390 Duke gets selectable ride modes: Street, Rain, and Track. A first for the model, Track mode changes the screen to a more race-focused layout with an enlarged rev counter, a lap timer, a selected gear display, a reduced speedometer size, and a selected setting for traction control and ABS.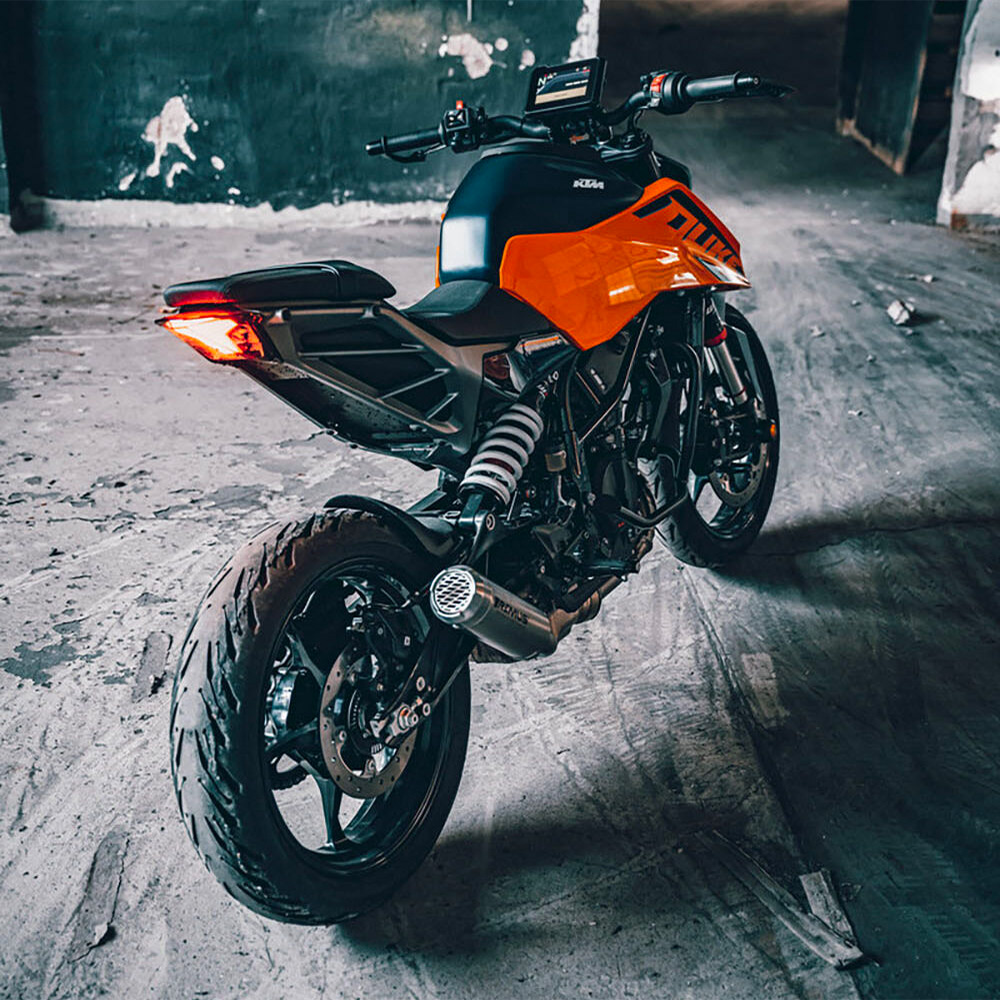 A new five-inch dashboard graces the cockpit of all models, with the 390 Duke getting a bonded-glass TFT unit and the 125 and the 250 getting an updated LCD. The new switchgear also gives a high-end look to the cockpit. All models get a lap timer function. A speed limiter function for the 390 and the 125 aims to help riders in areas with speed cameras.
Regardless of the model, Bluetooth phone connectivity for music, calls, and turn-by-turn navigation is standard.
KTM Philippines is currently mum about when the 2024 model(s) will be launched here, but seeing as there's a current slump in big bike sales and a recent launch of the upstart CFMoto 450NK, it will probably happen very soon.