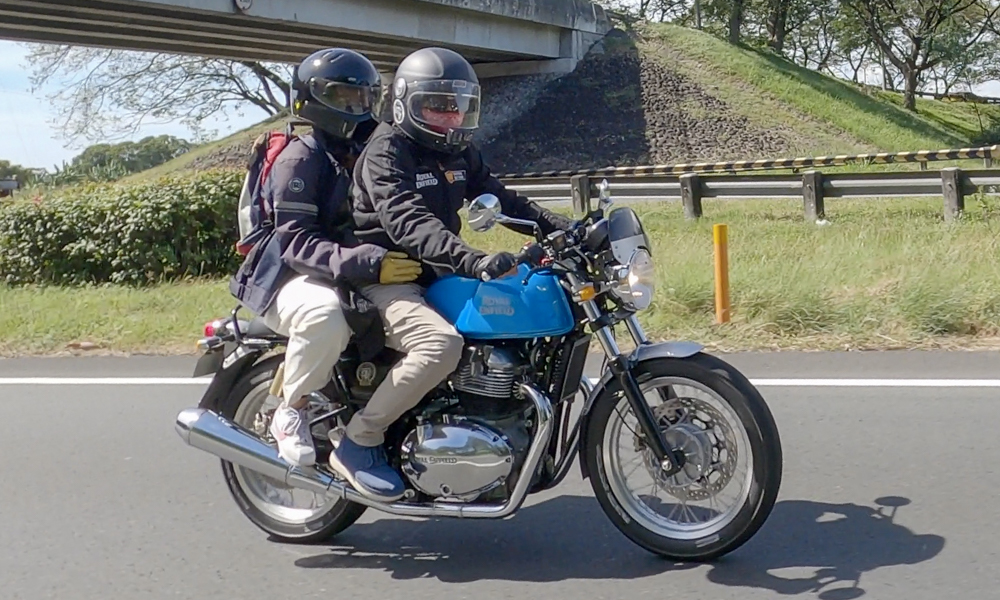 As any motorcycle rider in a relationship knows, riding with your partner can be much more fun and fulfilling than going solo. To ride with your significant other who will bear the normal discomforts of the lifestyle, all for the reward of adventuring with someone who means the most to you, is a goal that many other bikers dream of.
To get some insights on how to get started riding with your wingman for life, we asked several notable couples in the community so that you can someday convince your partner that riding is something he/she can also enjoy.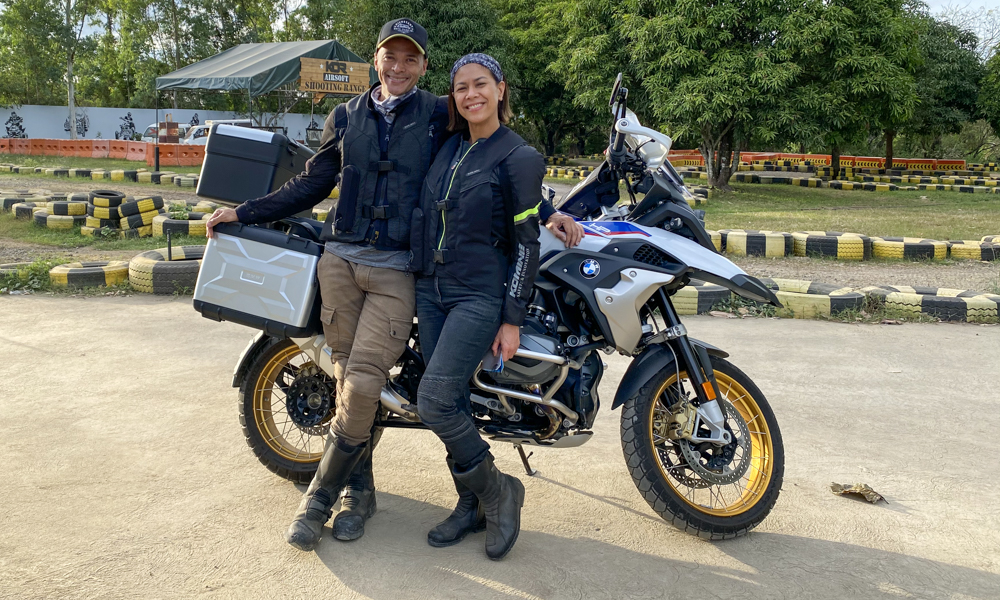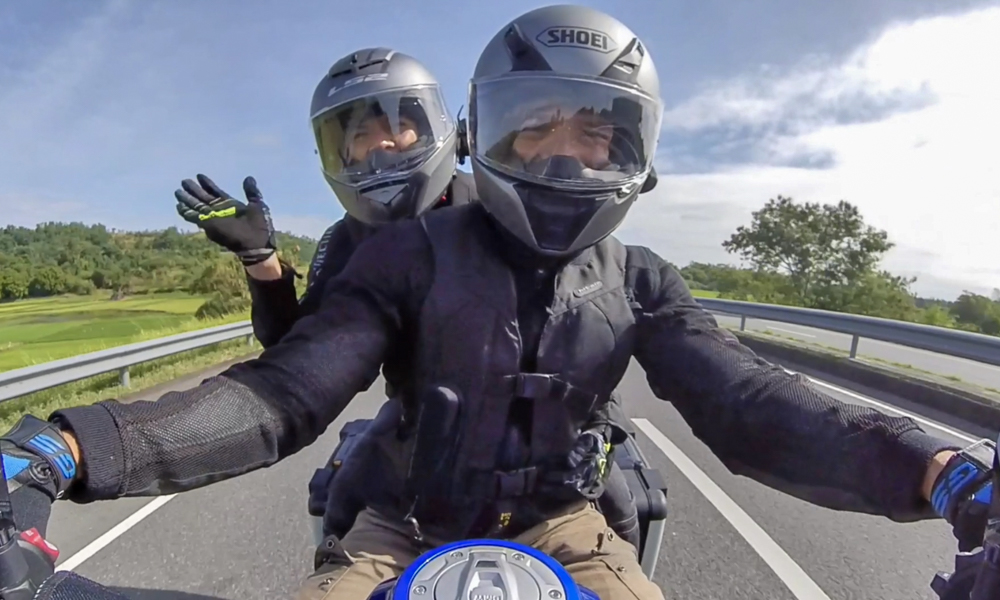 PAOLO & SUZI ABRERA
We first got introduced to Paolo and Suzi many years ago when their careers took off with Game Plan, a show that took Filipino viewers all over the country as they tried out every sort of sports from rappelling to skydiving.
Paolo started riding nearly 30 years ago as a working student in Sydney. Suzi only recently learned to ride when she took lessons at the Honda Riding School in 2019.
"I love making angkas with Pao," says Suzi. "He's an excellent rider! I always feel safe. Especially since he has a top box that makes me feel like I will never fly off. So far, we've been going farther and farther away from Manila. We've got plans."
Since travel restrictions limit their options for now, the two get on Paolo's BMW R1250 GS and mostly go on short southern loops of Tagaytay and Batangas for breakfast or day trips.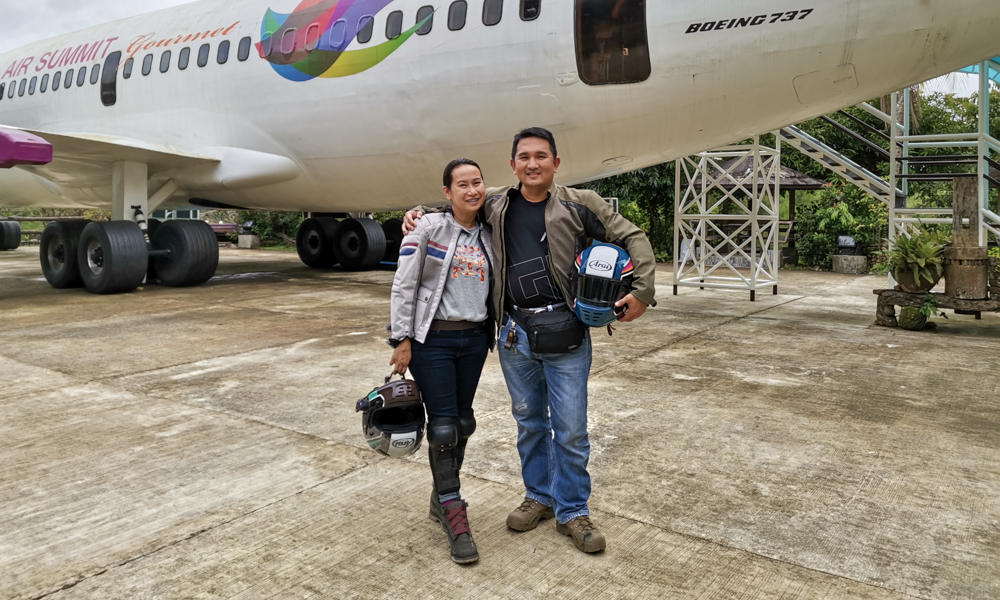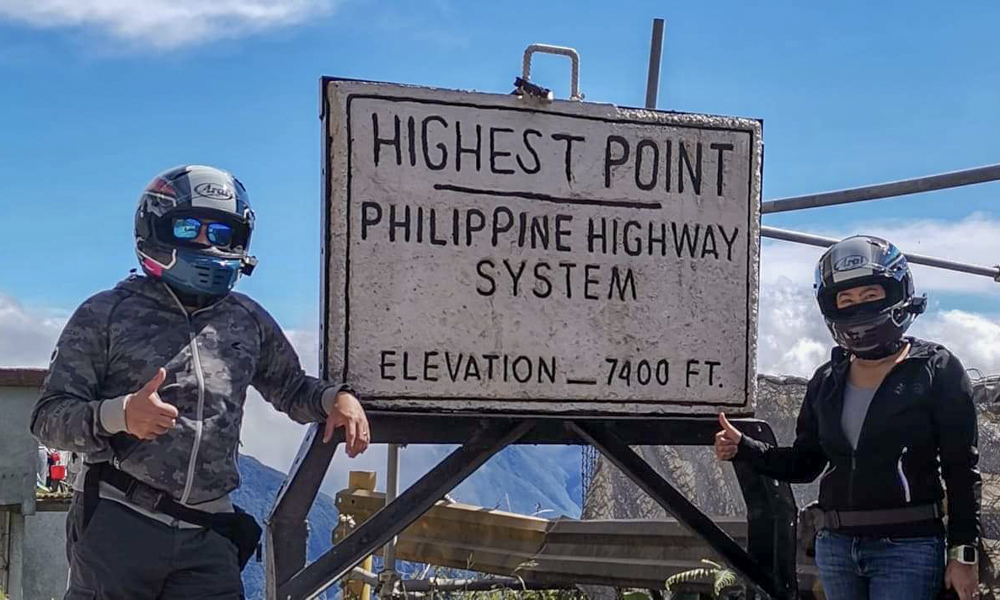 EDWARD & MARICHU TALASTAS
Edward is a network engineer at Verizon, while Marichu is a dermatologist. Together, the two have been putting on the miles.
"I started riding first," says Edward. "After a few months, I sensed my wife also wanted to ride a motorcycle on her own, so I got her a cruiser."
According to Marichu, "I back rode with Edward once, but I didn't enjoy it a lot. He didn't have to encourage me, because I knew if would be more fun if I also rode. I always tell anyone who asks, 'Ayaw kasi ni misis maging angkas lang kay mister.' So now I say, 'Masaya na si misis.'"
The pair usually makes trips to Tagaytay, but they also ride with Marichu's female riding group, the "Rebelles" along with their bodyguards/partners. Outside of NCR, the two have also visited Mayon Volcano, Ambuklao Dam, Cagraray Eco Park in Albay, and the Highest Point of the Philippine Highway System in Benguet.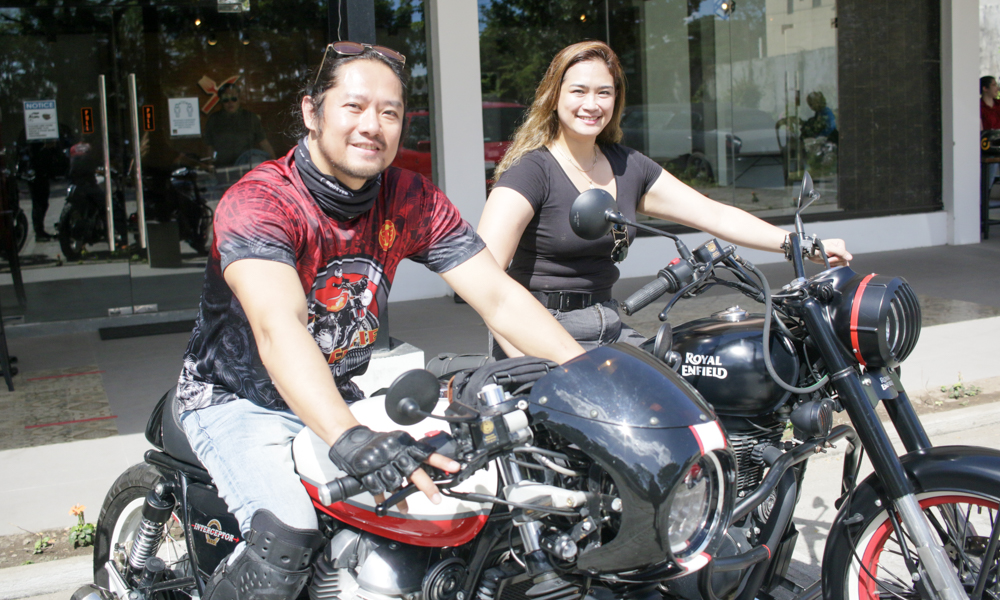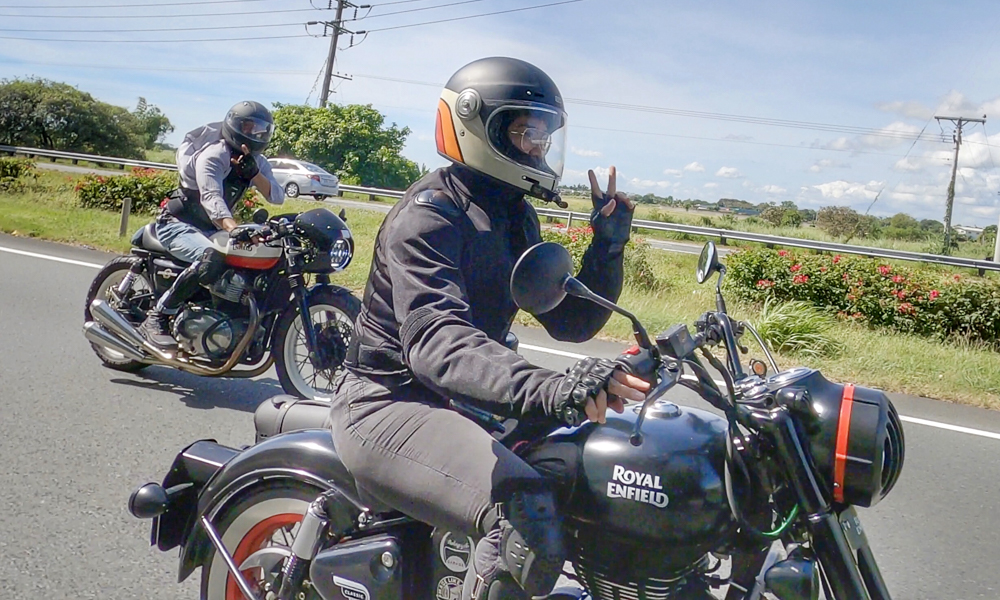 TEY & DJAM ABAYA
Tey works as a manager for a leading insurance provider, while Djam works as a BPO training manager. Tey is also the administrator for the Royal Enfield North Philippines Facebook group, one of the biggest enthusiast clubs in the country with nearly 900 members.
Tey started with scooters in the '90s but only recently got back into riding in January 2020. To encourage Djam to get into the lifestyle, he got her a Vespa as a birthday gift. It wasn't long before she moved up to big bikes, and these days the two ride together—Tey on his customized Royal Enfield Interceptor named "Serum," Djam on her blacked-out Classic 500 called "Lockdown."
"One of the reasons we like to ride is we get to discover new places together," says Tey.  "If we were to choose a really memorable ride though, one would be Royal Enfield North's relief operation in Bicol. Djam was my OBR (Official Back Ride) that time, and it was the farthest ride we'd taken so far. Not only did we enjoy the scenery, but the fact that we were there to extend help gave us fulfillment."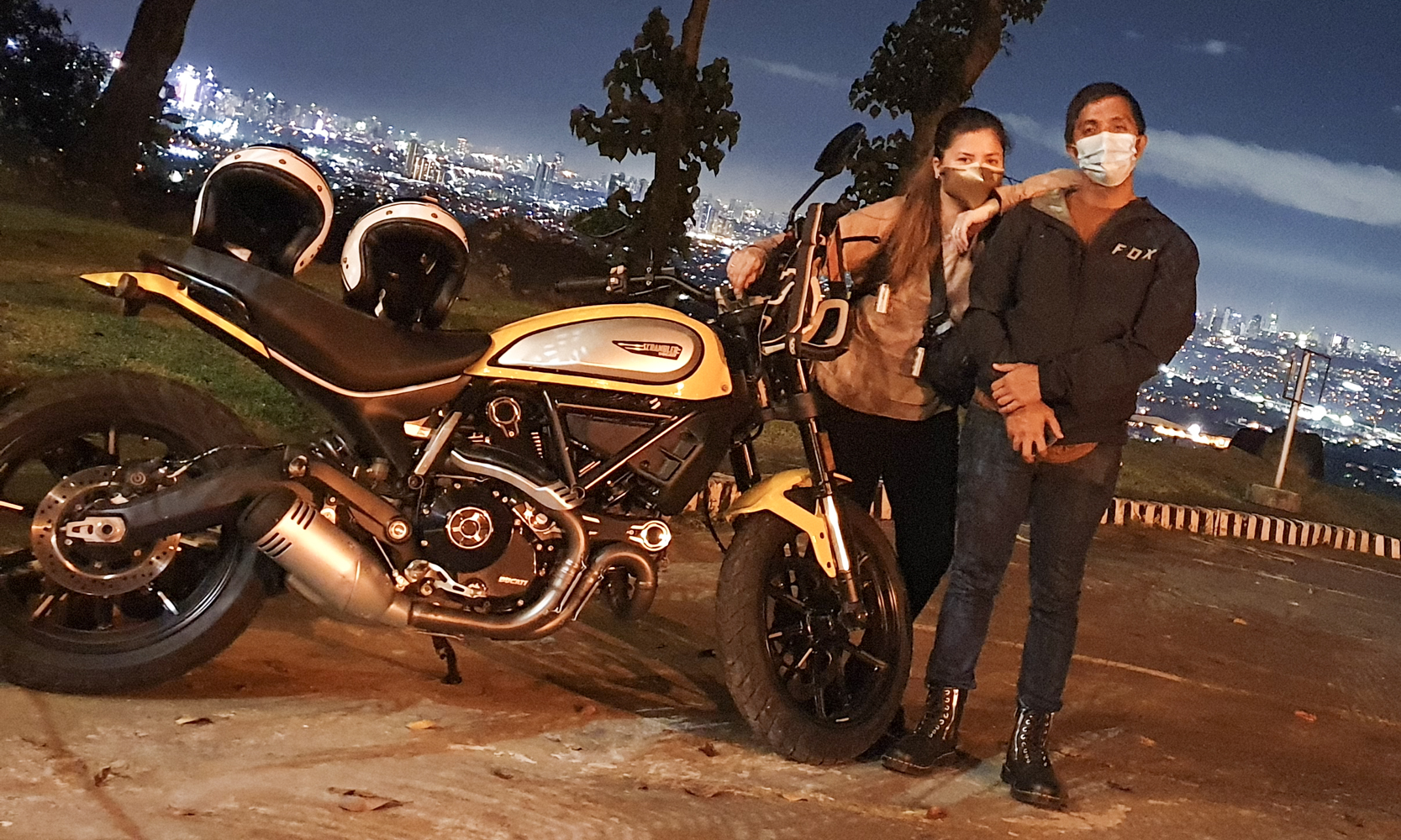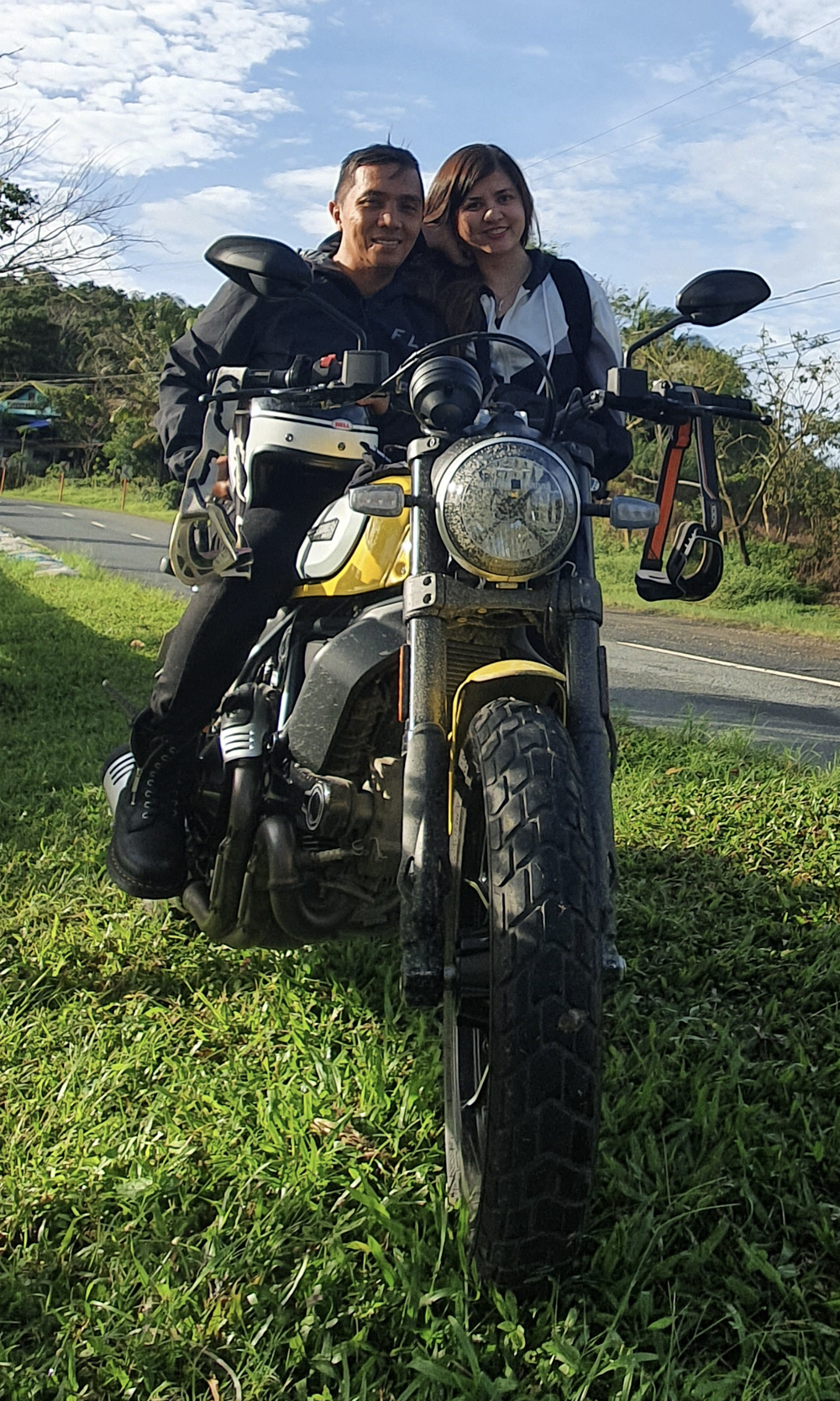 SAM & FAITH TAMAYO
A professional dirt-bike racer, riding coach, and pastor, Sam is one of the humblest yet most helpful people you can meet, always willing to teach riders the way of the bike. When he's not working, though, he and his wife Faith will usually zip up to Rizal for an early-morning breakfast ride.
"I learned to ride on a 50cc Honda Cub when I was in fourth grade and 11 years old, then transitioned to a Yamaha DT175 a year later," says Sam. "My dad was the main influencer. When Faith and I first met, I was already a professional racer, so it's normal for us to ride together."
On their wedding anniversary last year, the two went on a road trip for some fresh air and to take in the scenery.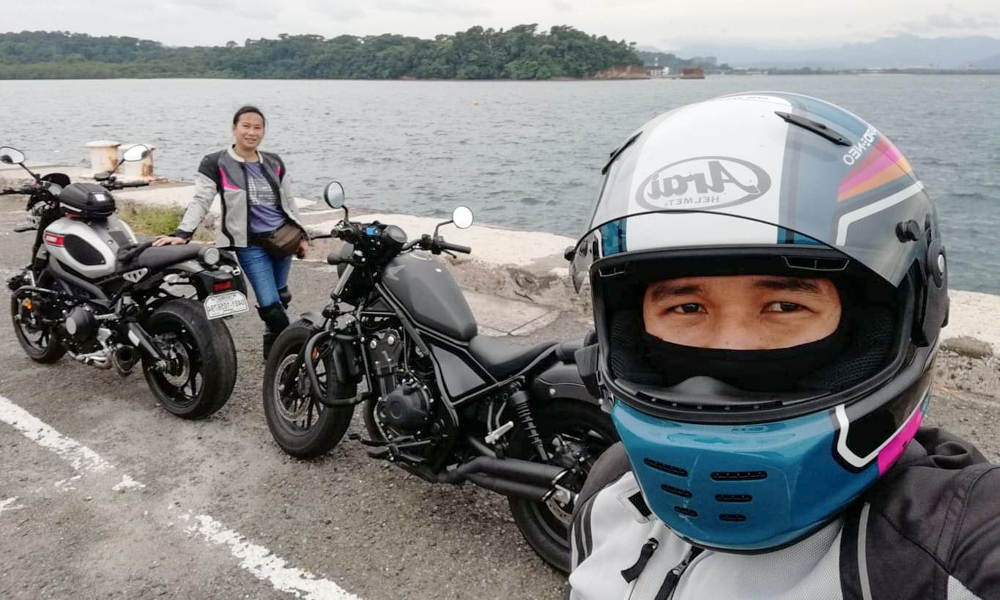 If your partner isn't content with riding pillion but also wants to ride, it's important to enroll in a safety riding course. "It's not only for your safety, but for all the motorists and their passengers on the road," says Marichu.
Communication is also key to an enjoyable riding experience. All four couples use a Bluetooth communication system to stay in contact, to warn each other about oncoming turns or obstacles, and to not have to yell over the deafening windblast.
But it's also important to trust your partner and stay relaxed. "I can imagine how stressful it might be for the driver if the pillion is always oop-oopsing into the comms system," shares Suzi.
"Try to go to scenic places," encourages Sam. "Don't ride too fast so you can enjoy the beauty of nature."
But also—and this is very important—get matching gear. "Invest in matching equipment like helmets and boots to make it more fun," adds Faith.
When you've found your partner for life, getting him or her into riding can add more fulfillment to your relationship. And if you're both hooked, you'll get the golden ticket no rider can refuse: the unli-riding visa!