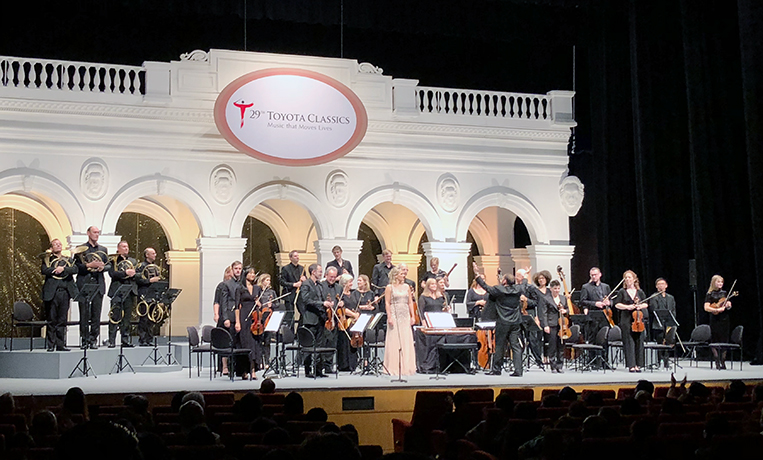 Last night, I attended the 29th edition of "Toyota Classics," the Japanese automaker's annual concert that "promotes classical music to support charities across Asia." I had always been invited by Toyota Motor Philippines to this event, but I had also always declined. Not least because my idea of a classical music concert involved a black tie and a white handkerchief, neither of which I had in my possession.
The only Toyota-sponsored concert I had been to prior to last night was Michael Jackson's lip-synched performance in 1996. I was a huge fan and all, but damn, that show was as fake as his physiognomy at the time. Anyway, back to Toyota Classics. I decided to go because I wanted to know what it felt like to be cultured for a change.
It felt good, actually. Mostly because watching an orchestra made me realize a couple of things about leadership and teamwork. Sure, it also felt good seeing and hearing Lea Salonga, one of my two crushes in 1992's Bakit Labis Kitang Mahal (the other one being Aga Muhlach), but it was the Orchestra of the Age of Enlightenment from the UK that truly delighted me.
Here are the two things I learned from this group of world-class musicians:
First, a good leader never calls attention to himself. Conductor and musical director Steven Devine was such a joy to observe. The show was never about him. Whenever the audience applauded at the end of a number, he always deflected the adulation to the vocalist or the lead violinist or another instrumentalist. Anyone but him. And then he'd join the crowd in clapping.
Don't you just wish our politicians or company bosses were all like that? Always taking charge but never grabbing the credit. Always encouraging subordinates but never throwing them under the bus when they commit a mistake. The guy gave me this mental picture of an ideal leader: someone who takes the blame when his team fails, but divvies up the recognition among staff members when they succeed. Not the other way around, or one who excoriates his squad during a fiasco, but hogs the spotlight when his crew slays.
Government units or company departments or even car clubs collapse because members can't resist the urge to be the star
Second, a great orchestra (or, for that matter, a great team) has no place for divas. Bawal ang epal. Every single member just quietly performs his or her task. Nobody insists on doing things his or her own way. And nobody cares who gets the praise. Everyone plays in unison. No one is ahead and no one is behind. I was told that orchestra members are even trained to breathe in complete harmony with each other.
You know why government units or company departments or even car clubs collapse? It's because most members can't resist the urge to be the star. Kailangan lahat bida. We can't stand seeing teammates get the awards or the promotion or the salary raise. It always has to be about us, doesn't it?
More than the music—heavenly, I should note—it was the way the orchestra played together that impressed me. I'm glad I went. I now have something noble to aspire to as a team member. Music that moves lives indeed.