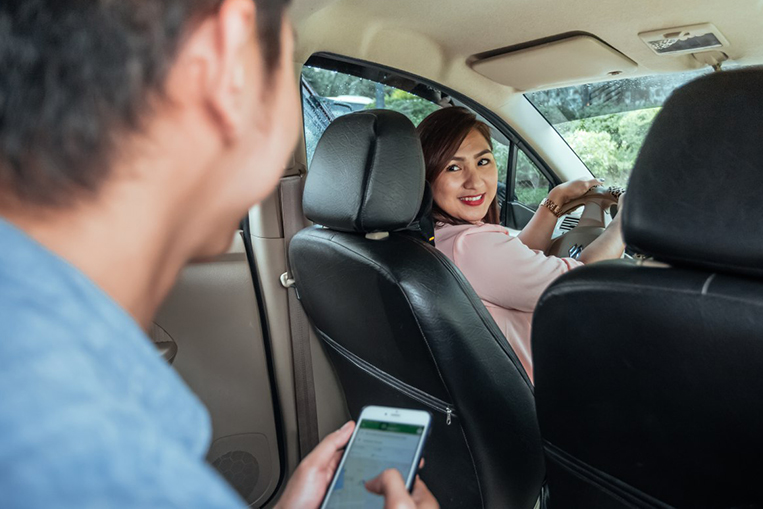 Back in June, Toyota surprised the motoring world by announcing that it was investing a whopping $1 billion in Singapore-based transport network company Grab. Then again, it was surprising only to those who weren't paying attention to the latest mobility trends. To those familiar with said trends, the Japanese automaker's business decision made a lot of sense. Because at the heart of the deal was Toyota's access to the wealth of transportation data that Grab was able to collect with its thousands of cars picking up and dropping off passengers all over Southeast Asia. In fact, prior to the investment announcement, Toyota had installed its in-house-developed driving recorder called TransLog in 100 Grab cars, designed to understand driving and commuting behavior.
Why is such data important? Two words: autonomous vehicles. As you know, self-driving cars are an inevitable part of our immediate future. And in order for driverless vehicles to function properly and seamlessly, they will have to rely on a myriad of information. That includes, for instance, the busiest traffic hours of the day, the most accident-prone areas or even the most frequented destinations. With Grab's countless cars running around 24 hours a day in most major cities in the region, the Uber-vanquishing TNC is just the perfect source of such data.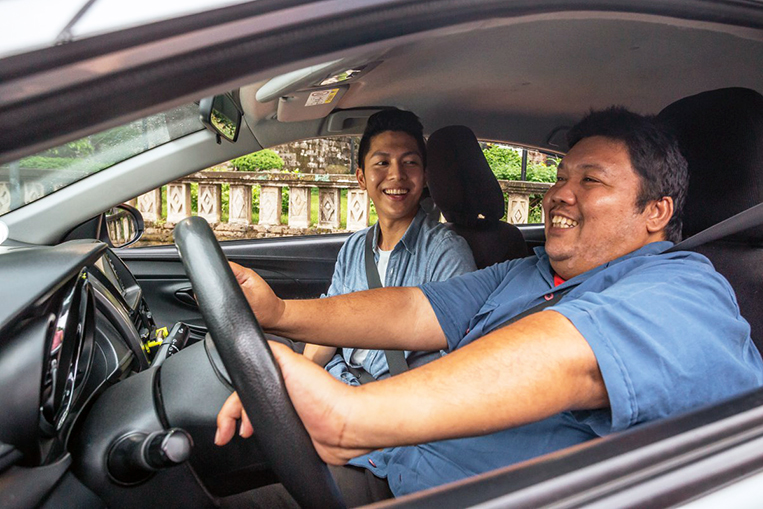 And now, Grab demonstrates the relevance of its "big data" tool by sending us facts and statistics it gathered from New Year's Day. Some interesting trivia:
* There were 31,465 ongoing Grab rides "at the stroke of midnight of January 1, 2019."
* People headed out the most from 10pm to 11pm of December 31, 2018.
* Many Filipinos stopped partying between 1am and 2am of January 1st, the period with the most ride bookings after midnight. (Or we could just be on our way to a get-together.)
Compared to other cities in Southeast Asia, this is how Metro Manila moved about using Grab rides in celebration of New Year's Day: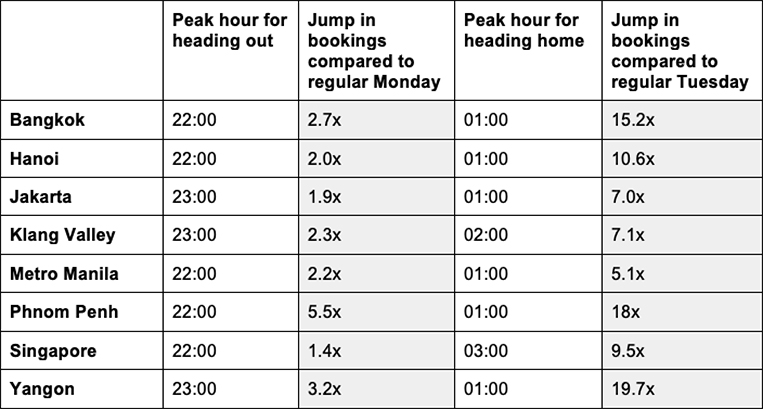 According to Grab, the top three drop-off points in Metro Manila from 5pm to 12 midnight of December 31 were the following:
Eastwood Mall
SM Mall of Asia
Okada Manila
And the top three pick-up points from 12 midnight to 4am of January 1 were the following:
Okada Manila
Solaire Resort and Casino
SM Mall of Asia
Information about destinations wasn't the only thing Grab was able to collate on New Year's Day. Since Grab now also has food-delivery service, the firm was likewise able to determine the most popular food items in Southeast Asia, based on the orders placed via GrabFood: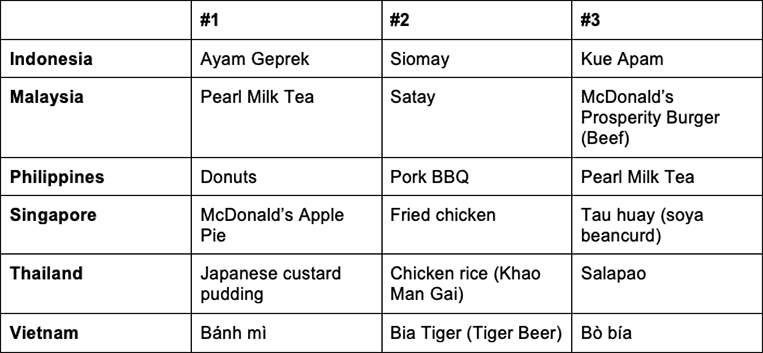 We guess this explains why many Filipinos have diabetes.
It's truly amazing how Grab has joined Google and other tech companies in spying on us is able to monitor and analyze our commuting and eating habits so it can sell the data to anyone interested serve us better. It's great to be under surveillance alive.