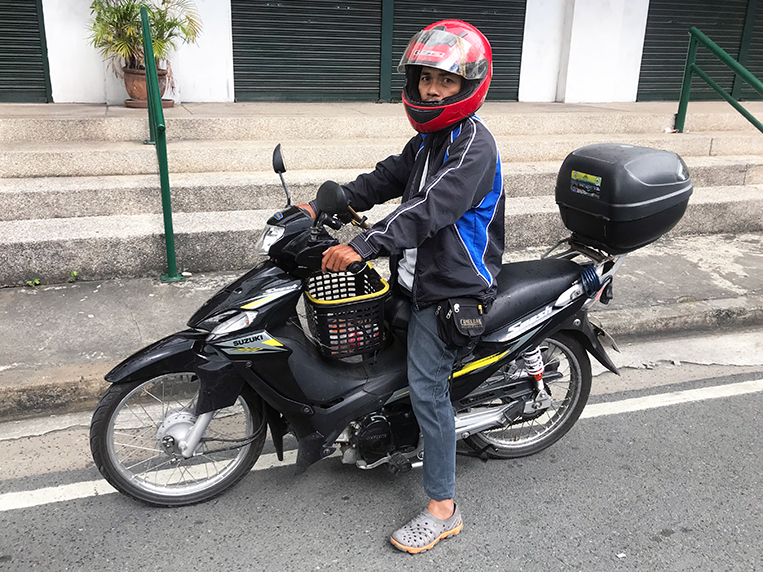 First things first: This is not paid content for Grab or any restaurant that will be mentioned here. This is simply us trying GrabFood—Grab's recently introduced food-delivery service—for the very first time.
You see, we had always had the Grab app on our smartphone, but had never really touched it unless we were in desperate need of a car ride. Today was different. Today we didn't need a ride. Today we were just hungry and also too lazy to step out.
We're no strangers to this whole food-delivery business. We used to order lunch and dinner via Foodpanda when we were still holed up in our temporary workplace in Bonifacio Global City last year. We like the service. It's convenient. It allows us to continue working while someone else fetches our favorite rice topping for us. Plus, it saves us fuel and parking money if our restaurant of choice is quite some distance from wherever we are.
So…try GrabFood, we did.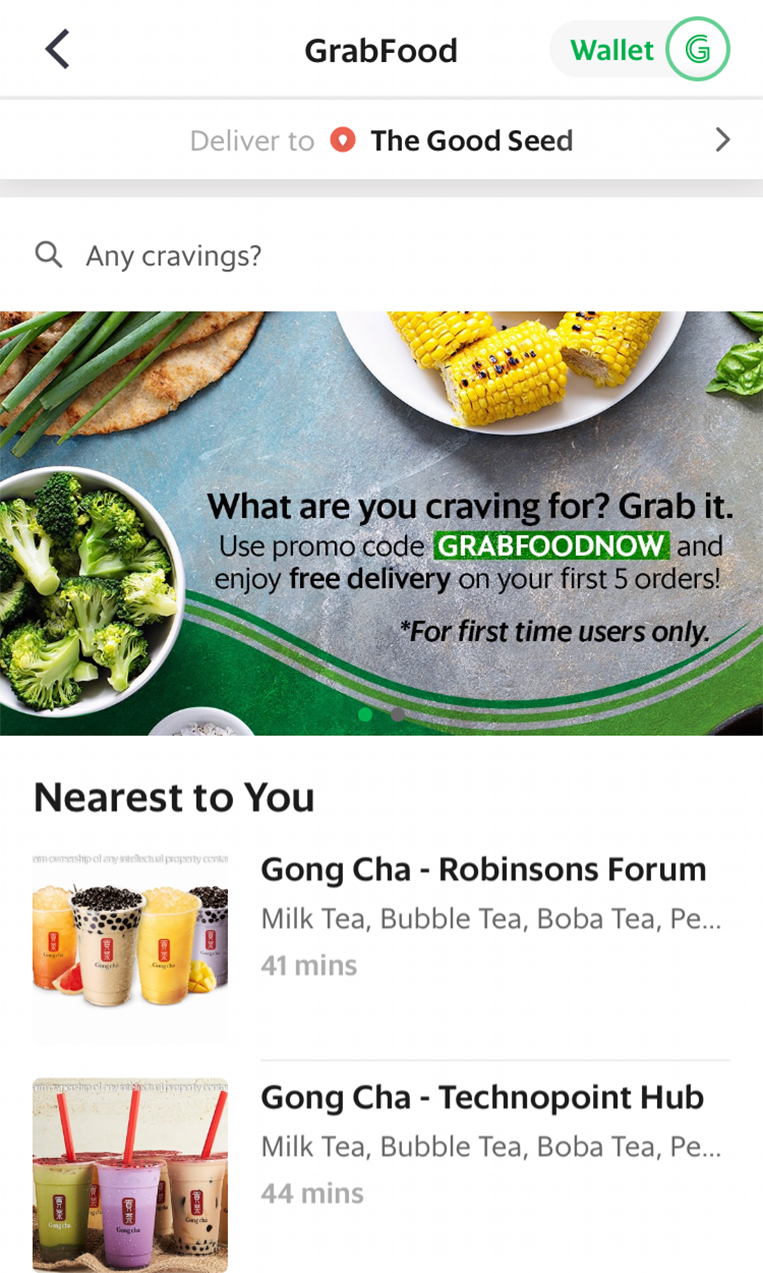 At 11:46am, we opened our Grab app and were asked: "What do you want to do today?" We pressed the FOOD button. We were then taken to a page that required us to enter our location.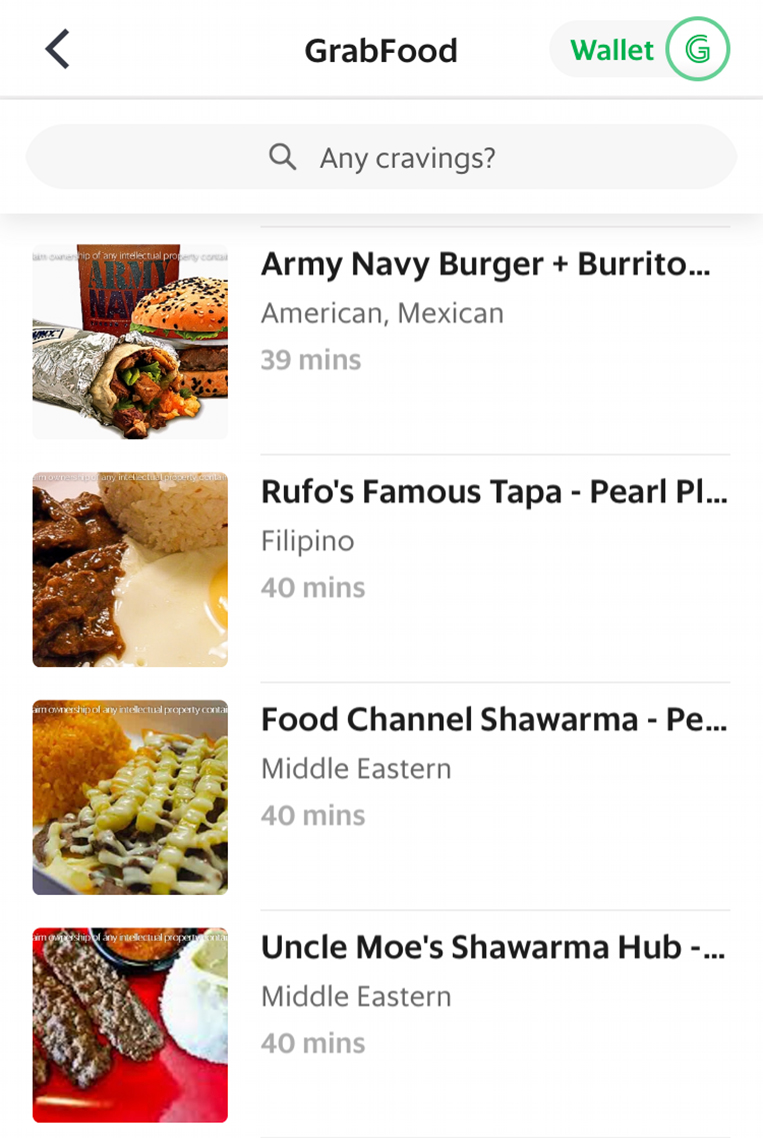 The app showed us a list of all the available restaurants in our area. GrabFood is currently only active in BGC, Makati, San Juan, Mandaluyong, Ortigas, Quezon City, Manila and Pasay. Fortunately, our office's neighborhood is covered. We understand the service continues to expand as you read this.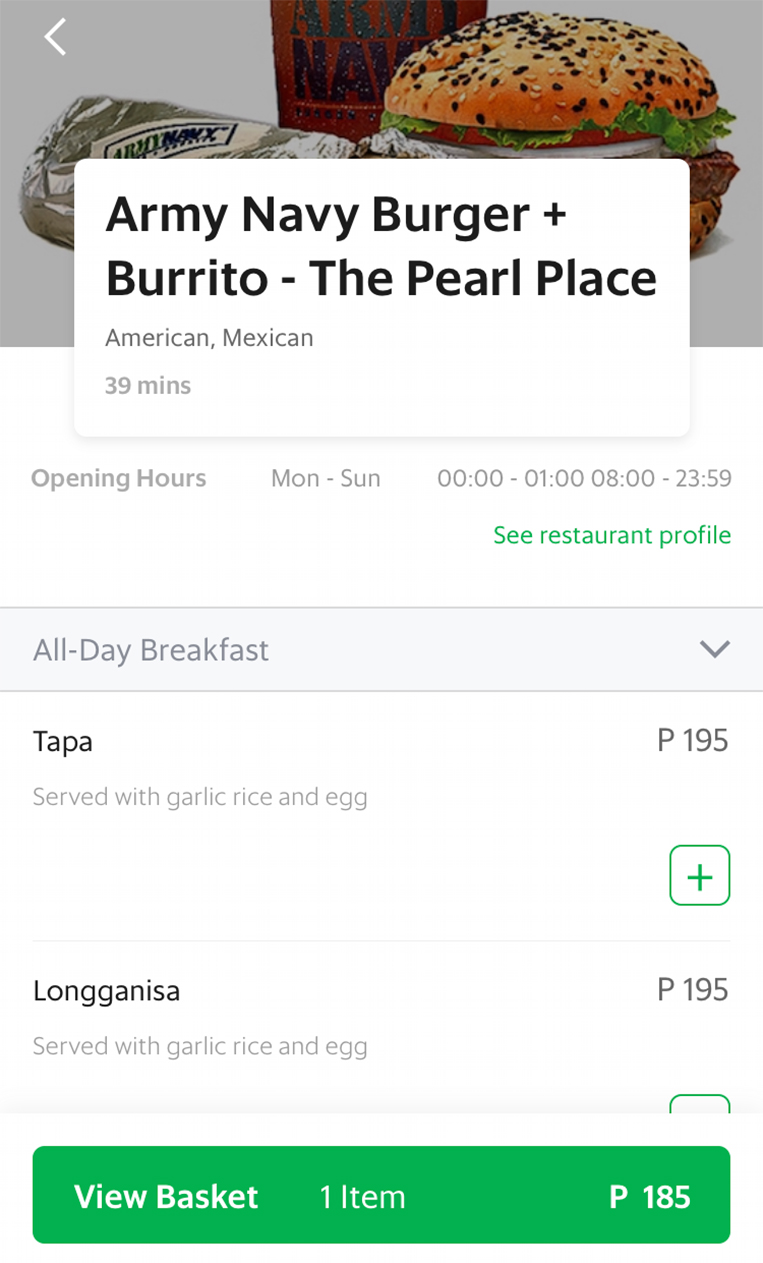 We chose Army Navy. We don't know why we always get hypnotized by the word "burrito" (even if we don't actually order it). We picked two items, which were then put in our virtual basket.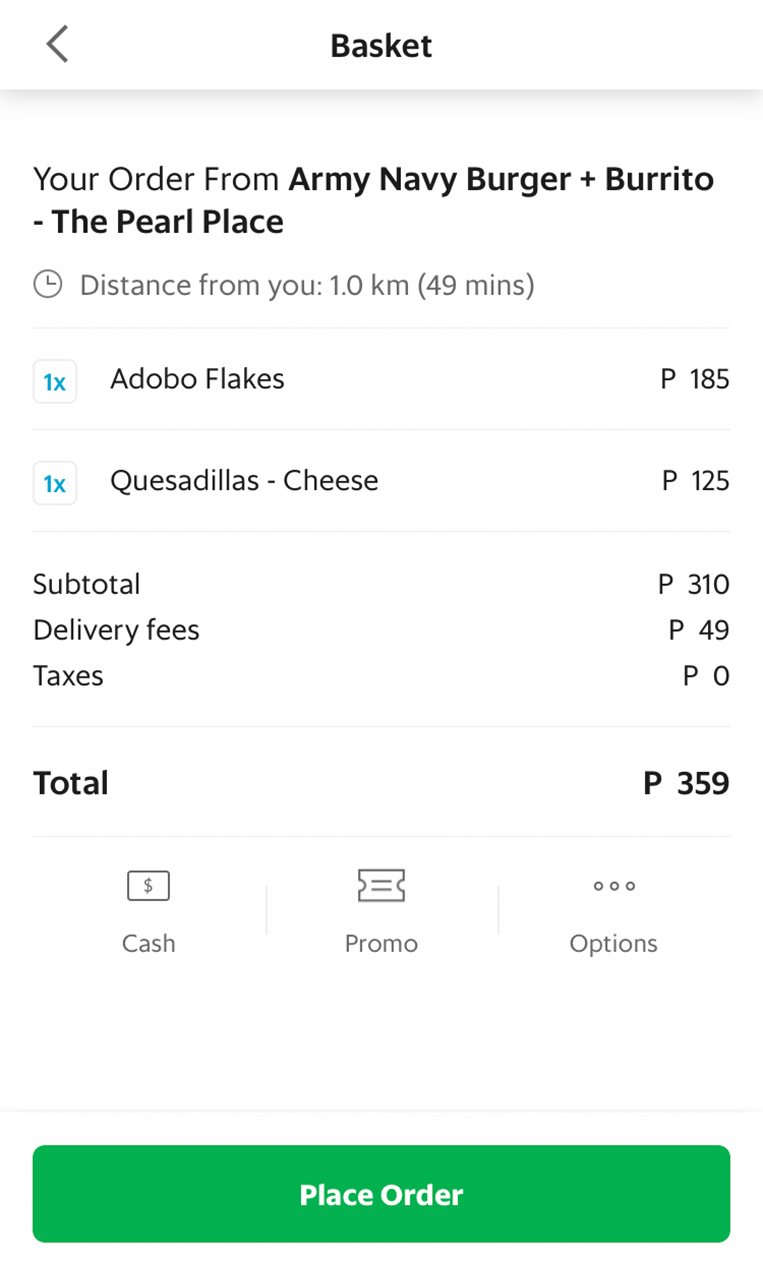 We clicked our basket and were shown our bill (including the P49 delivery fee). Our total: P359. We would pay this amount in cash upon our food's arrival. We placed our order.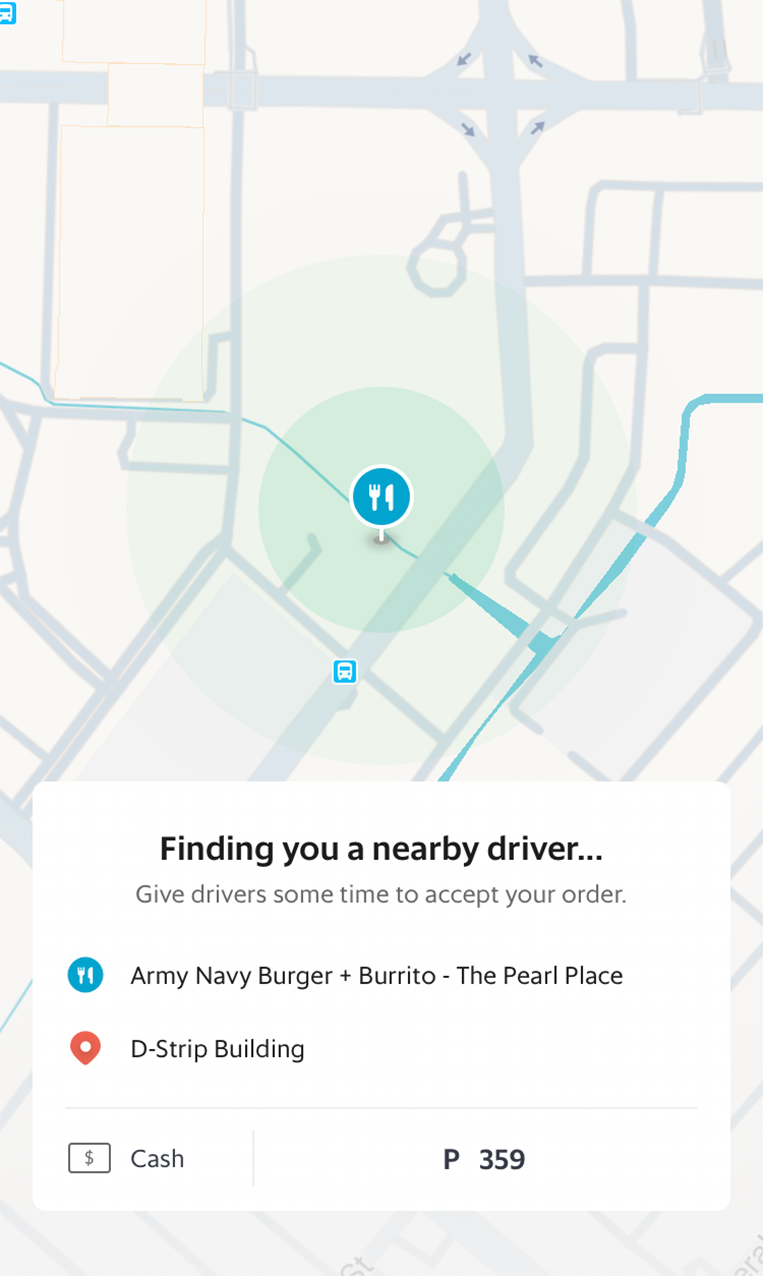 Just like with the ride-hailing service, our Grab app went to work and attempted to find us a driver (read: a motorcycle-riding delivery person).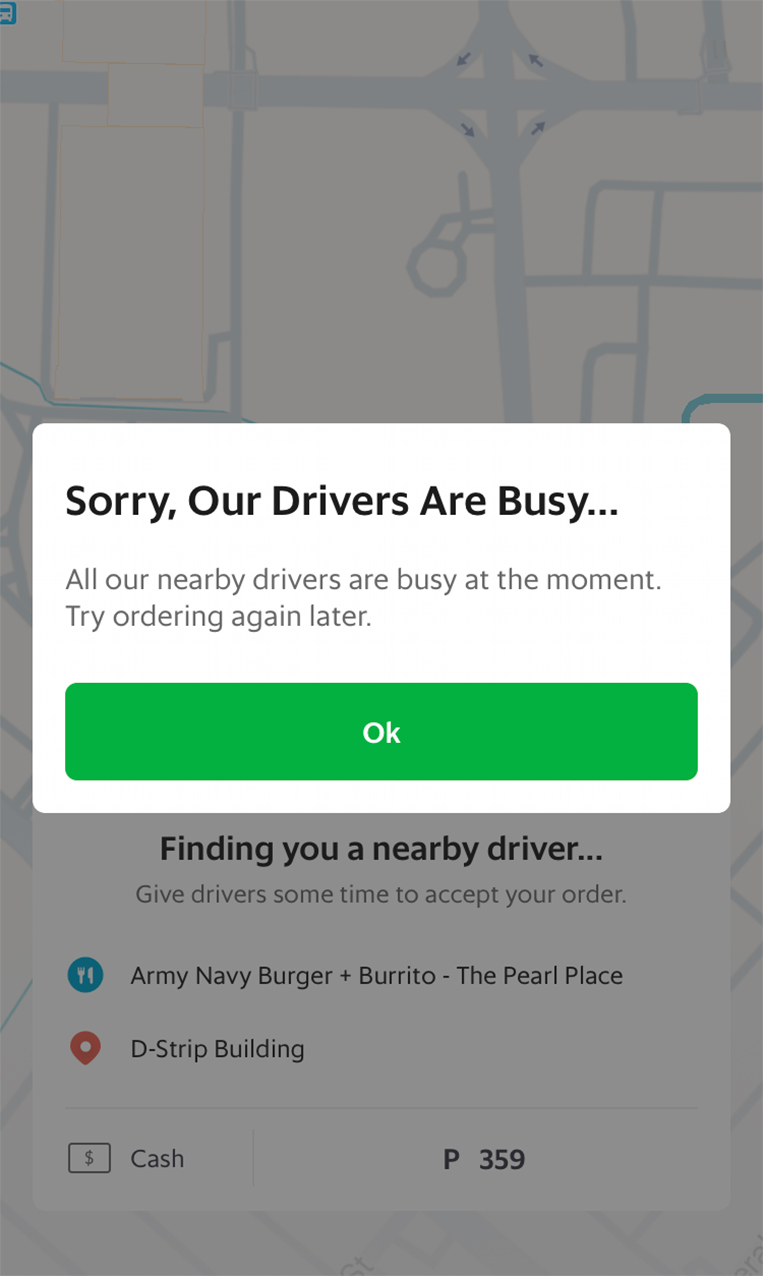 Alas, just like with the car service, it seemed finding a GrabFood delivery driver was difficult. We got the above apology thrice. To be fair, it was lunchtime—and also a Sunday, the one day of the week when people just want to stay home and have stuff brought to their doorstep.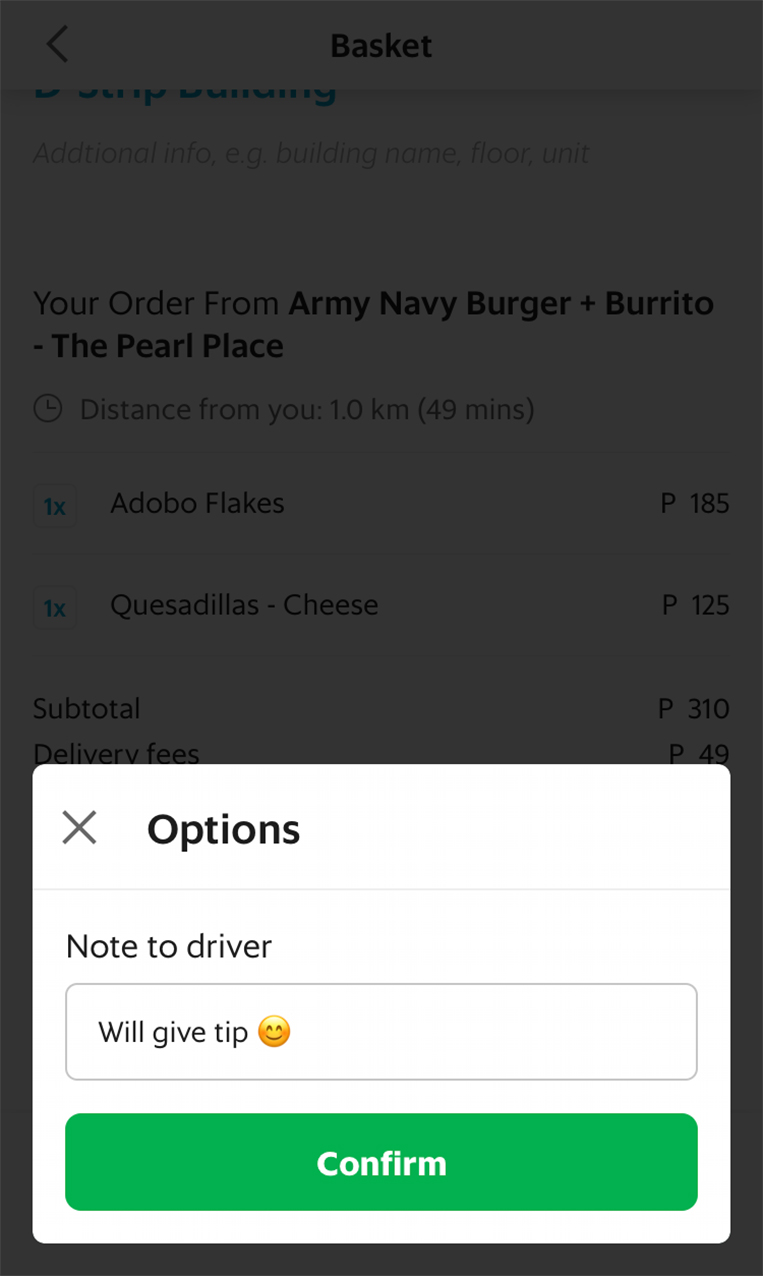 We noticed the OPTIONS button that let us write a note to the driver. We got creative by saying we'd give him (or her) a tip. We were hoping that our little note would entice at least one driver to accept our food-delivery request. We were famished. Our phone was beginning to look like a chocolate bar.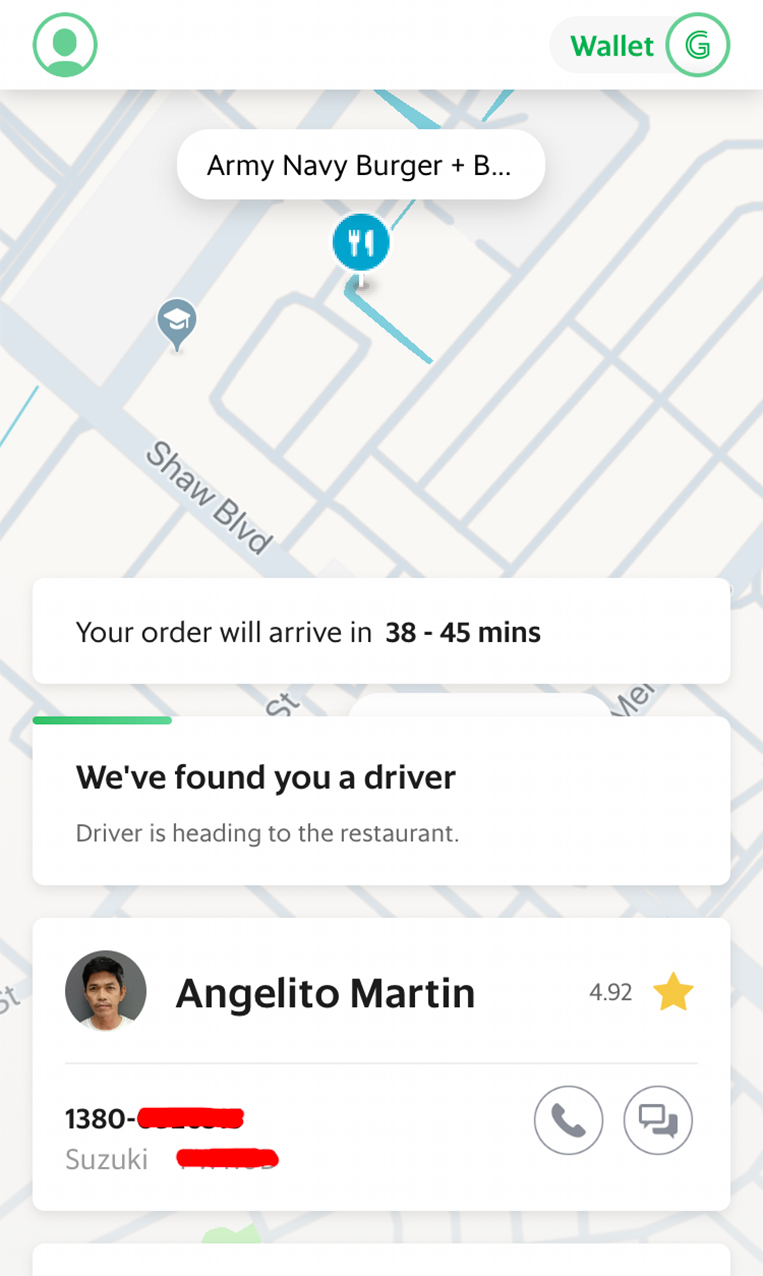 Lo and behold, we found a GrabFood driver on our very next try (11:58am). Hmm… Anyway, we did like that our driver had a rating of 4.92 stars. Our food would be in good hands, we thought.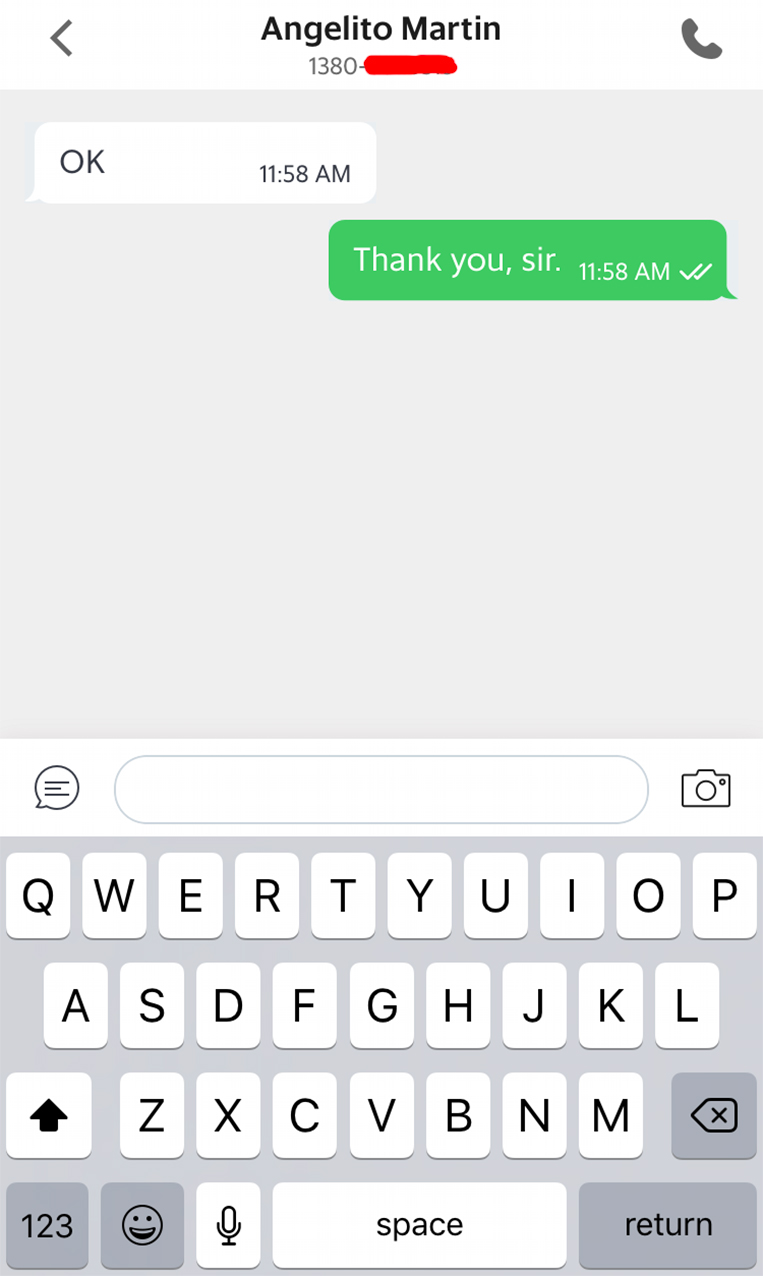 Manong GrabFood sent us a message acknowledging our request. We thanked him.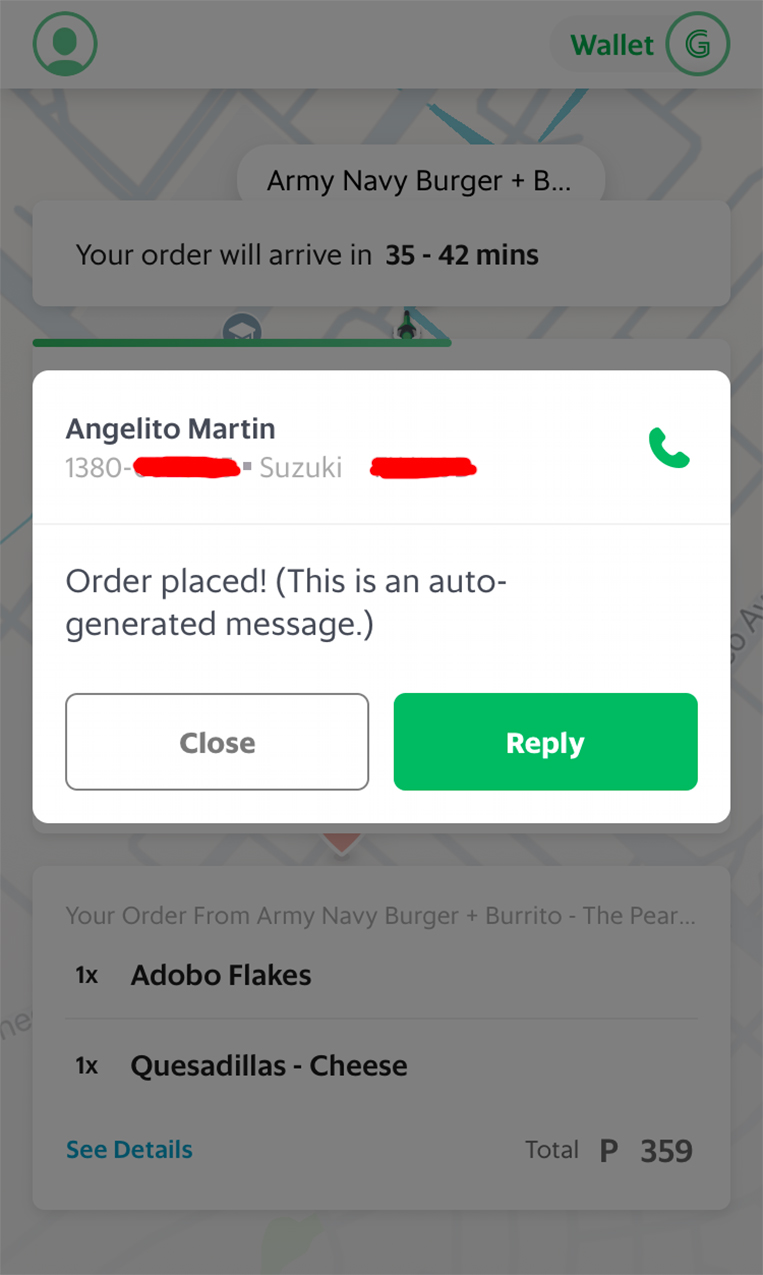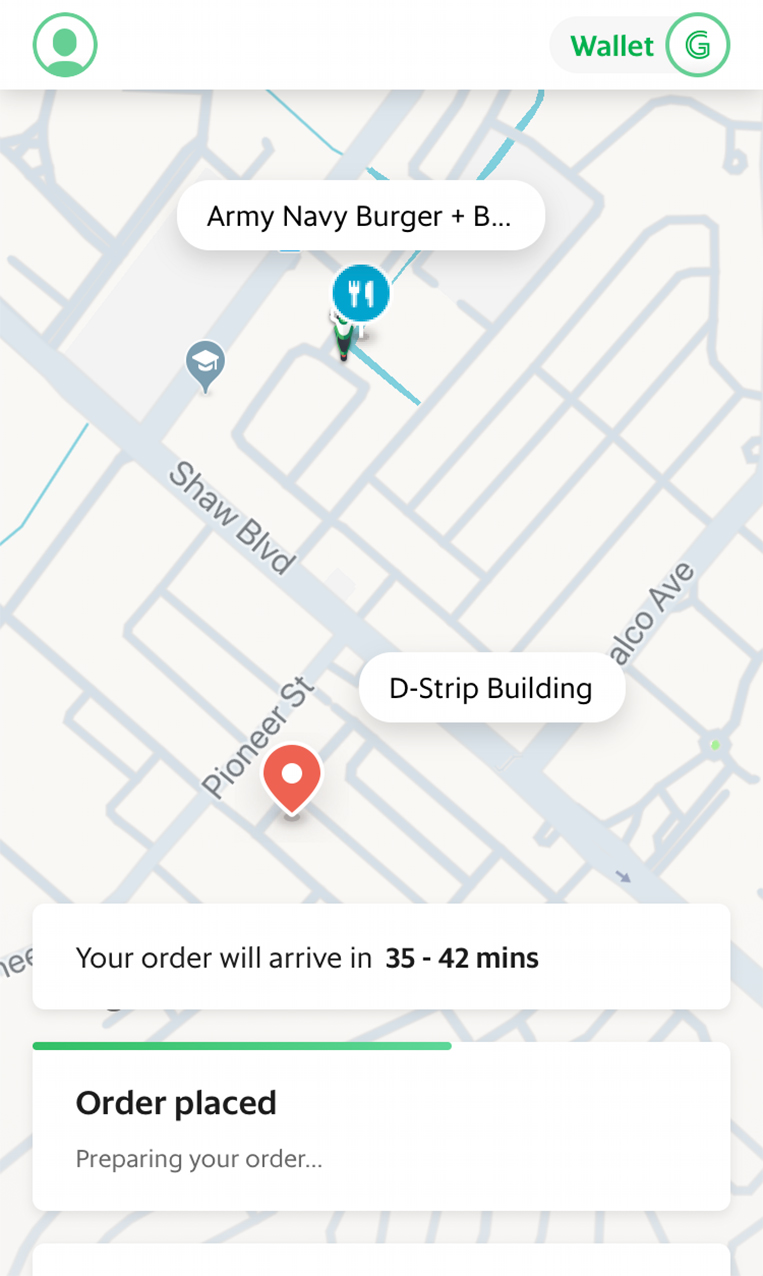 The Grab app notified us when our driver had placed our order with the restaurant. This was at 12:06pm. We were also given a time estimate of the driver's arrival.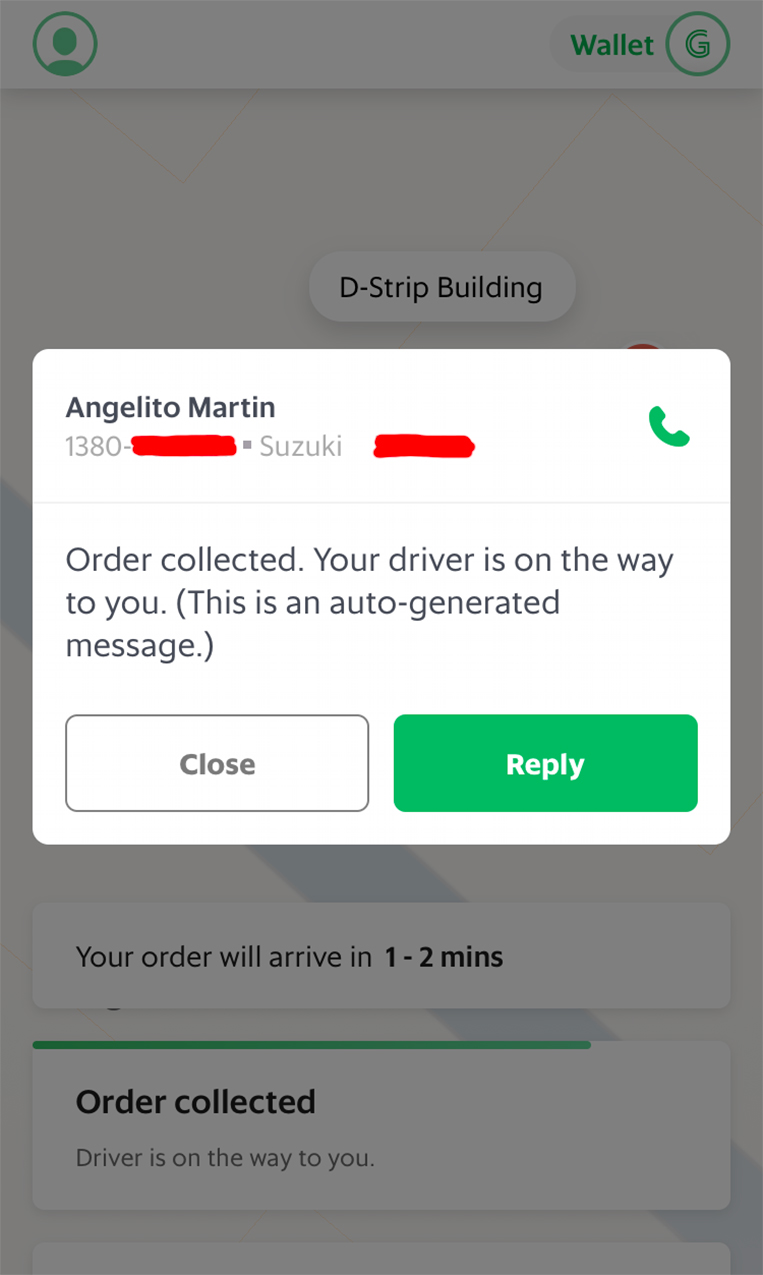 The Grab app again notified us when our order had been collected by Manong GrabFood, which meant he would be on his way carrying our precious (and greasy) sustenance.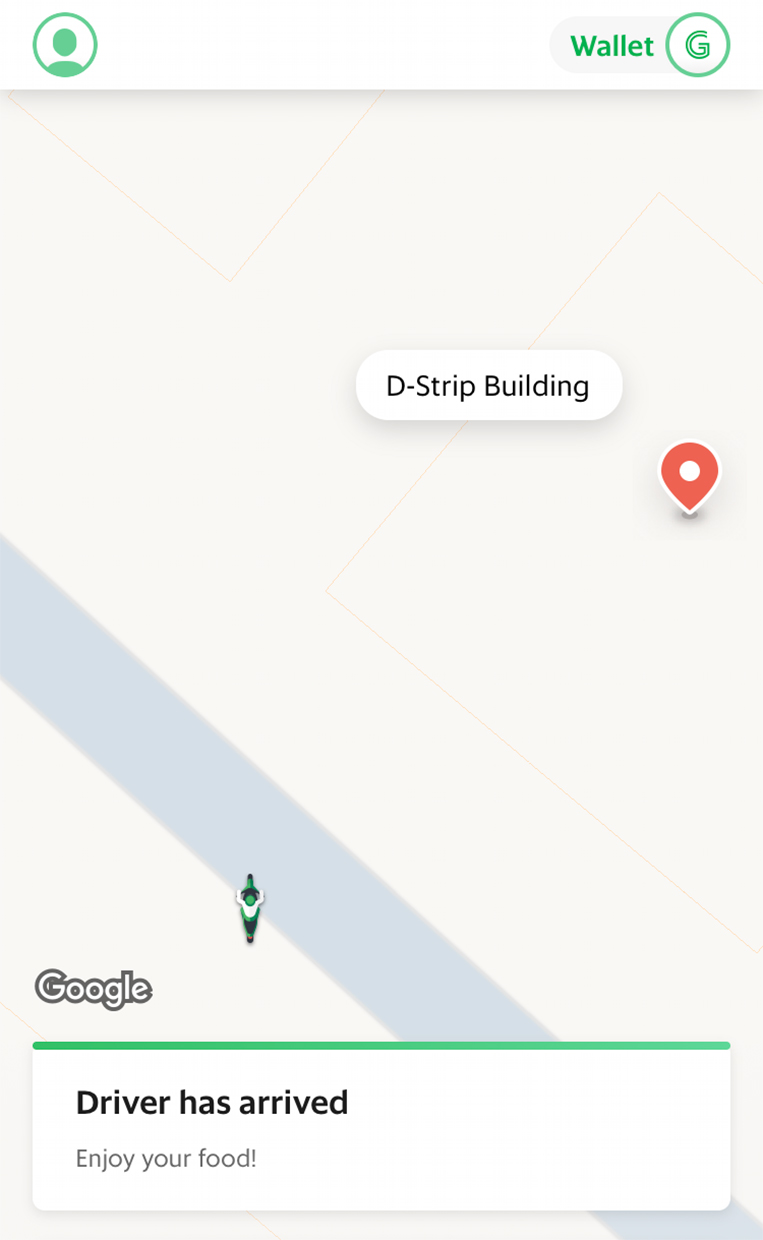 At 12:26pm, our food finally reached us—40 minutes after the start of our ordering process. We would have preferred it to be a little faster, but considering both the travel and waiting times, we couldn't really complain.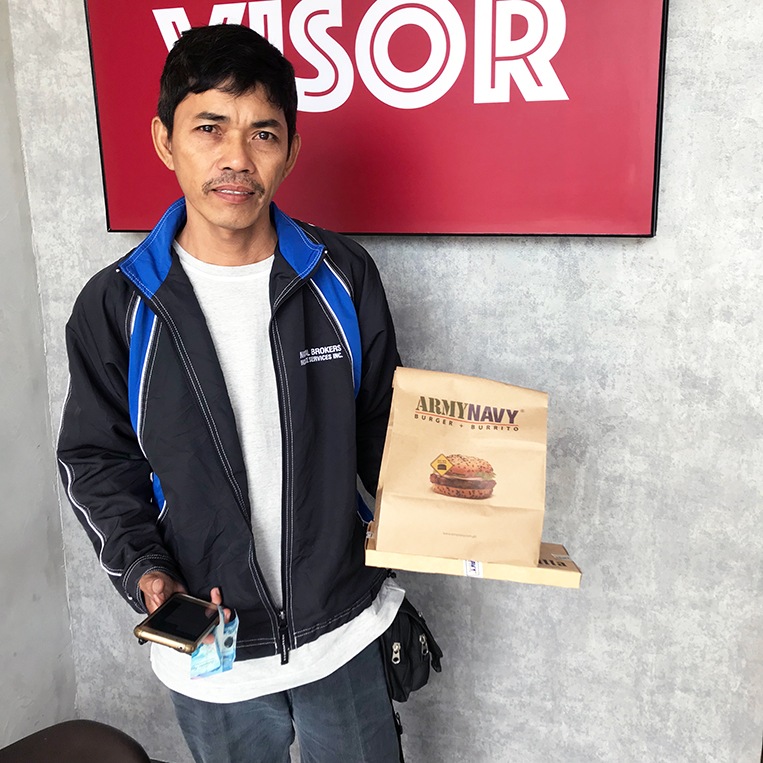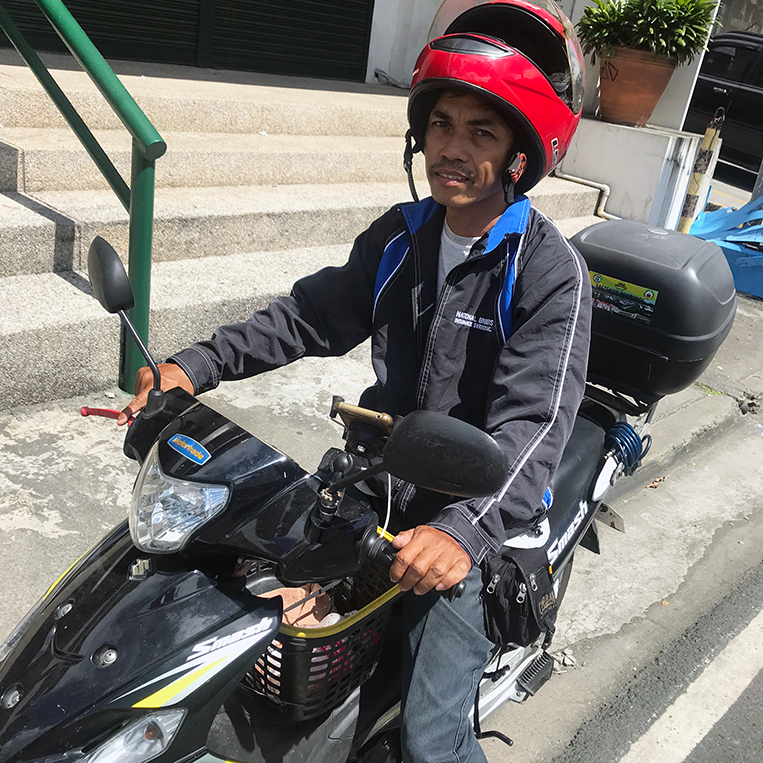 Our GrabFood bloke, as seen in the above screenshots, was Angelito Martin, a 32-year-old former tricycle driver from Tanay. Hailing from the province of Nueva Ecija, Angelito had moved to Metro Manila when he was 15 years old. He had been driving tricycles from the age of 22 and only abandoned the gig this year to commence work as a GrabFood driver.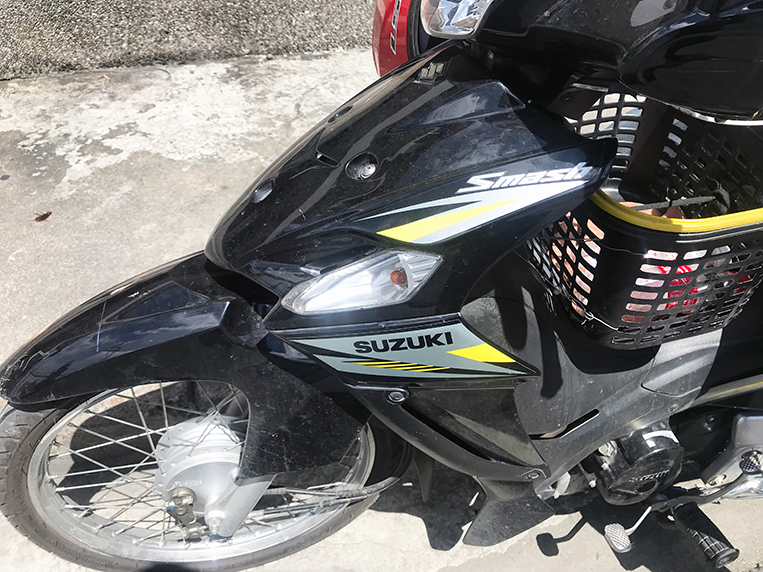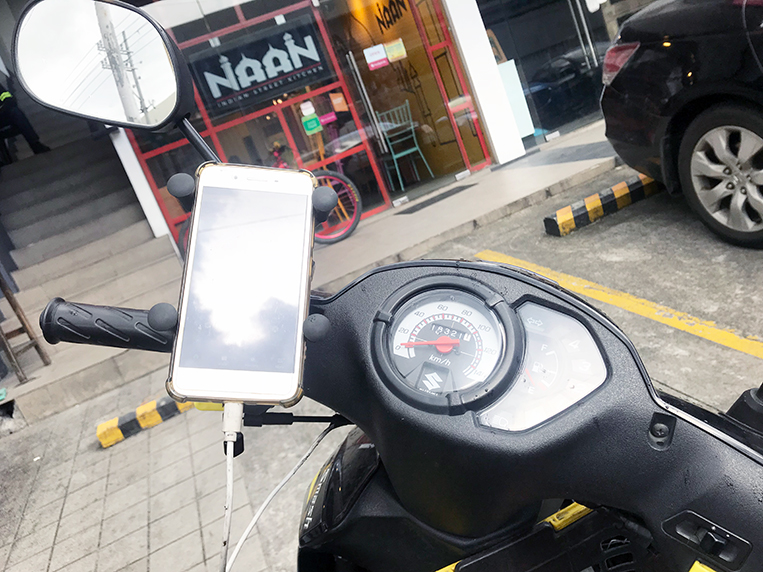 For this job, Angelito now uses his personal Suzuki Smash motorcycle, for which he is paying P3,612 a month for two years—a sum of P86,688. He could have gotten the motorbike for just P58,000 if he had been able to pay for it in cash. He had originally intended to use the Smash driving for Angkas, but the transport service provider had run into legal issues with government regulators. Thankfully, a nephew would later encourage him to be a food-delivery driver for Grab, which was how he found his way to our office (and made it to this article).
When asked if our promise of a tip had made him accept our food-delivery request, Angelito clarified that GrabFood drivers would in fact only see such notes once they had agreed to take on the task. With that revelation, our initial and admittedly baseless perception of delivery drivers melted away. Curious to know more about this one, we invited him to share the meal we had paid him to buy for us.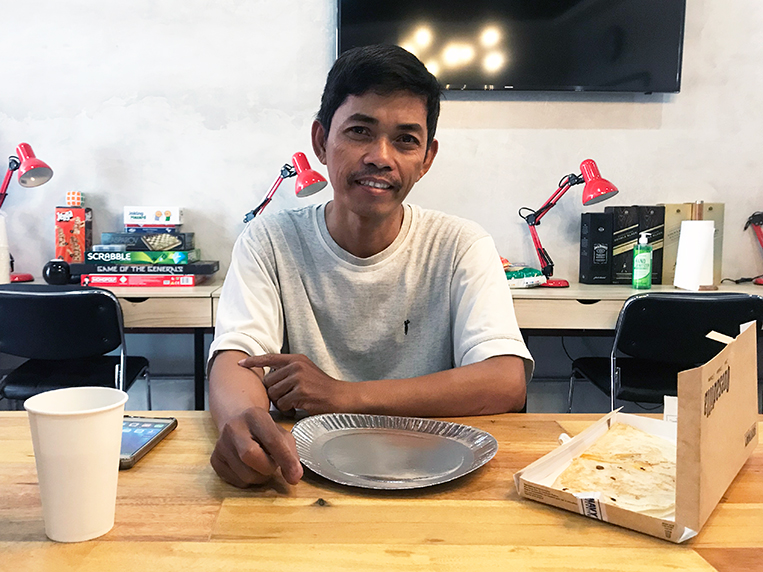 Angelito Martin is a family man with two teenaged kids. The older one is now 16, exactly Angelito's age at the time of his firstborn's birth. Angelito's wife stays at home to take care of the single-income household. He told us he had been earning about P500 a day as a tricycle driver. These days, he has been averaging some P1,500 from eight to 10 deliveries a day. Deduct P160 to P180 for fuel and he brings home around P1,300, give or take a hundred bucks. On Sundays, he is able to earn more as traffic is lighter, allowing him to complete 12 to 14 deliveries. He proudly reminisced about that one time he had topped P2,000. We pointed out that he was already making more money than the average office employee. He smiled in agreement. Not bad for somebody who had stopped studying before the fourth grade in elementary school.
Now, we're not familiar with the actual math that determines a GrabFood driver's income, which apparently includes incentives from Grab paid via GCash. "Incentives are not fixed as these are dependent on the daily performance," replied Grab Philippines PR manager Krhizzy Pasigan when we asked her to explain the concept to us. "GrabFood drivers' earnings are computed daily based on distance traveled, time spent and the number of deliveries. To ensure that they take home sustainable earnings, we factor in costs incurred as well as efficiency or productivity. Drivers also get other perks and boosters depending on their daily and weekly performance."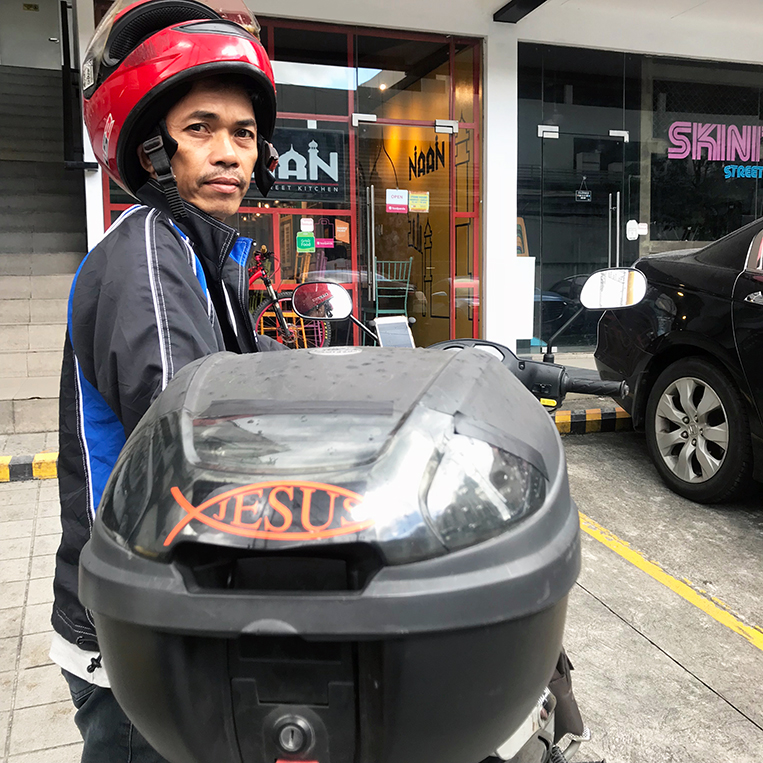 So far, Angelito is very happy with his new job. He finds it to be a much easier (and certainly more profitable) way to earn a living compared to driving a tricycle. He does encounter a few challenges—heat and downpour among them—but he's not about to whine over these. After all, what's not to like about this gig? He starts working at 10am (the GrabFood service does so at 9am) and calls it a day by 9pm (the same time the service ends). All he does is get food and beverage—mostly milk tea drinks, he said—and bring them to condos and offices. We only hope he gets to ply this trade for keeps and not lose it to another round of legal wrangles between delivery service providers and government regulators.
UPDATE: We just learned that the GrabFood service is now available until 12 midnight. Great for when you crave something to eat while glued to your favorite Netflix series.