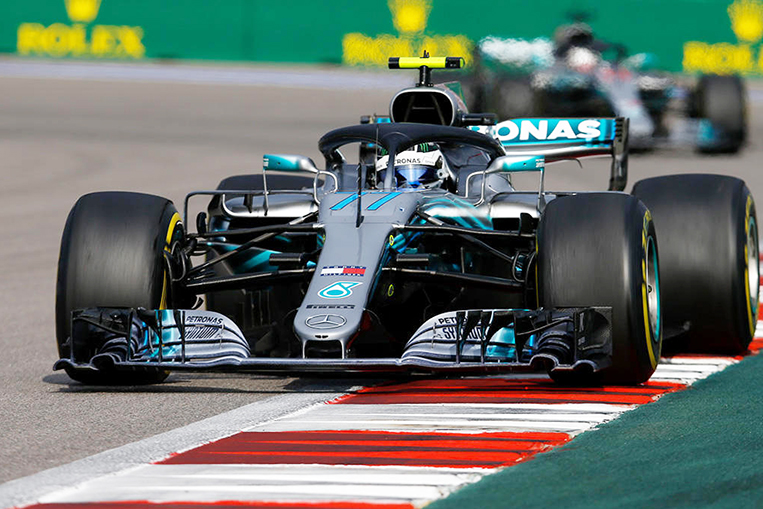 The Formula 1 race car you see above is that of Mercedes driver Valtteri Bottas of Finland, the teammate of reigning champion Lewis Hamilton. At yesterday's Russian Grand Prix, Bottas led the race from pole position and would have won the contest were it not for an explicit instruction from team boss Toto Wolff that he move aside to let Hamilton through. The objective, obviously, was for Hamilton to pull away further—both in the race and in the championship standings—from main rival Sebastian Vettel of Ferrari.
And now, Hamilton (306 points) is a full 50 points clear of Vettel (256) in the season standings. He also notched a career "milestone" by securing his 70th "victory." Predictably, fans around the world aren't amused. Already suffering from dwindling viewership numbers, F1 now finds itself reeling from another controversy.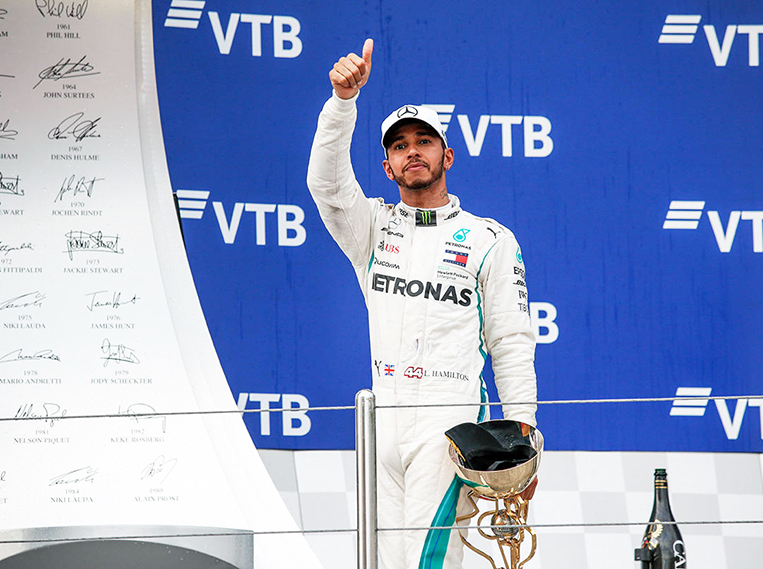 To be fair to Hamilton—and this is what fans need to understand—this whole fiasco wasn't his own doing. It was clearly the decision of his team's leadership. We do believe he wanted to win the race desperately, yes. But not in this fashion. Even ruthless competitors, we imagine, have some fiber of shame in their body.
The truth is that team orders exist in the sport, and it's a crucial part of the overall strategy to bag both the drivers' and constructors' titles.
Having said that, we want to call out Hamilton for telling Sky Sports:
"This is not how I want to win. The team took the decision. There are strong heads on the team, and it's all about the win—we don't care how. It's a difficult day because Valtteri did a great job all weekend. He's a gentleman. [But] he's not fighting for the championship."
Well, even with the maximum points he received on a silver platter yesterday, Hamilton is "just" 117 points ahead of his teammate (who now has 189 points). That lead would have been less if their finishing positions had been reversed. With five races remaining, a total of 125 points are still up for grabs, so Bottas still has a shot at the championship, mathematically speaking. Who knows what could happen (however impossible things may seem)?
In Wolff's defense, a team boss's job is not to give fans an entertaining race. His job is to put his team in the best possible position to win both the championships. Remember the 2007 season? The team to beat that year was McLaren-Mercedes, with drivers Fernando Alonso and Hamilton himself. The McLaren bosses let their pilots race each other fair and square all season long—up to the very (and ultimately bitter) end. Alonso and Hamilton were so evenly matched that they finished the year with 109 points each, but neither one of them lifted the championship trophy. Why? Because Kimi Raikkonen (110 points) of Ferrari pipped them for the grand prize by a solitary point. A single effing point.
Anyway, F1 PR peeps posted this congratulatory artwork to their Instagram account after the race, and fans all over the world let them have it. Below are some of the most scathing ones. Have fun reading.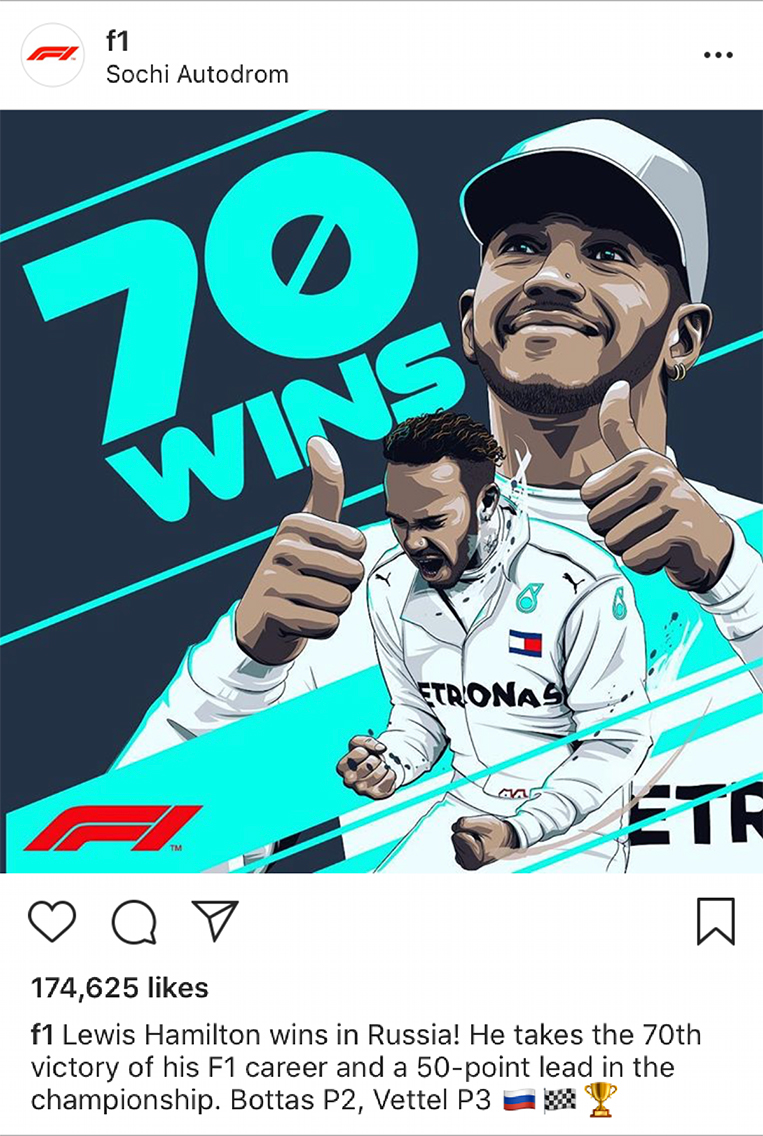 1. Really? You're gonna act like he deserved that one? Bottas was literally robbed. Why is F1 allowing this? Fans want a race. – Tim Ulusoy
2. Absolutely disgusting. How dare Mercedes steal this win from Bottas! – Bailey Harrison
3. Lost all respect for Hamilton. He had enough of a points lead to let Bottas finish where he should. – Martyn Hill
4. Today, F1 died. – Danial Zareein
5. I turned the TV off when I saw Bottas almost parking his car in order to let Hamilton pass. – Turi Caputo
6. Shame on Mercedes. – Raphaelly Sobrinho
7. A win doesn't count when the guy ahead has to pull over. – Greg Rentschler
8. This is why [Nico] Rosberg left F1. Now I understand. – Dimitris Sideroglou
9. Shameful win!!! This is not car racing. F1 is not the same anymore. – Marco Aurelio Raposo
10. I hope Bottas quits Mercedes. No man should be treated like a carpet. – Alfredo Nisco
11. This is not a sport. You have to remove team orders. We want more pilots, not dogs. – Leonardo Andreuccioli
12. Screw F1. I'm off to MotoGP. – Dragi Matic
13. This was my last race. I don't think I can watch this kind of "racing" again. – Andrew Skaff
14. Meh. – Russ Chesnut
15. Does Hamilton have two trophy rooms? One for the races he won; another for the races they let him win. – Phil-Trisha Tourgelis
16. What a lousy way to make it to 70 wins. – Carolina Merlo Bodenhorst
17. 69 wins and one early Christmas present. – Michael Rendina
18. I can win in F1 if they tell the people in front of me to get out of the way. – Ben Hedrick
19. If I had to win this way, I would rather lose and be proud. – Stuart Revitt
20. The graphic is missing an asterisk. – Lisa Hrabec