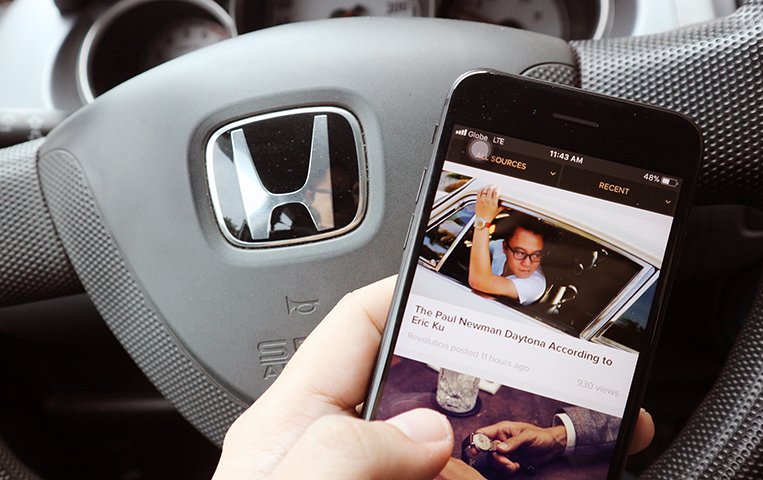 In case you missed it, Republic Act 10913 or the Anti-Distracted Driving Act (ADDA) is now officially a law. It took effect on July 6, 2017, and you have no excuse to feign ignorance since the Department of Transportation had basically bombarded us with announcements, reminders and warnings via traditional and social media.
You might recall that the ordinance had been implemented earlier—on May 18, to be exact—only to be suspended five days later after much confusion among motorists.
But DOTr means business this time around. They will apprehend you if you are found guilty of distracted driving, or the state of not being fully focused on the road while operating a motor vehicle because your attention is on a device you're fiddling with. So what is ADDA exactly?
Take it straight from DOTr:
ADDA is a law that prohibits a person who is driving a motor vehicle from holding and using mobile communication devices and electronic entertainment gadgets. The prohibition applies while the motor vehicle is in motion or is temporarily stopped at a traffic light or an intersection. This law covers both public and private vehicles. It also covers wheeled agricultural machinery, construction equipment, and other forms of conveyance such as bicycles, pedicabs, trolleys, habal-habal, kuliglig, wagons, carriages, and carts that may either be human-powered or pulled by an animal as long as the same are operated or driven on public thoroughfares, highways or streets.
You will notice that mentioned in the definition are "gadgets." What about other objects that we Filipinos like placing on or around the dashboard?
ADDA only covers the use of mobile communication devices and other electronic entertainment gadgets. It does NOT cover other accessories that may be found on your dashboard, such as rosaries, [aftermarket] tachometers, figurines, toys, crucifixes and stickers, among others. Likewise, it does not cover activities such as putting makeup, drinking coffee and other similar acts.
To be absolutely sure, here are examples of prohibited acts as cited by DOTr:
Making or receiving calls;
Writing, sending or reading text-based communications;
Playing games;
Watching movies;
Performing calculations;
Reading e-books; and
Surfing or browsing the Internet.
But let's say your car isn't moving in bumper-to-bumper traffic–or you're waiting for the traffic light to turn green–can you then use your electronic gadget to at least entertain yourself?
Even if a driver is stuck in traffic, as long as he/she is behind the wheel, he/she is still not allowed to hold and use his/her cell phone and/or gadget.
The only exception to the rule?
Motorists are allowed to make or take emergency calls to authorities in cases of a crime, accident, bomb/terrorist threat, fire or explosion; in instances needing immediate medical attention; or when personal safety or security is compromised.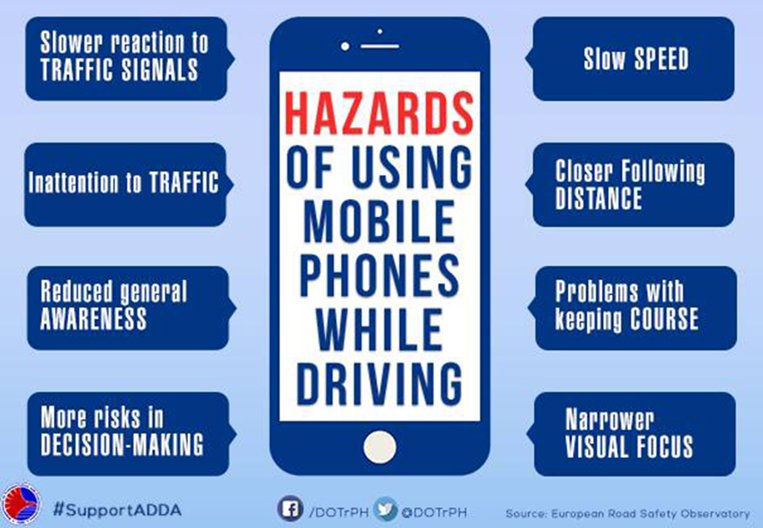 What are the penalties to be imposed upon violators?
For the first offense, a violator will be levied a fine of P5,000. For the second offense, the fine will be P10,000. For the third offense, the fine will be P15,000 and three-month suspension of the driver's license. For the fourth offense (and beyond), the fine will be P20,000 and revocation of the driver's license.
A public-utility vehicle, school bus or school service driver who is found guilty of distracted driving within a 50m radius from a school campus will be fined P30,000 and suspended from driving for three months.
Authorized to apprehend ADDA violators are enforcers from DOTr-LTO, PNP-HPG, MMDA and LGUs.
Where to settle the violations?
Violators apprehended by LTO and/or PNP-HPG enforcers may settle their violations at the nearest LTO branch covering the area where they were apprehended.
Violators apprehended by LGU enforcers may settle their violations in their respective city/municipal halls.
Violators apprehended by MMDA enforcers may settle their violations through either Metrobank or Bayad Center within seven days after they were issued the ticket. Violators may also pay their fines at the MMDA main office in Guadalupe, Makati City.
Please take note that violators are NOT supposed to pay their fines to the enforcer, but only at authorized payment centers.
For the fourth offense (and beyond), the fine will be P20,000 and revocation of the driver's license
Even cyclists or pedicab drivers may be apprehended for distracted driving, issued a ticket and "escorted to the nearest authorized payment center to settle the violation." If the violator doesn't have enough money on his person to pay the fine, his bicycle or pedicab will be impounded for a period of up to six months, until the violator is able to settle the fine. Once the six-month period has elapsed and the fine is still unpaid, the authorities will "sell the impounded vehicle in favor of the government."
DOTr adds that "operators and owners of PUVs shall be held liable for violations committed by their drivers."
We know what you're thinking: Just how exactly will you get caught violating ADDA when your car has heavily tinted windows? DOTr has thought of (and prepared for) this as well:
Aside from high-definition cameras that can monitor lights from devices inside heavily tinted vehicles, the law will also be strictly implemented by enforcers on the ground who are trained to determine from the movement of the vehicle whether or not a driver is committing distracted driving. A memorandum circular setting specifications on the regulation of tints shall also be released by LTO soon.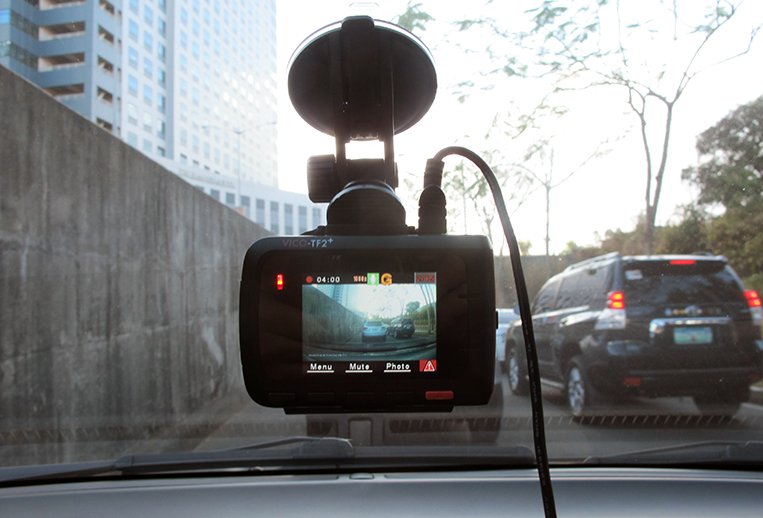 Can you still use your dashboard camera?
In this age of social media, cameras have become truly indispensable. Whether the lens is attached to your smartphone or to a proper DSLR, image-capturing capability has never been more in demand than it is today. Among motorists, it is now almost de rigueur to install a properly working dashcam inside the vehicle. Especially when you consider the rising incidence of road rage brought about by traffic hell. You never know when a driver—private, public or otherwise—might lose it and start swinging a baseball bat against your windshield.
There was universal outrage when the authorities initially announced that even dashcams could be included in the list of items that a driver was forbidden from using or operating. So, the question: Are we still allowed to use these helpful little gadgets while driving?
Thankfully, government has relented. To quote DOTr:
The use of dashcams is not covered by ADDA. To date, there is no legislation regulating the use of dashcams. However, for safety purposes, drivers are encouraged to mount their dashcams at the back of the rearview mirror.
Just so we're clear: Yes, dashcams are still okay to use.
What about smartphones mounted on motorcycles?
Yes, mounting of cell phones on handlebars or other parts of motorcycles is allowed, since this does not interfere with the driver's line of vision.
As for car drivers, the following shall apply to the use of smartphones and GPS devices:
Using the aid of a hands-free function such as speaker phones, earphones, microphones or other similar devices—which will allow a person to make and receive calls without holding his mobile communication device—is allowed. GPS or cell phones may be placed or mounted below, at the same level or on top of the dashboard, and even on the windshield, as long as the highest point of the device is not higher than four (4) inches from the dashboard.
There you go. We hope all of your questions about the new Anti-Distracted Driving Act have been answered. Actually, you need not worry about it if you just keep both of your hands on the steering wheel, and both your eyes on the road. And you should do so not because you hate getting apprehended and fined, but because it is always the right thing to do.
Safety first, guys.