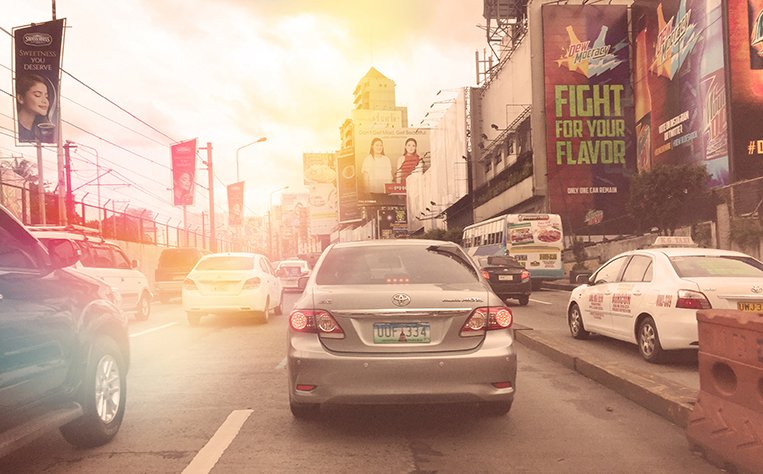 So, the Anti-Distracted Driving Act is officially official. Which means if you get spotted even touching your smartphone while behind the wheel of a car, you will be apprehended and slapped with a penalty. If you haven't familiarized yourself with the details of this ordinance—particularly the escalating fines that go with it—click the button below.
ADDA mostly refers to the use of electronic gadgets, like smartphones, tablets, computers and GPS devices. But the truth is that there are so many other (and more serious) sources of distraction on the road in the Philippines. And if we're being honest, most of them are due to either negligence or sheer incompetence on the part of the authorities.
In May, just as the Department of Transportation was preparing to implement ADDA, I posted on Facebook a list of these other sources of driving distraction. Many people seemed to agree with me, because the post was liked by more than 800 people and shared 290 times. Here is the posting in its original form:
Ang mga tunay na pinagmumulan ng distracted driving sa Metro Manila:
1. Mga LED billboards na parang giant flat TV lang sa sala ang peg;
2. Mga U-turn barriers sa gitna ng kalye na mas madalas pang magpalit ng posisyon kesa sa isang balimbing na politiko;
3. Mga nanlilimos na may bitbit pang sanggol for full soap opera effect;
4. Mga walking vendors na tila balak gawing SM mall ang kahabaan ng EDSA;
5. Mga potholes na mas malaki pa sa auto mo at madalas maging sanhi ng aksidente dahil sa mga split-second avoidance maneuvers;
6. Mga jaywalkers na mas gugustuhin pang masagasaan at mag-viral sa social media kesa umakyat sa footbridge;
7. Mga motoristang (kotse at motorsiklo) bumili lang ng lisensya sa Recto kaya naman sobrang tanga magmaneho;
8. Mga traffic officers na ang misyon sa buhay ay makarami ng mahuhuling violators imbes na maiayos ang daloy ng trapiko (magtatago pa talaga sa puno o poste para makapambiktima);
9. Mga bus at jeepney drivers na pipinahan ka para lang makauna sa mga pasahero; at
10. Kakulangan ng mga karatula para sa mga pangalan ng mga kalye (nasabitan mo na't lahat yung nasa harapan mo, hindi mo pa makita yung punyetang tagpuan nyo ng date mo na nakilala mo sa Tinder).
For the sake of our English-speaking readers, here's a translation of the above text.
The true sources of distracted driving in Metro Manila:
1. LED billboards that are seemingly inspired by the giant flat TV in your living room;
2. U-turn barriers in the middle of the road that change positions more often than a turncoat politician;
3. Beggars who even carry a little baby for full soap opera effect;
4. Walking vendors who seem hell-bent on transforming EDSA into an SM mall;
5. Potholes that are bigger than your car and which often cause accidents due to split-second avoidance maneuvers;
6. Jaywalkers who'd rather get run over and go viral on social media than use the footbridge;
7. Motorists (both car drivers and motorcycle riders) who merely bought their license in Recto, which is why they drive like morons;
8. Traffic officers whose mission in life is to apprehend as many violators as they can, instead of helping fix the flow of traffic (even hiding behind trees or lampposts just to victimize motorists);
9. Bus and jeepney drivers who won't mind sideswiping you while rushing to pick up passengers; and
10. The lack of proper signs showing street names (you've already hit the car in front of you, and still you haven't found that damn meeting place you arranged with your Tinder date).
I'm sure you can add more to the list. But government needs to address these road distractions first before it tasks its traffic managers to pay special attention to motorists fiddling with their phones. Not saying ADDA is worthless. Just saying we also need to do something about these other things that equally divert a driver's focus.