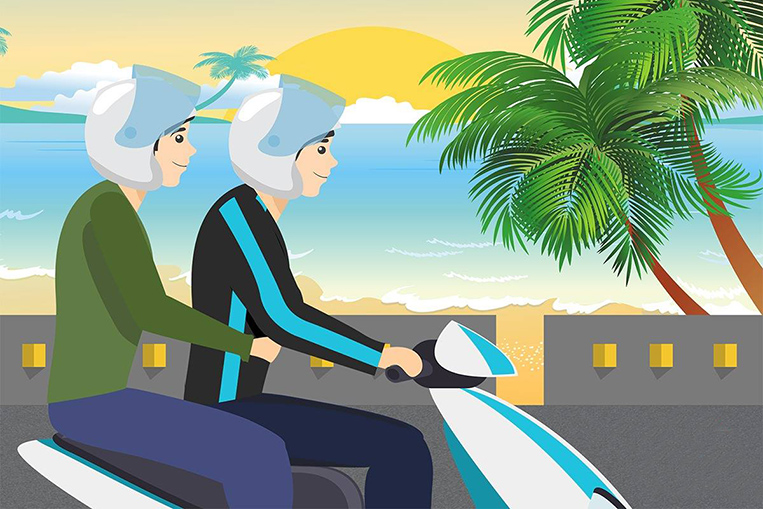 After having verbally and legally tussled in the past several weeks, Angkas and the technical working group in charge of the pilot study on motorcycle taxis have decided to bury the hatchet and now collaborate moving forward. The welcome development in the often-hostile negotiations between the two parties was announced after today's meeting at the House of Representatives. Which means the study—extended until March 23 but recently recommended terminated by the TWG—continues for now.
"Our foremost concern—which should also be the stakeholders' utmost priority—is the protection of public interest," said TWG chairman Antonio Gardiola Jr. in a press statement. "Let us now close the book of animosity and work together to serve the people we care about."
Big props to Department of Transportation Secretary Arthur Tugade for mediating between the parties. Yesterday, he met with representatives from Angkas and the two other motorcycle transport network companies (JoyRide and Move It) "to thresh out various issues with regard to the implementation of the pilot study."
"We all come here today to agree to stand together on a platform of unity, mutual support and cooperation for the interest of the riding public," Tugade is quoted by the press statement as saying. "We need to understand that if we go against each other—and if we do not cooperate—people who have malicious intentions and questionable agendas will be feasting on us. Let us show them that we can join hands—that we can cooperate and agree."
So agree, Angkas and the technical working group did. In deciding to cooperate with one another, the parties have consented to the following:
* The study's rider cap will be increased to 63,000, significantly up from the previously proposed 39,000. All three motorcycle TNCs will each have 15,000 riders in Metro Manila, 3,000 riders in Metro Cebu, and another 3,000 riders in Cagayan de Oro.
* Angkas will drop the court cases it has filed against the TWG.
* Angkas will pay its penalty by providing aid for victims of the Taal Volcano eruption.
Needless to say, Angkas is very much overjoyed, posting the following acknowledgment to its Facebook page: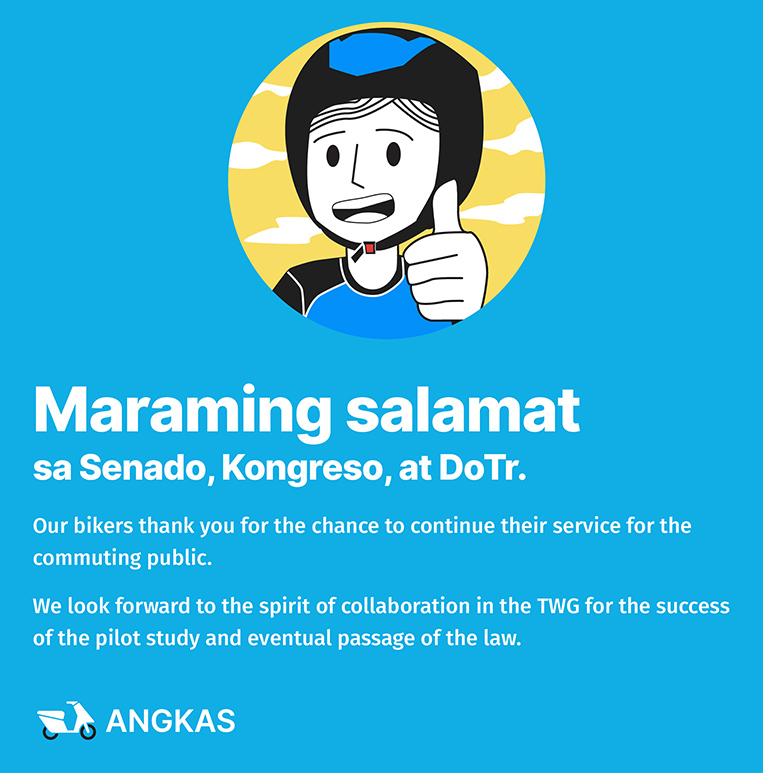 All's well that ends well? Hopefully so. But until everything is set in legal stone, commuters who use and prefer motorcycle taxis should manage their expectations. In this country, nothing is permanent. Especially where money politics is involved.