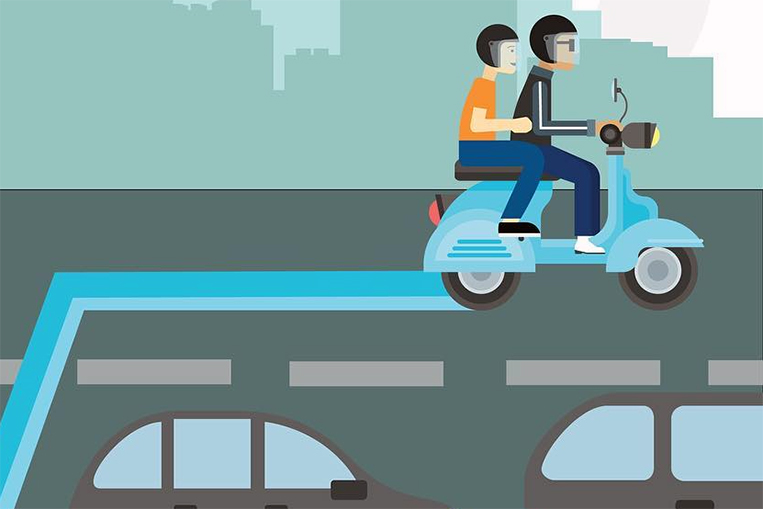 Before we do another piece on motorcycle taxi firm Angkas, let us clarify something: We are not paid or hired by the company to write nicely about it. Neither are we affiliated with it in any way. Unlike some others, we will always tell you if we were. No, we are mere observers from the sidelines of a most screwed-up game called "Transport Death Match," and the halftime break is almost over. There's still time to place your bets on who will win the tournament and be crowned Philippine Transport Champion, but we're not wagering on the two-wheeled startup, and here's why.
Angkas has seen phenomenal growth over the last year, with at least 25,000 riders having been offering their services through the platform before it got shut down again very recently. While it initially seemed like the rebellious startup was going to ignore the temporary restraining order issued by the Supreme Court (even going as far as offering a new ride promo with the code "TRO"), the latest news from Angkas HQ is that the firm will now be compliant and has essentially closed down operations again for the moment. We assume its legal department has pointed out to management that ignoring instructions from the country's highest court isn't good for future business, and it seems like there will indeed be a legal and regulated future on the horizon for the company.
According to recent media reports, Muntinlupa City Representative Ruffy Biazon is preparing to file a bill that would allow for motorcycle taxis in the country when Congress returns to session in 2019. Things could work even faster if the Department of Transportation were to simply issue a Department Order to the same effect (much like it did for Grab), but it seems not everyone in government is prepared to give stressed commuters an early Christmas present. This means that, at the moment, we can expect Angkas to be all nice and legal at some point next year. Until then, all the riders and passengers who now rely on the service will simply continue to operate underground—through Facebook groups and secret chats—making things less safe for everyone.
But even once the company's services become legal, riding on the back of a motorbike isn't the best way to get around town, and Angkas will always only be a stopgap solution. A very popular one, sure, but not one that is sustainable on a large scale for a prolonged period of time. Just like there are too many cars on the road now (including all the TNC vehicles), we will reach a point where the number of motorcycles should be reduced again as congestion and pollution reach levels that can't simply be tolerated any longer. One could, of course, argue that making motorcycle taxis legal takes cars off the road, but we shouldn't forget that the megalopolis continues to grow and that potentially a lot more bikes will join the fun once the business model becomes totally legal. This means the overall traffic volume will continue to go up at least for as long as new condominium towers keep rising.
Riding on the back of a motorbike isn't the best way to get around town, and Angkas will always only be a stopgap solution
To see what the future holds for Metro Manila, all you need to do is look toward Vietnam. Our westerly neighbor is famous the world over for the army of motorbikes that descends onto the streets of cities like Hanoi every day, but the Vietnamese government is planning to ban all motorbikes from the roads of the country's second capital by 2030. The main reasons given are safety and pollution, and while there are doubts that this ban will really happen, the reasoning behind it is not without merit. On our shores, the DOTr and the Land Transportation Franchising and Regulatory Board have used safety as one of the main reasons they want to properly regulate two-wheeled PUVs, and while we could now argue what exactly it is that the government is actually doing to make things safer (just look at the deathtrap jeepneys, the dilapidated trucks and the unsafe buses out there now), the fact is that two-wheeled travelers are more vulnerable on the road. Bikes do feature in a lot of crashes, even if those accidents often are caused by cars and trucks.
So, what's the most likely way forward from here? Once Angkas is legal, it will experience a period of further growth and popularity, and this may well last for a number of years. Ultimately, however, Metro Manila needs a bigger shift away from cars and motorcycles, and the opening of the subway system will likely play a major role here. Once you can hop on the subway and then use your electric kick scooter to cover the last few meters to the office, motorbike taxis won't be needed as much anymore. At some point, they (and other outdated modes of transport like the old jeepneys) will fade and we will all be able to commute in a more convenient and cleaner fashion. Are we being too optimistic to dream of a better transportation system in the future? Maybe. But you know what they say: Hope dies last.