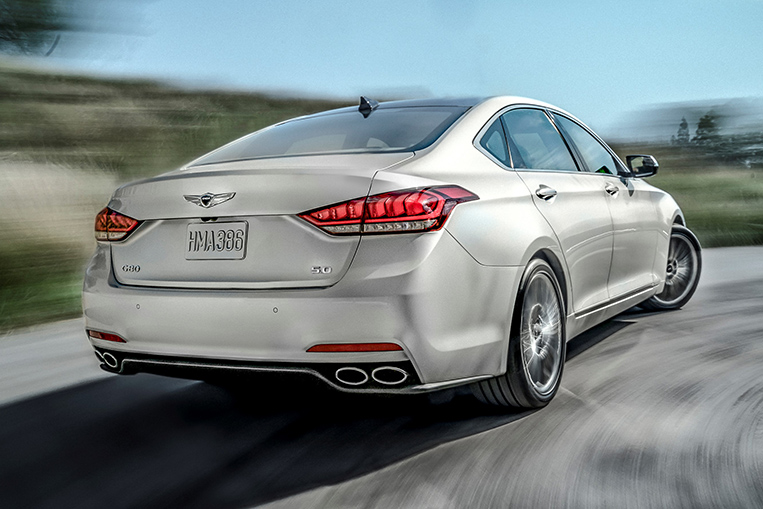 JD Power's 2020 US Vehicle Dependability Study is out, and there's a new brand sitting atop the rankings. South Korea's Genesis, the luxury brand of Hyundai, has dislodged perennial leader Lexus—perhaps signifying that Korean cars have indeed caught up with the Japanese not only in the mass-market segment, but also in the luxury department.
The study surveyed owners of 2017 model-year vehicles in the United States, and sought to find out which cars were the most dependable (or reliable) through the first three years of ownership. The brand scores were based on the number of problems encountered per 100 vehicles. The industry average was 134 problems per 100 vehicles. Genesis had the fewest ones among luxury brands with just 89 problems, while Buick was the best among mass-market brands with just 103 problems.
Last year, the industry average was 136 problems per 100 vehicles. Which means the whole industry improved by averaging two fewer problems per 100 cars. It's just too bad that the top two performers—Genesis and Buick—aren't available in our territory.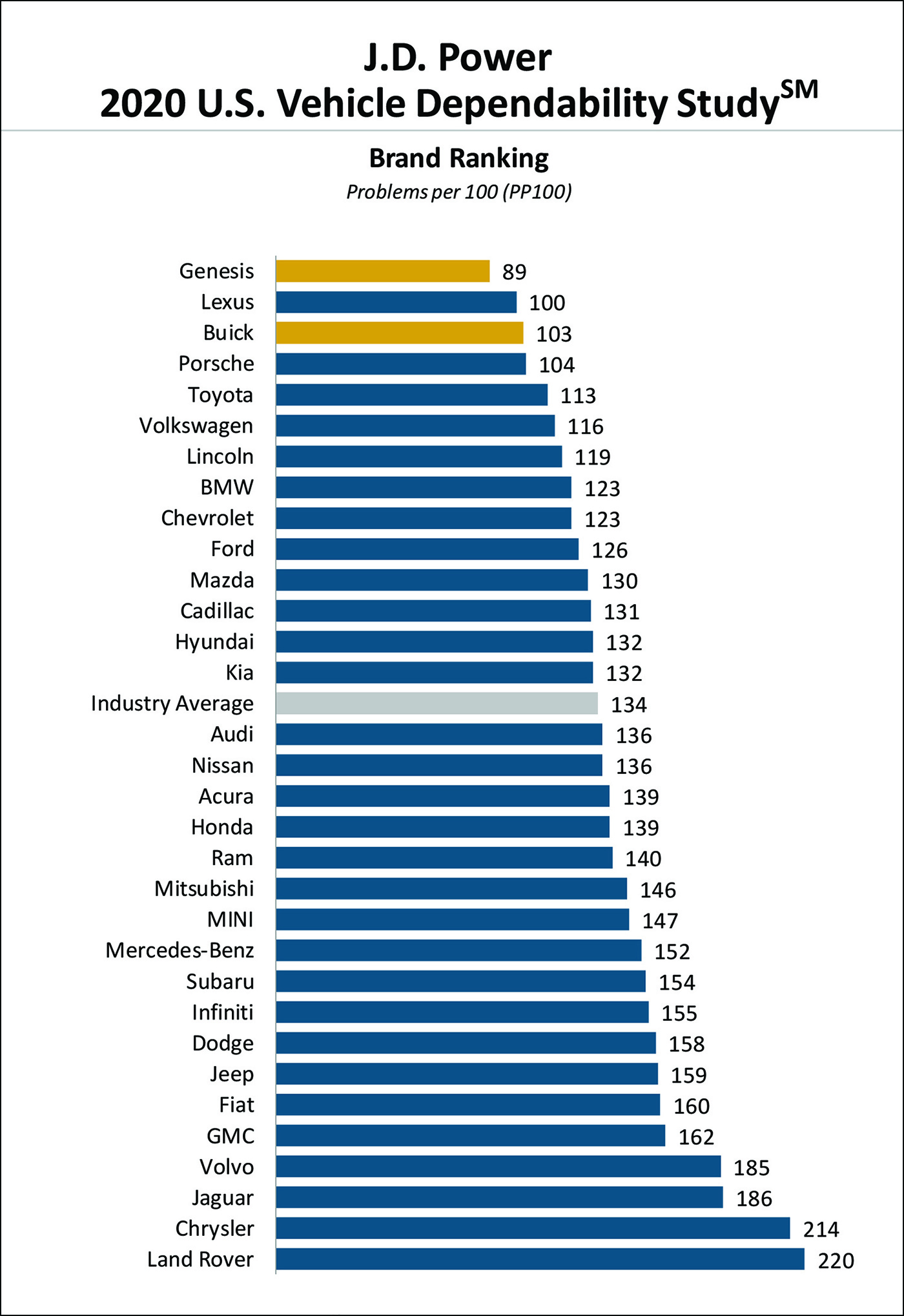 The best-performing vehicle models per segment were the following (an asterisk indicates that "no other model performed above the segment average"; similar rankings indicate a tie):
SMALL CAR
Honda Fit (1st)
Chevrolet Sonic (2nd)
Chevrolet Bolt (3rd)
SMALL PREMIUM CAR*
BMW 2-Series (1st)
BMW i3 (2nd)
COMPACT CAR
Nissan Leaf (1st)
Chevrolet Cruze (2nd)
Toyota Corolla (3rd)
COMPACT SPORTY CAR*
Mazda MX-5 (1st)
Mini Cooper (2nd)
COMPACT PREMIUM CAR
Lexus ES (1st)
BMW 4-Series (2nd)
Lexus IS (3rd)
MIDSIZE CAR
Buick Regal (1st)
Volkswagen Passat (2nd)
Toyota Camry (3rd)
MIDSIZE SPORTY CAR*
MIDSIZE PREMIUM CAR
Genesis G80 (1st)
Audi A7 (2nd)
Audi A6 (3rd)
LARGE CAR
Toyota Avalon (1st)
Buick LaCrosse (2nd)
Chevrolet Impala (3rd)
SMALL SUV
Buick Encore (1st)
Kia Niro (2nd)
Volkswagen Tiguan (3rd)
SMALL PREMIUM SUV
Mercedes-Benz GLA-Class (1st)
Audi Q3 (2nd)
BMW X1 (3rd)
COMPACT SUV
Chevrolet Equinox (1st)
GMC Terrain (2nd)
Toyota RAV4 (3rd)
COMPACT PREMIUM SUV
Porsche Macan (1st)
Lexus NX (2nd)
BMW X3 (3rd)
MIDSIZE PICKUP
Nissan Frontier (1st)
Honda Ridgeline (2nd)
Toyota Tacoma (3rd)
MIDSIZE SUV
Toyota 4Runner (1st)
Kia Sorento (2nd)
Buick Enclave (3rd)
MIDSIZE PREMIUM SUV
Lexus GX (1st)
Cadillac XT5 (2nd)
Lexus RX (2nd)
Mercedes-Benz GLE-Class (2nd)
MINIVAN*
Toyota Sienna (1st)
Dodge Grand Caravan (2nd)
LARGE SUV
Chevrolet Tahoe (1st)
Nissan Armada (2nd)
Chevrolet Suburban (3rd)
LARGE LIGHT-DUTY PICKUP
Ford F-150 (1st)
Toyota Tundra (1st)
Ram 1500 (3rd)
LARGE HEAVY-DUTY PICKUP
Chevrolet Silverado HD (1st)
GMC Sierra HD (2nd)
Ram 2500/3500 (3rd)