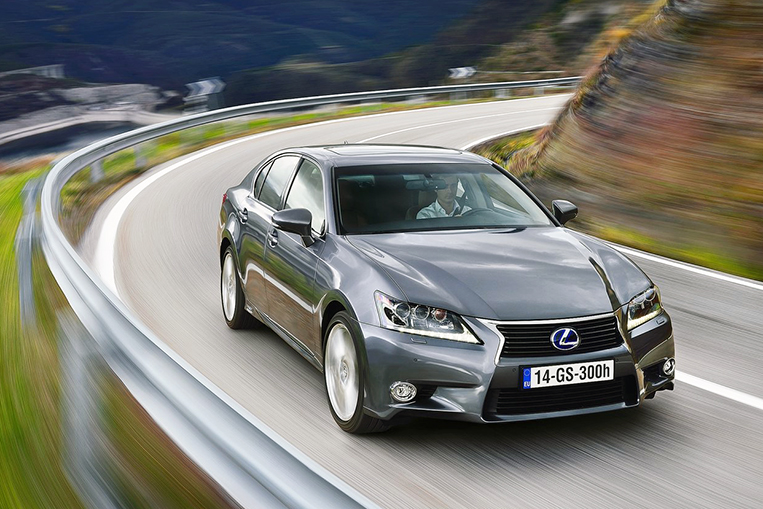 It's easy to be impressed with a brand-new vehicle—glossy paint job, new-car smell, smooth surfaces and all. The real test is how it will stand the passage of time. Like, say, three years of everyday use through different seasons and in varying road conditions.
That's exactly what JD Power's 2018 US Vehicle Dependability Study sought to find out when it surveyed owners of 2015 model-year vehicles in the United States. The market research company measured the number of problems encountered by these car owners in the past 12 months. Overall, the industry average improved to 142 problems per 100 cars (PP100), 14 fewer problems than last year's average of 156 PP100. Which means vehicles sold three years ago are significantly more dependable than older ones.
The two biggest takeaways for those who conducted the study are:
* In-car entertainment systems are most problematic, with voice recognition (9.3 PP100) and Bluetooth connectivity (7.7 PP100) being the most troublesome; and
* The gap between luxury and mass-market brands is getting narrower, with the former's average (136 PP100) now just 7 PP100 better than the latter's (143 PP100).
So, how did the brands perform?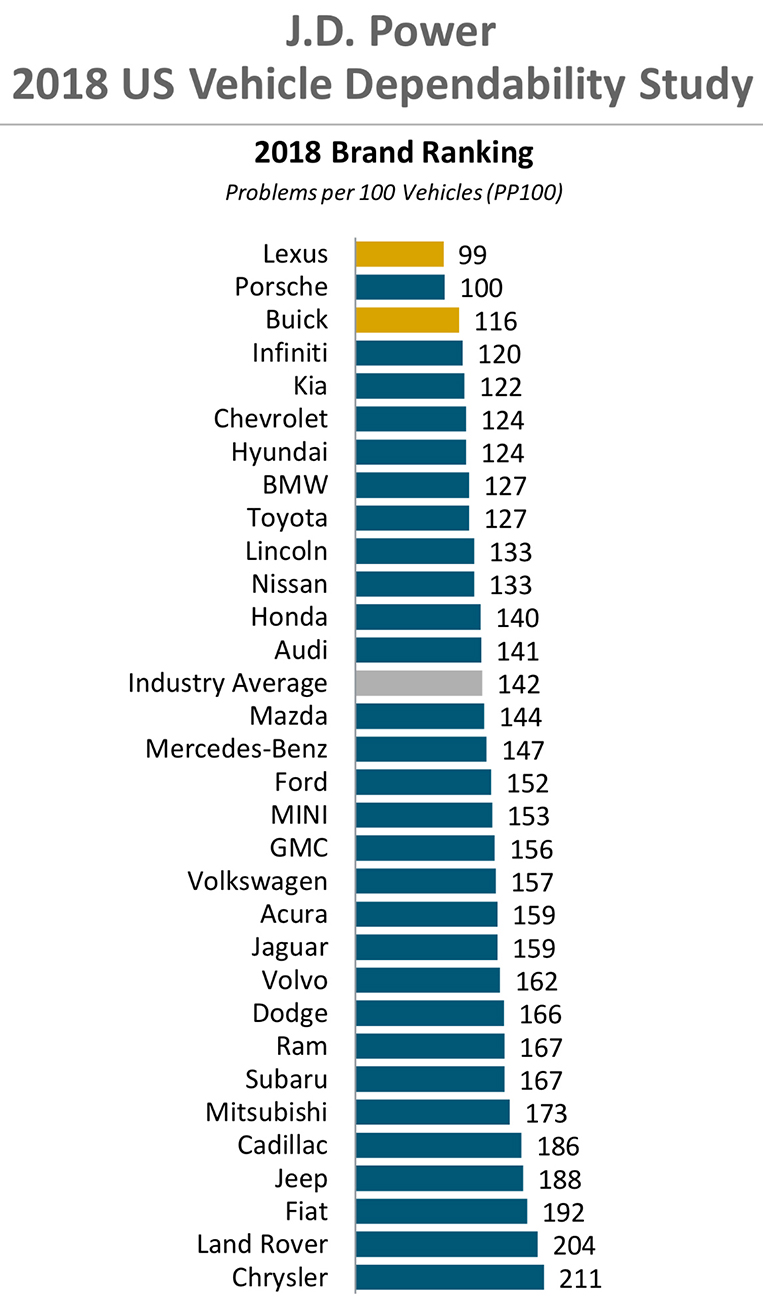 The best-performing vehicles per segment, meanwhile, were the following (an asterisk indicates that "no other model performed above the segment average"):
SMALL CARS
Kia Rio (1st)
Chevrolet Sonic (2nd)
Nissan Versa (3rd)
SMALL PREMIUM CARS*
Lexus CT (1st)
BMW 2-Series (2nd)
COMPACT CARS
Toyota Prius (1st)
Buick Verano (2nd)
Nissan Leaf (3rd)
COMPACT PREMIUM CARS
Lexus ES (1st)

Infiniti Q40 (2nd)

BMW 4-Series (3rd)
MIDSIZE CARS
Chevrolet Malibu (1st)
Toyota Camry (2nd)
Buick Regal (3rd)
MIDSIZE SPORTY CARS*
Dodge Challenger (1st)
Chevrolet Camaro (2nd)
MIDSIZE PREMIUM CARS*
Lexus GS (1st)
BMW 5-Series (2nd)
LARGE CARS
Buick LaCrosse (1st)
Chevrolet Impala (2nd)
Ford Taurus (3rd)
SMALL SUVS
Hyundai Tucson (1st)
Chevrolet Trax (2nd)
Volkswagen Tiguan (3rd)
SMALL PREMIUM SUVS
Audi Q3 (1st)
BMW X1 (2nd)
Mercedes-Benz GLA-Class (3rd)
COMPACT SUVS
Chevrolet Equinox (1st)
GMC Terrain (2nd)
Ford Escape (3rd)
COMPACT PREMIUM SUVS
Mercedes-Benz GLK-Class (1st)
Porsche Macan (2nd)
Lexus NX (3rd)
MIDSIZE PICKUPS*
Toyota Tacoma (1st)
Nissan Frontier (2nd)
MIDSIZE SUVS
Chevrolet Traverse (1st)
Buick Enclave (2nd)
Hyundai Santa Fe (2nd)
Toyota Venza (2nd)
MIDSIZE PREMIUM SUVS
Lexus RX (1st)
Lincoln MKX (2nd)
Lexus GX (3rd)
MINIVANS*
Honda Odyssey (1st)
Chrysler Town & Country (2nd)
LARGE SUVS*
Ford Expedition (1st)
Chevrolet Tahoe (2nd)
LARGE LIGHT-DUTY PICKUPS*
Chevrolet Silverado (1st)
Ford F-150 (2nd)
LARGE HEAVY-DUTY PICKUPS*
Ford Super Duty (1st)
Chevrolet Silverado HD (2nd)
We reiterate that this study was conducted in the US, and that it involved 2015 model-year cars. Still, the results offer a fairly revealing insight into how various brands and models might fare after several years of usage—market of distribution notwithstanding.