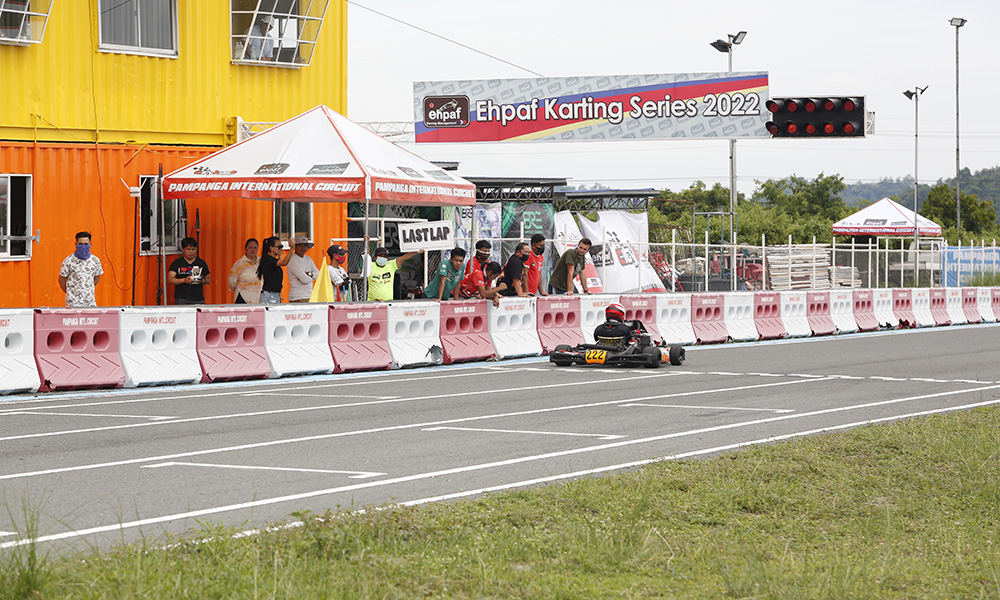 If you love to DIY, have an appetite for self-inflicted pain, and see the appeal in going round and round a kart track for 12 hours, then the Silly Grand Pricks is not to be missed. We first got wind of this fun race on social media, which showed a bunch of homemade death traps go-karts based on shopping carts and whatnot, so of course, we had to dig a little deeper.
Organized by City Kart Racing Pampanga—and to be held at Pampanga International Circuit—the Silly Grand Pricks is a 12-hour endurance race where teams must enter and race their own, garage-built go-kart.
If you have ever raced a go-kart, then you know that even half an hour is a long time to be yanking on the wheel in the turns, conserving precious momentum, and making every second count. Blisters, bruises, and dehydration are the norm. But when you add the pressure of having to build your own kart from scratch, then you also have to think about making sure everything works and nothing will (hopefully) break. Especially not your bones.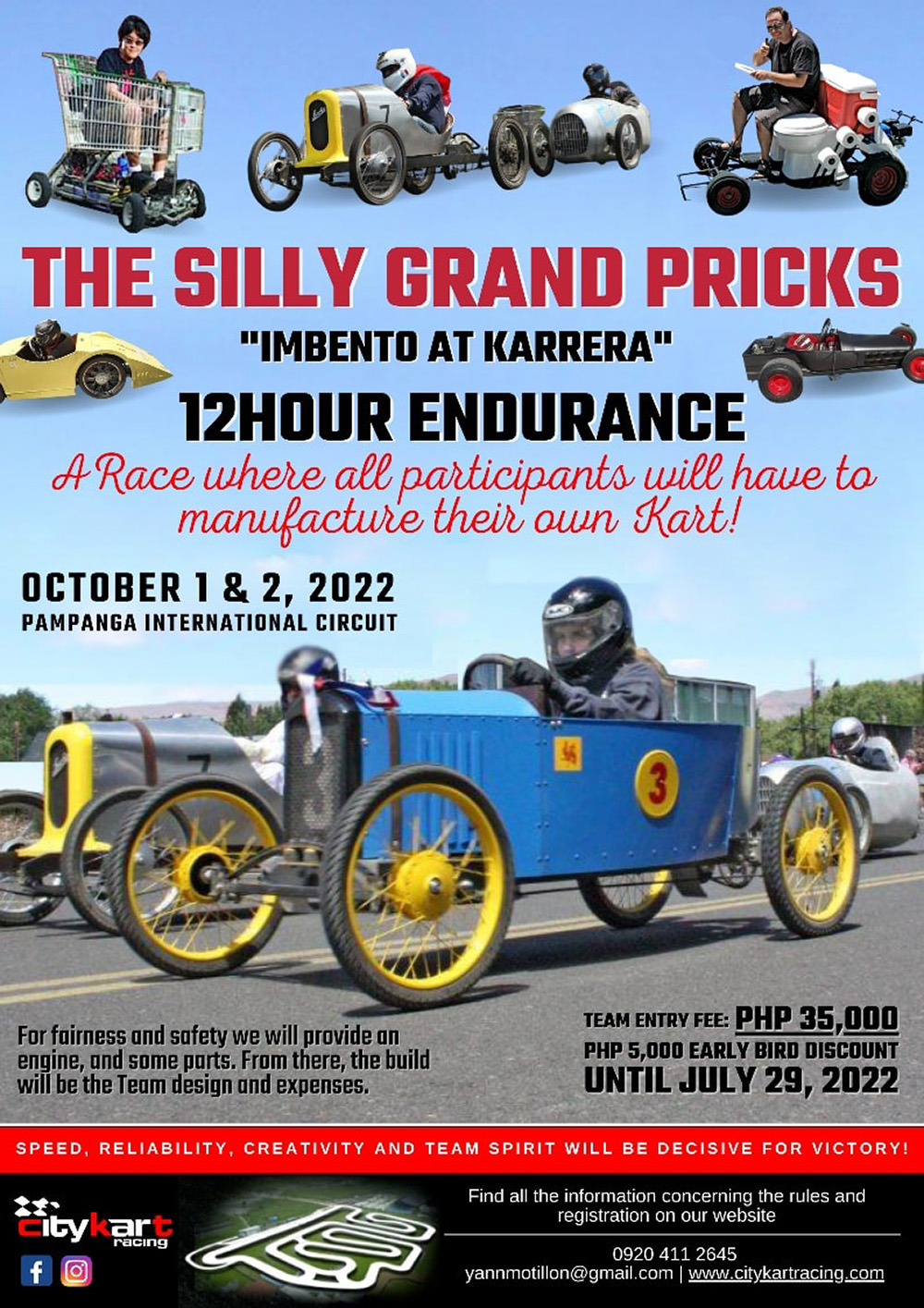 Designed to appeal to students taking up mechanical engineering, self-taught "experts," and dyed-in-the-wool men and women who'd like to channel their inner Gordon Murray with a touch of Dr. Emmett Brown, the race is happening on October 1-2—enough time to cobble together your very own racing kart. Whether you'll be basing it on a Radio Flyer, a shopping cart, or a bunch of PVC pipes is up to you, but there are certain rules you'll have to follow.
For starters, all teams need to use the same engine: a sealed 200cc Honda supplied by City Kart Racing, along with an 8.0-liter tank, fuel line, and oil. That'll cost you P37,000, but these are all yours to keep. If you want to use an old kart chassis, the only kind you can use is City Kart's old Sodi GT2 rental chassis, which you can also purchase for P10,000.
But where's the fun in that, eh? Go crazy and build your own. It will only have to follow certain design regulations, namely, a maximum wheelbase of 1.5m, a maximum height of 1.3m, a maximum length of 200cm, and a maximum width of 145cm. The maximum weight including the driver should not exceed 220kg. Go easy on the samgyup until after the race!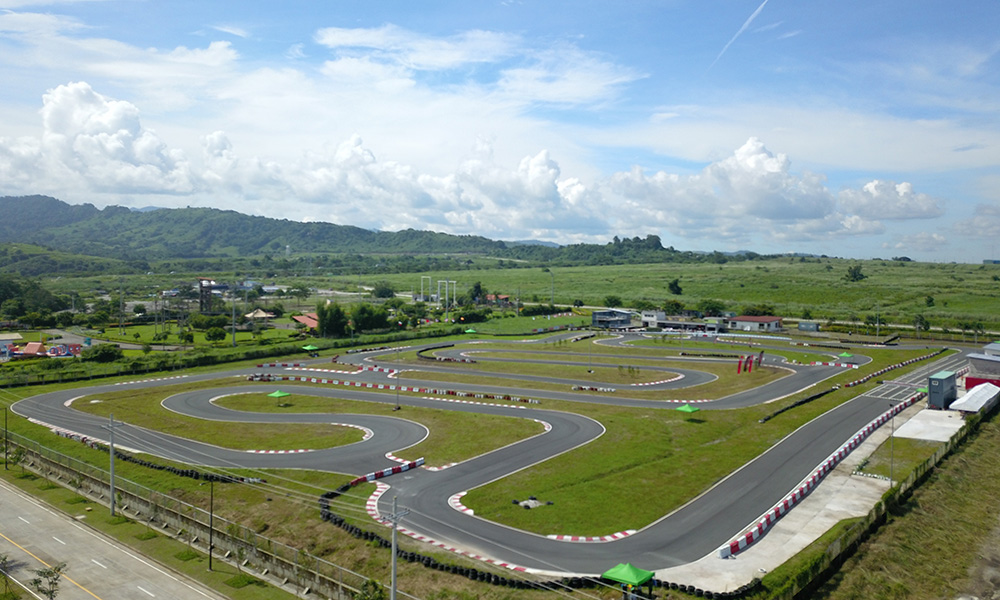 Aside from the cost of the engine, teams must also pay a P35,000 registration fee, which covers the entry fee for five drivers, plus paddock passes, fuel, designated paddock, and various other items. A team must have a minimum of four drivers and a maximum of 10 drivers, with additional drivers at P2,500 per head not covered by the team registration fee.
In the interest of humanity, the organizing committee will prohibit you from affixing metal spikes, machine guns, flamethrowers, and other weapons. This isn't Death Race, okay?
Your kart will also be scrutinized for general track-worthiness, meaning it shouldn't go up in flames if you even stare at it for a few seconds. Since the race will run into the night, you must also affix a bunch of lights. Christmas lighting is also encouraged.
As of press time, the committee has come up with several classes. To quote the rule book: "Classes are assigned (aka pulled from our butts) during tech inspection based on the judges' best guesses; post-assignment whining gets you kicked into the next faster Class."
Class A (for karts with a prayer of winning)
Class B (for karts with a prayer of finishing)
Class C (for karts with no prayer of finishing)
Special awards for:
Best team theme
Best kart theme
Best kart build
Best costume
We also love Article 2.7, regarding Whiner Eligibility. "Whiners are not eligible to compete. If you believe that you might be a whiner, please check with a domestic partner, guardian, or healthcare professional before getting the rest of your team kicked the hell out of the race."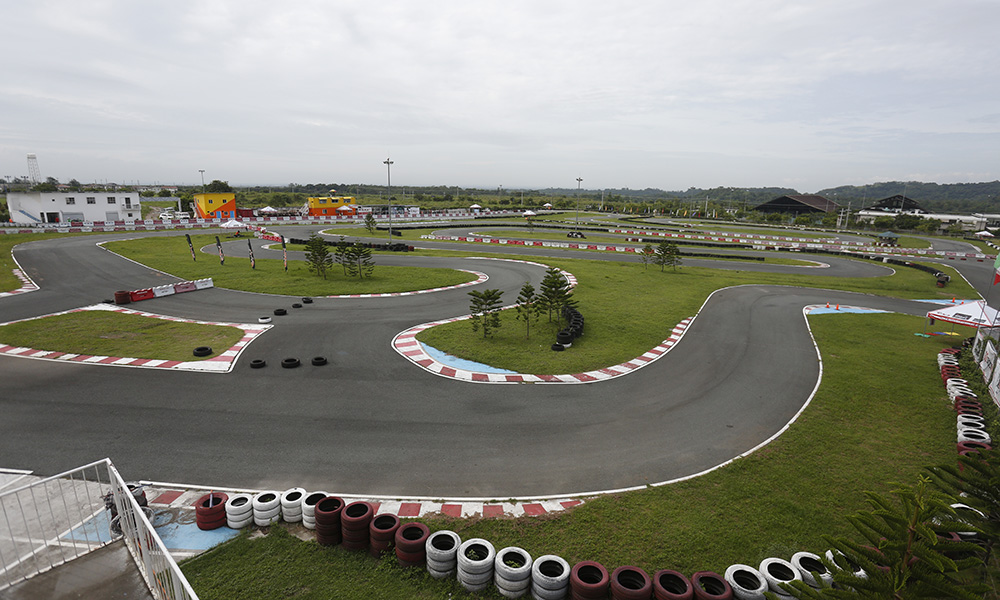 With many other details covered in City Kart Racing Pampanga's comprehensive rulebook, interested teams can simply contact its Facebook page to get a copy.
If this type of race appeals to you, pony up the cash for this race and start wrenching. As for us, we're off to the grocery to "borrow" one of the shopping carts.