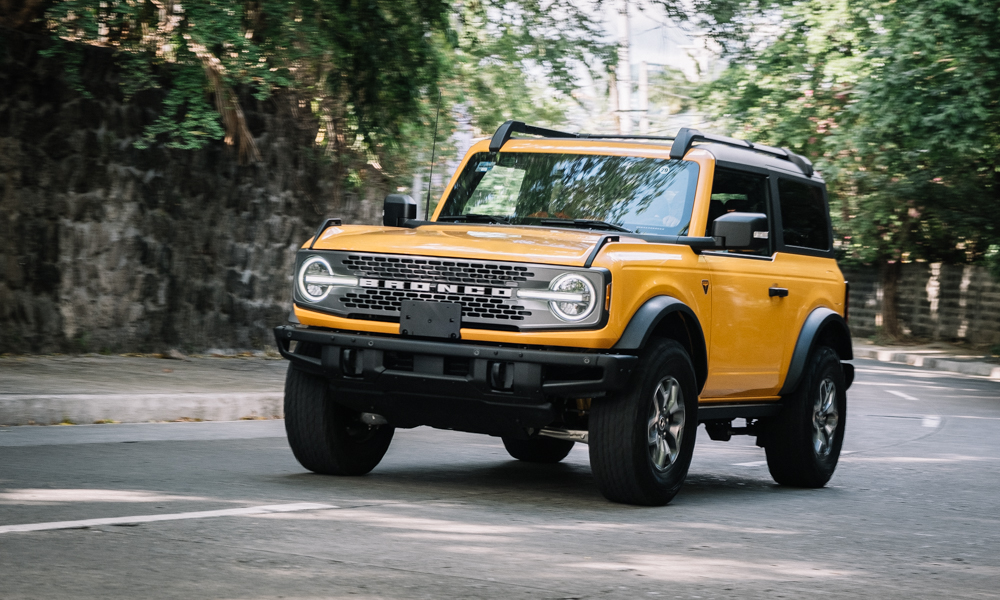 Off-roader SUVs come in many forms. Some are built, while others are bought. There are the Jeep Wrangler, the Toyota FJ Cruiser, the Suzuki Jimny, the Land Rover Defender, and the Mercedes-Benz G-Class.
But none of these have generated as much hype and fanfare compared to the Ford Bronco. You've probably heard about how hard it is to get one in the US, so we couldn't believe our eyes when Luxury Cars Manila invited us to take this big, buff horse out (in the Badlands trim, no less) for a quick spin.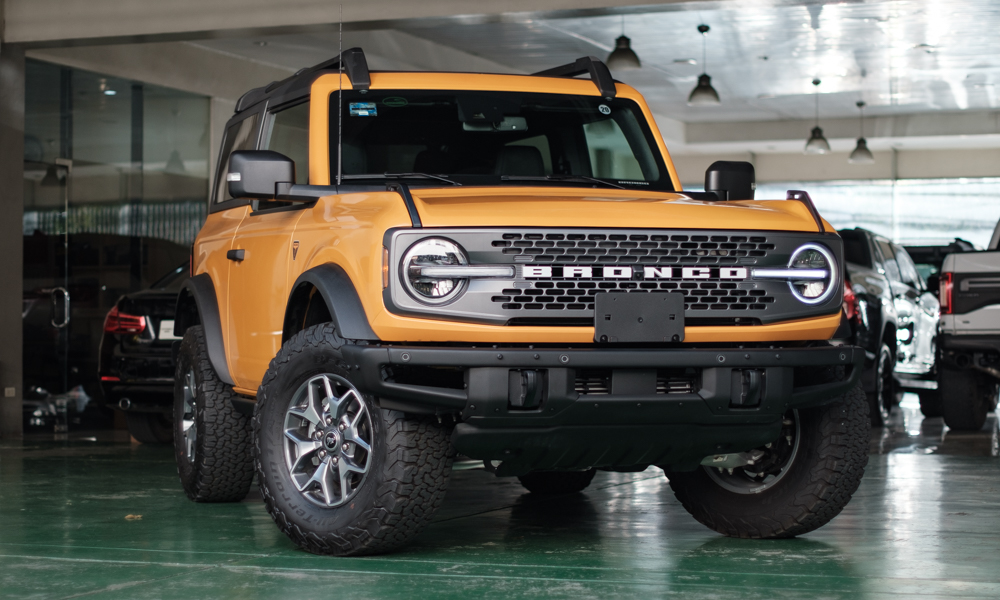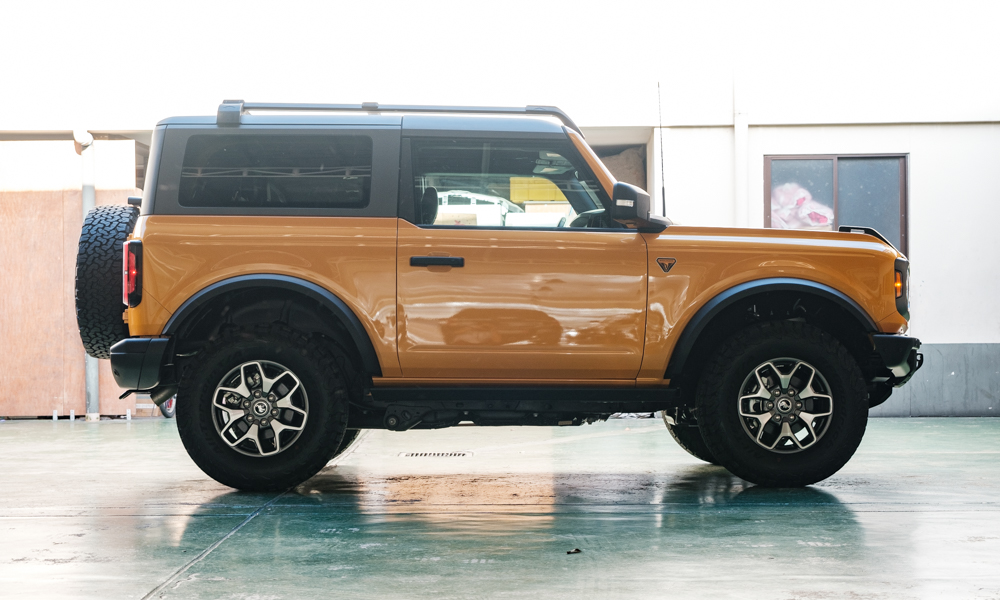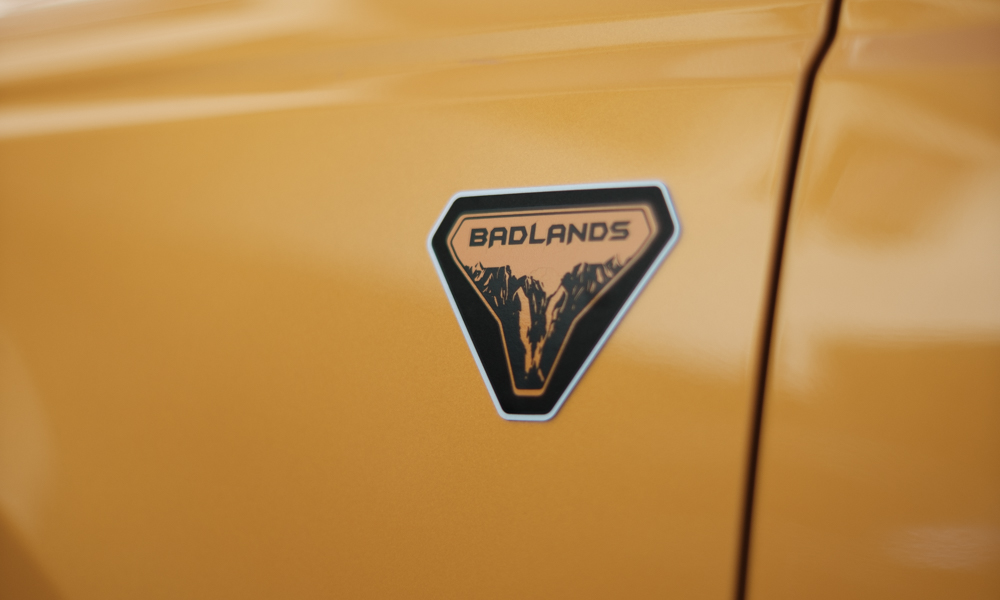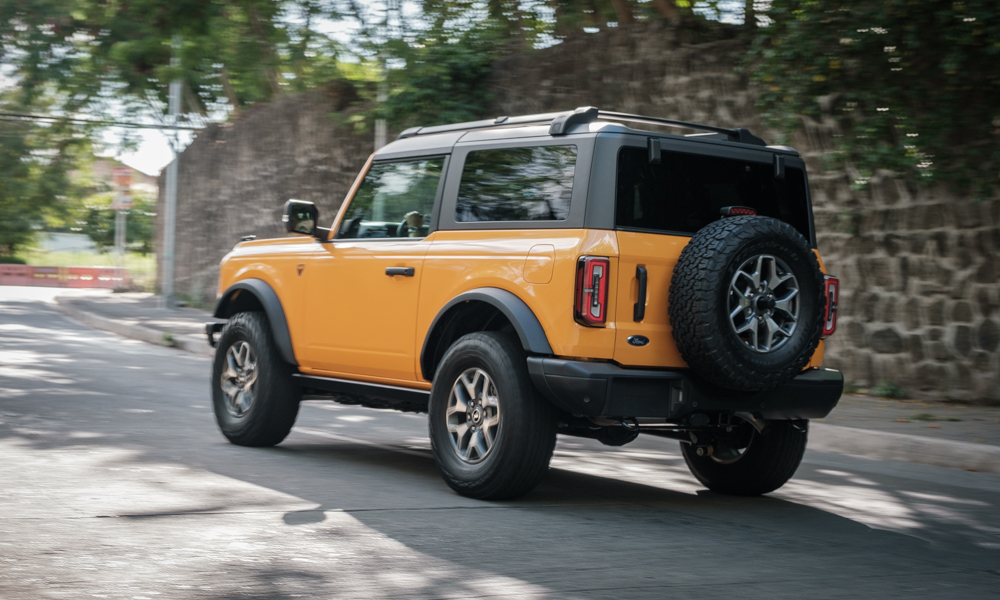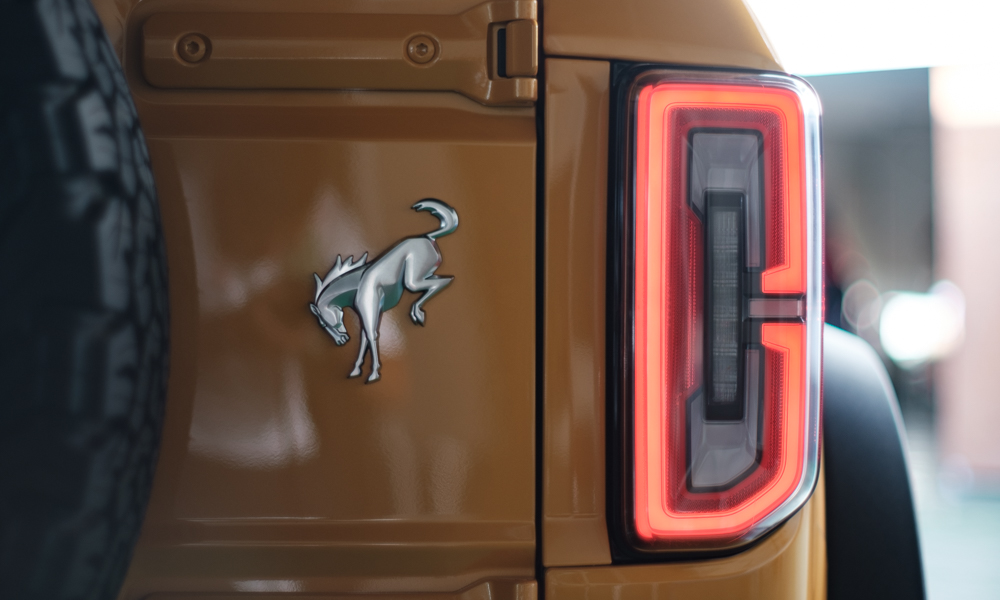 When you look at this Bronco, it's immediately apparent that this design stands out from the crowd. One could argue that the two-door variant looks like a blown-up Jimny (I think it does), but it's a faithful homage to the original Bronco.
Either way, this "Cyber Orange" (it's kinda yellow in person) paint job is a neck-breaker. Once people recognize what car this is, expect plenty of awestruck passersby to whip their phones out. It has huge fender flares to accommodate those massive 285/70 BFGoodrich All-Terrain tires that wrap the 17-inch bead-lock wheels. There are steel bumpers (the front is modular to allow for accessories), bash plates, rock rails, tie-down points on the hood, and roof rails so you can secure cargo and other goods.
And if you're wondering, this particular hardtop has the fix to prevent water and humidity to enter, which was the reason Broncos had to be recalled in the past. Just like the Wrangler, you can remove the top and the doors to turn the vehicle into an open-air off-roader. However, we didn't take these off even if we were told the task could be accomplished in around five minutes.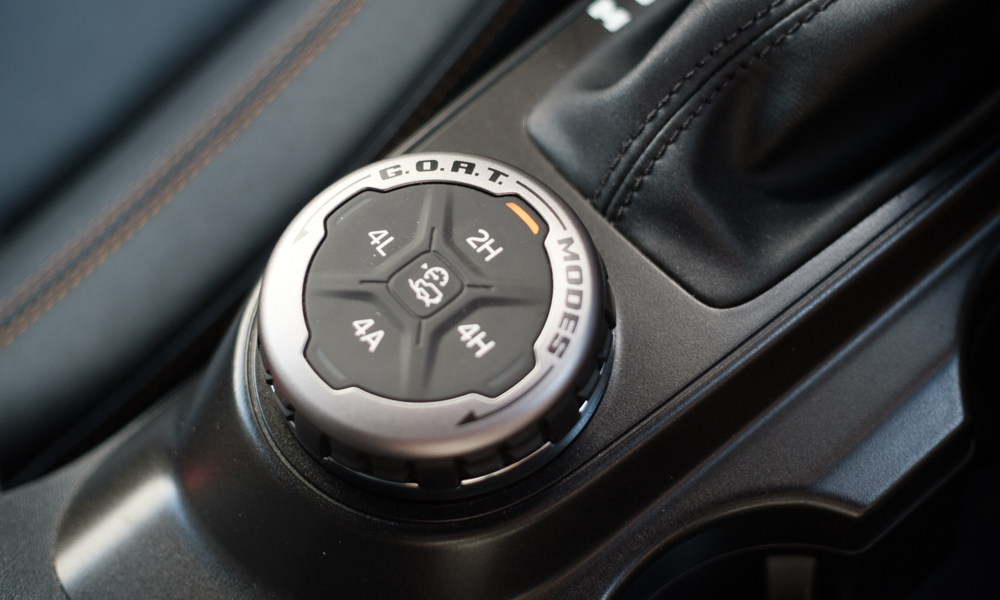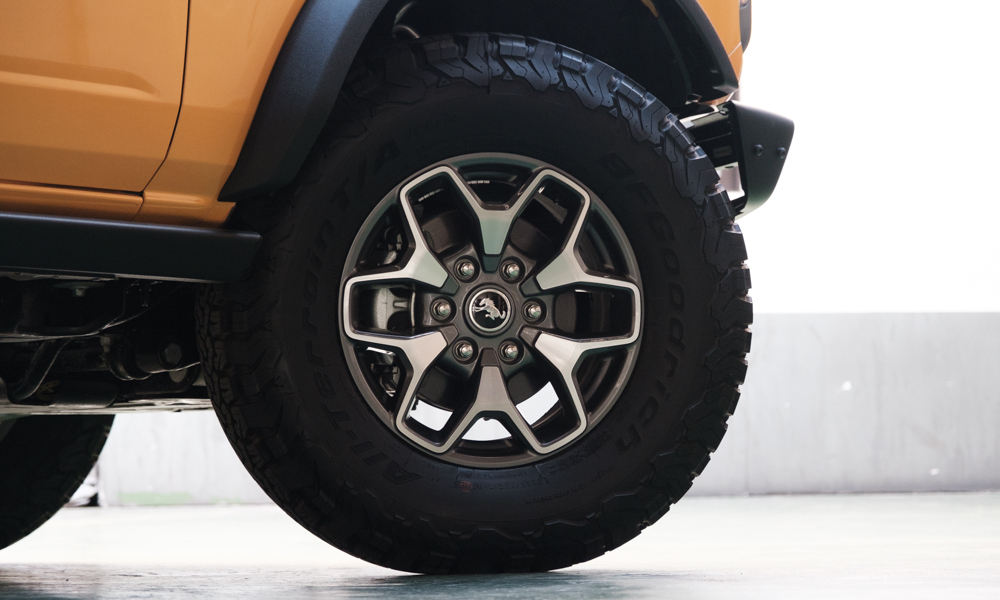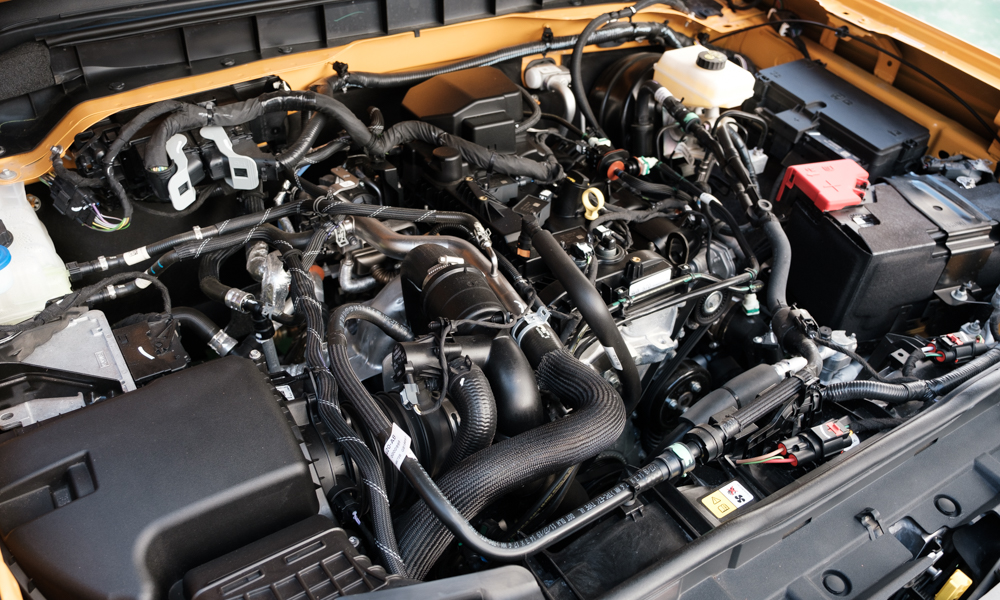 This Bronco is fitted with the turbocharged, 2.3-liter in-line-four EcoBoost gasoline engine that has 270hp and 420Nm, and is mated to a 10-speed automatic transmission. Even if there is an option for a 2.7-liter V6 EcoBoost engine, you don't really need it.
This four-banger offers gobs of torque in the low end, masking this car's apparent girth and making it feel agile at low speeds, which is probably what you'll want most of the time. We didn't drive long enough to get a conclusive fuel economy reading, but we assume the people who buy this car would probably not care about this aspect.
When it's time to go off-road, there's the GOAT (Goes Over Any Terrain) management system and the HOSS (High-speed Off-road Suspension System) underpinning with Bilstein position-sensitive dampers and stabilizer disconnect system, and electronically locking front and rear axles to ensure you won't be embarrassed in front of your trail buddies.
It's very easy to drive it with great front visibility (but mediocre for the rear) and a driving position that makes you feel like you're 'sitting' on the car (rather than inside it). Bad roads aren't felt at all; only the tallest of speed bumps affect the cabin. Plus, it's pretty easy to maneuver because of the short wheelbase and the driver assists, so city-dwellers can have a sigh of relief.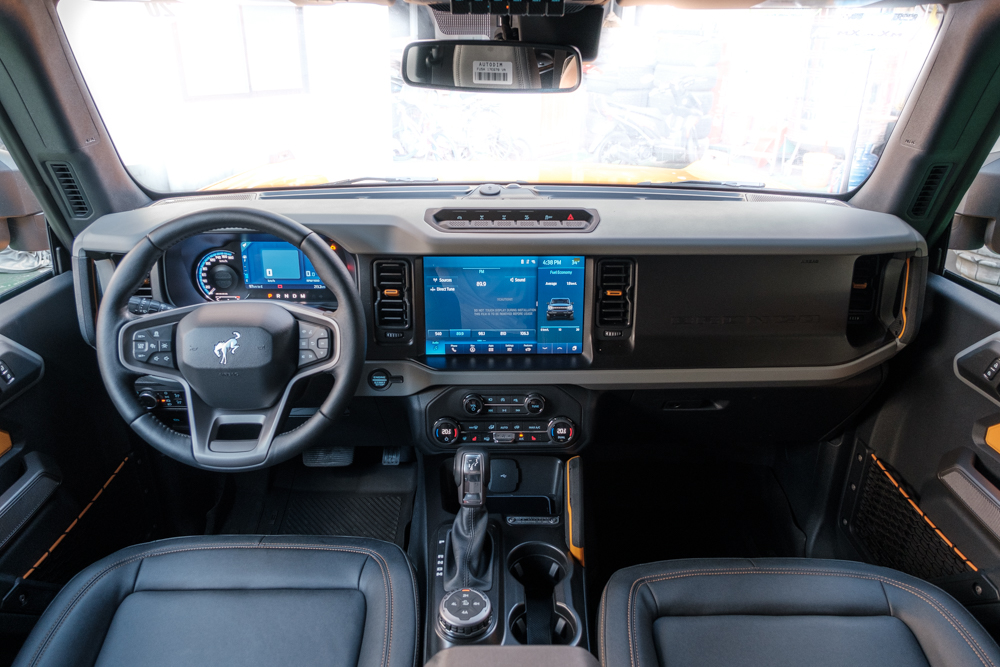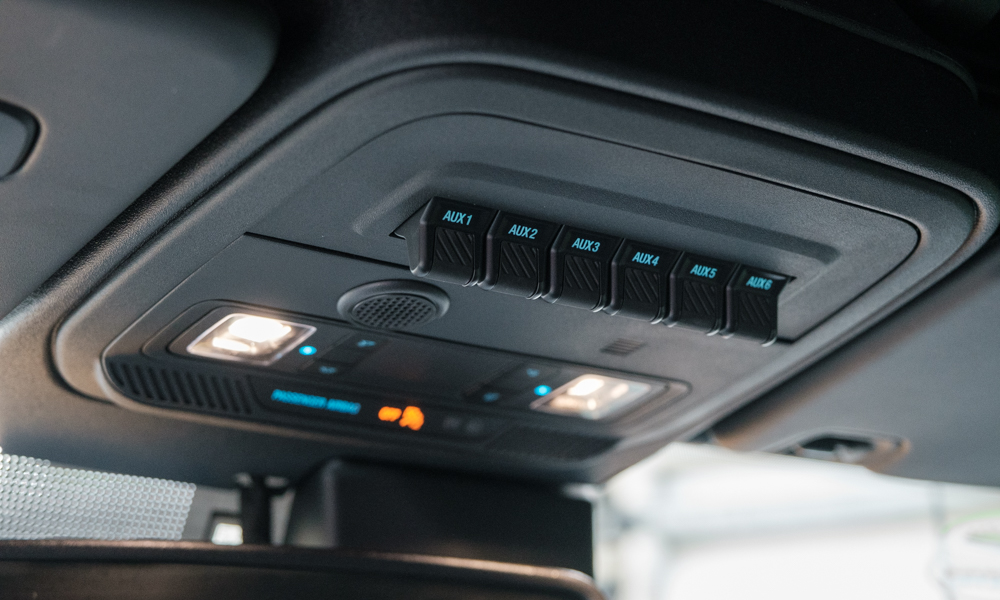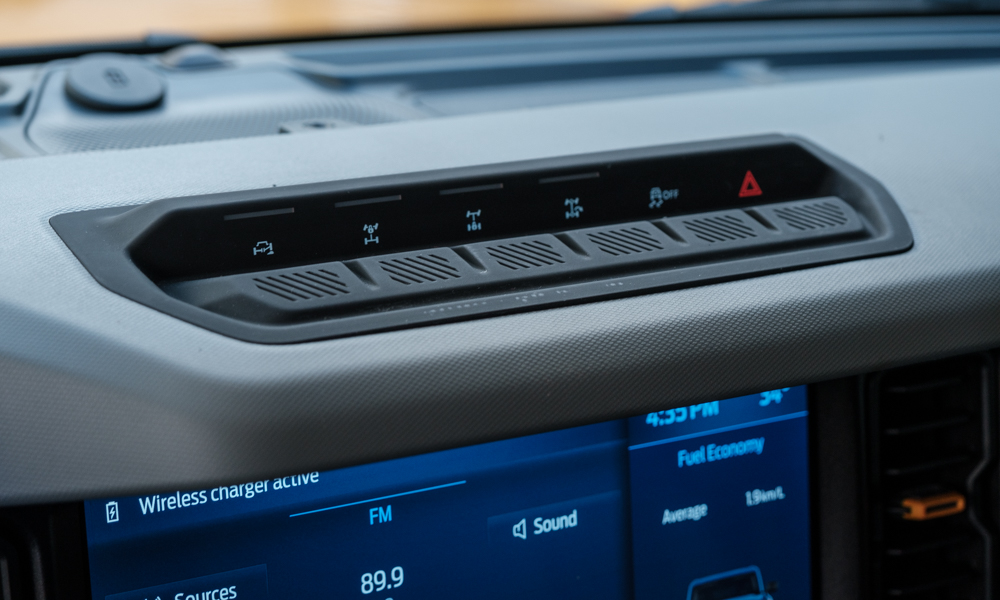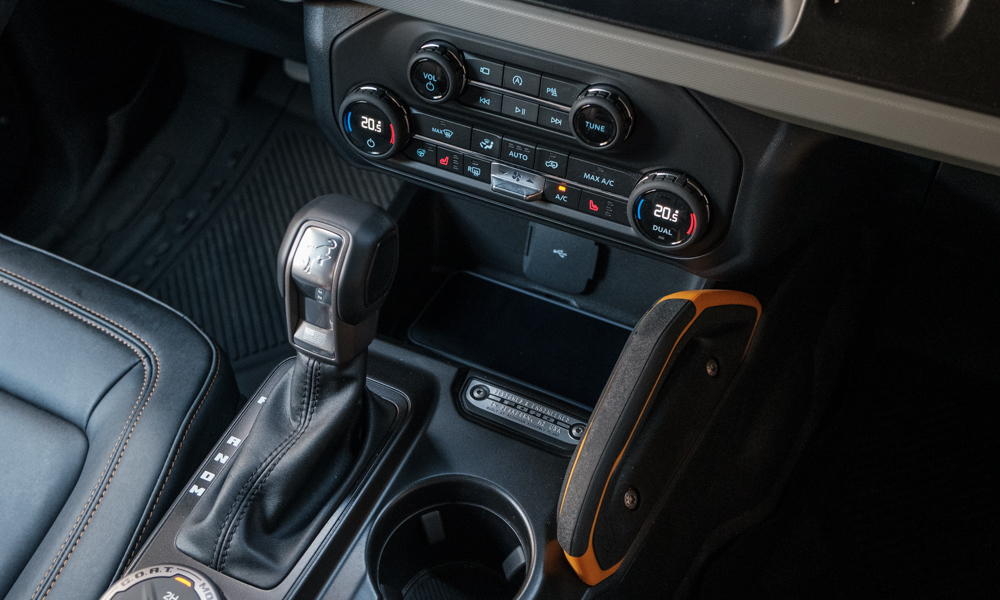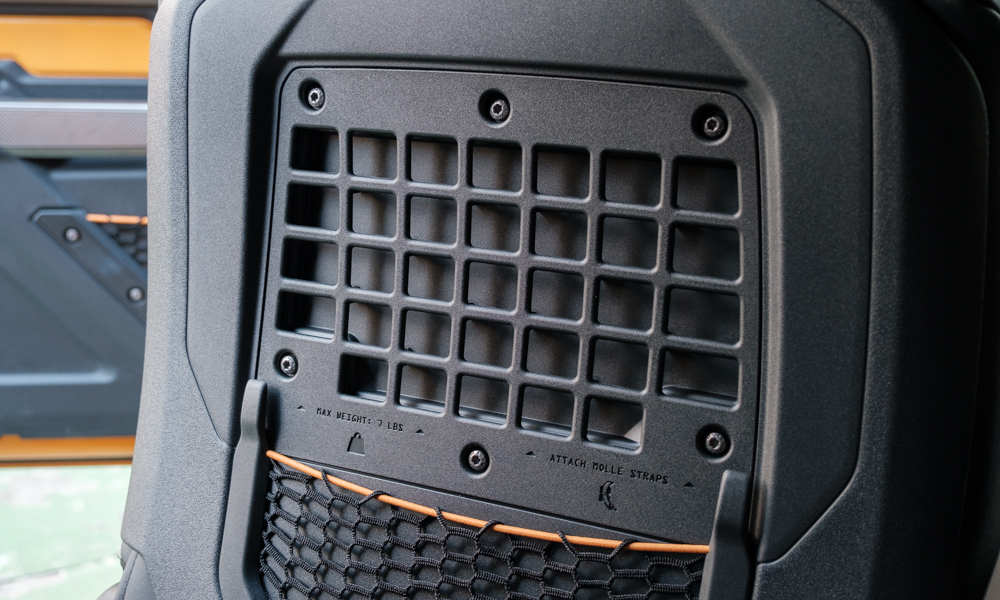 If you've ever been inside a Wrangler, you'll find the cabin of the Bronco to be very similar. Everything is coated in grippy rubber and hard-wearing plastics, with large and chunky switchgear all over the cabin that's easy for the fattest of fingers (or gloves) to press. Plus points for the auxiliary switches, so no need for ugly, third-party switches.
The seats are upholstered in leather-trimmed vinyl with a MOLLE strap system in the seat backs. Connectivity-wise, aside from the USB ports (USB-C and Type-A), there's a household socket behind the center console.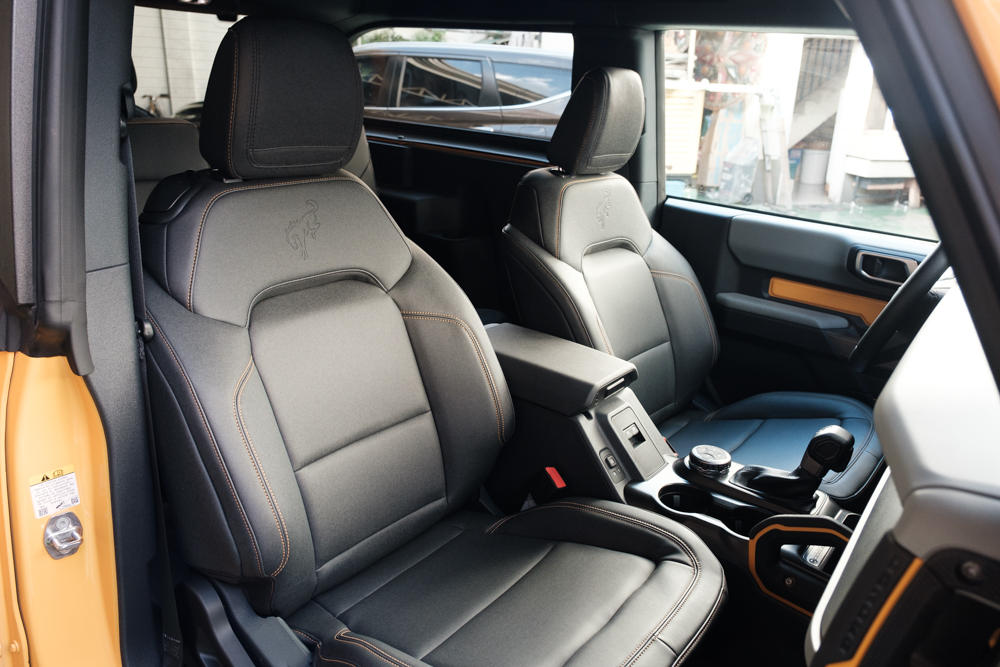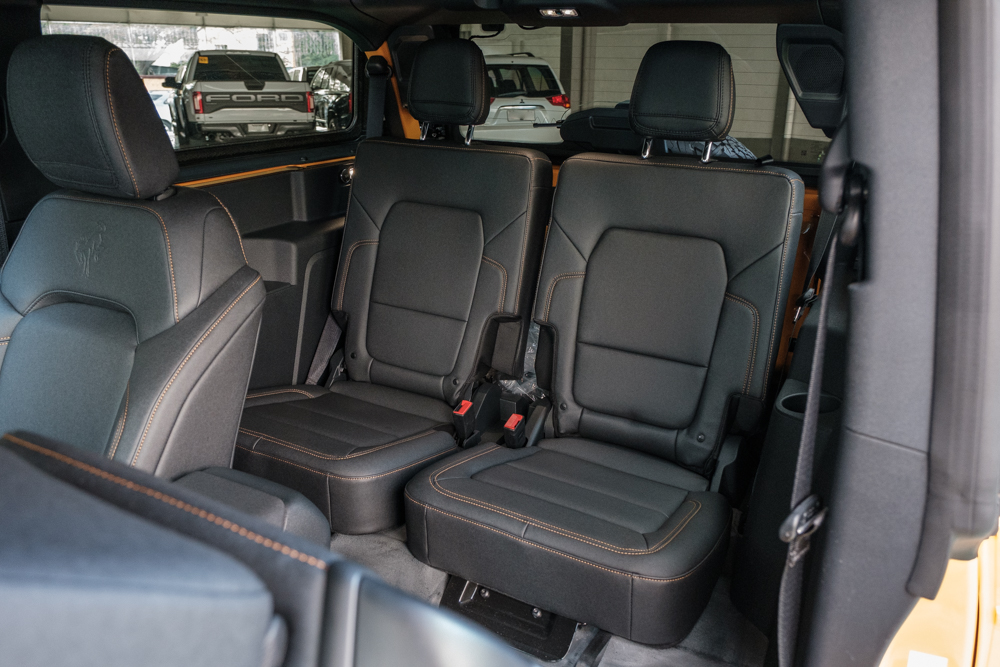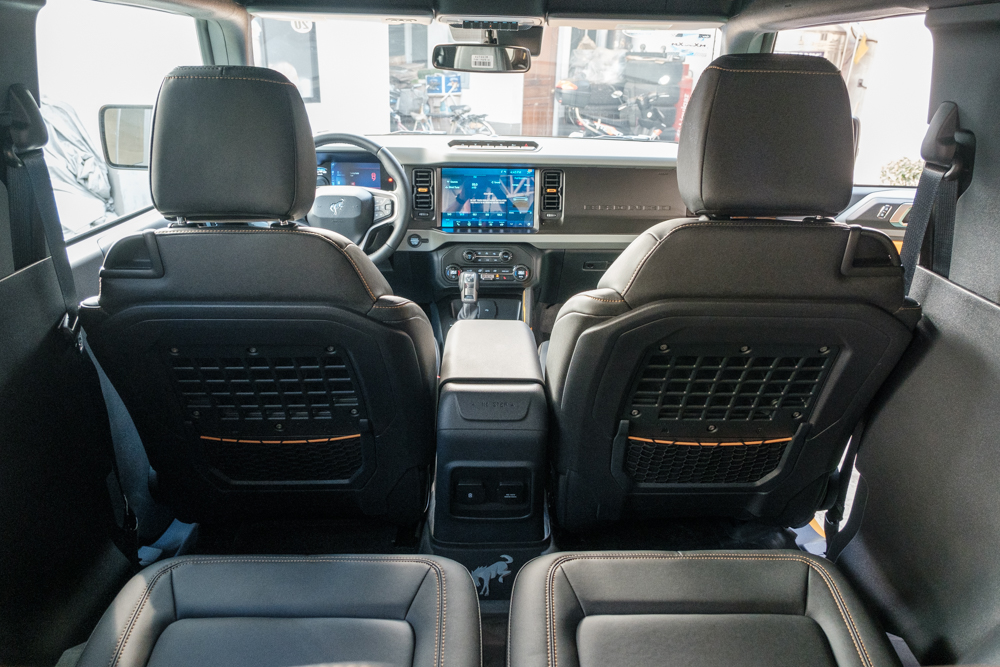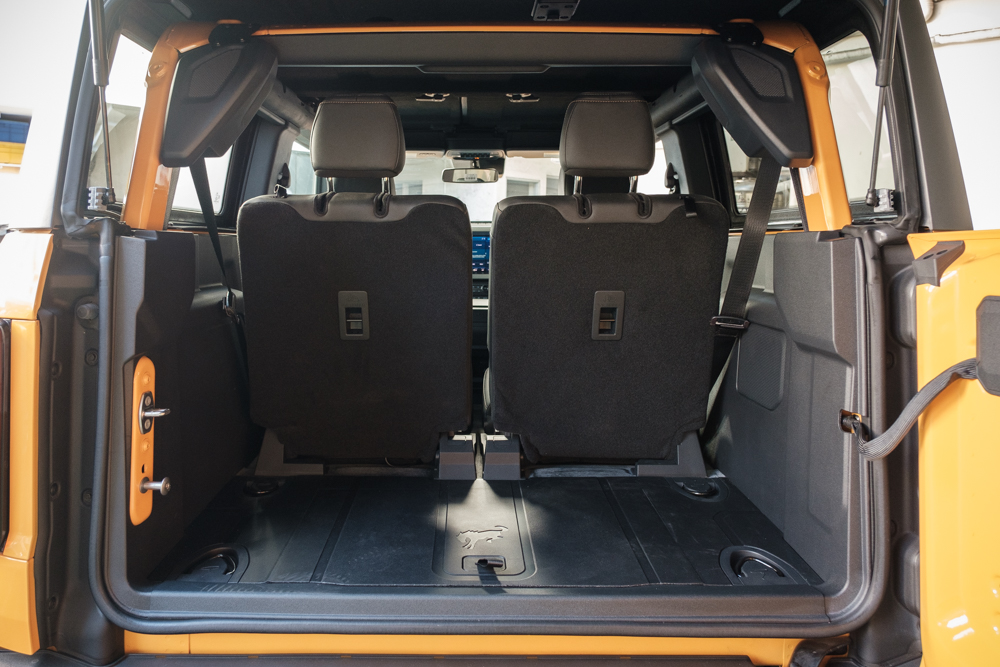 Truth be told, I wasn't expecting to comfortably fit in the back seats of the two-door variant. Sure, getting in and out is awkward, but there's plenty of space for two large adults at the back once you're inside. You can even fold the seats down for more cargo room, and this Bronco comes with storage bags to place the body panels when you take them off.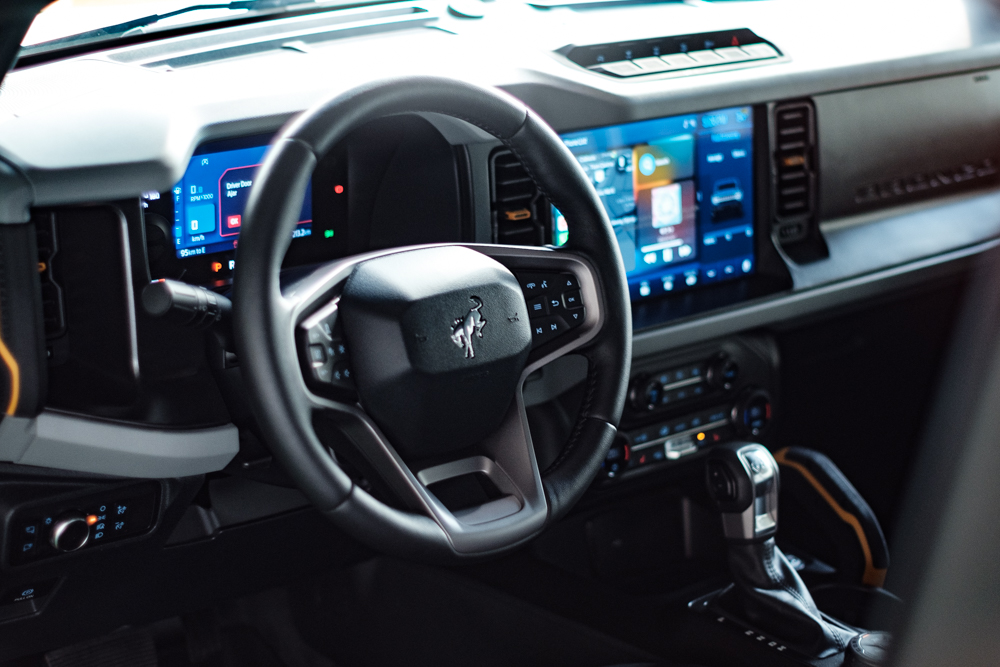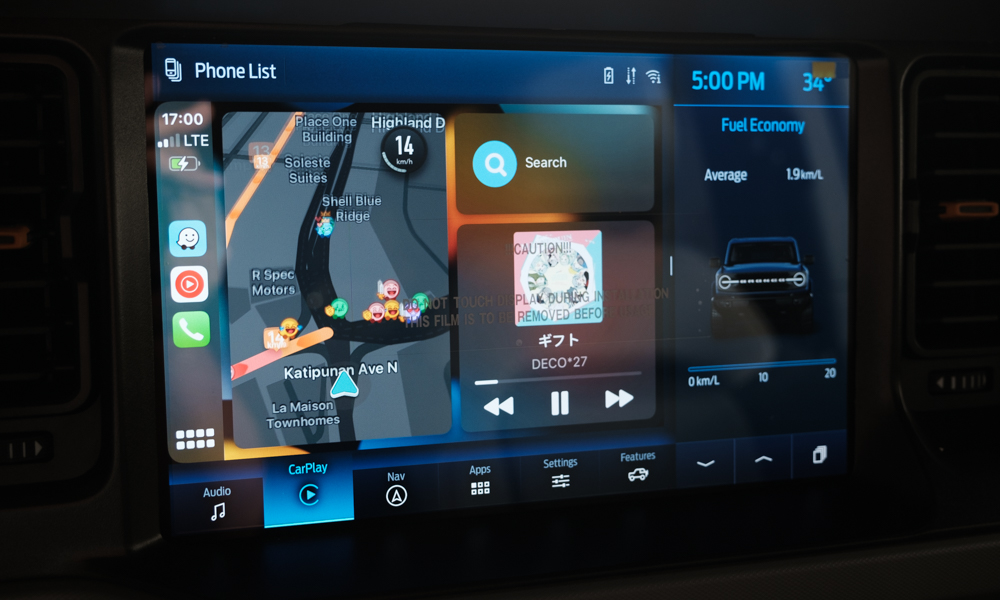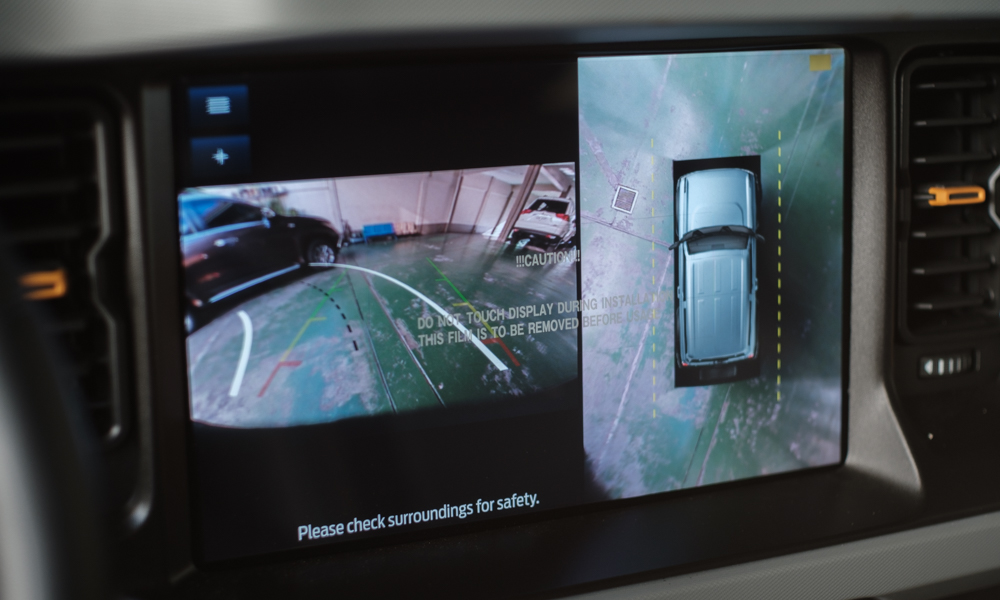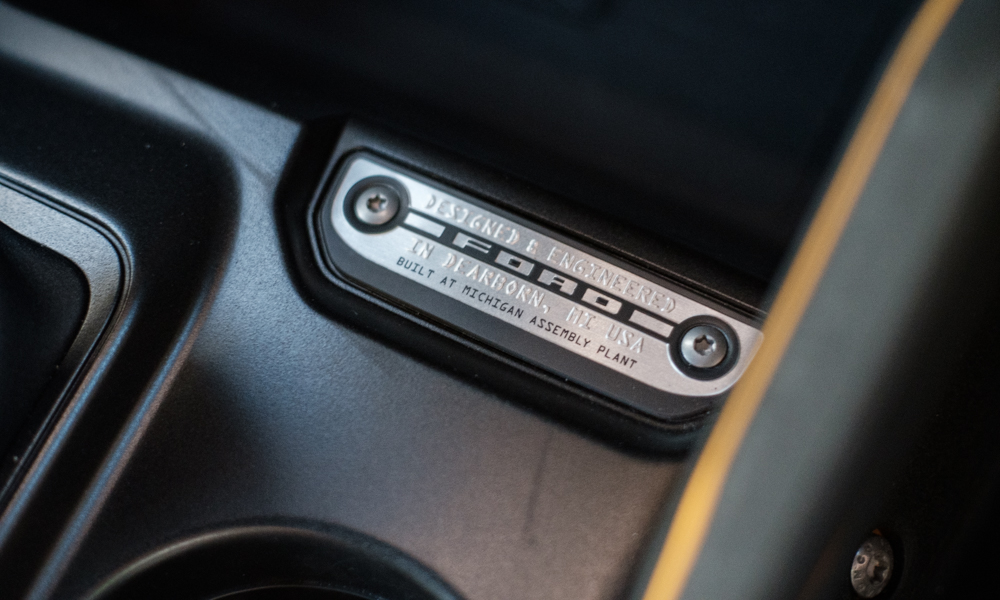 This particular unit has the Lux Package, so it has these features:
10-speaker Bang & Olufsen sound system

12-inch Ford Sync 4 infotainment with navigation (not like you'll use it because of wireless Apple CarPlay and Android Auto)

Wireless charging pad

Dual-zone climate control

Additional sound-deadening

Heated leather steering wheel

Carpeted floor liners

LED approach lamps and spotlight

Remote starter

Ambient footwell lighting
It comes with the Ford Co-Pilot360 suite of driver assists, so you have the likes of blind-spot monitoring, lane-keeping, automatic emergency braking, a 360° camera, adaptive cruise control, and evasive steering assist.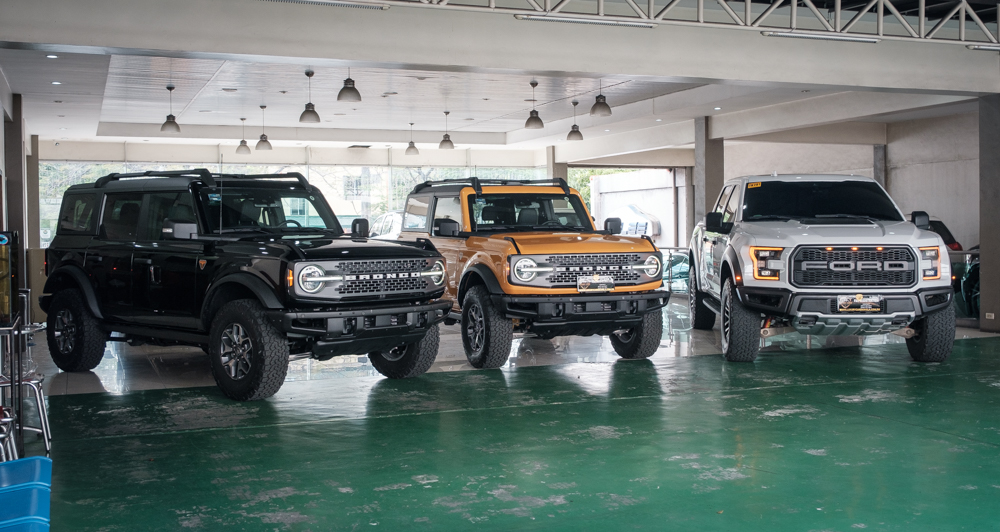 So yes, this is turning out to be more of a luxurious toy instead of a purpose-built off-roader. But in the end, are we in a position to judge whether or not these cars ever get taken off-road by their new owners? Probably not. It's not our money, after all. Anyone can buy this for off-road or on-road use…it doesn't really matter.