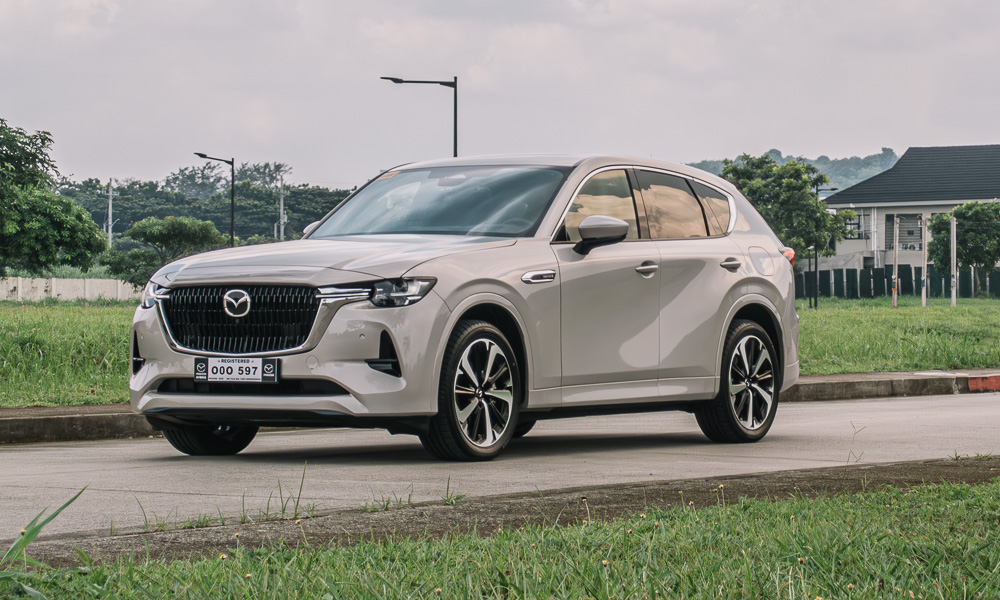 "Sir, Mazda pala 'yan? Akala ko galing Germany 'yung kotse na 'to."
This was the very first thing that my friendly condominium guard told me as I got out of the Mazda CX-60. It may seem like a trivial matter for someone who brings home a lot of different cars, but this stuck with me because this was the first time he said this about a Mazda. And he had seen the majority of the current product lineup up close.
You've heard about the automaker's upmarket push for the nth time from us. But it seems like it finally has a vehicle that will make the average person do a double-take as it passes by on the road, not just as the "halo vehicle" that enthusiasts on the Internet sing praises about.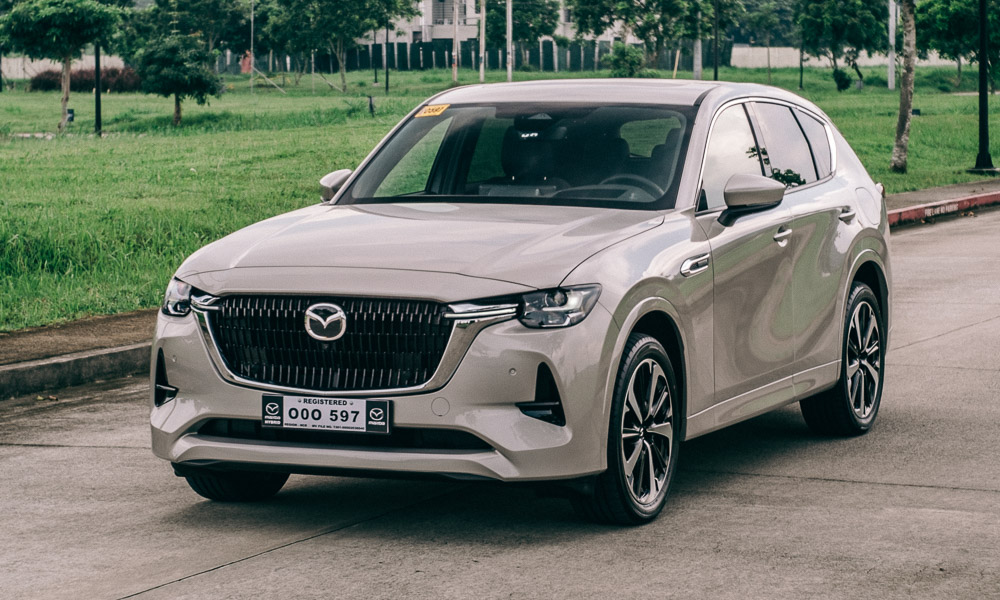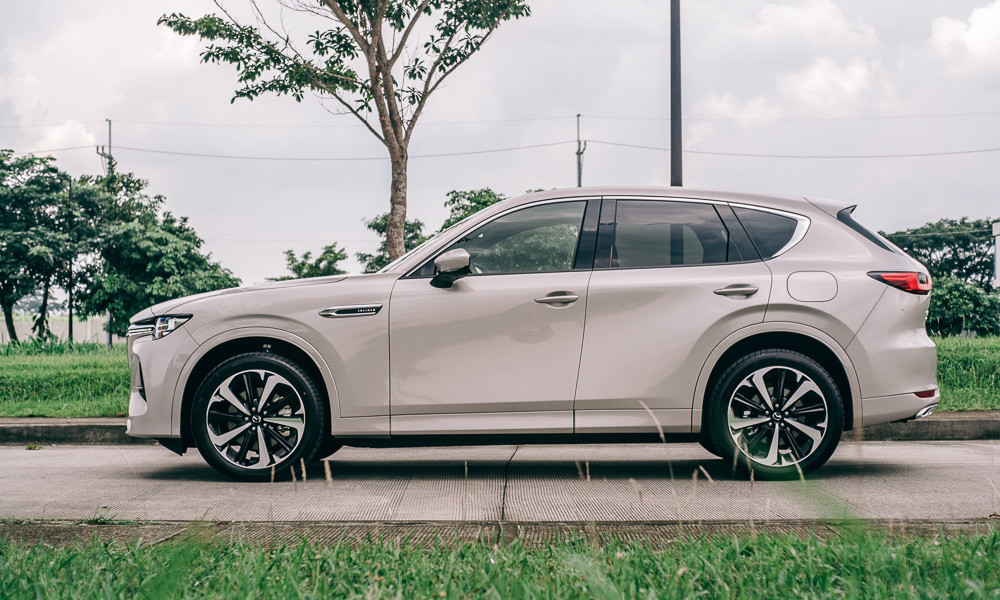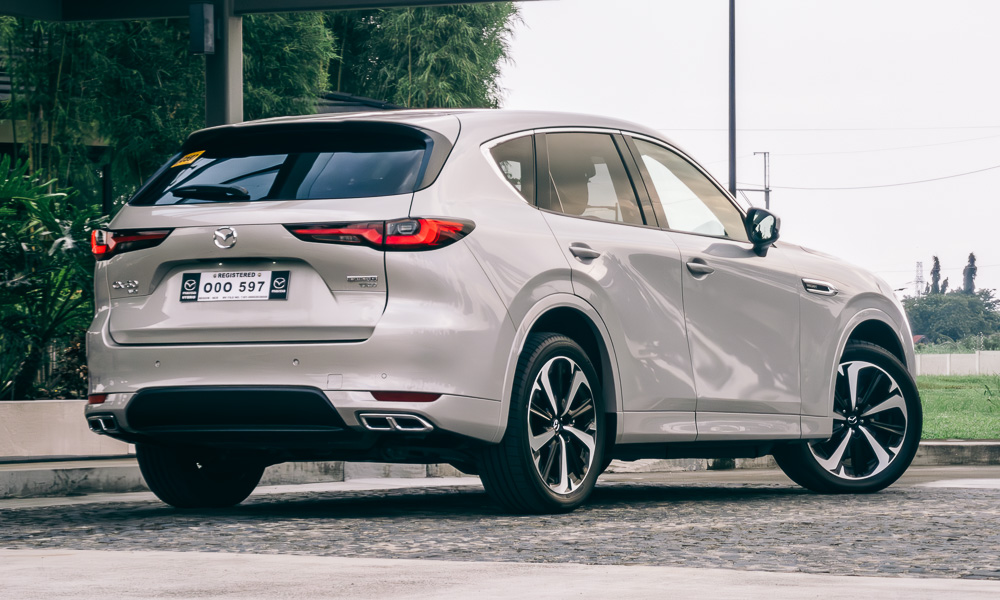 Of course, the vehicle's appearance plays a very big part in that. For those used to the smooth, understated aesthetics, this will feel like a slight deviation from that formula.
There's the "split" headlight design where the DRLs continue into the prominent grille, and a short front overhang. The sports car-like long hood results in a pushed-back cabin, and the rear has almost-a-lightbar-but-not-so taillights. Compared to the previous crossovers, it feels more radical to look at, urging passersby to stop and stare.
Precisely why being different is the name of the luxury game. If Lexus has the spindle grille, and BMW has, er, whatever it is doing, Mazda seems to have carved out its identity with this current iteration of Kodo design.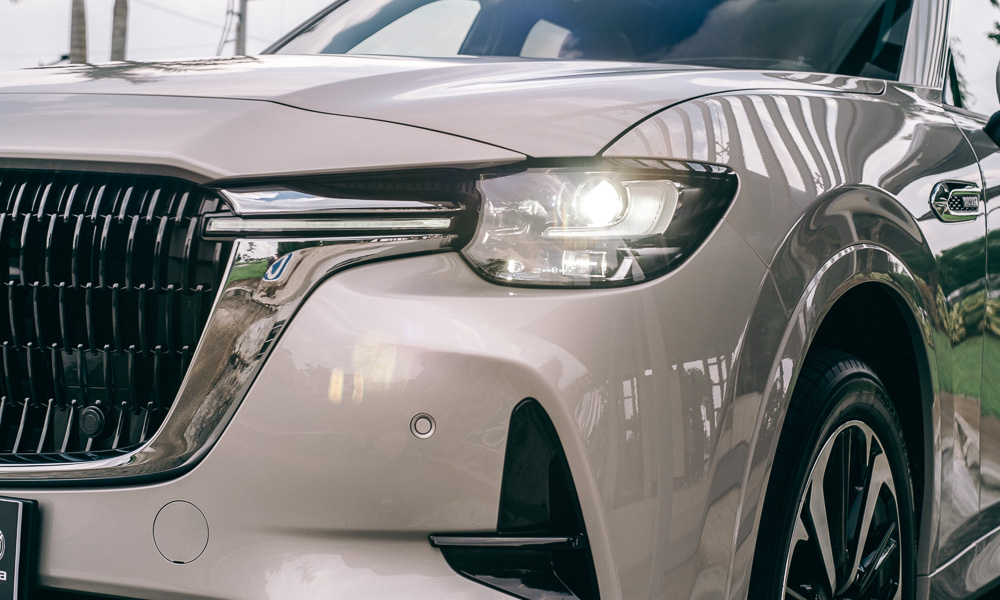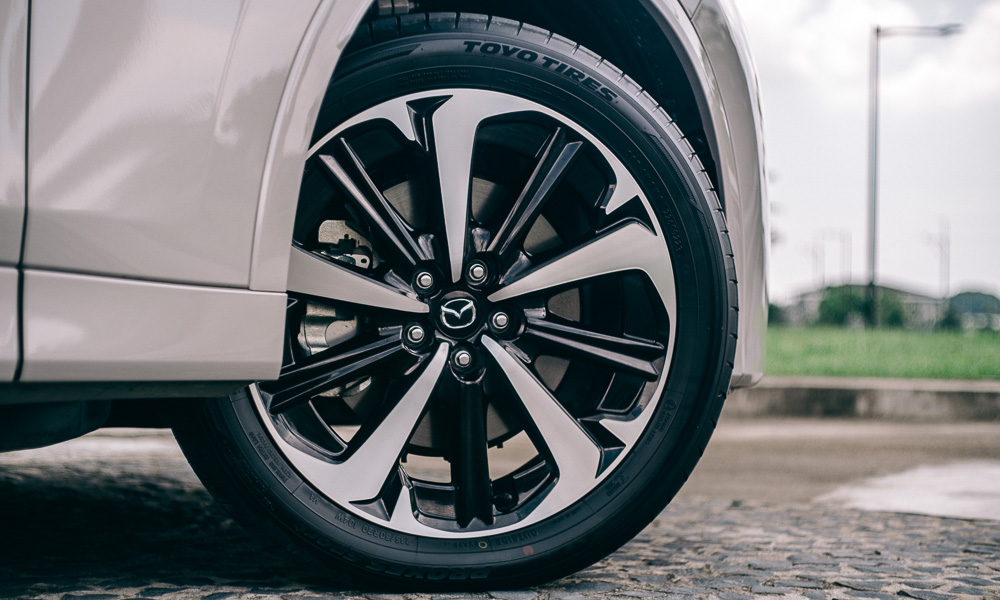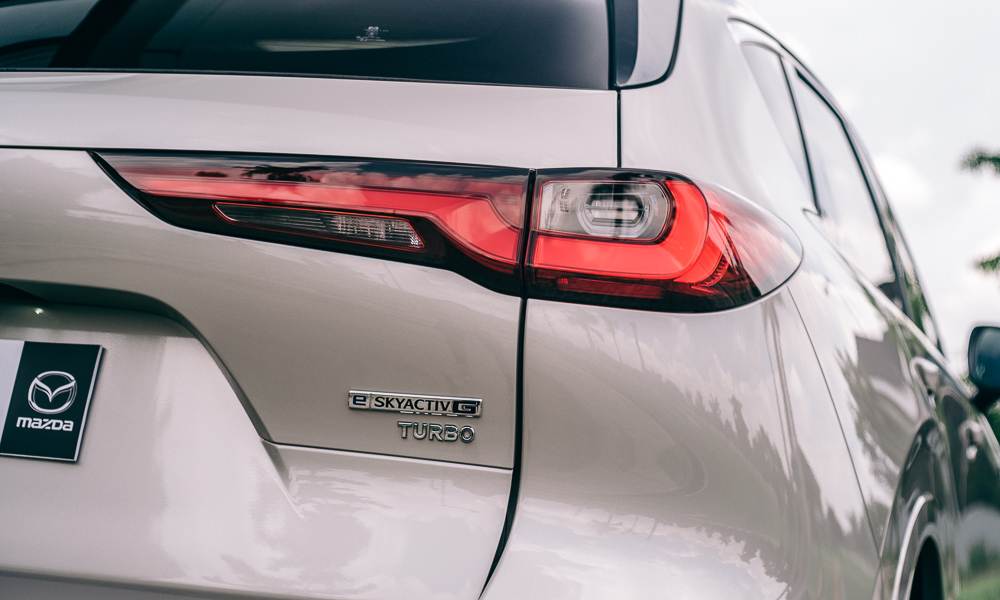 This one in particular is the non-sport guise, a flashier variant that's more luxury-oriented. It has two-tone machine-finished 20-inch wheels, a grille with vertical slats, and a tasteful smattering of brightwork. I think this trim combination works best with lighter hues like Platinum Quartz or Rhodium White (except the Soul Red Crystal for the Sport variant).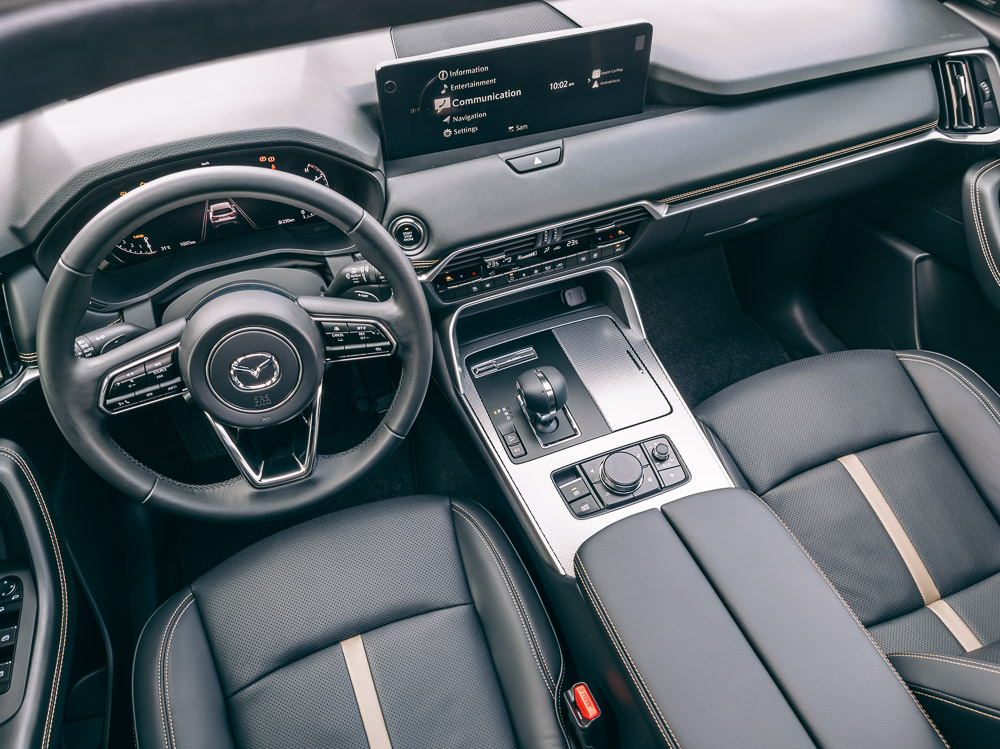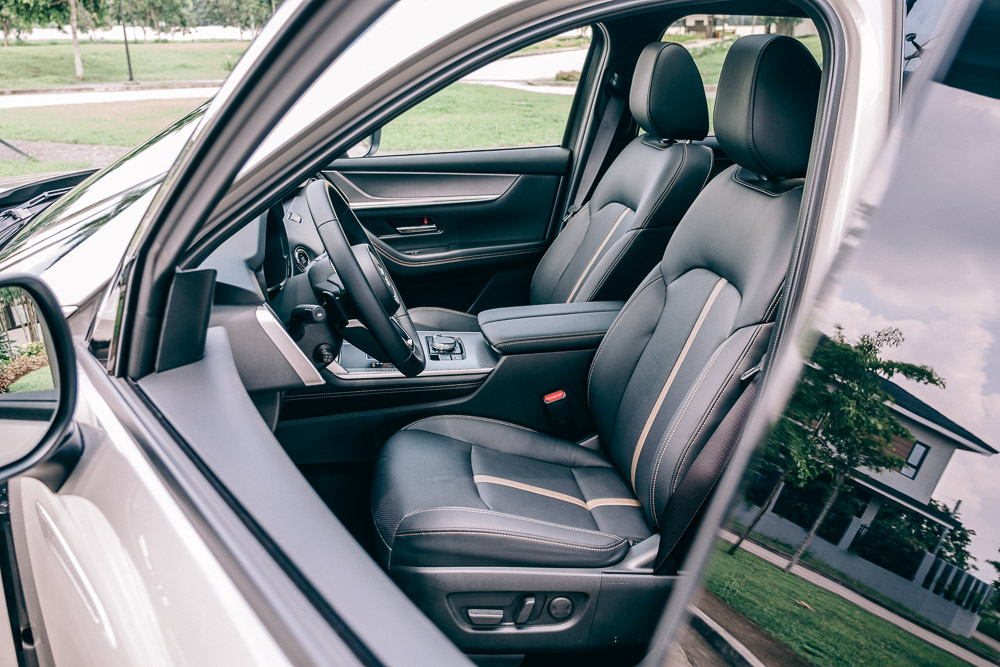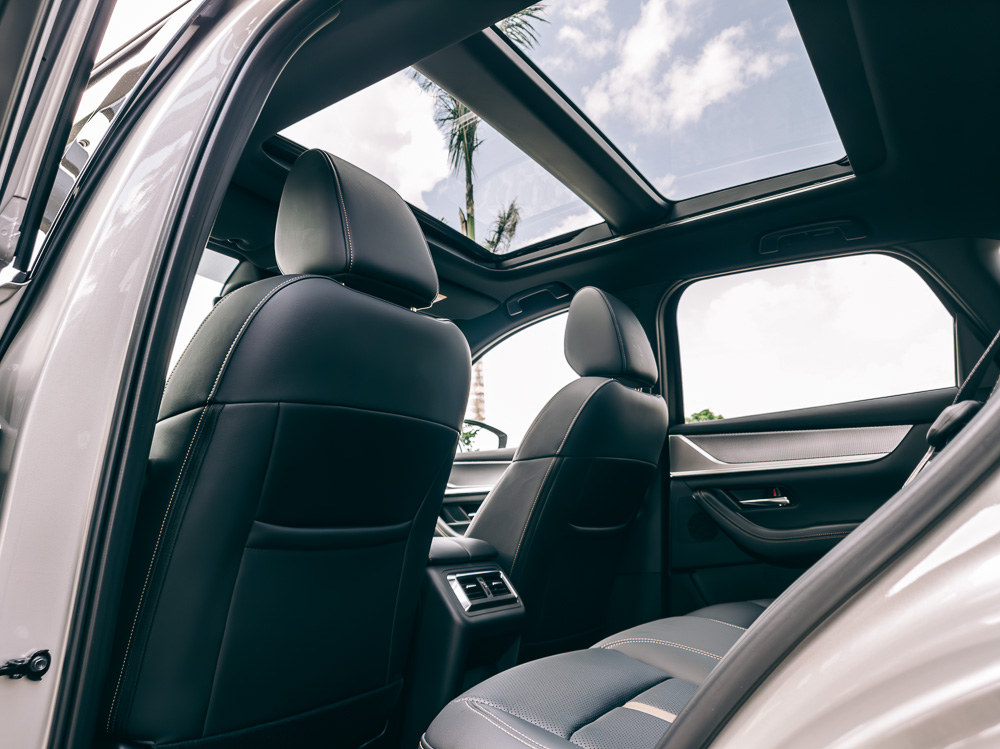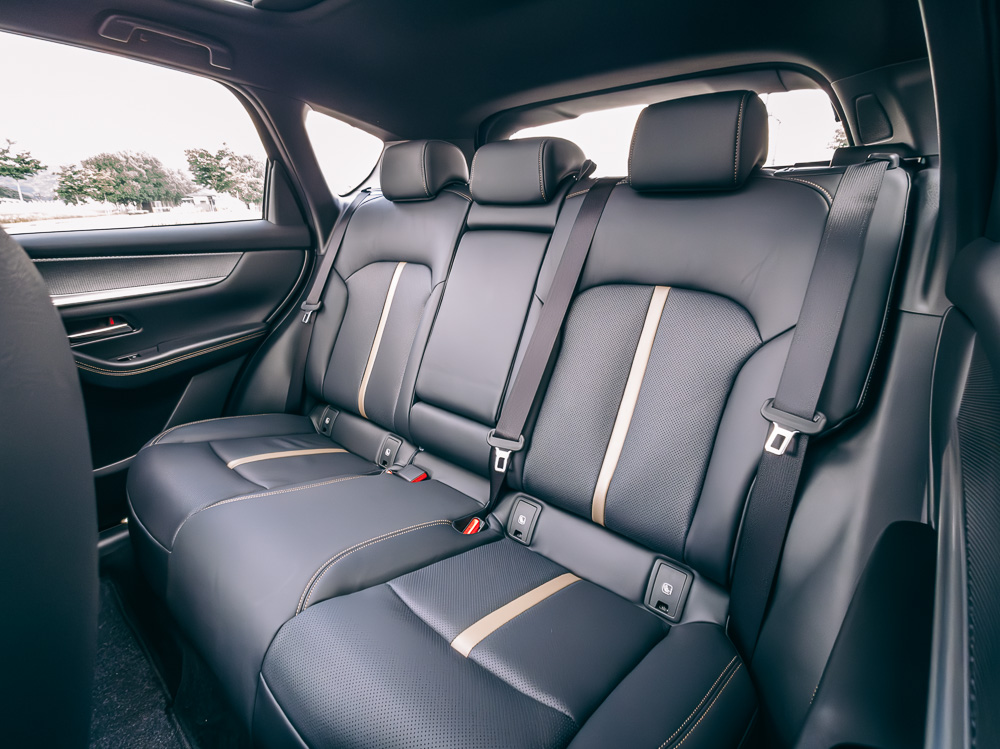 The first thing I noticed when I climbed inside was not the design, but how spacious the cabin felt. Previous crossovers often felt like they would wrap around the occupants unless you sprang for the CX-8 or the CX-9.
It's wider, even with the large dashboard and the widest-ever center console I've seen fitted to a car. The sensation of added space doubles once you open up the panoramic sunroof, a first for the brand locally as the CX-50 had that first.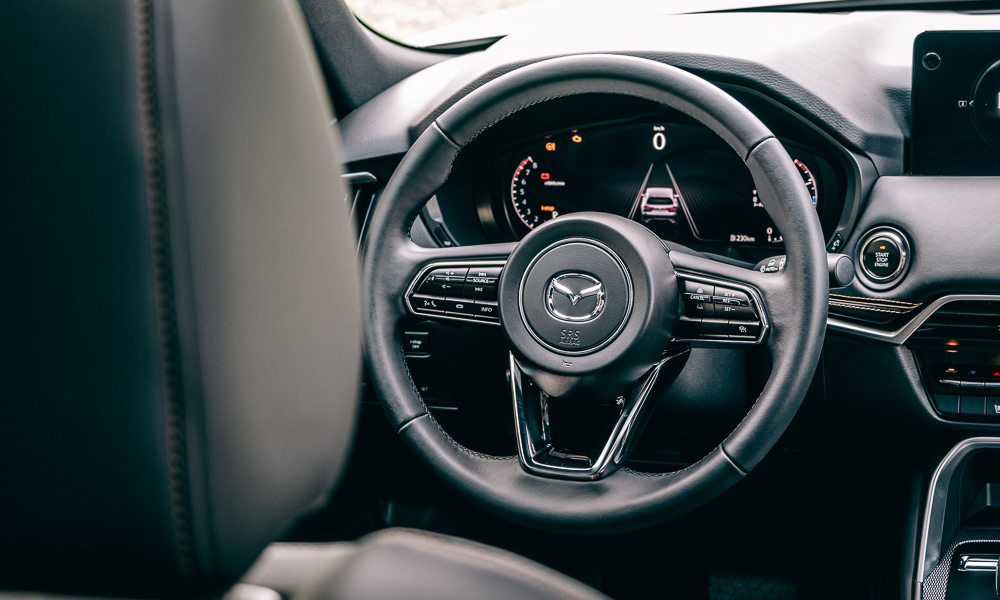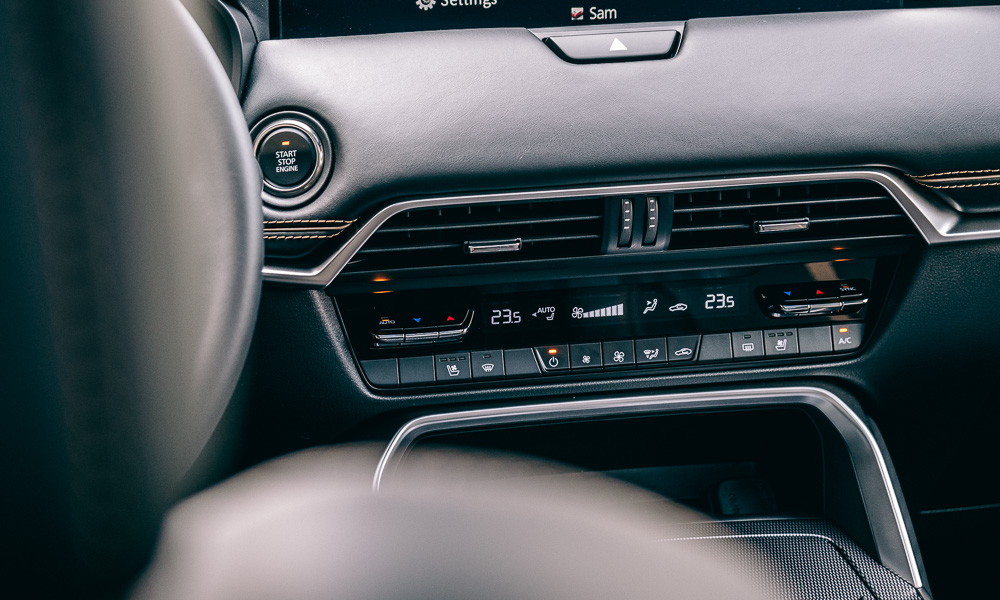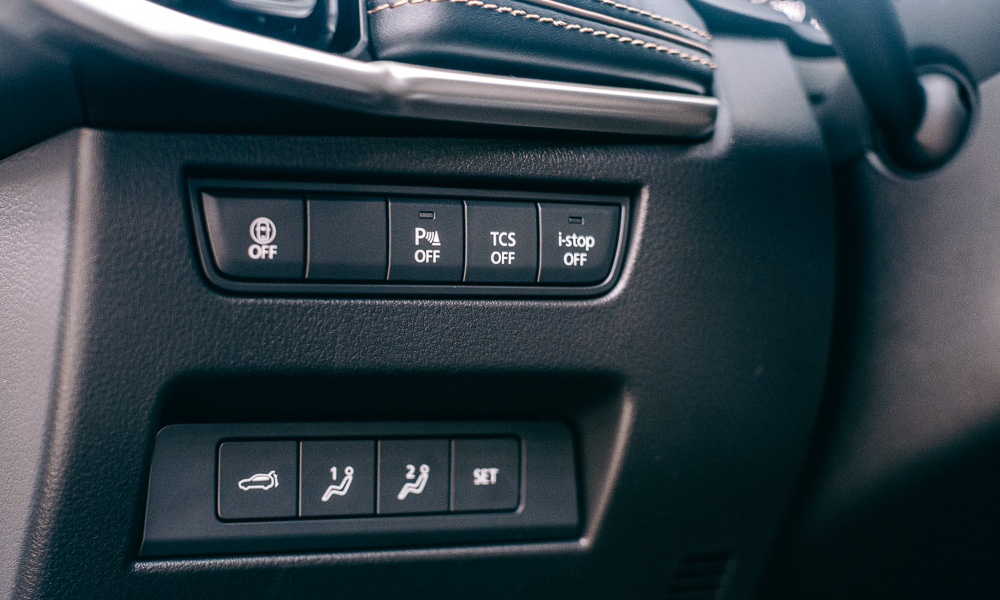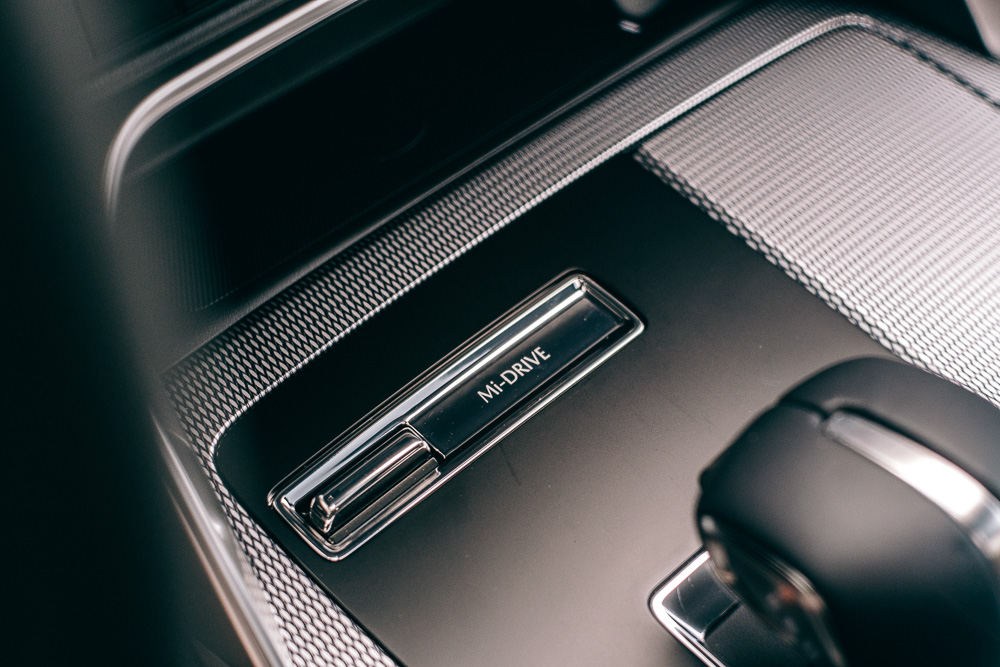 Materials are top-notch, with this model sporting black Nappa leather upholstery with bronze accents and aluminum trim panels. Fit and finish are sublime, with physical switchgear that has satisfying tactility, warm white ambient lighting, doors that close shut with reassuring clicks (à la Jeep), and elegant warning sounds that don't distress you when you hear them.
It's the little things that add up to the luxury experience.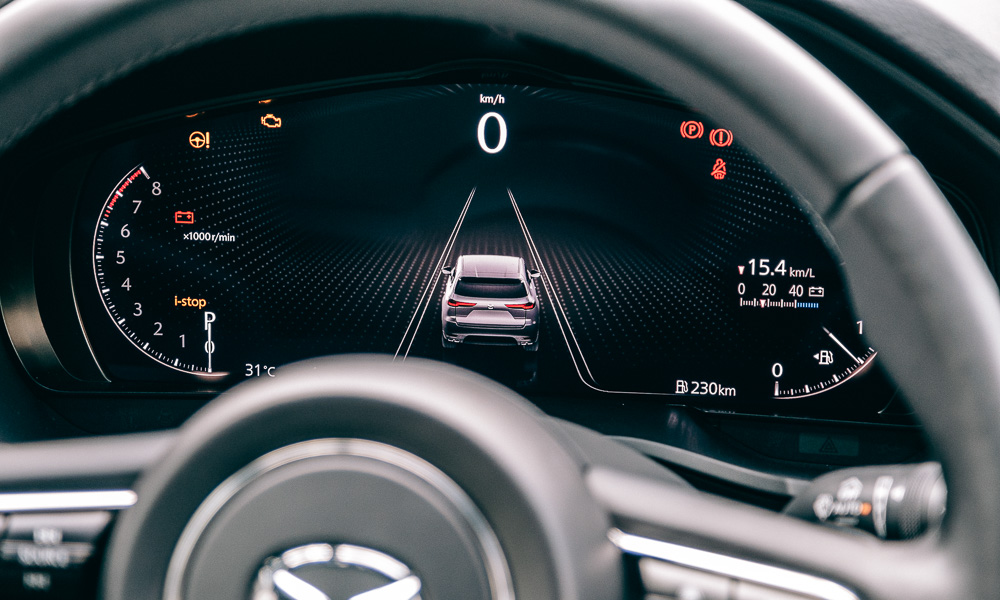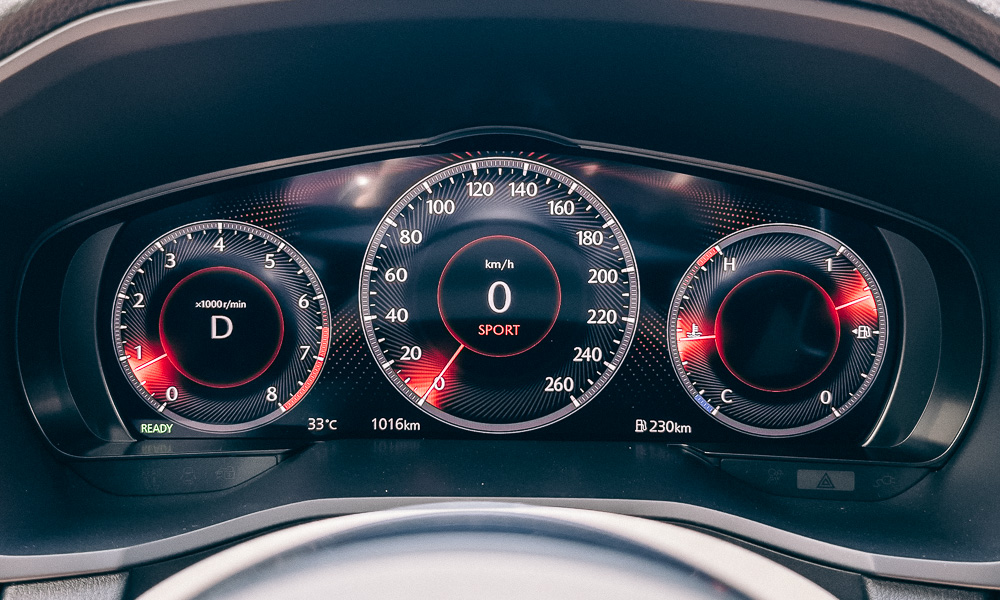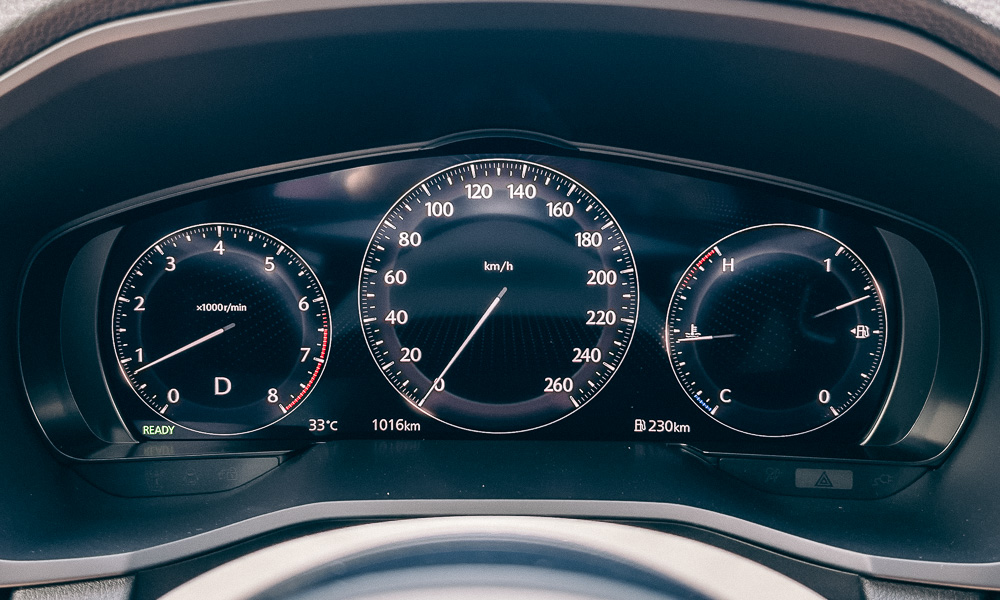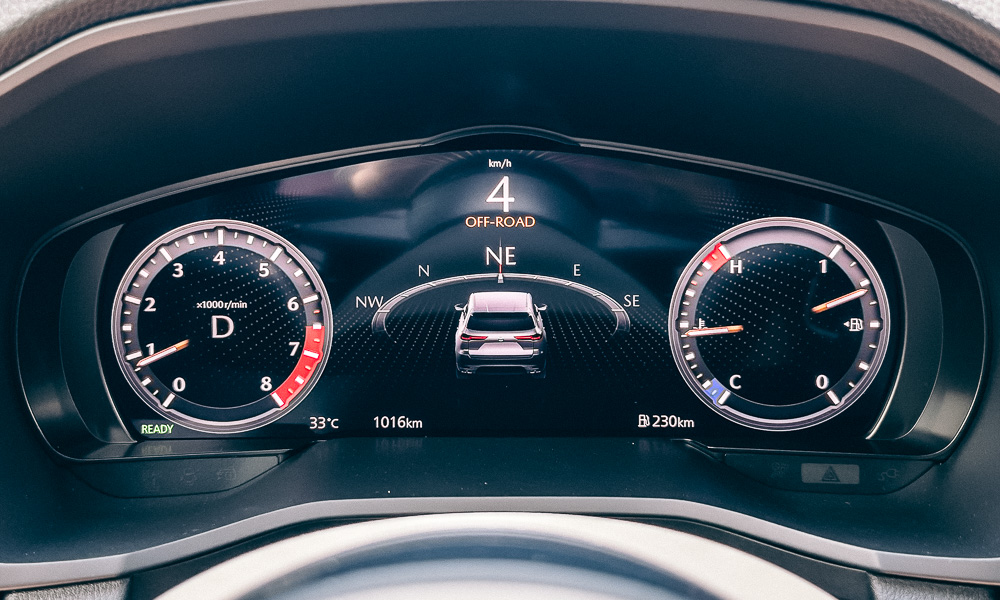 Another first are the two 12.3-inch screens.
The digital instrument cluster is sharp and smooth, but isn't very customizable aside from four different layouts depending on your drive mode (you can't display media info or maps).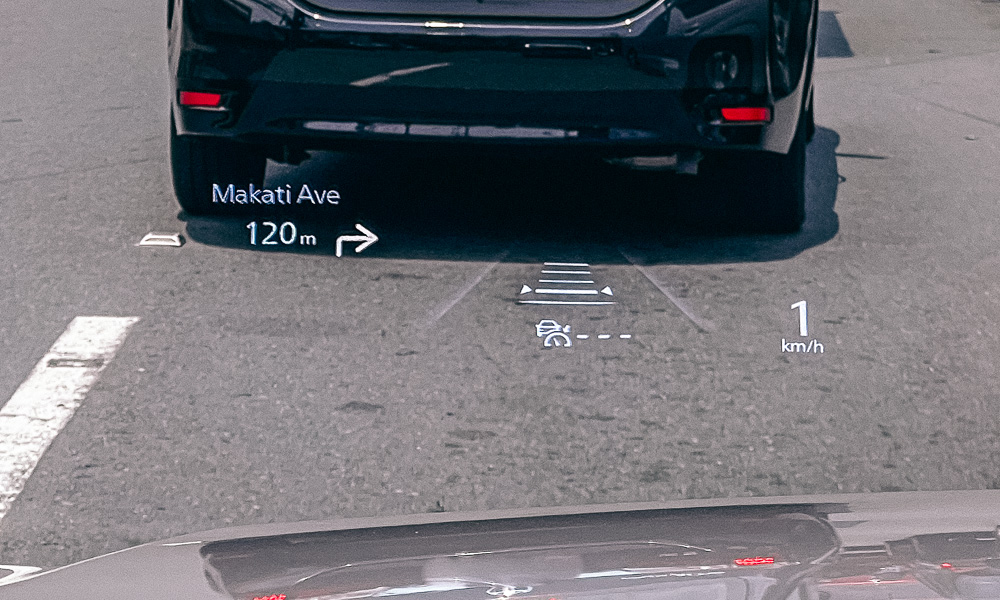 Fortunately, the 10.4-inch heads-up display has the ability to show directions from your smartphone's stock navigation app—assuming you only use Google Maps (for Android Auto) and Apple Maps (for CarPlay).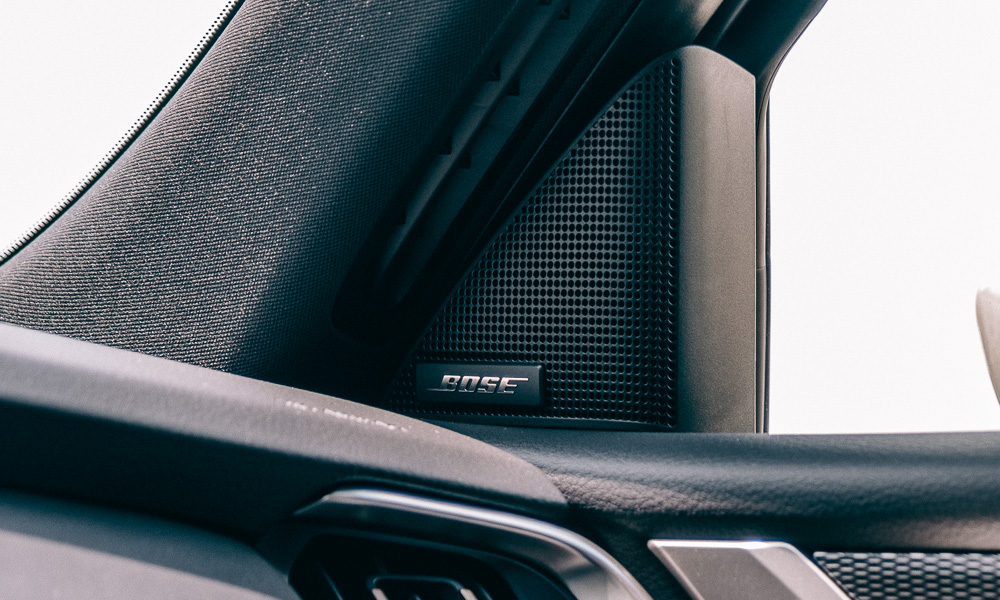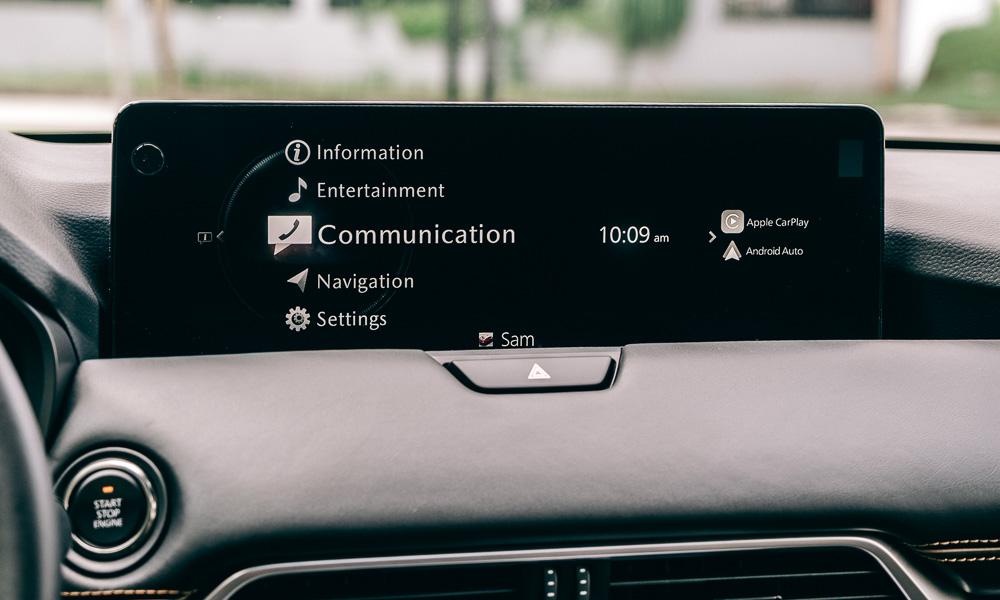 The center display is home to your controls and entertainment. It's bright and legible, but it's not as sharp as the screens that you'd find on other luxury brands. The ability to use the touchscreen with Apple CarPlay is absent, forcing you to use the commander knob in the center console for everything.
Also, while the smartphone integration is wireless (with wireless charging, of course), I would urge you to connect via the two USB-C ports to make the most of the amazing 12-speaker Bose sound system.
It's up there with the sound systems found in European brands in terms of depth, clarity and bass. It even supports native lossless audio playback, something only seen in aftermarket head units.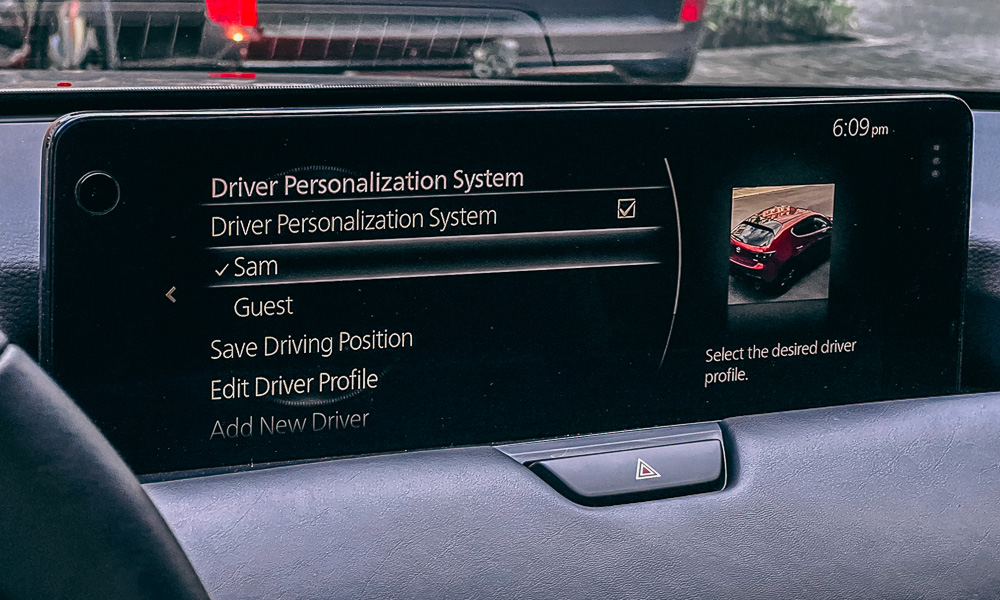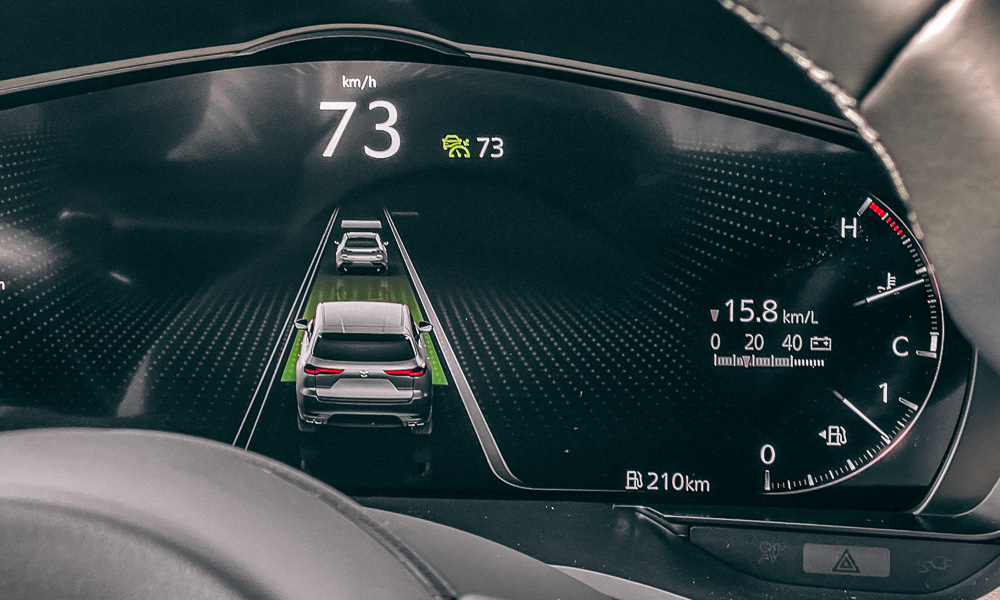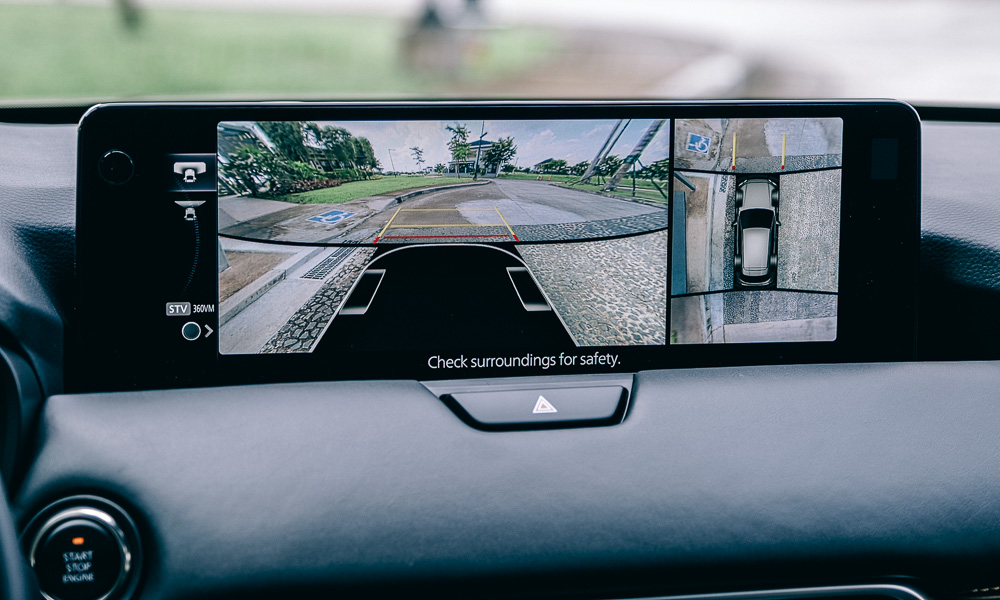 The Driver Personalization System sounds like a great idea to get you into the ideal seating position, but in practice, it would always set me a little too close to the steering wheel. It gives you the opportunity to adjust it before saving it, so I would treat this as a suggestion and a great way to easily switch between drivers without having to faff about swapping preferences every time.
The vehicle has great forward visibility, but with sizable blind spots by the D-pillars. The high-resolution 360° camera has a unique See-Through View mode, which takes some getting used to but helps immensely when positioning this large crossover. The i-Activsense safety suite may not have the most features, but it's one of the most unobtrusive ones out there, and I even enjoyed driving with the Lane Keep Assist left on.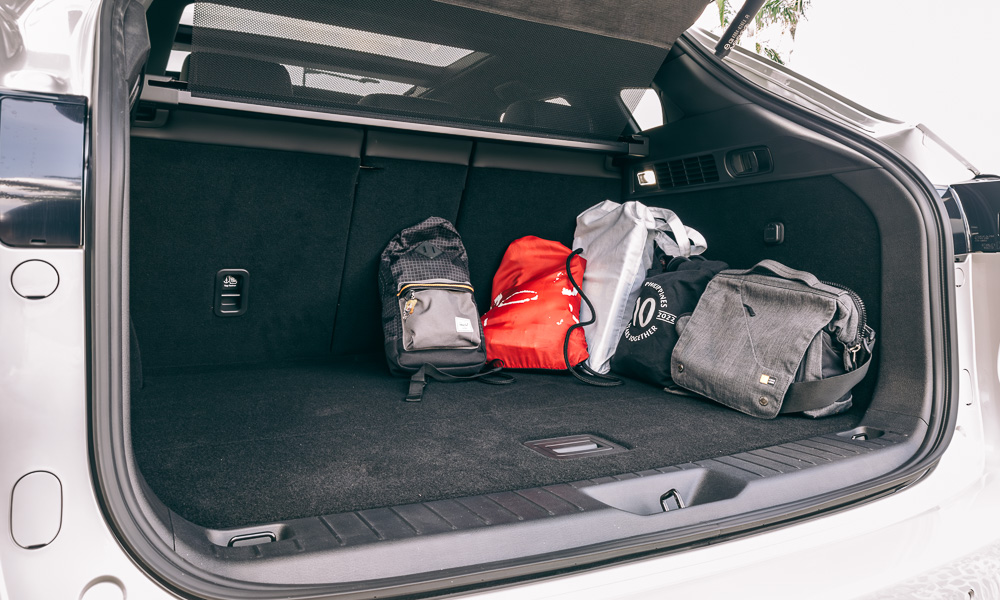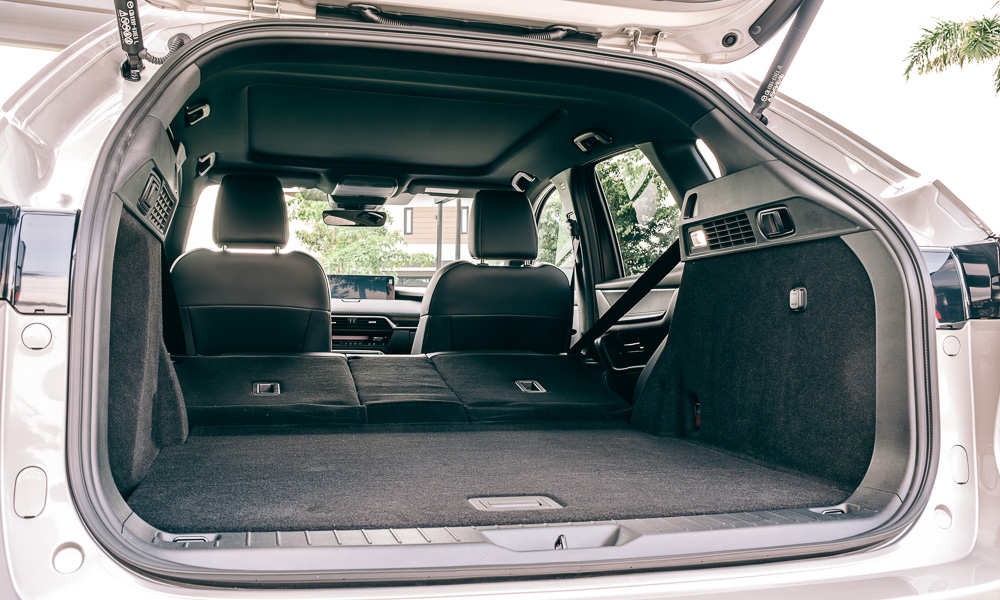 Of course, as a crossover, it has 570L of usable cargo space. It comes with a removable cargo cover with a transparent see-through portion, and the 40:20:40 rear seats can be folded from the back to expand that even further to 1,148L.
Do note that these seats don't fold flat, and that there is a space saver with a subwoofer underneath the load floor, unlike others with "fix-a-flat" kit that can get confusing to use.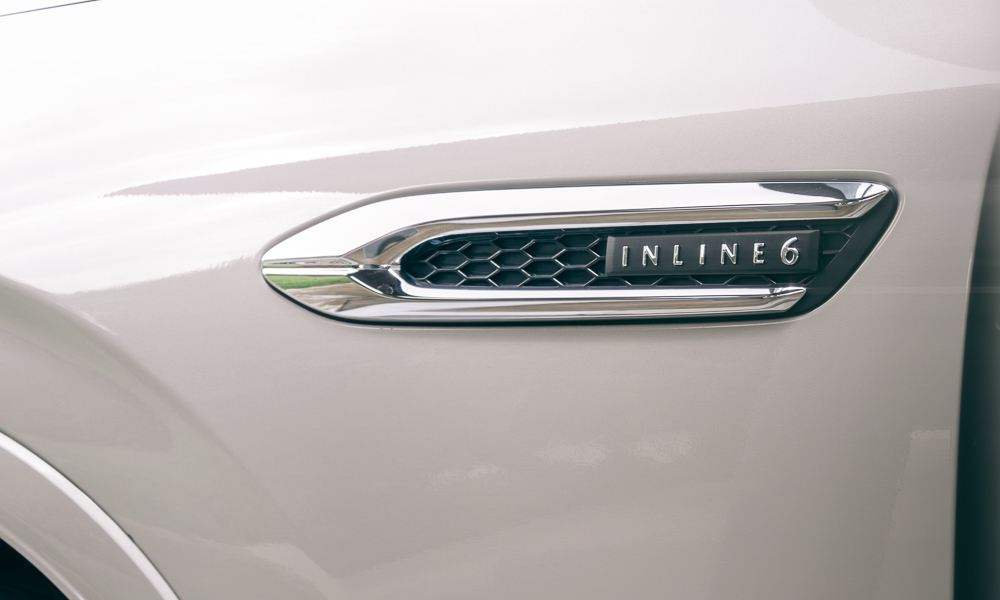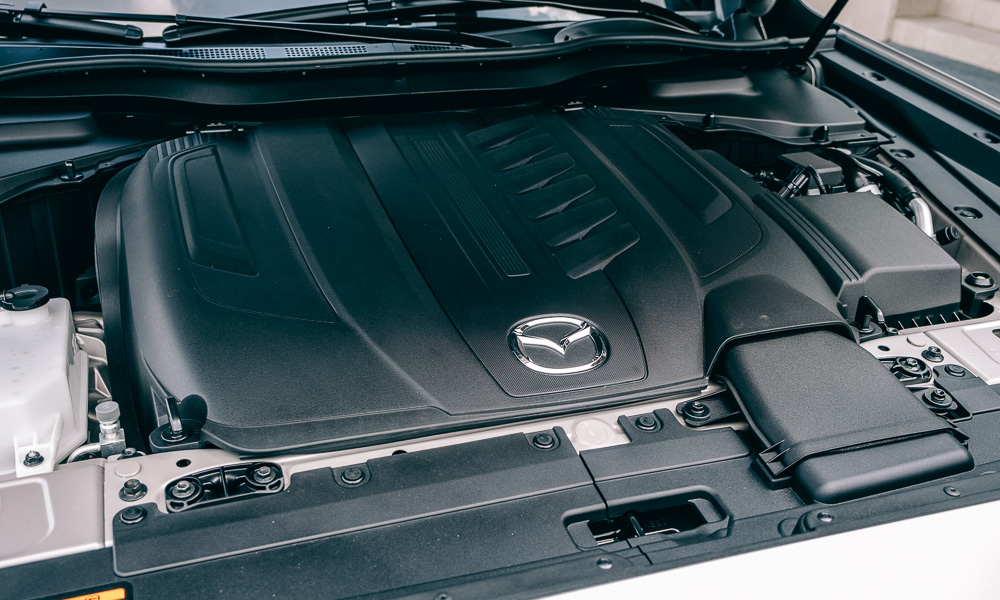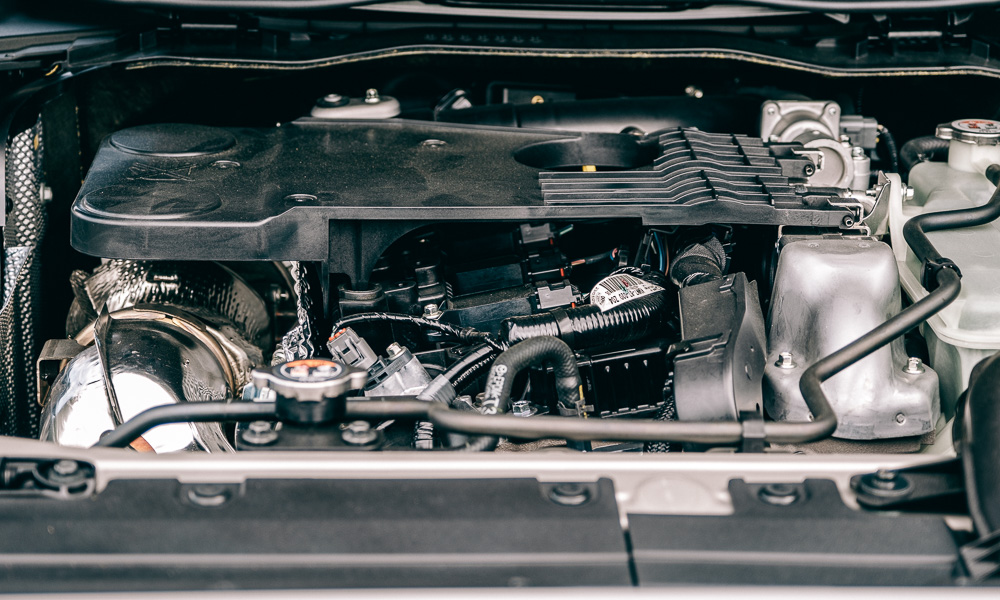 At this point, it sounds like I'm going to end up waxing lyrical about the CX-60, especially with that gem of a powertrain. Who wouldn't like a 3.3-liter, mild-hybrid turbocharged straight-six gasoline mill that sends 280hp and 450Nm to a rear-biased all-wheel drive system?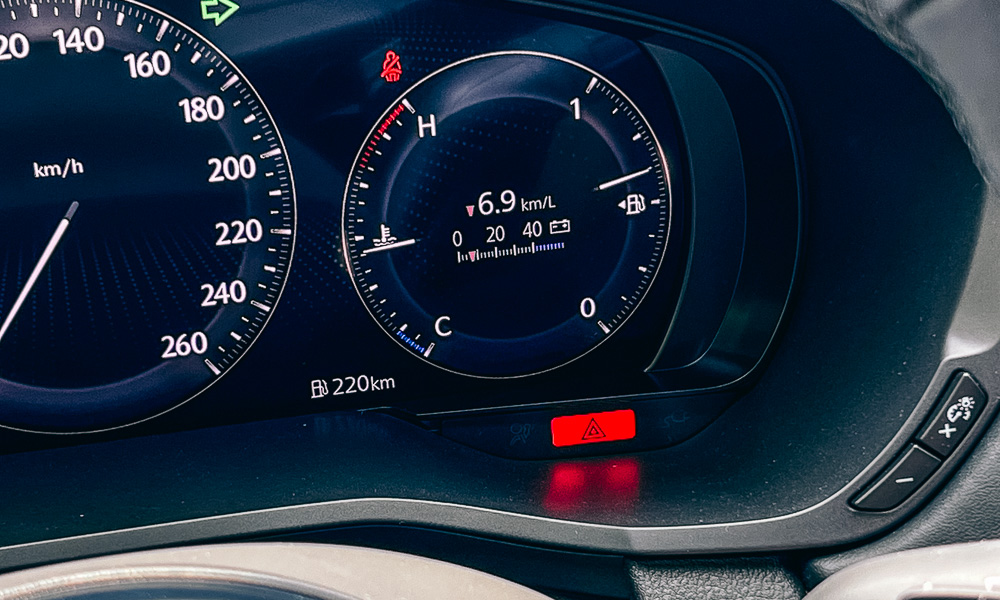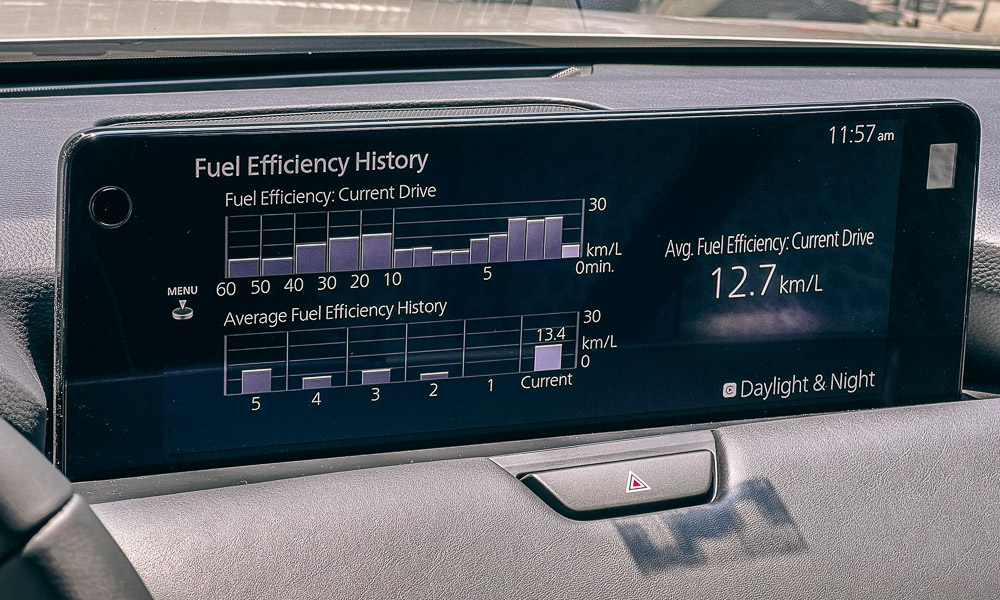 Sadly, despite that engine's insane refinement, freight train-like linear power delivery, and surprising fuel economy (6.9km/L in the city; 12.7km/L on the highway) from its excellent engine start-stop system that has engine coasting, the transmission is the vehicle's weakest link.
Mazda's previous six-speed torque converter automatic is known for its smoothness and responsiveness, especially in the city. Unfortunately, the new eight-speed automatic—which uses a multiplate clutch and an electric motor—is jerky in low-speed situations, with stop-and-go traffic and incline parking being the worst scenarios.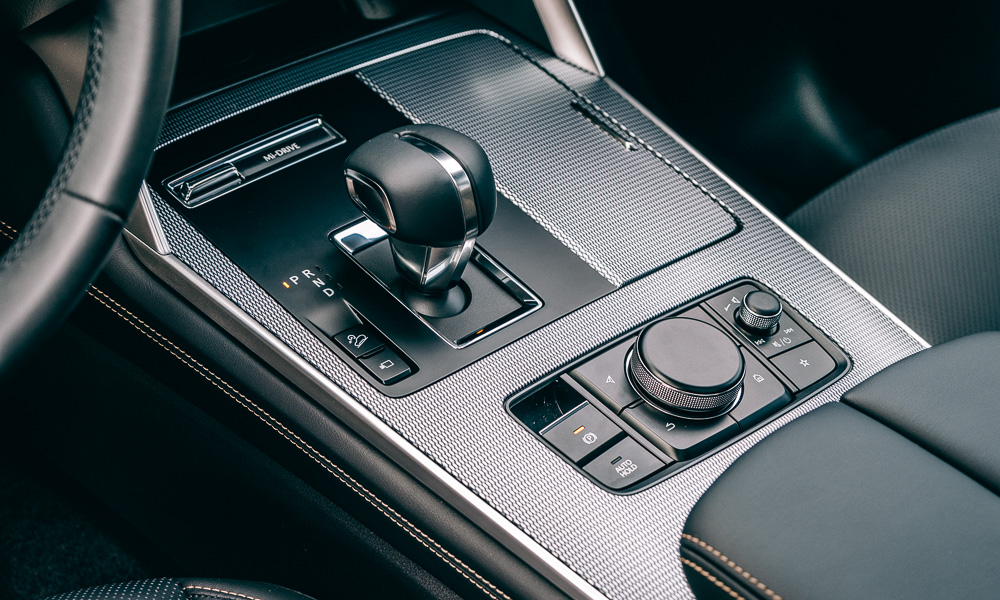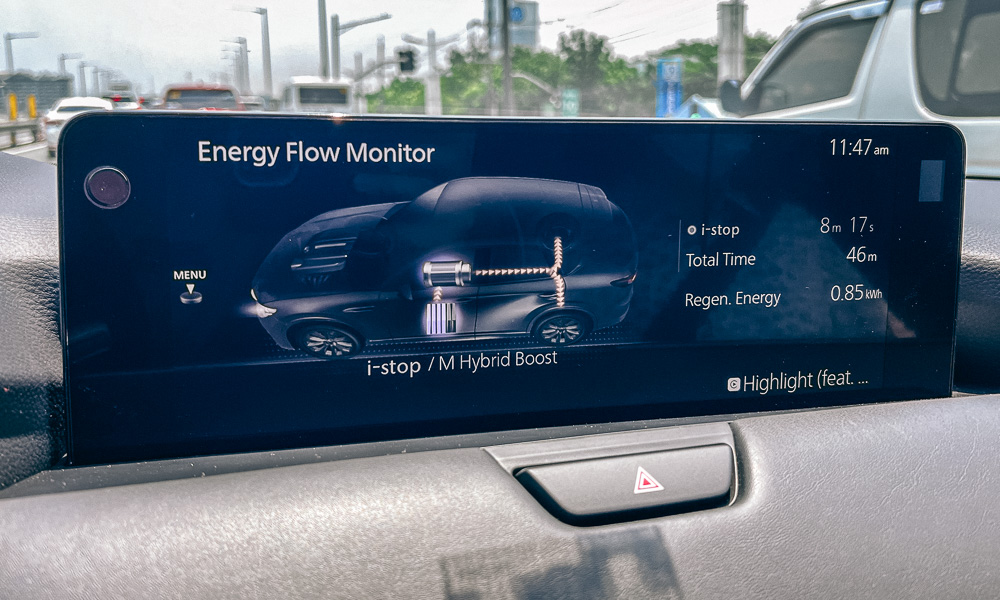 I thought I was the only one, but talking with actual owners, browsing through forums, and seeing international publications experience the same thing makes me wonder if the new transmission has some teething pains that should be addressed as soon as possible.
I was able to smoothen the experience out a bit by changing my driving habits—basically driving it like a dual-clutch automatic. An issue like this shouldn't be present in the first place, and most drivers will just expect to get in and drive without any issues. But it isn't all bad. Get up to speed and the shifts become quick and smoother, kicking down instantly if you need to overtake or just want to sample the straight-six you paid for.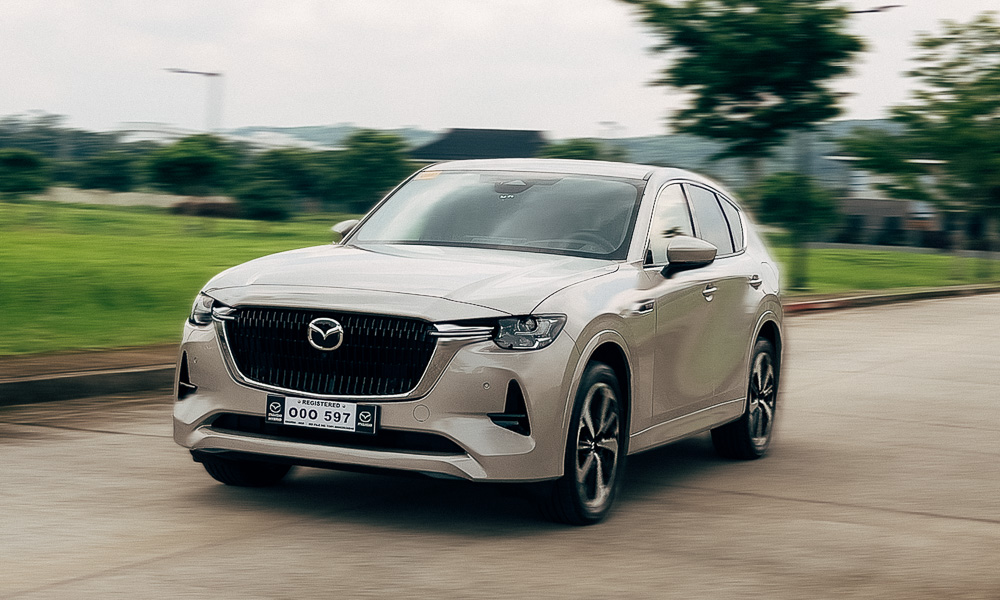 It has excellent NVH characteristics, making expressway jaunts a relaxing affair. But those expecting a luxury crossover-like ride will be disappointed to find out that the ride is stiff, especially compared to the CX-5 and the CX-8. It rides a little harshly over speed bumps, potholes, and undulations, and the 175mm ground clearance won't have you fording through floodwater.
But the trade-off comes in driving enjoyment. The steering is nicely weighted, but also snappy enough to turn in on a dime when needed. Despite its hulking size, it has a very nimble minimum turning radius of 5.4m. Going through one of my favorite banked corners, I was surprised by how well-controlled the body roll was with Kinetic Posture Control working its magic.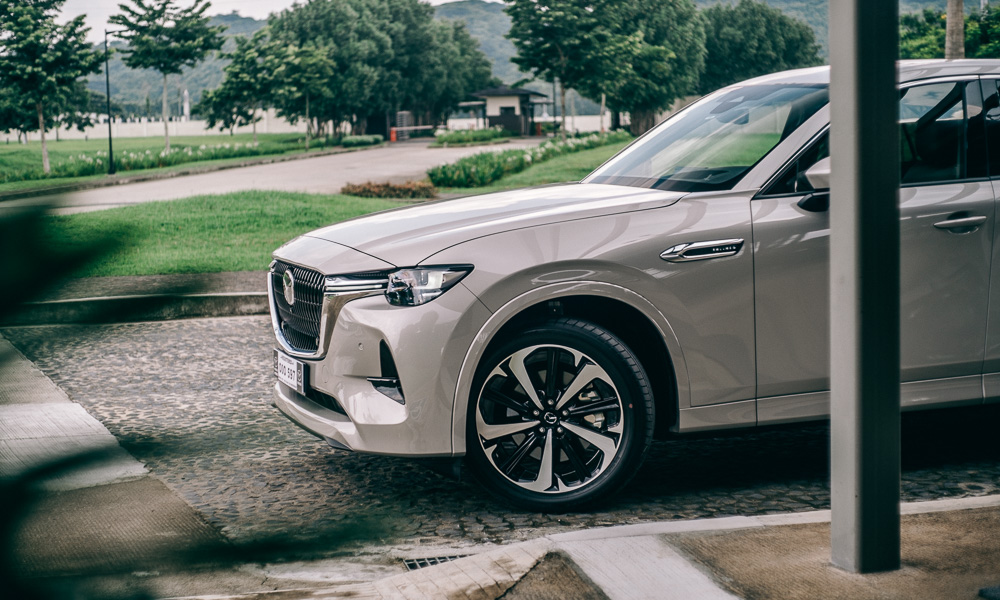 As an enthusiast, I applaud Mazda for staying true to its fun-to-drive spirit (or jinba ittai). Driver's cars, basically. But most people, including the several owners I talked to, see it as an interesting and affordable alternative to traditional luxury brands. Yes, P2,790,000 is a bargain for what it offers.
The majority of them fully expect it to be like one—a plush, comfortable ride whether they are driving or being driven. It's a great car, don't get me wrong, but more people need to understand where the brand is coming from to level their expectations.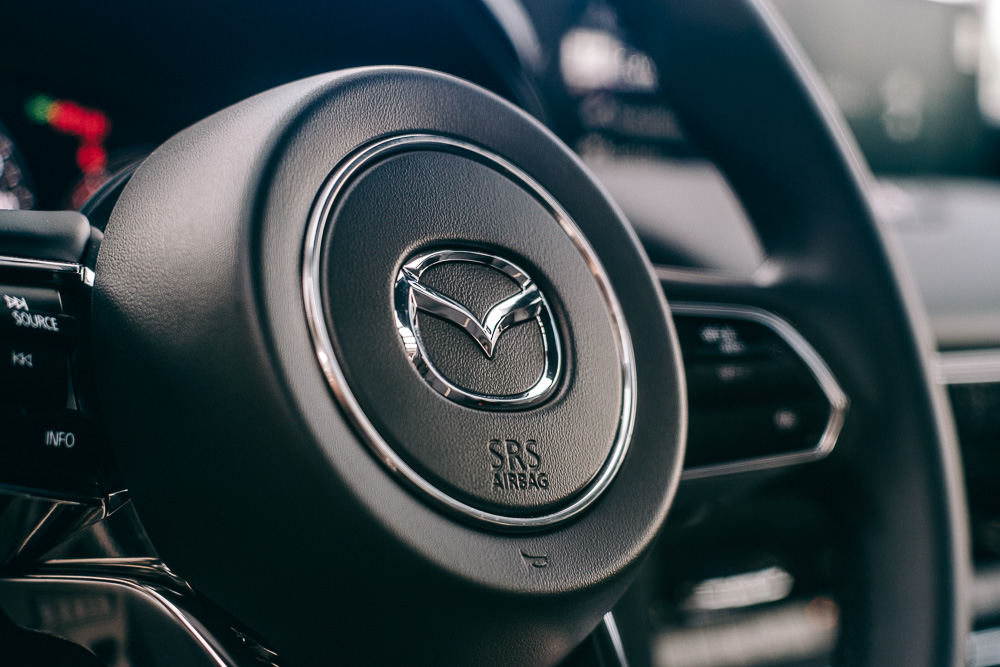 It certainly has the potential to be a disruptor in the Philippine luxury market, and the chosen one to help elevate the brand's image. I'm just hoping that the automaker has a solution for the transmission's jerkiness because that problem alone can make or break this and the upcoming CX-90's reputation in our market.
MAZDA CX-60 AWD HEV TURBO
| | |
| --- | --- |
| Engine | 3.3-liter in-line-six turbo gasoline with 48V mild-hybrid system |
| Transmission | 8-speed automatic |
| Power | 280hp @ 5,000-6,000rpm |
| Torque | 450Nm @ 2,000-3,500rpm |
| Dimensions | 4,745mm x 1,890mm x 1,680mm |
| Drive layout | AWD |
| Seating | 5 |
| Price | P2,790,000 |
| Upside | Incredible value for money as a luxury vehicle, and an amazing in-line-six engine. |
| Downside | The jerky transmission and a stiffer ride compared to other luxury crossovers. |