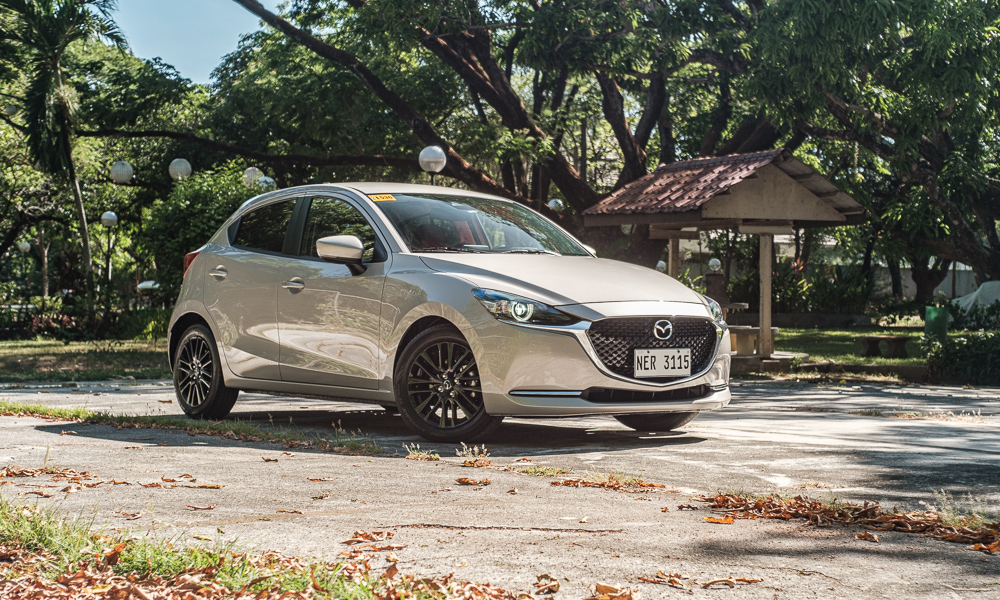 When comparing the Mazda 2 to the other subcompact cars, it sits on the expensive side of the spectrum. You'll find top-of-the-line trims that involve some sportiness that some people don't like.
With Mazda repositioning itself as an upmarket brand, it doesn't have the same problem as it did before. Being freed from the constraints of trying to compete with other mass-market brands, the 2 now manages to position itself as a premium offering in its segment.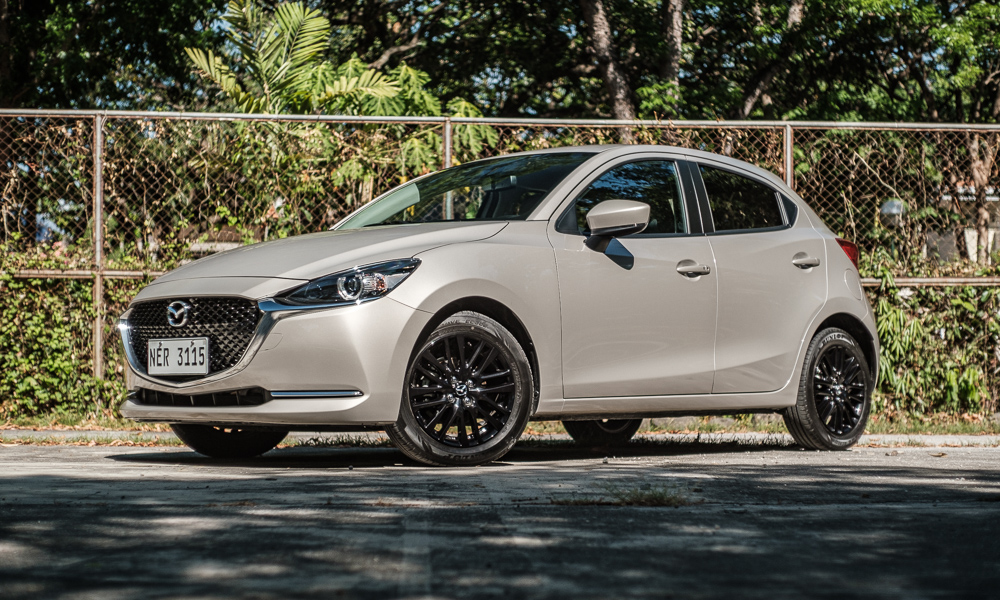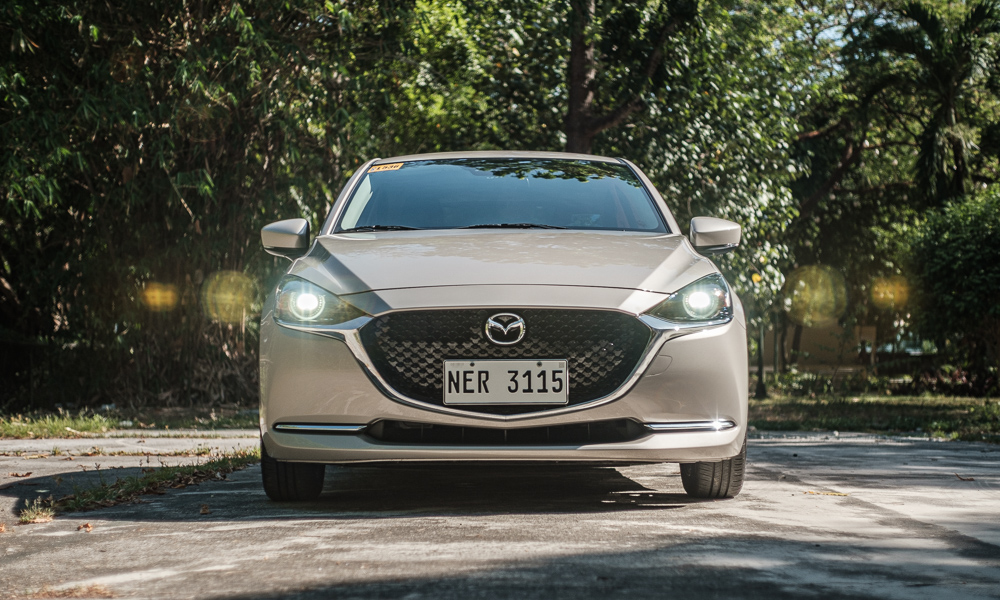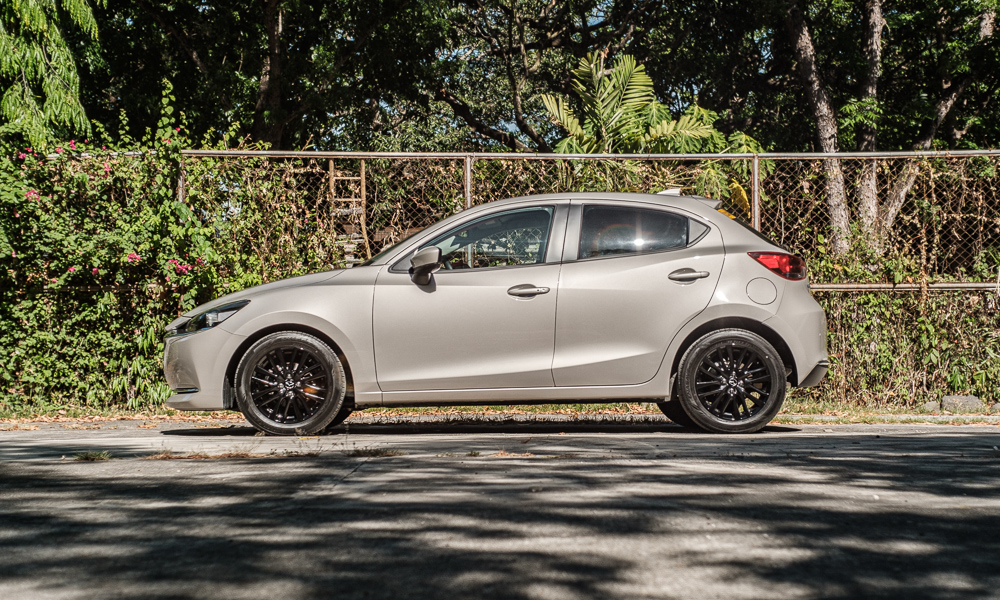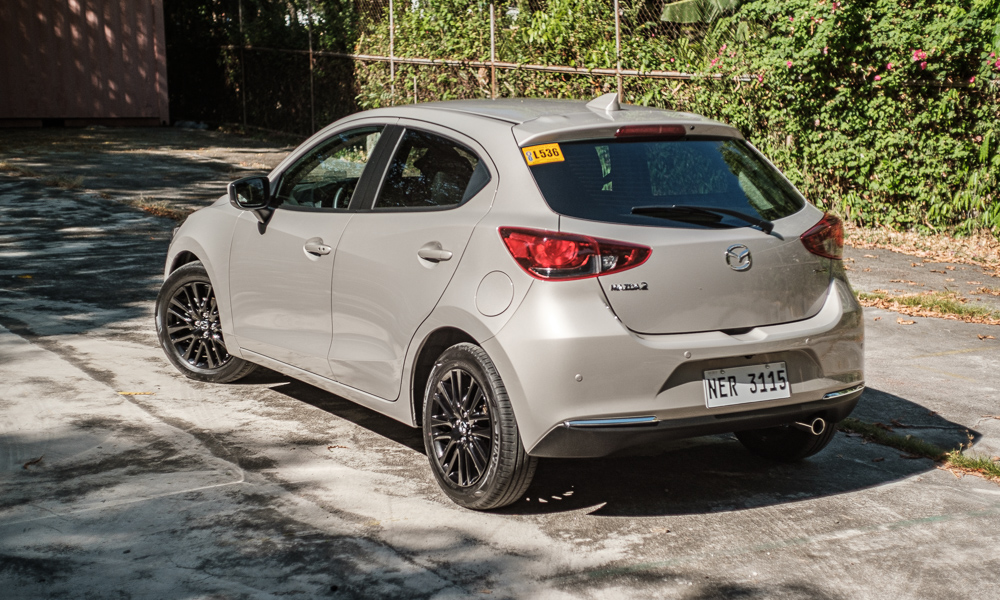 I've said it before in a review of the sedan (which has been discontinued for 2022) that the hatchback is the better-looking of the two. The proportions are better, and small touches like the redesigned gloss-black grille and the subtle chrome strips on the bumpers help elevate the design. But I wish Mazda went all LED with the lighting, as the turn signals and the plate lights (including cabin lighting) are halogens. Nothing that the aftermarket can't easily fix.
Personally, I love the gloss-black 16-inch wheels. But I agree with my friends that silver or chrome wheels would look a little more luxurious, especially with the color of this specific demo unit.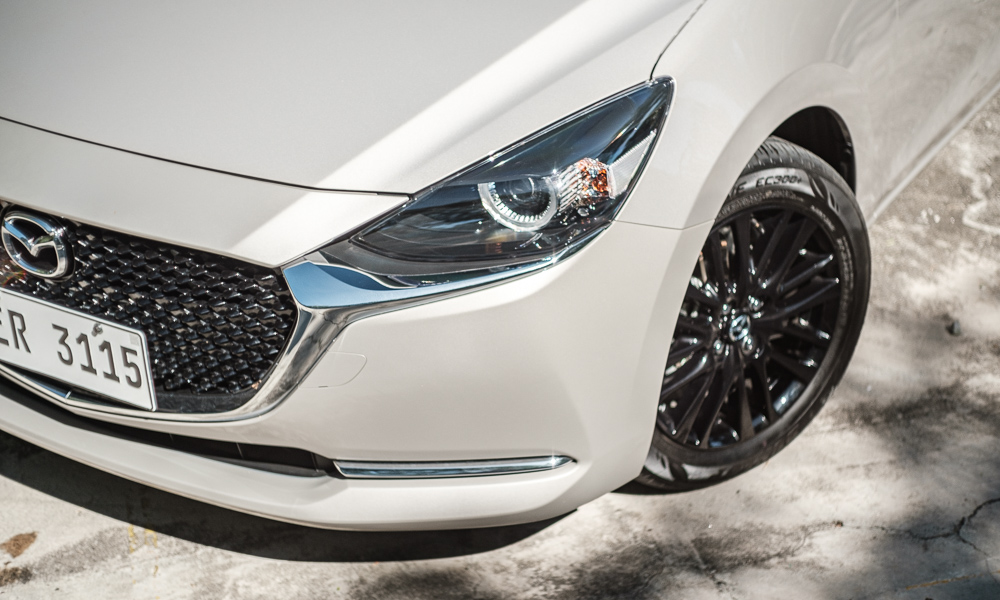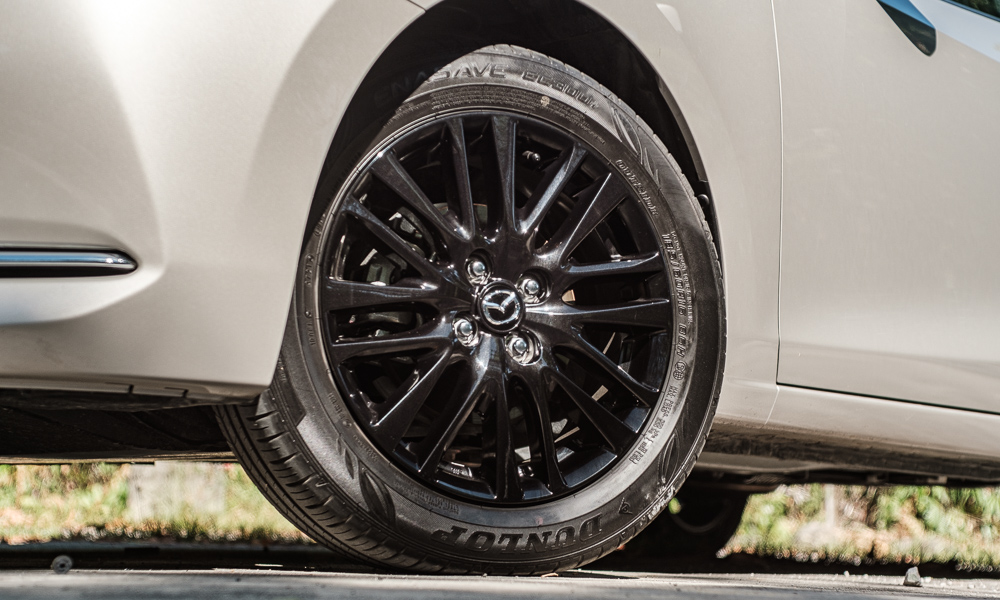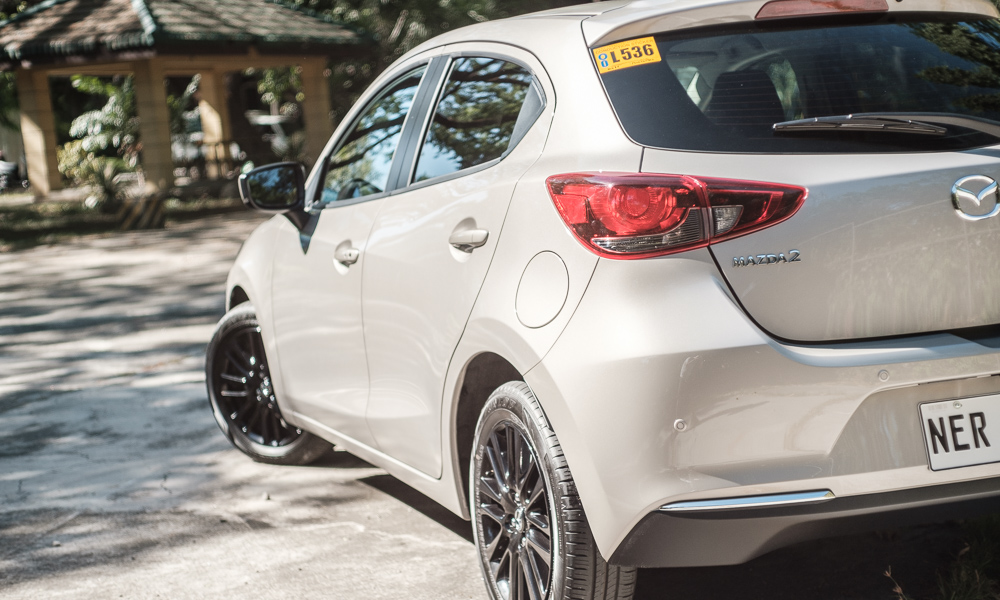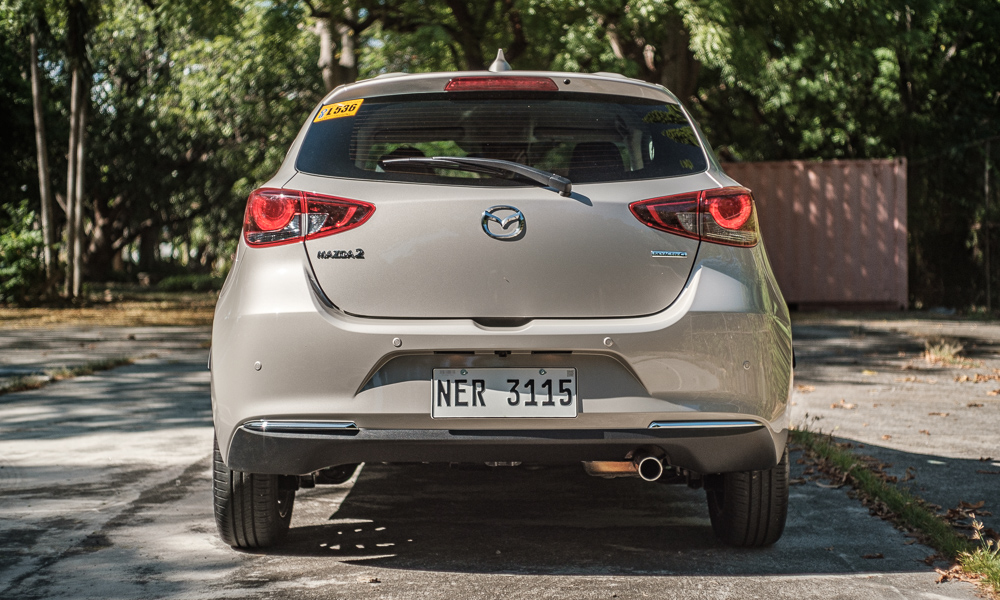 While the trademark Soul Red Crystal and Machine Gray colors are desirable and available, you have to get this car in Platinum Quartz.
Just like Polymetal Gray, this color is extremely hard to reproduce in photos, and it's something that you must see in the metal. This warm, earthy platinum hue is extremely pleasing to the eye. Under direct sunlight, it draws out the dramatic curves and lines in the bodywork. It also faintly "glows" at dusk, which is something I've only seen in finishes from brands like Lexus.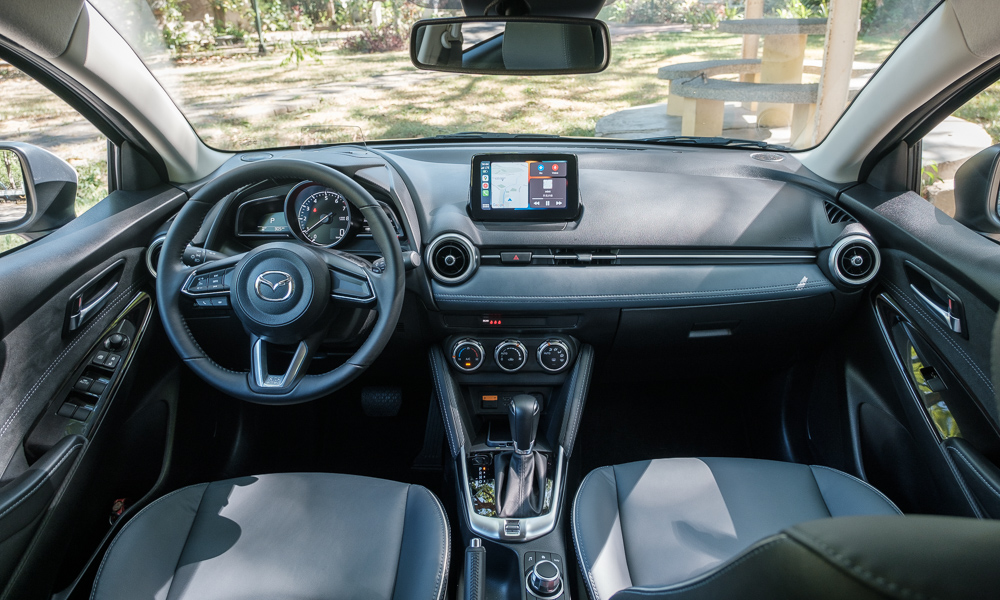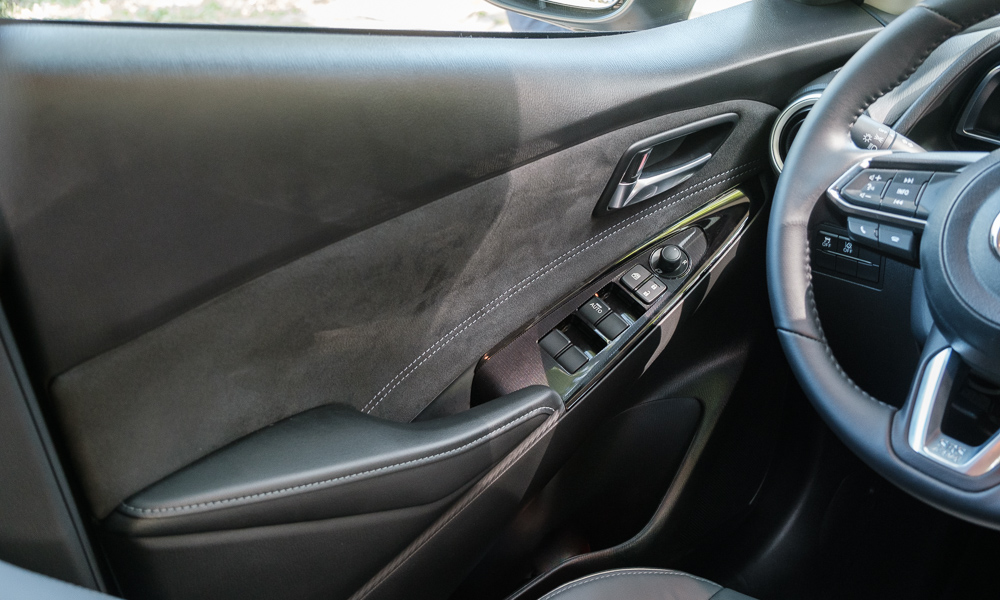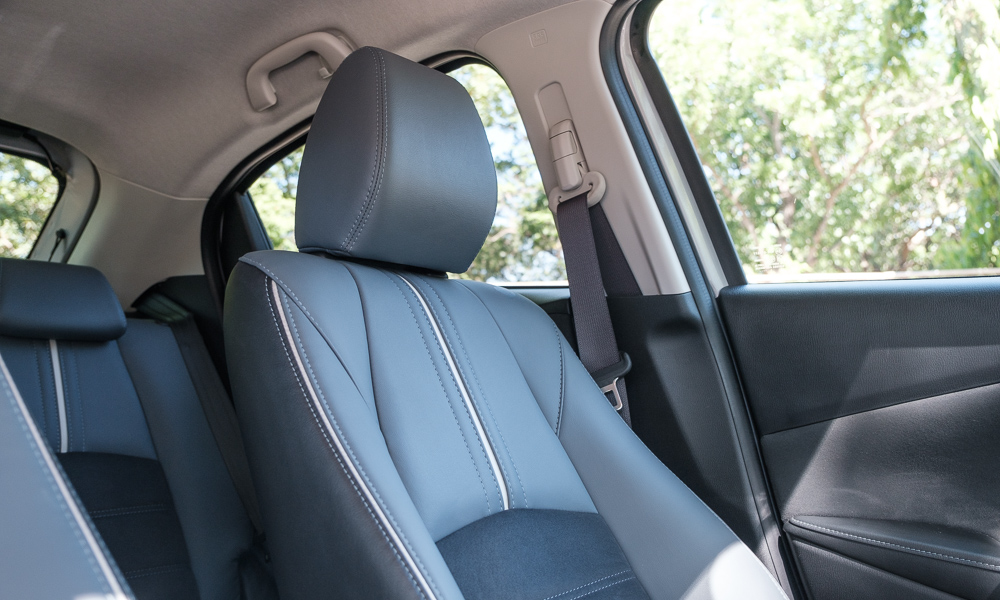 One of my complaints about the previous model year's interior was that it had too many materials. You'd have black and brown fabric seats, faux carbon fiber, hard plastic, and textured piano-black plastics. Sporty? Yes, but not elegant.
Thankfully, the jump to more premium materials also lends to a more cohesive cabin. Gone are the textured plastics, and in their place is navy-blue leather with suede upholstery. You can see hints of the faux carbon fiber in various places, but the execution lends to a very sophisticated-feeling experience.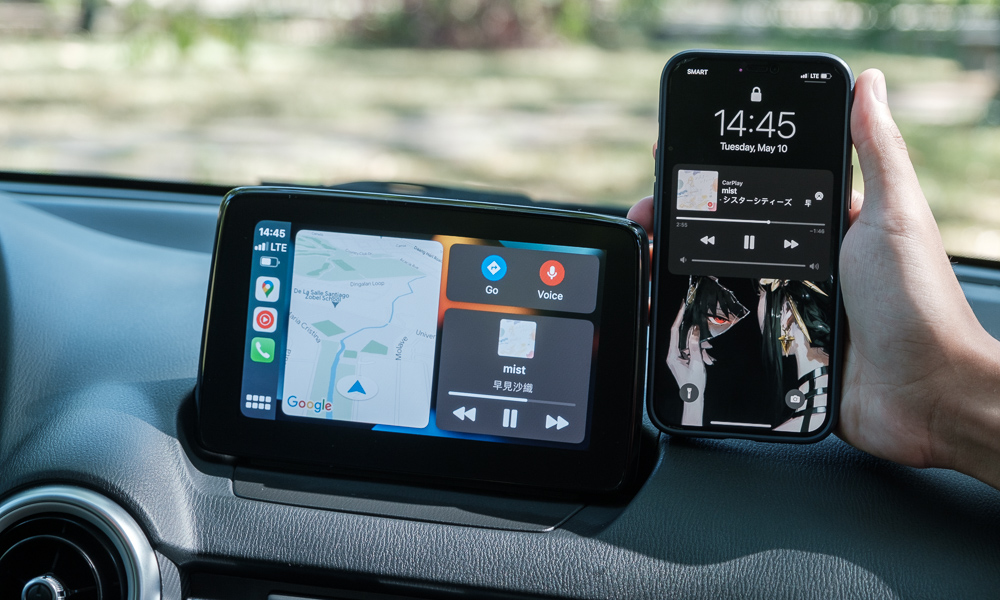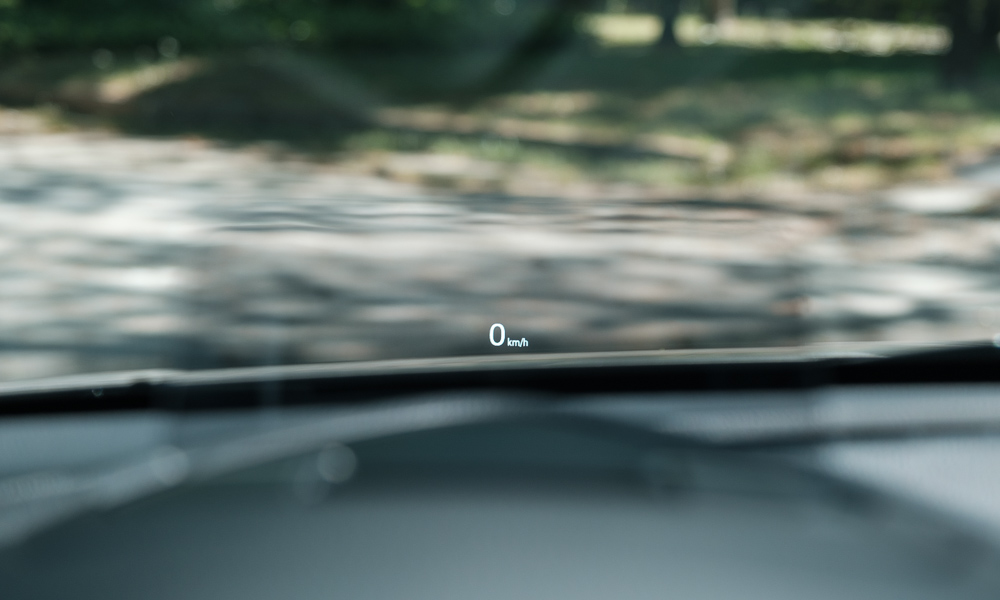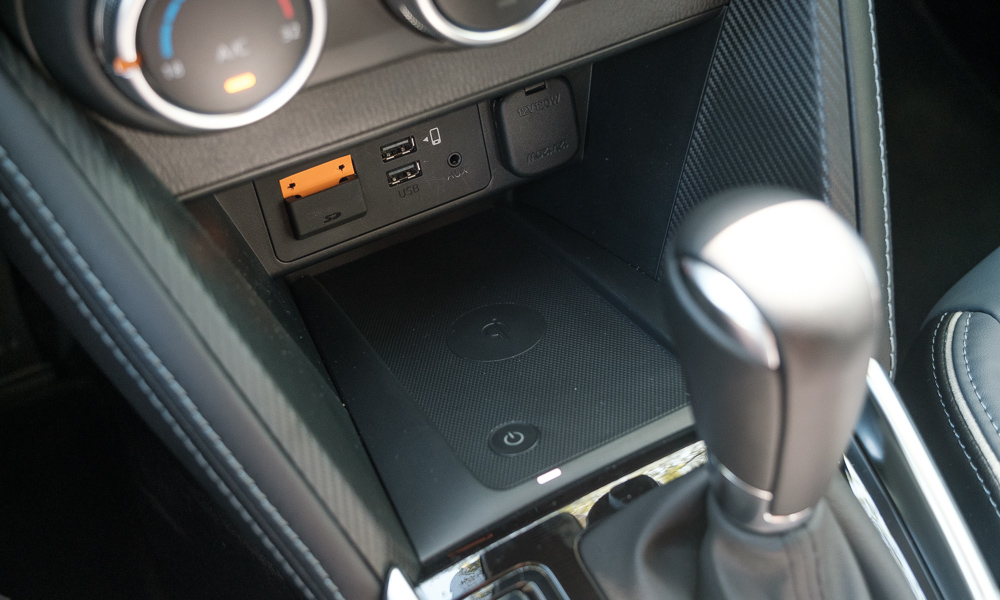 The 2 receives a couple of goodies normally reserved for more expensive cars. It also gets a heads-up display (which projects on a little plastic window), like early Mazda HUDs (newer models project onto the windshield). It's genuinely useful for keeping track of speed (and your blind spots), plus adding to the cool factor. There's an auto-dimming rearview mirror, too, but it obstructs forward visibility a bit with how thick it is.
Finally, there's wireless Apple CarPlay (Android Auto is wired) and wireless charging. While it works well (and is easy to set up), I've had moments when the wireless charger would stop working because my phone got too hot. This has also happened in other cars with both options, so it's nice to be able to fall back to wired connection.
The car also has the i-Activsense suite of safety features like blind-spot monitoring with rear cross-traffic alert; lane departure warning; autonomous emergency braking (front and rear); and driver attention alert. Oddly, there's no cruise control, which is a feature that even cheaper cars have now.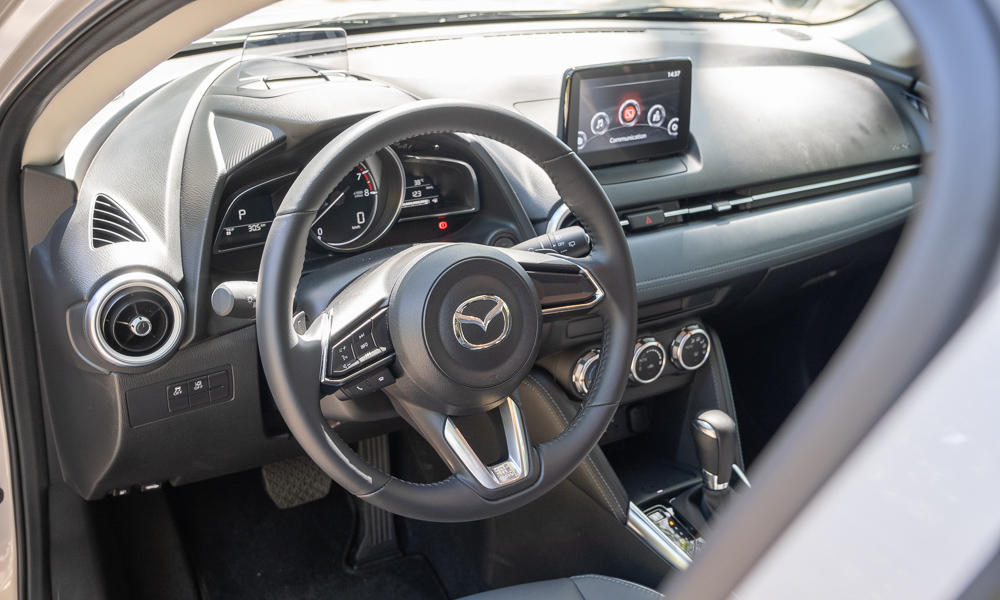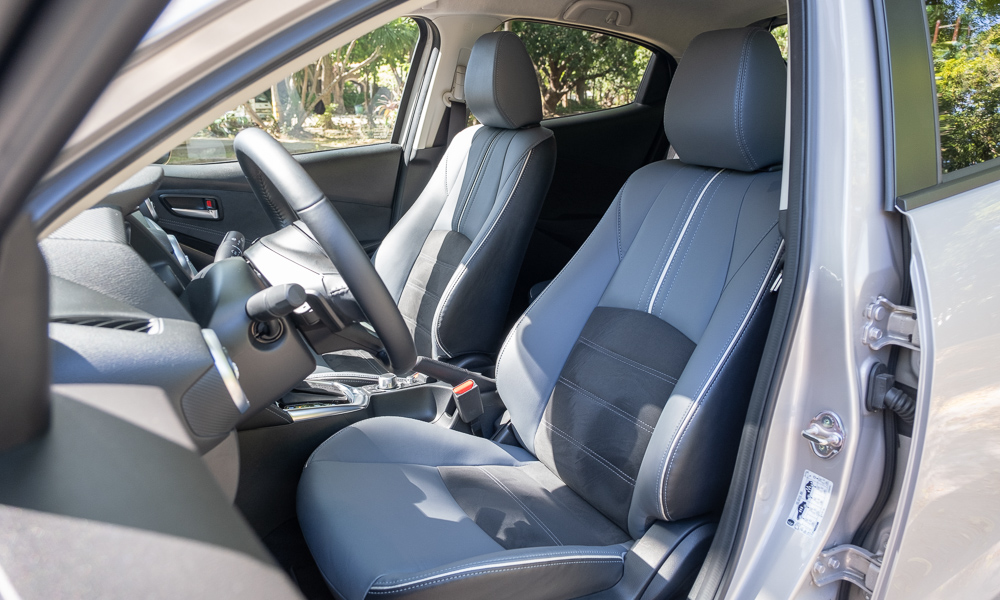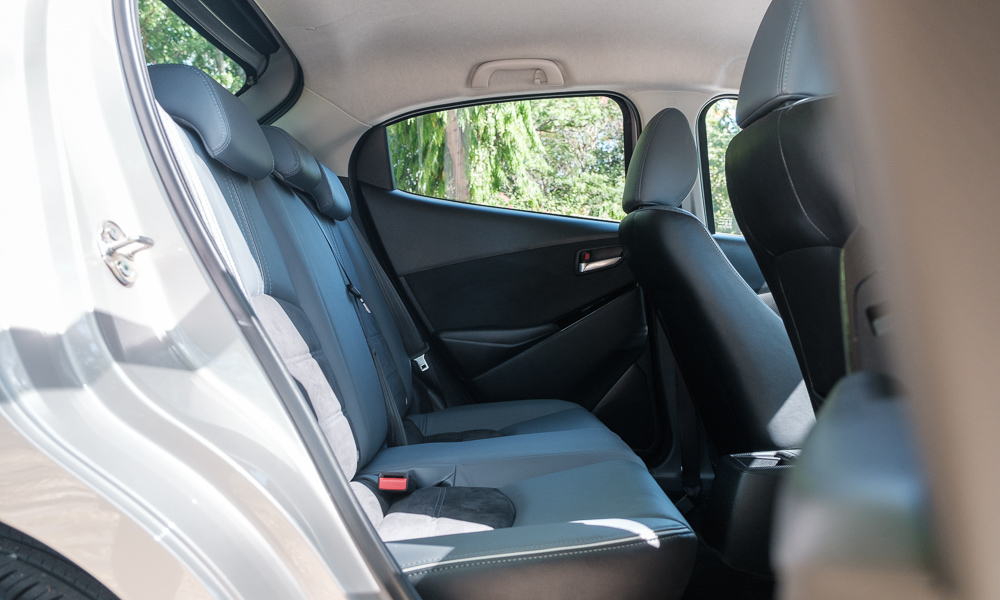 Other than that, the layout is very familiar. The hatchback is not as roomy as its competitors, but it offers a very driver-oriented cabin with excellent visibility, seating position, and ergonomics for the first two rows.
Unfortunately, it still suffers from the lack of legroom in the second row, but taller people will have no headroom problems (unlike in the sedan). While rear vents might not be needed for a cabin of this size, it would've been nice to have them (plus charging ports) since other subcompacts offer these.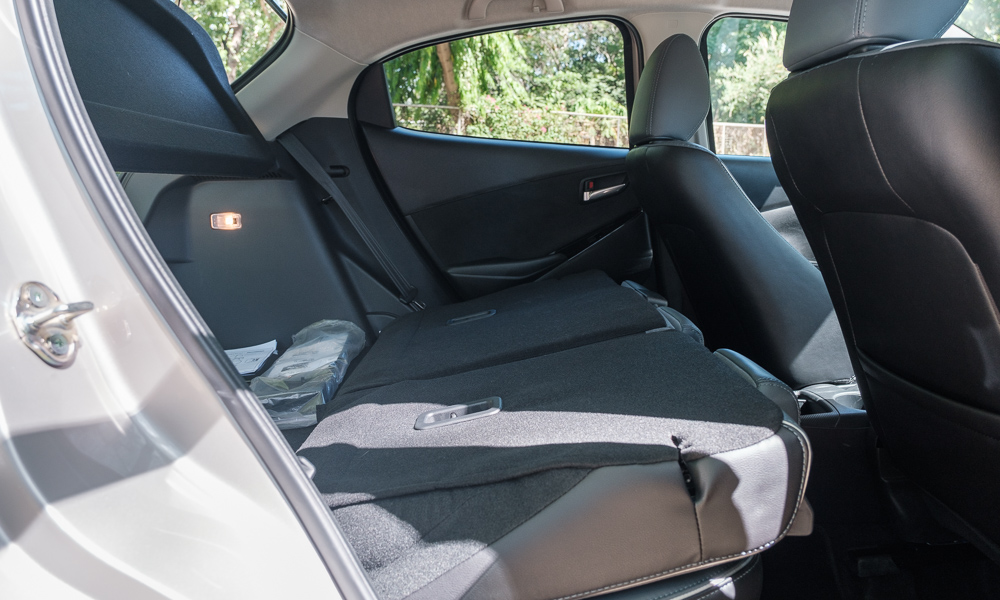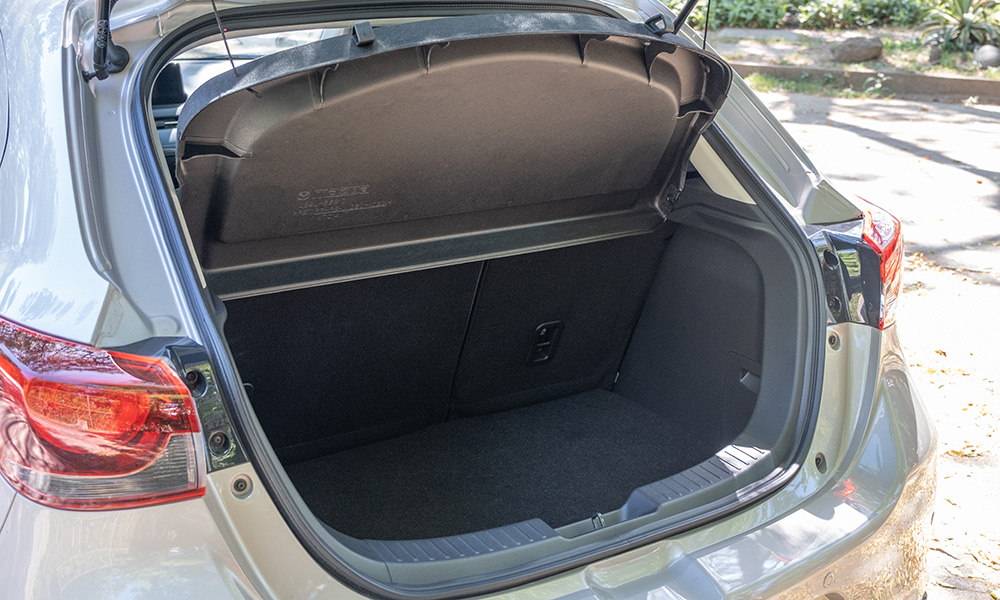 Practicality-wise, you'll want to look elsewhere. The door cards can fit a 24oz Nalgene bottle, but there's paltry center storage and two cupholders that interfere with the operation of the rotary knob controller.
The boot has a high load lip and a small opening, so you'll need to get creative when loading items. There's 280L of cargo room with the rear seats up; at least you can fold the rear seats down for anything bigger or longer.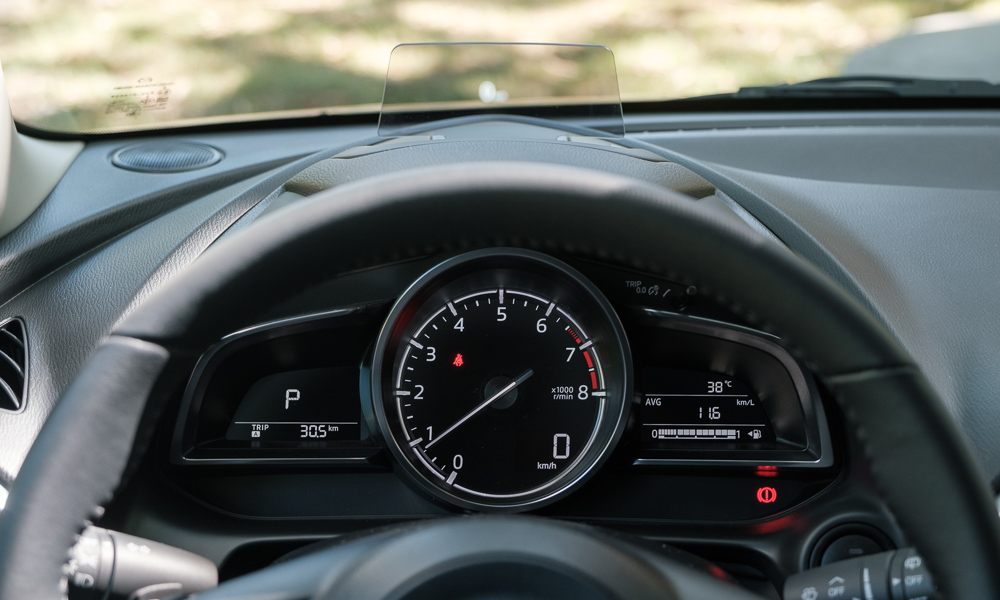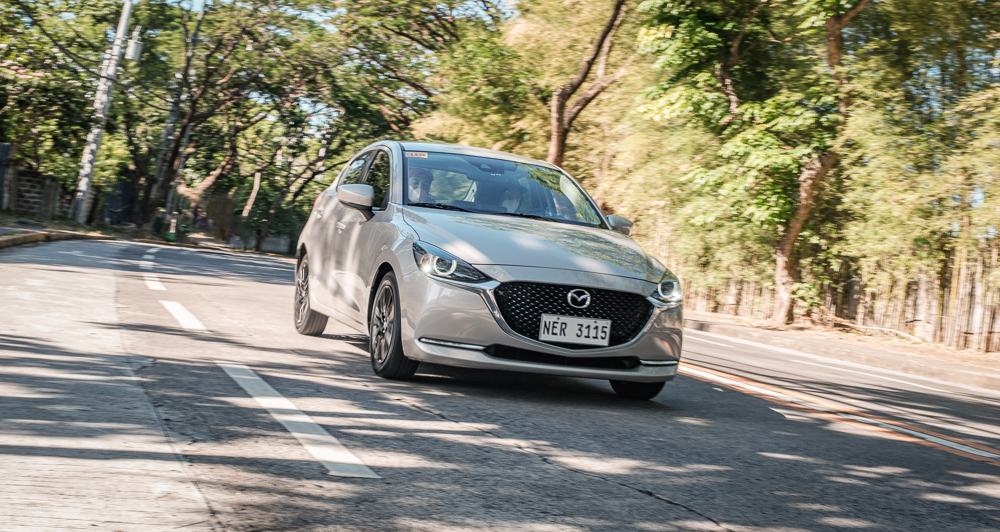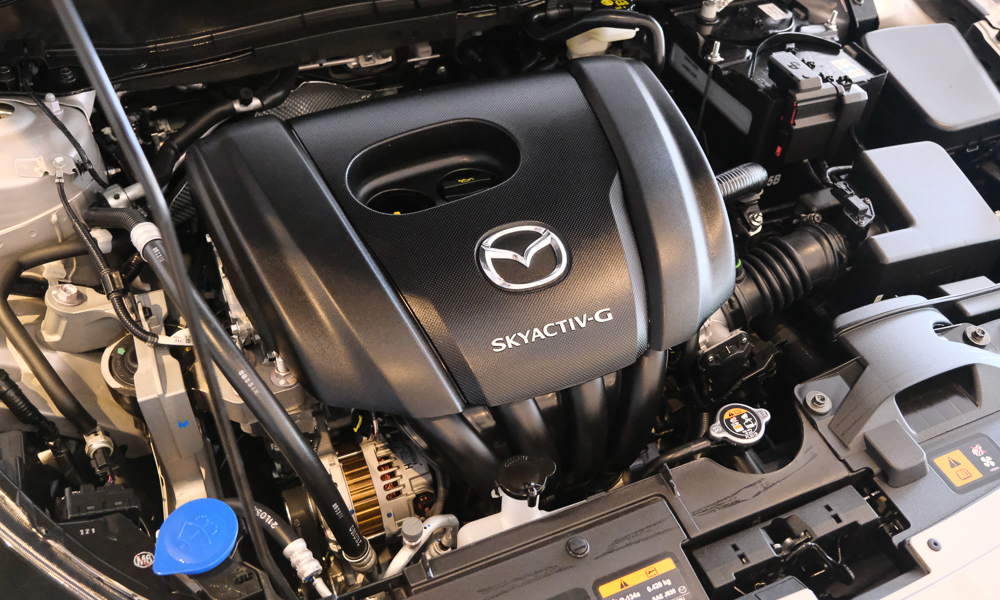 So yes, it's not as practical as you think it is. But you'll enjoy driving it anyway, as the excellent performance, driving feel, and handling are all part and parcel of any modern Mazda vehicle.
The 1.5-liter four-cylinder Skyactiv-G produces 108hp and 141Nm, plenty for this vehicle's petite dimensions even when fully loaded with four people and some cargo. It's also very efficient, getting me figures of 10.6km/L in the city and 17.6km/L on the highway.
The six-speed automatic transmission does a great job of keeping the engine responsive with smooth shifts, and using the paddle shifters has no lag when changing gears.
The ride is comfortable, as the suspension soaks up bumps and ruts well enough, and there is great noise isolation, allowing for easy conversations at highway speeds. This vehicle can tackle corners with sports car-like levels of confidence, and it turns in on a dime. It's crazy how well this car can make a U-turn on tight subdivision roads.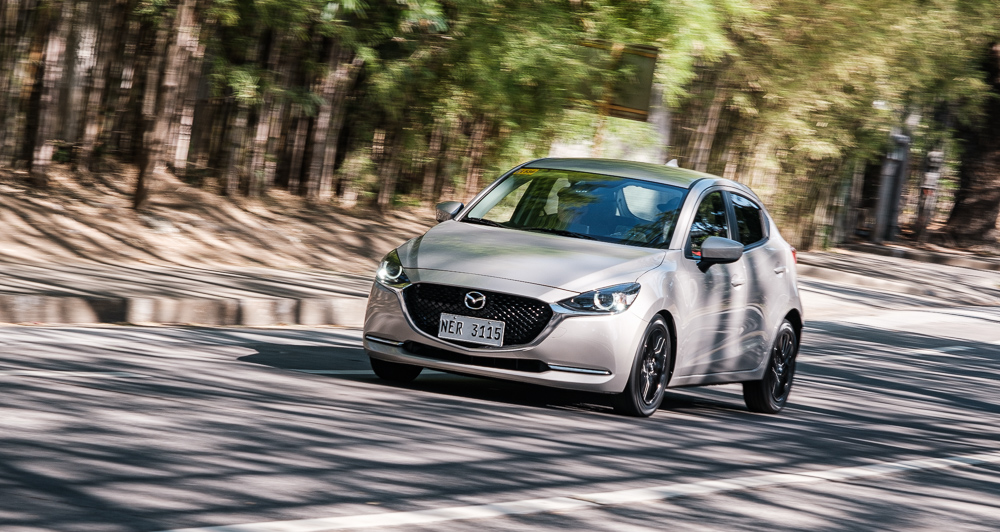 Knowing people would rather go for crossovers nowadays, this is one (dying) form factor that you really have to want in the first place to consider the 2.
Its closest (and arguably only) competitor would be the Honda City RS Hatchback, but that car is bigger and more practical (length- and widthwise) and is more on the racier side of the spectrum.
But with how well-executed this entire package is (save for the below-average practicality and the cramped rear legroom), I'd argue that it fulfills the niche of a premium city car that is considerably more affordable than its European counterparts. Even Mazda's five-year service plan takes a bit of the sting out of its P1,195,000 price tag.
MAZDA 2 HATCHBACK PREMIUM
| | |
| --- | --- |
| Engine | 1.5-liter four-cylinder gasoline |
| Transmission | 6-speed automatic |
| Power | 108hp @ 6,000rpm |
| Torque | 141Nm @ 4,000rpm |
| Dimensions | 4,065mm x 1,695mm x 1,524mm |
| Drive layout | FWD |
| Seating | 5 |
| Price | P1,195,000 (P1,217,400 for Soul Red Crystal) |
| Upside | This may be the best Japanese subcompact hatchback on the market, with the right combination of a plush cabin, excellent driving feel, and good looks. |
| Downside | Compared with other subcompacts, it's not as practical for cargo and second-row space. |