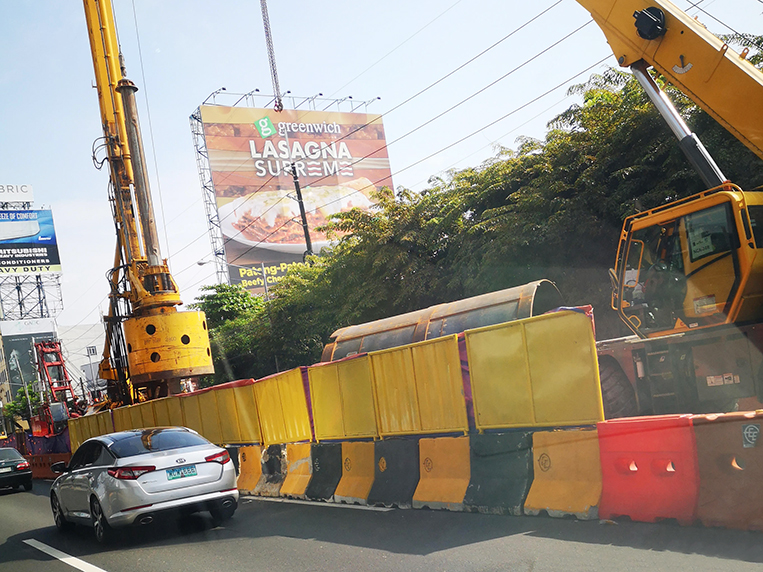 San Miguel Corporation is on a roll, and not because people are getting themselves recklessly inebriated with its beer products. The corporate juggernaut is killing it not just in the food-and-beverage industry, but more so in the infrastructure business. Earlier this year, the company acquired cement maker Holcim Philippines from the latter's European owner for $2.15 billion—a move that will no doubt strengthen SMC's position as a major player in the field of construction.
Right now, SMC Infrastructure is in charge of several important projects, including Skyway Stage 3, a new section of the Tarlac-Pangasinan-La Union Expressway and the MRT-7, among others. Those living in areas that require passage through the affected sites should be familiar with the soul-sapping inconvenience that heavy traffic congestion brings about. And most of them are asking: Why are these projects taking so long to finish?
In an interview with the radio station DZMM today, SMC president Ramon S. Ang revealed that the leading cause of delay is the acquisition of right-of-way along the construction routes. "Karamihan ng problema ay right-of-way," the executive said. "Pero ang galing naman ng DPWH [dahil] tumutulong naman sila sa pagbili natin ng right-of-way. At tumutulong din nang husto ang mga local governments."
SMC's infrastructure projects have encountered countless right-of-way problems due to the presence of big buildings and private facilities
According to Ang, SMC's infrastructure projects have encountered countless right-of-way problems due to the presence of "big buildings and private facilities" along the designated routes. Worse, he shared, many of the owners of these properties were palaban (combative). "[With] most of them, I had to personally go down and negotiate with the land owners." In some cases, he added, they had to reroute a project because some property owner simply wouldn't budge.
Right-of-way issues are perennially problematic in this country. It's the reason we always see electric posts still standing at the side of freshly widened roads. Which begs the question: Why start the project in the first place if right-of-way has not been secured? We're not civil engineers and we don't claim to be experts in this topic, but our simple minds can't help but wonder if it wouldn't be in everyone's best interest to iron out right-of-way permits before even letting the jackhammer kiss the pavement.
Anyway, Ang was happy to report that all these right-of-way issues had already been settled, and that his firm's infrastructure projects should now proceed without further delay. Great news to Metro Manila motorists then, we suppose.