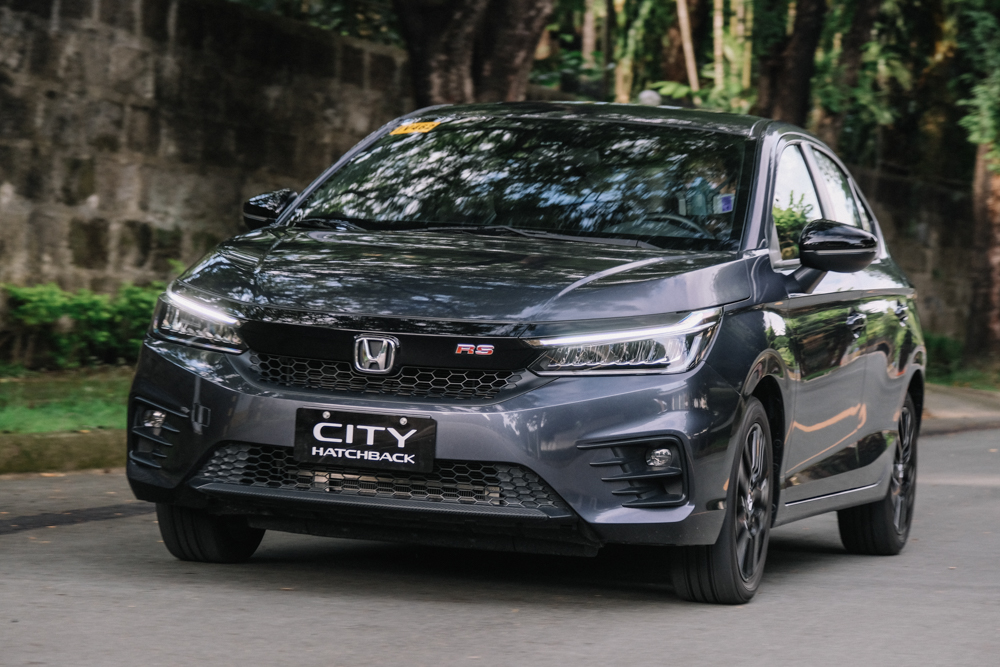 Honda Cars Philippines killed off the ever-popular Jazz in favor of the City Hatchback a few months back. This move was met by two wildly different reactions. Either you were excited about the hatchback, or disappointed that we did not get the latest generation of the Fit/Jazz. True-blue fans of the brand will know that the City's first generation (from the early 1980s) was a hatchback, so you can say that the model has gone full circle with the (re)introduction of the body style.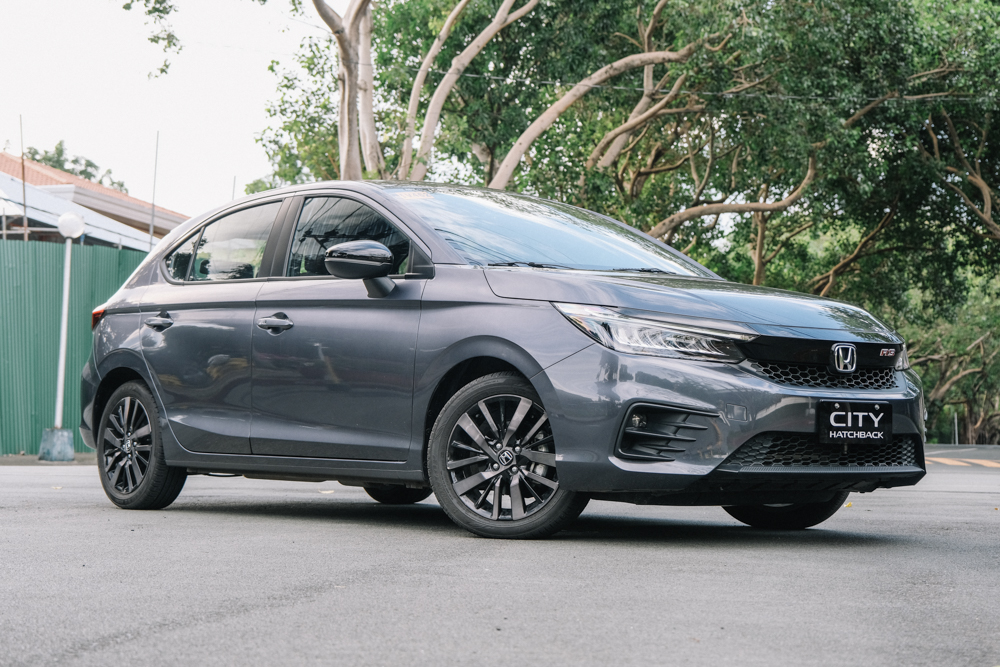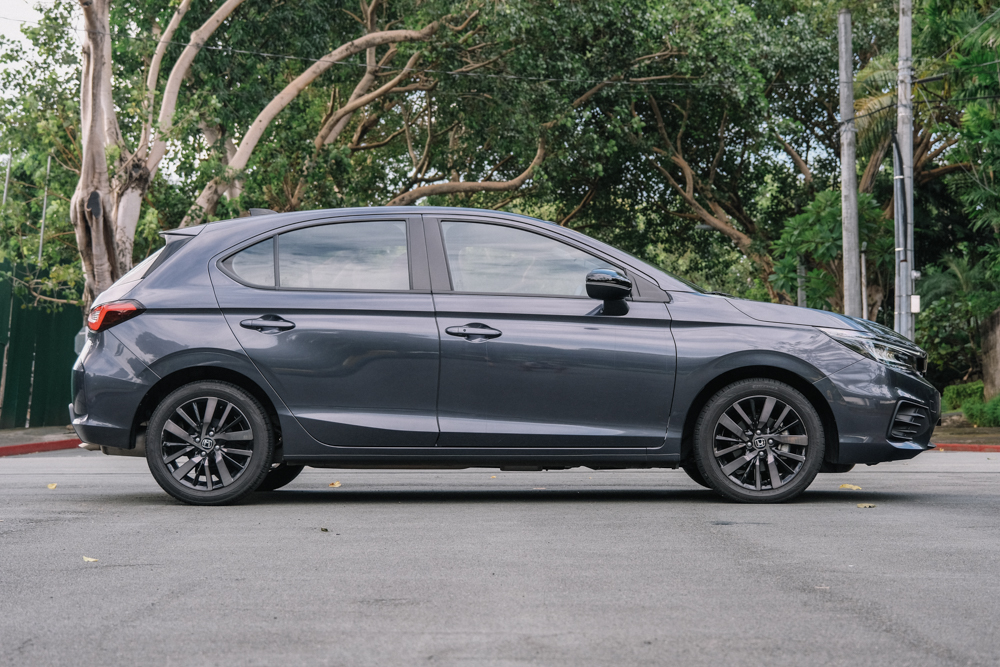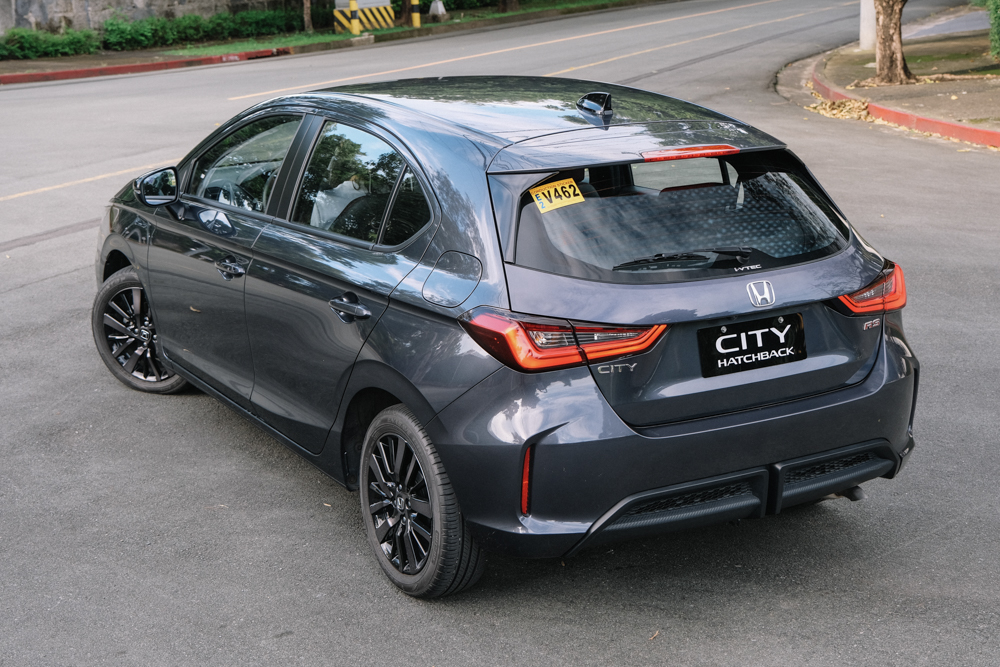 Whichever camp you fall into, there is one common force working against both sides. The writing has been on the wall for the hatchback because of the ever-popular crossover. Not only does the City Hatchback have to convince buyers that it's a worthy successor to the Jazz, but it also has to contend with subcompact crossovers for your hard-earned money.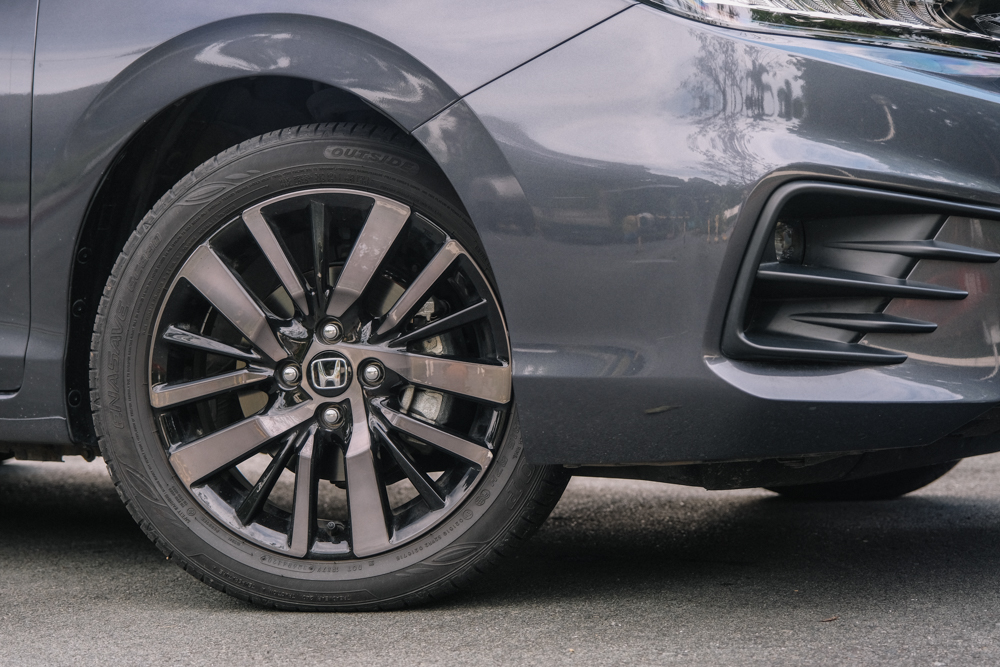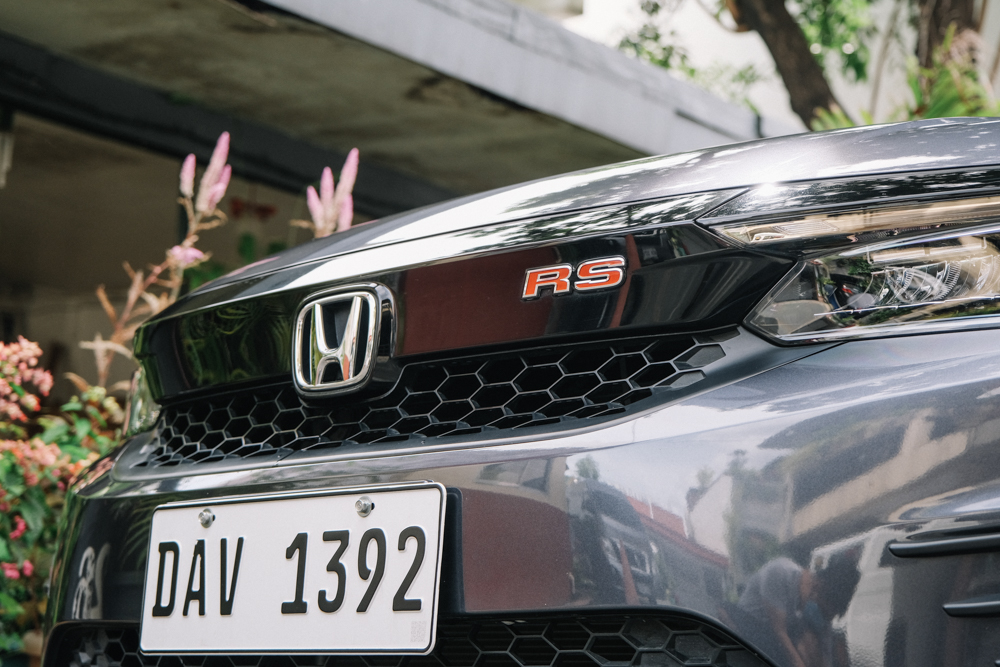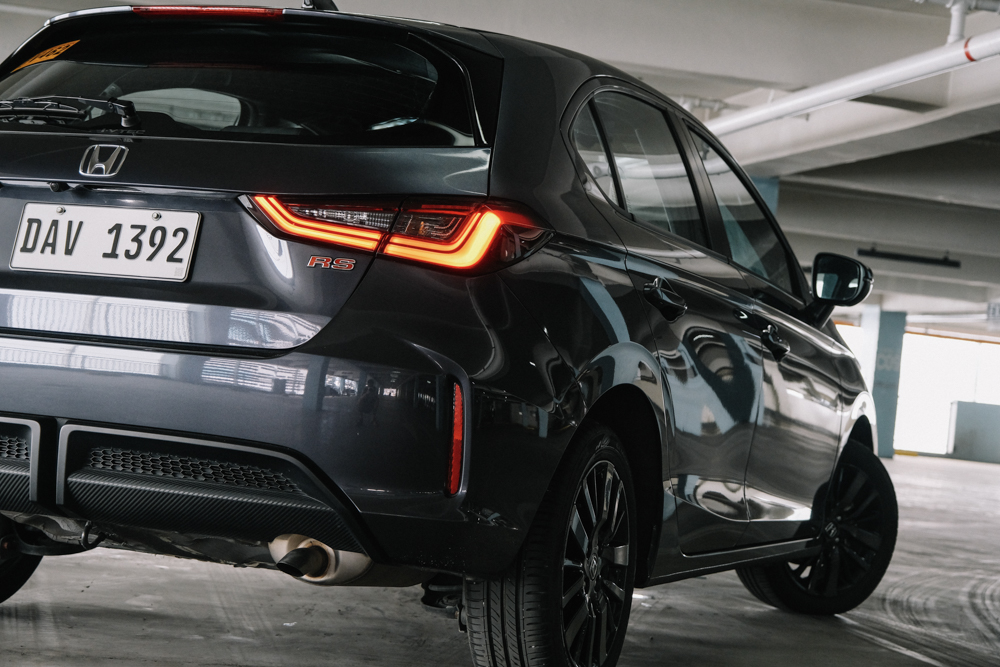 The City Hatchback is a traditional hatchback, sporting proportions that are reminiscent of cars like the Audi A1 and the Civic EG. There's no denying that Honda's designers did well to make the vehicle look a notch above its price range.
There's LED lighting at the front, and a single character line on the side that meets up with the U-shaped taillights. Being the RS (and only) variant, this has sporty bits like a gloss-black grille, a faux carbon-fiber splitter, two-tone 16-inch wheels, and a small roof spoiler.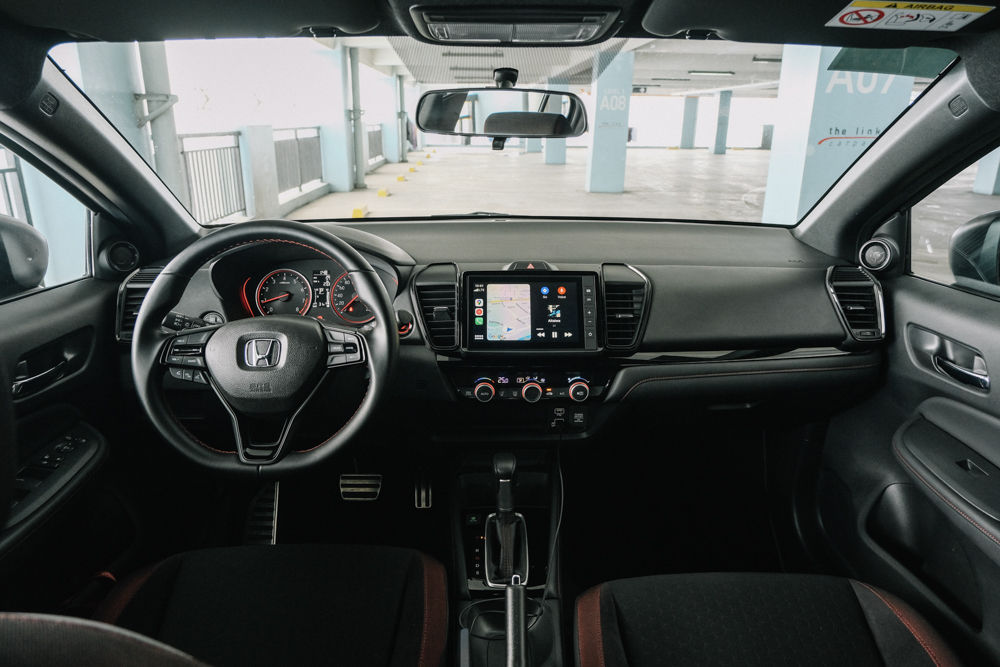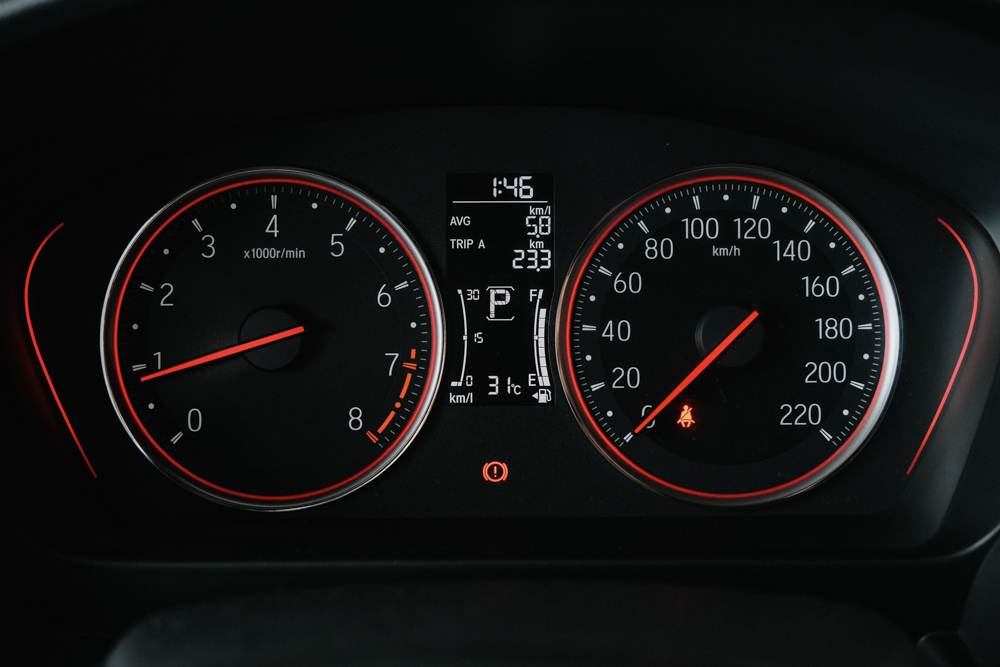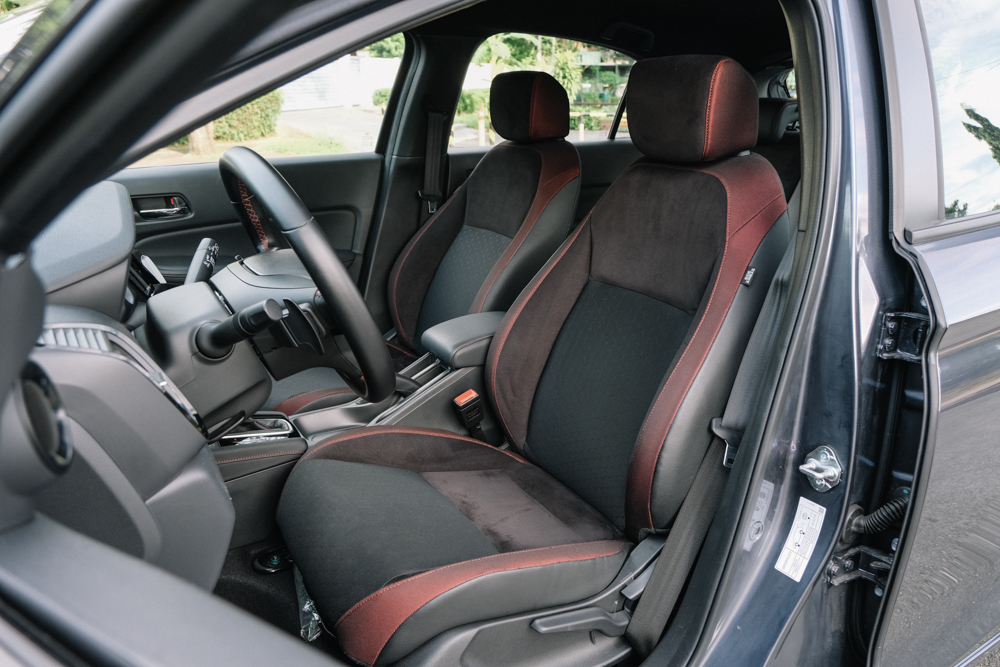 A racy black-and-red motif adorns the cabin, as seen in the front seats, the gauge cluster, and the stitching found on the leather steering wheel and interior trim. Bonus points go to the metal pedals. The seats have an interesting combination of fabric, suede and leatherette. The material cools your rump on a hot day, but keeping it clean might pose a challenge.
Getting into a suitable driving position is easy. The front seats are only manually adjustable, but comfortable enough for long drives. The tiller has tilt and telescopic adjustment, the switchgear is within easy reach, and visibility is good up front. Rearward vision is decent, but parking might be an issue with the large C-pillars and the small back window.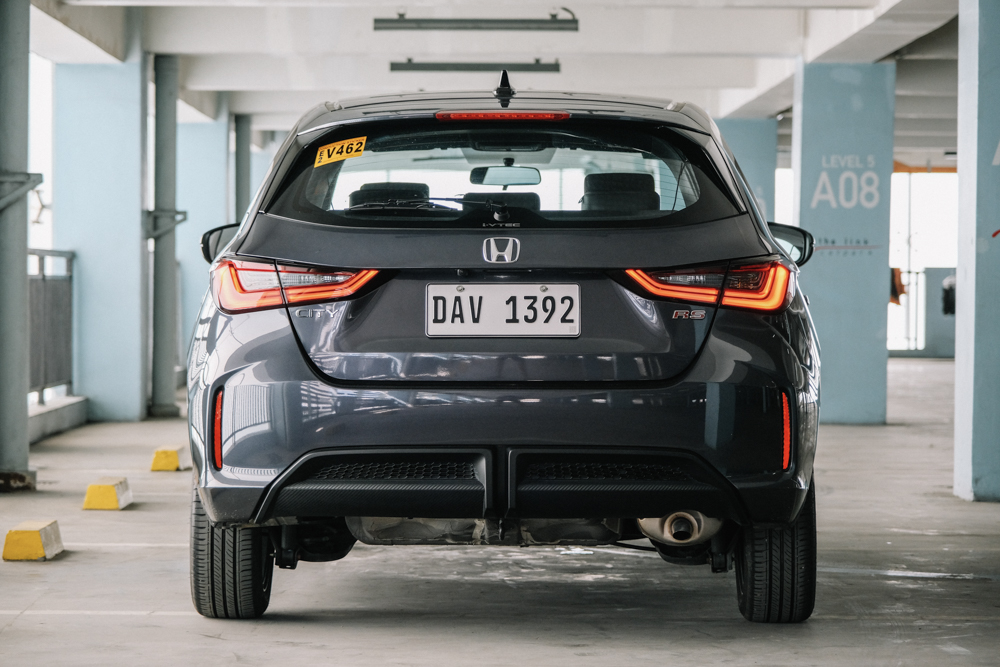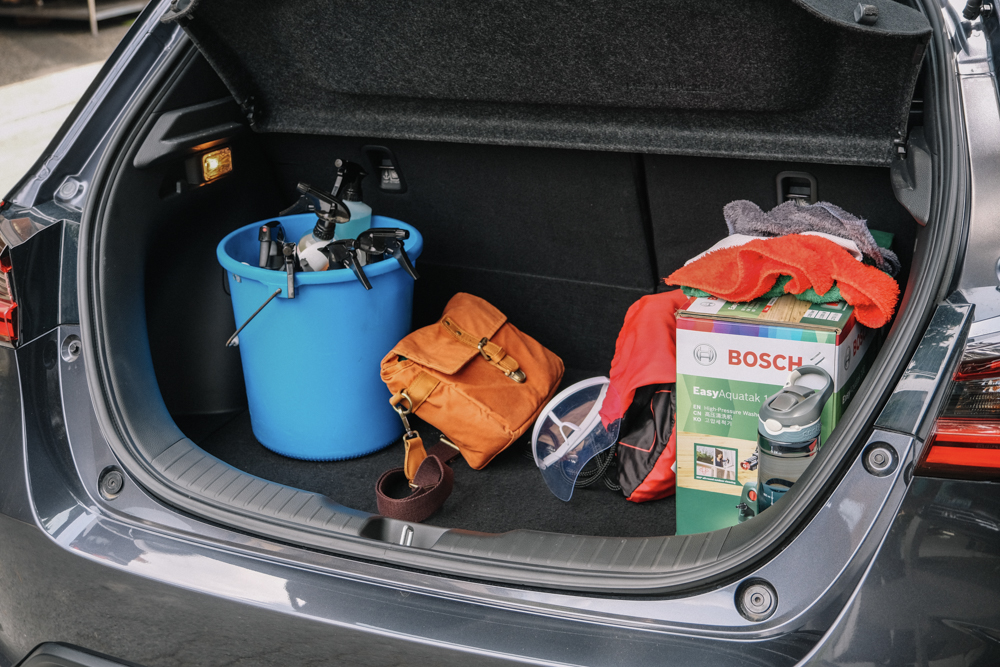 Rear passengers have generous legroom and a decent amount of headroom. They're also treated to climate vents and two 12V sockets for charging. I would've preferred USB ports, but the sockets should allow for some flexibility with whatever you plug in.
The cockpit comes with an eight-inch infotainment system that supports Android Auto and Apple CarPlay. But the screen is positioned a little too high, making it hard to see even at maximum brightness on sunny days. Also, the cabin has eight speakers that sound good after some adjustments.
A remote engine starter (great for cooling the cabin before you enter), cruise control, smart entry, and a reverse camera come as standard. However, there are no parking sensors and blind-spot monitoring. Antilock brakes, traction control, and hill-start assist are all the electronic nannies you get.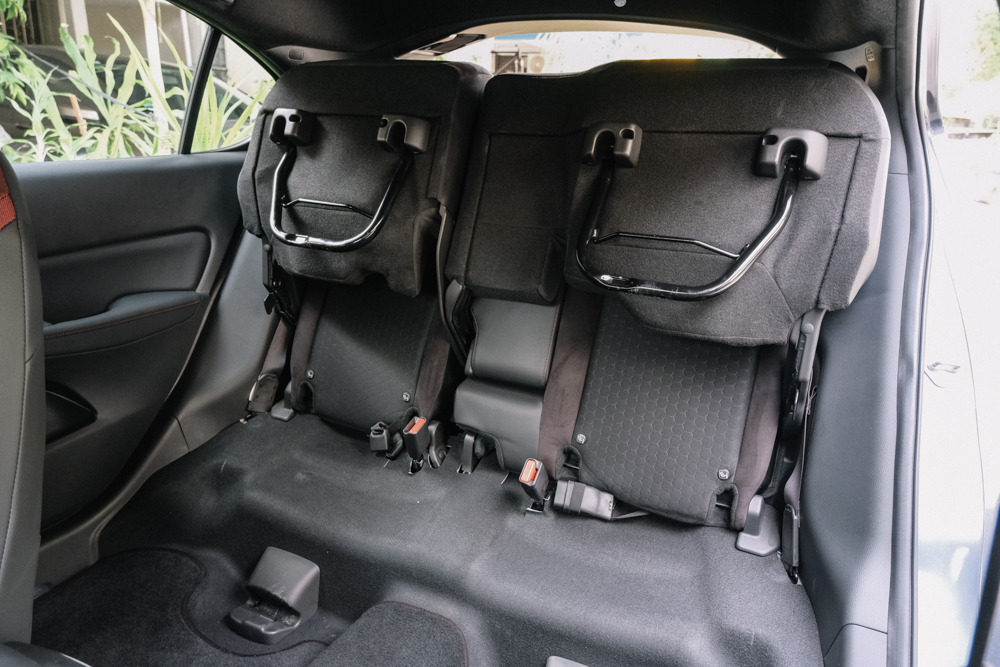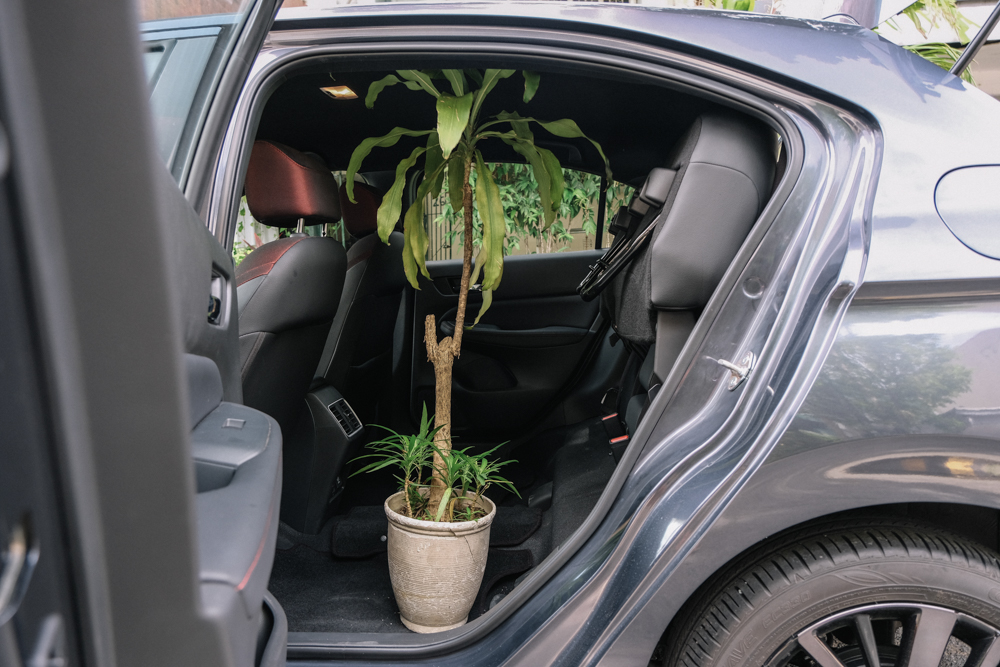 The City Hatchback's cabin is versatile because of Honda's "ULTR" seating system. First is Utility mode: The rear seats fold down, expanding 289L of cargo space to 841L. Carrying something long? Recline the front passenger seat until it's flat so you'll have an extended cargo bay in Long mode.
Tall mode is something I wish more cars had. The rear seat cushions can fold upward to accommodate tall items like a potted plant. Lastly, with the rear seat backs down, you can recline both front seats until they're flat to get into Refresh mode. This will allow you to stretch your legs out inside, or even catch some quick shut-eye on longer trips.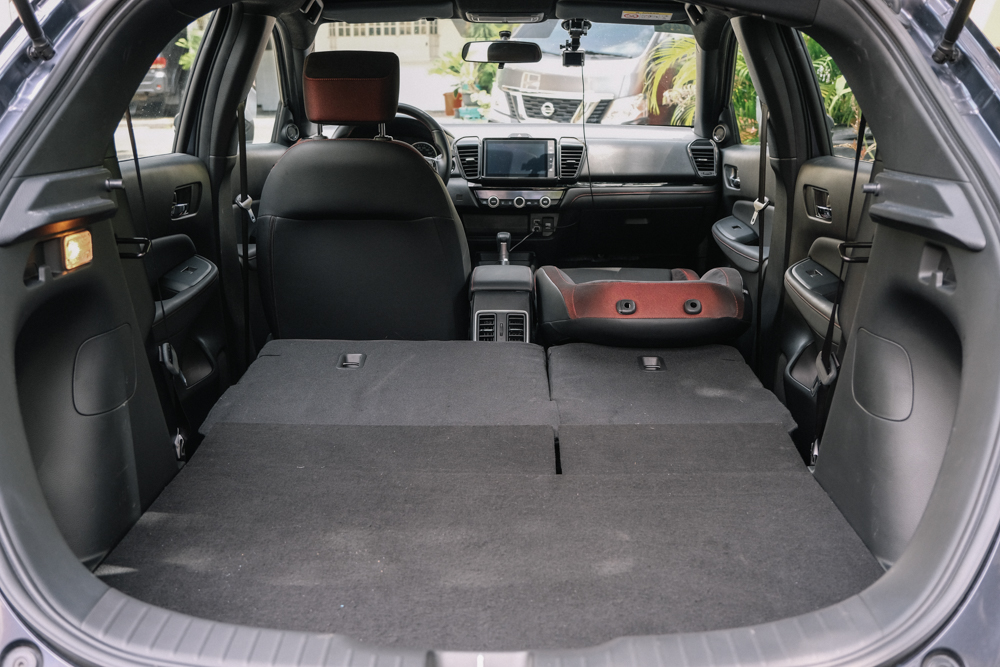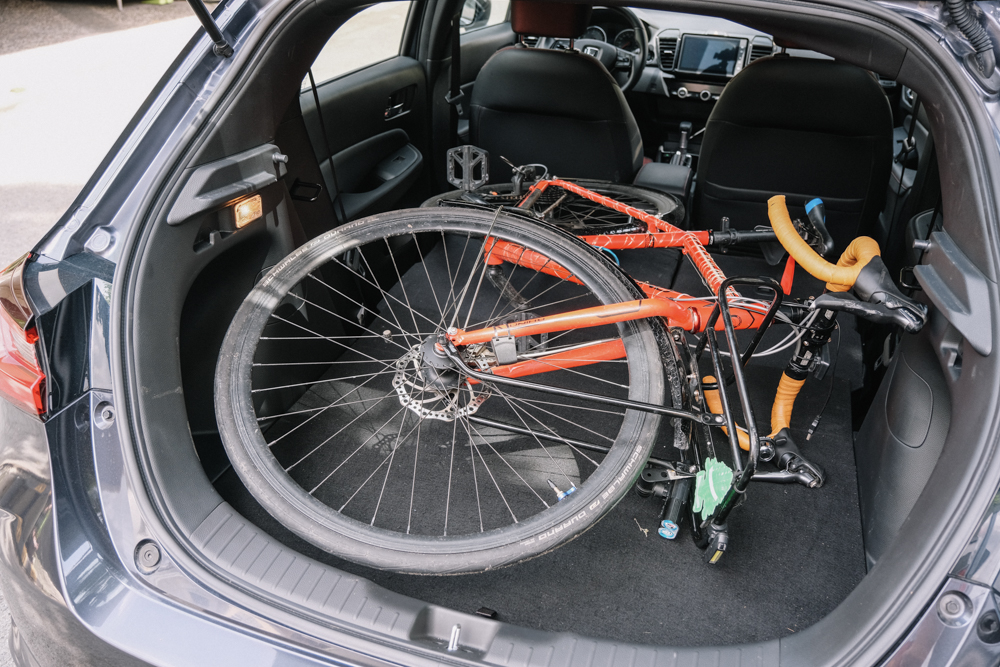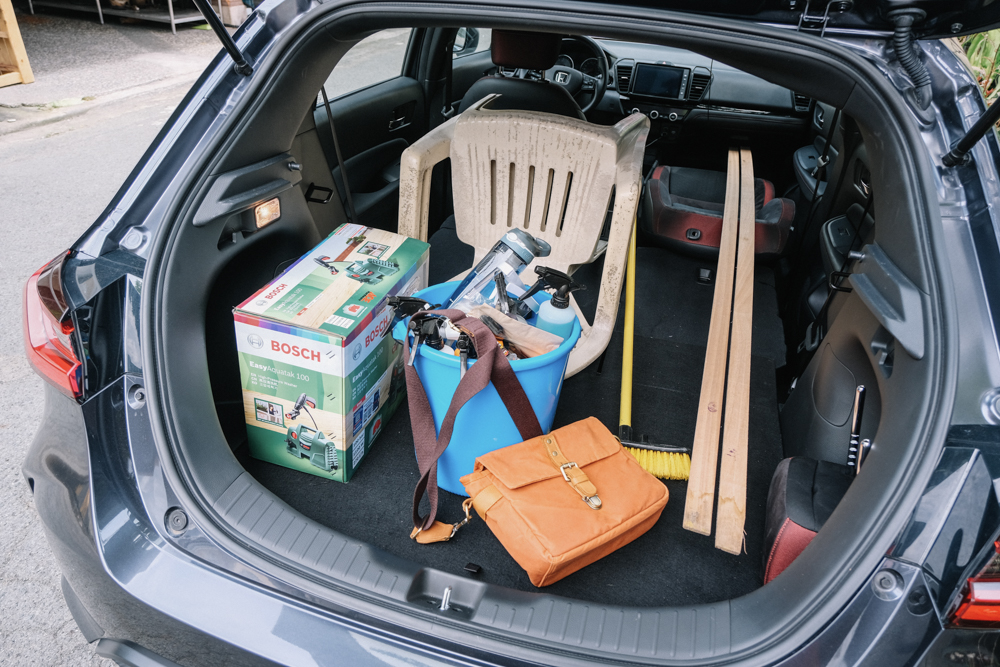 As its name suggests, the City Hatchback is perfect for the city. Small dimensions, light steering, and a 5m turning radius make it easy to navigate narrow streets and tight parking spaces. Just be aware of the car's 134mm of ground clearance if you live in a place that gets flooded easily. It's a comfortable highway cruiser, being one of the softer-riding vehicles in its class.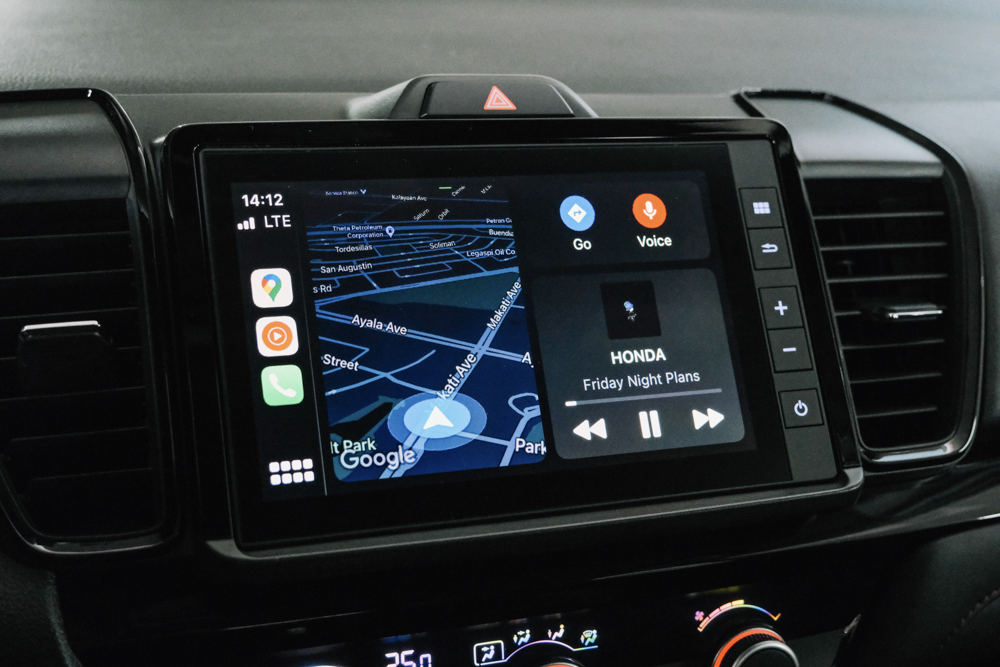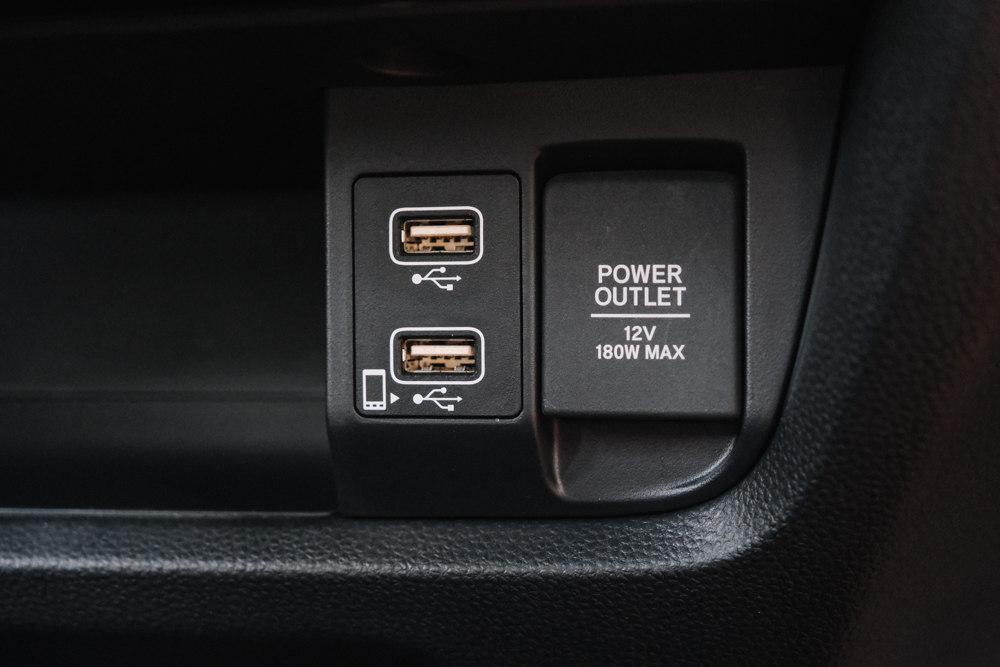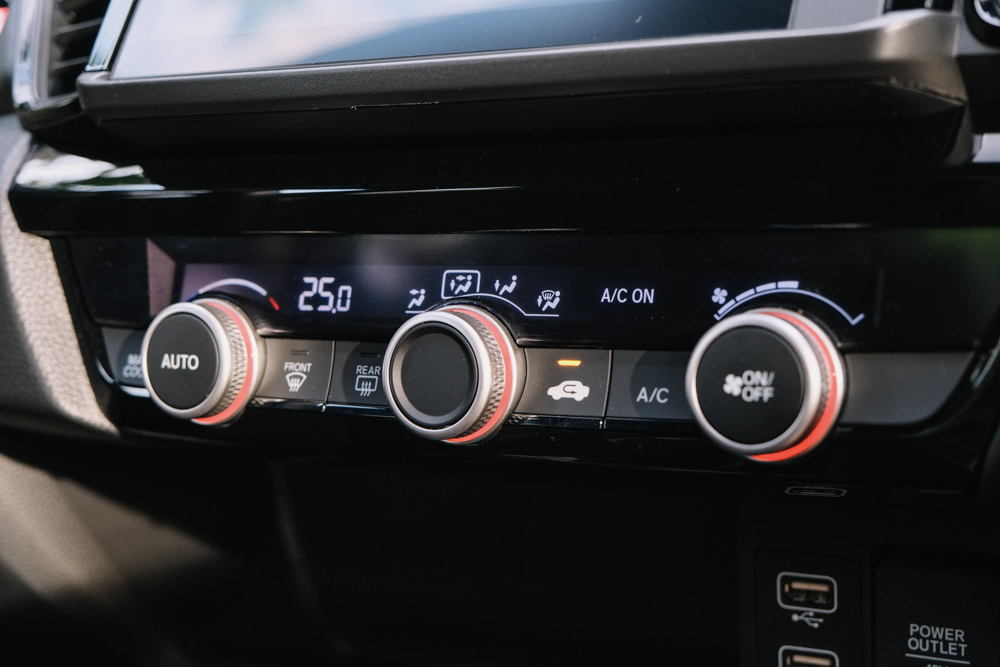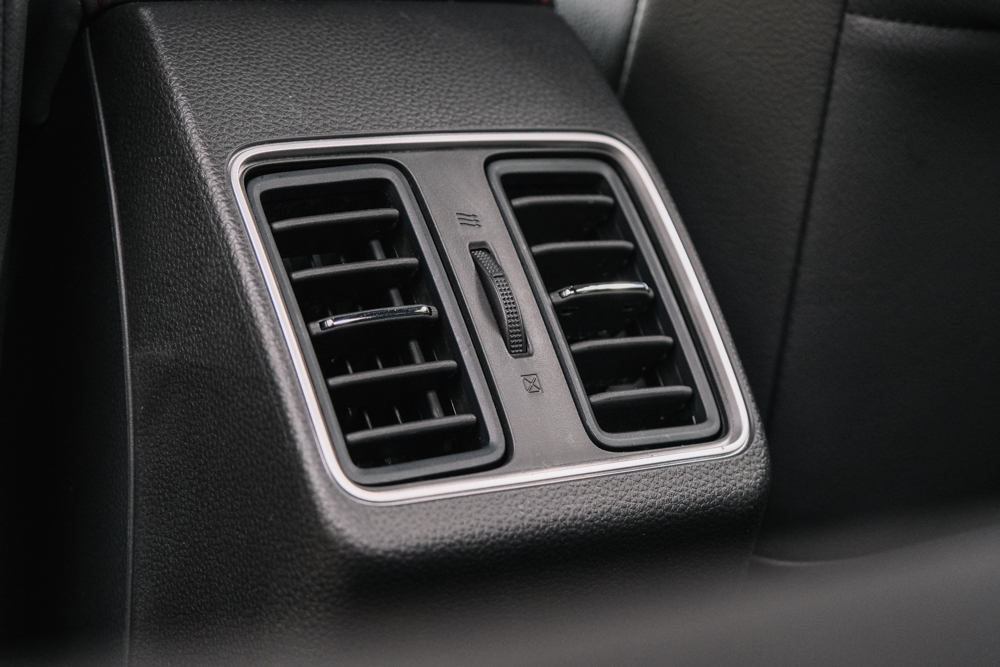 When it's time to overtake, you'll have to exert a little more effort to pass slower cars. The 1.5-liter naturally aspirated in-line-four has 119hp and 145Nm, but the CVT holds it back in favor of efficiency. You'll find yourself shifting to 'S' or using the paddle shifters just to get more oomph. Revising the ratios (or a manual-transmission option) would make the powertrain more confidence-inspiring when overtaking.
Honda claims that this car can get fuel-economy figures as high as 25km/L on the highway under specific conditions. From my testing, I was able to get 19.3km/L on the highway, 9.6km/L within the city, and 10.5km/L in mixed conditions. It has a dedicated Economy mode if you want to squeeze more out of the car's decent fuel efficiency.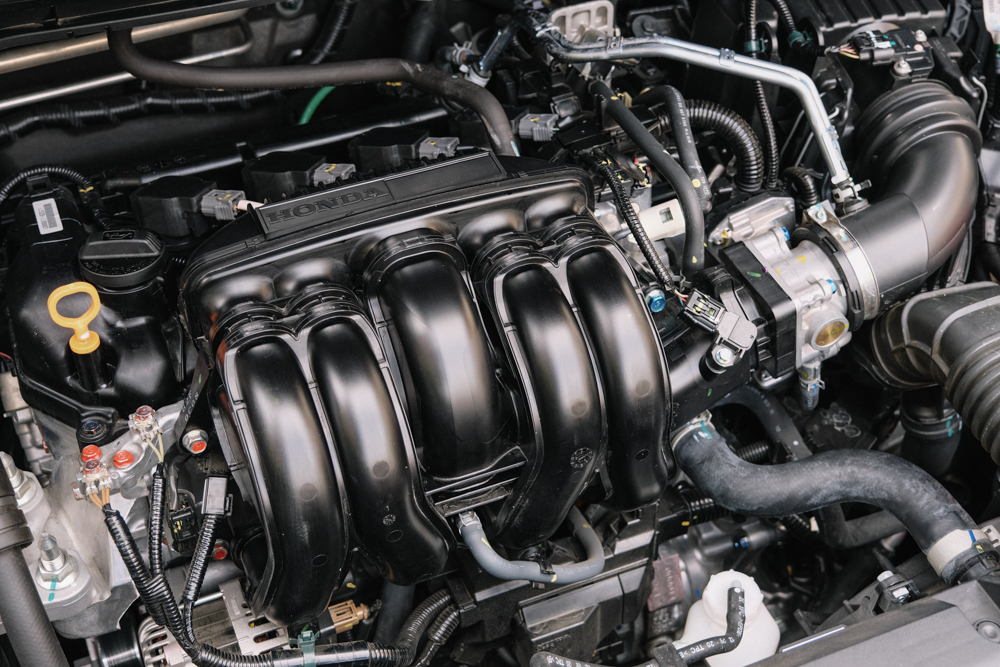 There's no doubt that the City Hatchback has the same practicality and versatility as the Jazz. We'll see if it can charm the market just like its predecessor. With a price of P1,115,000, this is positioned on the pricier side of the subcompact car market. It's already cutting it close with entry-level subcompact crossovers and larger compact sedans.
It's also offered only in the RS variant. If Honda eventually decides to bring in lower trim levels, these may prove to be excellent value for buyers who can live without the sporty add-ons.
HONDA CITY HATCHBACK RS
| | |
| --- | --- |
| Engine | 1.5-liter four-cylinder gasoline |
| Transmission | CVT |
| Power | 119hp @ 6,600rpm |
| Torque | 145Nm @ 4,300rpm |
| Dimensions | 4,349mm x 1,748mm x 1,488mm |
| Drive layout | FWD |
| Seating | 5 |
| Price | P1,115,000 |
| Upside | All the versatility and interior space of the Honda Jazz in one handsome-looking hatchback. |
| Downside | The price puts it up against entry-level crossovers and compact sedans, and the CVT holds the engine back at times. |