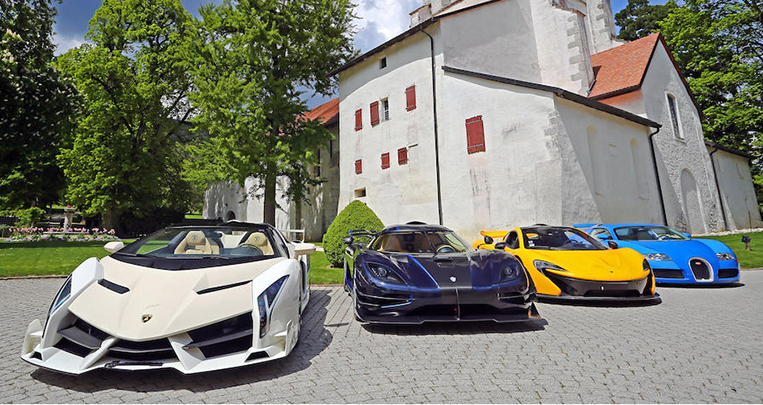 A fleet of rare and stupendously expensive supercars are going under the hammer later this year in Switzerland. While auctioning a couple of pricey automobiles isn't really news these days, it's the vehicles' previous owner that deserves special attention. The cars used to be in the possession of Teodoro Nguema Obiang Mangue, the vice president of Equatorial Guinea.
Equatorial Guinea is one of Africa's largest oil producers, but 76.8% of the population live in poverty, according to the World Bank. This is because the vast amounts of wealth from regular oil and petroleum exports are diverted toward the private interests of the ruling party, headed by President Teodoro Obiang Nguema Mbasogo. Since the incumbent president assumed office in 1979, little has changed in the country's poor standard of living—with widespread corruption and human rights violations being linked to his administration.
Teodoro Nguema Obiang Mangue has indulged in luxuries that his countrymen can only dream of—including fast cars
Taking advantage of the nation's overflowing coffers and the fact that he is the president's son, the vice president has indulged in luxuries that his countrymen can only dream of: lavish mansions, massive pleasure yachts and, of course, fast cars. These are all proudly documented on his Instagram account, even as three-quarters of the Equatoguinean population make do with squalid living conditions.
But this extravagant lifestyle hasn't gone unnoticed. Teodorin, as he is casually called, has several embezzlement and money-laundering cases against him. The vehicles that are being auctioned off were seized by Swiss authorities in 2016 as criminal proceedings were opened against the African politician. The Equatorial Guinean government has repeatedly asked the United Nations to order the stoppage of these trials.
The dictator's son appears to have a very good taste in cars. The vehicles that will be sold by Bonhams on September 29 include an ultra-rare Lamborghini Veneno, a LaFerrari, a Koenigsegg One:1, a McLaren P1, an Aston Martin One-77 and a Bugatti Veyron 16.4. There are 25 of these exotic speed machines in total. It is estimated that this collection of supercars will be worth about €12,000,000 (or P702 million).