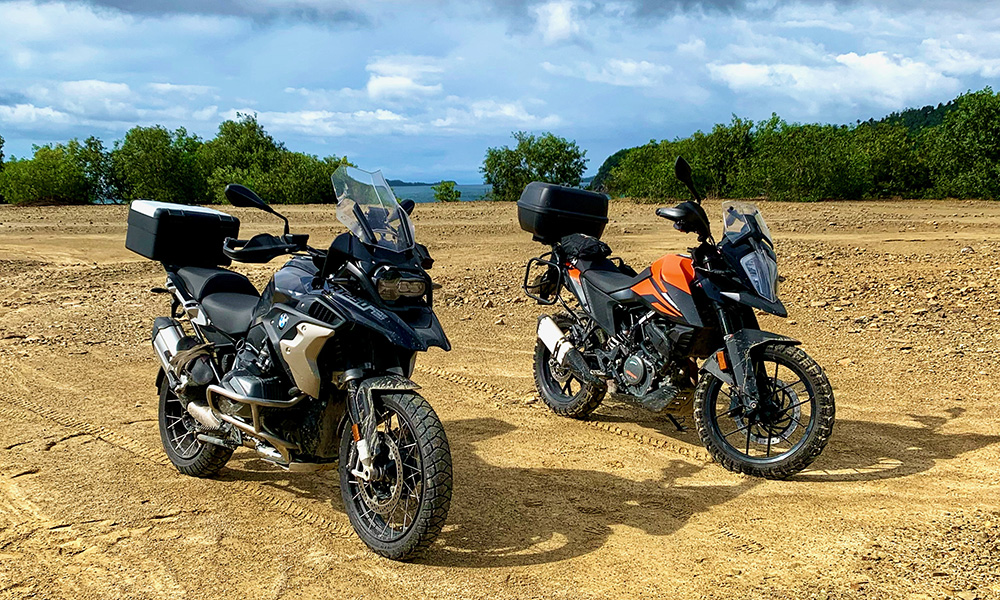 First, let's be clear that this isn't a comparison test. In one corner, we have the KTM 390 Adventure, a sprightly little "big bike" based on the best-selling Duke, spruced up with better suspension, tires, and ground clearance.
In the other corner, we have BMW's all-conquering R1250 GS, from the line that Ewan McGregor and Charley Boorman first made famous (to KTM's great folly) with their Long Way Round documentary series. It has 1,254cc, tons of torque, and sophisticated electronics and suspension. There's a reason why thousands of riders ultimately end up with a GS after working their way up the food chain: It just works so well, on and off-road.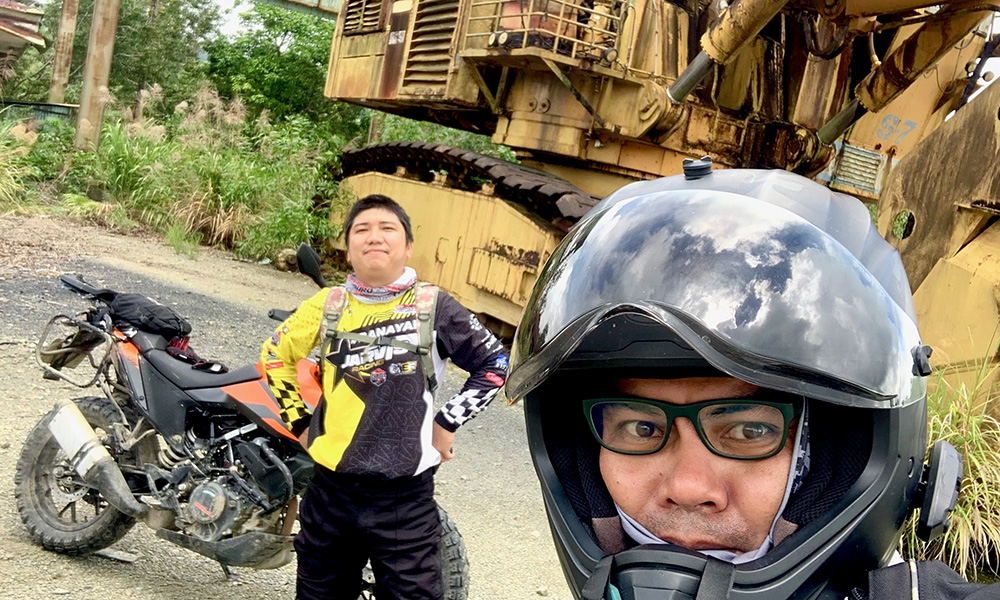 Or does it really? As part of a recon for a rallye event I'm cooking up for the island of Marinduque, I enlisted the help of my colleague over at MotoPinas.com, Brando Rosales aka Mr. Banayad.
Brando has thousands of kilometers of riding under his belt, and if anyone I trust could put the GS through its paces, he could. As an aside, since he'd be signing for the bike and not me, I'd be in the clear in case it ended up in a ravine or drowned in the Boac River.
For four days, we put the two bikes through over 600km of all sorts of terrain, riding six to eight hours a day, on the highways and national roads of the island, all over paved and unpaved segments, and including the abandoned Marcopper mining site of Marinduque.
By ourselves, we had already accumulated hours of seat time in both bikes—just not together. Personally, I had put nearly 6,000km in my 390 Adventure and am quite comfortable with its quirks and handling traits. As for the GS, I had ridden it multiple times, but only on the road; this would be the first time I would see how it handled off it.
Here is what we found out.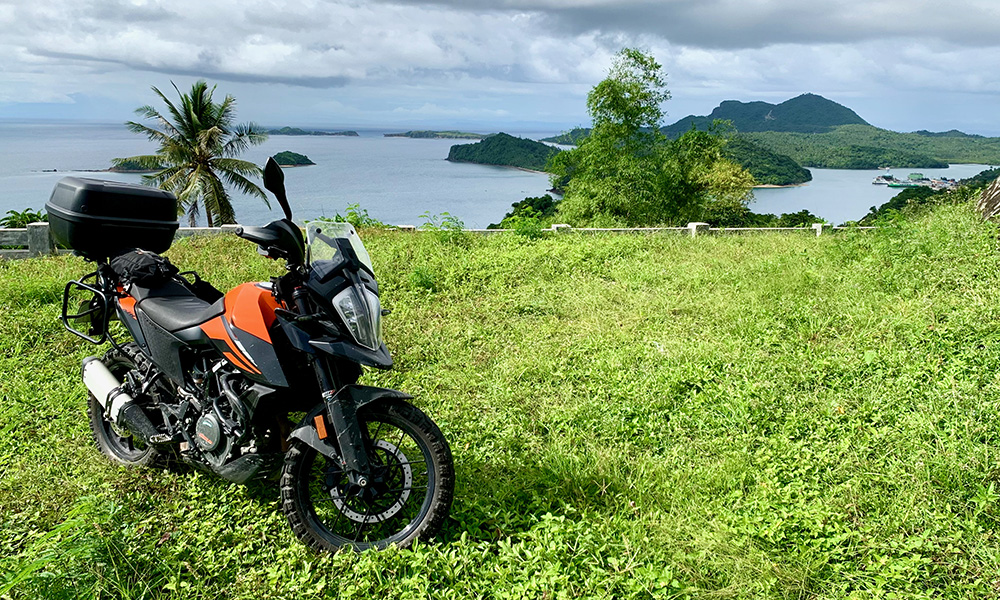 KTM 390 Adventure: Punchy, lightweight, tossable, and economical. On long open roads, the 372cc single cylinder can't hold a candle to the GS's burly flat-twin, so I didn't even try. The engine comes alive at 6,000rpm, but there's really only so much that 43hp can do when you're faced with a stiff headwind and a heavy load.
The bike is in its element on back roads, where the excellent frame and suspension just gobble up switchbacks and esses like an oversized Supermoto. Off-road, the light curb weight (158kg) and upright ergonomics are a boon on sketchy surfaces, where it's easy to catch the bike from tipping over with far less pork to topple over than a bigger bike.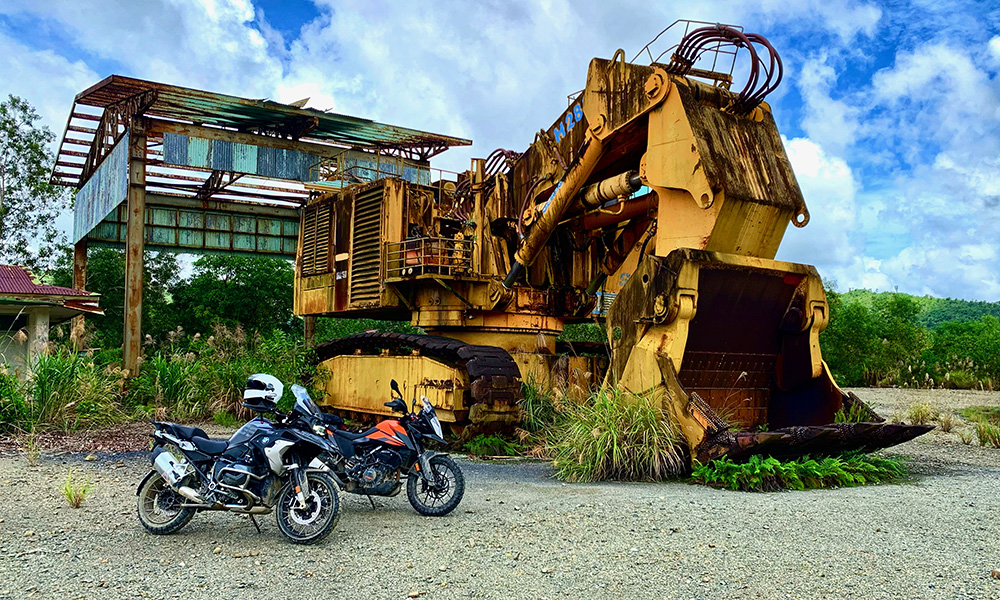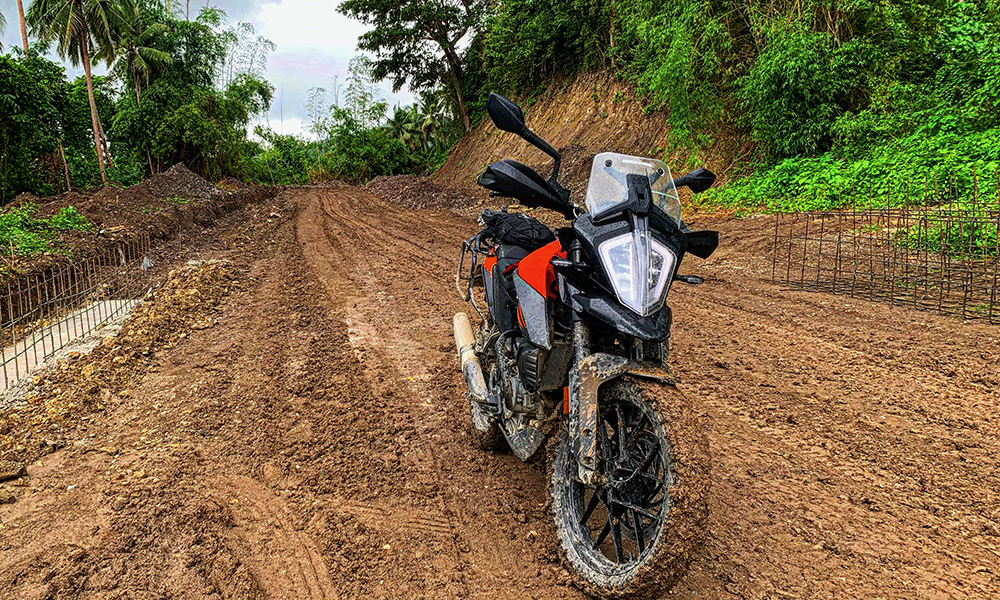 The adjustable WP suspension is the best in its class. If you have experience racing mountain bikes, the 390 Adventure feels very much like a cross-country rig…except it's got an engine! While spoked wheels would be ideal for off-roading, the alloy wheels aren't bad and could handle the rough stuff with the tires set to 20psi. No blasting over rock gardens, though.
The stock Continental TKC70s are okay for dry off-road surfaces, but I switched over to Mitas E0-7 50/50s for superior traction on loose surfaces. Unfortunately, the aggressive knobs on the Mitas tend to give a slight wobble to the steering at speeds over 140km/h. KTM sells a steering stabilizer that could fix this, but it's also P20,000 (ouch).
A bone-stock 390 Adventure will need some inexpensive mods to make it truly off-road-ready: handlebar risers, a radiator guard, a sturdier sump guard, a headlamp protector, crash guards, panniers, and a top box bracket. By the end of the trip, I was still envious of the GS's effortless acceleration and fancy-pants electronics. Then again, I only spent 1/6th of what a GS costs these days, so the KTM is a great value.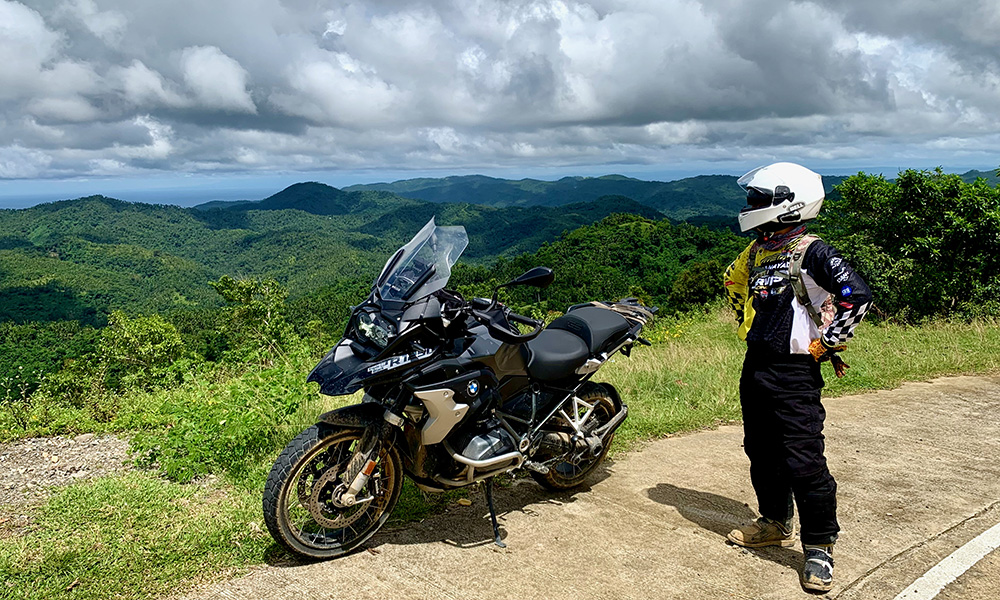 BMW R1250 GS: No surprise on the highway. It's an absolute touring beast, with a great seat and plush suspension. And it pulls like a freight train. One would think that the GS would be hampered on twisty back roads because of its mass, but it's only slightly handicapped. The flat-twin engine gives the bike a low center of gravity, which makes the GS surprisingly agile even over successive switchbacks and esses. It almost makes you forget that it weighs a hefty 249kg.
As Brando kept saying: "The GS makes any rider look like an expert." It also has the patented Telelever front suspension that separates suspension forces from steering forces, enabling it to give superior ride comfort without sacrificing control. On the loose ruts, fire roads, river crossings, and gravel roads of Marcopper, the GS seemed like it was floating over the surface as the bike just kept rolling forward, heedless of the numerous rocks and ruts along the route.
One of the few times it struggled was on a steep and slippery uphill, where the computer kept cutting the power when it sensed the rear tire losing traction. After Brando figured out how to enable Enduro Pro mode, the bike fixed the problem by lowering the rear suspension in order to help the rear tire bite into the loose soil and extricate itself. Amazing engineering.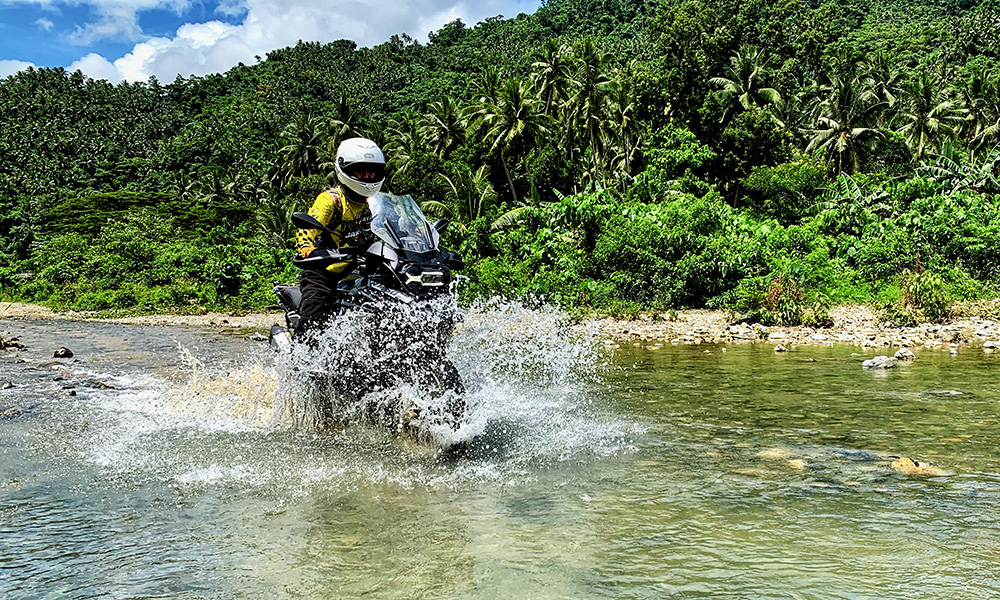 On the final, steep, 3km descent back to civilization, the mud-caked road threatened to send the GS into the ditch as it kept sliding forward even with the brakes applied. Brando had to lower the tire pressure to around 1 bar for some semblance of traction, while I on my knobbier tires and lighter frame made it downhill with far less difficulty.
By the end of our four-day trip, I had even more respect for the GS. Yes, it costs a bunch of money to own and maintain, it might give you all sorts of problems if you don't have it properly serviced at BMW Motorrad, and every time you're teetering on a singletrack you'll wish it could go on a proper diet.
BMW's brute force approach to solving problems—lots of torque, and let the tech save you—may take out some of the skill involved in riding, but out on the trail in no man's land, any rider will be happy to let the bike do the heavy lifting for him.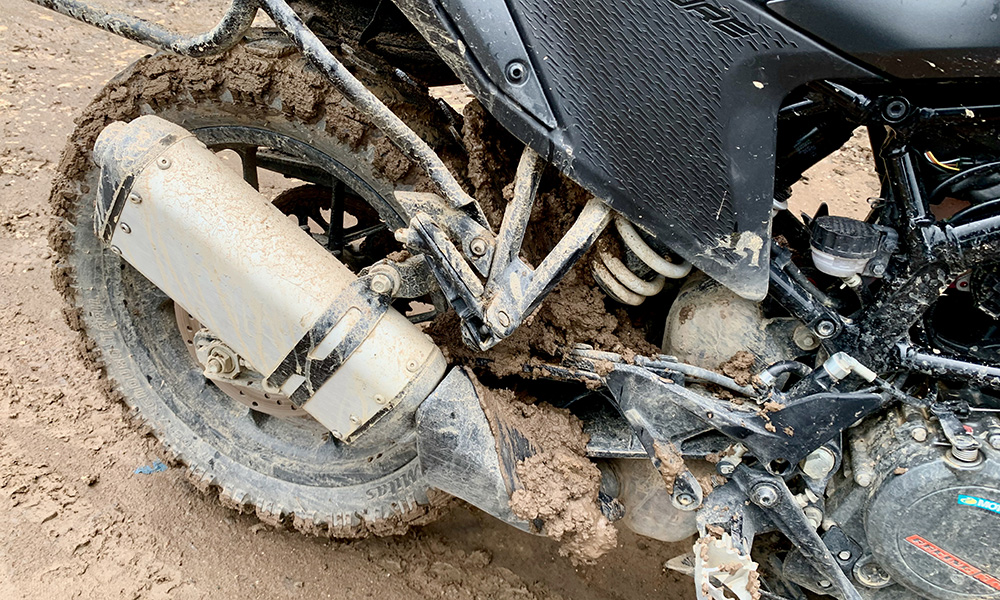 For better and worse, the littlest KTM adventure bike is a more involving machine. You need to constantly keep the engine "on the boil" so you don't embarrass yourself in the company of the GS, which means more shifting and higher revs.
Even so, the single cylinder sips 95-octane to the tune of 26-27km/L, compared to the big Beemer's 18-20km/L. On the highway, you're buffeted by the windblast since the tiny windshield is pretty useless, while you could get sleepy behind the GS's effective airflow management.
Off-road, it's a toss-up. Do you prefer a lighter bike you can play with, sliding the rear when the mood hits and flowing along a trail? Or do you want something that pummels the track into submission—one that rewards a confident rider with a nimbleness that belies its sheer mass? Neither bike will impress anyone with a "sound check." The KTM sounds like a tin pot; the BMW sounds like a bear farting. You buy them to ride hard.
I love my 390 Adventure to bits, and a year of riding it has rewarded me with so many sights and experiences that only an adventure bike can give you. But honestly, when I was four hours into the ride on day four, getting walloped by the headwinds and seeing Brando getting smaller and smaller up ahead, I would have been happy to switch bikes with him just for that long trek home. Of course, the only time a GS owner would want to switch bikes is when the inevitable happens, and it's time to deadlift a dropped Beemer.