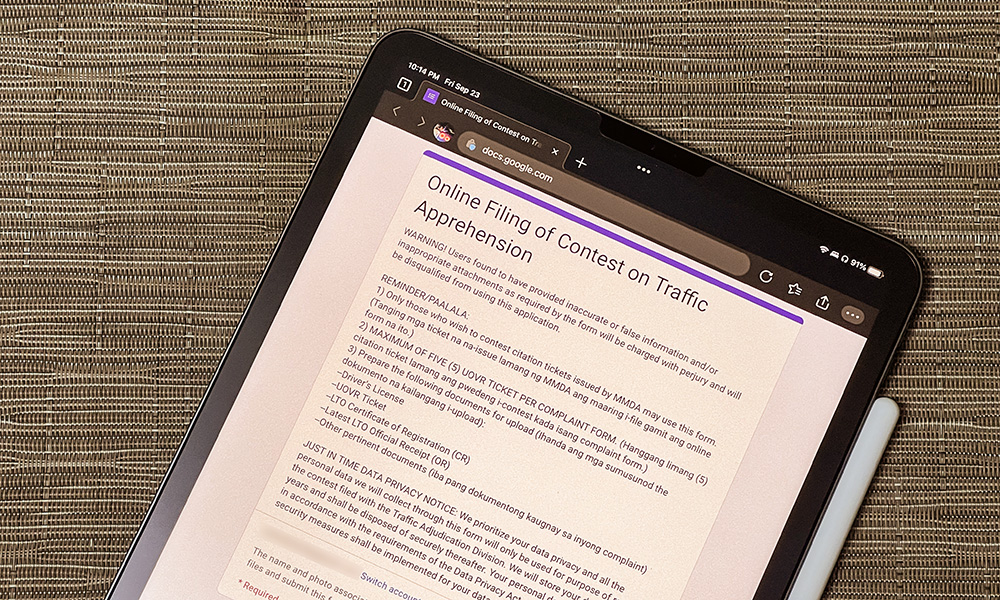 Contesting a traffic violation has always been a very time-consuming ordeal to do ever since, usually involving a trip to the MMDA's office with the necessary documents (which also takes a while to acquire).
Well, the MMDA has launched a webpage (or rather, a Google Forms sheet that doesn't exactly scream professional) that'll allow you to contest traffic citation tickets issued by the MMDA.
This allows one to do the initial step of contesting from the comfort and convenience of your smartphone or laptop at home—from Monday to Friday, from 8am to 5pm. Any contests made after 5pm will be entertained on the next working day.
You are allowed to contest up to five Unified Ordinance Violation Receipts (UOVRs), and you must prepare the following documents to upload:
Driver's license
UOVR ticket (your traffic violation ticket)
Certificate of Registration (CR)
Official Receipt (OR)
You may need to upload other documents if necessary, like the Deed of Sale or an authorization letter. If you upload the wrong or inappropriate documents, you won't be allowed to use the forms again.
After uploading the form, the MMDA-Traffic Adjudication Division (TAD) will process and contact you within three working days for the pre-processing of the contest. And if you want to push forward with this, a face-to-face hearing will be scheduled after the confirmation of the concerned parties, so you're still at the mercy of the erring enforcer or hearing officer.
Granted, this isn't the magical "all-online" process most are hoping for, but it's a step forward in the right direction, especially with how the MMDA has shifted back to physical apprehension while the No Contact Apprehension Program is suspended.