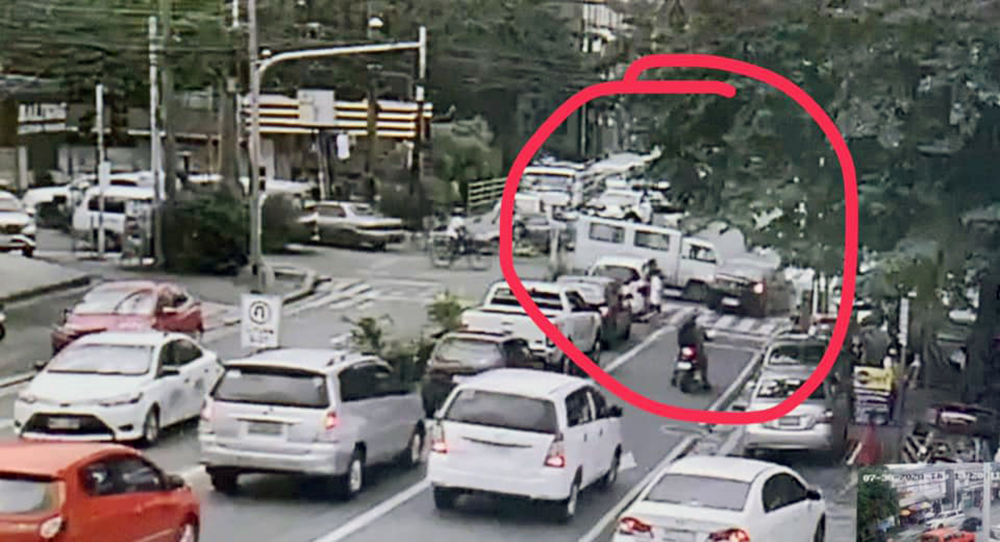 In case you haven't noticed, the Philippines is a pretty fucked-up place to be driving a car. We have bad roads and even worse traffic management. To top it all off, we have countless traffic lights that do not work properly (either that or corrupt traffic officials manipulate them to entrap unsuspecting motorists). It's somewhat bearable if the consequence is simply a bogus traffic citation for a phantom violation, but what if the malfunctioning traffic signals result in a serious (and potentially fatal) accident?
That's basically what happened to Jose Margo Flores, who was recently driving his Peugeot 508 sedan along V. Luna Extension in Quezon City when his driver-side door was rammed by a Mitsubishi L300. The reason? The intersection had a faulty traffic light, and both he and the L300 driver thought they were proceeding under a green light. We'll let Margo narrate the incident in his own words, as so eloquently put together in a Facebook post.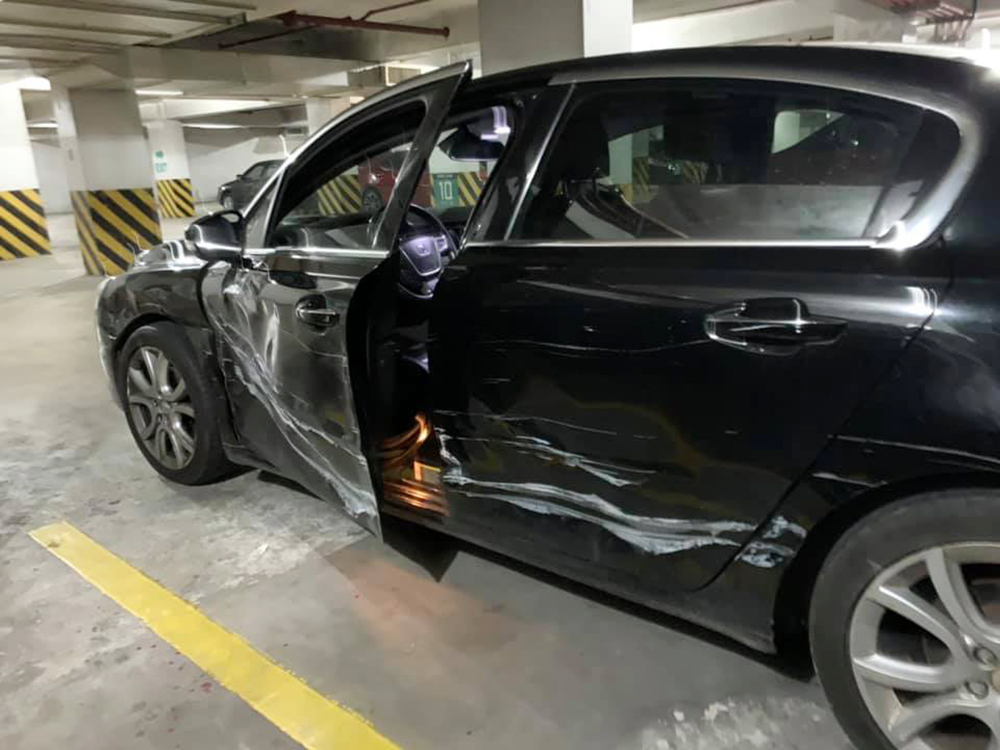 In a snap, my car floated mid-air and my body slammed on my seatbelt. I felt my life flashing. Is this it? For a moment there, I thought it was going to be the end of me, but I guess not, because I'm here right now telling you a story of incompetence and injustice.
I'd like to believe that I'm a good driver. I'm capable of driving from Metro Manila to Pagudpud, and vice versa, alone. I've also driven along hundreds of miles of long roads and high mountains in left-hand-drive countries, but never have I encountered a mishap. I know that I abide by the rules, and I make sure everything is well before I take the wheel. Who would have thought that it would happen to me in broad daylight in one of the densest cities in Metro Manila (Quezon City)?
It was a bright day during the pandemic, and I was driving calmly along V. Luna Extension. As a disclaimer, I had been going out of the house since early ECQ because there were days when I would drive my sister (who is a doctor) to the hospital, and I also did volunteer work as part of Frontline Feeders Philippines. On this day, I had to go out to do errands and accomplish some professional work. All of a sudden, at the intersection of V. Luna and Anonas, I saw an accelerating L300 within my peripheral vision. It was doom approaching me, and I knew I couldn't do anything anymore but brace myself from what was about to happen. It strongly crashed on my driver side. Blag! My car flew mid-air as I felt my door denting because of the impact.
It was fast. It was like one of those scenes you see on TV. That's exactly how it visually felt like. I was in shock, but my first reaction was to drive my wrecked car to the side to prevent traffic from building up. But what happened? Was the driver of the other vehicle drunk? Was he sleepy? Were his brakes faulty? My body felt numb. I wasn't sure if I got bruised or what, but as a pragmatic person, I got out of my car and checked the situation calmly.
It was bad. I was driving Khaleesi, my Peugeot 508. The build of the chassis was really heavy-duty, but right now, it was a total wreck. My window was broken, and I couldn't close the door anymore. I imagined that if I had been driving a different car, I might be writing this in a hospital right now (or I might not be writing anything at all). I still couldn't feel anything. I checked around and looked for the driver of the L300. He was telling me that I was in the wrong. I was confused. How was that possible? That was when we found out that both of our traffic lights had been green. Yep, it was a faulty-traffic-light intersection.
Everyone in the area knew it was broken. The passersby, the motorcycle riders, the guard from the mall beside the intersection…they all knew it was a faulty traffic light. Even my friends who live in the area are aware of it. It had been broken for months. That was when I knew it was gonna be fucked up. The government is at fault, but we all know that they're never wrong. So how do I stand up and fight for my right as a citizen?
We went to the nearest police camp to file the incident, and guess what, they all knew about it, too. What I got was an affirmation that the traffic light was broken. They had already reported it to the Mayor's Office at QC City Hall, but no action had been made. I asked if this was the first time it happened. Nope, accidents were frequent in that area, and yet the faulty traffic light was still on. I'm not sure if it's true, but someone told me that the reason it hadn't been fixed was that the supplier for its maintenance had not yet been paid. We were issued a police report with the next step as deposition (meaning we should just settle the matter ourselves). Ah, so parang COVID-19 response lang rin pala ng gobyerno: May pagkukulang sila pero bahala tayo sa sarili natin. Great. Just great.
After securing the police report, we went to the Barangay Hall, which was just a short walk away from the faulty traffic light, to secure CCTV footage. I was still calm, probably due to the shock of the accident. They were responsive and helpful. They asked us what time the accident had taken place, and we said it was around 1:30pm. It took them some time before they allowed us to look for it ourselves as they were having a hard time looking for it. One of the people there was ranting out loud: "Hindi talaga namin makikita 'yan kung mali-mali 'yung oras na binibigay." He was ranting like a madman, while I was there just sitting quietly and waiting. At that point, I was starting to feel my body ache from the impact. I was dumbfounded. I had just had an accident because of the incompetence of the Quezon City government, and there I was, still in shock, hearing the side comments of a person who should have been aware of the accident in the first place. But again, I was calm. But thinking about it now, I was more damaged than calm. I found the footage with a time stamp of 1:21pm.
I felt helpless. The driver of the L300 and I both knew who was really at fault, but he was only a driver trying to make ends meet (he needed to feed his kid and his wife was in Singapore with an unstable job because of COVID-19). To add to that, the company of the driver was also unreasonable. They wanted me to pay for the damages because the faulty traffic light was on my side of the road, and their driver was just following the road signs. I explained to them the situation, but the one on the phone didn't care at all. I even offered to fix the settlement the next day because my body was aching and I wanted to have a checkup, but they wanted me to settle right away. If I didn't, they would ask both our cars to be impounded as we hadn't reached an agreement yet. They'd rather have the cars impounded, halt the job of their driver, have their driver travel from QC to Valenzuela at night without the L300 (and with the ongoing pandemic) just to bully me into settling. It was disgusting.
I was shocked by how unreasonable they were. Hindi sa nanunumbat, but I paid for all the expenses of their driver for the police report because I knew the driver was just working for his family. For the first time that whole day, I started to feel agitated. It was just too much. I knew that after this, the driver would also have a hard time dealing with his employer. It was so bad. I felt like crying out of frustration, but I kept it all to myself. In the end, I consulted a lawyer. We assessed the situation and dealt with it. I knew in my heart that I could drag this along, but I didn't want to put more burden on the driver so I let go. That was when it dawned on me just how fucked-up everything was—how everything could have been prevented if the government had done its job of fixing a faulty traffic light. Instead, God knows where they used the budget. It had been broken even before COVID-19, so let's not blame the pandemic for the incompetence. It had always been there; the pandemic just made it more visible. Kadiri itong gobyernong ito.
It was starting to get late. It was past 9pm. After all the drama, I decided to go home. The rain poured. I felt mad. I felt sad. I drove back to my condo with my wrecked car and its broken windows, while the rain was splashing on me. My face was wet. Were those tears? Nope, it was just the rain. Pero tangina.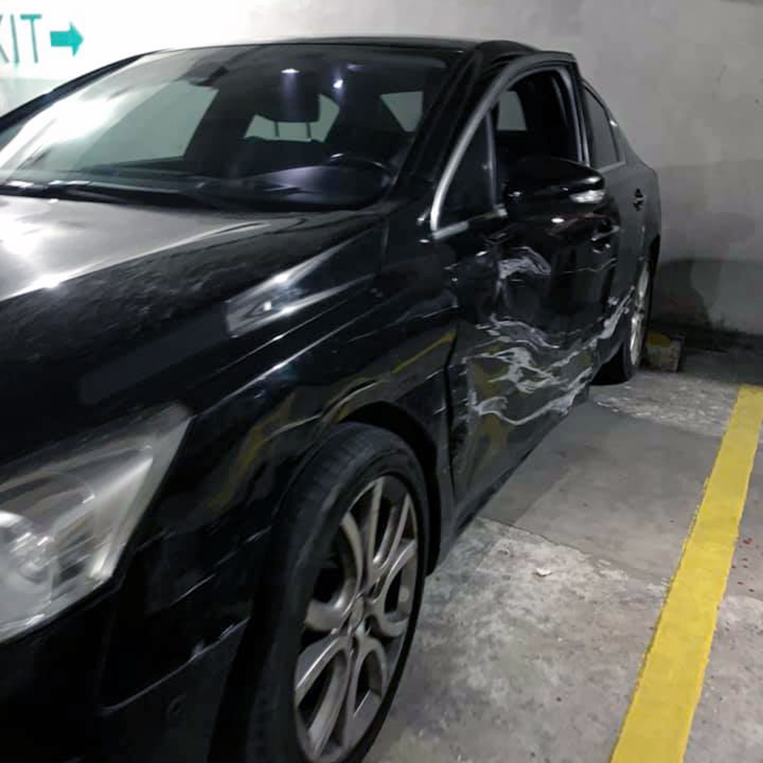 It was a long read, for sure. But if you made it to this point, it only means one thing: You could totally relate to our disgruntled fellow motorist. Perhaps his experience explains why many of us feel reluctant whenever we cross an intersection in Metro Manila (or outside of it). This country is all kinds of pathetic. Our safety is our own lookout. Stay alert.