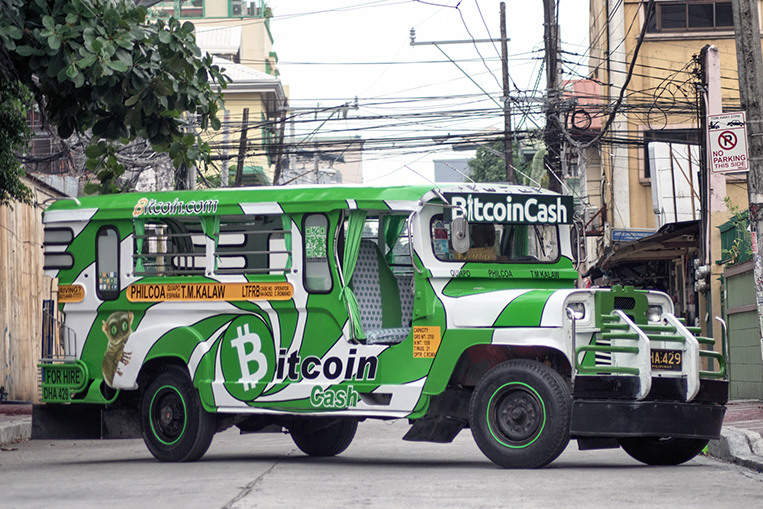 The subject of Bitcoin and other cryptocurrencies has received growing news coverage in recent times, with the popularity of digital money rising steadily as more and more people understand the workings of it and get onboard with the idea. The Philippines has become a bit of a hotspot for it, too, with a number of local companies trying to push adoption and offering services for anything from buying goods locally to sending international remittances via Bitcoin. One area that hasn't seen much cryptocurrency interest is public transport, but that is about to change.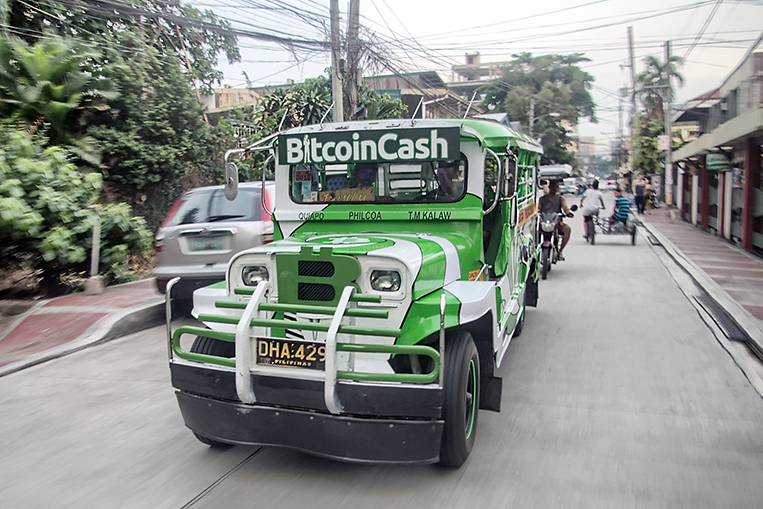 If you're hailing a jeepney along the route between Philcoa in Quezon City and T.M. Kalaw in Manila today, you may see a bright-green PUV stopping next to you and which has the words "Bitcoin Cash" emblazoned all over it. It also sports a distinct-looking 'B' in place of the usual front grille. The eye-catching people carrier is the country's first Bitcoin Jeepney, a project realized by a group of cryptocurrency supporters keen to further push their preferred Bitcoin version into the mainstream.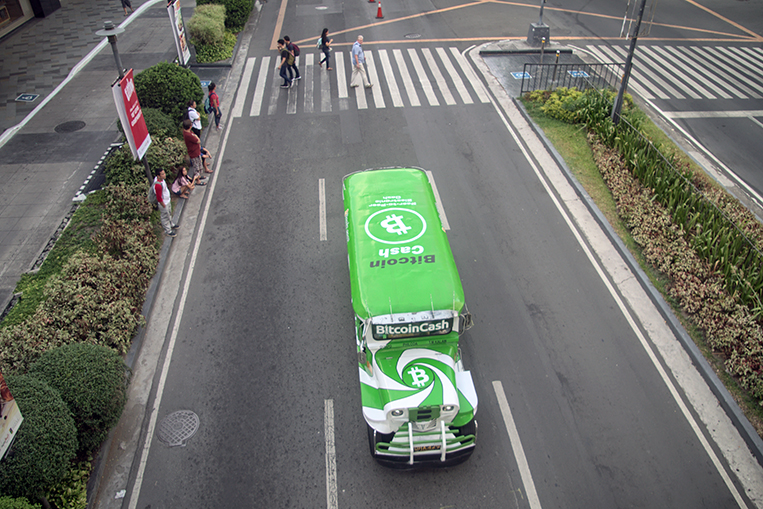 Without getting too technical, it helps to understand that there are a number of different cryptocurrencies. Bitcoin itself was released to the world in 2009, and as it is open-source software, in general anyone can work on it and change it in a variety of ways. This is exactly what happened when, in 2017, a group of developers didn't like the way the original Bitcoin was going and decided to create their own version. This so-called hard fork of the Bitcoin (or BTC) code resulted in the public ledger that records its transactions, called the blockchain, and the cryptocurrency itself being split in two. The newly created currency was christened Bitcoin Cash, and its supporters have since been busy promoting it.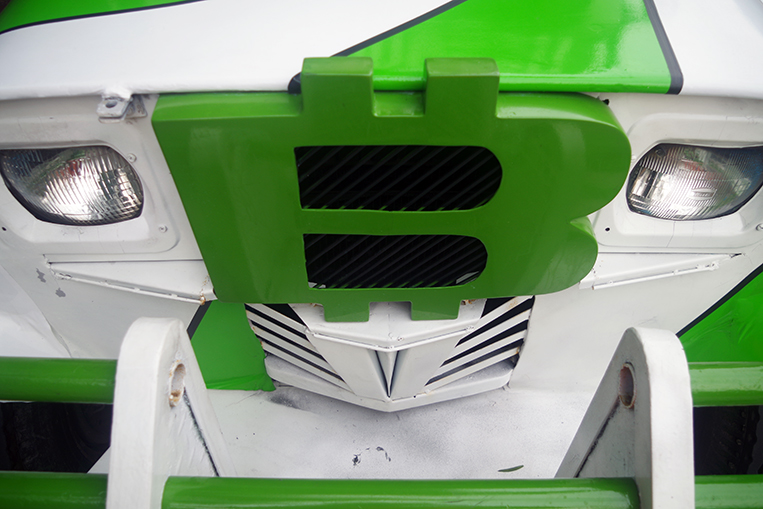 The jeepney you see here was financed via a crowdfunding model the people behind the project call an "Initial Jeepney Offering," a wordplay on the term ICO, or Initial Coin Offering, which is a popular way to launch new cryptocurrencies. Twenty different individuals donated 0.5 Bitcoin Cash (or BCH for short) in an effort to turn an existing jeepney into their very own digital money marketing mobile. The Twitter handles of these "chairholders," as they are called, have been emblazoned in the seating area, with the seats themselves displaying the trademark green 'B' logo that the BCH community has chosen to adopt.
From riding a jeepney to buying a Lamborghini, the real-world uses of cryptocurrencies are many and easy to facilitate
The vehicle has been nicknamed Gen, which is short for Genesis Jeepney and hints at the group's plans to unleash more than just this single PUV onto Metro Manila roads. At the moment, passengers still pay their fares in pesos, but an RFID payment system (think Beep cards) complete with free Wi-Fi is soon to be installed, meaning that not only has the jeep been paid for with BCH, but passengers will also be able to use the digital cash to ride it in the near future. Once installed, this will be a first in the world and will demonstrate potential large-scale practical uses of cryptocurrencies.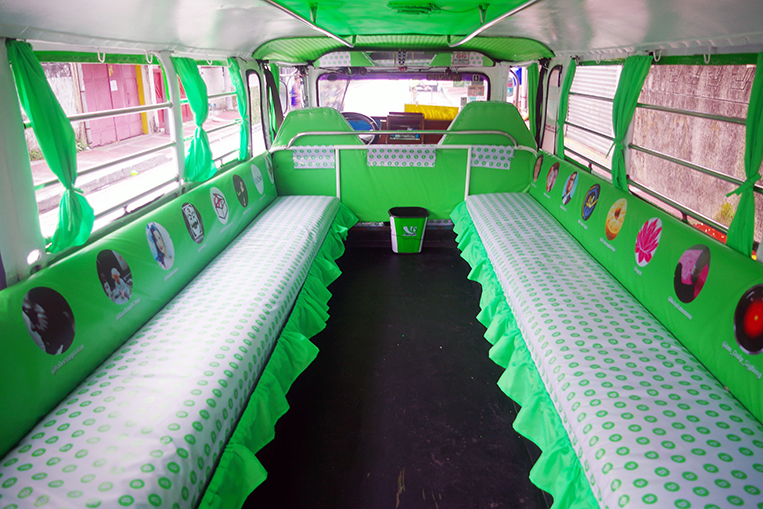 No matter which Bitcoin version you prefer and support—with there being some quite public squabbles between Bitcoin Core (BTC) and Bitcoin Cash (BCH) supporters as to which version is better or more 'true'—seeing this relatively new technology being pushed into everyday life at breakneck pace is fascinating. This should ultimately change the way we think about and use money. Decentralized digital currencies mean there is no central bank to mess with interest rates, no government control on what you can or cannot do with your money, and no need for expensive bank accounts as your cash is with you at all times. From riding a jeepney to buying a Lamborghini, the real-world uses of cryptocurrencies are many and easy to facilitate.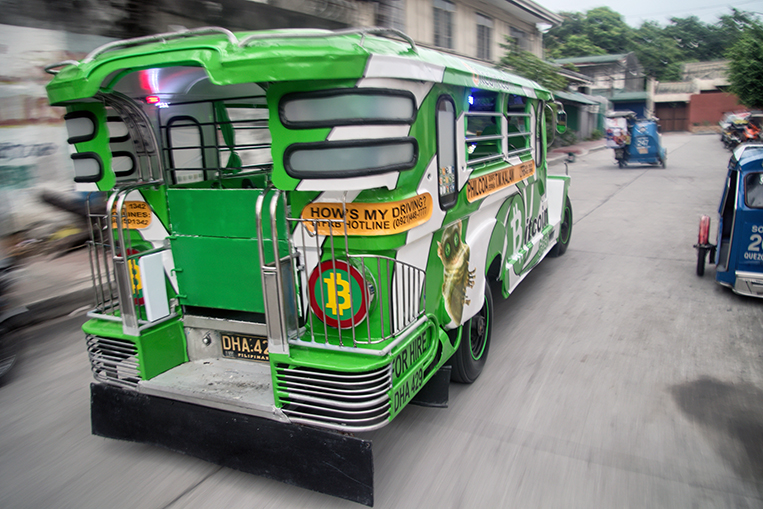 Currently, Gen runs on diesel, but there are already plans in place to make future cryptocurrency PUVs more environment-friendly. This first vehicle, with its bold look and quirky details like the Bitcoin rear lights, is a test bed for the idea. If all goes according to plan, many of us might soon travel on Bitcoin-financed jeepneys, with the fare also being handed over in digital cash. The potential for this concept is huge, and you can follow the progress of this project via its Twitter handle @BCHJeepney.