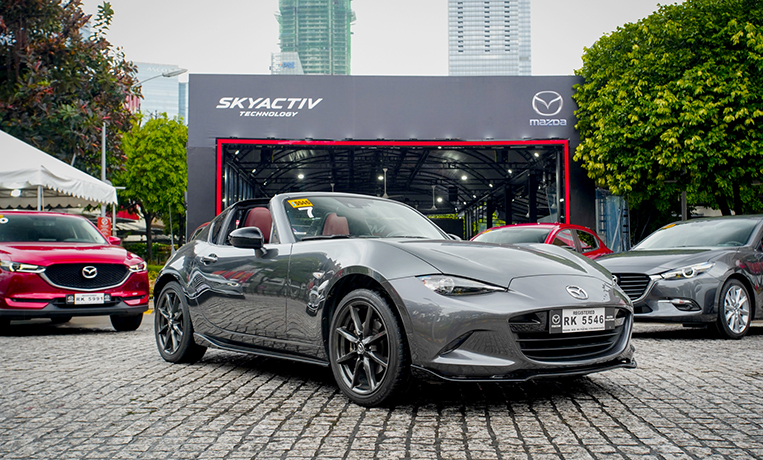 I frequent a number of provincial dealerships of various car brands, and have noticed something seriously lacking: test drive units. That is also the case for some dealerships in the National Capital Region. With the sales slump the local industry is currently facing, automotive brands really need to step up their efforts to reconnect with the consumer and boost turnover.
It's one thing to do an enticing sales pitch à la Billy Mays while handing out glossy brochures, but nothing can be more convincing for potential buyers than putting them behind the wheel of a car and taking said car out for a spin. Wisdom and experience have taught me that one must never buy a car until he has driven it around the block a few times.
One Japanese car brand wishes to strengthen that connection between shoppers and its products. In light of the success of the company's annual "Zoom Fest" held in Bonifacio Global City, Mazda Philippines has decided to go nationwide with this event through its network of 20 authorized dealerships. To all those who have been wanting to test-drive Mazda's vehicles before taking that purchase plunge, here's your chance to do so.
Besides test drives, Mazda is throwing in some money-saving deals and limited offers for some of its cars. Fun interactive activities also await visitors, with each showroom giving in-house promos alongside the distributor's nationwide discount offerings.
If you've been eyeing a 2 subcompact, you may purchase one at Zoom Fest with P49,000 all-in down payment. Meanwhile, those interested in the 6 Sports Wagon may avail of a P100,000 cash discount or 0% interest for 36 months—with free Mazdaspeed bodykit to boot.
As for the popular CX-3 FWD Sport, a buyer may choose from the following options:
P99,000 all-in down payment;
30% down payment plus free two-month amortization;
50% down payment with P13,633 monthly payment for 60 months; or
50% down payment with 0% interest for 18 months
Lastly, the CX-5 2.5L AWD Sport is being made available with a 50% down payment with 0% interest through 18 months.
Here's the Zoom Fest's full nationwide schedule at Mazda dealerships:
August 17 – Pulilan
August 17 to 18 – Dagupan, Cabanatuan, Makati, Cavite, Santa Rosa, Davao, Cagayan de Oro, Butuan
August 18 – Alabang, Tarlac
August 18 to 19 – Greenhills
August 23 to 25 – Negros
August 24 to 25 – Pampanga
August 25 – Cebu, Quezon Avenue
August 24 to 26 – Otis
As we've already pointed out, now may very well be the best (and smartest) time to purchase a brand-new ride as distributors are running out of storage space for their inventories, forcing them to give discounts and attractive deals to buyers. If you're in the market for a new vehicle, the nationwide Zoom Fest events are definitely worth a visit.