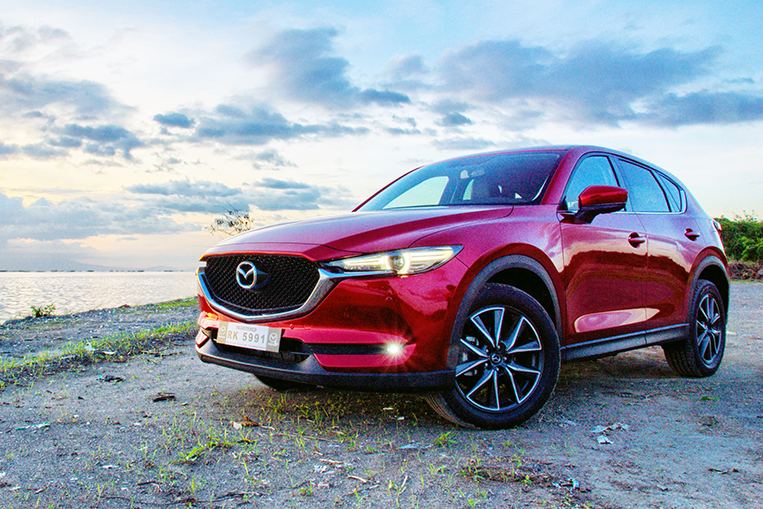 Someone once calculated that if Santa Claus had been real, his fully loaded sleigh would have to weigh around 353,430 tons in order to deliver presents to children in one night, and said sleigh would require 214,200 reindeer traveling at 3,765,865km/h to get him around the world on time. Well, the sleigh parked in front of us on this warm December evening isn't quite as big or fast, and its output is measured in horse instead of reindeer power, but its first mission tonight is just the same, albeit on a much smaller scale.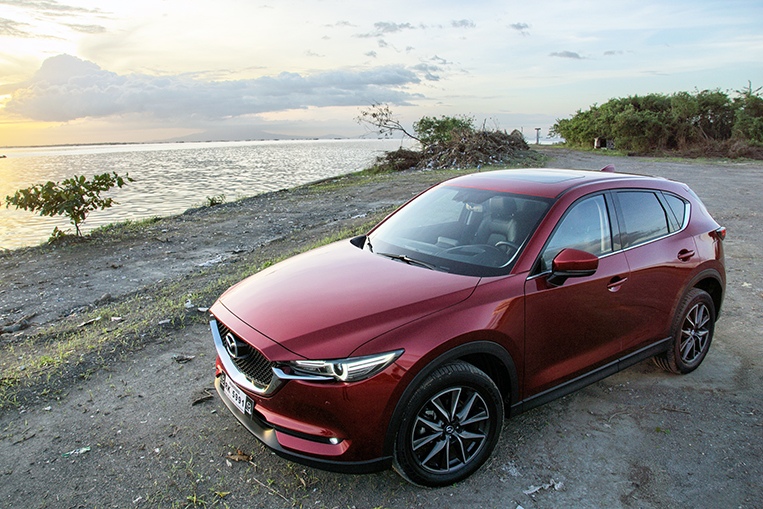 The Mazda CX-5 has been a familiar sight on Philippine roads since its introduction in 2012, and the latest generation of this crossover vehicle is firmly on course to continue the success story of its predecessor. Our first task since taking delivery of the elegant-looking Soul Red Crystal test unit from Mazda Philippines is to play Santa and deliver a whole load of toys to Project Pearls in Manila. This amazing grassroots charity has been doing wonderful work in some of the poorest parts of the city for many years, and the CX-5's 471L of seats-up boot space made light work of the dozens of packages destined for the charity's annual Christmas toy drive.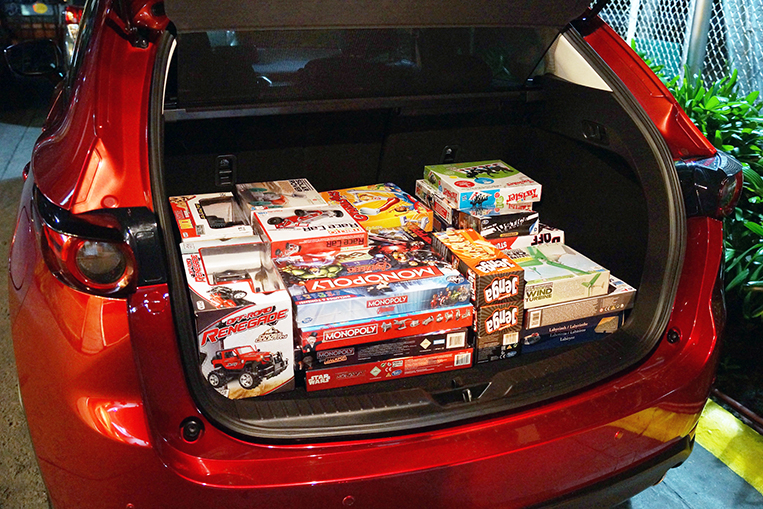 Fold the seats down and you get more than triple that space, which was plenty enough to transport a mountain bike—my normal means to get around—home from the office. For a car that thinks of itself as a compact crossover SUV, cabin space is also more than adequate, with plenty of room to fit even larger drivers and sufficient room to keep passengers comfortable in the back. The CX-5 sits one step below the bigger CX-9, so it isn't a full-size people carrier (but it's not far from being one either).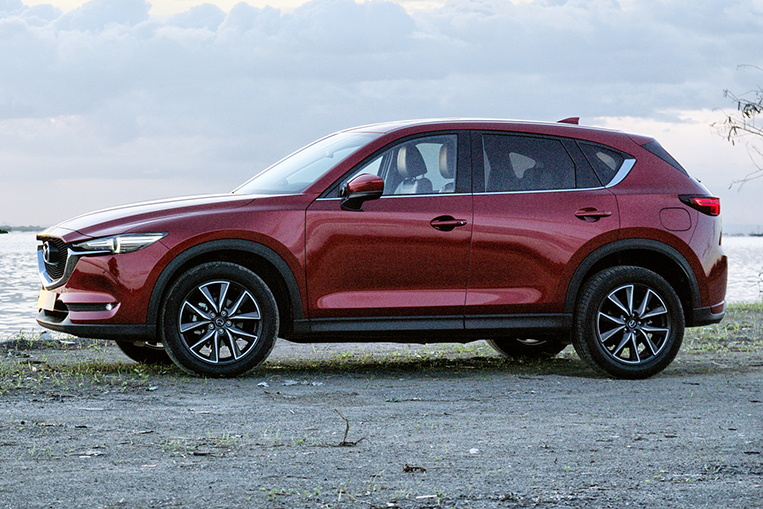 We drove the 2.5-liter AWD Sport version that mates an in-line four-cylinder petrol engine (187hp and 251Nm) to a smoothly operating Skyactiv-Drive six-speed automatic gearbox. This combination, together with clever electronic helpers like Mazda's G-Vectoring Control, proved more than capable when it came to handling a whole variety of challenging driving conditions during a road trip to Batangas.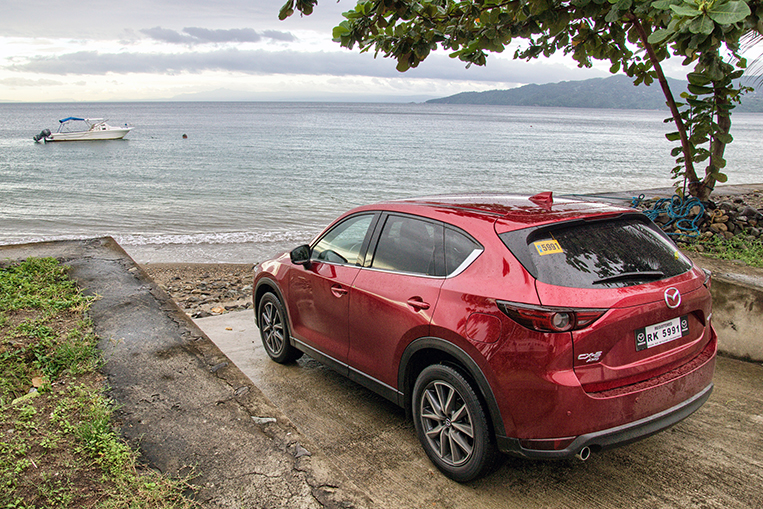 The all-wheel drive system worked an absolute treat as well, from letting us position the car for pictures on a wet slipway at the PNP Maritime Group Special Waterborne Operations School in Mabini (which, by the way, kindly allowed us to use its facility after we stumbled upon it), to effortlessly tackling the nighttime climb to Tagaytay in heavy rain, there wasn't a spinning wheel or tractionless moment to worry about. Whatever electronic wizardry Mazda has deployed to make this happen is clearly effective, and the CX-5 is going around corners like it's riding on the proverbial rails—without ever making you feel like it's not you who's doing the driving.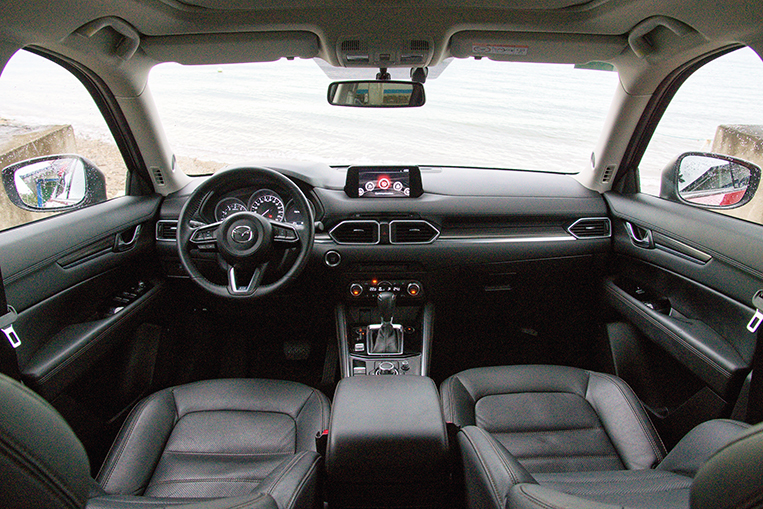 The car is also very intuitive to drive, and Mazda has spent a lot of time getting this right. The onboard entertainment system is super easy to use, and all other functions are where you would expect them to be, making you feel at home in an instant. Mazda's i-Stop feature and automatic brake hold function help to reduce fuel consumption and stress in stop-and-go traffic, while the blind spot warning system improves safety on the move.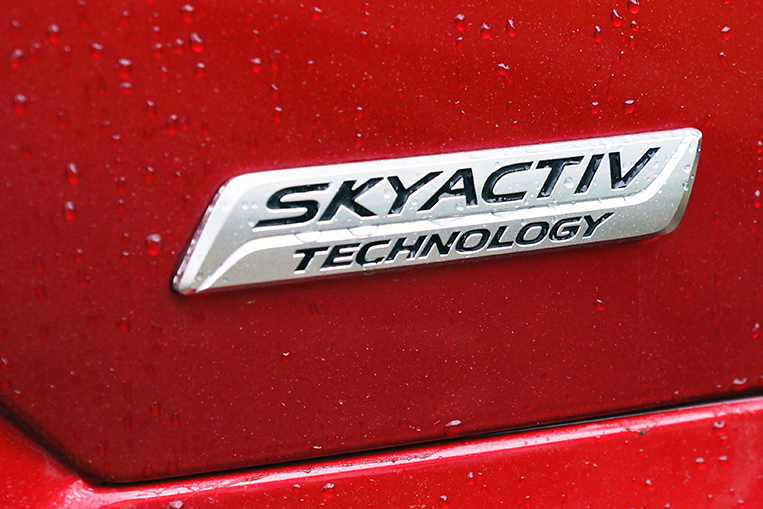 The engine is incredibly quiet when driving in town or coasting along the highway, but quickly delivers bursts of power when needed and never sounds strained when called upon, giving you confidence and that feeling of being in control at all times. Quick overtakes on provincial roads are a cinch for this powerplant, but it does want to be rewarded for its efforts, with fuel consumption averaging just under 8km/L during our time behind the wheel.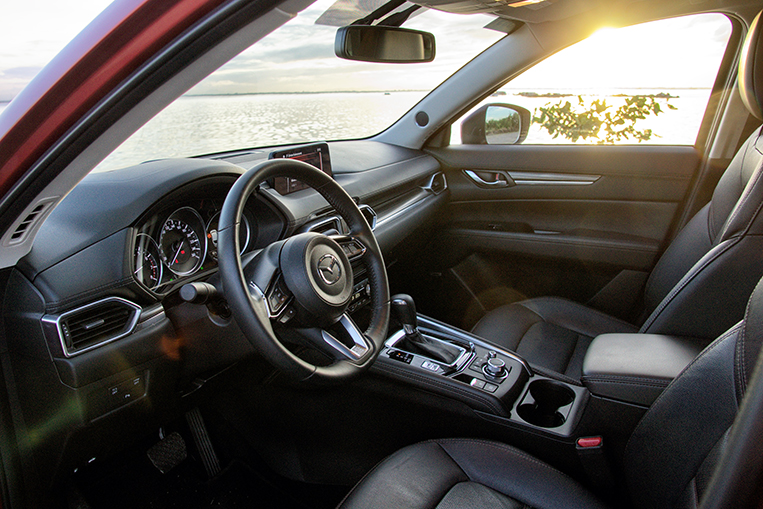 Some cars make you feel exhausted after a long journey, but stepping out of the new CX-5 after a whole day of driving felt like we had just been on a short hop down the road and not all the way to Batangas and back. The car has been designed very well to keep external influences out and cognitive loads on the driver low.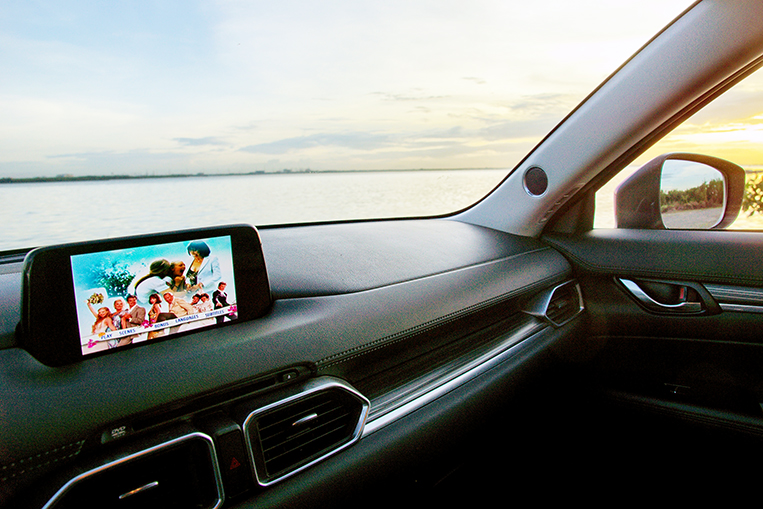 The heads-up display projects your speed—as well as any speed limits the car's forward camera picks up—and blind spot alerts directly onto the windshield, meaning you never have to take your eyes off the road while driving. The excellent noise insulation paired with the 10-speaker Bose audio system, meanwhile, helps to drown out harsh traffic noise.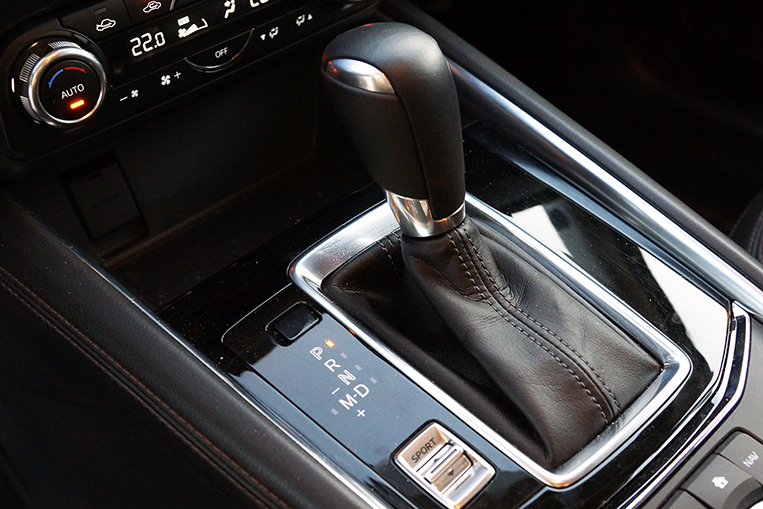 Run your hands over the surfaces in the cabin and you will get the impression that this is a real premium car. Everything feels nice, well finished and carefully designed, such as the plush leather seats or the two USB ports and one 12V power socket hidden in the center armrest, a solution that ensures no unsightly charging cables are lying around on the center console all the time.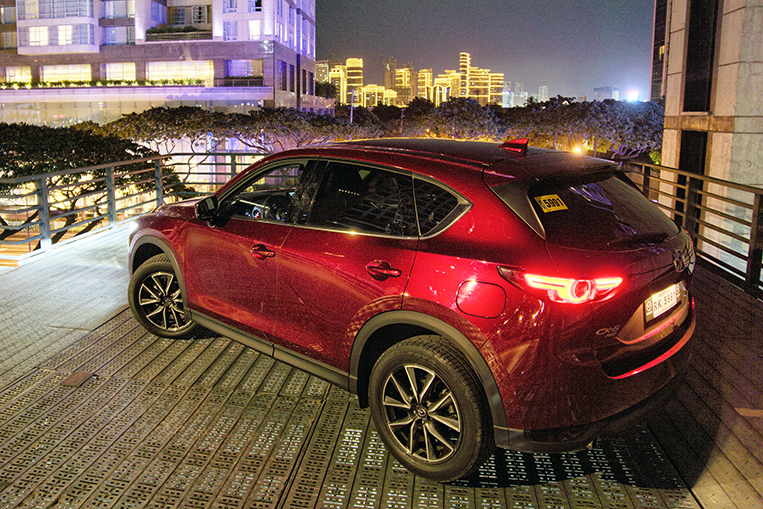 After almost a week with the CX-5, we really got used to its comfortable ride. It felt like this car had been with us for way longer than just a few days. Mazda has definitely landed another winner with this crossover, and the model as shown here can be yours for a smidgen over P1,900,000 (the attention-grabbing paint job adds a premium of P22,400).
MAZDA CX-5 AWD SPORT
| | |
| --- | --- |
| Engine | 2.5-liter in-line-4 DOHC Skyactiv gasoline |
| Transmission | 6-speed automatic |
| Power | 187hp @ 6,000rpm |
| Torque | 251Nm @ 4,000rpm |
| Dimensions | 4,550mm x 1,840mm x 1,680mm |
| Drive layout | AWD |
| Seating | 5 |
| Price | P1,917,400 (Soul Red Crystal) |
| Upside | This compact crossover does feel like a premium model from the engine to the well-designed cabin. |
| Downside | A much more affordable 2.0L FWD Pro is also available, which might be the better choice for urban dwellers. |