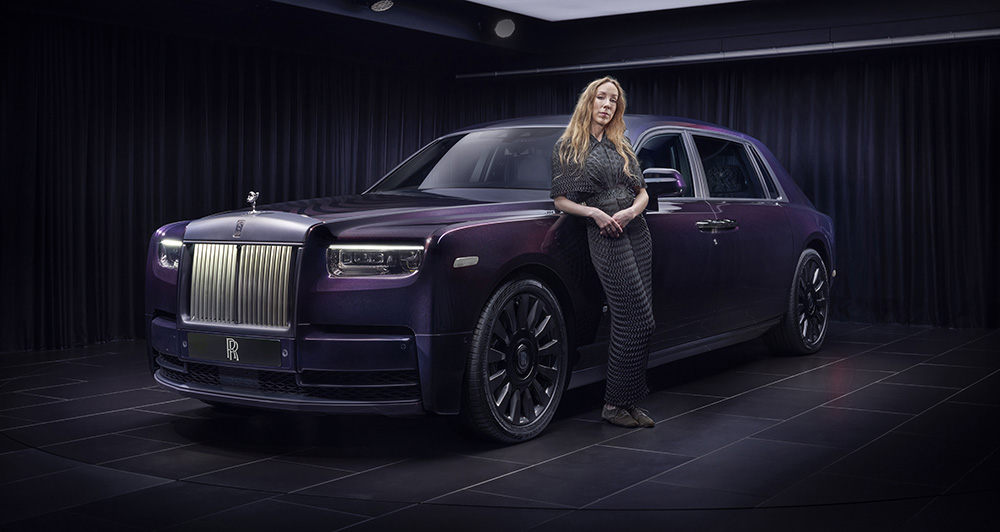 We sometimes refer to certain vehicles as fashion cars, and the posh automobile you see here really does that term justice. Not by merely being fashionable, but by having a proper fashion designer involved in the creation of yet another outrageous bespoke Rolls-Royce.
This one is called the Phantom Syntopia and was created in collaboration with Dutch designer and haute couturière Iris van Herpen. It sports the most complex starlight headliner ever fitted to a Roller, and is also the first car from the firm that comes with its own scent.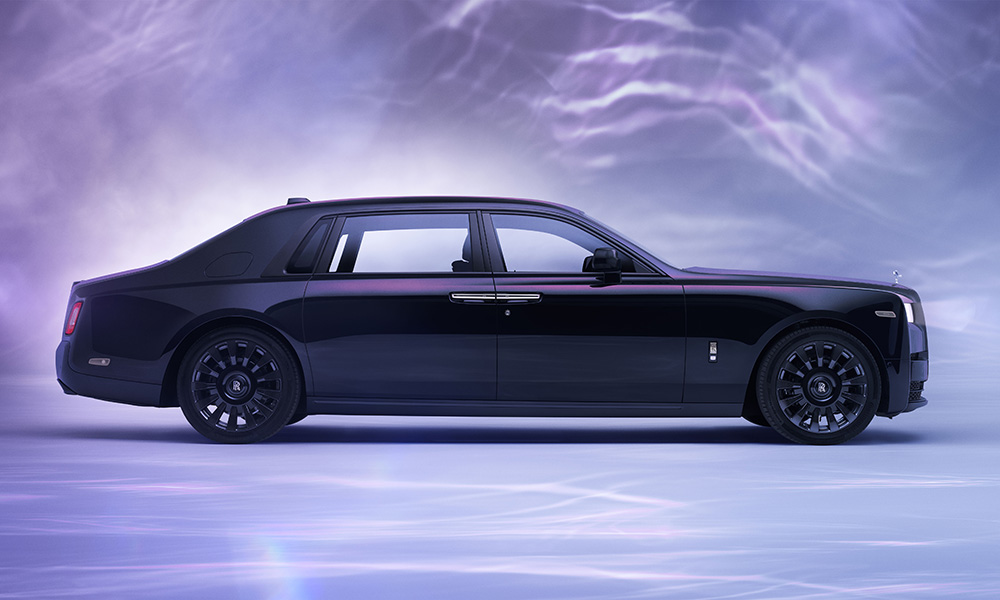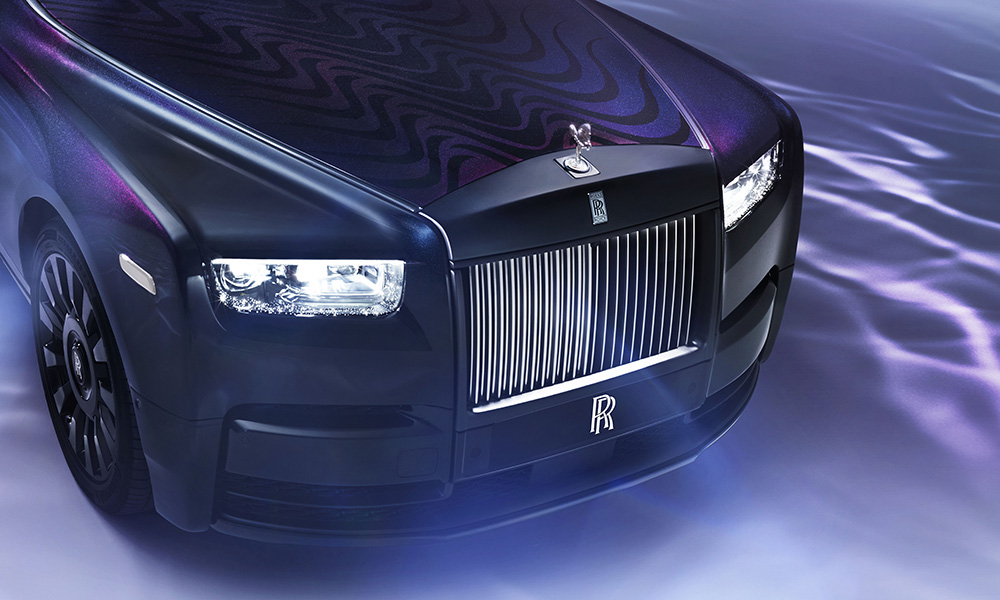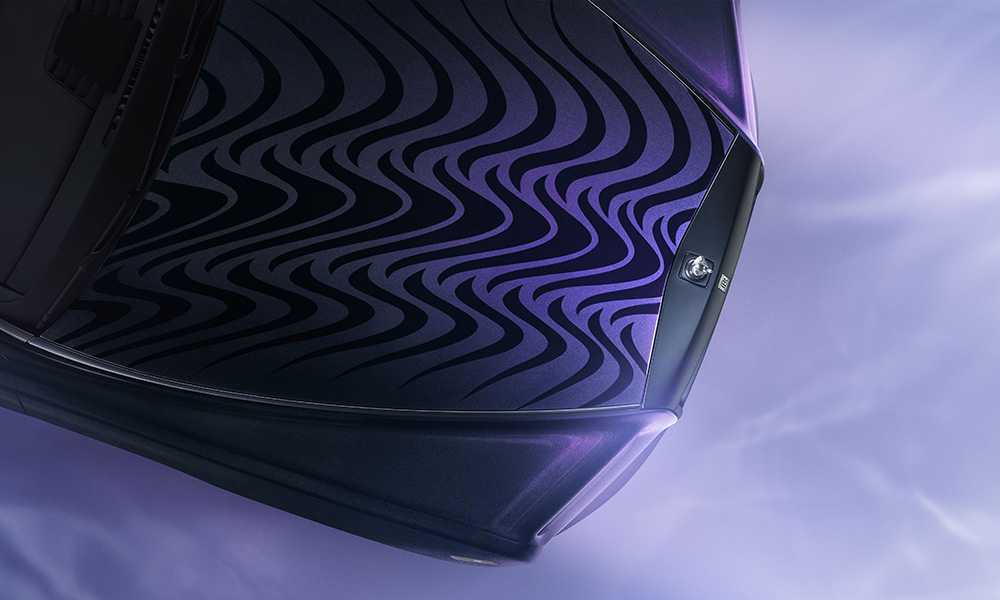 Haute couture refers to high-end fashion pieces that are custom-made and fitted by hand, which is pretty much what Van Herpen earns her money with. In a way, it's also what the Bespoke Collective at Rolls-Royce does every day, albeit that their creations are more at home on the highway than the catwalk. So maybe this project shouldn't really come as a surprise then, seeing as both involved parties earn a living by creating usable works of art.
It goes without saying that this one-off machine sports a number of features that would be unthinkable on most other cars, mainly due to the insane amount of time and money needed to create them. Let's start with the paint job.
This isn't any old dark blue paint. It's called Liquid Noir, and combines purple, blue, magenta, and gold undertones that shine through depending on which angle you view the car from. It was specially created for this Phantom, and apparently took over 3,000 man-hours to perfect. The hood of the car has also been adorned with a special Weaving Water pattern that goes with the general theme of the car.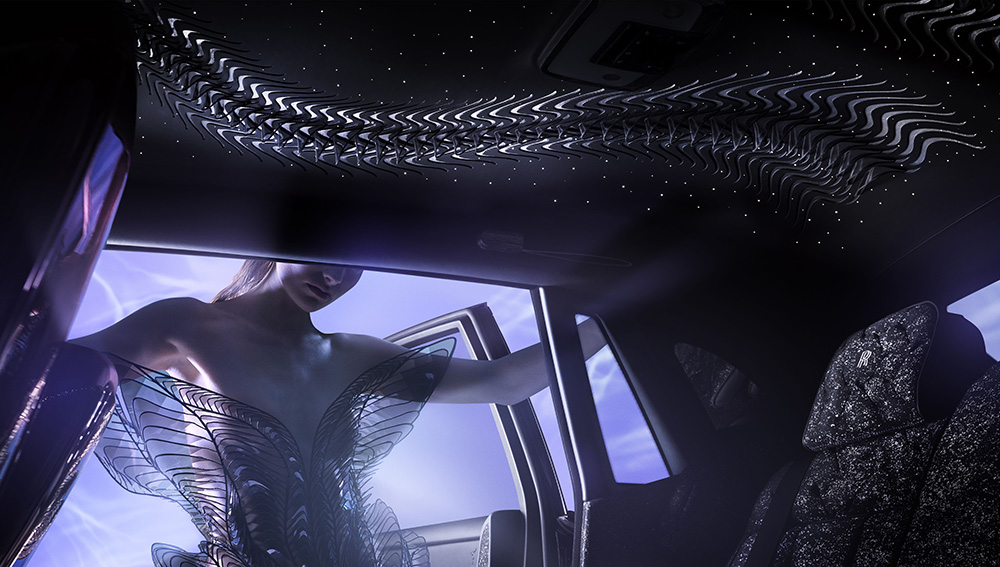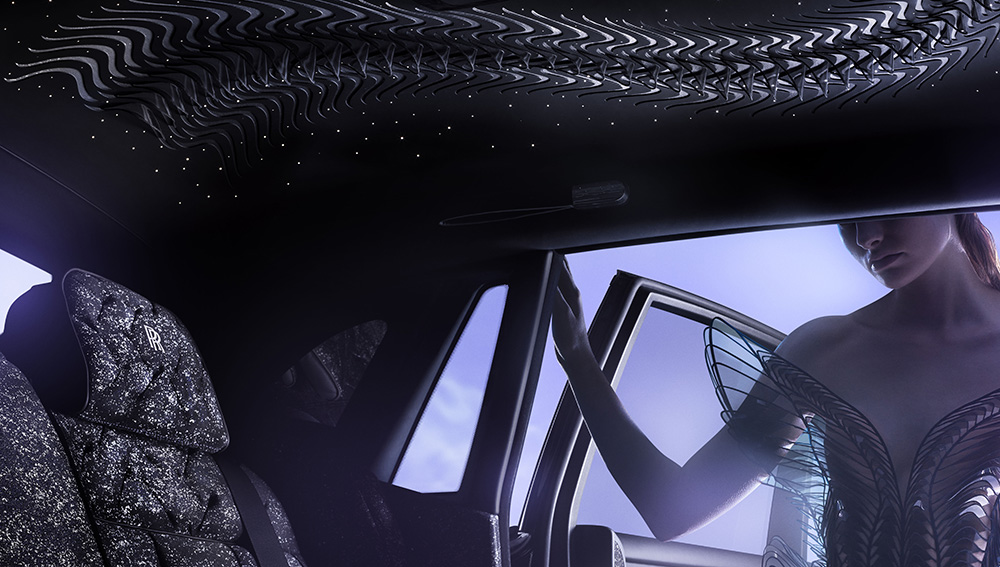 The Weaving Water theme was the idea of Van Herpen, and continues on the inside, where this lounge on wheels was fitted with the most complex and work-intensive headliner to probably ever grace any car.
First, a huge piece of flawless leather was chosen from over 1,000 hides, and then it was cut and combined with a woven nylon fabric placed underneath it to give the whole thing a three-dimensional effect.
On top of that, 162 little petals made from a silky material called glass organza were added before everything was finished off with the addition of 995 sparkling fiber-optic stars. All of that was done by hand and took over 700 hours to complete.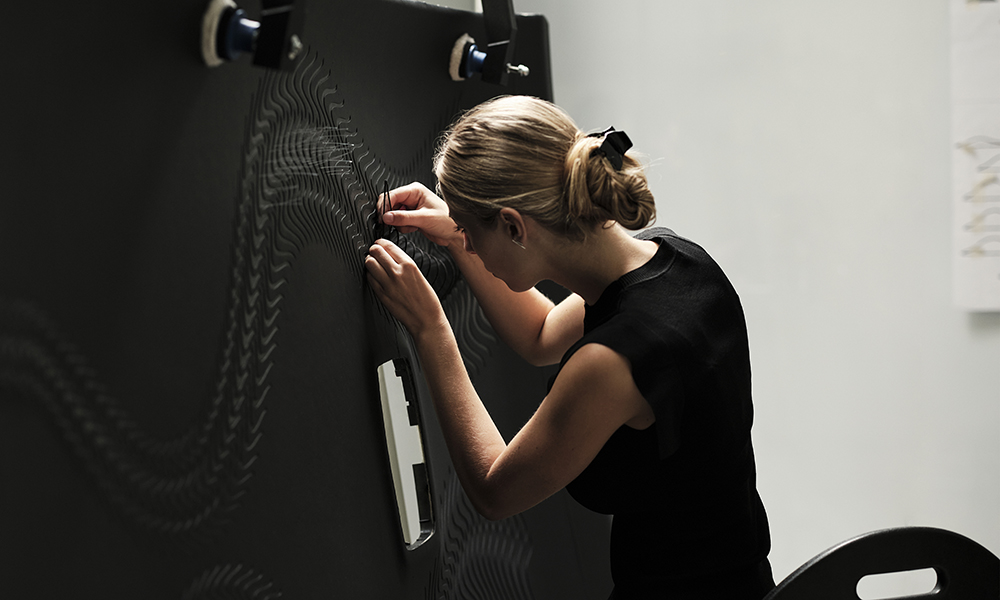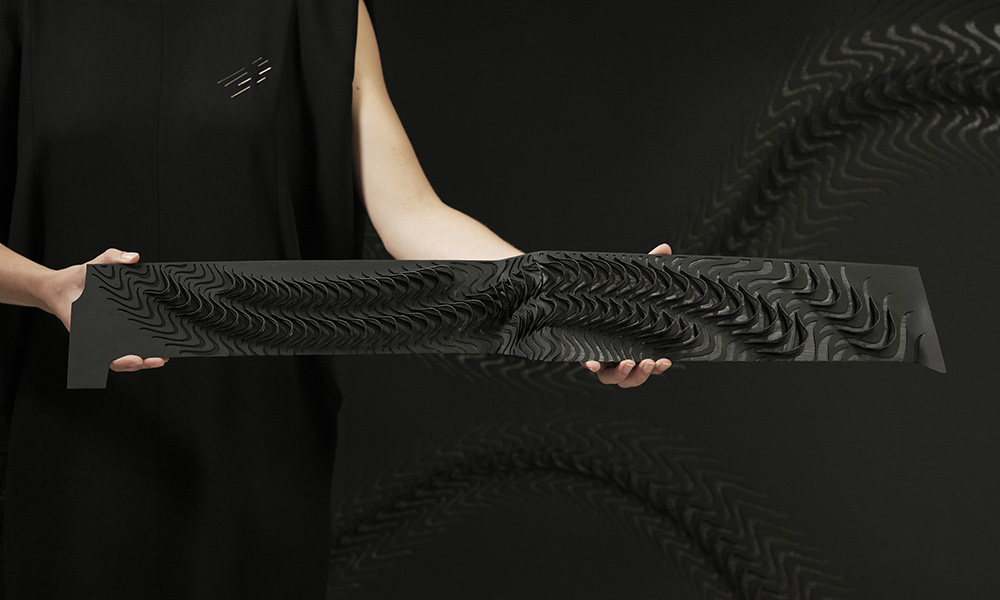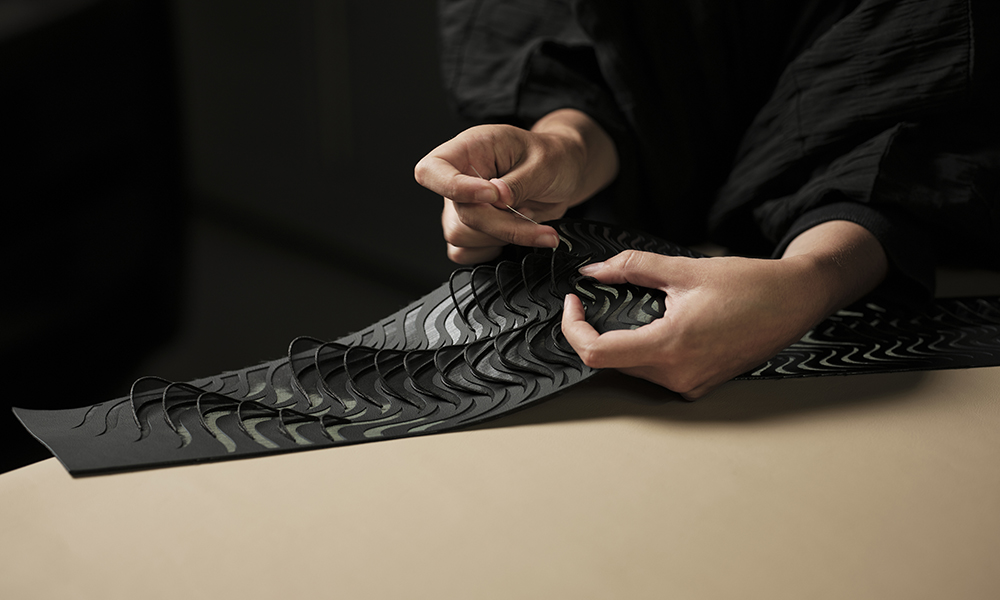 The Weaving Water theme continues across the Gallery (that's the dashboard to you and me), and even finds its way onto the picnic tables, where it was painted in a complex process that took over three weeks to complete. You may now think that the proud new owners will get to enjoy looking at all this while sitting on leather seats, but you'd be wrong. Well, half-wrong. The Phantom Syntopia picks up on a specification that was quite common in the early days of the automobile.
Back then, leather wasn't actually seen as a posh material for car seats and could mainly be found in the driver's compartment, where the hard-wearing material was ideally suited for everyday use. Wealthy passengers in the back preferred posh fabrics, and this split setup has also been installed here. It's gray leather for the driver and specially created silk blend fabric seats for the passengers.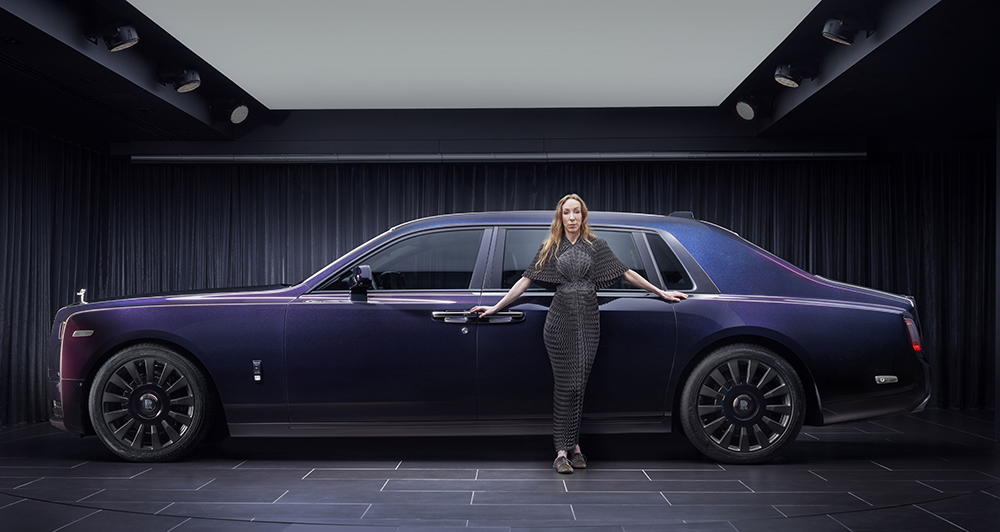 To round it all off, the Bespoke crew even created a special scent for the car. And when we say created, we really mean it. The main body of the scent is based on the smell of cedarwood. Where others would just go and buy any old cedarwood to do this, the Rolls-Royce people actually traveled to the home region of the future owner of the car and acquired the precious material from there. Then they combined it with notes of Iris, a bit of leather smell, lemon and rose from Patagonia.
Instead of just spraying it manually into the cabin, the craftsmen at the company went as far as to invent and patent a new scent-releasing mechanism that is hidden in the headrests of the car. Believe it or not, but it took them two years just to develop this feature and get it to work equally well in hot and cold climates.
The Phantom Syntopia is now off to find a new home in the private collection of an unknown Rolls-Royce customer who will also receive a one-off garment from Iris van Herpen as part of the deal. Haute couture indeed.