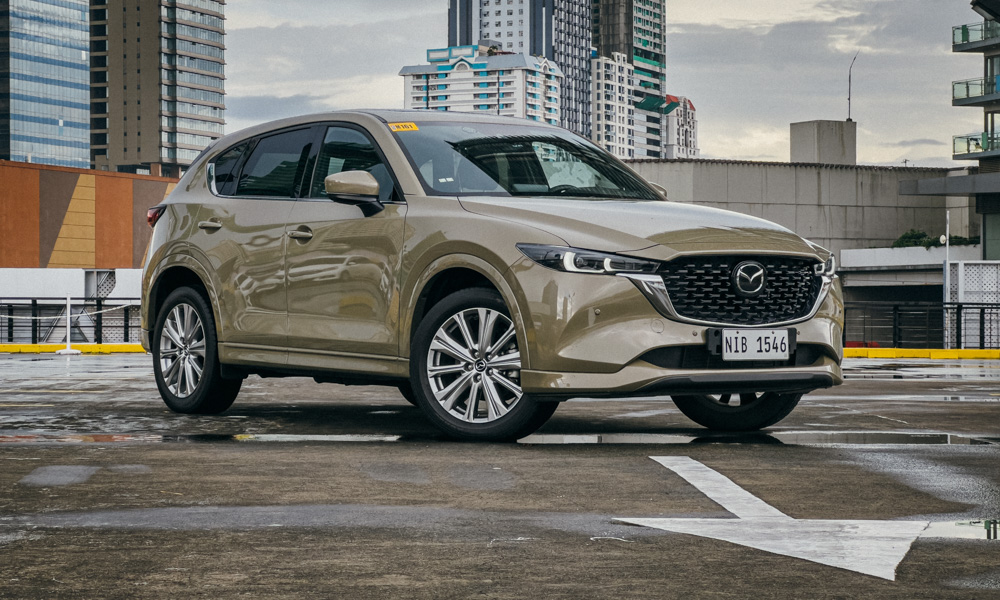 Remember the Subaru Forester XT? That was a crossover that won the hearts of many family men who had to kowtow to their wives' demands wishes. It was a behaved, practical car with a Jekyll-and-Hyde personality that could satiate the need for speed when the wife is away. Sadly, it got the ax, and we never saw anything like that again.
That is, until Mazda Philippines decided to bring in the Japan-made CX-5 AWD Turbo. You could argue that it is the XT's de facto spiritual successor, with a whole dash of Mazda's premium flair mixed in. And boy, is it good.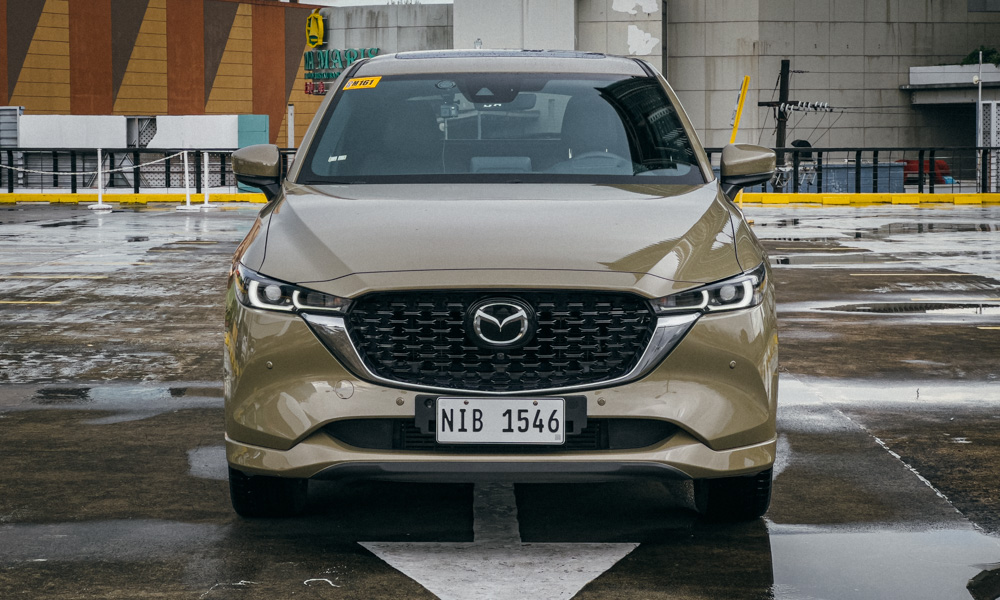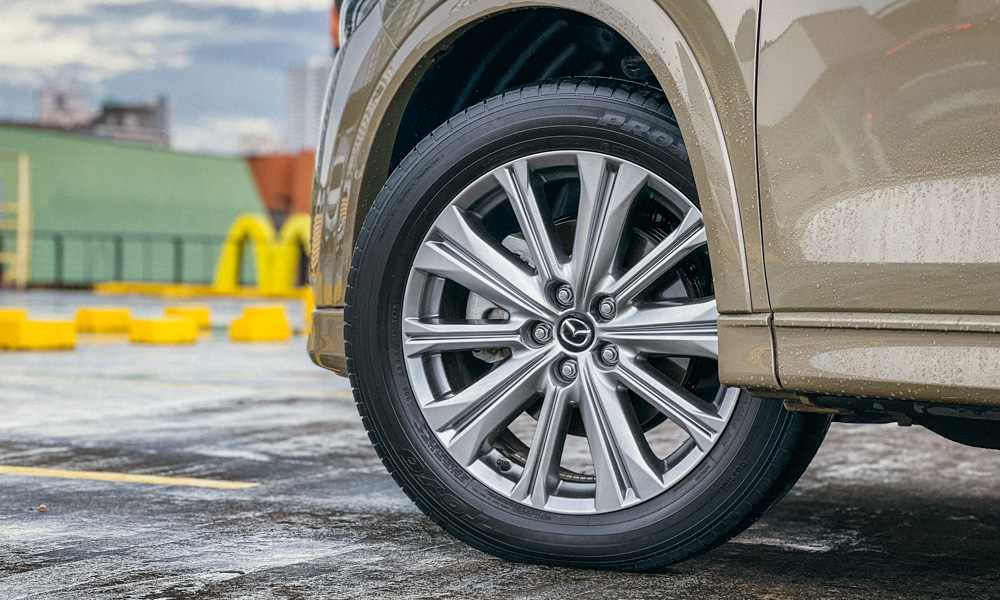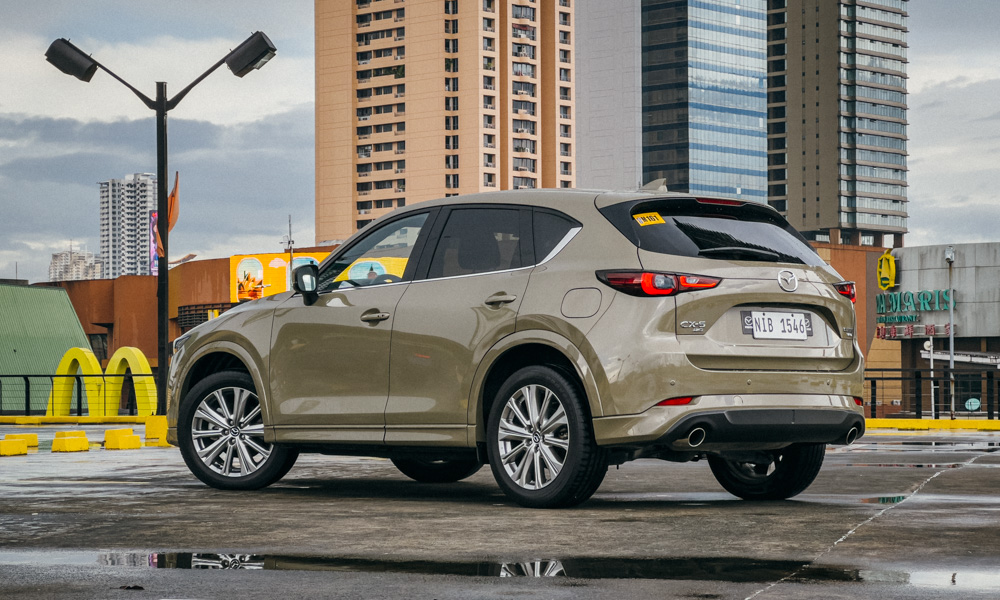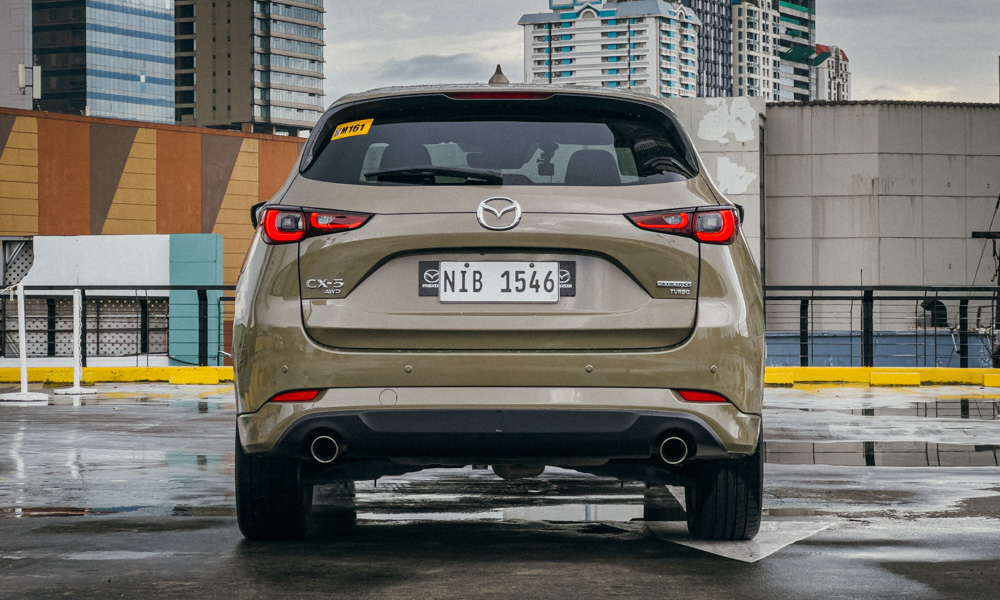 I'll get this out of the way first. This unit's finish is arguably the most controversial bit of a handsome crossover. Zircon Sand isn't for everyone. Some say they love the unique color, while others don't like it. And I'm still firmly in that other camp, even after spending a few days with the car.
Yes, it has its merits. It hides dirt and grime extremely well, and it stands out from a sea of monochromatic vehicles. It's an outdoorsy color that works better with black or unpainted cladding (see the CX-50). And if you really don't like the added "volume" introduced by the painted cladding, you could just get it in a darker paint job.
Otherwise, the styling looks like it has matured from the curvy, flowing lines of previous Kodo designs to an angular, boxier shape, even if the middle section of the car remains unchanged. The bright-silver 19-inch wheels also help add a little flair, even if they can get dirty easily.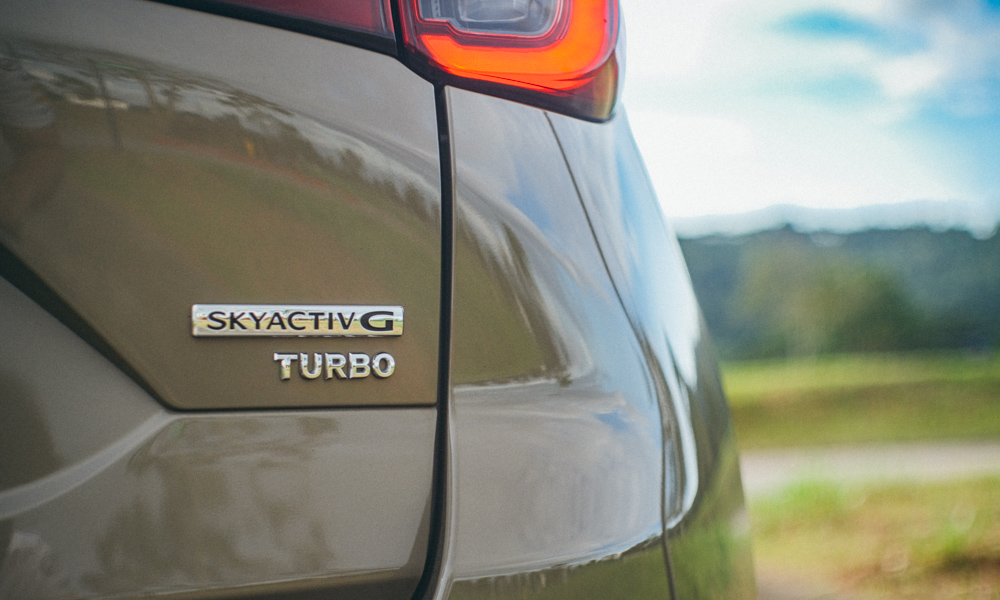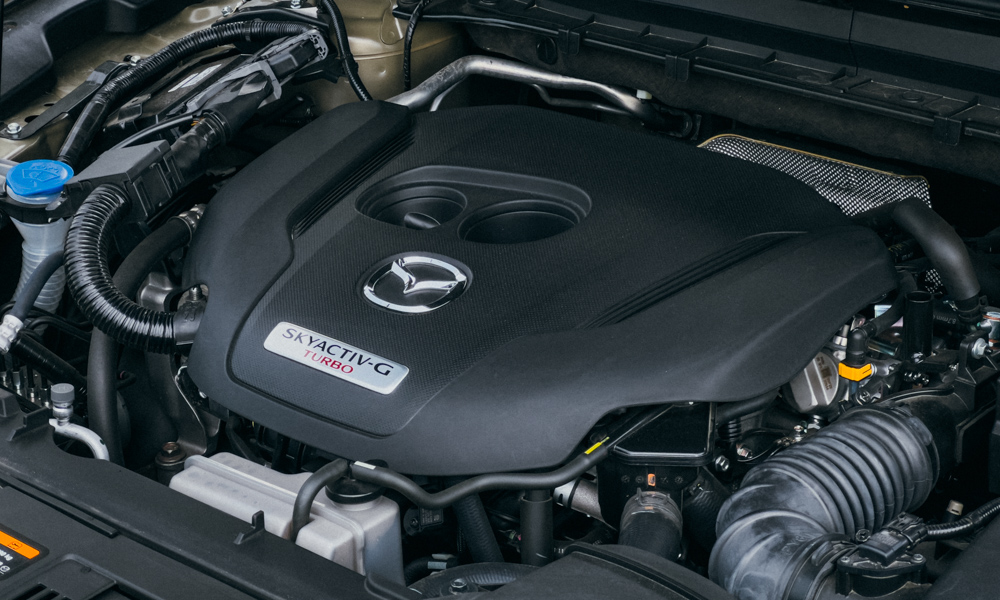 But who cares about a divisive color when you have one hell of a powertrain underneath? It's already established that the 2.5-liter Skyactiv-G Turbo can haul ass. It makes the 6 sedan take off like a frenzied cat, and is well-suited for the CX-9's extensive girth.
When you put it in a package as small as the CX-5 with 250hp and 434Nm, it just simply feels wrong. Couple that with the famed driving dynamics, excellent handling, and satisfyingly weighted and responsive steering (jinba ittai in a nutshell), and you're looking at a crossover that drives a little more like a hot hatch on stilts.
But if you're not indulging in that devilish torque, the engine and the six-speed automatic transmission are incredibly refined with a smooth, linear power curve (as long as you're gentle), feeling almost identical in delivery to the naturally aspirated 2.5-liter Skyactiv-G.
The ride may be a little stiff over speed bumps and potholes, but it's controlled and behaved. And because the turbocharger effectively muffles what would normally be a tasteful rasp under acceleration or even after a cold start, it's a very quiet car that passengers will enjoy on any road surface.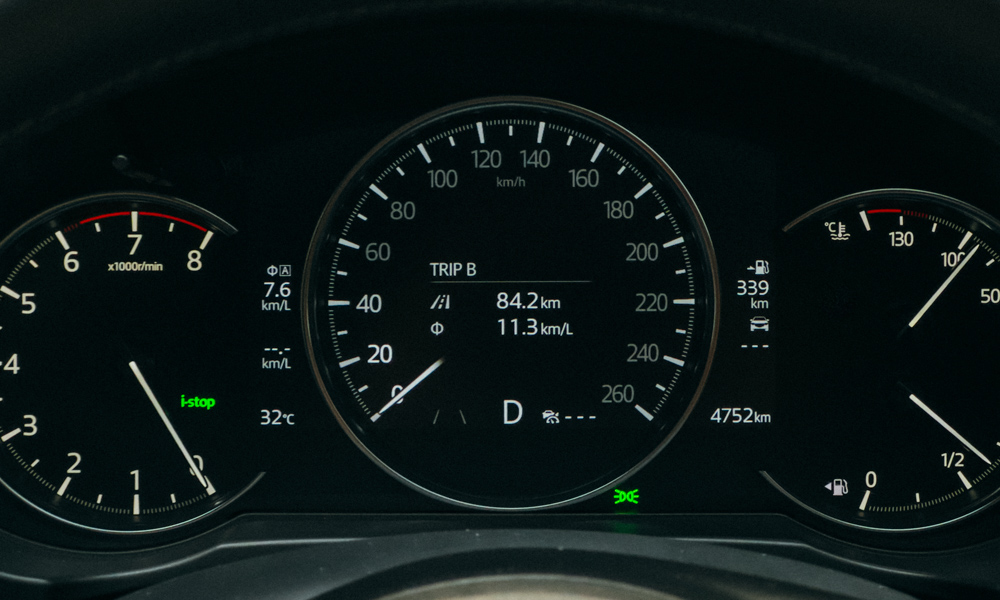 But here's one interesting tidbit: This turbocharged engine doesn't require a strict diet of 95-octane fuel. It can take 91-octane fuel, but power is down to 228hp and 420Nm. It's not a bad trade-off for cheaper fuel, but you'll probably want to give it premium fuel anyway.
In the time that I had the vehicle, I found it to be a little thirsty, but these figures will get better as the engine gets broken in. Using the engine start-stop system, I managed 7.2km/L within city conditions (rush-hour traffic will see it dip to 4.3km/L), and 11.3km/L when cruising on the highway with a passenger.
It's not as frugal as other comparable crossovers, but you can happily flog this like a performance car, or treat it as a luxury crossover, which is why the cabin is the next most important thing you should pay attention to.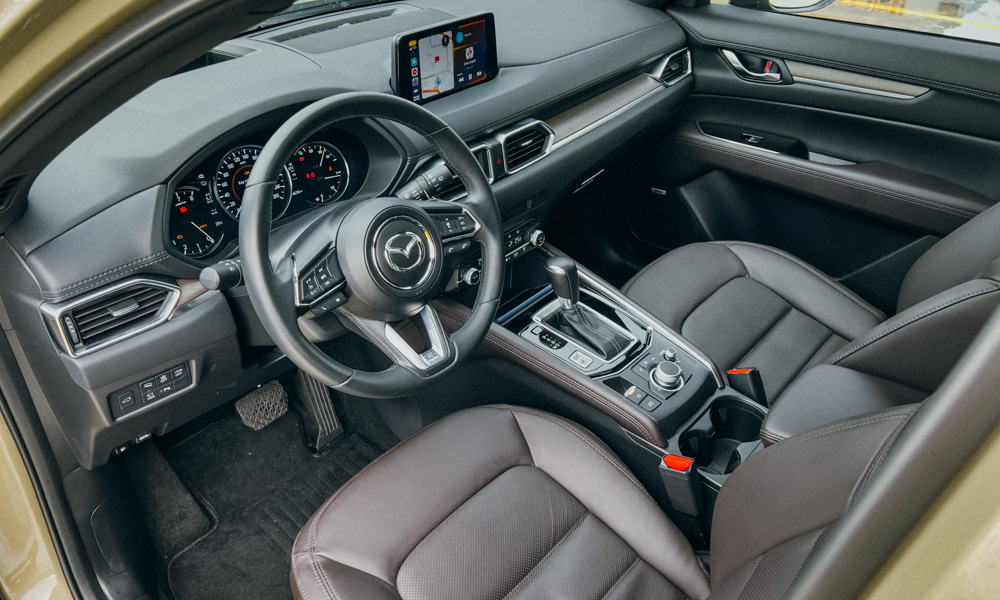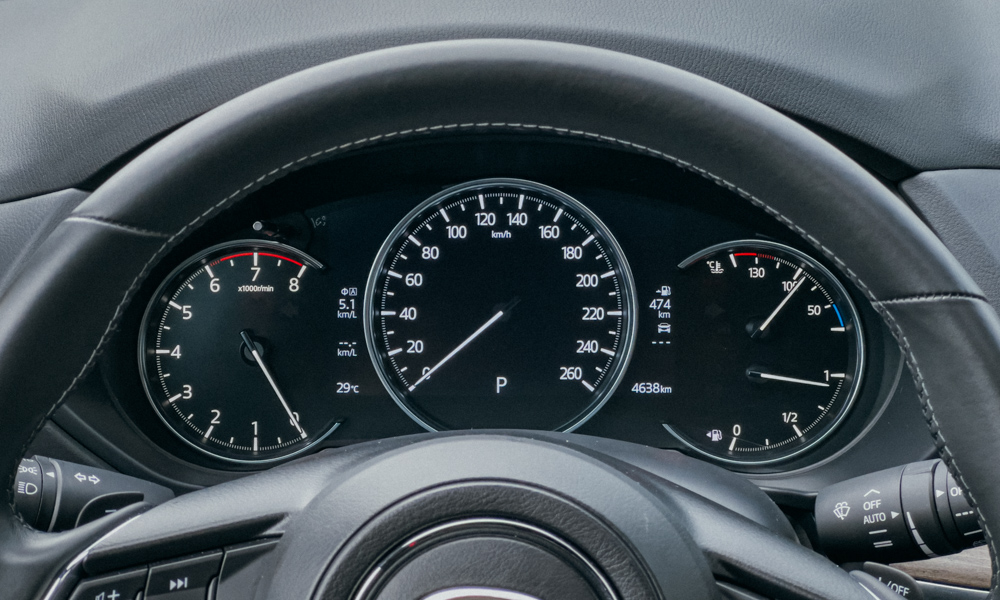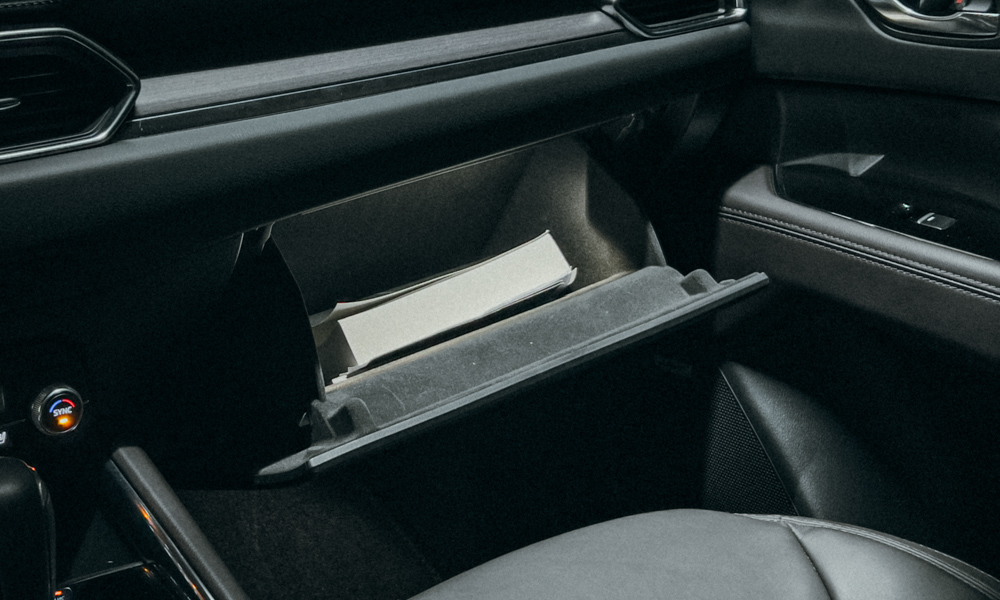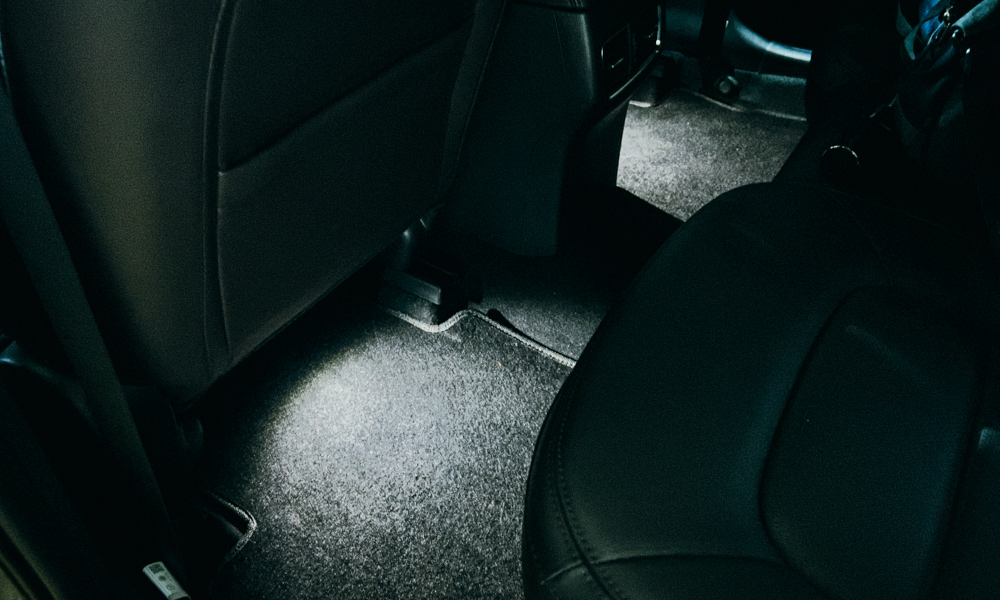 I mentioned most of the changes to the interior in our preview article—all great additions, but Mazda nails the finer details.
The tinted rear glass. The soft white ambient lighting found in the footwell, the glove box, and above the center console. The plush, supportive seats and silky smooth deep-red Nappa leather upholstery. The solid build quality. The crisp, punchy 10-speaker Bose sound system. And the smell of the cabin.
This all adds up to a very sensual, luxurious experience that stimulates your bodily senses, something not many "premium" cars get right.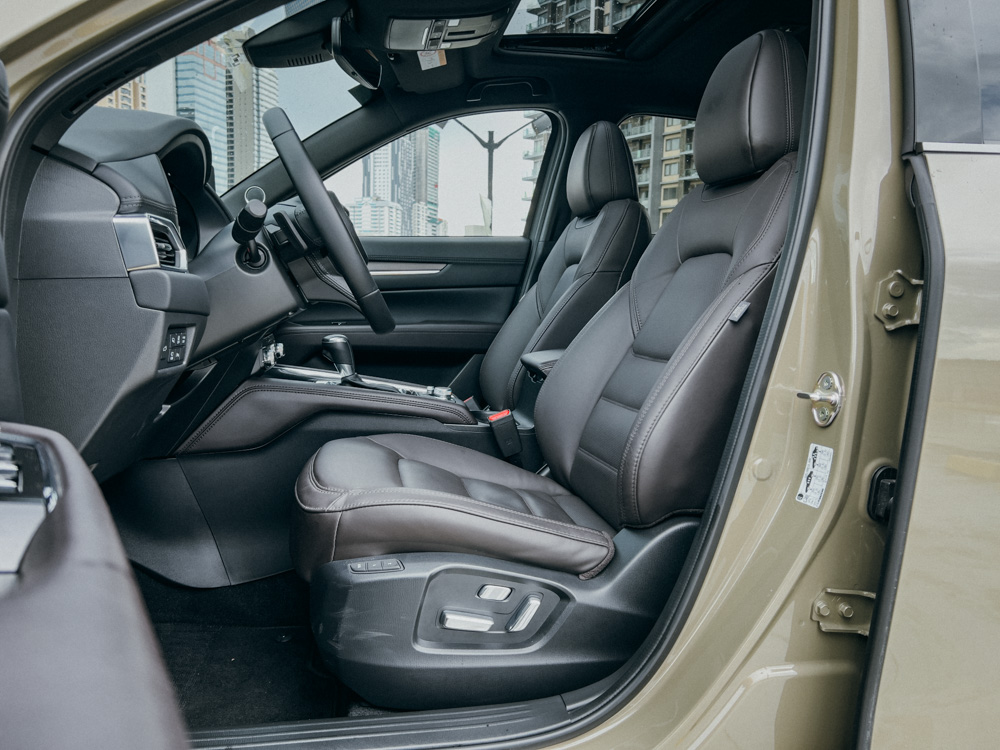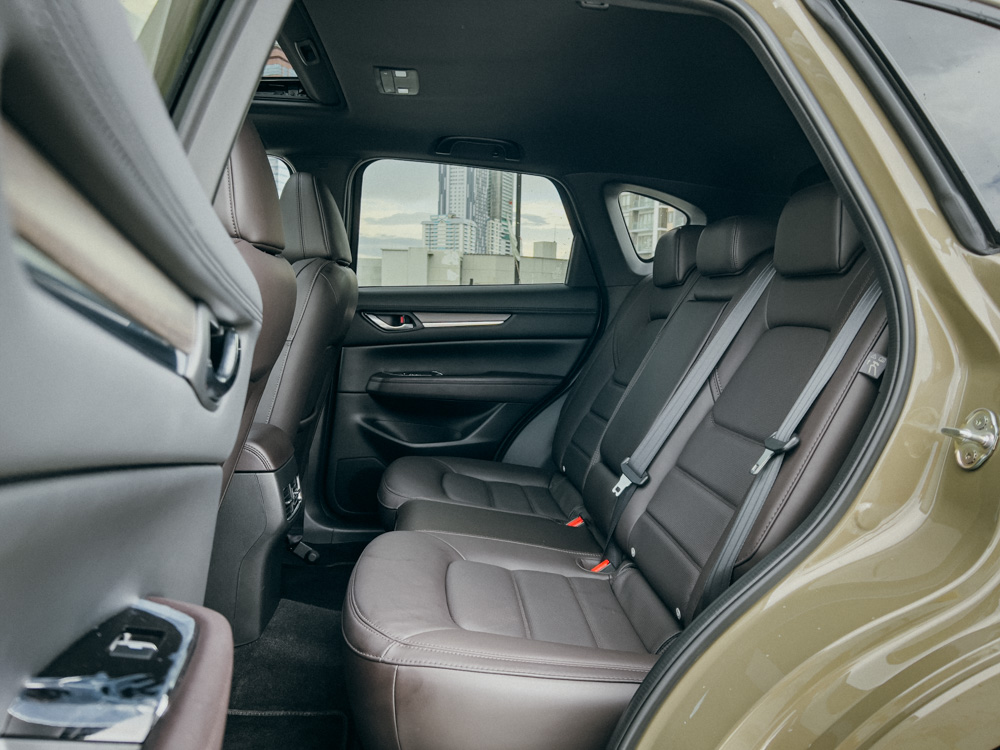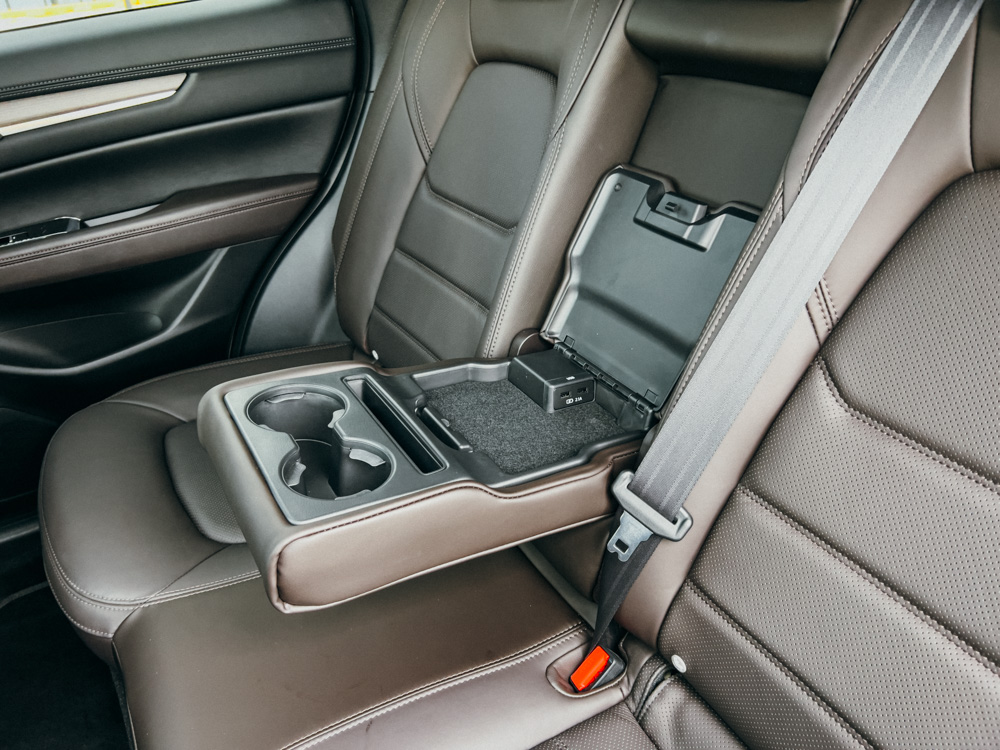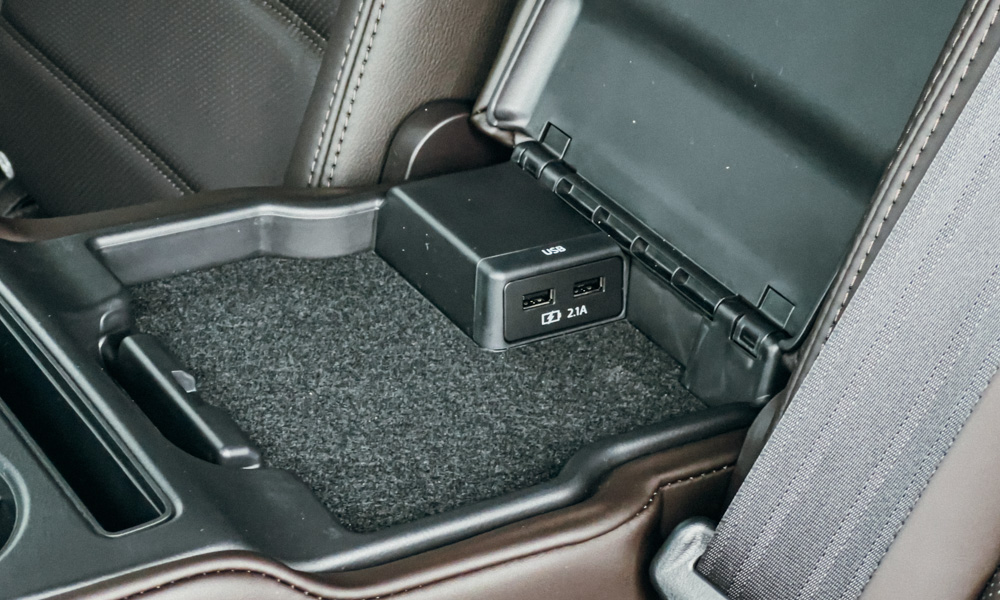 Mazda vehicles haven't exactly had the most spacious or airy-feeling cabins, with most cabins (save for the CX-8 and the CX-9) making rear passengers feel a little crammed in.
The best seat in the house is the driver's, with the "just right" seating position that is very easy to attain. Good visibility except for the thick C-pillars at the rear. And the incredibly supportive, ventilated front seats can rival the ergonomics and the comfort of a Herman Miller chair.
Claustrophobic rear-seat passengers may want to look elsewhere, but at least the rear bench is bolstered and comfortable. There are rear aircon vents (no controls, sadly) and cleverly hidden USB ports within the center armrest.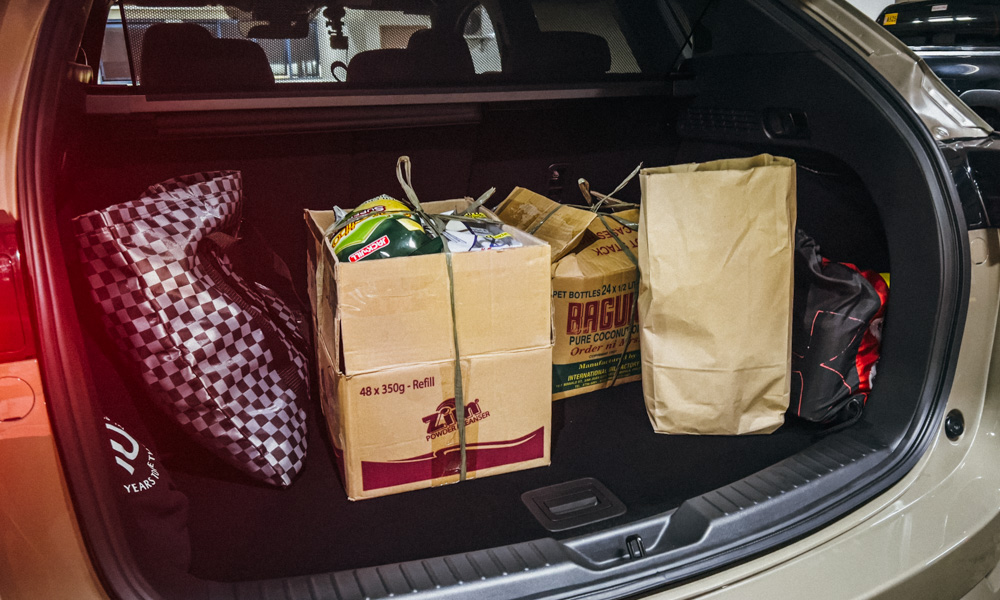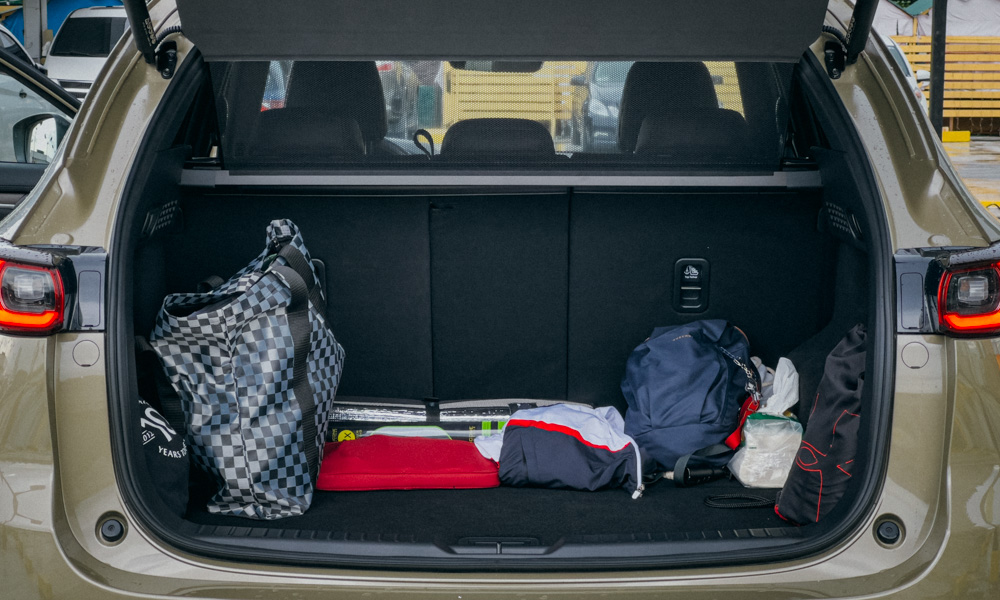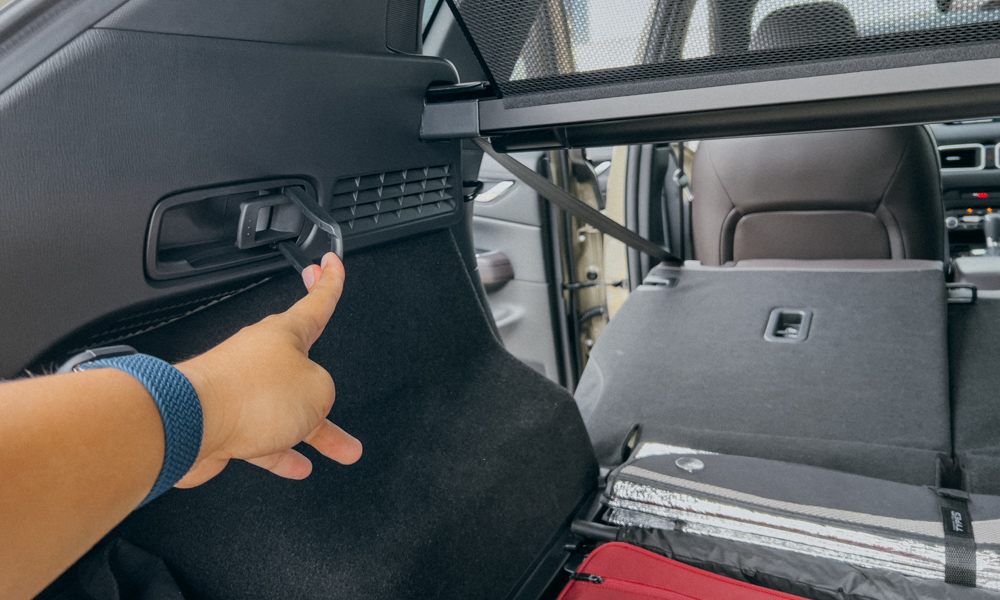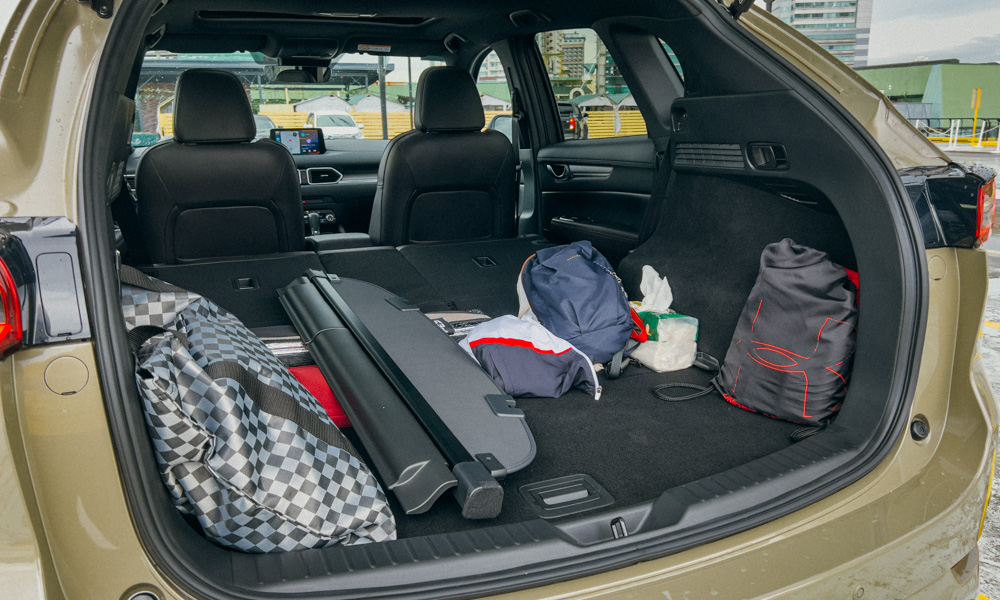 If you want to talk about boot space, there's 506L of it with the rear seats up, but you can fold the rear seats down in a 40:20:40 split to expand that to 1,620L. It has a few thoughtful touches, like how the rear seats fold via two handles at the rear, and when the load cover is attached to the power tailgate, it extends to reveal a see-through portion so you can see what's behind the car.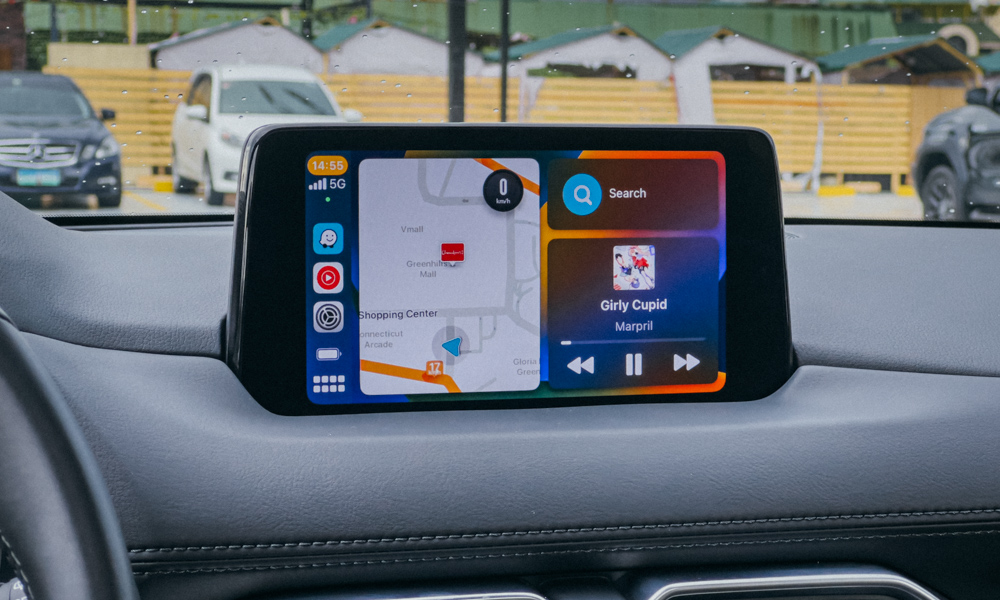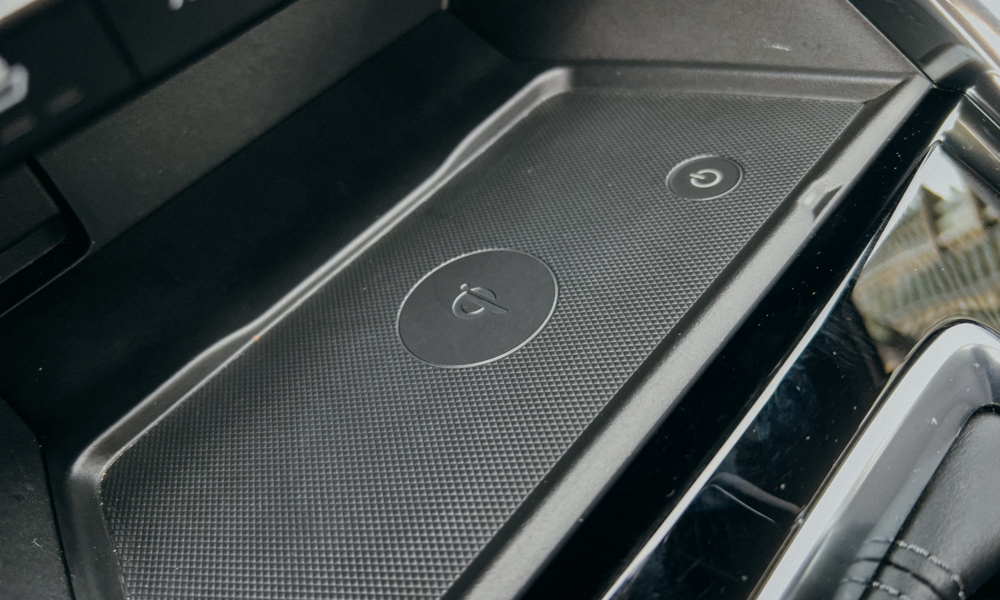 I really do wish the car came with the latest Mazda Connect found in the CX-30 and the 3, because this current one already looks outdated (as functional as it is). And I've already said it before: Wireless Apple CarPlay is great, but it is buggy, and using it in tandem with the wireless charger will just cook your poor iPhone. At least you can still fall back to a wired connection.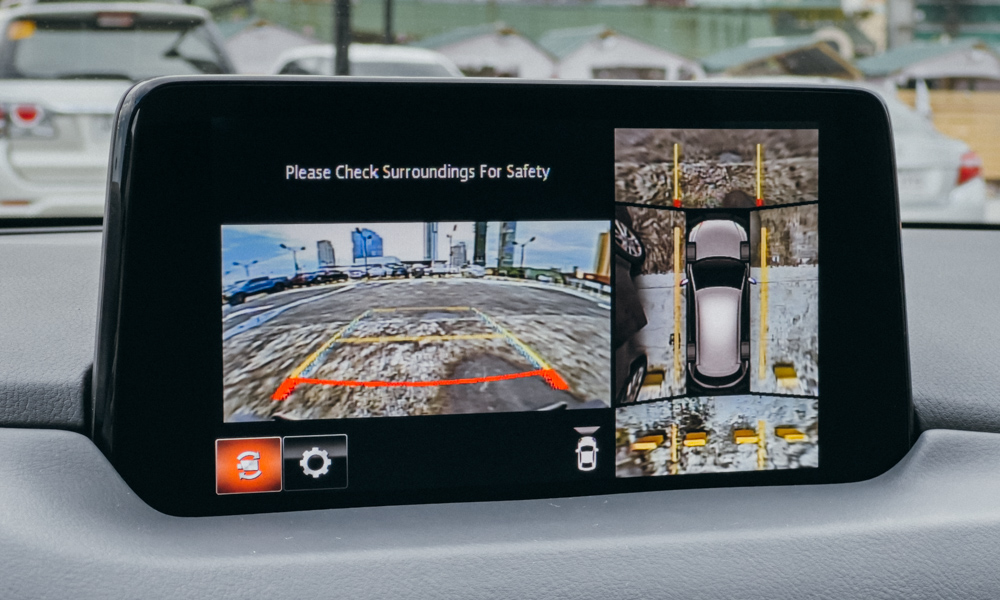 It has the complete suite of i-Activsense safety features (radar cruise control, automatic emergency braking, lane-keeping assist) so you're well-equipped in that department. I've noticed that the adaptive LED headlights are noticeably brighter, have a cleaner cutoff, and can now follow your steering from left to right (similar to Subaru's Steering Responsive Headlights) compared to the last-generation CX-5 and the CX-8. But the resolution of the 360° camera is disappointing, looking much like a CCTV feed compared to the crisp, high-resolution ones found on newer Mazda models.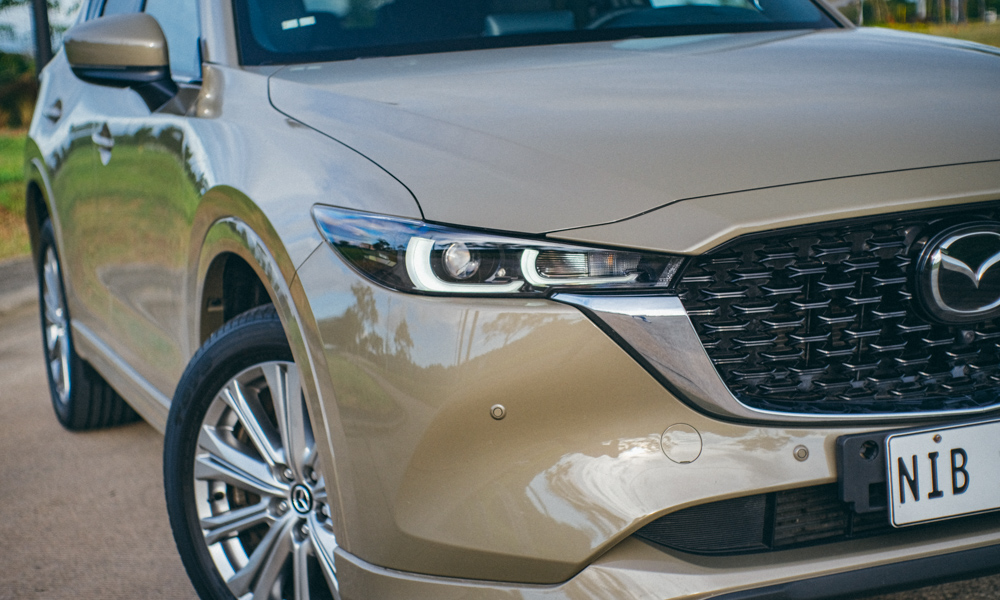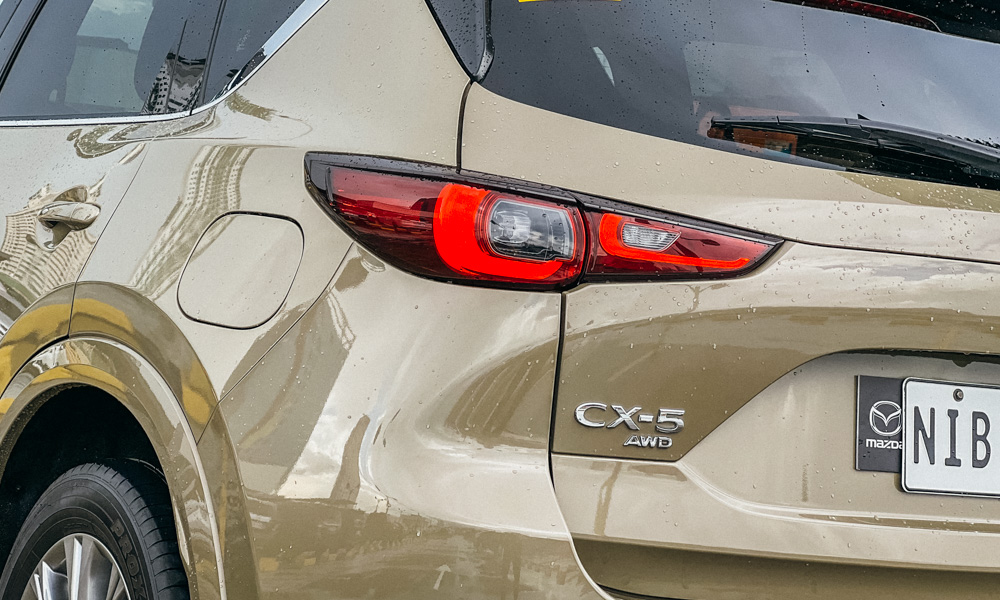 This car is for two kinds of people.
It is for the owners of the Subaru Forester XT. I was fortunate enough to drive one before it was taken off the market, and that vehicle's "midlife-crisis family man" energy still lives on in the CX-5 AWD Turbo. It's crazy how a good engine can transform an otherwise plain crossover.
Second, this vehicle is for those who want a luxury crossover but don't want something as expensive as a European brand (or a Lexus). Mazda's overall package is 90% of what those premium brands can deliver, with arguably the best after-sales service on the market. So its asking price of P2.38 million makes it seem like a bargain compared to its rivals, even when compared to the likes of the top-of-the-line CR-V SX Diesel and the RAV4 Hybrid.
In this era of electrification, fast crossovers like this are a dying breed. Consider this your last chance to own one before they're all gone.
MAZDA CX-5 AWD TURBO
| | |
| --- | --- |
| Engine | 2.5-liter four-cylinder turbo gasoline |
| Transmission | 6-speed automatic |
| Power | 250hp @ 5,000rpm |
| Torque | 434Nm @ 2,000rpm |
| Dimensions | 4,575mm x 1,845mm x 1,680mm |
| Drive layout | AWD |
| Seating | 5 |
| Price | P 2,380,000 |
| Upside | An excellent engine with a well-tuned chassis makes this one of the most fun crossovers on the market today. |
| Downside | The rear seats are a little cramped. The cabin could use the new infotainment for the price. And Zircon Sand isn't for everyone. |