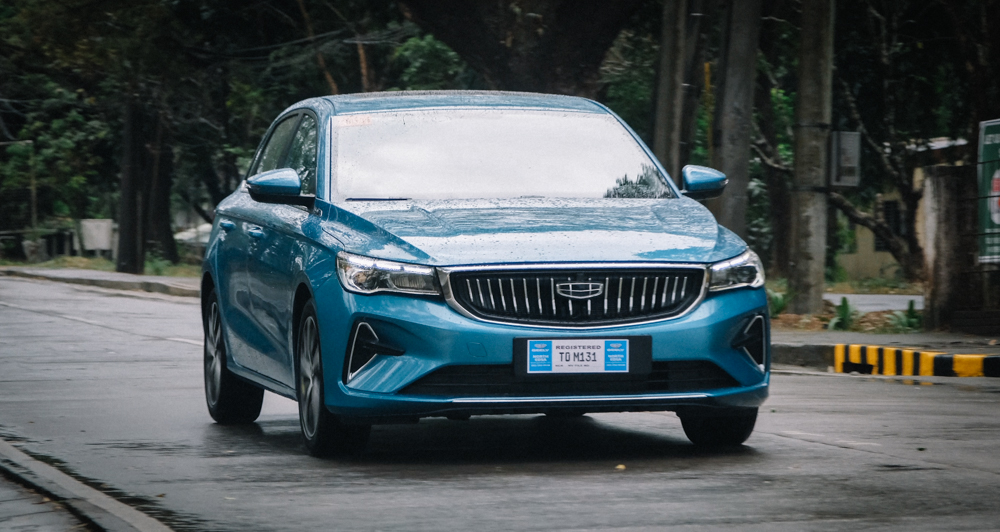 Let me ask you a question. Are you willing to buy a Chinese-made sedan with loads of features for less compared with a Japanese sedan in the same segment?
If I had asked that two years ago, people would straight-up answer me with a resounding "no." But in today's landscape, things are a little different. Chinese manufacturers are stepping their game up, and the best example of this jump in quality is Geely.
The company has been knocking it out of the park in terms of brand cache and recognition despite having the disadvantage of being a Chinese product. Just look at all the Coolrays, the Azkarras and the Okavangos roaming the streets.
With the recent introduction of the Emgrand sedan, we're taking a look at the best variant on offer– the Premium CVT. It's priced like a subcompact sedan, but it also offers more for less when comparing top-of-the-line variants.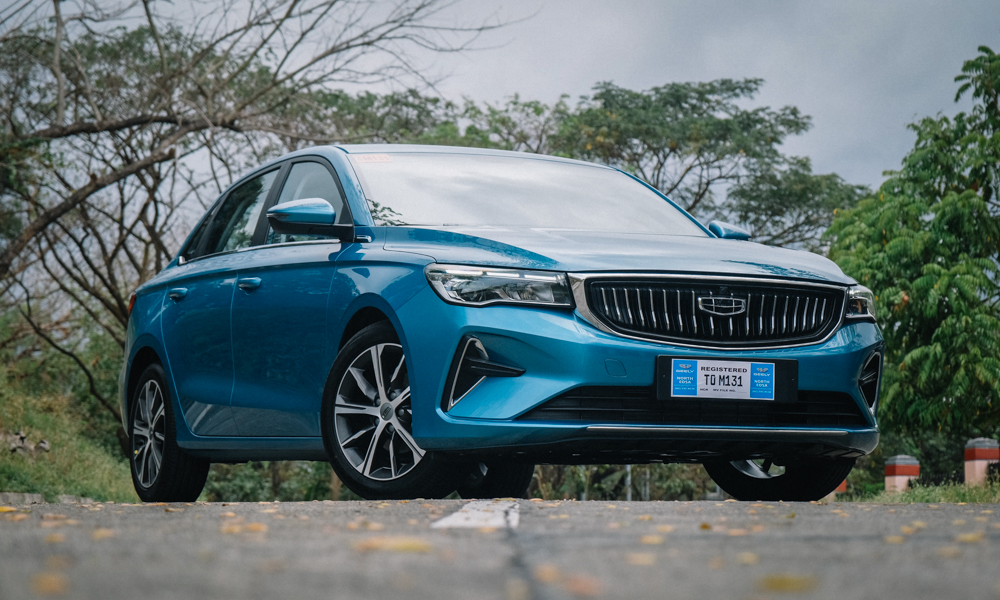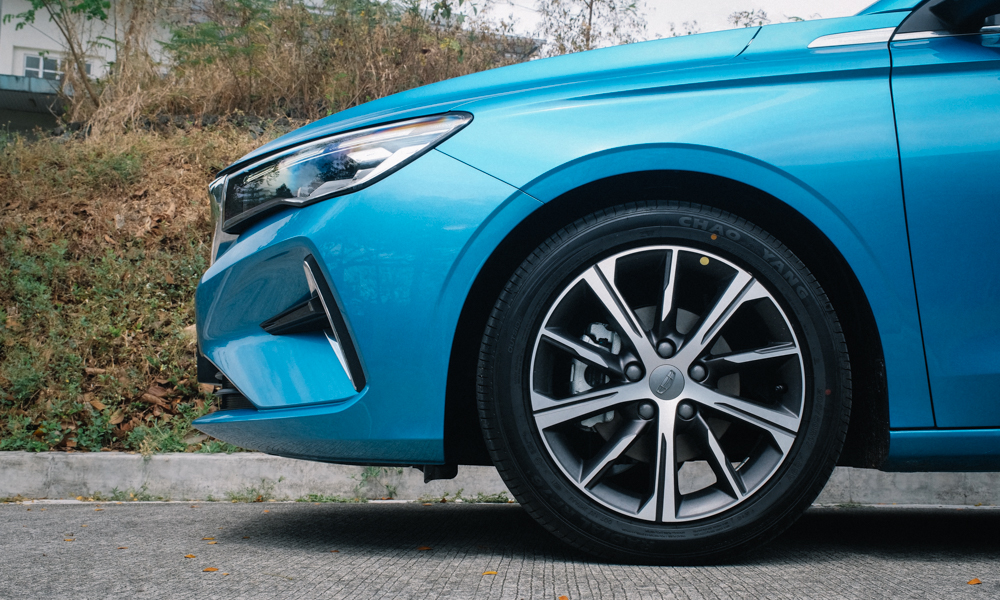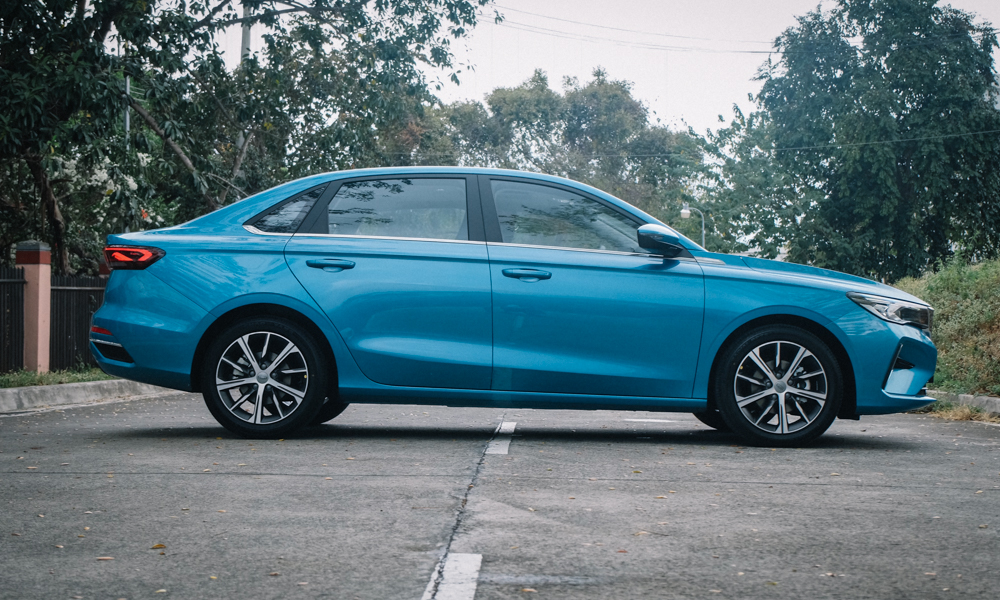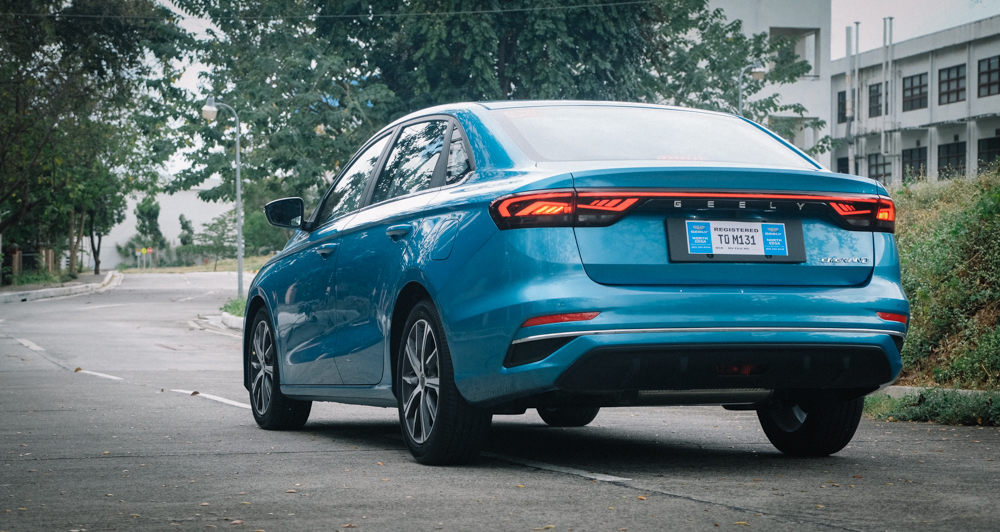 If anything, I think the designer's modus operandi for this car is to deceive people into thinking you have an expensive sedan. Mission accomplished.
I've gotten a lot of double-takes and curious inquiries about the car because of its looks alone. It has the proportions of more expensive sedans, the right amount of brightwork, and body lines that work especially well with brighter colors.
But look up close, and you'll see an odd divot above the Geely emblem. It's for the 360° camera system the Philippine-spec unit doesn't get. It's curious why they've left it here, but it's something not easily seen from afar.
The lighting is the best aspect of the design. It's rare to see automatic full-LED headlights and a rear lightbar at this price range—let alone one that is bright with a well-defined beam cutoff for the low beams. Plus, they added a little animation that makes the lights dance when you lock and unlock the vehicle. It's cute, but you might end up attracting too much attention when you lock and unlock your car in public places.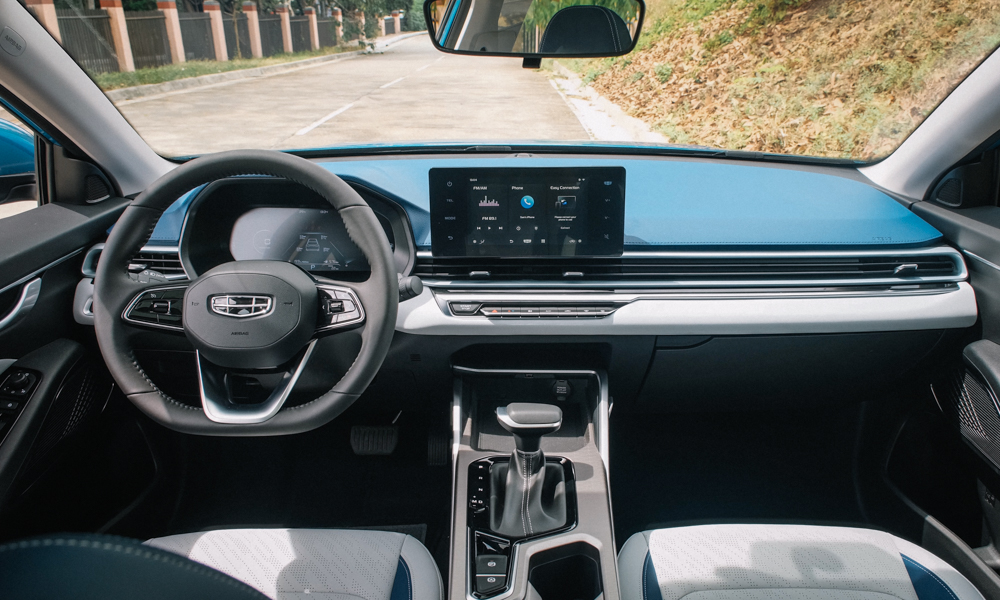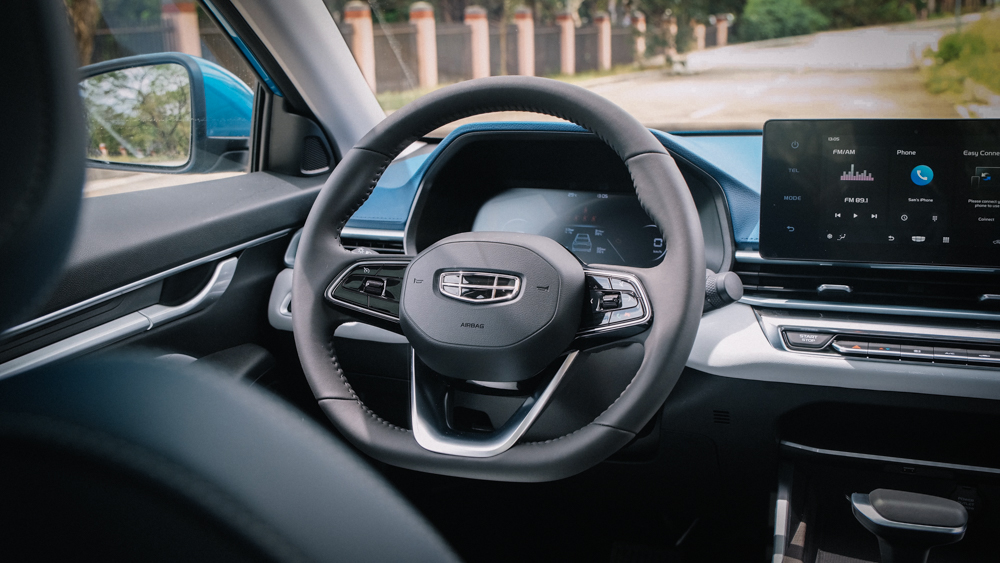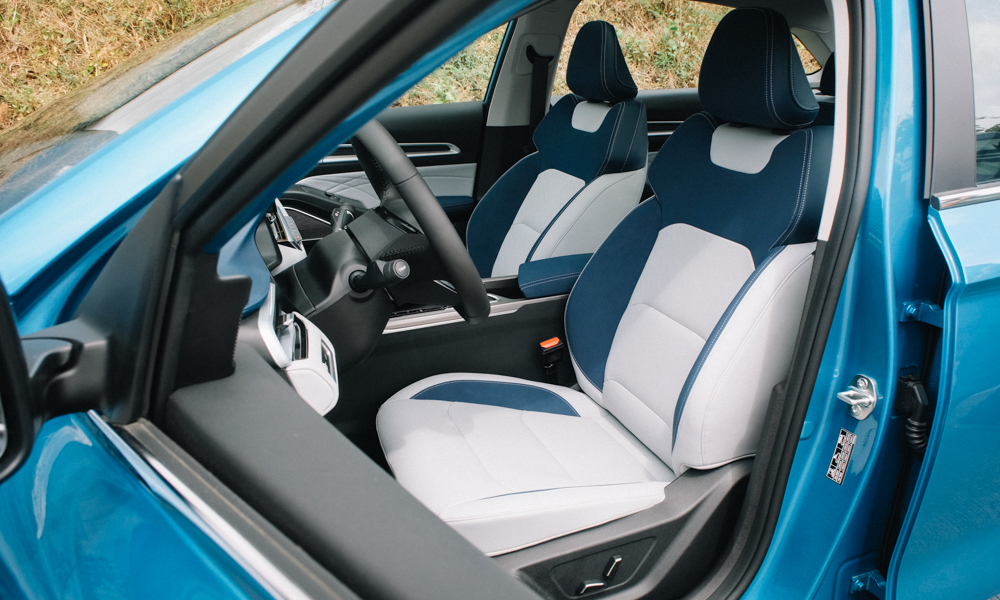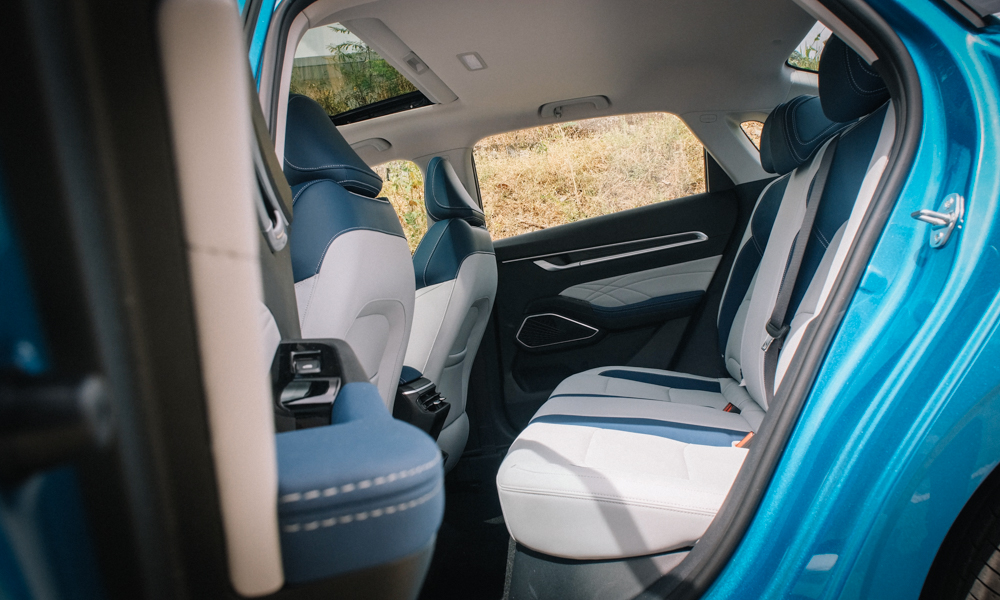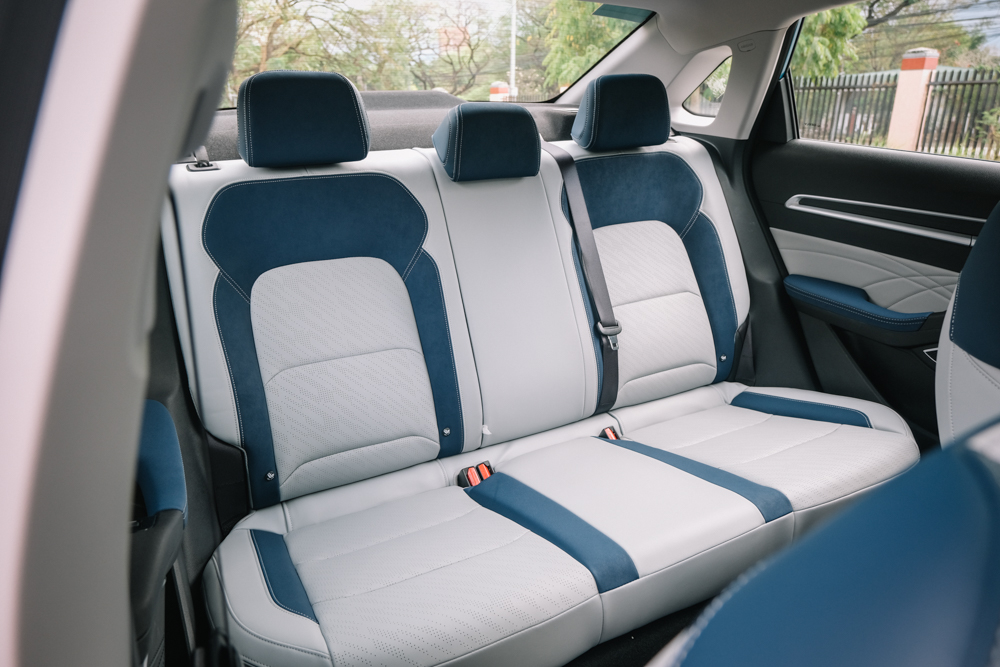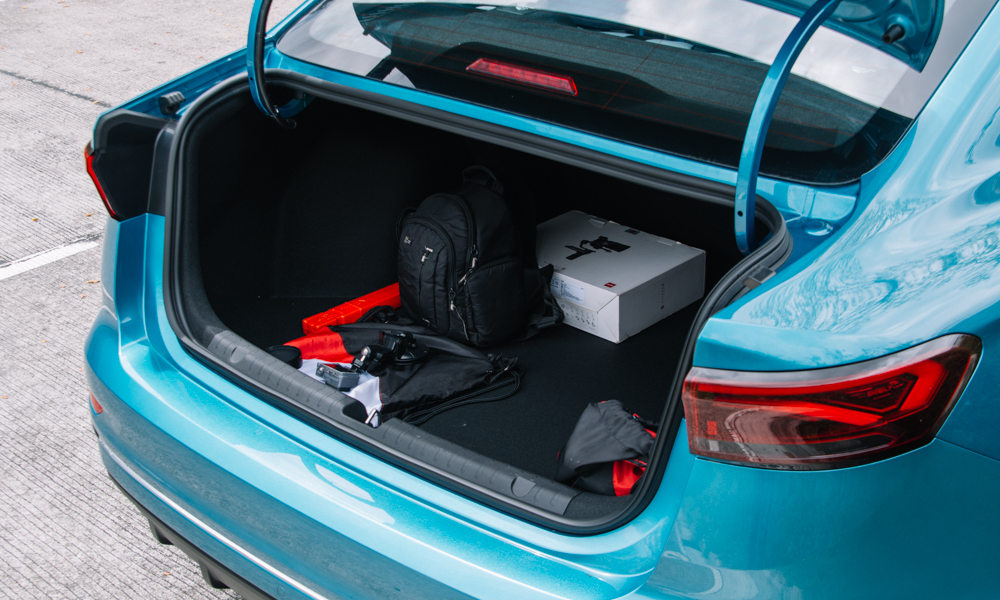 These premium undertones extend into the cabin, where it's draped in a unique white-and-blue leatherette and suede upholstery. It might not be for everyone, but Geely got the implementation right. The designers did a good job making the tactile experience of the interior feel premium. How? By minimizing the number of blank switches, having backlit and tactile switchgear, having a raised center console, and having premium materials in every touchpoint within the interior.
Because of the larger dimensions, the cabin feels like it's from a larger sedan. There's a good amount of rear leg and elbow room, but the sunroof can eat into headroom. The driver has a six-way power adjust for his/her seat (and tilting and telescopic steering-wheel adjustments), while the passenger has to settle with four-way manual adjustments.
Long-term cleanliness is a genuine concern though, especially with the white seats. They're a little too well-bolstered, actually. While the front seats are fine, I've had larger rear passengers complain that the back seats "could be a little more comfortable," and that it could also use a center armrest.
There are two USB ports within the cabin (one front, one rear), a single 12V socket, a large center cubby with a shelf for your phone, a deep center console storage with a removable cupholder, and large door pockets that can comfortably swallow a 32oz Nalgene bottle.
Need to carry more? The rear seats can fold in a 60:40 split to expand the 500L trunk to 1,100L of cargo-carrying capacity.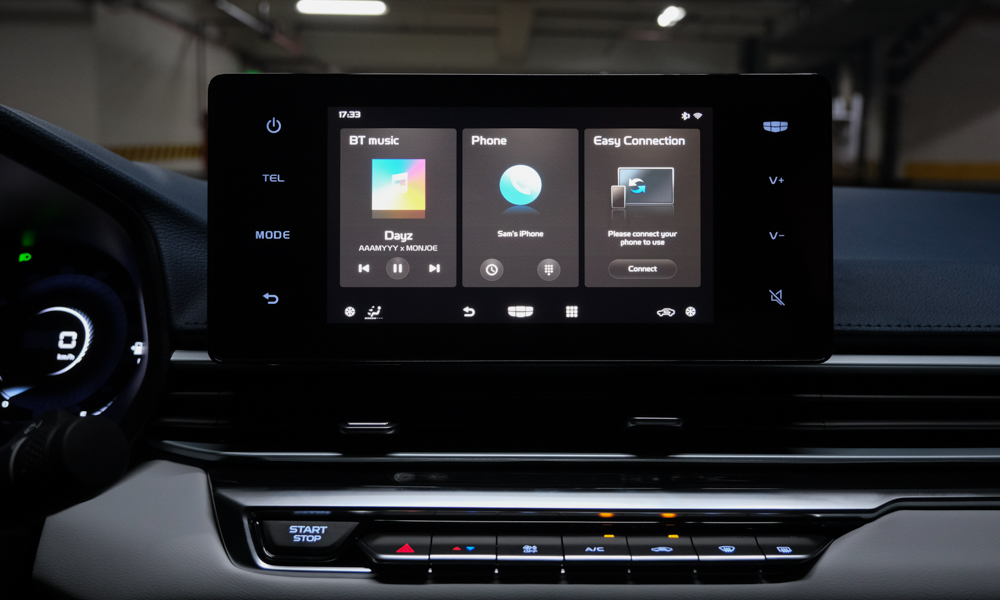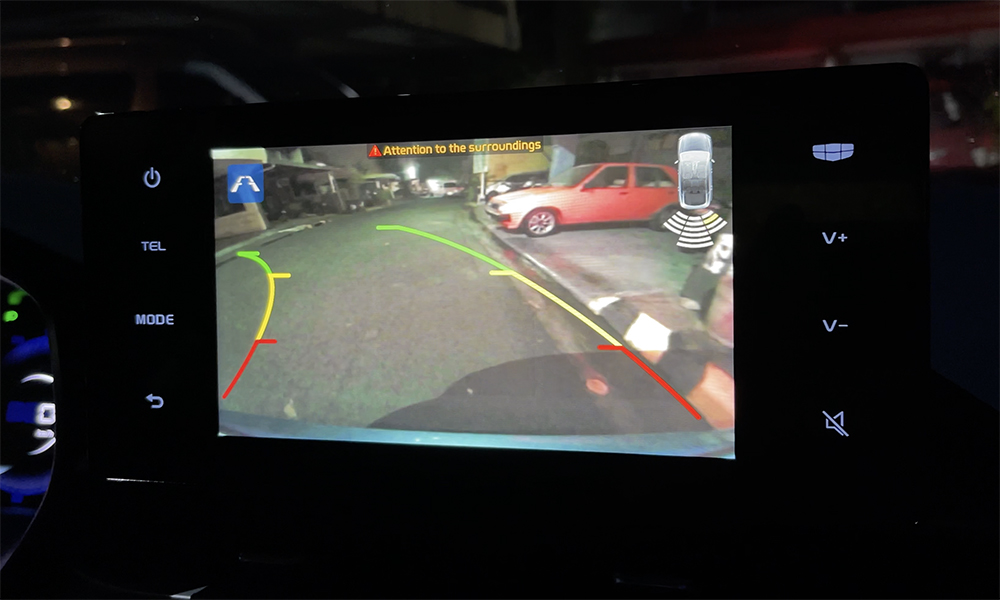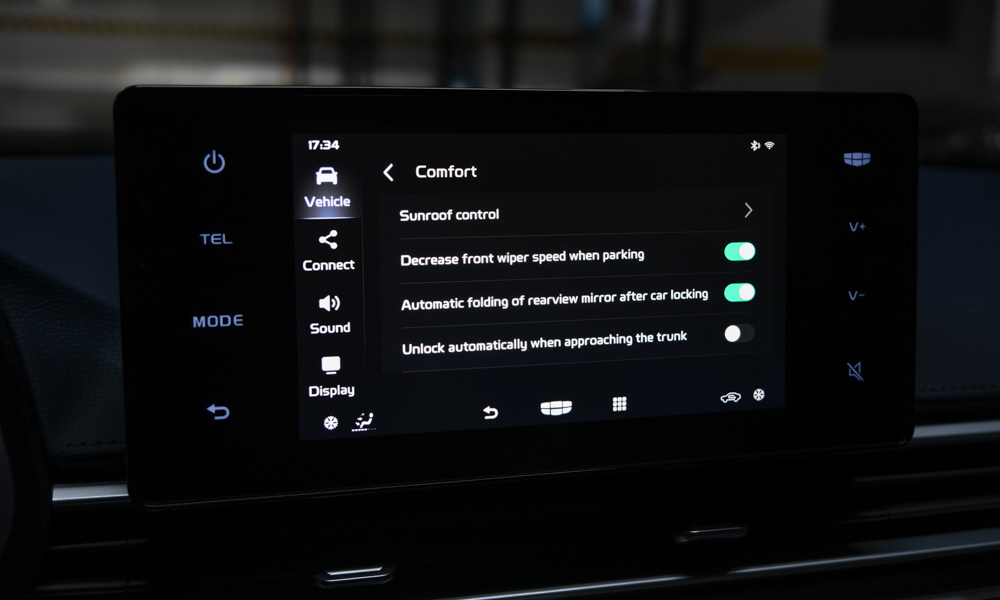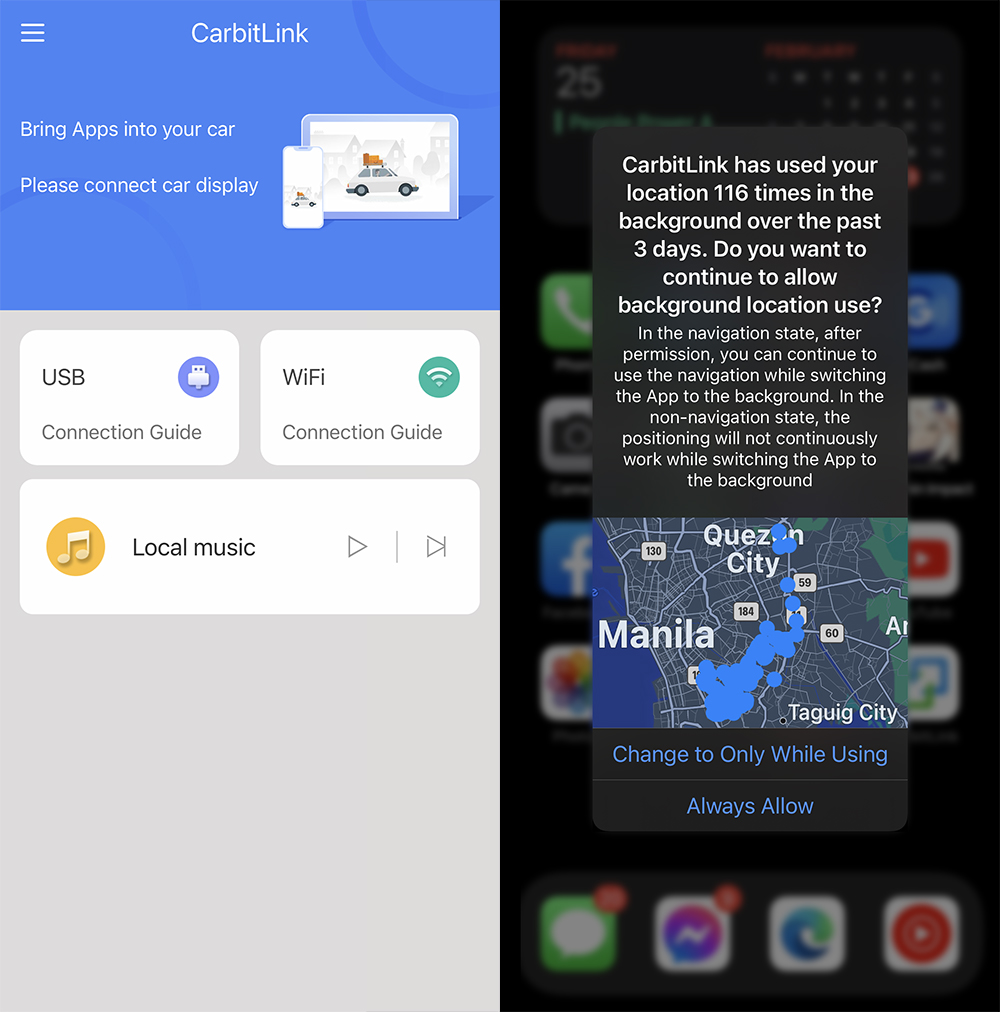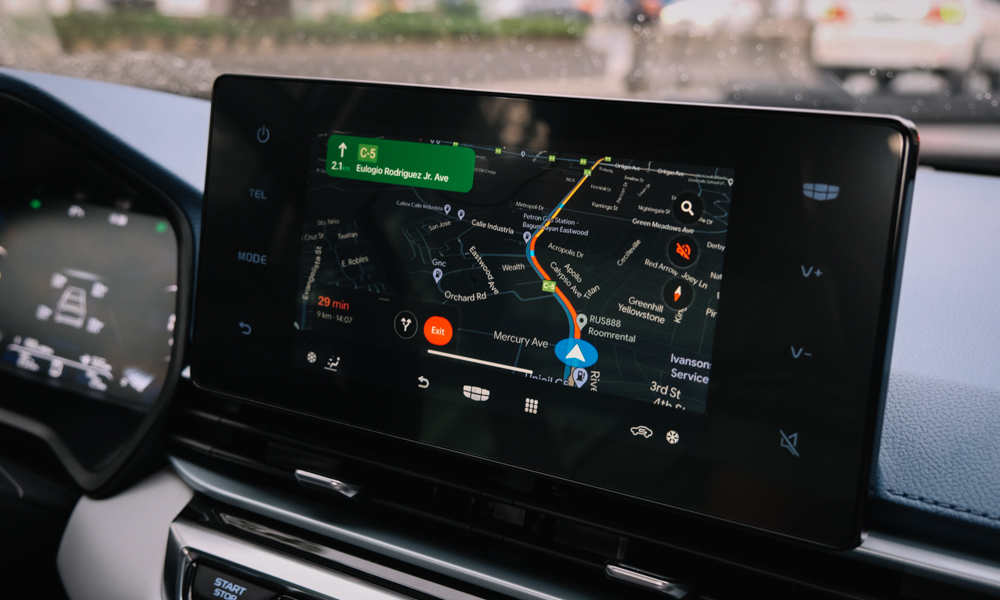 Sadly, the interior isn't perfect. The eight-inch infotainment has no Android Auto or Apple CarPlay support (which is nonnegotiable these days). At least there's a screen mirroring app called "EasyConnect," which isn't easy to use at all. It works half of the time (regardless of platform), and has given me an ominous warning on my iPhone (for those concerned about privacy).
Plus, the sunroof controls are buried within the settings in lieu of a convenient physical switch, which I find extremely odd. At least my tunes sounded good from the six speakers after some much-needed messing with the equalizer.
The 12.3-inch "digital" instrument binnacle is cool and quirky. But it's more of the traditional LCD (like a calculator) instead of an actual screen. Also, if you prefer the materials found in the top-of-the-line cabin, you can only get it in the white-and-blue color scheme, which looks strange, especially on a red unit.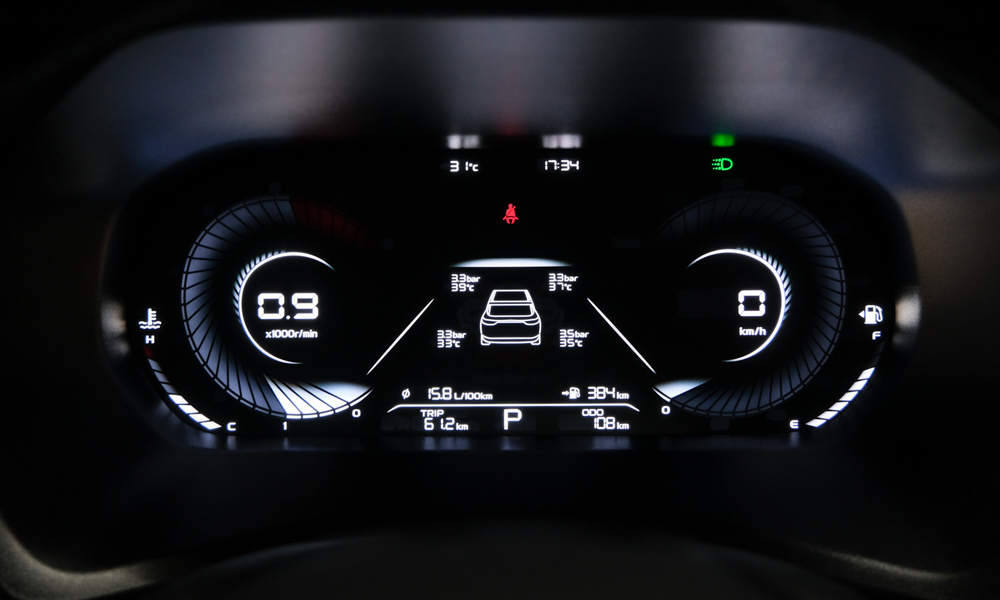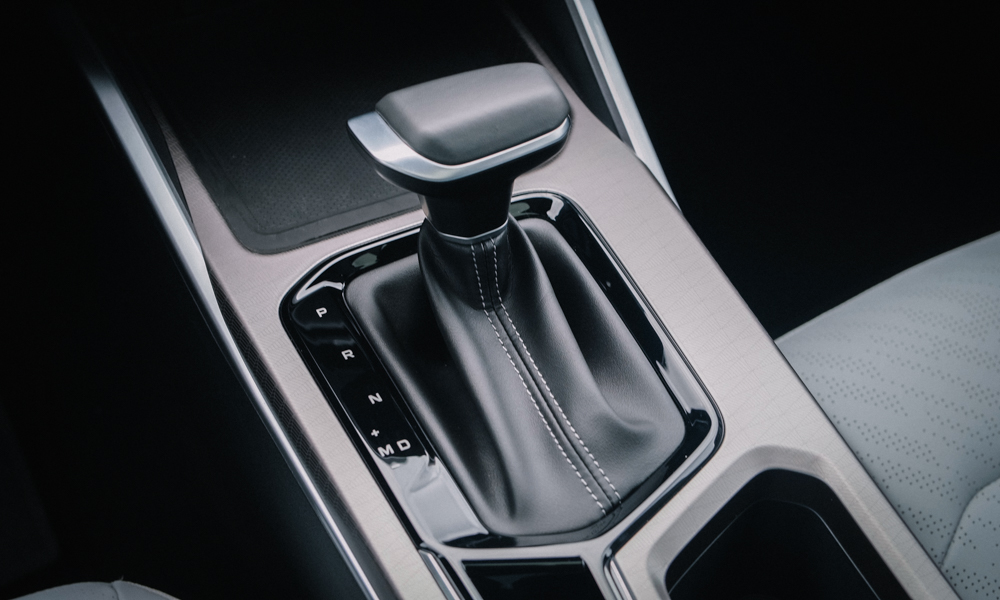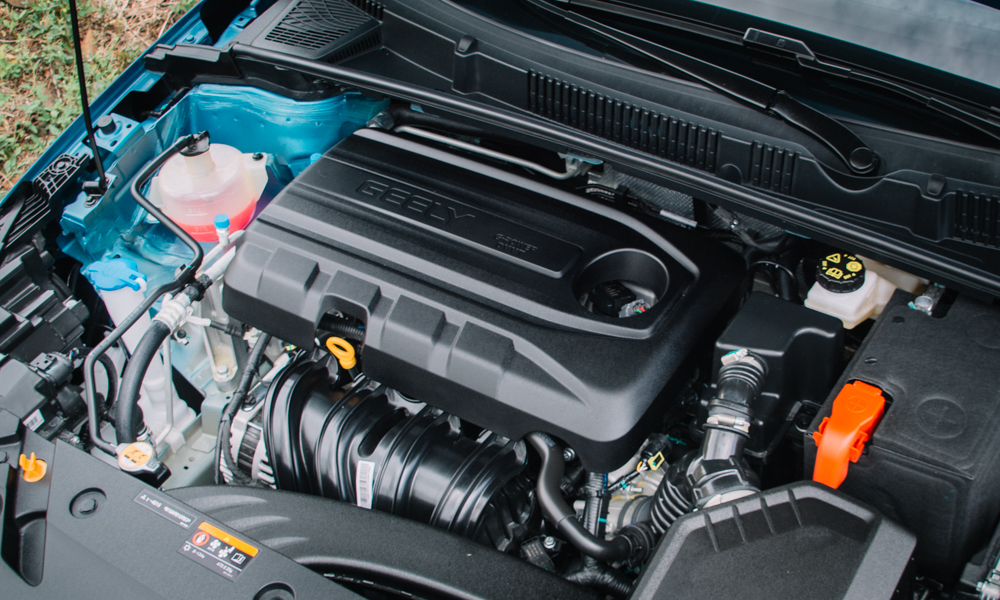 Unlike the rest of Geely's lineup which all use turbocharged three-bangers, the Emgrand uses a four-cylinder, naturally aspirated 1.5-liter engine. If you're curious about the engine code, it's JLC-4G15B. You read that right. It's a variant of the venerable 4G15 mill used in many Mitsubishi Lancers past.
The 102hp and the 142Nm are smoothly delivered to the front wheels. The CVT actually acts like one, too, with no fake shifting when you floor it (but it can simulate eight gears). It's not gutsy or exciting to drive, but it's a refined and relaxed engine reminiscent of past sedans.
Since the engine has not been broken in yet, I'm not expecting the engine to be as efficient as it would be in terms of fuel consumption. But if you're curious, I saw figures ranging from 10.4km/L to 7.2km/L in the city (I wasn't able to take it out on the highway). It's a respectable figure, and it's a bonus that it doesn't have to drink pricey 95-octane dinosaur juice.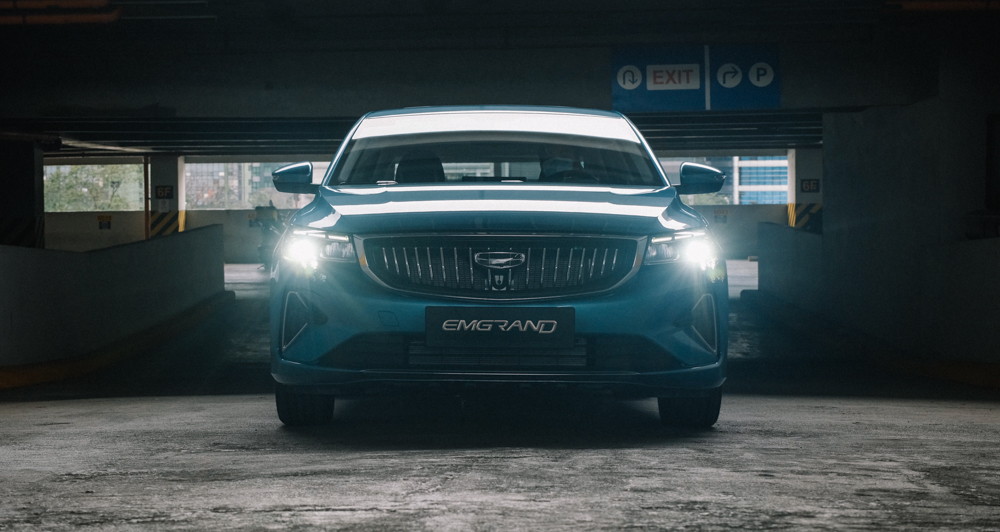 The Emgrand does offer a very refined on-road experience. Inspect the vehicle's nooks and crannies, and you'll find an impressive amount of insulation (for its class) within the body panels for a quiet ride.
It also uses the BMA architecture that underpins the Coolray, so it offers a well-mannered ride with excellent visibility and a responsive and well-balanced ride. The suspension has been tuned to handle ruts and undulations like a premium vehicle, and the four disc brakes are particularly strong on our test unit.
Finally, you have six airbags, a reverse camera with parking sensors, auto-folding side mirrors (which are heated, for some reason), speed-sensing locks, and an electronic parking brake with auto-hold.
You'll be surprised to hear that all of these features can be found in a vehicle that just costs P906,000. It's an excellent value-for-money offering in the segment that will make competitors uneasy. Couple that with a five-year warranty (or 150,000km, whichever comes first), and you're looking at something that has all the hallmarks of a disruptor.
GEELY EMGRAND PREMIUM
| | |
| --- | --- |
| Engine | 1.5-liter four-cylinder gasoline |
| Transmission | CVT |
| Power | 102hp @ 5,600rpm |
| Torque | 142Nm @ 4,400-4,800rpm |
| Dimensions | 4,638mm x 1,822mm x 1,460mm |
| Drive layout | FWD |
| Seating | 5 |
| Price | P908,000 |
| Upside | An impressive and well-built sedan with luxury aspirations for under a million pesos. |
| Downside | Would it be too much to ask for Apple CarPlay and Android Auto integration? |