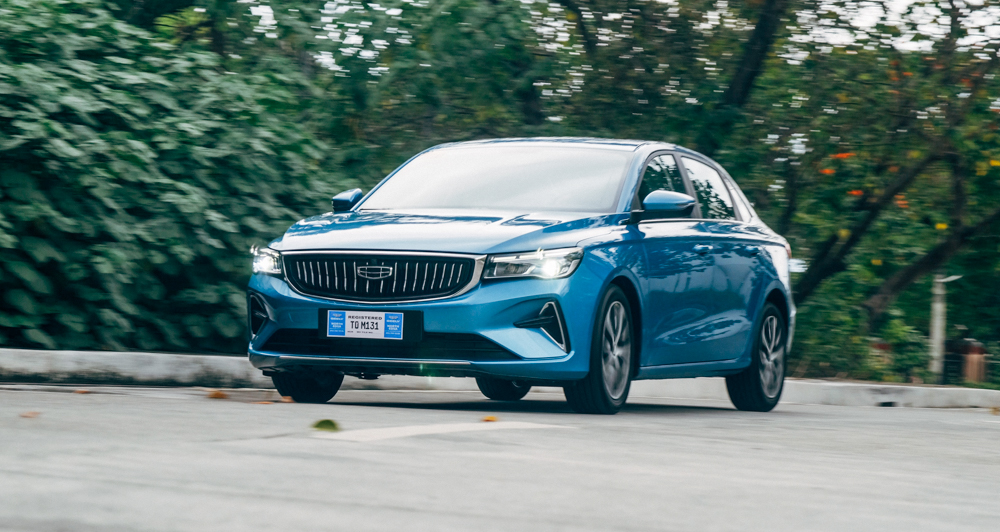 Sojitz G Auto Philippines has launched today its much-awaited sedan offering, the Geely Emgrand. After teasing the public for a bit and whetting the appetite of its numerous fans, the brand has shown that its first foray into the B-segment is definitely worth the wait.
We got the chance to drive it one afternoon, and we came in with expectations. Upon seeing it for the first time, one would really note how different it looks from all the other subcompact sedans that populate our roads. It's longer and bigger—4,638mm long, 1,822mm wide and 1,460mm high—with a ground clearance of 122m. Comparing it with the City, it is definitely wider as well.
Going around the car, you would see its sleekness up close. You would not think that this was a Chinese car offering. First thought is: "It looks like an executive's car." From the stylish front grille with the Geely logo, to the lightbar at the rear that also illuminates the brand's name, the Emgrand gives off an air of premium-ness.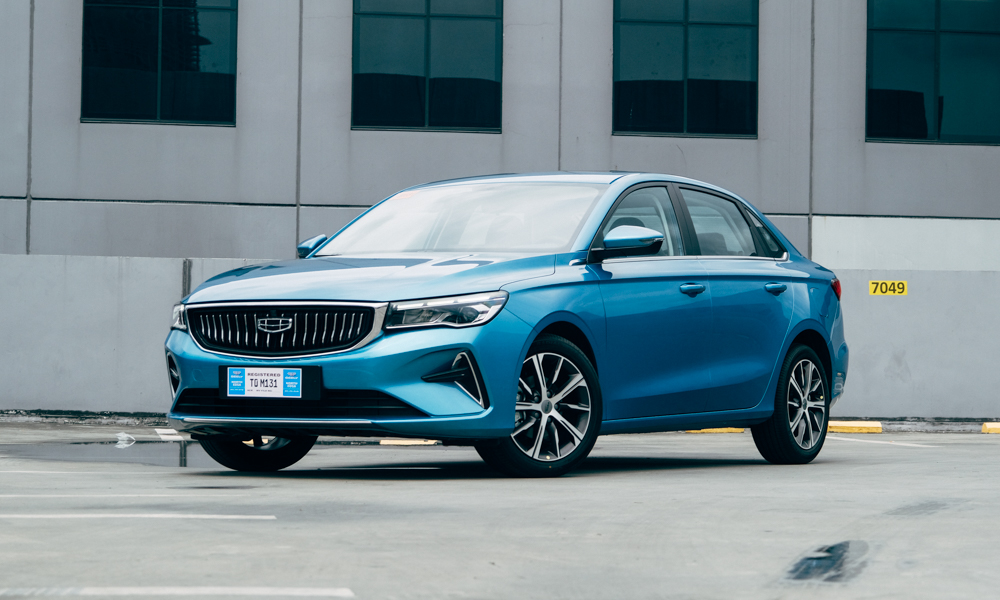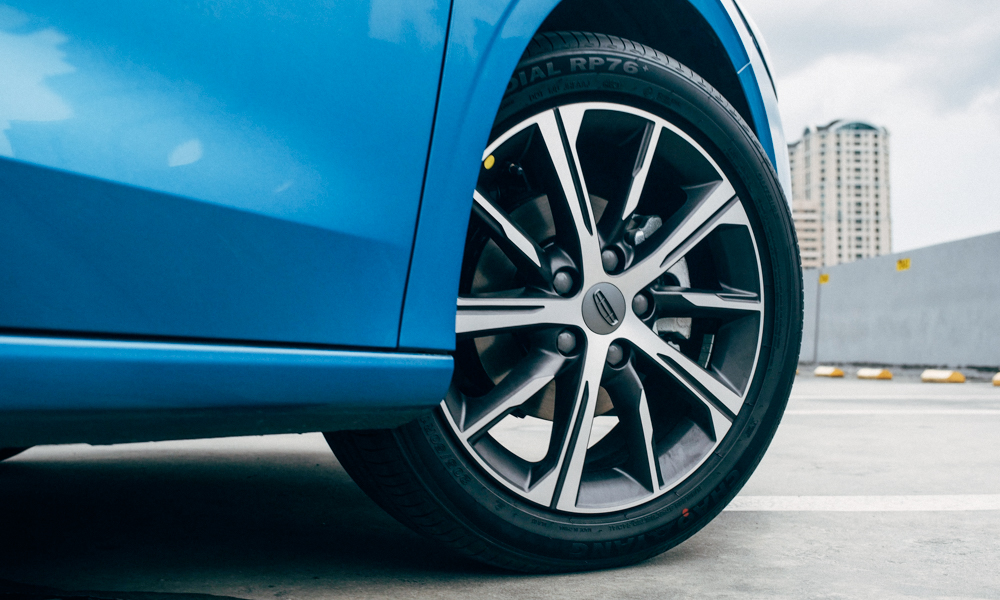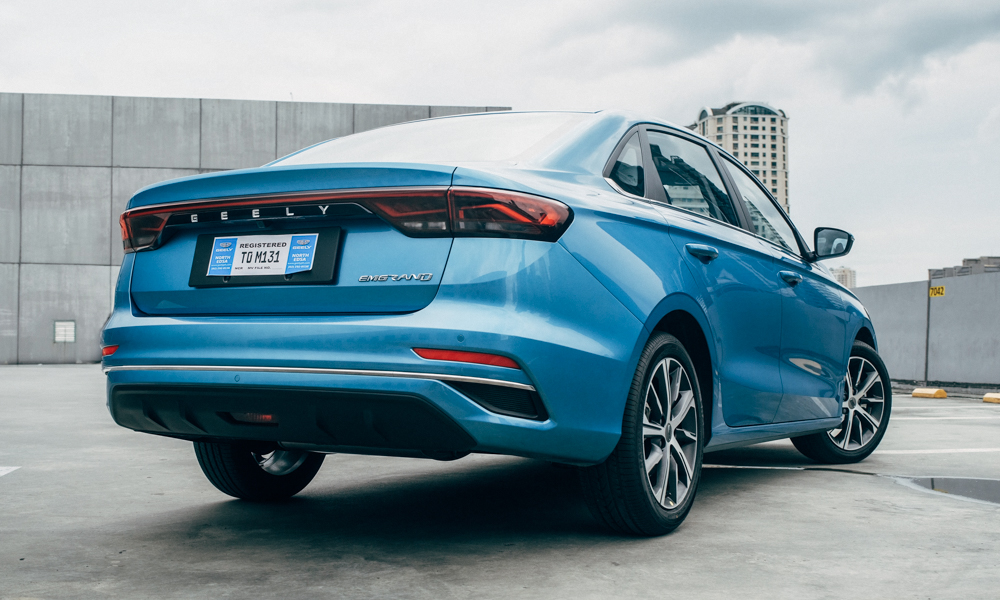 This is carried into the interior, as the cabin also radiates the same exceptional feel. When you get inside it, you would automatically be transported into a safe, quiet, comfortable zone. You would not mind being stuck in traffic that much if you were in this car. No hard-touch plastics anywhere, and all materials feel soft when you touch them—a noticeable difference from all the other offerings in the market at the same price point.
The dashboard looked cool, yes, but it seemed a little bare—only if you compare it with the Coolray. No Apple CarPlay or Android Auto, but not to worry as Bluetooth works great, and you can easily see stuff on its eight-inch screen. The reverse camera is clear and dynamic, making parking much easier and loads safer. It has parking sensors, speed-sensing door locks, and a tire-pressure monitoring system. It also has a phone mirroring app.
The car has an electronic gear shifter (looks like a knob on a spaceship, which is sort of cool), and an electronic parking brake with auto-hold. The naturally aspirated engine—a 1.5-liter straight-four gasoline that is dual CVVT—is peppy and responds well to your need for speed. It is capable of achieving 102hp and 142Nm with its eight-speed CVT.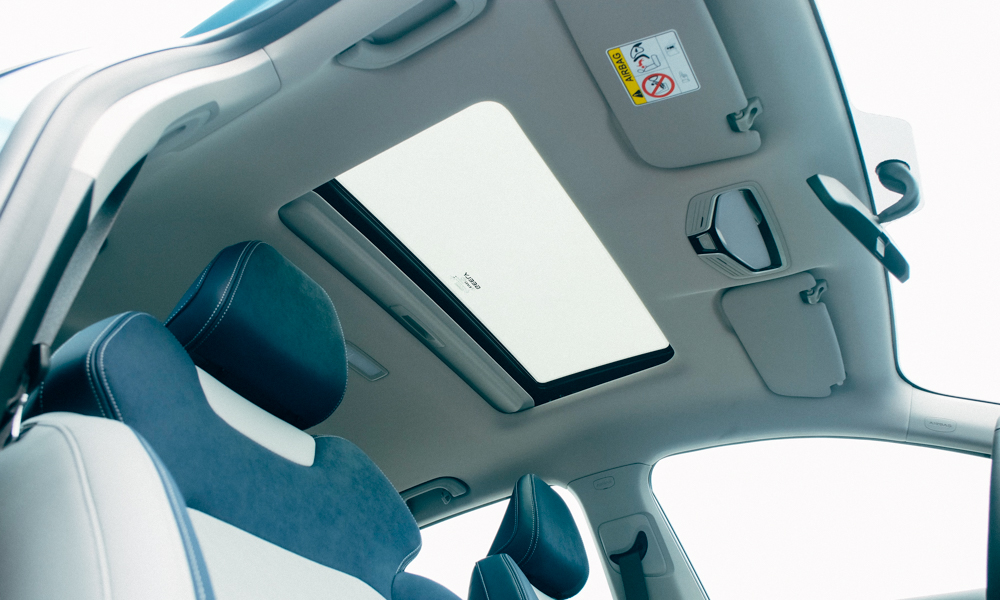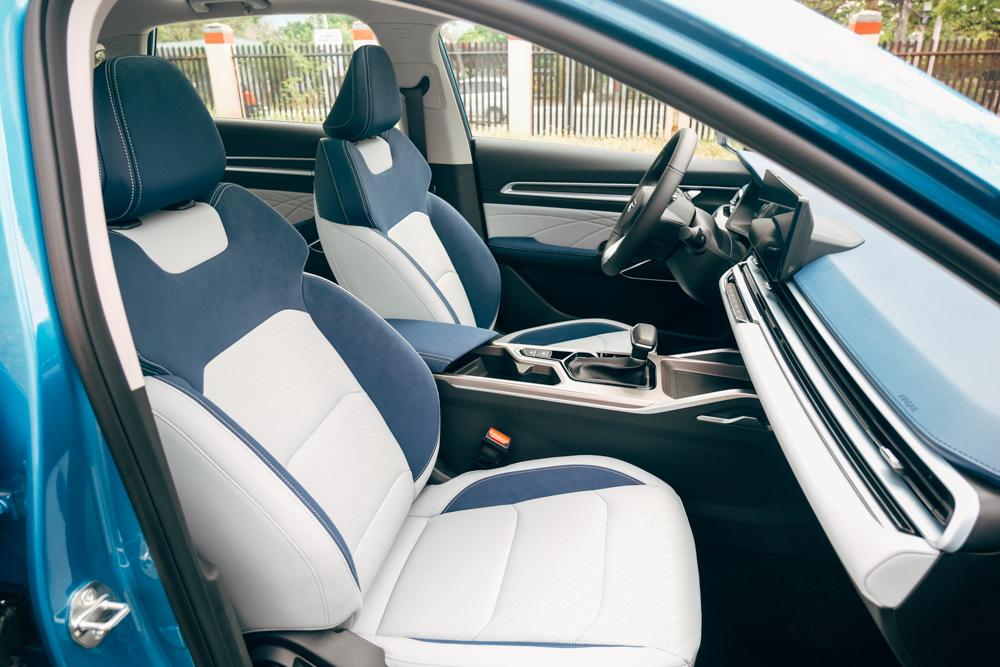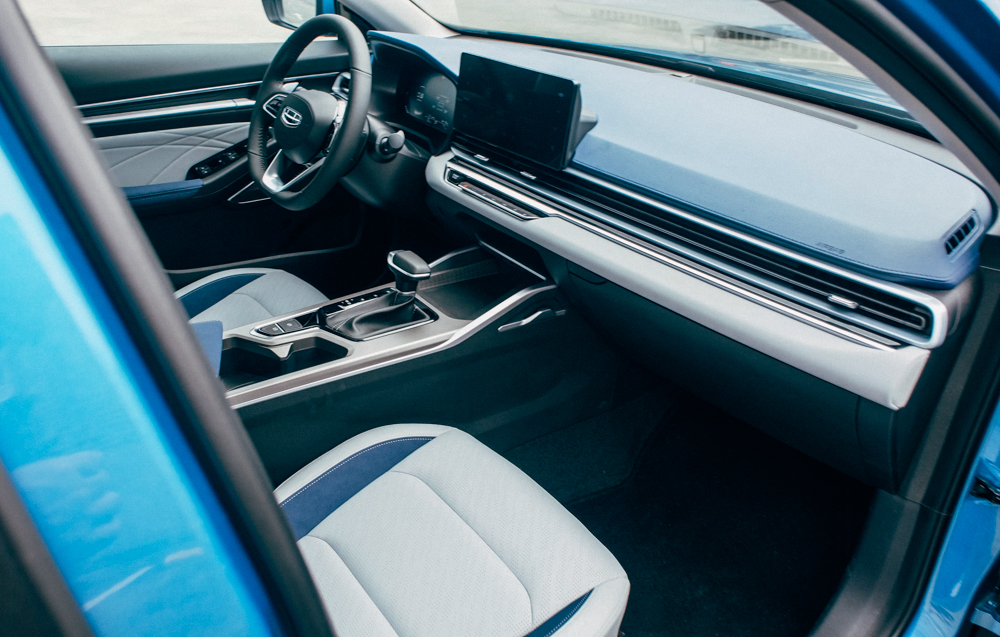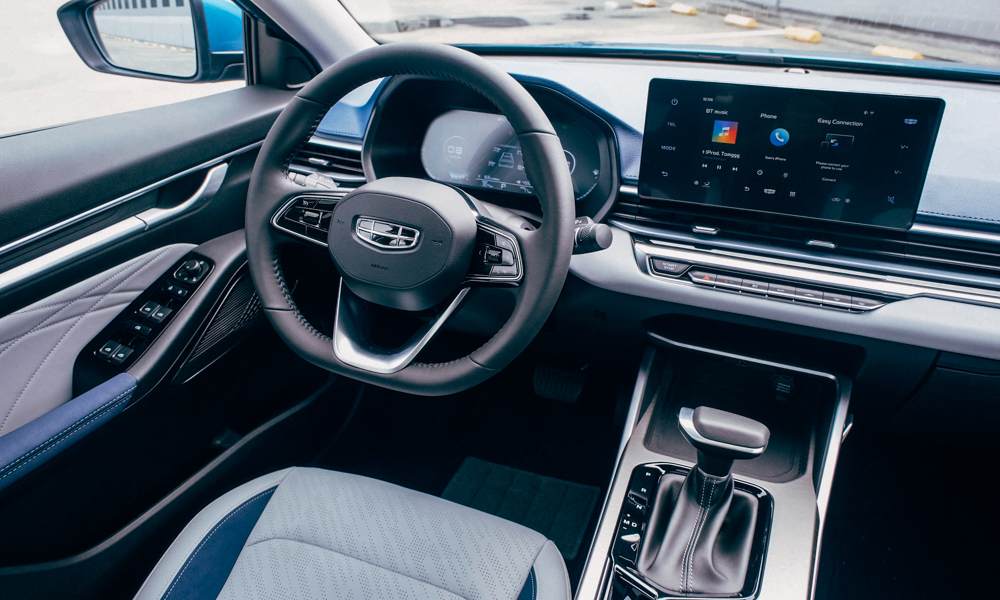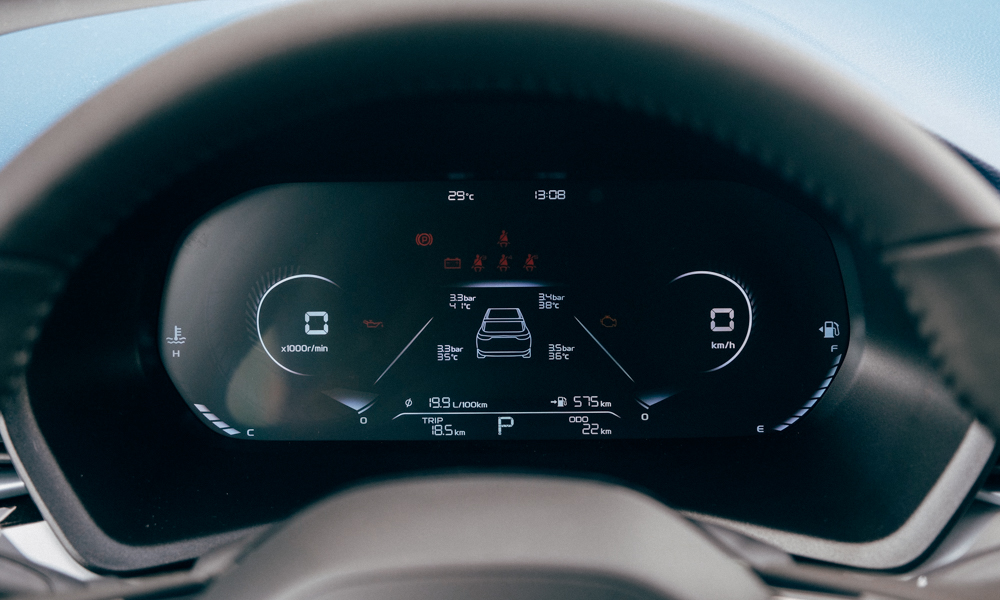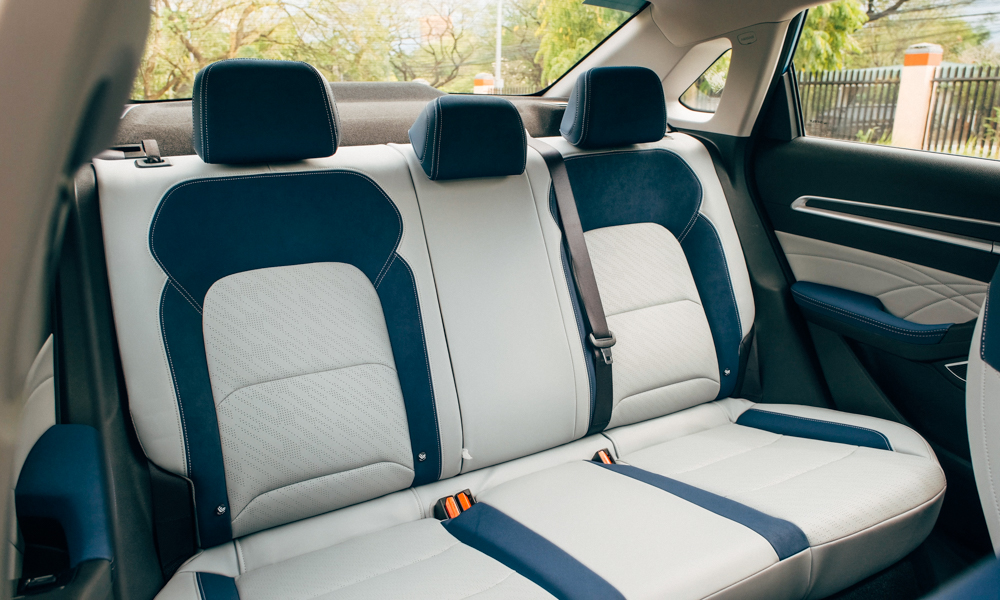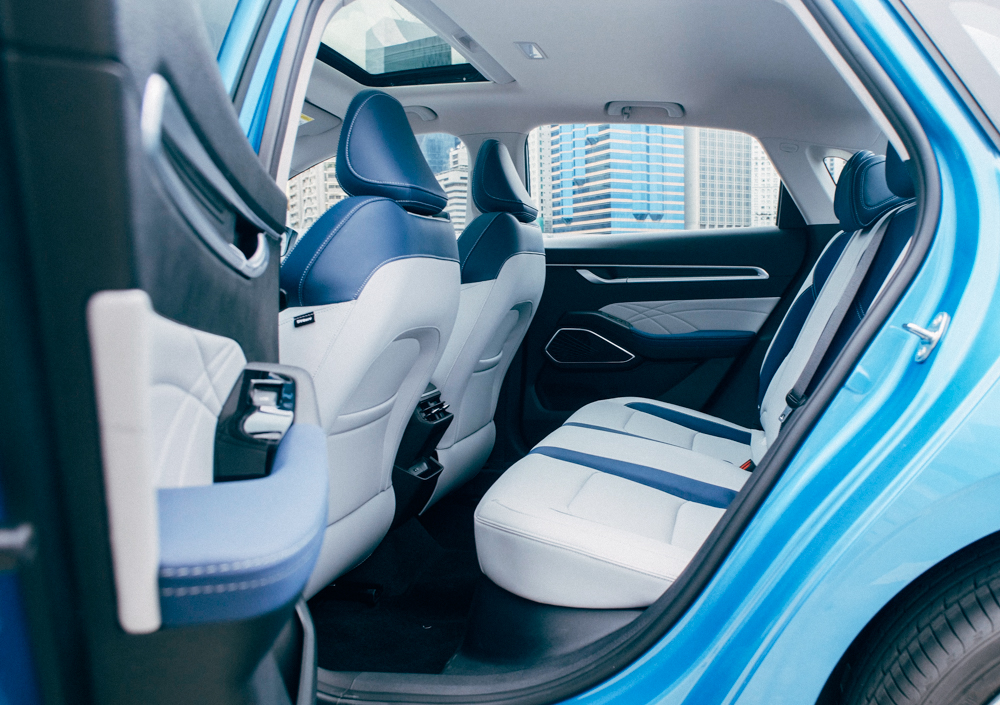 The top-of-the-line Emgrand (Premium) comes with the two-tone white-and-blue leatherette and suede seats. The entry-level variant (Comfort) has the black fabric seats. The range-topper also comes with a sunroof, and it has an automatic tailgate so it would be easier to load stuff in the trunk if your hands are full.
This is a very comfortable ride. Suspension is taken care of by MacPherson struts and a torsion beam. The brakes bite hard, too, so you can be sure of utmost stopping power. It has LED daytime running lights and full LED headlights as well. We found the Emgrand to be easy-to-drive with its light steering, and it was definitely agile and has quite effortless maneuvering.
The sound-deadening of the cabin contributes greatly to the Zen-like atmosphere of the car. You can still hear all the sounds of the road, of course, but they are not as intrusive as they would normally be in, say, a Vios.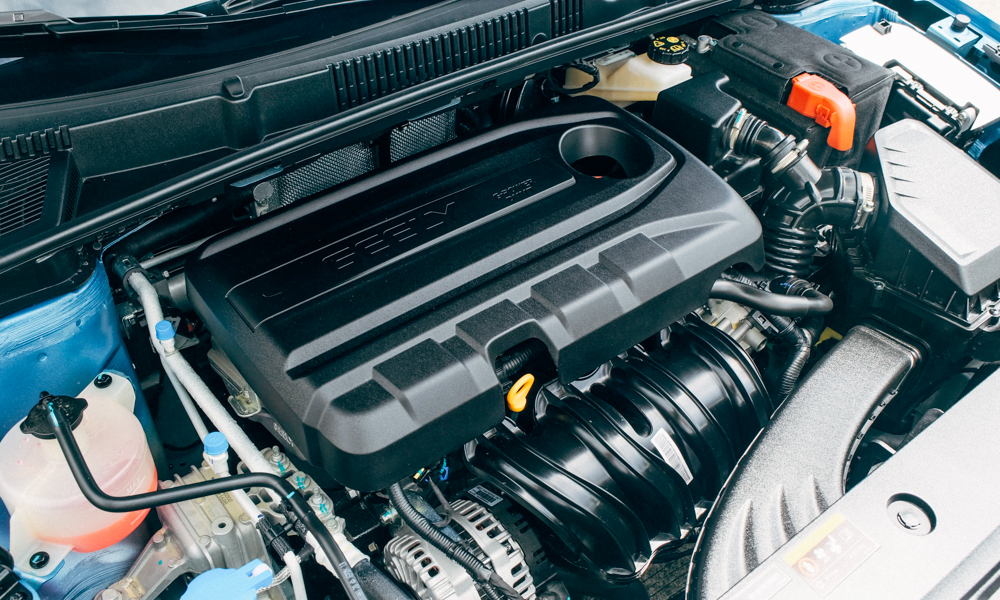 The Emgrand is available now, and reservations are open for it. If you reserve one between today and May 31, you automatically get P50,000 off your vehicle and free one-year PMS, inclusive of parts, oil and labor. Three lucky buyers will even get a chance to each win a P250,000 voucher. The Premium goes for P908,000, while the Comfort is priced at P798,000. The car will come in five different colors: White, Gold, Dark Gray, Dark Blue, and Proud Teal. It is also offered with a five-year warranty (or 150,000km, whichever comes first).
As this segment is a very competitive one, and a lot of carmakers have their own contenders, we are excited to see the automaker's first subcompact sedan. The Emgrand did exceed expectations. Check it out at a dealership near you, and see for yourself the value-for-money features this car has to offer.