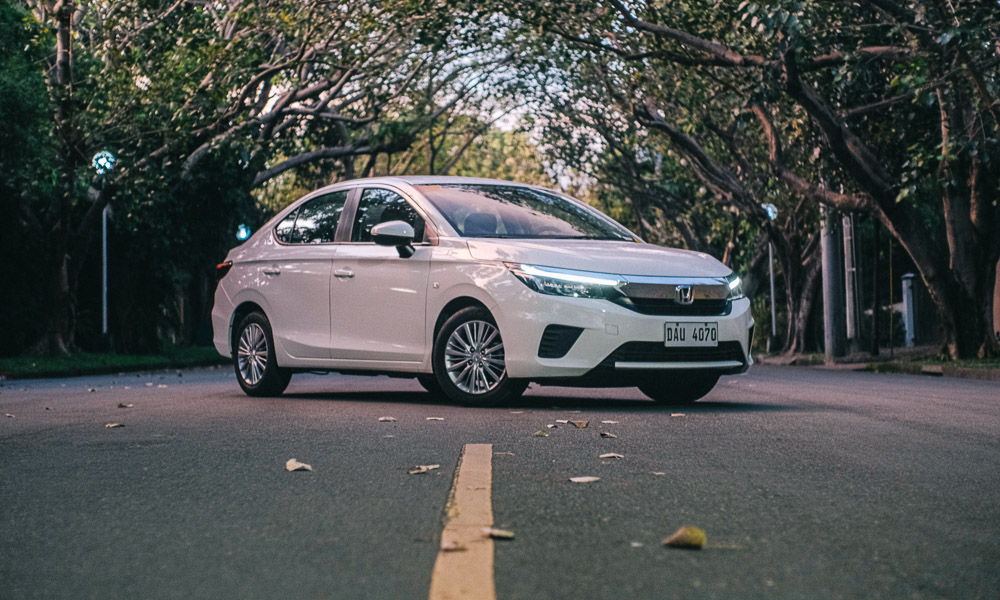 Can modern vehicles still be considered just "vehicles"? We've come to a point where it seems that these metal boxes on wheels that we use to get around from A to B have more tech inside than your average condominium unit. I could go on and ramble about how modern drivers should drive an old car at least once, but my colleague has written an excellent article on that.
I won't deny that my job has allowed me to drive some cars that I would've never imagined driving, like those that can steer themselves (when the conditions are right), have rocket-ship-like acceleration, or are even more luxurious than some hotel rooms. My current daily driver packs a good amount of tech, which is a far cry from the "bare necessities" car I started out with.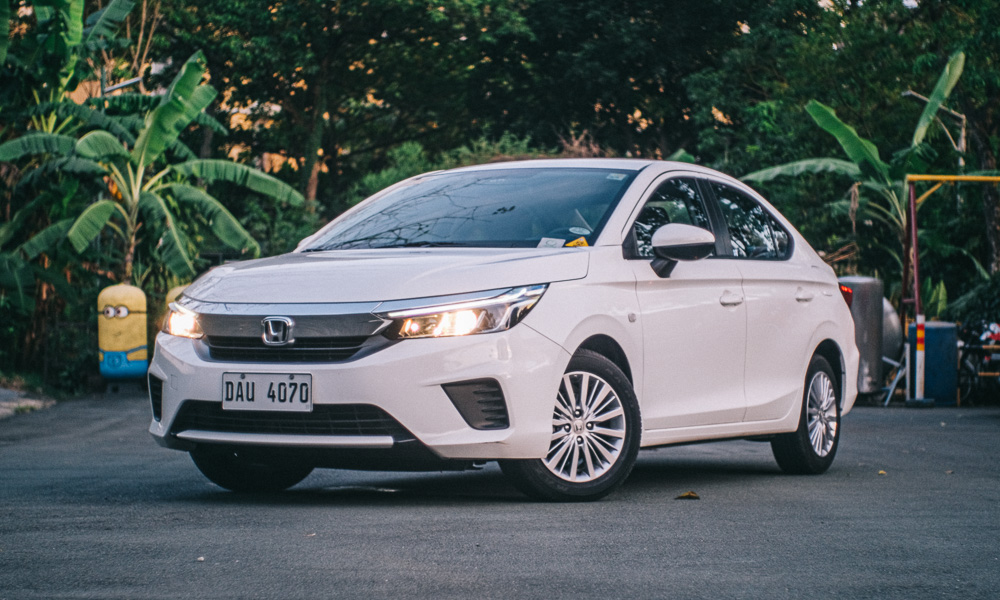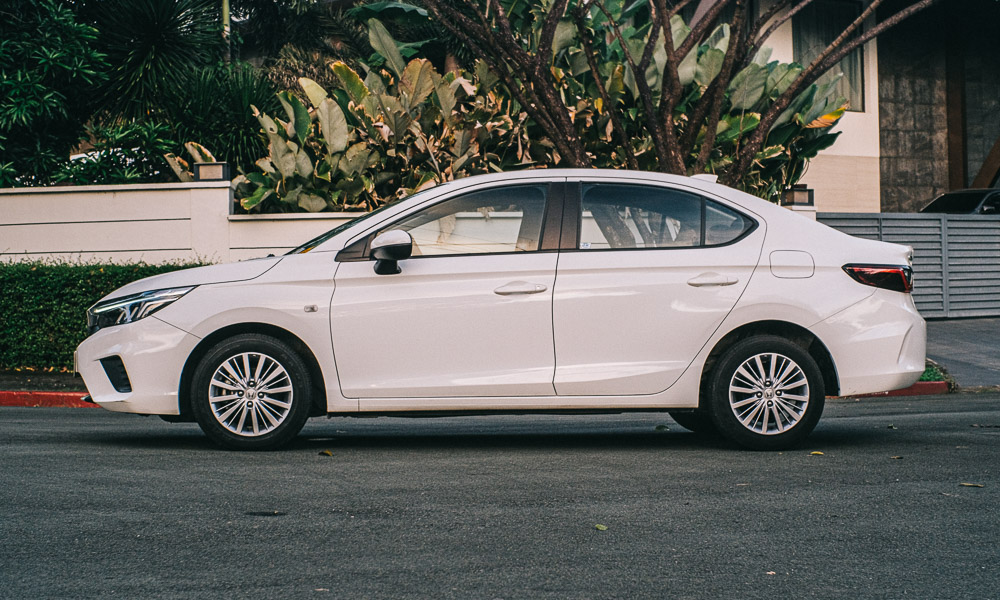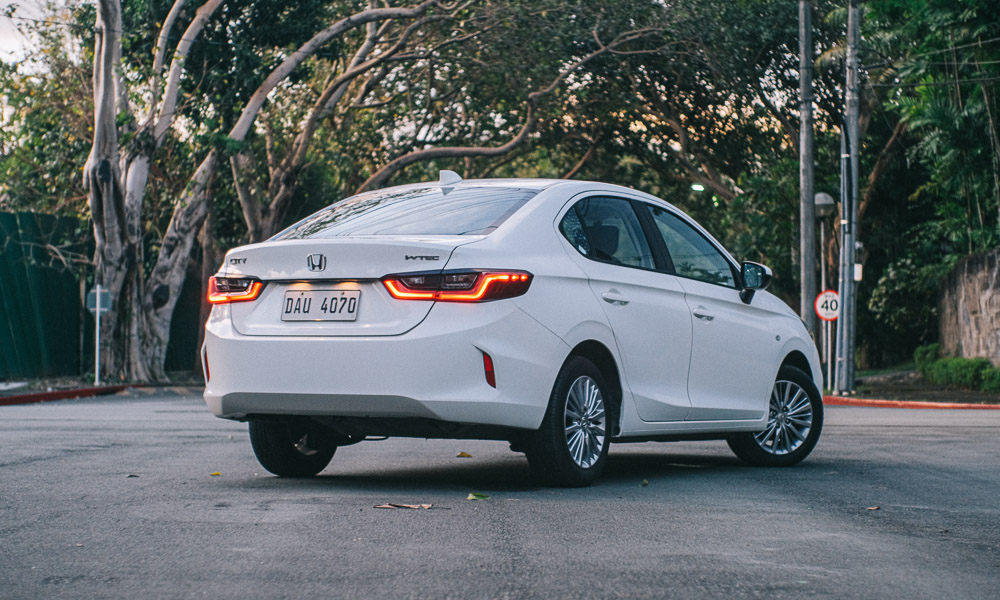 That brings me to this Honda City. This is the 1.5 S, and it's the base trim in the lineup. It costs P938,000, and you lose a lot of creature comforts to reach this price tag.
One thing I noticed is how similar the car feels to drive compared to its top-of-the-line RS sibling, which is a great thing because you know that the automaker really focused on the driving dynamics before tacking on additional features.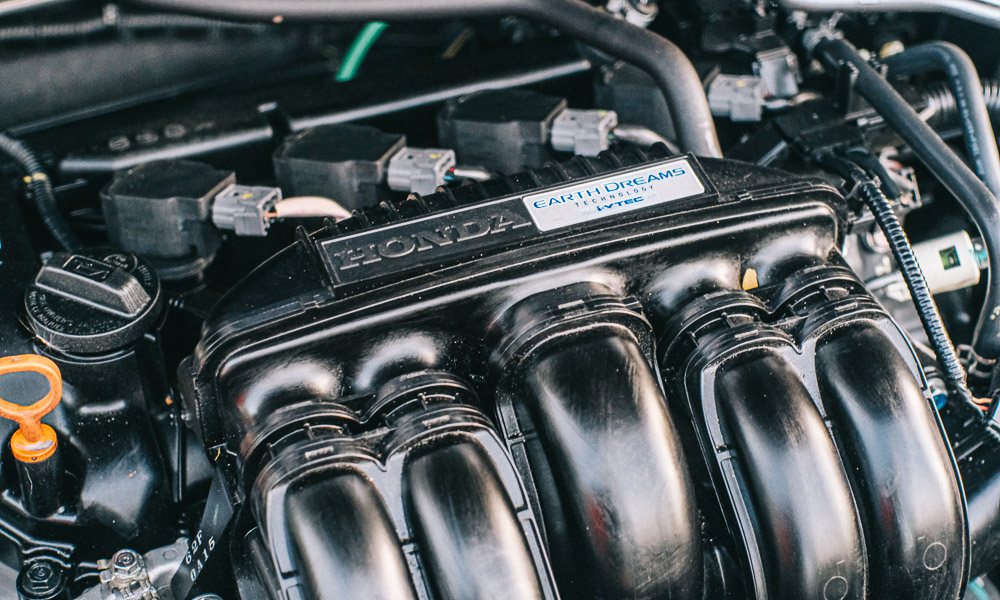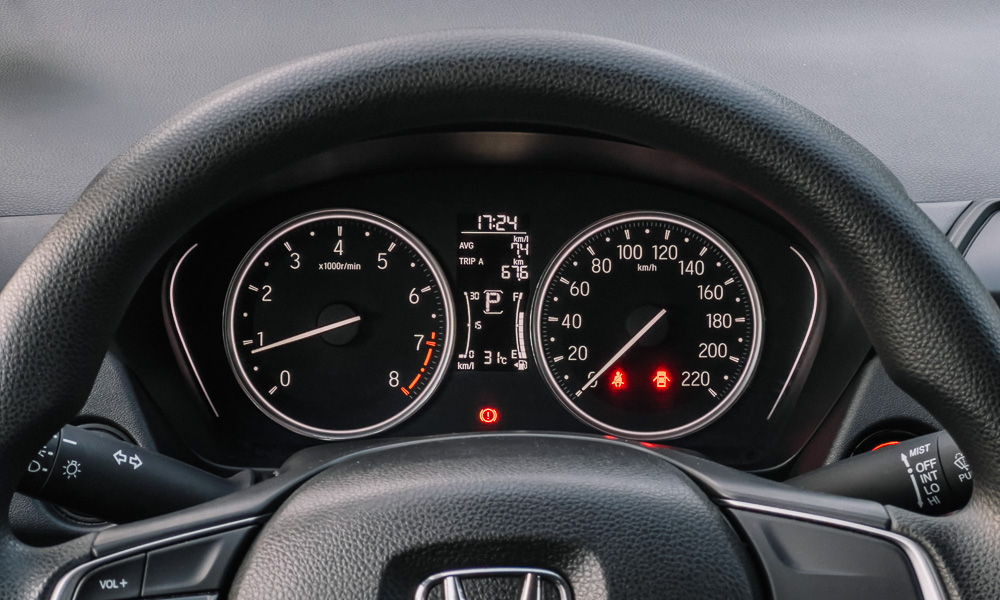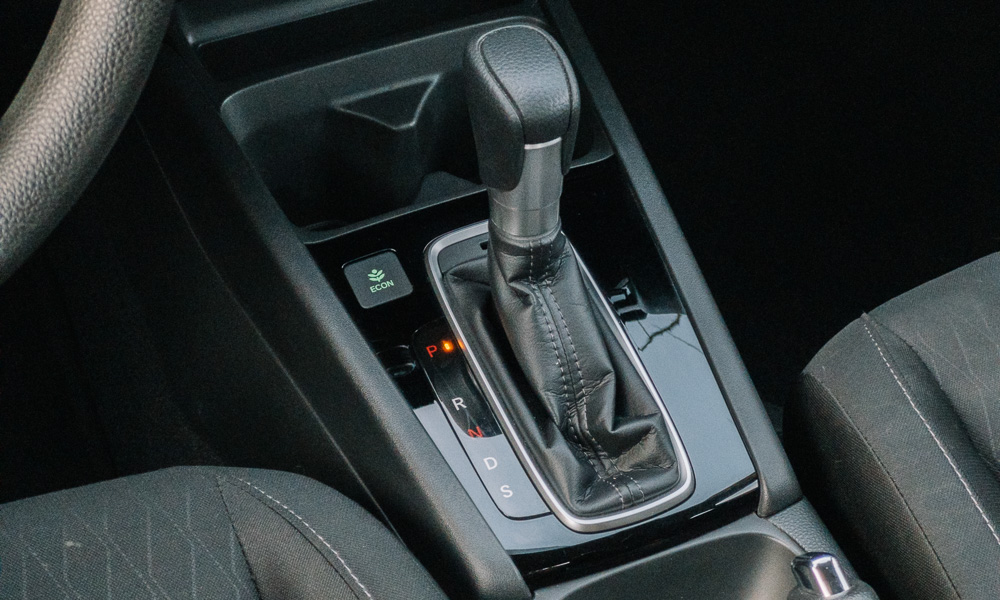 It has the same 1.5-liter naturally aspirated i-VTEC motor under the hood with 119hp and 145Nm, with the same peppy initial acceleration that plateaus after because of the CVT's gearing in favor of being frugal—netting me an average of 7.8km/L in horrible city traffic over five days. It's light and easy to throw around town and in the corners, especially with its 5m turning radius.
I could end the review here, but daily-driving this car for errands and as a commuter brought back this feeling of nostalgia, a sense of familiarity that I've come to miss from my first car.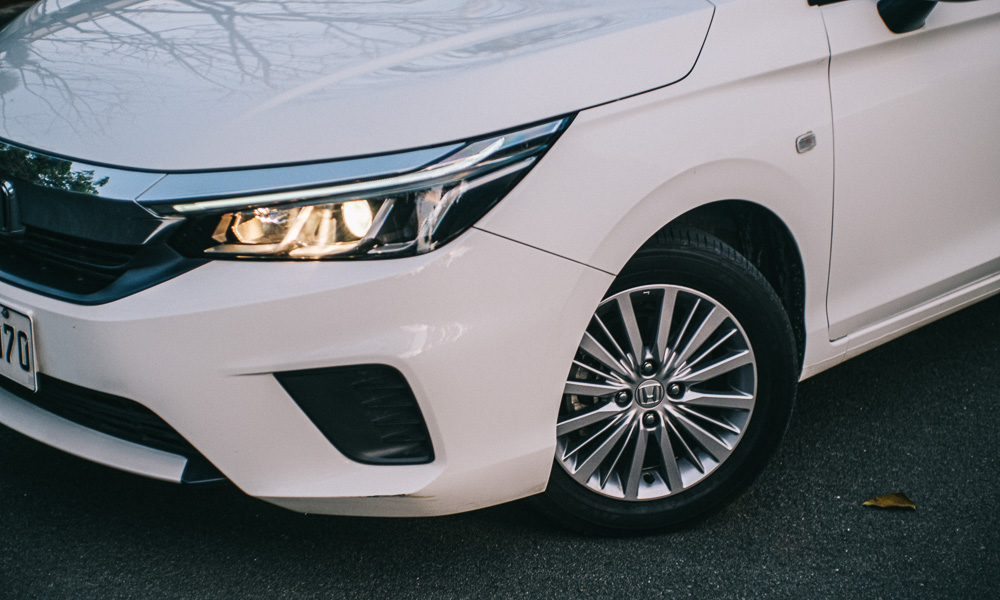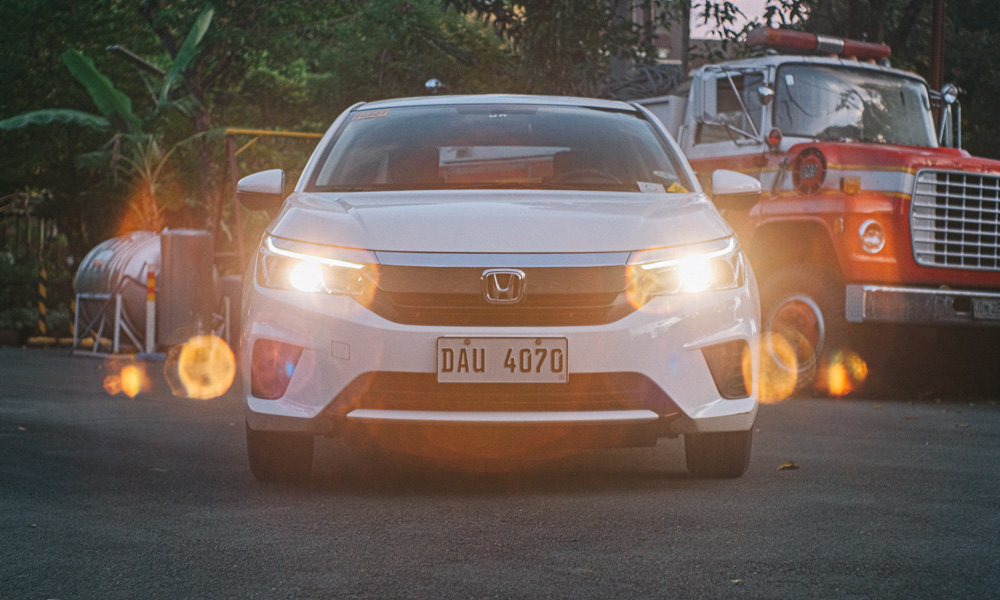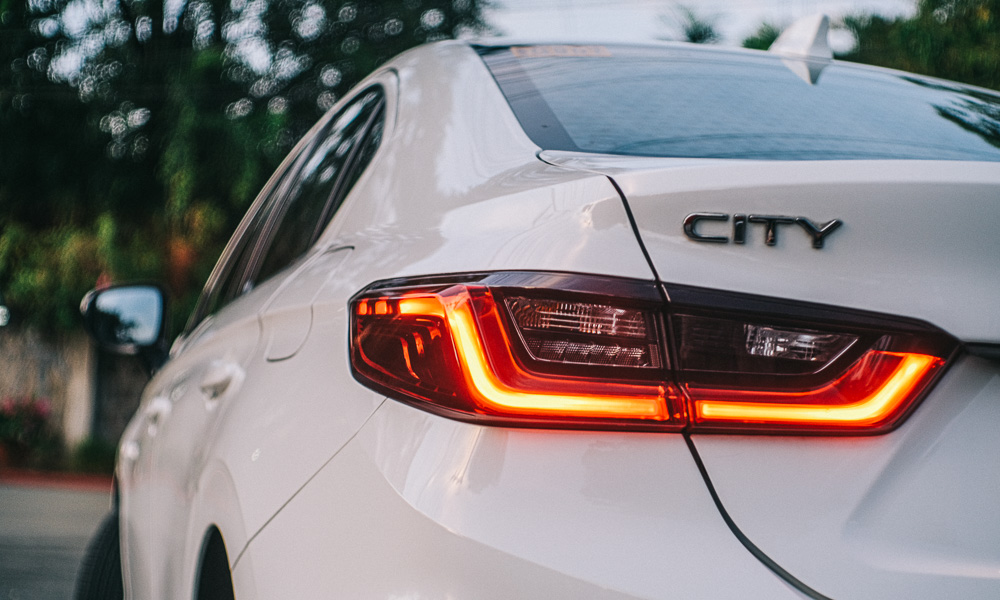 It starts the moment you look at it. Yes, it's not the most exciting thing on the road, although I think the chrome grille and the multi-spoke 15-inch wheels give it a more mature look compared to its aspiring boy-racer RS sibling. You also get halogen projector headlights with DRLs (but no fog lights), which can be easily modernized with a drop-in LED bulb replacement.
The understated look that easily blends in is great for people who prefer anonymity, but it also has the potential to become a handsome, personal car if you decide to go down the aftermarket route.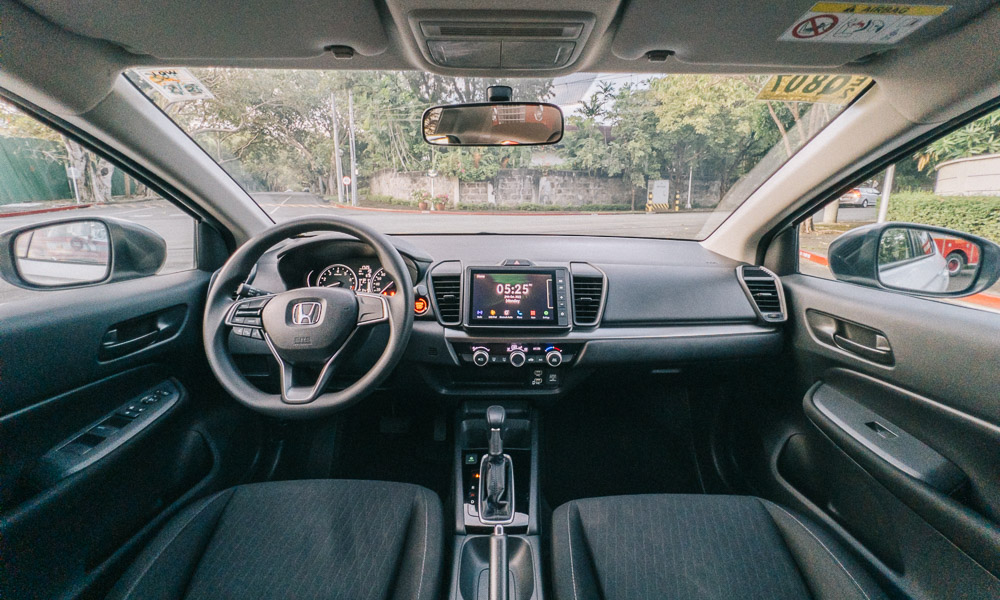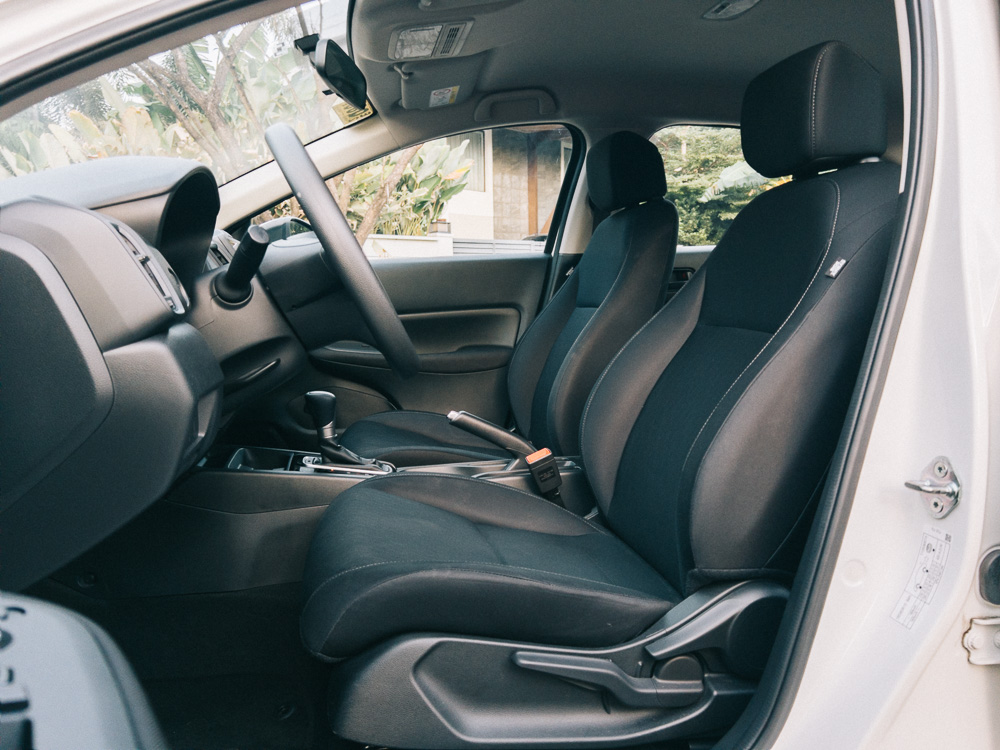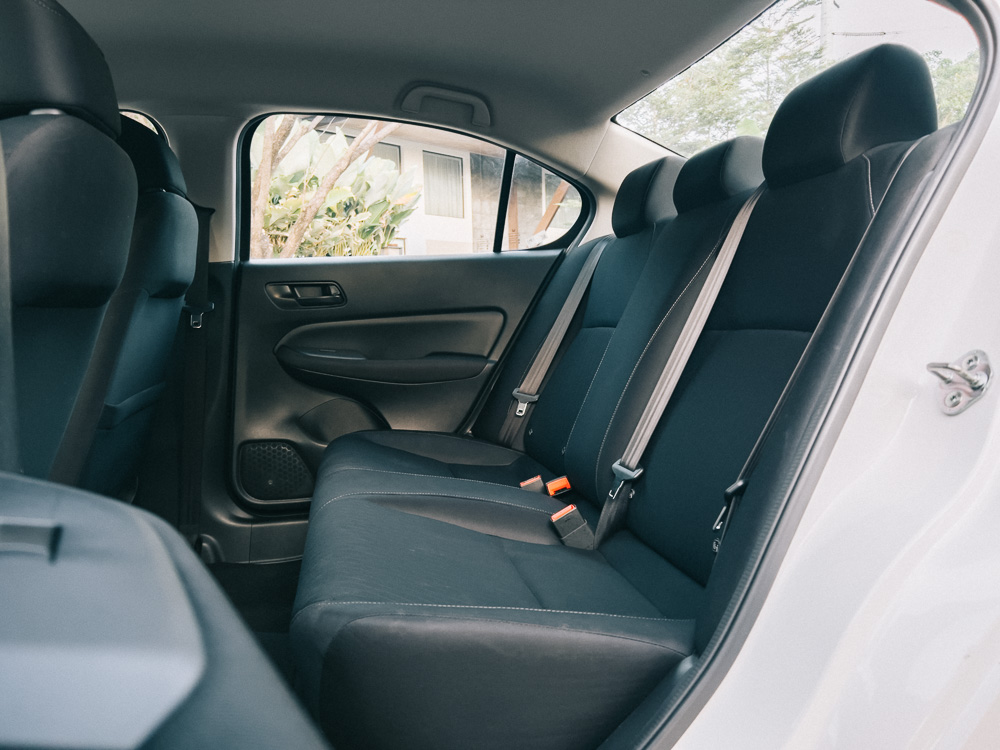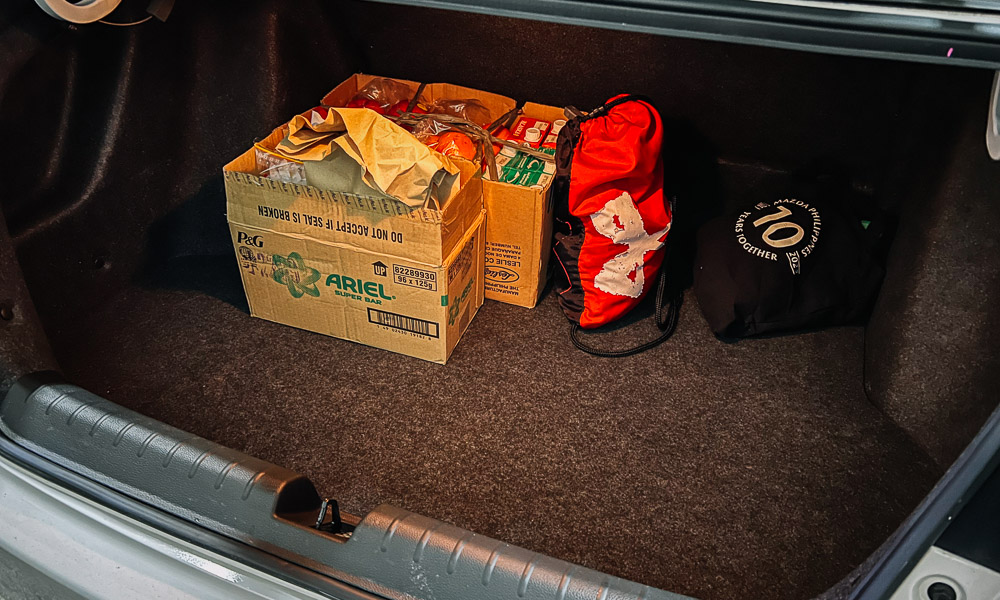 Step inside and you're greeted with a cozy, no-frills cabin. Honda is great at making the most out of interior space, and the five tall occupants won't have any complaints about headroom or legroom inside. However, you won't get any rear vents or center armrest storage. There's even a crossover-rivaling 519L trunk that can swallow almost everything, but you can't fold the rear seats down for long items.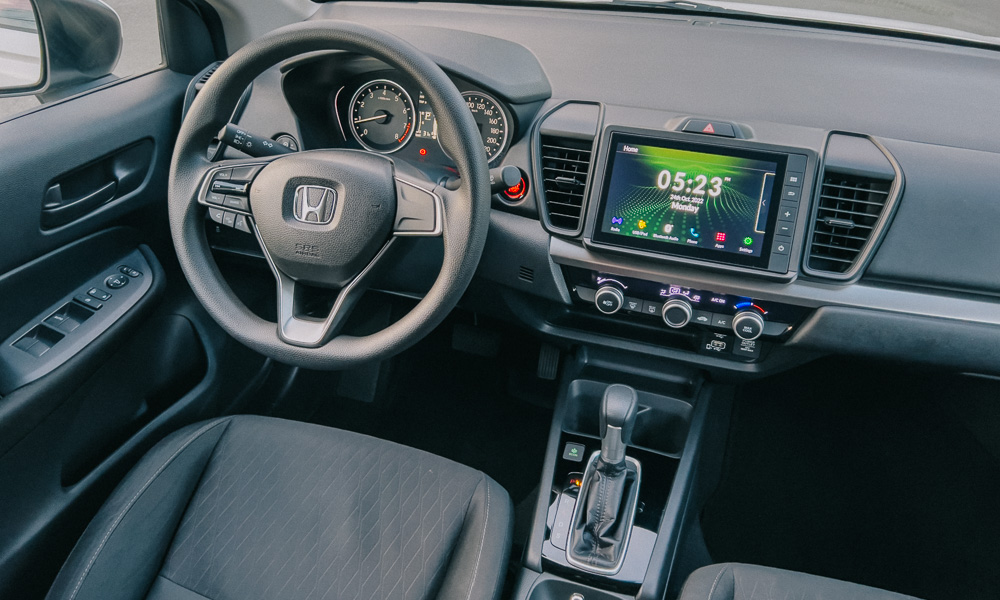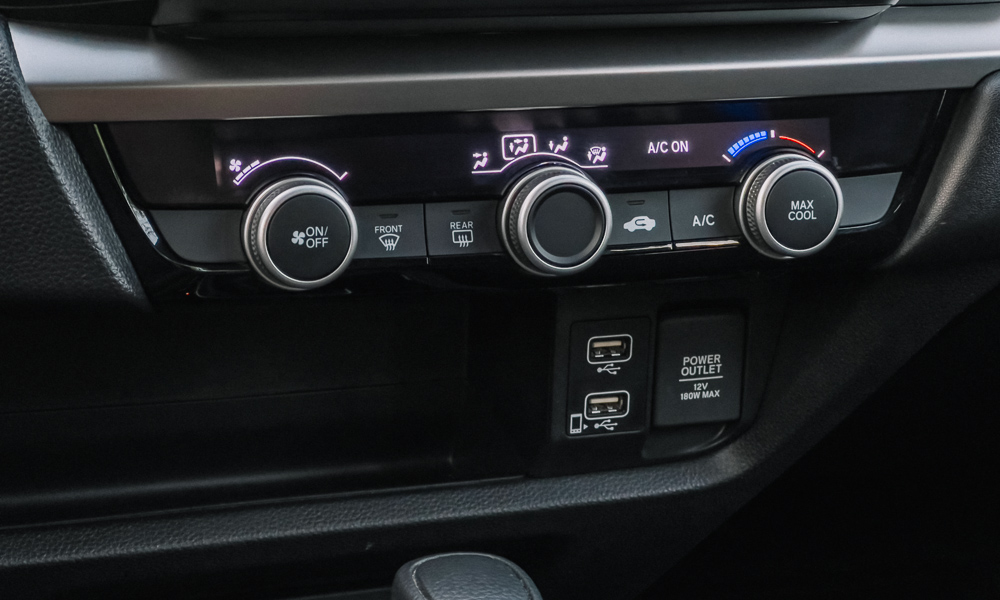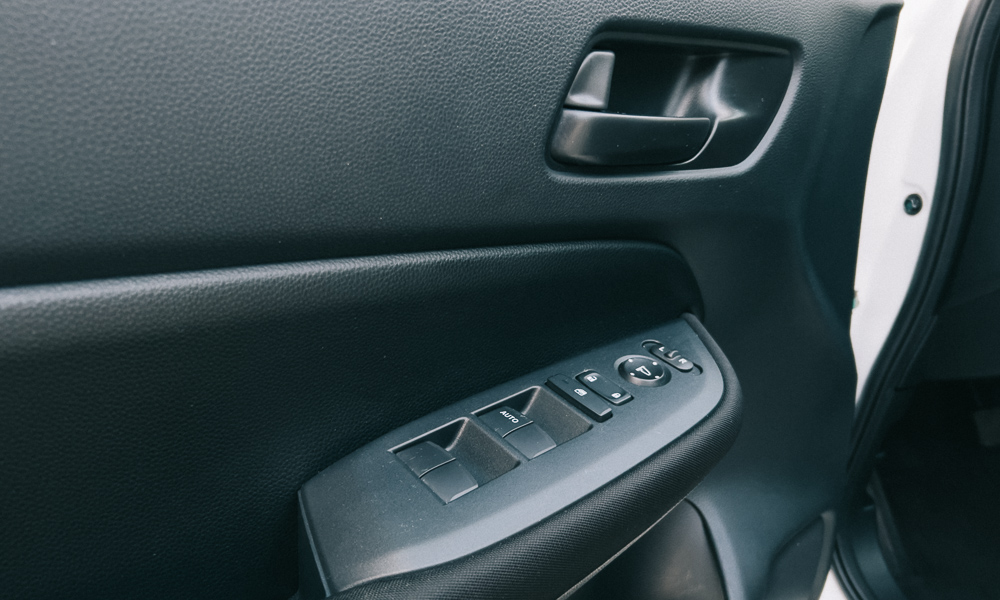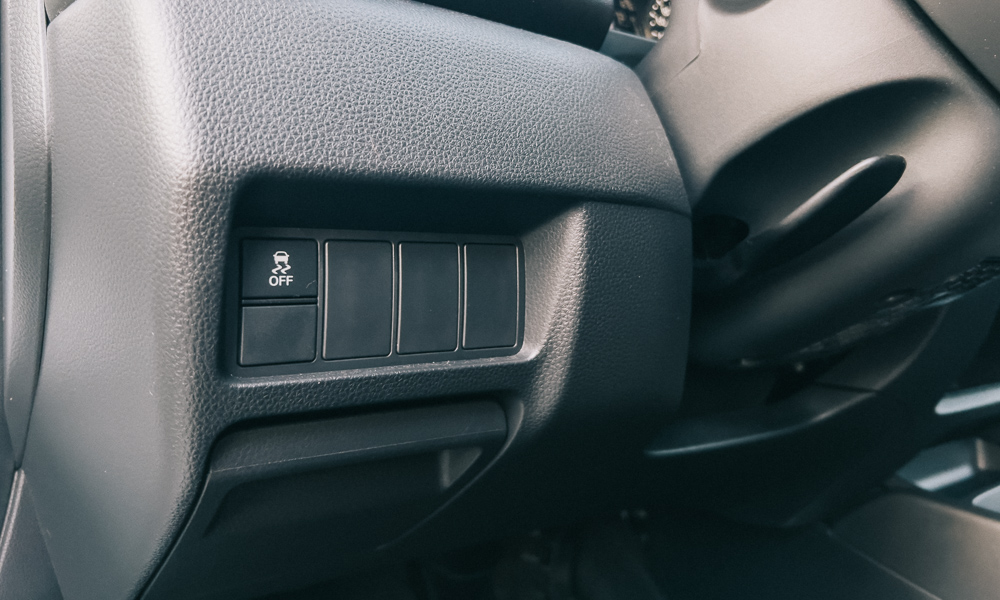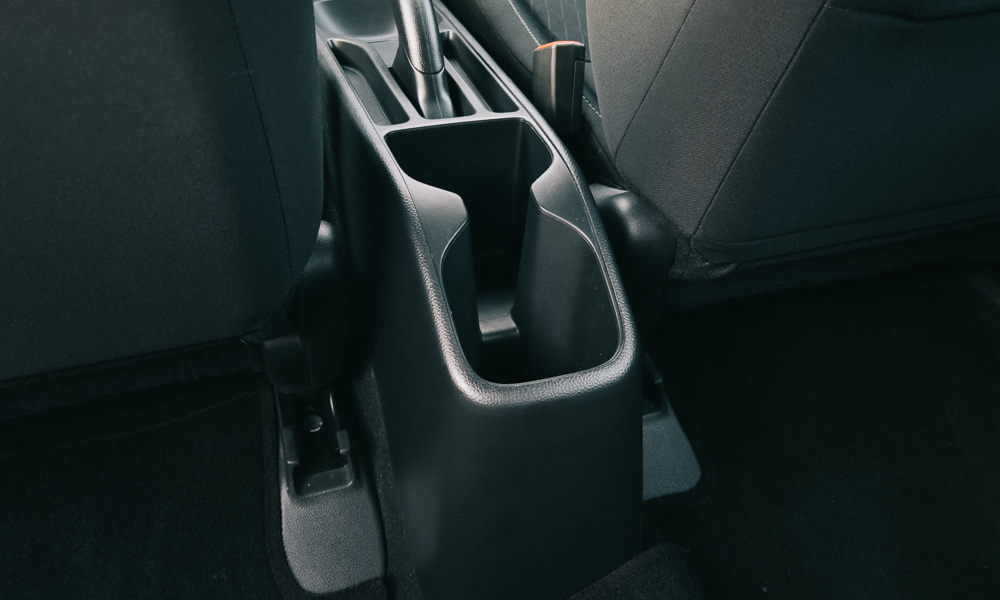 The fabric seats, the urethane (read: plastic) steering wheel, the hard (and scratchy) dashboard and door trim, and the monotone color scheme don't help at all in terms of luxuriousness, but it's logically laid out and solidly built. The switchgear is all tactile, especially the addictively clicky climate-control dials that feel like it has no business being in an econobox such as this car.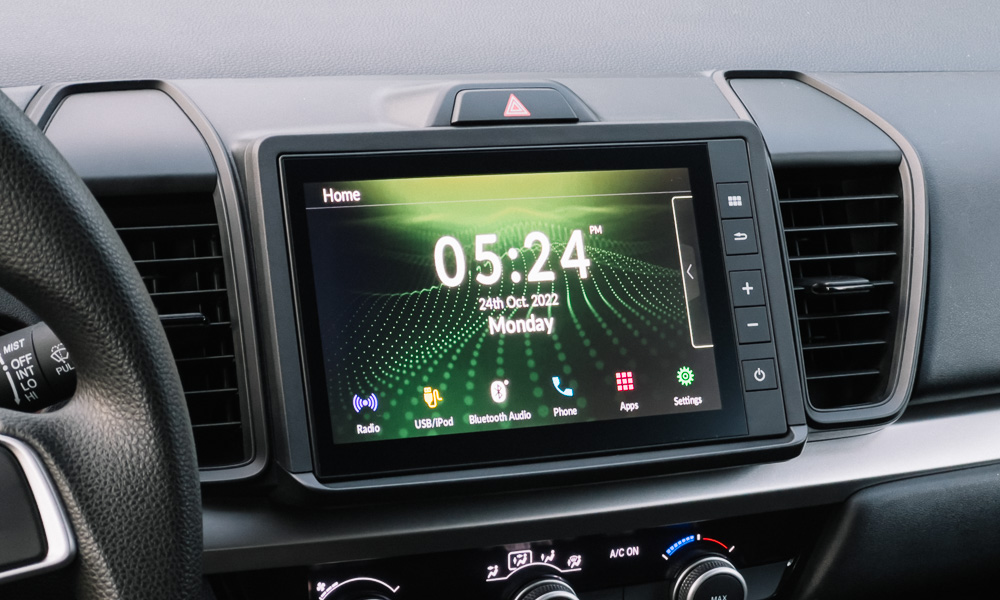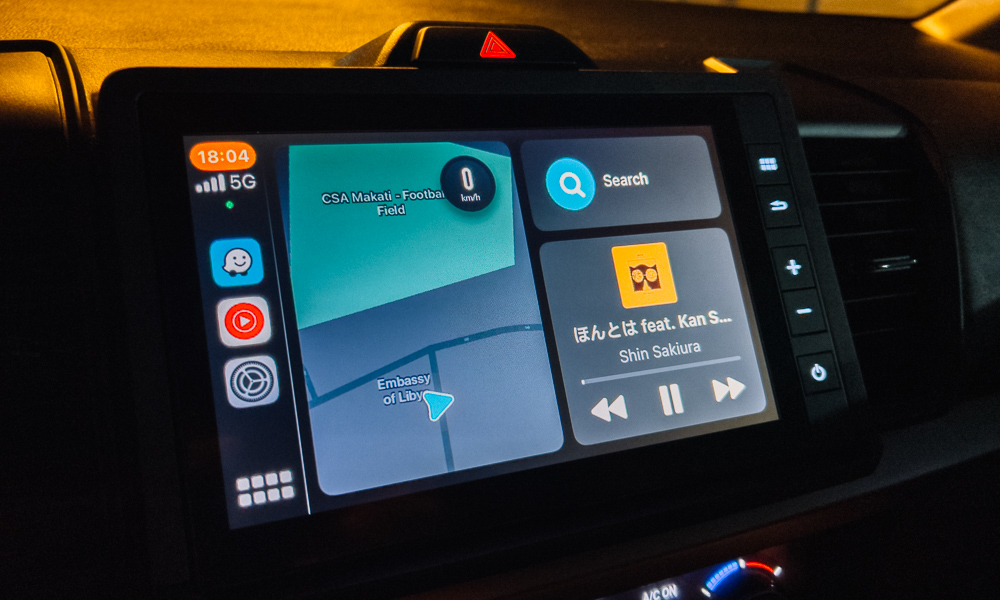 It even comes with the same eight-inch infotainment with smartphone connectivity, which is necessary these days. The four-speaker sound system is serviceable, but it will need a pair of tweeters if you want an extra dollop of clarity. But surprisingly, it's still a quiet and composed driving experience compared to its other competitors in the segment (which have little to no insulation from road noise).
The interior is plush with no driving aids other than the requisite ABS, EBD, traction control, and hill-start assist. Yes, this car doesn't even have a backing camera, which some cheaper cars have. But you don't need to worry, because it's very easy to drive with excellent all-around visibility that only a sedan can offer, even if the A-pillars can block your view at times.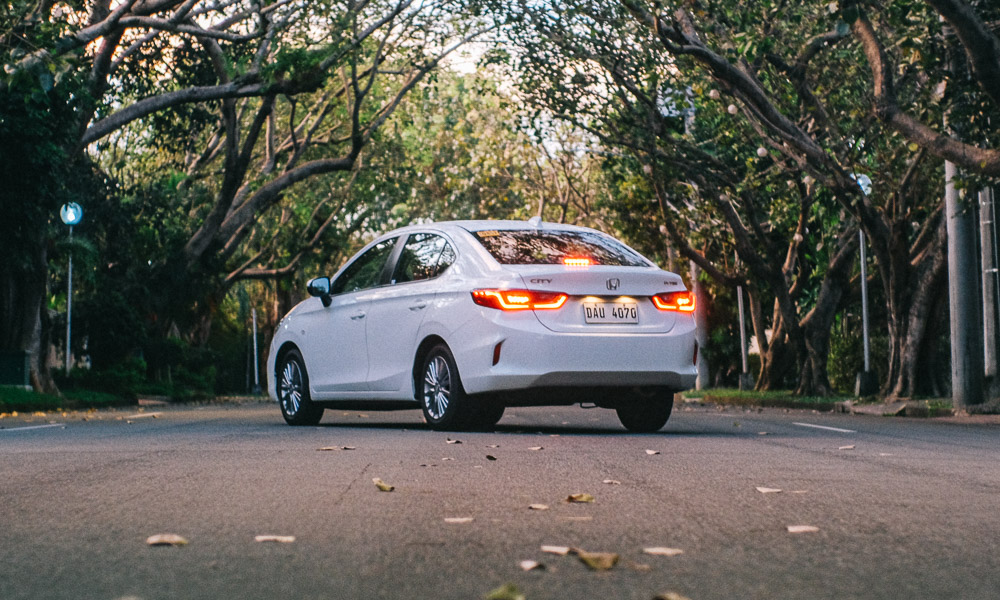 This is a car that is very easy to live with. You won't have that many electronics to worry about breaking down as the years go by, and it's easy to focus on driving—simply because there aren't many electronic nannies. Like my colleague said, it's just you keeping the car shiny side up.
There's no shame in getting the base variant of a car, especially one that has been well-engineered to begin with. There are other sedans in this price segment that offer similar (or better) features, such as the Nissan Almera, the Toyota Vios, and the Geely Emgrand, but they don't offer the same refinement you get from a Honda.