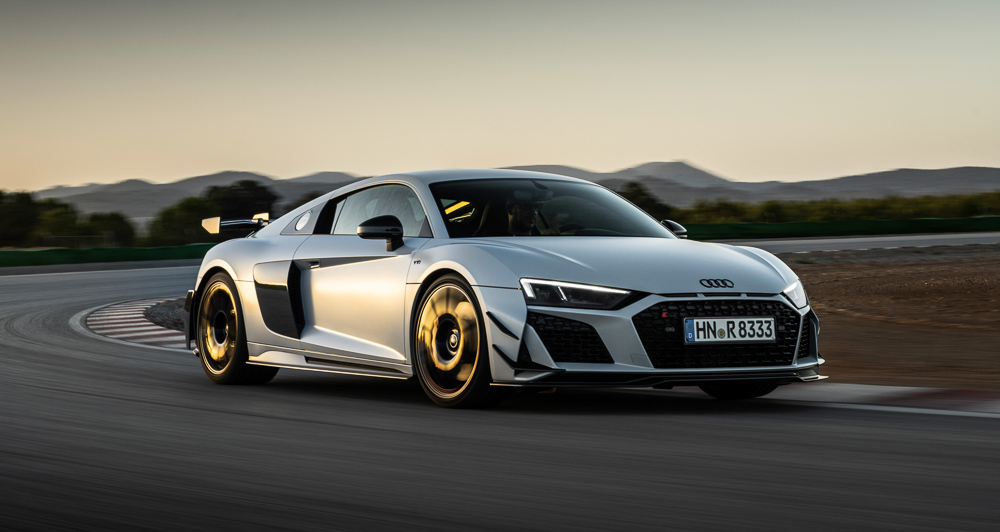 Audi's long-running supercar, the R8, will finally see its final, most extreme iteration with the V10 GT RWD—the swan-song variant of the brand's flagship model. It will also be its most extreme variant in rear-wheel-drive guise, as previous models of the R8 have always featured Quattro all-wheel drive.
The direct-injected V10 engine, as well as the R8's platform, is shared with corporate sibling Lamborghini for its Huracán, with both models expected to bow out in 2023 as the entire Volkswagen Group slowly phases out many of its internal-combustion engines for an electrified future.
The R8 V10 GT RWD is expected to launch for the 2023 model year with a very limited 333 units produced worldwide.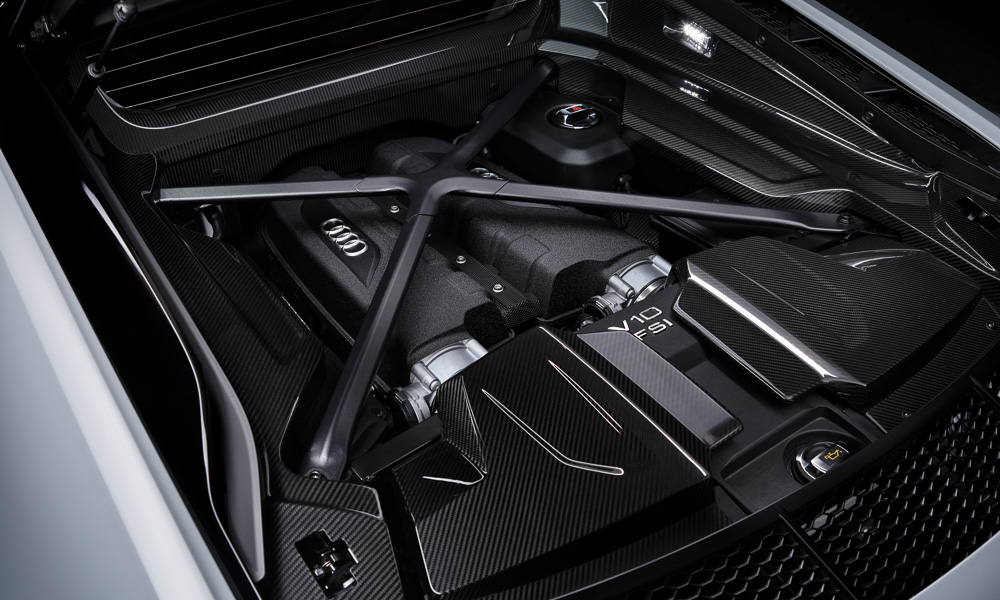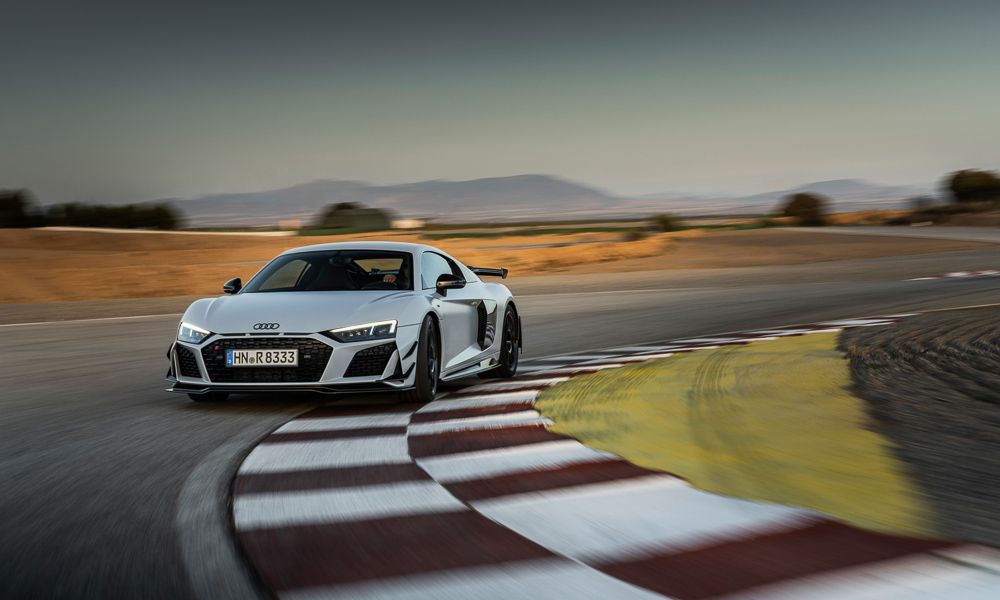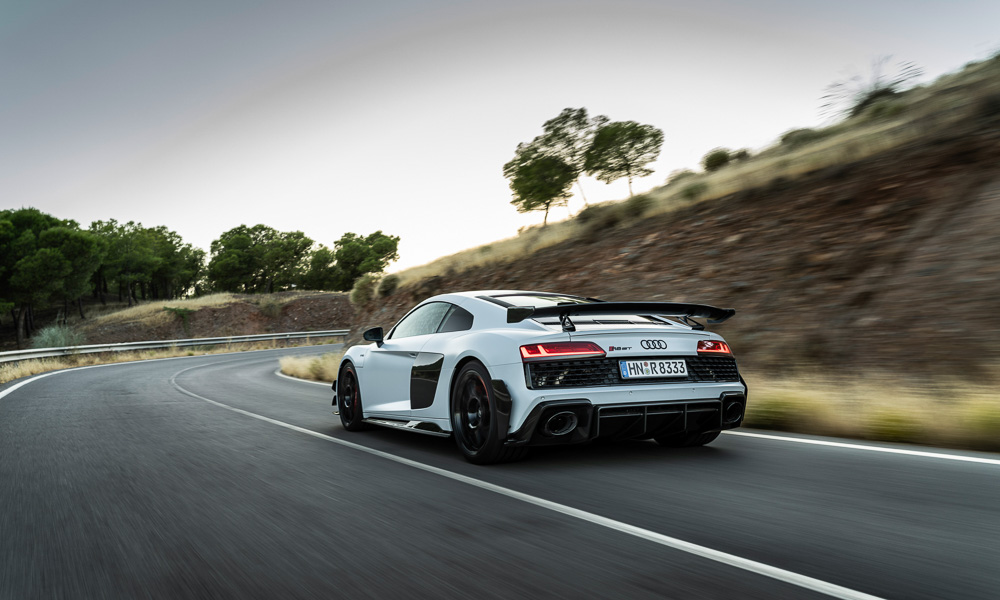 The R8 will finally see the V10 wound up to 11, with a full-on 604hp and 565Nm driving the rear wheels exclusively via a seven-speed dual-clutch automatic S-Tronic transmission that has been tweaked to deliver even faster shifting at full tilt. The top speed will be a claimed 320km/h, with 0-100km/h dispatched in a scant 3.4 seconds.
Additionally, the R8 V10 GT RWD will come with a Torque Rear Drive Mode that allows the driver to adjust the level of traction control interference/assistance.
Essentially, you can go from drift to grip mode on track and vice versa, depending on the seven available settings. Level 1 is pure trick driving performance and lap-time chasing, while Level 7 will see you exploring the R8 V10 GT RWD's limits beyond its grip envelope.
The system can also control the amount of torque sent to each rear wheel based on driver input and sensor data between the engine control unit, the throttle position, the steering angle, the selected gear, and the rear wheels.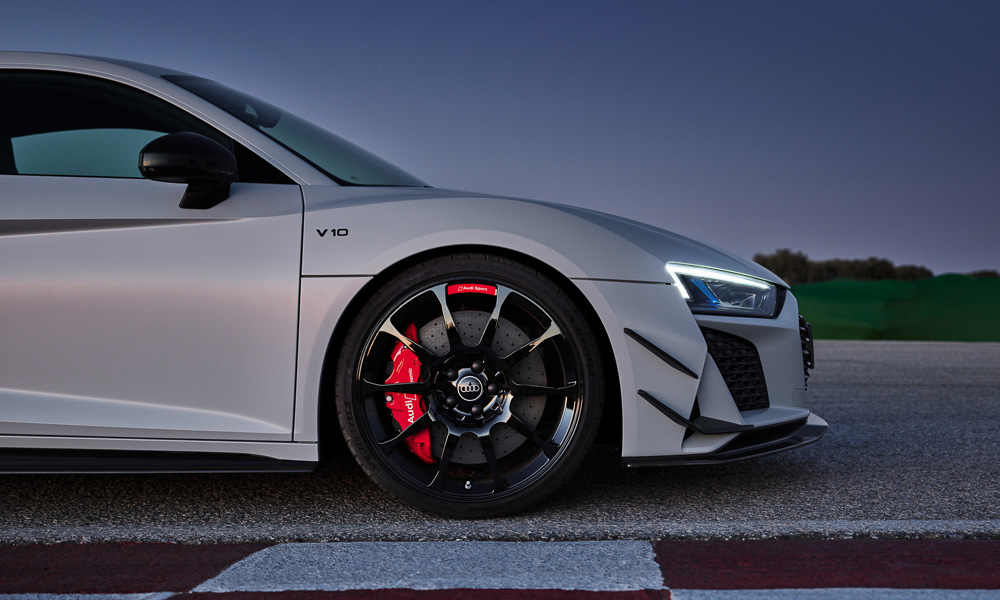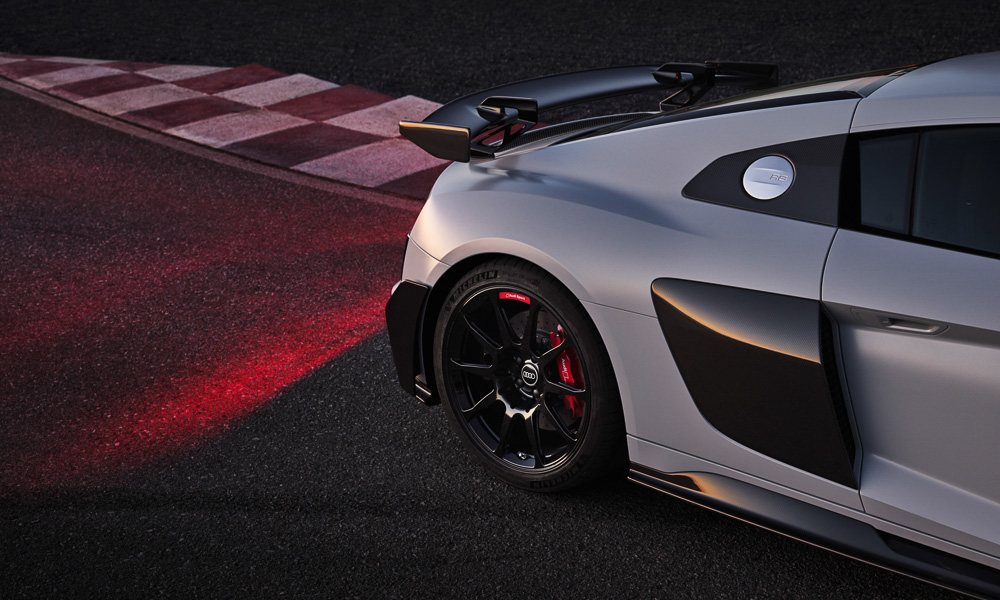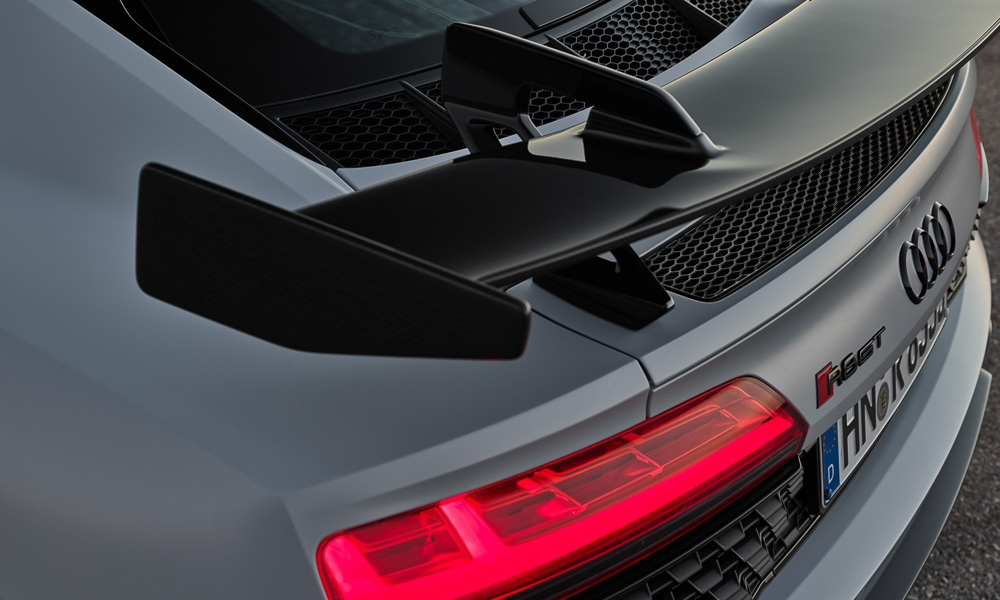 The R8 V10 GT RWD gets some add-on aerodynamic enhancements over the standard models in the form of a complete carbon aero kit, which is inspired by the R8 V10 LMS GT3 race car.
A rear wing on gooseneck wing stands, canards on the front bumper, side skirts, a new rear diffuser, and a front splitter are the featured elements of the aero kit finished in high-gloss carbon fiber. Suzuka Gray, Daytona Gray Metallic, and Tangorot Metallic are the available exterior finishes.
It also sits on exclusively designed 20-inch forged alloy wheels wrapped in ultra-sticky Michelin Pilot Sport Cup 2 road-legal track tires. Unsprung weight from the suspension is reduced by extensive use of aluminum, aiding handling and performance.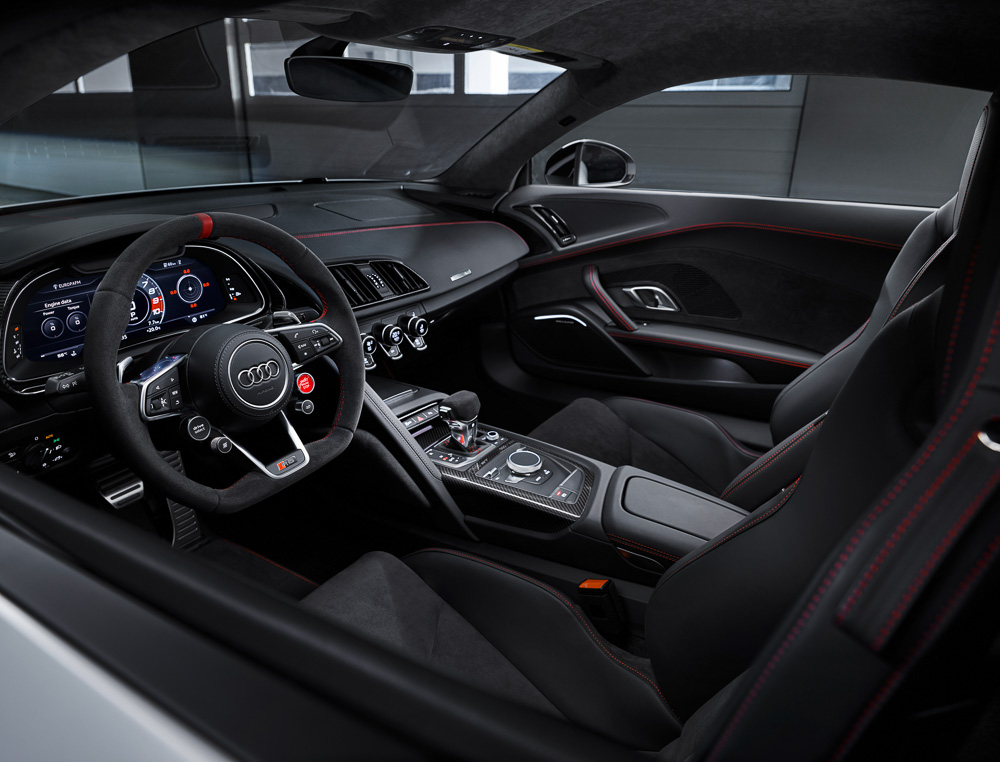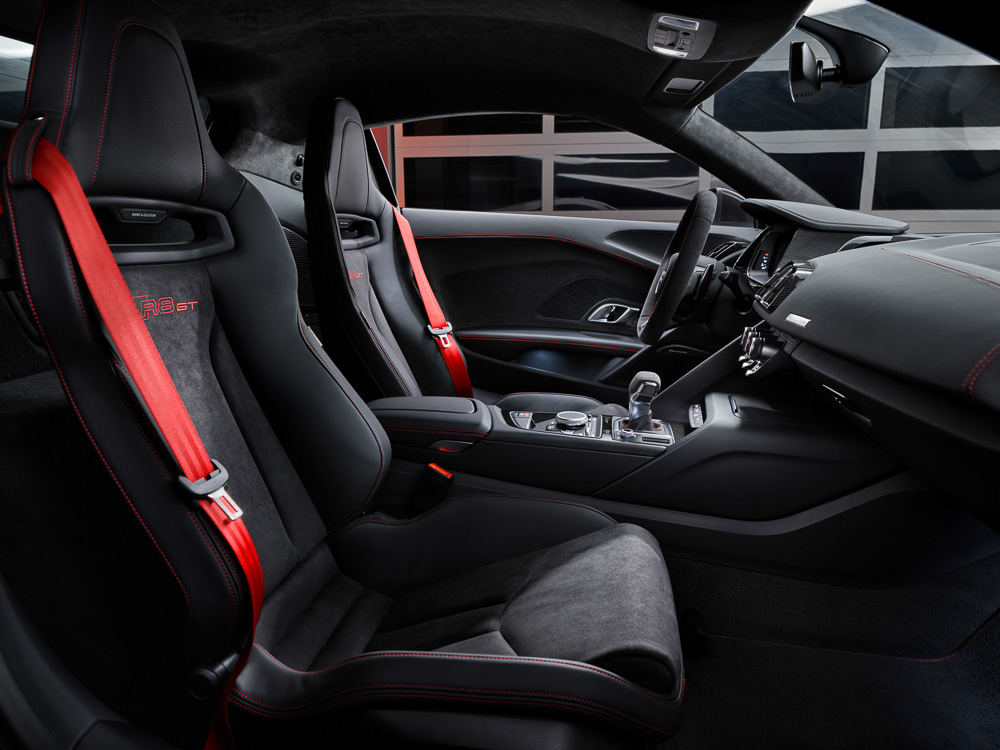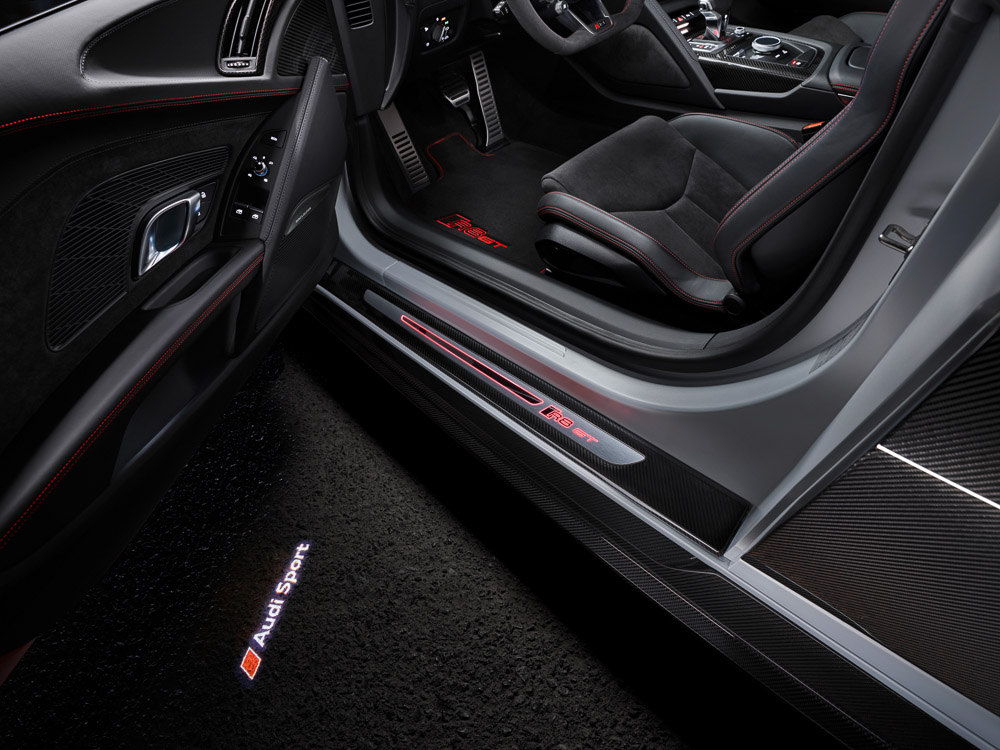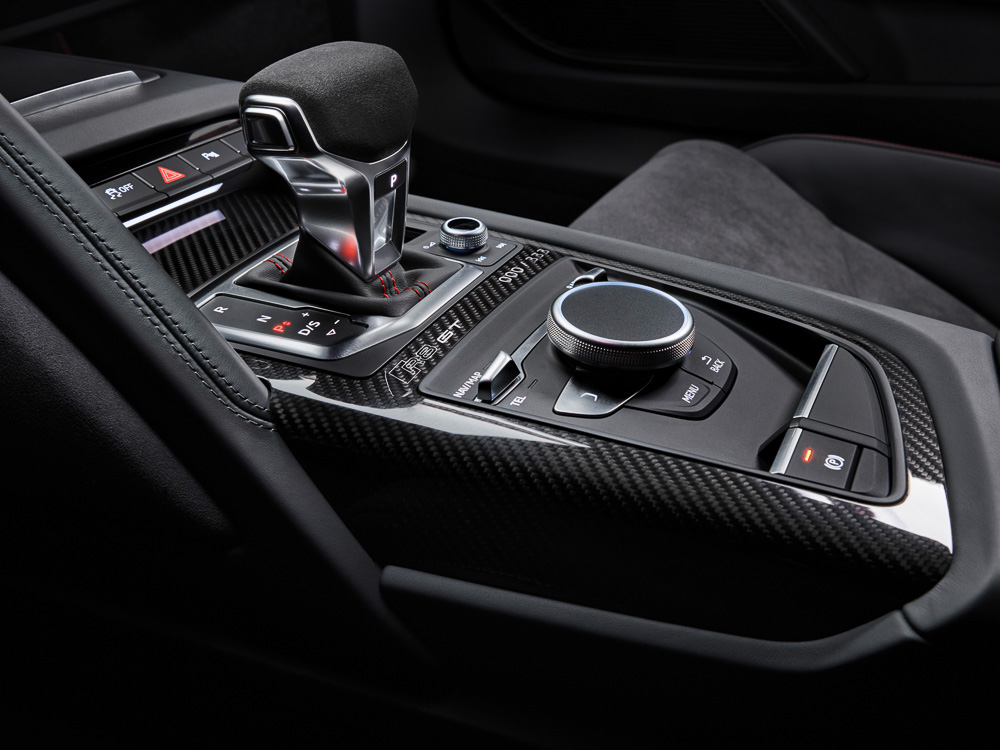 Overall, the car weighs 20kg less. To save even more weight and increase track-focused performance further, carbon-fiber bucket seats, anti-roll bars also made of carbon fiber, and adjustable racing-style coil-over suspension to fine-tune corner weighting and alignment are available as options. Height, compression, rebound, and spring preload are adjustable on the coil-over sport suspension.
The inside sees mild changes. Black leather with red accents and a red seatbelt are introduced, much like the original R8 GT. The rest of the excellent and surprisingly roomy interior remains unchanged. Customers will be able to find the sequential numbering of their ultra-limited edition R8 in the middle of the gear selector lever, partially matted in carbon inlay.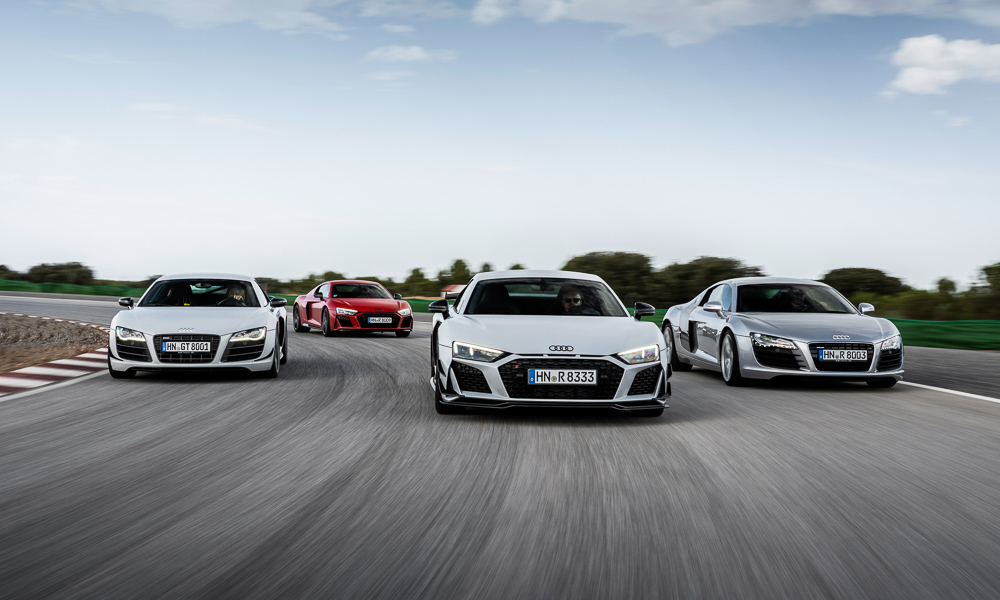 Audi, along with Lamborghini, is rumored to be working on an all-new replacement for the R8 and its Lamborghini counterpart with an all-electric supercar.
The R8 V10 GT RWD will indeed be the last from the brand to feature an internal-combustion engine with an orchestra-like crescendo from its direct-injected, naturally aspirated, and pre-sounding V10 gasoline engine. It may be going soon, but cars like these will live forever in enthusiasts' hearts. At €225,000 (P12.9 million) plus options, it looks to be a real bargain for its performance and exclusivity.