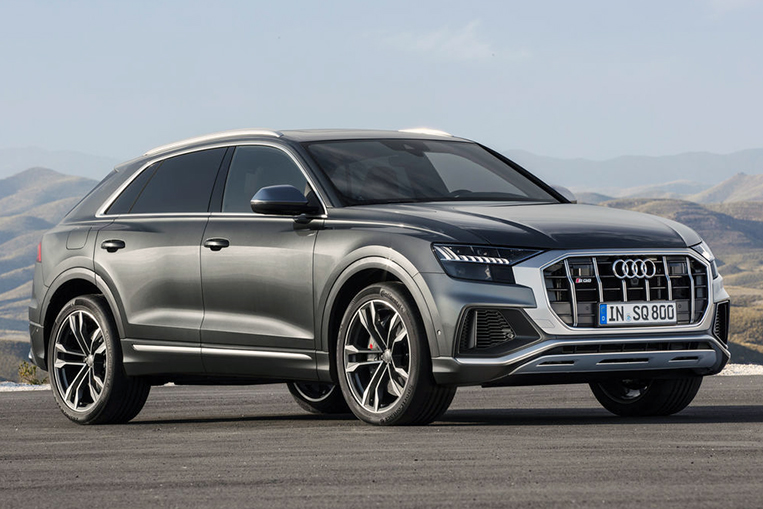 The diesel is dead. Long live the diesel!
I suspect that might be the motto painted onto the walls of the Audi engineering office, as the German carmaker has just unleashed an insanely powerful diesel production vehicle, the SQ8 TDI. Its creation seems to indicate that news about the death of the diesel engine has been greatly exaggerated, or maybe we should see this super SUV as one last hurrah for oil-burners. Whatever you think of it, it's an impressive piece of kit that now takes pride of place atop the Q model family tree.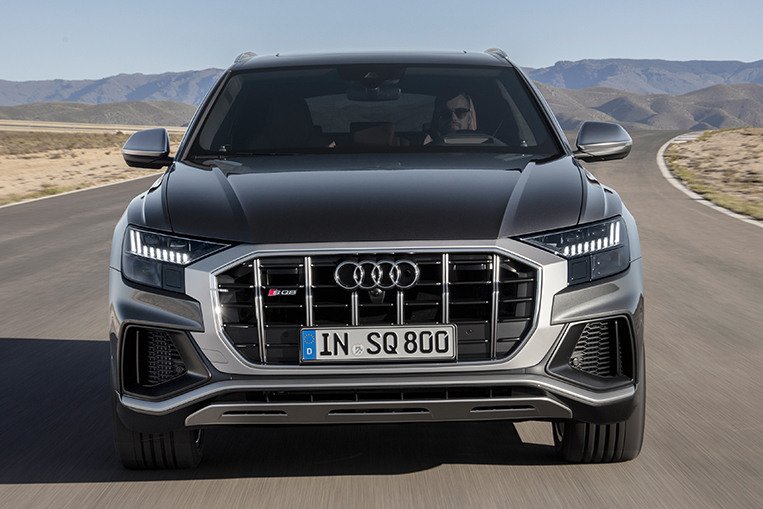 Under the hood of this SUV coupe lives a powerplant so big it could give small container ships a case of engine envy. The 4.0-liter biturbo V8 TDI block is, according to Audi, the most powerful diesel engine on the European market right now and sends no less than 435hp and 900Nm toward all four wheels via an eight-speed Tiptronic transmission. For some extra oomph off the line, the SQ8 is also fitted with an electric-powered compressor that provides some extra air to the engine during scenarios where the two turbochargers are still not awake enough to wreak havoc. That EPC is powered by the 48V onboard system, which in turn is part of a mild-hybrid setup similar to the ones we have seen from other manufacturers.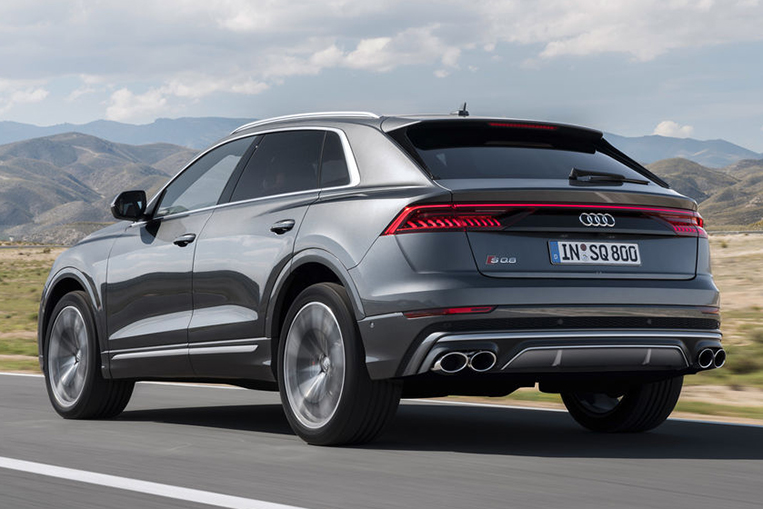 All this high-tech trickery means the SQ8 can go from rest to 100km/h in a mere 4.8 seconds, and on to a top speed of 250km/h. It does all that despite the fact that it weighs around 2,400kg and measures 5,006mm in length, 1,995mm in width and 1,708mm in height. Audi basically created a studio apartment with wheels and athletic aspirations, but despite all the vehicle's size and power, the firm claims that it will return an average of 12.85km per liter of fuel. The adaptive air suspension also features some clever technology and can be further enhanced with optional extras like four-wheel steering, a sport differential and electromechanical active roll stabilization.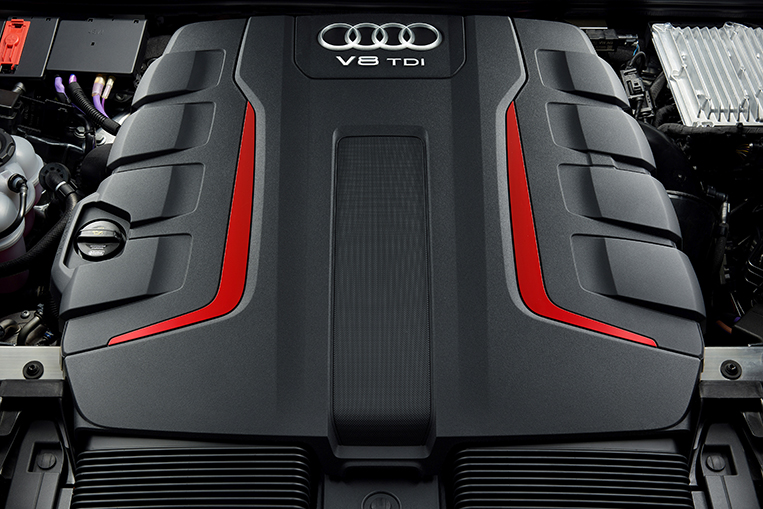 Appearance-wise, the SQ8 differs only slightly from its tamer brother. Next to the obligatory S badges all around, the top model can be identified by its new exhaust system with four proper pipes instead of two rectangular openings, and a matte-silver frame surrounding the huge octagonal Singleframe grille at the front. It rolls along on 21-inch rims as standard, with special 22-inch alloy wheels available on request. Hop inside and you'll encounter sports seats with the S logo embossed, and brushed aluminum inlays that can be swapped for carbon or oak ones if the buyer fancies it. Anyone who shells out at least €102,900 (P5.93 million) to own one can enjoy looking at a specially designed version of the Audi Virtual Cockpit, where he or she will be able to control settings via two touchscreens with haptic and acoustic feedback, or simply via natural voice command.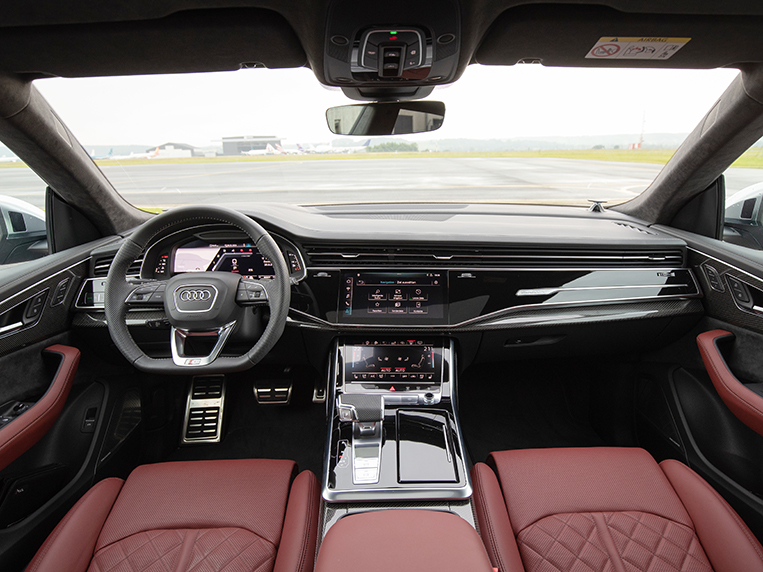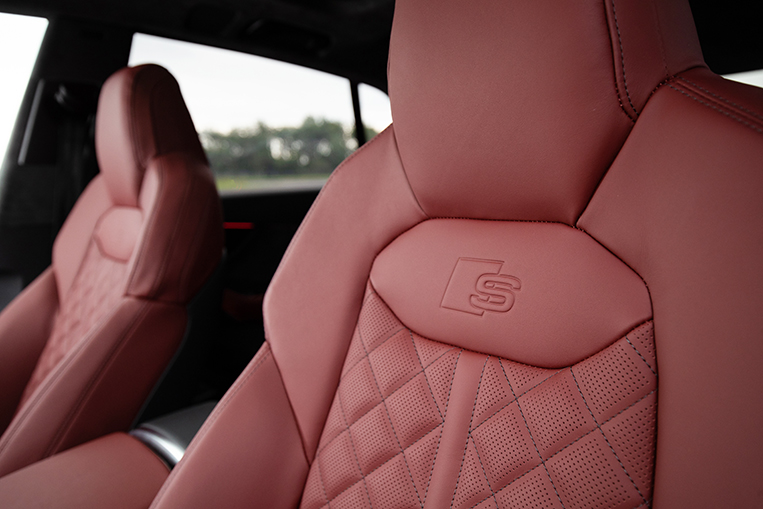 The SQ8 even has Amazon Alexa and also offers a feature that—in select European cities—communicates with the central traffic-light network to let the driver know when traffic lights will turn red or green. Needless to say, it also comes with a bunch of driver-assistance technologies like lane-keeping and adaptive cruise control, leaving the passengers to sit back and enjoy being ferried around in a roomy diesel SUV that is bound to give climate change activists anxiety attacks.
This is likely the biggest, boldest and most powerful diesel cruiser we will ever get to see roaming the streets before electric cars completely take over. A four-wheeled, high-tech dinosaur that had been sentenced to go extinct before it was even born. Go enjoy the sight of it, because there likely won't be another.