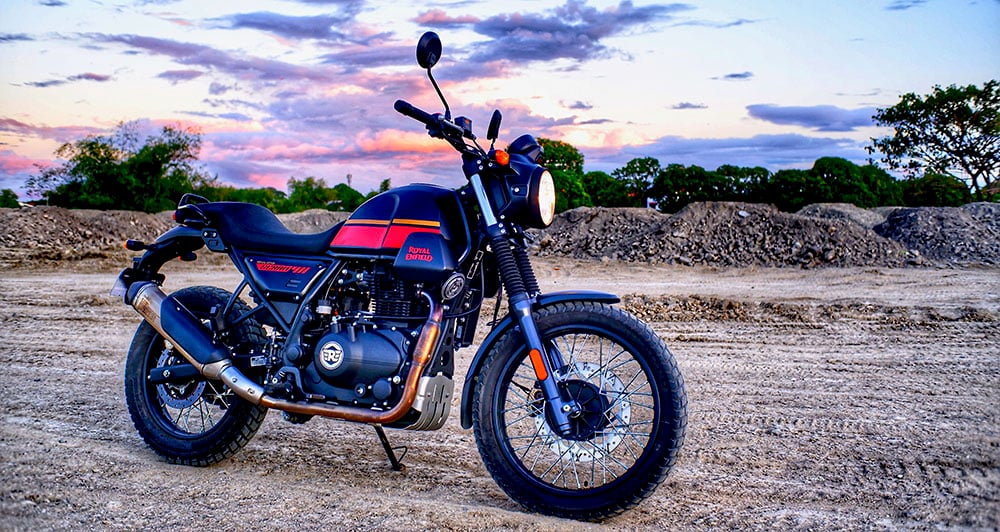 In nuke-speak, "SCRAM" is when you need to do an emergency shutdown of a nuclear reactor. But in the motorcycle world, scramblers are the fun, bastard children of regular roadsters—dual-sport tires, higher ground clearance, and raised fenders are the norm.
If you shop BMW or Triumph, you'll find that their scrambler models look quite dashing and rugged, commanding a premium over their regular models because of their upgraded components.
But when you visit the classy, budget end of the spectrum at Royal Enfield, a Scram 411 actually costs less than the Himalayan upon which it is based. RE's lovable mountain goat Himalayan is now P354,000, while the Scram 411 starts at a more palatable P311,000.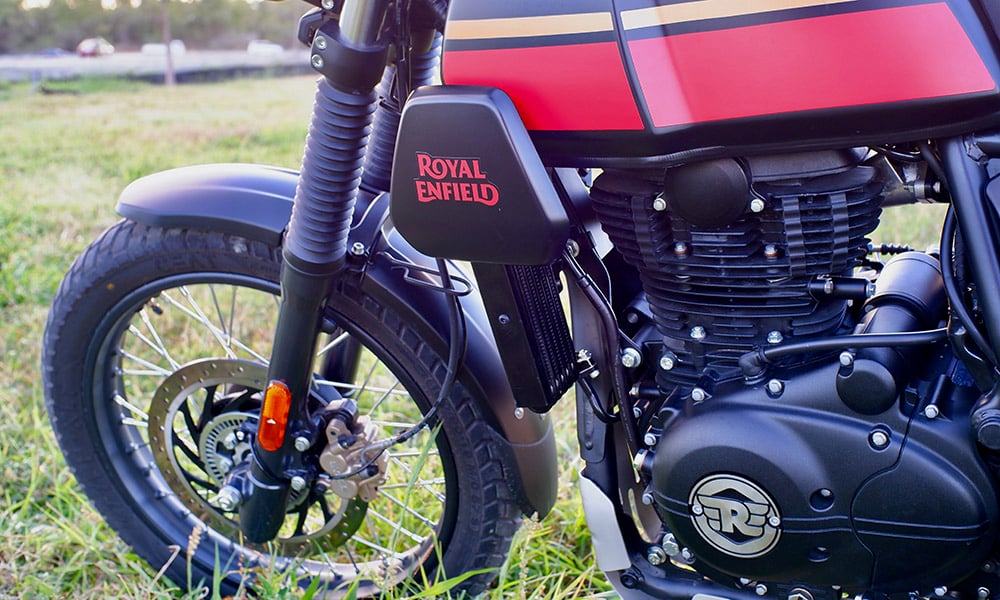 You get the same long stroke, 411cc thumper, and five-speed transmission as the Hima, the same suspension, and the same frame, but you get different-sized wheels and some cosmetic changes.
And whereas the Himalayan has this dorky charm that wins you over despite all its well-known shortcomings (namely, being so slow), the Scram has the go-getter charisma that somehow makes more sense as a scrambler than as the ADV bike it originally started out as.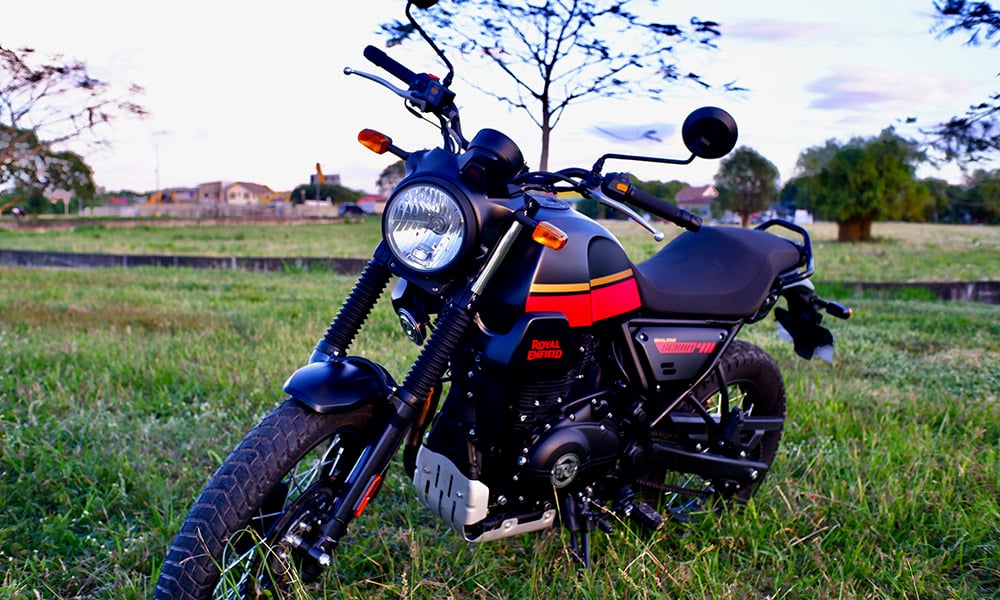 You see, ADV bikes these days are getting better and better. More power, more tech, better suspensions. You have a lot of great choices from Asia, Europe, and even America.
India's Himalayan has stubbornly stayed the course with its basic, nonadjustable suspension, rugged little motor, and can-do attitude that won't bring you to tears the first time you drop it in a river crossing. But instead of upgrading the Himalayan to keep up with the times, RE stuck to its guns with the Scram and somewhat changed its purpose.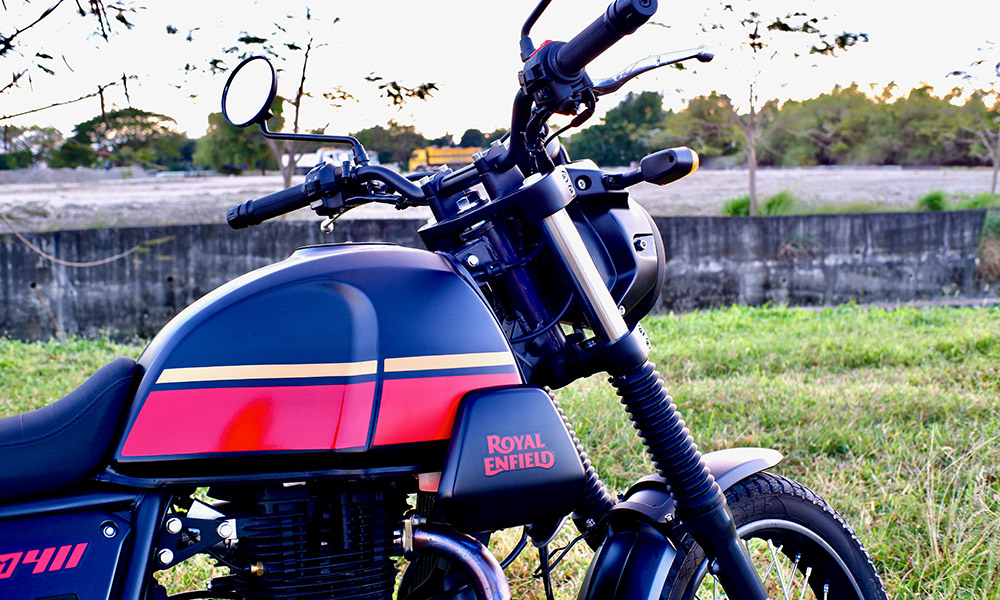 Positioning the Scram as a fun, ADV-based runabout also changes one's expectations about the bike. Instead of being perennially disappointed about the lack of top-end power or the basic tech, one can now just ride it as a do-it-all commuter bike that also happens to look quite fetching.
Change the front a bit with a different headlamp, take away the windscreen, swap the tank guards for side panels, and voilà! Now you've got a scrambler. And when ridden in the urban jungle, where low-end grunt and a manageable mass are more important for everyday enjoyment, the Scram is a ball of fun.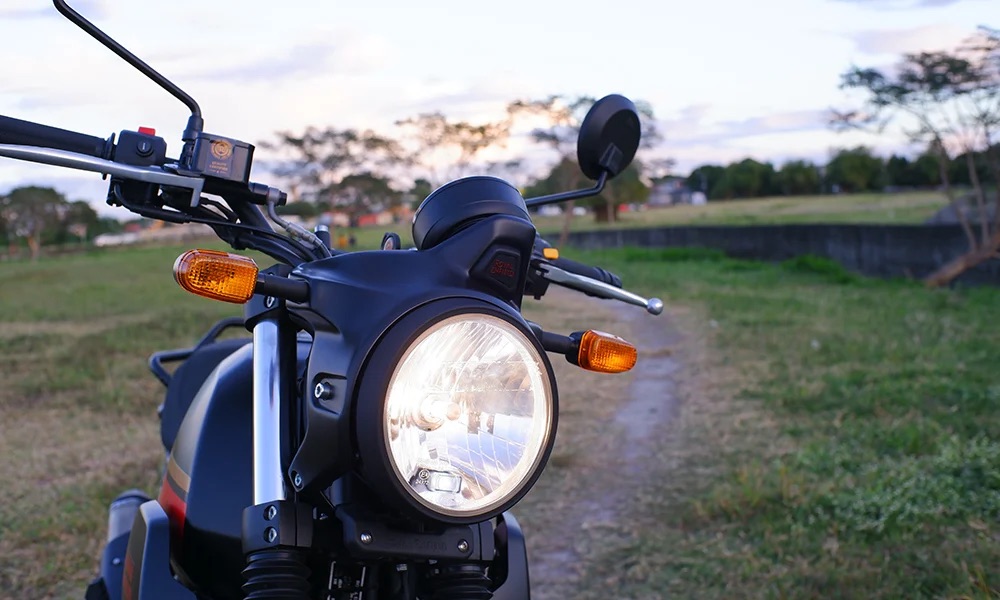 Coming from the high seat of my 390 ADV, it feels weird at first sinking into the low saddle of the Scram. It's only 795mm high, making it accessible for many riders. The raised handlebar feels like I'm on a cruiser, but it only takes a while to get used to it.
Soon I'm appreciating that I can place both feet flat on the ground at stoplights.  Comfort-wise, the one-piece saddle is a little too cushy for my taste. The stand-up ergonomics are perfect, however. The bike has a slender waist, and manhandling it in tight situations feels similar to being on a slightly larger TMX.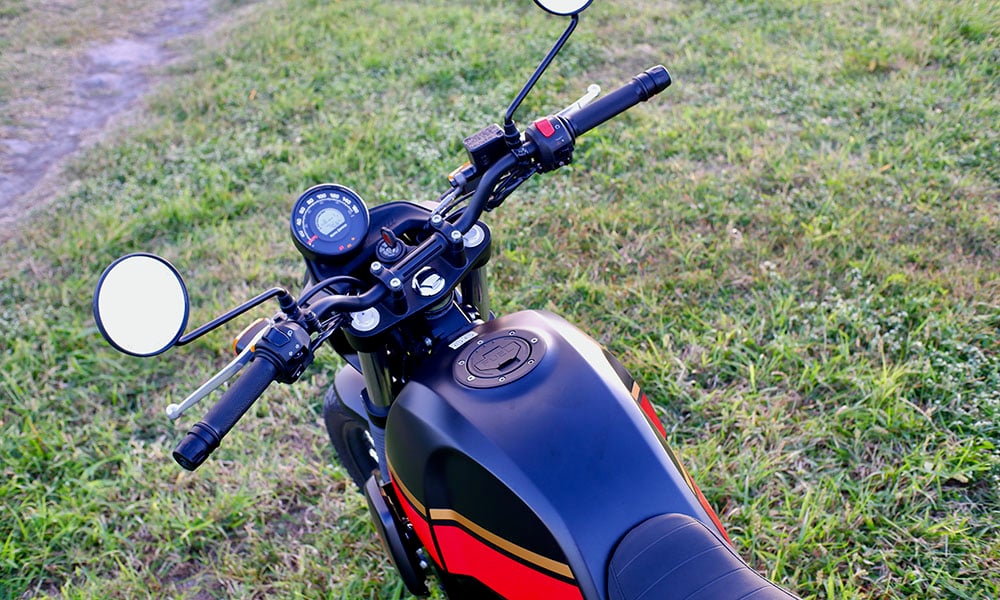 BUT! It makes nice brapping noises from the stock can, and it might sound even better with an aftermarket slip-on. And there's really something to be said about maxing out a bike for all it is worth and never worrying that you'll get in way over your head.
Like the Himalayan, the nonadjustable suspension is soft and pogoes quite a bit if you're jerky on the throttle and the brakes. The front brake, too, is still a mushy affair that will have you check if the pad isn't actually made of foam. It does have ABS, though.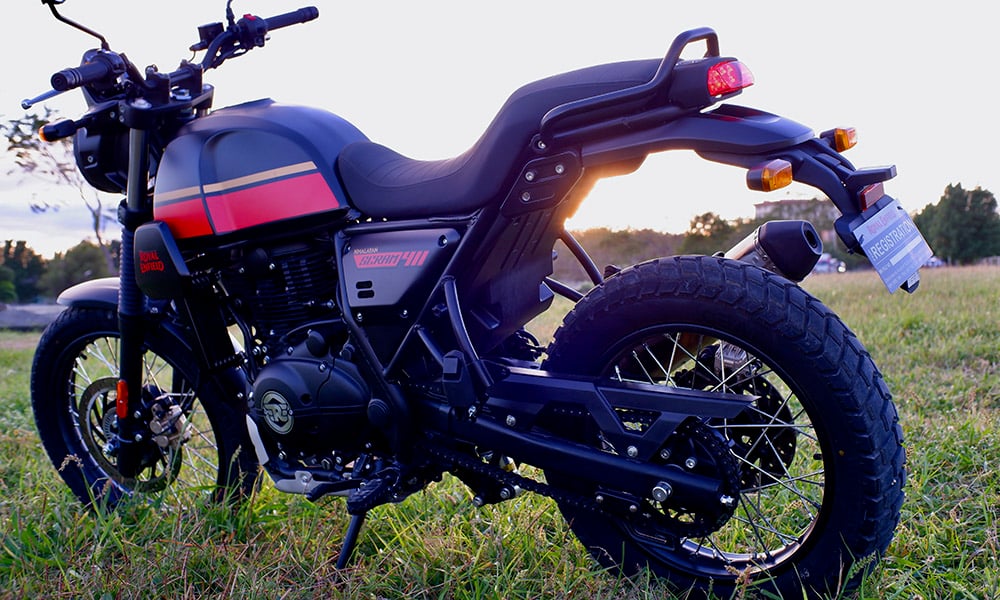 With a 19-inch front wheel (as opposed to the Himalayan's 21 inches), the Scram has a nimbler feel. Filtering is a breeze, and the single-cylinder motor has plenty of grunt to get going quickly from stoplights. There's no tachometer, and revving it high doesn't accomplish much other than you running out of gears all too soon while you're only seeing 120km/h on the speedometer.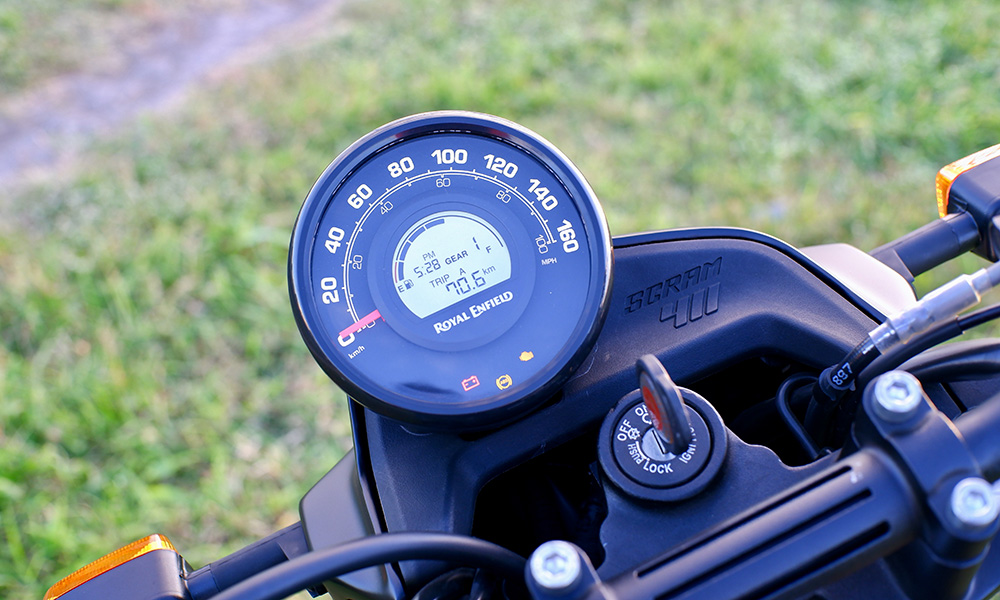 And yet, like the Himalayan, the Classic, the Meteor—heck, all other Enfields—the Scram wins you over. It's a bike that loves to be ridden hard and won't ever bite back. You can go wide-open throttle all day and still get around 30km/L.
It has the dynamics of a vintage bike but the reliability of a modern one, and if you're into that kind of experience then it's going to be a lot of fun. It only takes a day to familiarize yourself with the bike's handling, and then you get that "one with the bike" feeling that's hard to get with overpowered bikes.
As an expressway-legal machine, the Scram makes sense as a daily rider. The engine heat isn't too bad, it's economical to run and maintain like the Himalayan, and it's up for a little bit of trail-busting on weekends, too.
As an added bonus, and for only a little extra dough, RE has given buyers a wide palette of colorways to choose from. It's not high-tech and it's not exotic by any measure, but the Scram makes a lot of sense as a budget big bike you can have a lot of fun with.