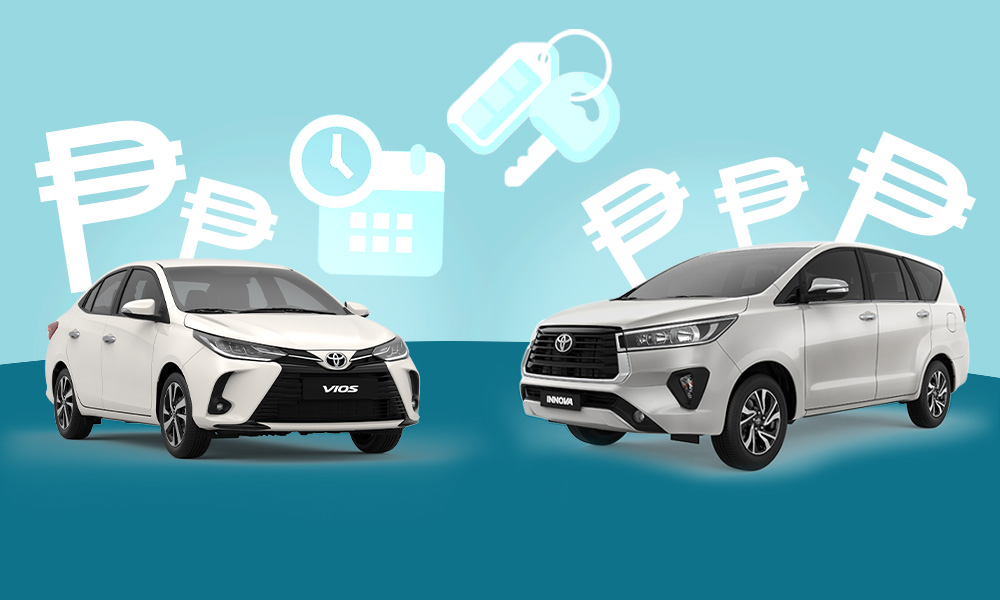 Today, August 12, 2022, is a very important day to Toyota in our market. That's because the Japanese automaker is formally introducing a "wholly owned subsidiary" of Toyota Motor Philippines—a company called Toyota Mobility Solutions Philippines.
As the firm's name infers, its mission is to offer mobility to customers who need a car but are not really purchasing one. As you may have noticed, times have drastically changed in the two years that the world has dealt with a pandemic. Many people choose to work from home (assuming they are fortunate to work at companies that allow them to do so). I personally know of individuals who seldom use their cars because their home is now their virtual workplace.
Conversely, there are employees who used to live a carless existence before the pandemic, but now have a part-time need of a vehicle to be able to safely get around (because, obviously, our public transportation sucks).
Motoring, in other words, is very different and will continue to evolve as our needs adapt to the times. Hence the launch of this new company "in pursuit of Toyota's global direction to transform from a traditional automotive company to a mobility company, and bring joy and freedom of movement to all."
To be honest, I've been observing Toyota's moves for years, even before the arrival of the coronavirus. If you haven't been paying attention, "mobility" has been the brand's priority for at least five years now. At the last Tokyo Motor Show I attended (2019), Toyota showcased not fancy sports cars or high-tech SUVs, but specialized vehicles that catered to seniors and PWDs.
Customers can avail of this service when they need a temporary vehicle for official business or family trips, or simply as an alternative means of commuting, especially on vehicle coding days
Serving as president of TMSPH is Cristina "Tini" Arevalo, whose last tour of duty was in the marketing department of TMP. Before that, Tini had been a longtime officer of TMP's human resources department. Which, if you think about it, makes her the perfect person for her new position. Providing mobility is comparable to motivating employees. It's all about quality of life.
In a recent chat, she told me about one of her projects, which is the Toyota Car Rental service.
"TMP is trying out a new project, the Toyota Car Rental service, which offers convenience and flexibility that can help manage future transportation," she said. "This is a self-drive car rental service wherein vehicles can be booked 24/7 and are affordable with a minimum of one-hour rental term. Customers or users can avail of this service when they need a temporary vehicle for official business or family trips, or simply as an alternative means of commuting, especially on vehicle coding days. Booking and payment are done online, and you can lock/unlock the vehicle through your smartphone, using the Digital Key."
Tini added that the project is "currently at its trial implementation, on a limited scale. Toyota is optimistic that, with this service, we will be able to offer a mobility solution that provides convenience and quality experience to customers or users."
An hourly rate for the Vios is P290, while the Innova can be rented for P300. For now, these are the figures being allowed by the Land Transportation Franchising and Regulatory Board.
The two vehicles will also be offered with other flexible arrangements. There is the "commute" setup, which allows the customer to pick up the car at 5pm and requires him/her to return it by 9am the following day. The rates are P870 for the Vios, and P1,170 for the Innova.
There is also the "weekend" setup, which lets the user to pick up the car at 9am of Saturday, and to return it by 9am on Sunday. Rates for this are P3,480 for the Vios, and P4,680 for the Innova.
This is a brilliant and convenient service to those who have no desire to buy a personal vehicle. It spares them from the usual things associated with car ownership—maintenance, repairs, fuel, parking, even the threat of NCAP penalties. It's amazing that the one brand that thought of this first is the brand that sells four out of 10 brand-new vehicle units in our market.
Again, Toyota proves that it is a trailblazer. I suppose this is why it's the market leader.