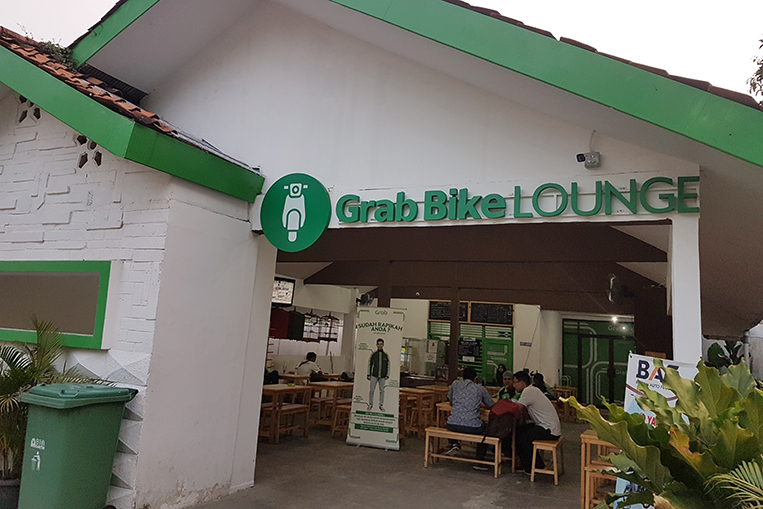 When we went to Jakarta in Indonesia upon the invitation of Grab Philippines, we were told that rush-hour traffic in the city was quite bad. We didn't believe it at first, especially when we got on the fast-moving toll roads that linked the Soekarno-Hatta International Airport to the town center. But it was when we went off the highway and onto the inner-city streets that we finally saw what our hosts were talking about.
Cars, vans, trucks and motorcycles were hopelessly jockeying for position in the sea of vehicles crawling at a snail's pace. Based on a quick glance at the odometer of the Daihatsu Xenia MPV that we had booked on Grab, the car had probably already had several clutch replacements in its lifetime given the sort of road conditions it had to tackle every day. But while we sat inside the air-conditioned comfort of our four-wheeled cocoon, the same couldn't be said for the numerous GrabBike drivers alongside us.
As it is located nearer to the equator, Jakarta's weather is generally hotter and more humid than that of Metro Manila. The air temperature feels higher than the 33°C indicated by most smartphone weather apps. It also doesn't help that Jakarta's air quality index is constantly among the 10 worst in the world based on city rankings. For Grab's humble motorcycle personnel who have to wear helmets and riding jackets during the 8-10 hours that they're out on the streets, the heat and the humidity can be both physically and mentally taxing.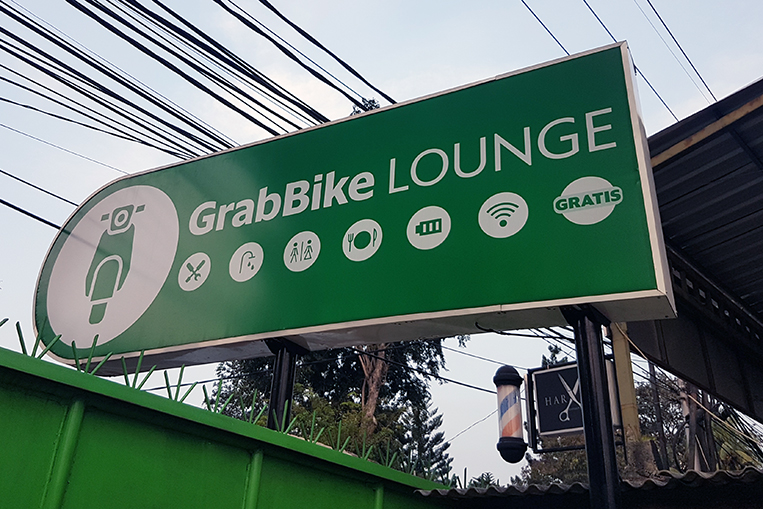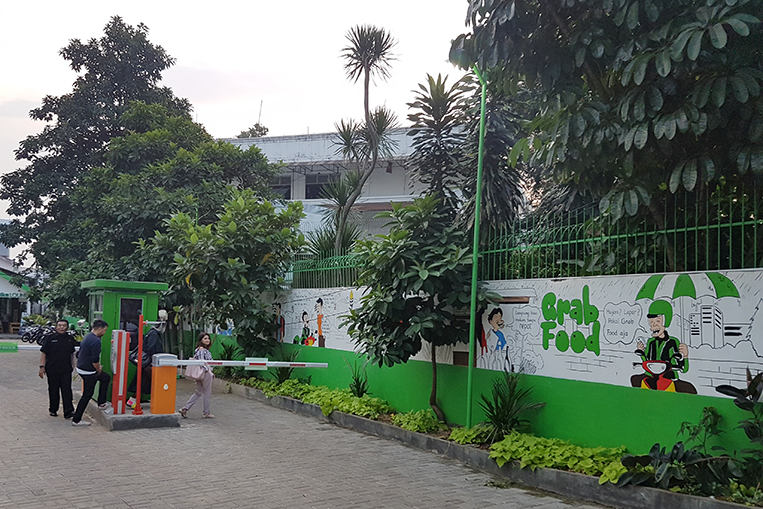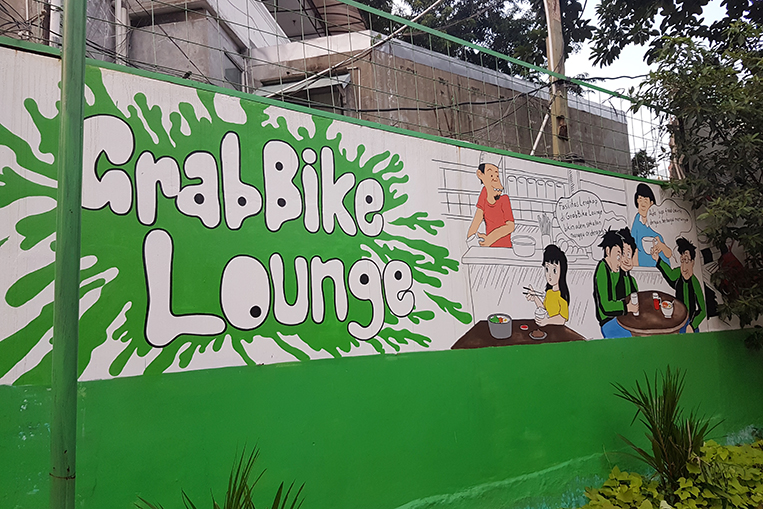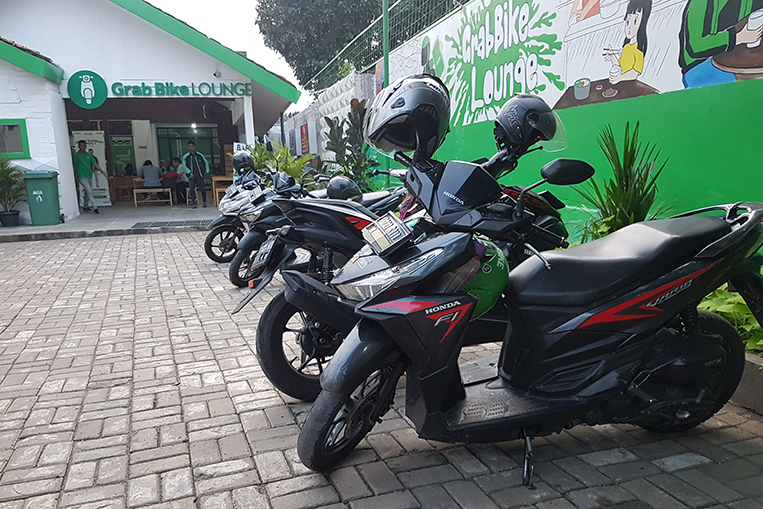 Fortunately, it doesn't always have to be that way. At least not for eight hours straight. That's because Grab Indonesia has given its hardworking GrabBike drivers a cozy, laid-back oasis in the heart of Jakarta's bustling political and economic hub.
Called GrabBike Lounge, it's a place where the weary drivers of Grab's motorcycle transport and delivery service can take a short break from the outside world's soaring temperatures and soul-numbing traffic congestion. Normally, most of these motorbike drivers (including and especially those of competing transport network company Go-Jek) just park their vehicles on the side of the road. This is obviously unsafe and further worsens the ever-present gridlock throughout the city. The lounge then gives Grab's two-wheeled workers a secure place in which to dismount from and leave their motorized steeds while they rest and relax.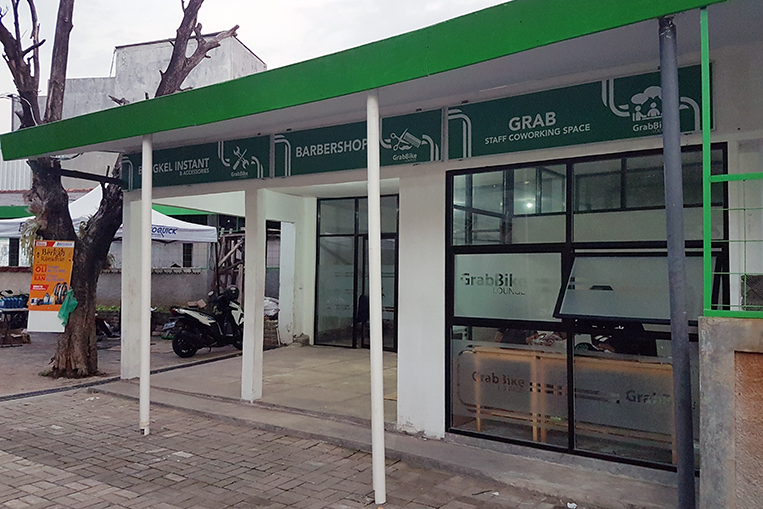 And even under the scalding noontime sun, they can really chill out. Aside from a common area with plenty of chairs and tables, there is an air-conditioned room with beds where drivers can happily get some shut-eye. There is also a small eatery serving tasty Indonesian street food such as vegetable fritters, fried noodles and crunchy krupuk (rice crackers). Other amenities within the GrabBike Lounge are a barbershop so drivers always look their best, a service garage with a mechanic and some tools so that motorcycles are in tip-top shape, and several prayer booths so that Muslims can do their daily salah as required by their religion.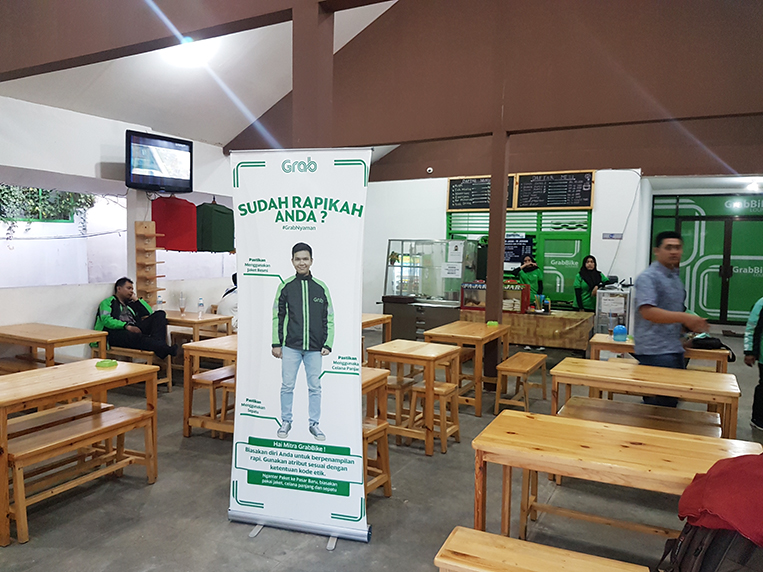 Besides the convenience of having all these services under one roof, the great thing about the lounge is that everything is partially subsidized by Grab. For example, a haircut would normally cost around Rp50,000 (P182) elsewhere but just Rp15,000 (P55) in the lounge. A plate of deep-fried tofu fritters at a typical warung (small eatery) would set you back around Rp15,000 (P55), but just Rp7,000 (P25) inside the GrabBike Lounge—and this includes a generous side dish of powerful green chilies (Indonesians are seriously spicy eaters).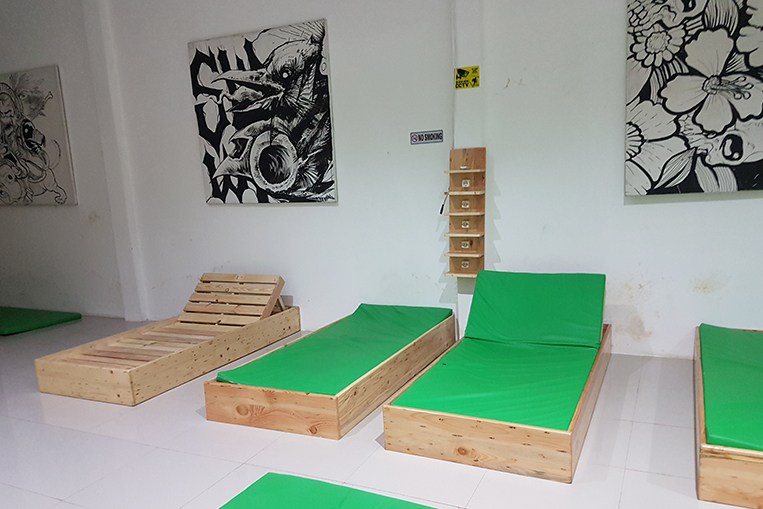 There are currently two GrabBike Lounges in Jakarta: one in the south, which we visited, and another in the west. According to Grab Indonesia PR manager Satrya Pinandita, the goal is to put up at least one GrabBike Lounge in each of Jakarta's five main locales. The challenge is looking for a place that is big enough to accommodate motorcycle parking and all the above-mentioned creature comforts. The site also needs to be strategically located in or near areas where GrabBike drivers commonly operate. In the Philippines, Grab is currently considering putting up similarly equipped rest areas for drivers of both two- and four-wheeled vehicles.