Before Mitsubishi Motors Philippines acquired what used to be Ford Philippines' headquarters in Santa Rosa, Laguna, the Japanese carmaker had been based on Ortigas Avenue Extension in Cainta. We mention this because we remember the horrible traffic we encountered along the main road every time we went to the MMPC facility to pick up or return a test-drive vehicle. It was so bad that we often opted to do this chore after midnight, when vehicle volume was significantly lighter.
The spoiled brats in us hardly realized that countless people actually experienced this on a daily basis. Twice a day, to be exact—going to work in the morning, and then returning home in the evening. If you have friends living in Cainta, Antipolo or Taytay, chances are you have seen them rant on social media about how Ortigas Avenue Extension is the motoring equivalent of Elm Street.
Traffic crawls through a series of chokepoints. Jeepneys are stationed by the roadside, and UV Express vans pick up passengers wherever their drivers wish to. If you're a regular motorist along this route, you think you have a theory as to why this road is always clogged. But allow us to share with you a very simple one, courtesy of this illustration by Mike Montagne Atienza.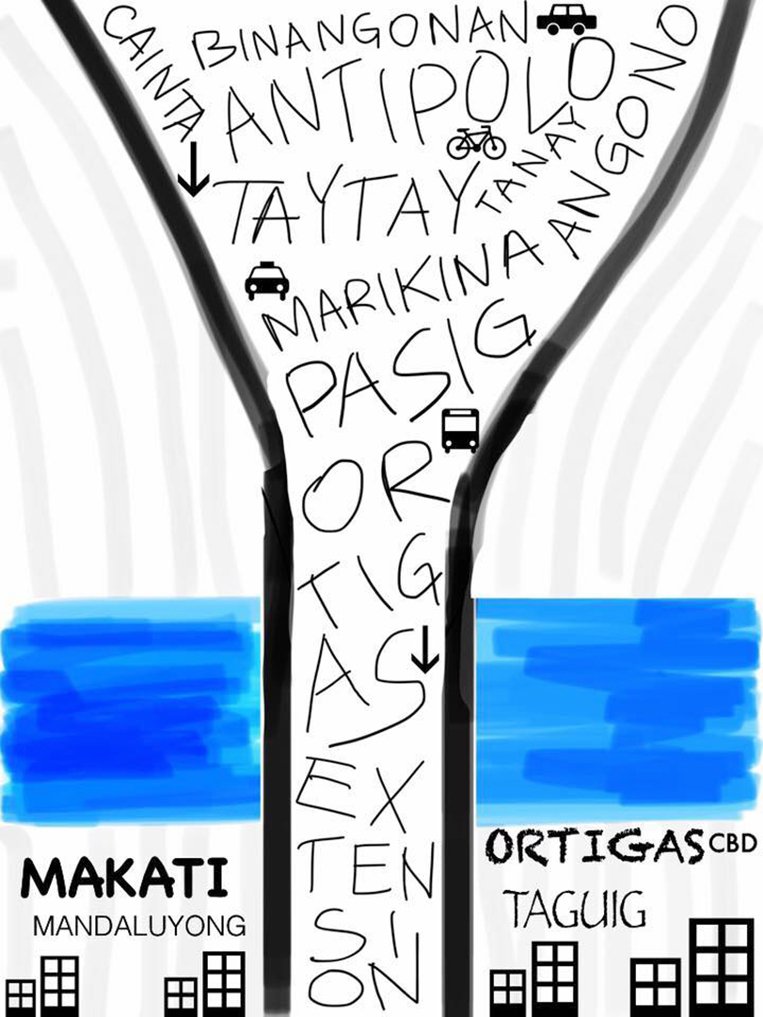 "I suffer from hours of heavy traffic along this road," Atienza told VISOR. "It starts at around 5am. I can only imagine all the other areas around Pasig where I reside. All the places included in the illustration are using one and the same road. And it's getting worse."
Roadworks also exacerbate the situation.
"There's an ongoing construction project along Ortigas Avenue Extension," the IT programmer added. "Unfortunately, they're just fixing pipes, and traffic gets heavier. People really do suffer. There's a road being constructed near C5. Hopefully, it would help ease the congestion."
Do you agree with the illustration's simplistic view?
May the authorities find a win-win solution sooner than later. Otherwise, maybe it's time for some people to relocate?